Walking up to the coffee shop bar and seeing all the impressive gadgets, you would get the impression that brewing coffee is complicated. And probably it is when you're using a manual coffeemaker. However, single pod and automatic drip coffeemakers have taken the guesswork out of the coffee brewing process making things a tad easier for you. But, if you're like most coffee enthusiasts who like to go for a more primal brewing method, then you'll love the French press coffee maker. And the best part? You can buy one for just about any budget.
So, for those who like to have a nice strong cup of coffee, consider the 10 best French press options in our matrix. And if you'd like to learn a little bit more about these coffeemakers and how to make coffee this way, read on. We'll also answer all your burning questions and provide you with tips to help you choose a press that suits your needs.
How To Use a French Press
What is a French press? What is a coffee press? It's the plunger style coffee maker you see all over the place these days. You know what it is! But how to use one is more of a mystery – there are many brewing methods. You'll probably hear a lot of philosophies about how to brew French press coffee. Some which could obviously use some improvements. Here we are going to discuss a few instructions you should follow to come up with a great cup of coffee.
Step 1: Boil enough water in a kettle for the carafe.
Step 2: As the water heats up, grind your freshly roasted coffee beans to a medium consistency.
Step 3: Measure the amount of dry coffee grounds you need and pour them into the carafe.
Tip:
Be mindful of the coffee to water ratio. If you are not sure about the measurements you can put two tablespoons of coffee for every six ounces of water.
Step 4: Add water to your coffee grounds and stir the mixture vigorously and then once fully saturated allow the grounds to bloom for about 30 seconds.
Step 5: Once the coffee beans have bloomed, add the remaining hot water to the carafe and steep the coffee for about 3 to 5 minutes.
Step 6: Attach the filter assembly to the top of the carafe and then plunge the filter slowly to the bottom of the carafe using steady pressure to separate the grounds from the coffee.
Step 7: Serve and enjoy your great coffee while hot.
Tip
If you are not going to drink the coffee right away, do not leave it in the French press as it will continue to sit on the grounds and become bitter. There's a secret to the cold brew method, but that's a story for another time.
Why Buy a Press?
Still skeptical about making a purchase? Here are a few reasons why it is a worthwhile investment.
French press coffee is the best coffee because it retains most of its natural oils and flavors
These coffeemakers have paperless filtering to help lock in the subtle flavors that give coffee its unique taste and aroma
The press method requires you to steep coffee grinds in hot water to allow for maximum extraction
The coffee grounds get totally immersed in water so nothing goes to waste
Things to Consider When Buying a Press Style Coffeemaker
Finding the perfect press to quench your coffee needs is easier said than done. Sure these coffeemakers have just one job- to brew the perfect coffee. However, despite how simple it sounds on paper, French presses come in all sorts of variations and separating the functional from the knockoffs can be a bit difficult. To help you steer clear of the knockoffs, here's a list of what you should consider before making a purchase.
Capacity
Think about how many cups you need to produce in one round. If you're only going to make coffee for yourself, then a single cup of coffee French press or a larger press that produces just a few cups of coffee will be ideal. However, if you have a large family of coffee drinkers, look for a model that can produce more cups of coffee at a go.
Material
French presses come in a range of materials. Let's take a look at some of the most common construction materials.
Stainless Steel
Experts say that stainless steel French press coffee makers are some of the best on the market (and we have to agree). Stainless steel, though notoriously expensive, has a number of perks that make it the perfect candidate when you're looking for a press construction material. It is non-reactive. Which means it won't leach metals into your coffee and it also retains heat quite well which is a fairly important feature especially if you intend to have your coffee while it's still hot.  However, on the flip side, unlike with glass, stainless steel is opaque and so you can't monitor your coffee as it brews.
Glass
Glass is excellent at retaining heat and is transparent enough to allow you the freedom to monitor your coffee as it brews. Not to mention it is one of the most common materials used in the construction of French coffeemakers. On the downside, however, glass in its very nature is highly susceptible to shattering from time to time so you're not off the hook in as far as an accident-free experience is concerned.
Polycarbonate
Polycarbonate might not be the fanciest material out there but it offers plenty of good qualities that make it the perfect candidate for press construction. Plus polycarbonate doesn't shatter easily which makes it a more durable option than glass. In addition, it allows you to monitor the coffee brewing process from start to finish. However, polycarbonate scratches quite easily and contains a chemical called BPA which could leach into your coffee. If you have to go for a polycarbonate press, then look for a BPA free polycarbonate model.
Stoneware
Stoneware might not be as common as glass and stainless steel, but it is just as functional as the other materials. However, it has an opaque nature that makes it hard to monitor the brewing process and like glass, it can shatter quite easily.
Hybrid
A hybrid model is a coffeemaker made of stainless steel, glass, and plastic.
Price
After the capacity and material used in the construction of the French press, the next most important consideration to make is the price of the model in question. Luckily, you can find a press to suit just about any budget.
Basic French presses range from $15 whereas higher priced French presses cost up to $200. However, unless you're looking for a luxury model, a mid-range price of $35 to $75 works just as fine.
Durability
A good press-style coffeemaker should be durable enough to last you years. It should have a solid construction that isn't prone to shattering and be strong enough so as not to succumb to wear and tear.
Portability
Fortunately, French presses are generally small in size which makes them particularly easy to take with you when you are going for an adventure. However, some are no doubt better than others and so you have to pay attention to the weight and overall durability to avoid a disaster.
Timer
If you like walking up to a freshly brewed coffee pot that is ready to drink, a press with a timer is perfect for you.
Secura Stainless Steel Coffee Maker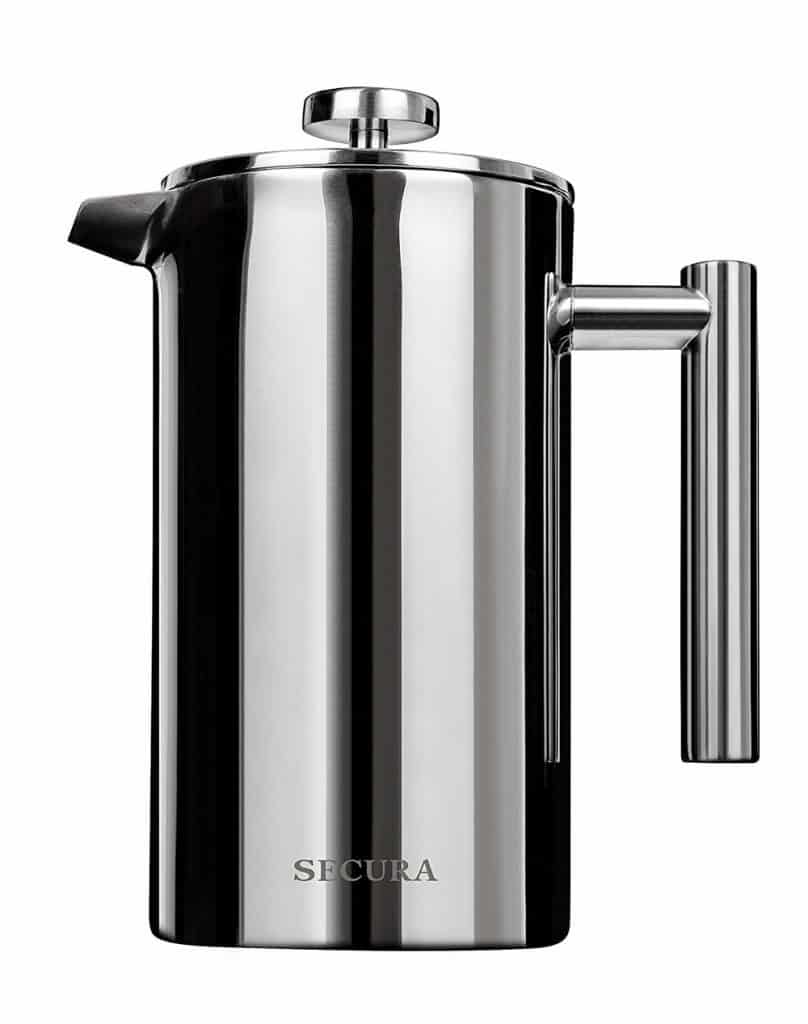 It makes perfect sense that the Secura press should be first on our list of top French press coffeemakers on the market. It is made of high-quality stainless steel and has a remarkable durability and sturdiness that is reminiscent of a high-quality unit that costs much more. In addition, it has a double wall construction that is more efficient when it comes to retaining heat. Not to mention the thoughtfully crafted stainless steel filter construction that traps the coffee grounds to produce a full-bodied flavor.
Highlights of the Secura French Press
Dishwasher safe parts that make clean up a breeze
It can keep your coffee hot for longer if you are not taking it right away
Ergonomically designed handle for safe and comfortable pouring
Coffee Gator Large Press Coffee Maker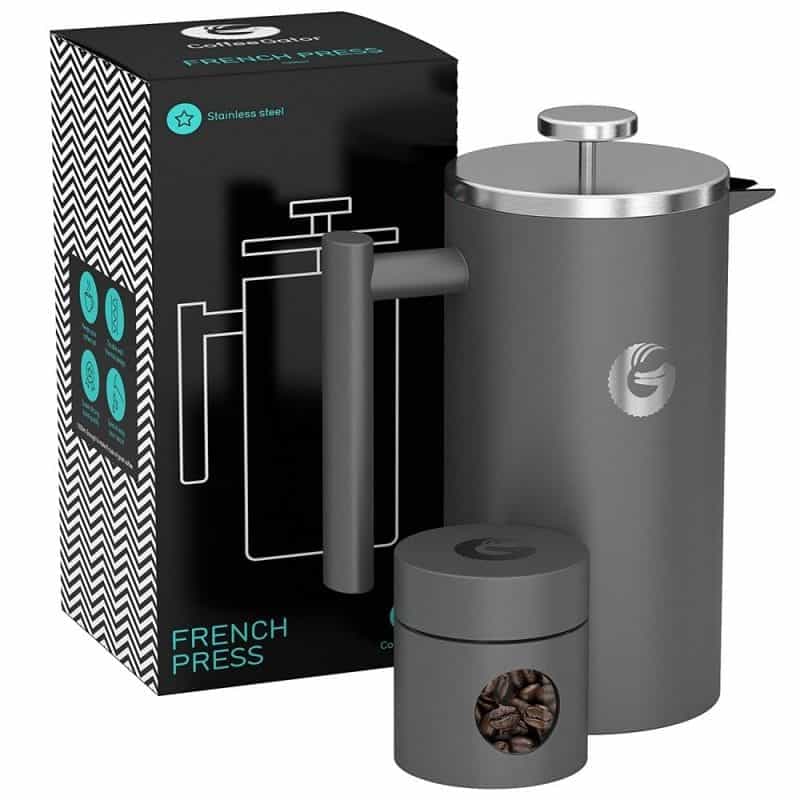 Perfect for both novice and experienced coffee enthusiasts, the Coffee Gator press is by far the best French press under $50.  This incredible barista quality model boasts of a strong and sturdy build that lasts for years and is double filtered to keep the sediments out and the flavors locked in.
Highlights of the Coffee Gator French Press
It is constructed from BPA free materials
It keeps your coffee hot for much longer
It is double filtered to lock in the subtle flavors so that you can savor each note
Kona French Press Coffeemaker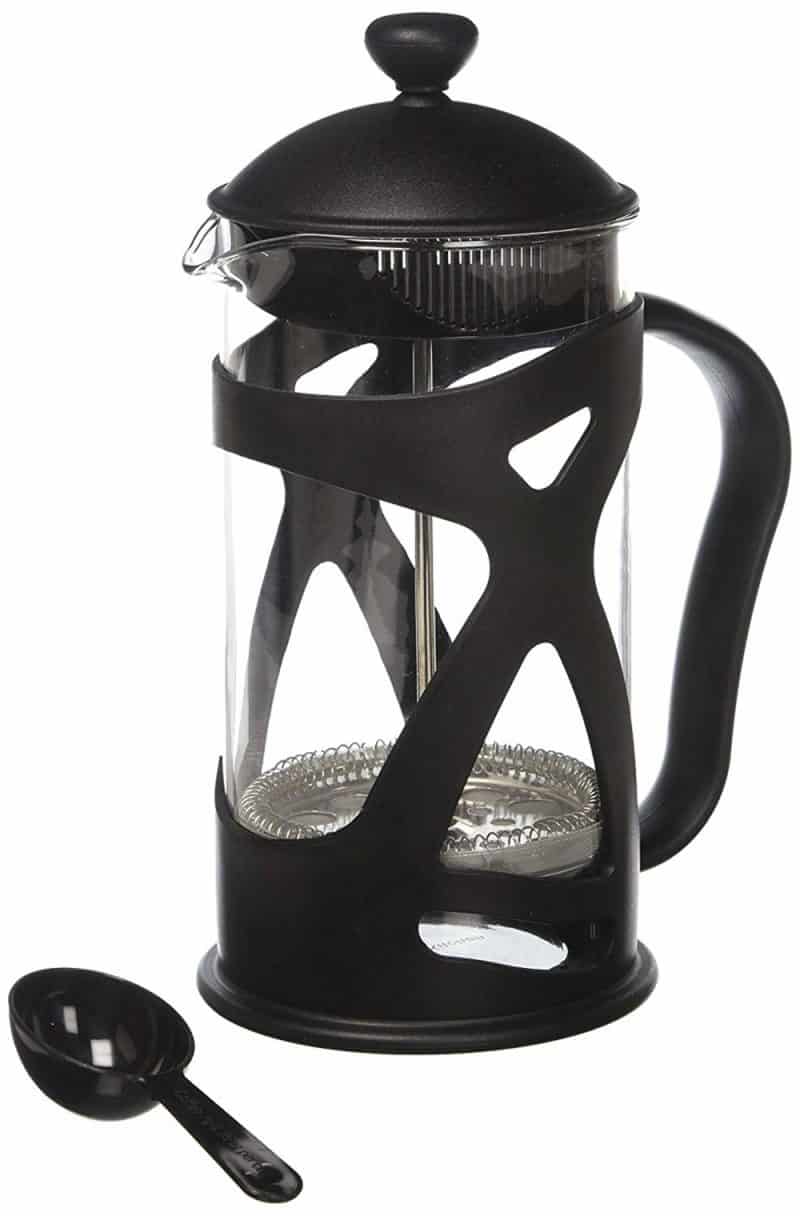 When it comes to the best French press coffeemaker, nothing tops above the Kona model. It boasts of a modern style and a vintage design that makes it the perfect kitchen centerpiece and is made from a borosilicate transparent glass material that makes it easier for you to monitor your coffee as it brews.
Dubbed the best French press under $30, Kona is the perfect definition of a high-quality press that delivers more for less. Not to mention the fact that it has been thoughtfully designed to minimize breakage. Plus it is also versatile and can be used make some nice pressed tea during summer.
Highlights of the Kona Press Coffeemaker
You can use it to brew coffee espresso or tea
It has an attractive vintage design and modern style that make it the perfect kitchen centerpiece
It is dishwasher safe hence making cleanup a breeze
Using it is pretty much a no-brainer
It is the perfect press for travel
It is fairly quiet and you'll hardly notice it's in the room which makes it perfect for the office environment.
It is constructed from BPA free materials so you don't have to worry about chemicals leaching into your coffee.
Francois et Mimi Steel Double Wall French Coffee Press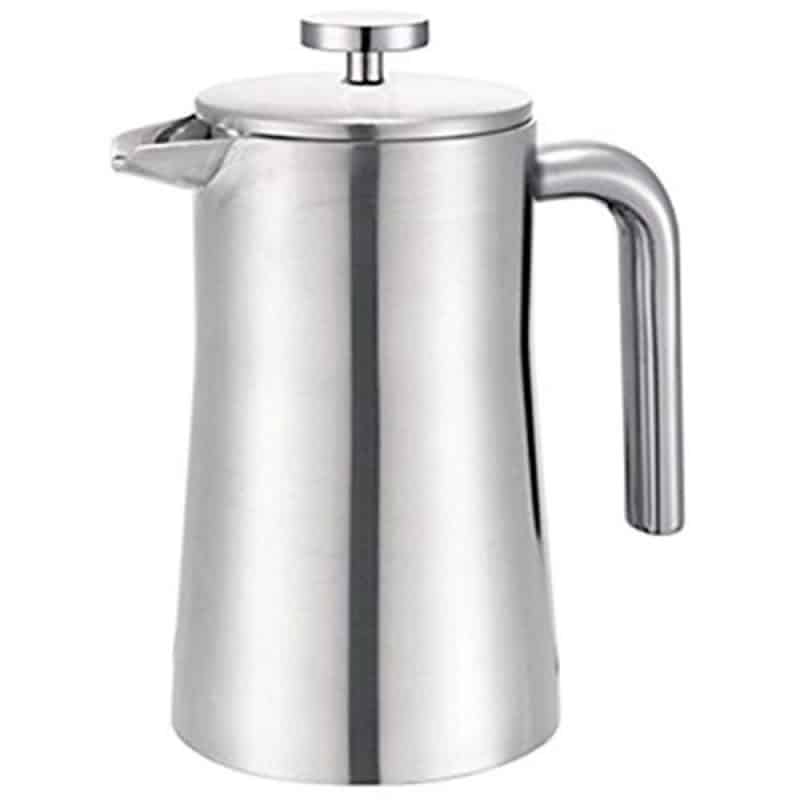 If you are looking for an elegant looking French press, then look no further. The Francois et Mimi is the best press in the bunch. It is a small press coffeemaker perfect for the solo brewing. It features a double-walled interior made from stainless steel that makes it a great heat retainer. However, for such a small appliance, the Francois et Mimi is a bit high priced and this may not augur well with most customers.
Highlights of the Francois et Mimi Press
Small compact design that makes it the perfect travel French press
Dishwasher safe for a seamless cleanup
Easy to use
Grosche Madrid French Press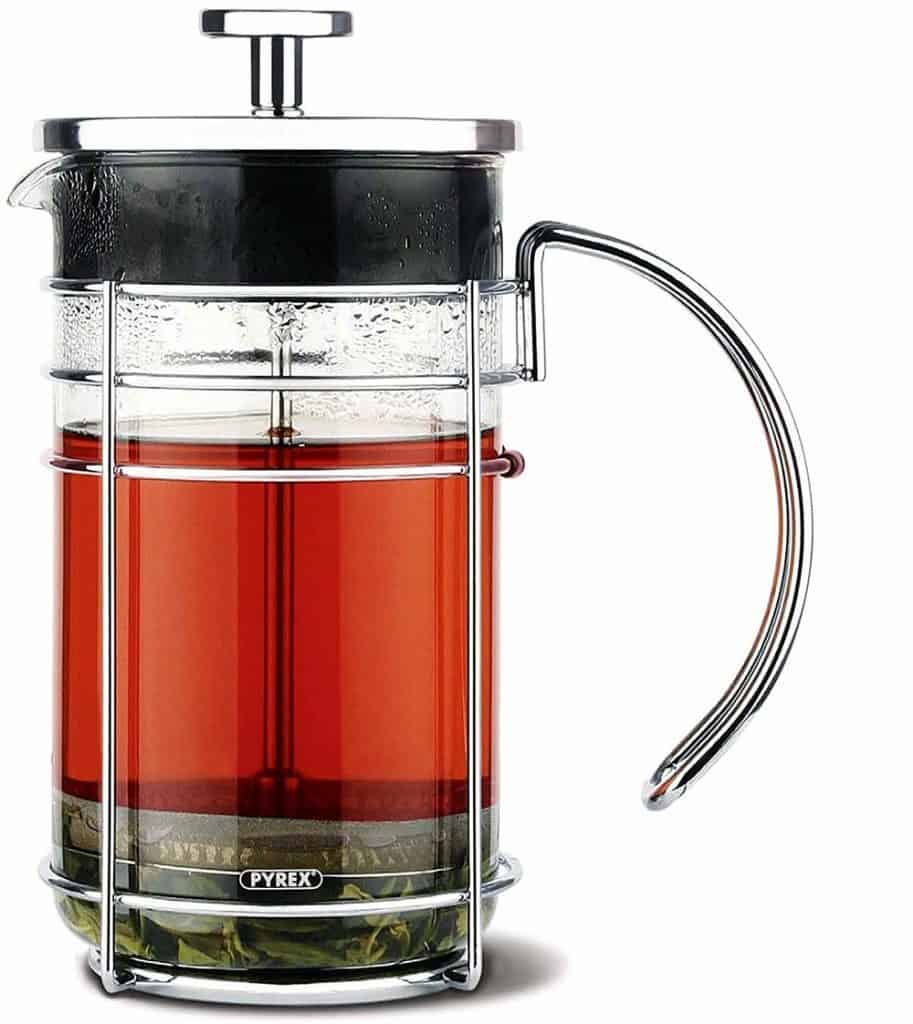 According to Grosche, the Madrid is a premium craft coffee and tea brewing specialty brand (and we couldn't agree more).  This premium quality press has a modern sophisticated design that makes it the perfect kitchen centerpiece for your kitchen space and a strong and sturdy build that makes it the perfect press for coffee and tea brewing day in day out. It is also multipurpose which means you can press with ground coffee and loose leaf or blooming tea. It is the best press to buy if you're looking for the best of functionality and remarkable design.
Highlights of the Grosche French Press
You can either use it to brew both coffee and tea
It has a sophisticated design that makes it ideal for a kitchen centerpiece
Frieling USA Double Wall Stainless Steel French Press Coffeemaker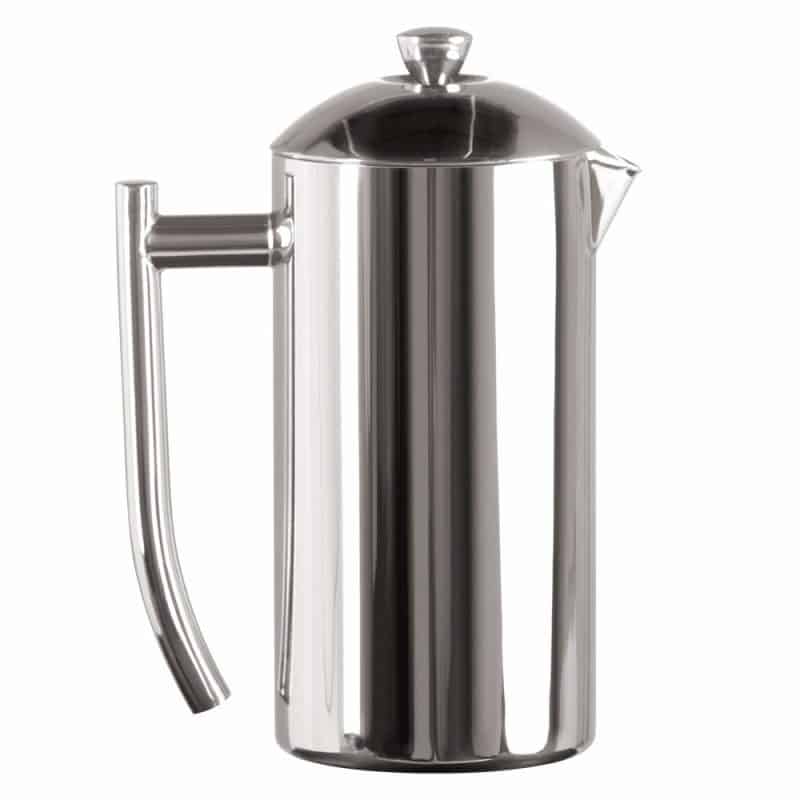 Fifth on our list -the Frieling USA Double Wall Stainless Steel Press. Available in 3 exterior finishes, this exclusive Italian made press by Frieling is certainly no stranger among coffee aficionados. Having gotten their start in 1988, Frieling not only brings years of vast experience but also a world full of innovation to every single serve ware that they design. We also particularly love the fact that their Frieling French press doesn't compromise on taste as well. So you can have a fully functional press that's also elegant and beautiful too.
Highlights of the Frieling Press Coffeemaker
Double wall insulation that retains heat for a much longer time
Dishwasher safe parts which make it easy to clean up after use
Mirror finish that gives it an attractive look
Ideal for everyday use
It is easy to use
Espro 18 Ounce Vacuum Insulated Stainless Steel Press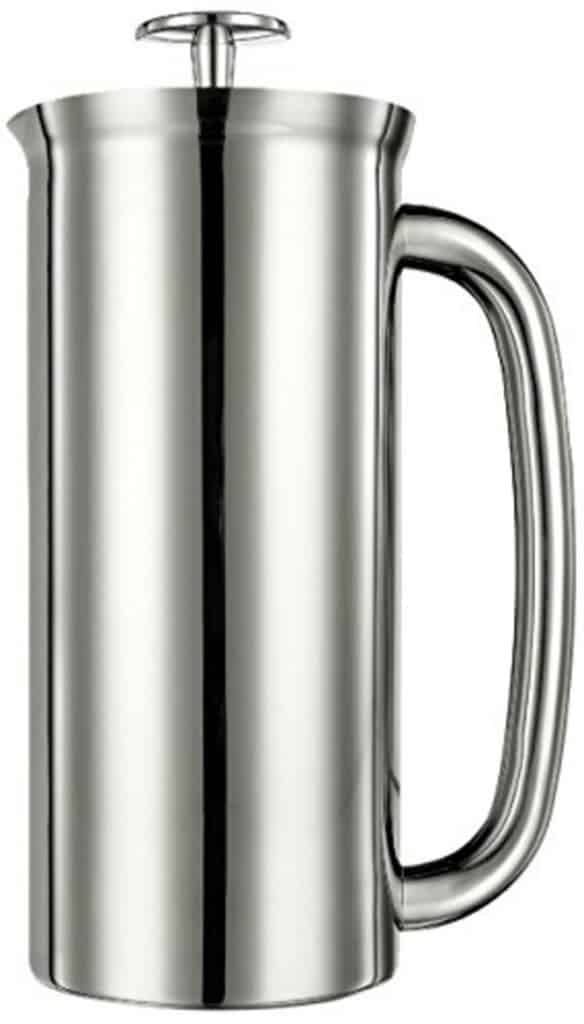 Thoughtfully designed to keep the sediments away and the subtle yet sweet flavors and aromas in, the Espro French press coffeemaker is definitely one that any coffee aficionado will love. It has an intelligent and thoughtful design and has vacuum insulated double walls that help it retain heat for a longer period of time. Sure, it may not be your first pick on the supermarket shelf mostly because of the bizarre cost, but it is definitely worth every single penny you invest.
Highlights of the Espro Press
Two filters that keep all the sediments away so as to extract all the flavors and aromas
Double walled construction that allows for maximum heat retention
It is made from BPA free materials so you don't have to worry about dangerous chemicals leaching into your coffee
You can either choose to hand wash or toss it in a dishwasher after use
Café Du Chateau French Press Coffeemaker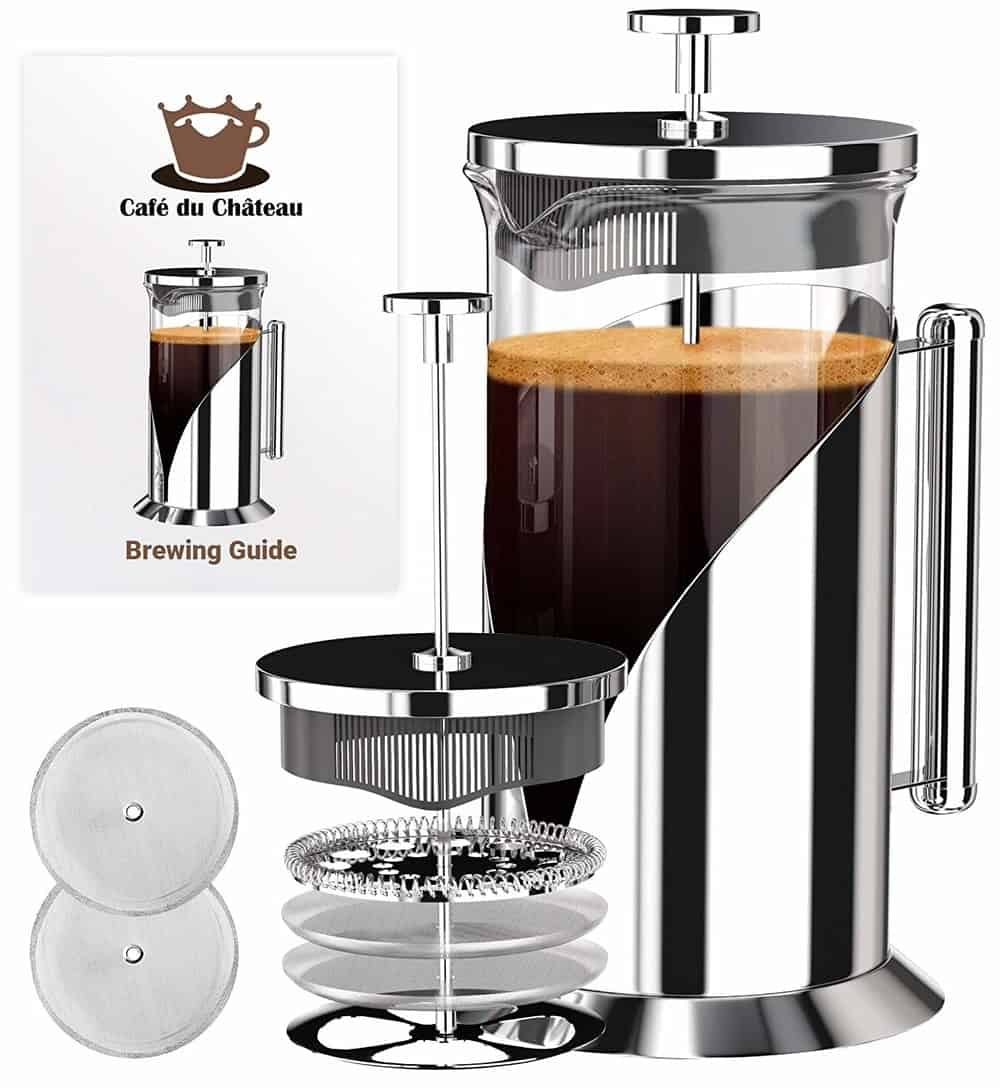 If you're a sucker for both functionality and exceptional design, then you'll definitely love the Café Du Chateau French Press. Designed in the European style with clean, modern lines, you can clearly tell that it was thoughtfully crafted with brilliance to shine above the rest. It is also made from tempered borosilicate glass that withstands boiling water.
What we love most about this particular model is that it utilizes a superior filtering system that preserves the pure flavors to ensure that you savor the deep roasted flavor and subtle notes.
Highlights of the Café Du Chateau Press
Small compact design that makes it the best camping French press.
Lifetime replacement guarantee.
Double stainless steel construction for added durability.
It is made from BPA free materials and so it doesn't leach dangerous chemicals into your coffee.
Bodum Brazil French Press Coffee Maker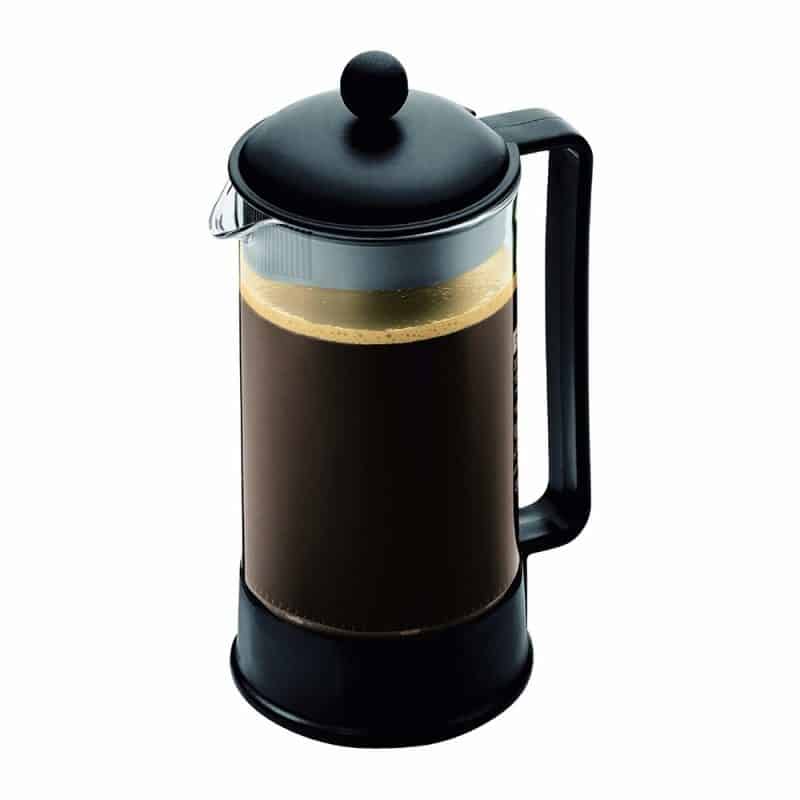 Designed in the early 80's, the Bodum French Press is the best French press under $20. It boasts of a simple brewing system and a functional design that makes it a cut above the rest. It is also quite easy to use which is a plus if you don't like complexity. In addition, it also comes in a borosilicate glass beaker that's fairly transparent which makes it easy to monitor your coffee as it brews. The more expensive Bodum Chambord is always rated on these lists, but why pay more when the Brazil brewed coffee is just as good?
Highlights of the Bodum Brazil Coffeemaker
It has a fine mesh filter that locks in the subtle flavors and sweet aromas of the coffee you are brewing
It is fitted with a safety lid that minimizes splattering of liquids during processing
All Bodum products are dishwasher safe to ease clean up
It makes up to 8 cups of coffee
It is easy to use
Le Creuset Stoneware French Press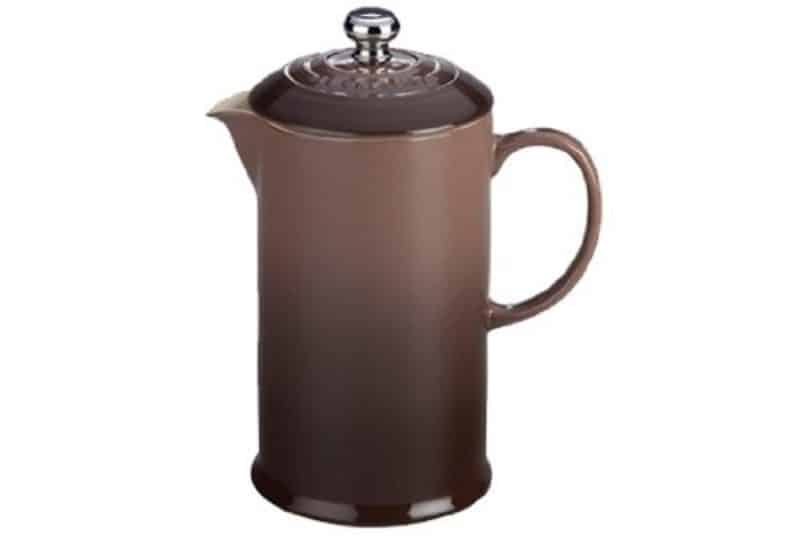 The Le Creuset French press is the best choice for you if you don't mind splurging a little more to get a unique crafted coffeemaker.  It has an enameled surface that makes it easy to clean after use and a strong and durable construction that ensures that it doesn't scratch or chip. It is also safe for use in the freezer, microwave, refrigerator, oven, and dishwasher.
Highlights of the Le Creuset Stoneware French Press
It is made of durable high fired stoneware.
It is dishwasher safe which makes it easy to clean after use.
It has a non-porous enamel finish that resists staining.
Frequently Asked Questions
Where can one buy a French press?
There are plenty of places where you can buy a French press. Our personal favorite is the French press on Amazon. However, you can also compare prices with a French press at target, a French press at bed bath and beyond and a French press at Walmart.
Is French press coffee stronger?
It depends. If you steep the coffee for longer than the recommended time, it will be stronger. However, with coffee, stronger is not better. It is instead bitter and undesirable.
How long should French press steep?
Generally, anything between 3 to 5 minutes should be just fine.
Can you French press tea?
Yes. All you have to do is replace the coffee grounds with tea leaves, add water and allow it to steep for the 3 to 5 minutes.
Does French press coffee cause high cholesterol?
Yes. Excessive intake of French pressed coffee has been associated with increased cholesterol mainly because French pressed coffee has more oil.
Does French press coffee taste any different?
Yes. A French press pot of coffee has more oils and flavors since it utilizes paperless filtering which locks in all the subtle oils and flavors to give the coffee its remarkable taste.
Does the French press make espresso?
Yes you can. With some little tweaking and some careful technique of course. It can make a mean iced coffee though, if you prefer your coffee over ice.
Is a French press coffeemaker better than a drip coffeemaker?
Yes. In the French press vs coffee maker debate, there's one clear winner. It offers better tasting coffee and is a more primal brewing method.
Which is the best French press coffee maker?
There are plenty of amazing press coffee makers out there.
Kona Press Coffeemaker
Frieling USA Double Wall Stainless Steel Press Coffeemaker
Bodum Brazil Press Coffee Maker
Le Creuset Stoneware Press
Is French press coffee safe to drink?
Yes it is. As long as you stick to just a few cups a day you should be just fine.
How long should French press sit?
About 3 to 5 minutes.
Are French presses dishwasher safe?
The truth is it depends. Some are dishwasher safe with dishwasher-safe parts whereas others only need to be hand washed. To be sure, you should read the manufacturer's directions on the manual.
What sizes do French presses come in?
French presses come in a variety of sizes. So depending on how many people you're making coffee for, you could choose the 1 cup of coffee French press, a 3 cup press, a 4 cup press, an 8 cup press or the 12 cup press.
Wrapping It Up
If you want to savor the goodness of barista quality coffee in less than 5 minutes, then we highly recommend buying a press coffeemaker. Now, there are obviously a myriad of French presses out there but the 10 models we have discussed in this guide are some of the best French press coffeemakers you'll find on the market. Any one of them should work just fine.