Mexican quinoa stuffed sweet potatoes are one of my favorite meal ideas. This plant-powered dish has so many vitamins that you'll feel like a superhero after eating it! Plus, it's gluten-free, dairy-free, and vegan!
The Best Stuffed Sweet Potatoes Ever
When it comes to a solid meal, I love any dish with a ton of veggies. The traditional loaded baked potato definitely isn't that. But, a loaded sweet potato can be!
I've always loved baked potatoes. Serving them 'fully loaded' with all the classic toppings, like sour cream and bacon, is such a comfort food. So, one day, I brought home sweet potatoes (which I do on a weekly basis!) and I thought - why can't I do the same with sweet potatoes?
Coincidentally, I was also craving Mexican food. I knew that sweet potatoes could go perfectly with a vegetarian Mexican-style dish. Kidney beans, avocado, corn, and spices were just the right pairing for the natural sweetness of sweet potatoes. You could also use black beans too.
Then, I got to thinking even more. What if I made quinoa rather than rice? This way, I can give this vegan dish an extra boost of protein and complex carbs. This turned out to be one of the best aspects of the dish. Not only is quinoa nutritious, but it lends an awesome texture to the dish too!
The result was a dish full of complex and all-natural carbs straight from the Earth. These stuffed sweet potatoes keep you full and energized for hours. They are a great dinner idea, especially with the family. This recipe can also be reduced to half, making it a perfect snack too!
Why Sweet Potatoes Are Awesome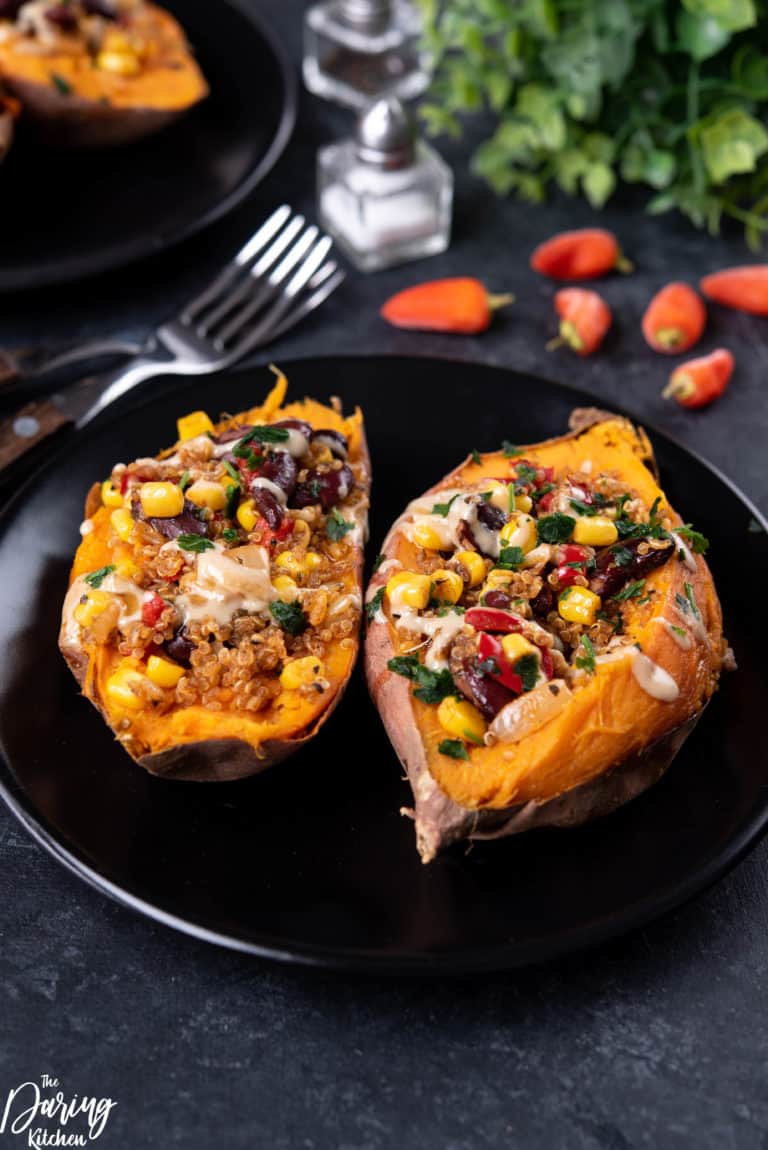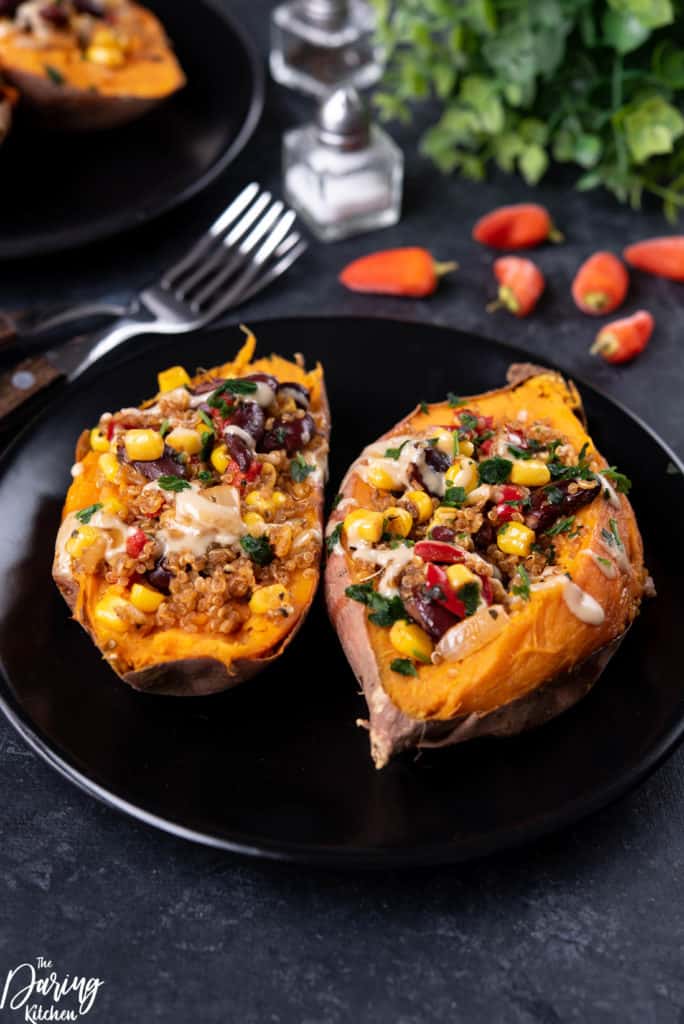 Sweet potatoes are one of my favorite foods. They are incredibly versatile and amazingly good for you!
These root vegetables are jam-packed with so many vitamins and anti-oxidants. They have vitamin A and vitamin C, which are great for immunity and giving your skin the perfect glow. Plus, they have boatloads of fiber too!
Of course, I love the health benefits of sweet potatoes. But, why I really love them is that they are straight-up delicious. Especially when roasted, they are naturally creamy and sweet. You can enjoy them for breakfast, with yogurt and maple syrup. Or, for dinner, with this Mexican quinoa stuffed sweet potatoes!
Also, sweet potatoes come in all different varieties. In this recipe, I use a jewel sweet potato. This is what we often think of when we think of a sweet potato. The jewel sweet potato has orangey flesh with dark skin.
In this stuffed sweet potato recipe, I used a baked sweet potato. It simplifies the process - all you need to do is prick the sweet potato, throw it in the oven, and voila! it's ready!
The Ingredients in Mexican Stuffed Sweet Potatoes
Ingredients are so important in a dish. Apart from the sweet potatoes, there are some awesome filling ingredients. The ones in this stuffed sweet potato recipe are simple, vegan, and gluten-free. You get all your protein, carbs, and energizing fats from foods straight from the earth!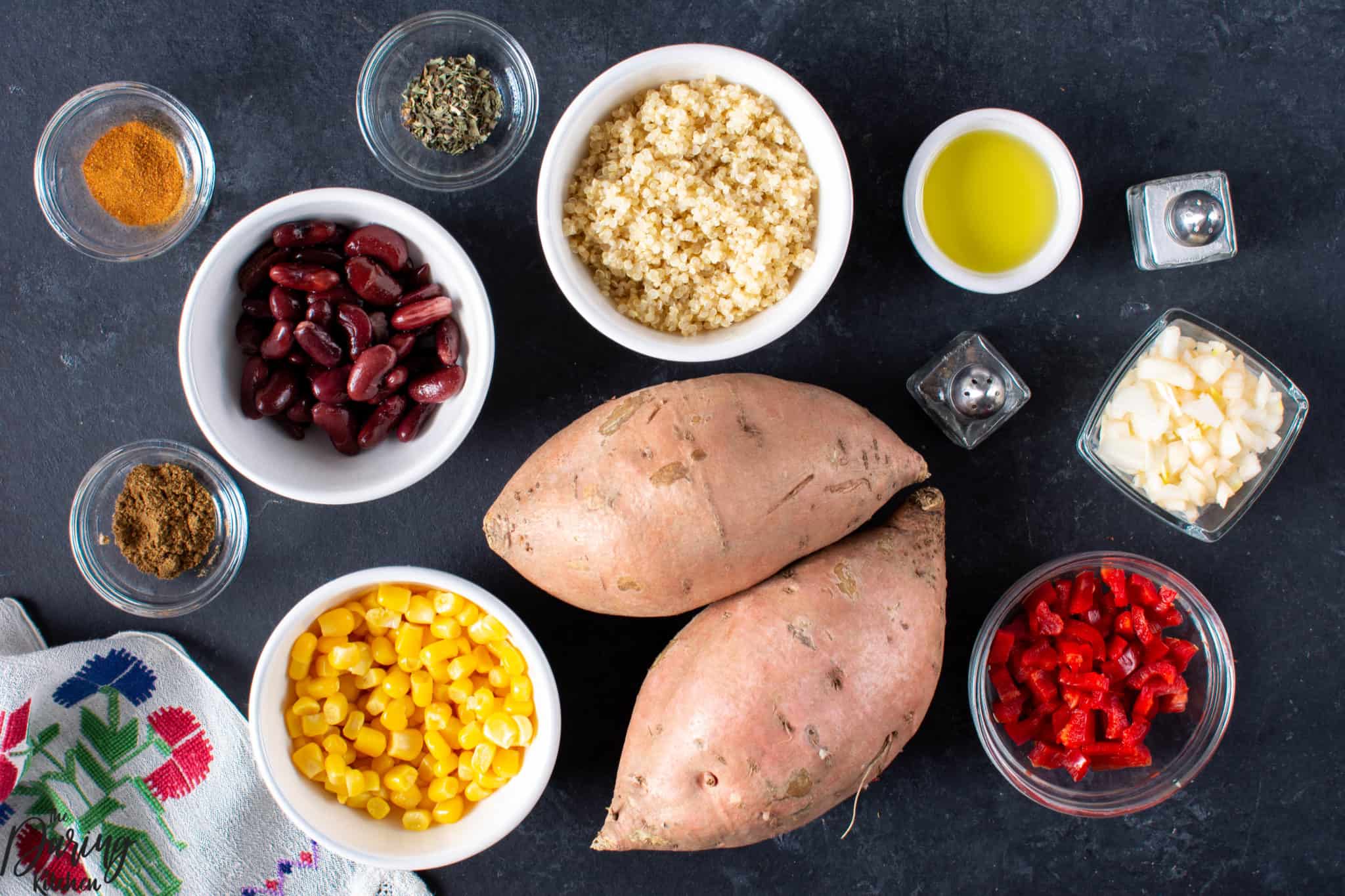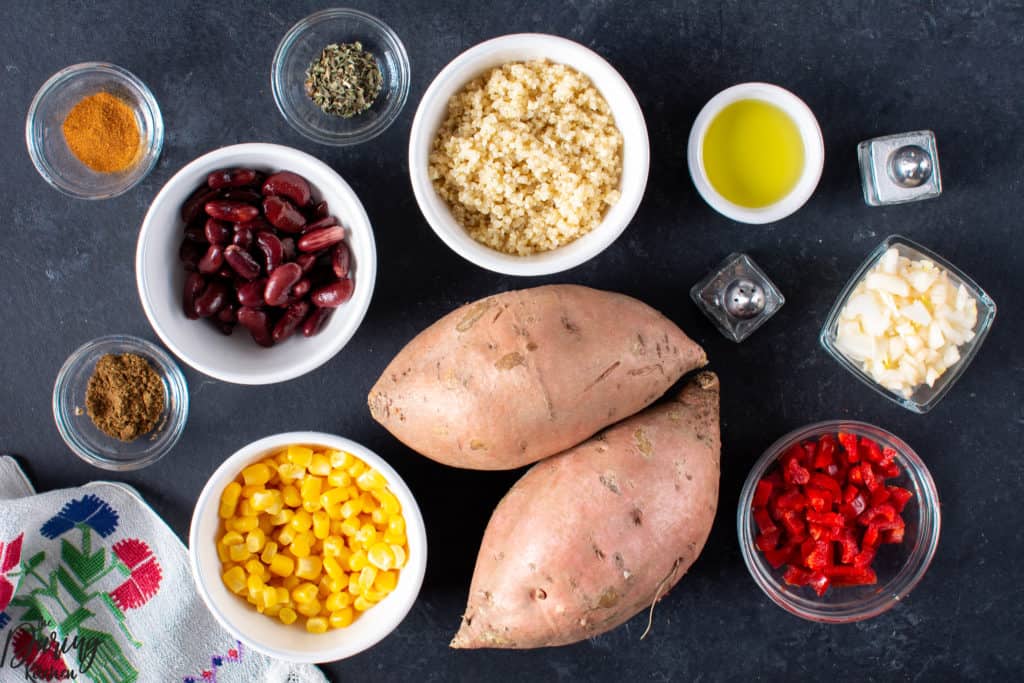 Here are the filling ingredients...
onion (yellow or red onion works)
olive oil
red bell pepper
cooked quinoa
corn
kidney beans (black beans or refried beans work too!)
chili powder
Mexican oregano
sea salt and pepper
Then, for the delicious garnish!
tahini (a creamy greek yogurt sauce works too)
lemon juice (or lime juice)
cilantro
Mashed avocado (you can also make guacamole if you have spare time!)
All of this comes together to create the best baked sweet potatoes ever. You won't even need sour cream or cheddar cheese, trust me!
How to Make Mexican Stuffed Sweet Potatoes with Quinoa
I am so excited to share with you all the details of my stuffed sweet potato recipe. Once you cook your sweet potatoes, this recipe goes by very quickly. So, I sometimes advise pre-baking them. This makes this recipe fantastic for meal prep. You can easily prepare this dish for work or a weeknight dinner.
Step 1: Preheat your oven to 400 degrees Fahrenheit. With a fork, prick your sweet potatoes on all sides. This keeps them from bursting and helps them to bake more thoroughly.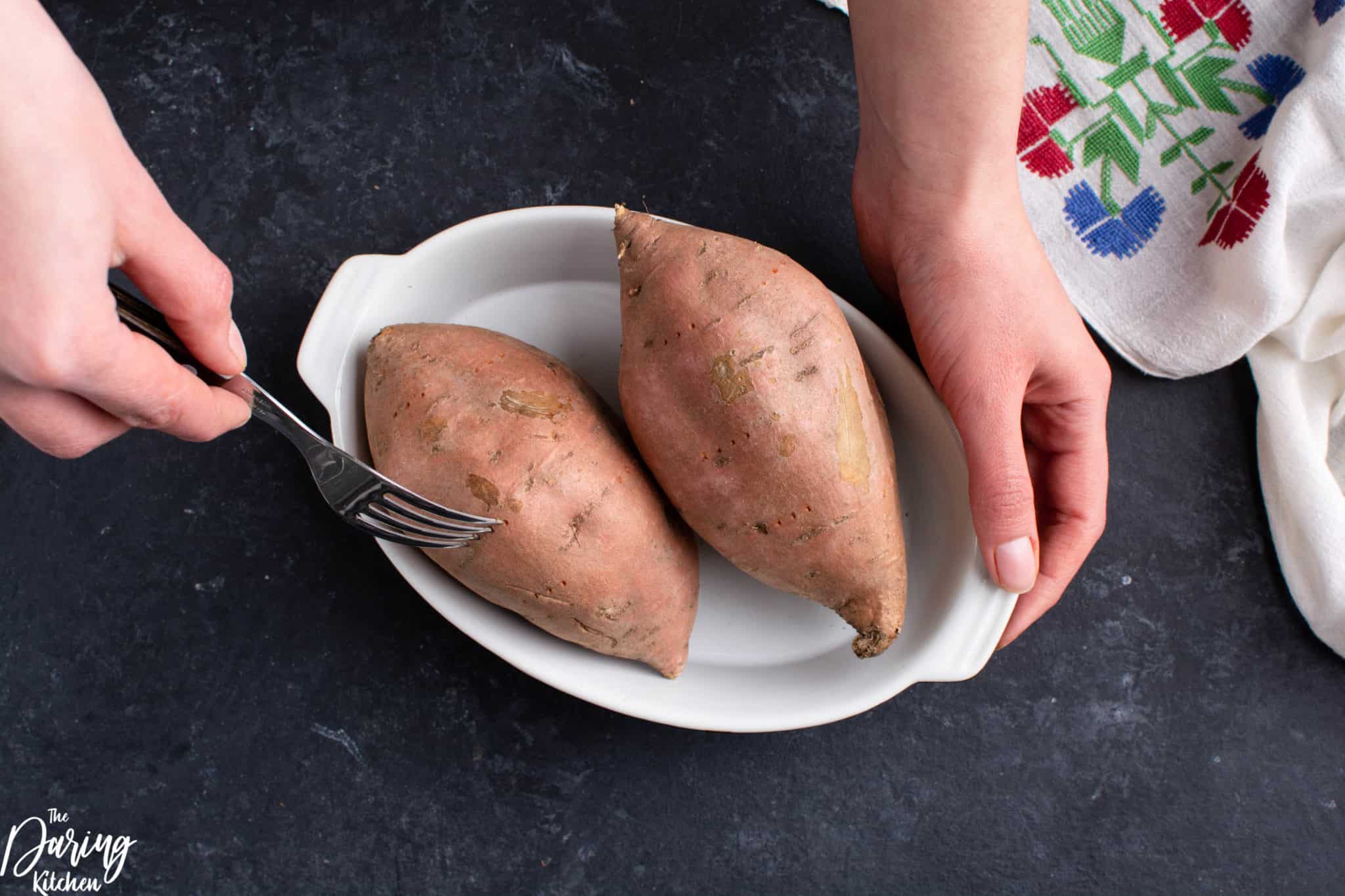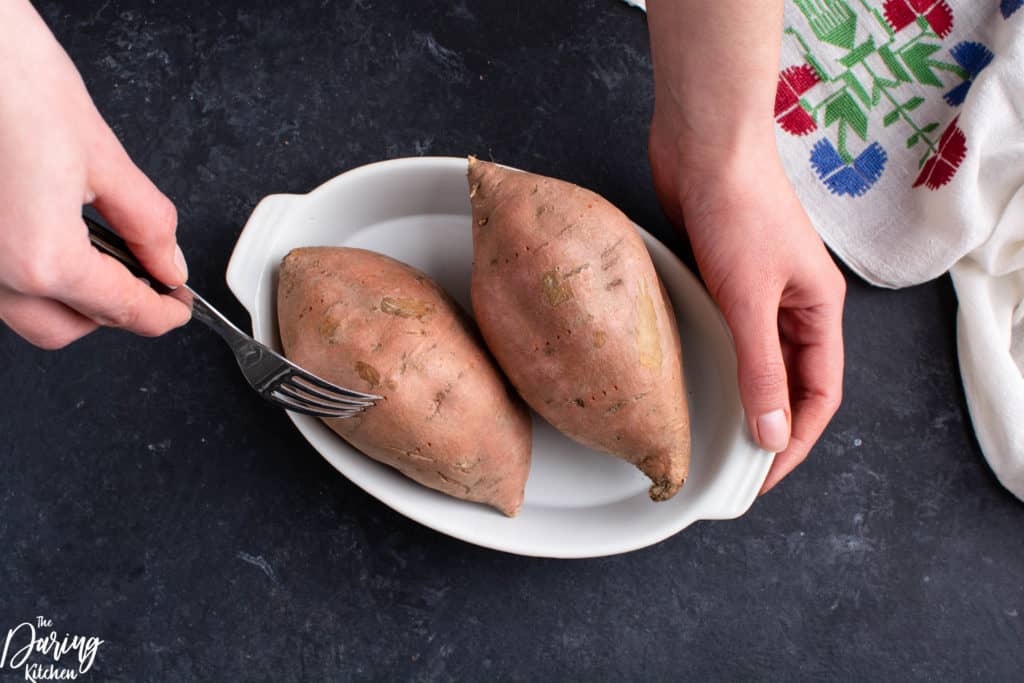 Step 2: Place your potatoes in a baking dish and bake for around 40 minutes, or until the potatoes are cooked throughout.
Step 3: While you wait, heat your olive oil in a skillet over medium high heat. Once your oil is hot, add your chopped onion and red bell pepper. Allow this to cook for 5 minutes, stirring occasionally.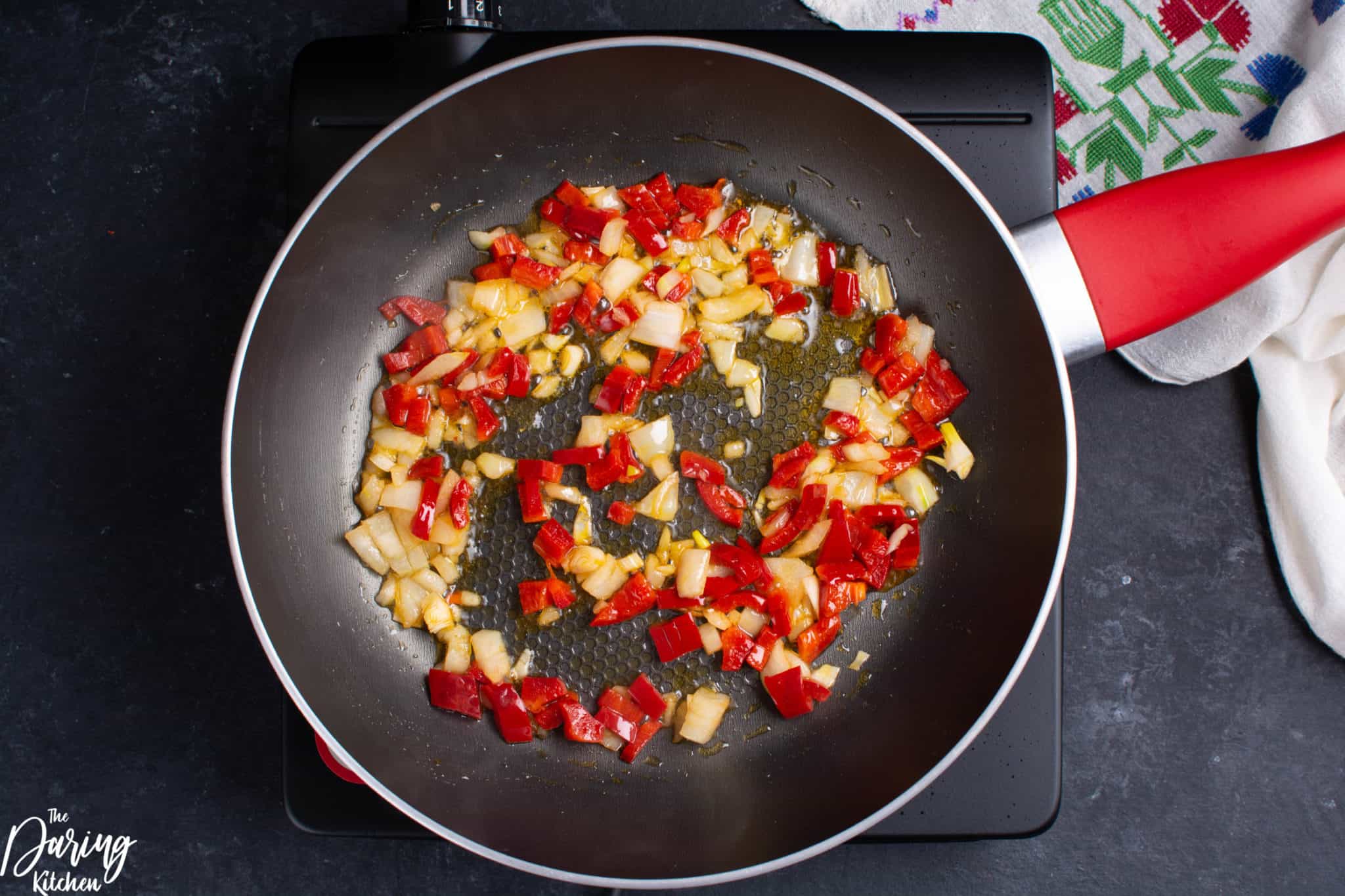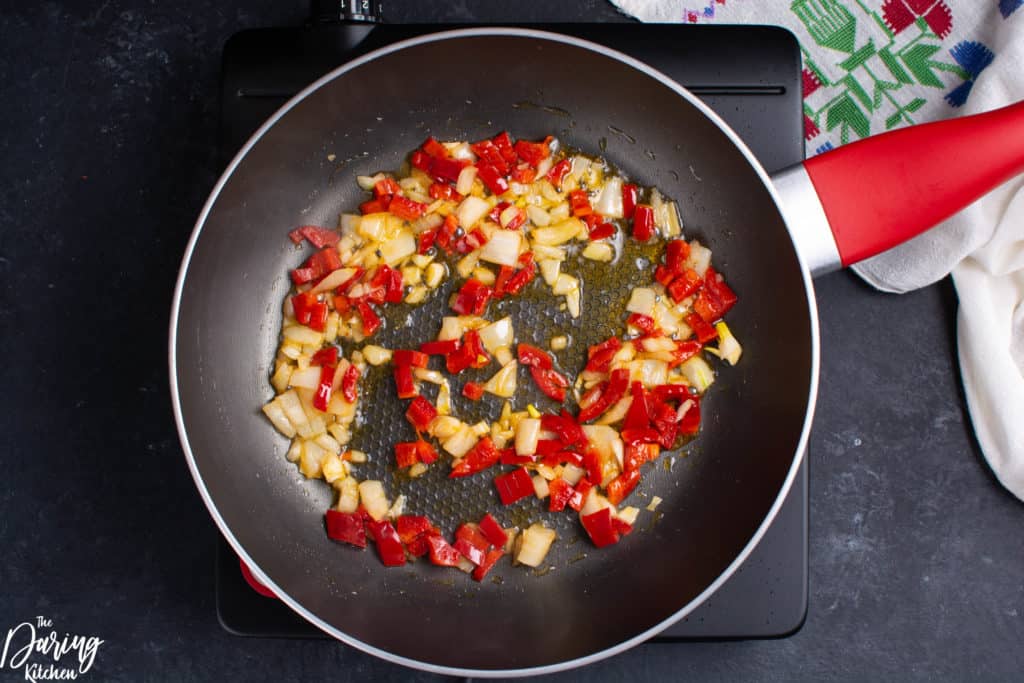 Step 4: Add in your quinoa, corn, kidney beans (or black beans,) cumin, oregano, and chili powder. Mix everything together and allow it to cook for around 3 minutes.
You can also use taco seasoning if you like too. Just remember that seasonings typically have salt added, so you may not need any extra sea salt to finish.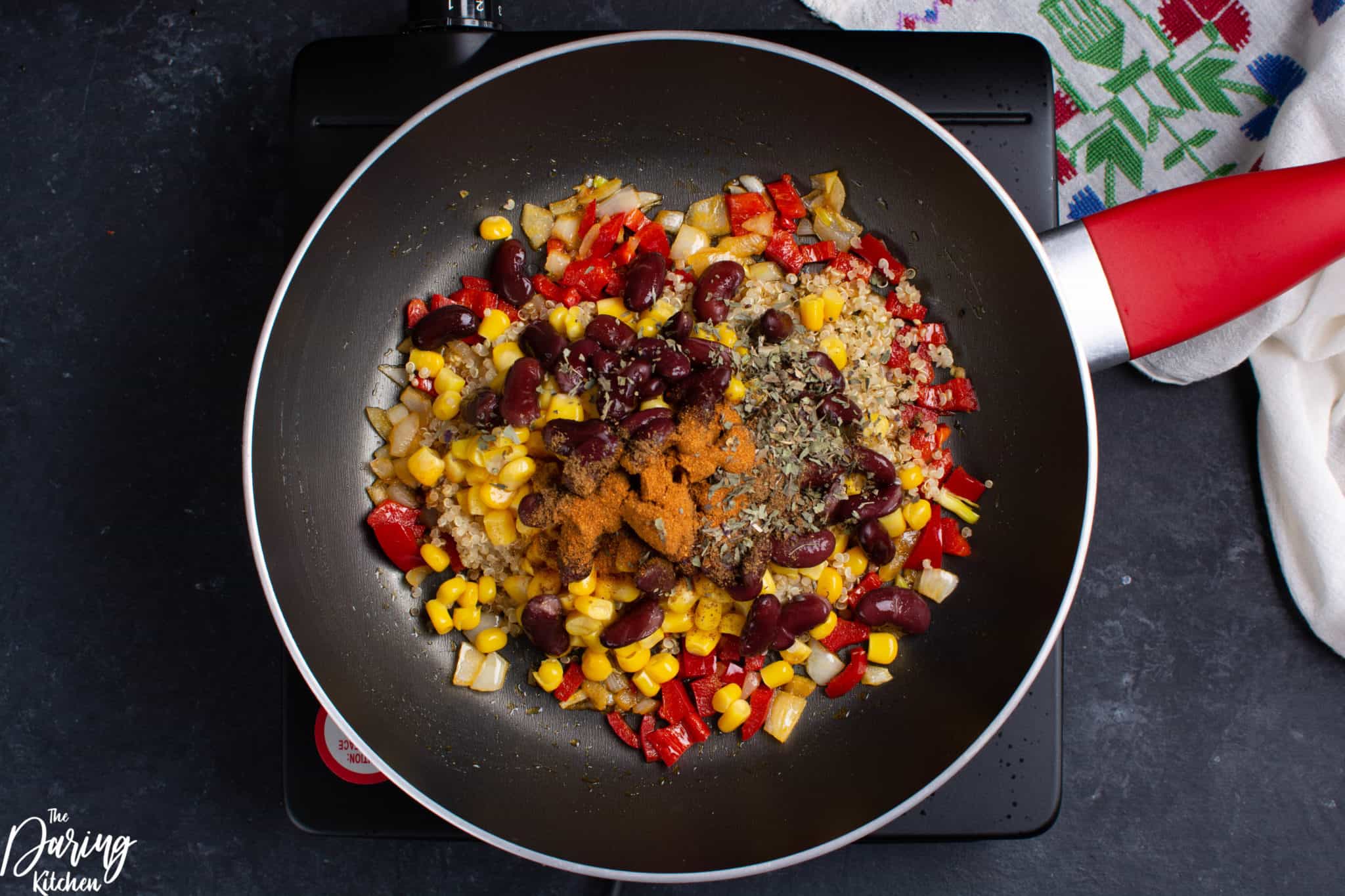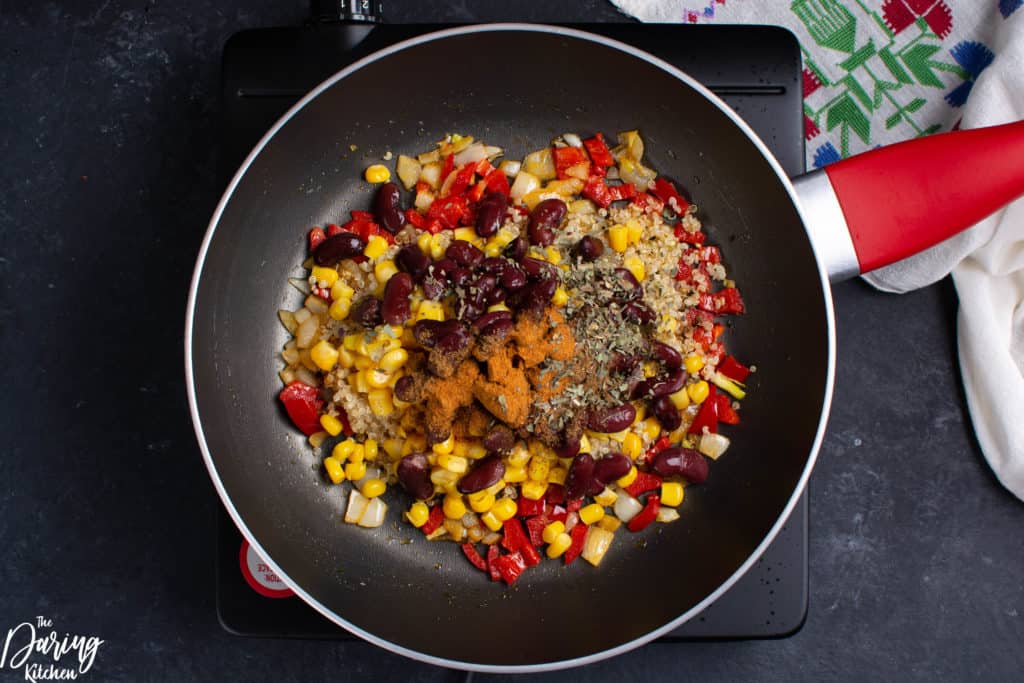 Step 5: When your baked sweet potatoes are done, remove them from the oven. Place them aside and let them cool down a bit. You do not want to burn your hands cutting them!
Step 6: Once your potatoes are not too hot to handle, cut them in half, but not all the way through! Gently mash the interior of the potato. You want to create a 'pocket' for your filling.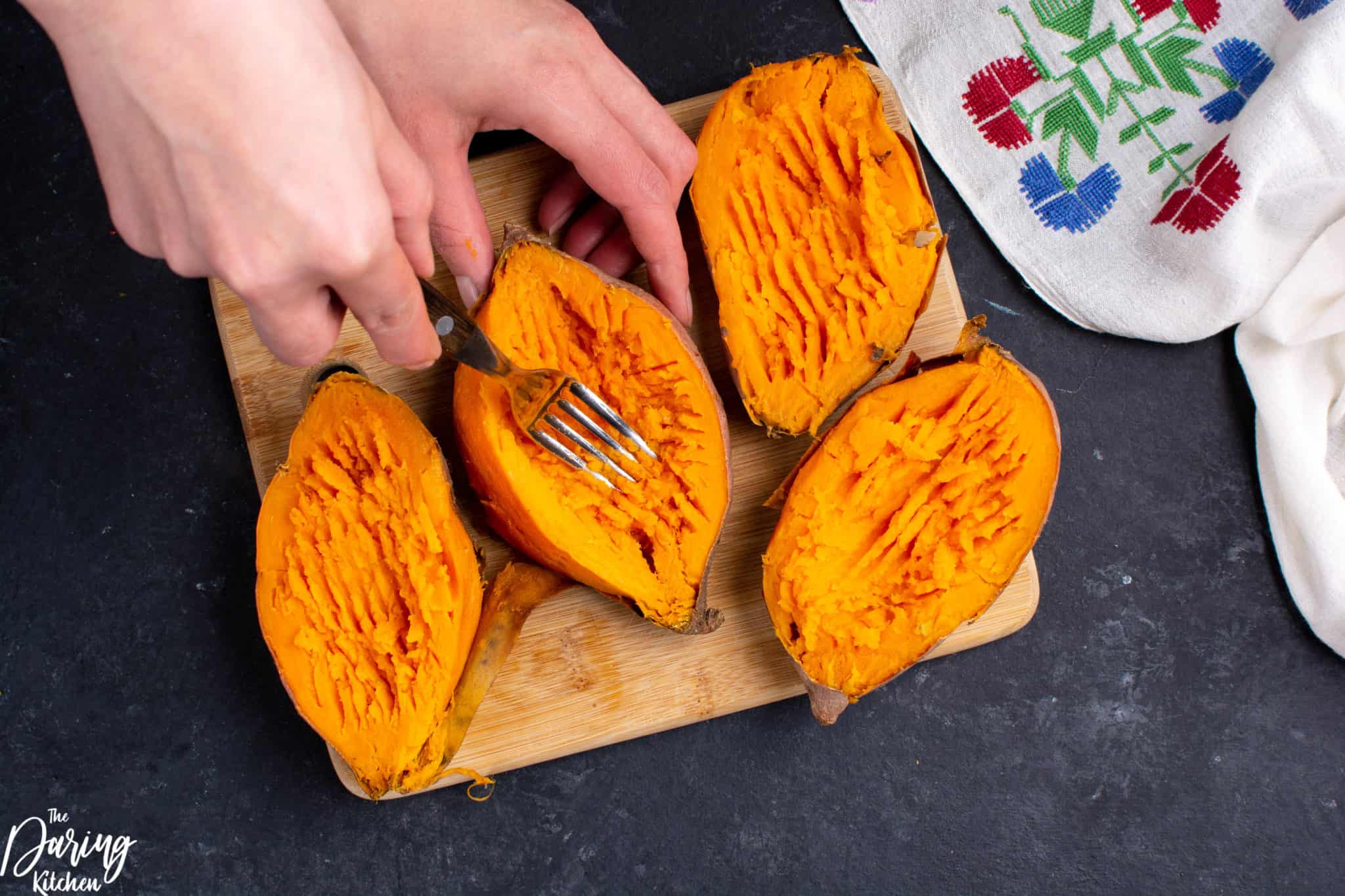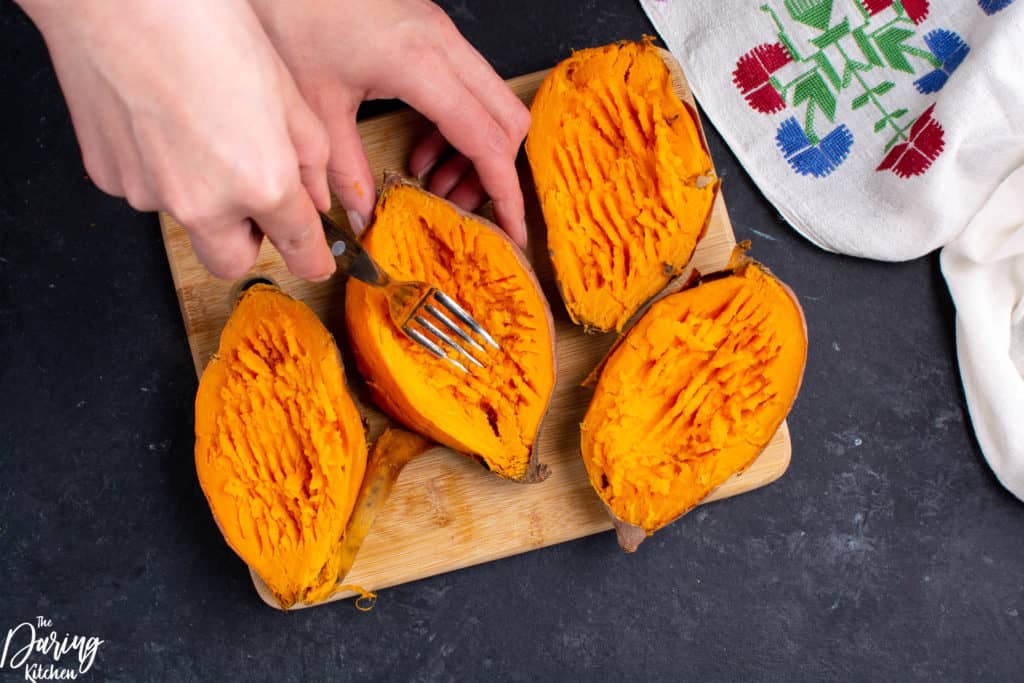 Step 7: Fill your potatoes with your filling mixture.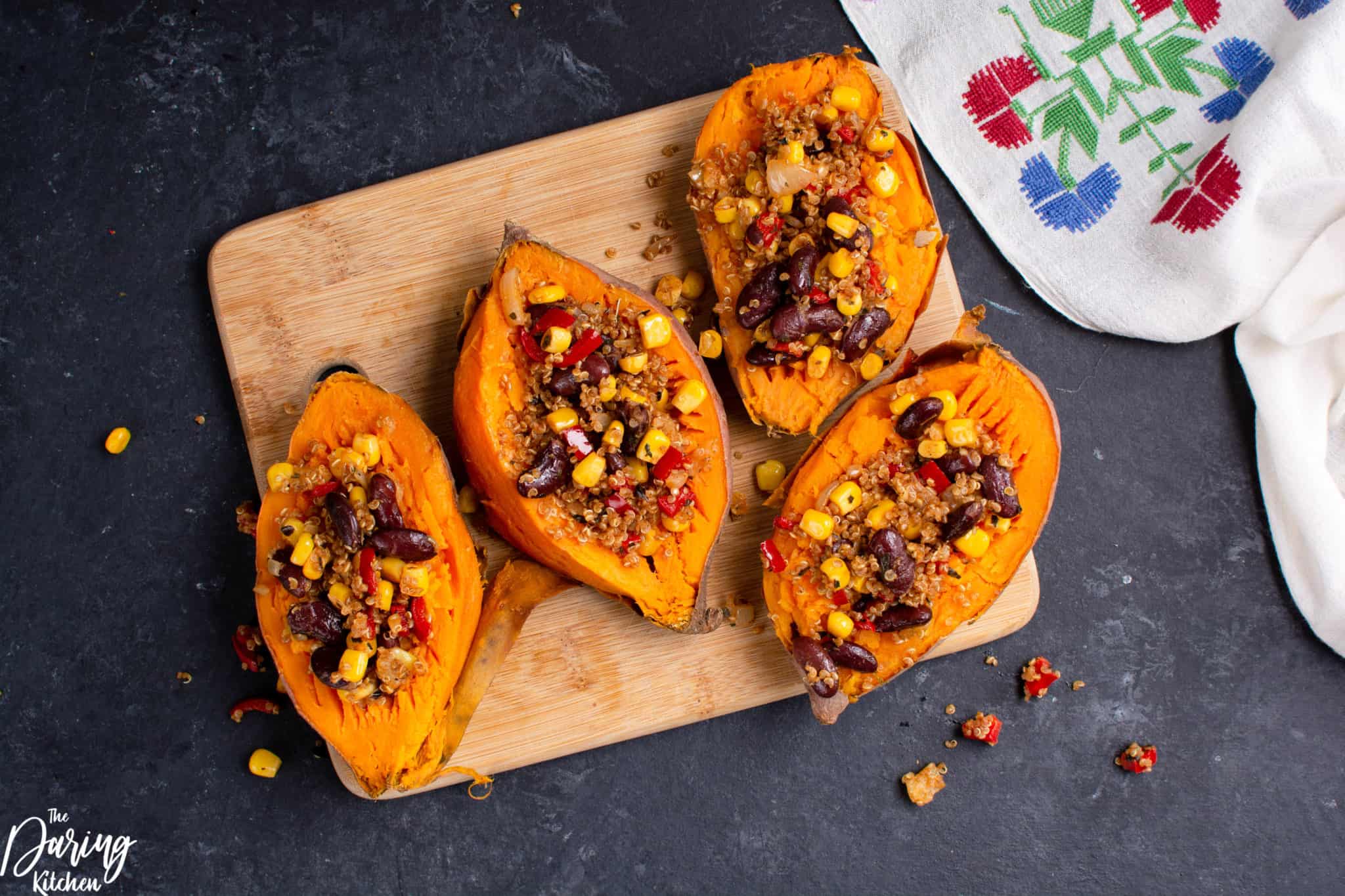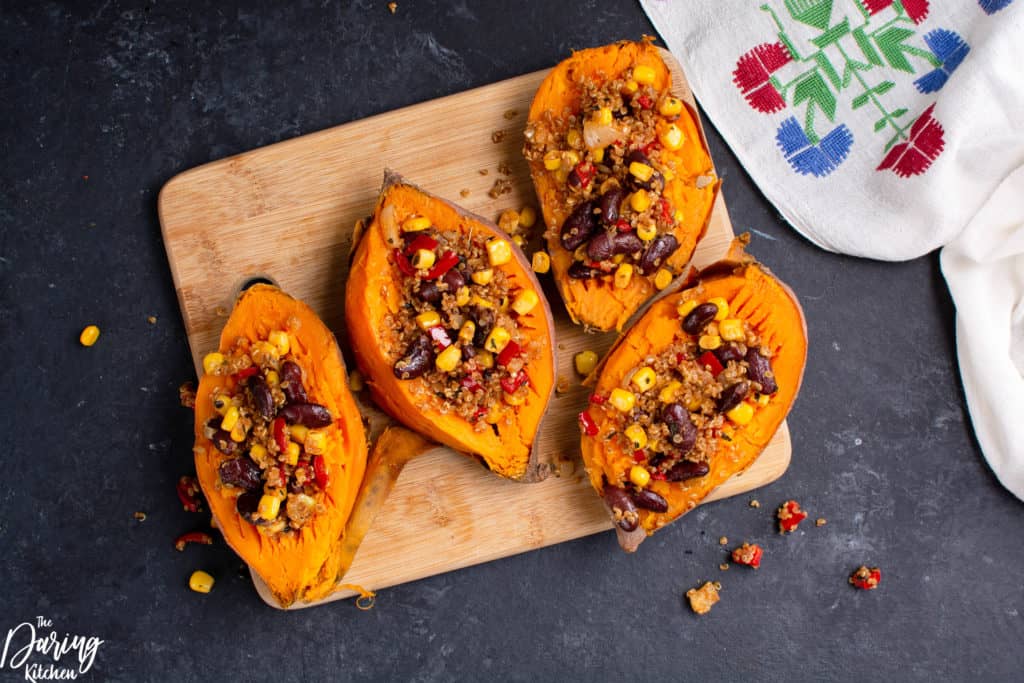 Step 8: Time to garnish! Drizzle the potatoes with tahini (or a greek yogurt sauce,) a fresh squeeze of lemon or lime juice, chopped cilantro, and/or mashed avocado.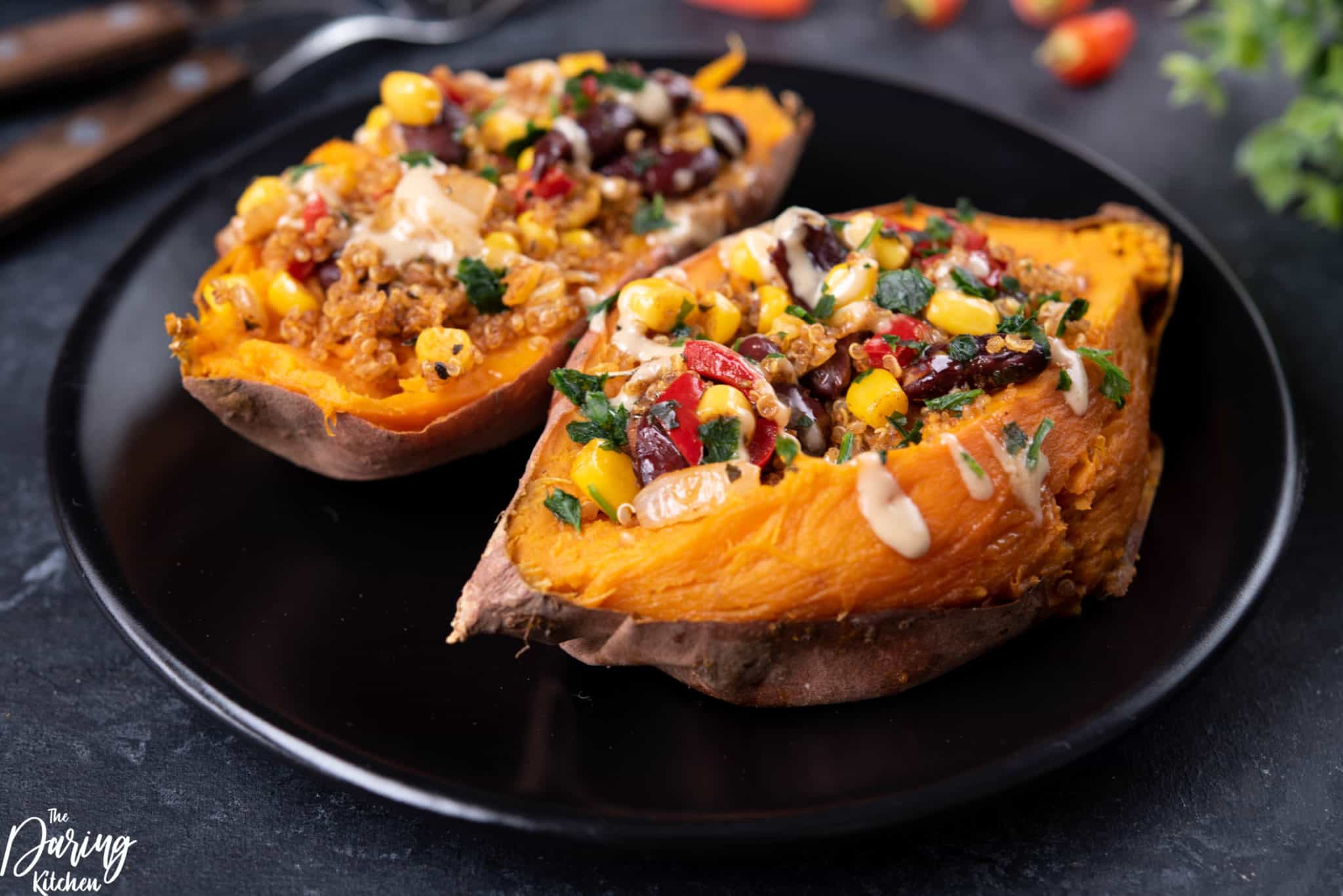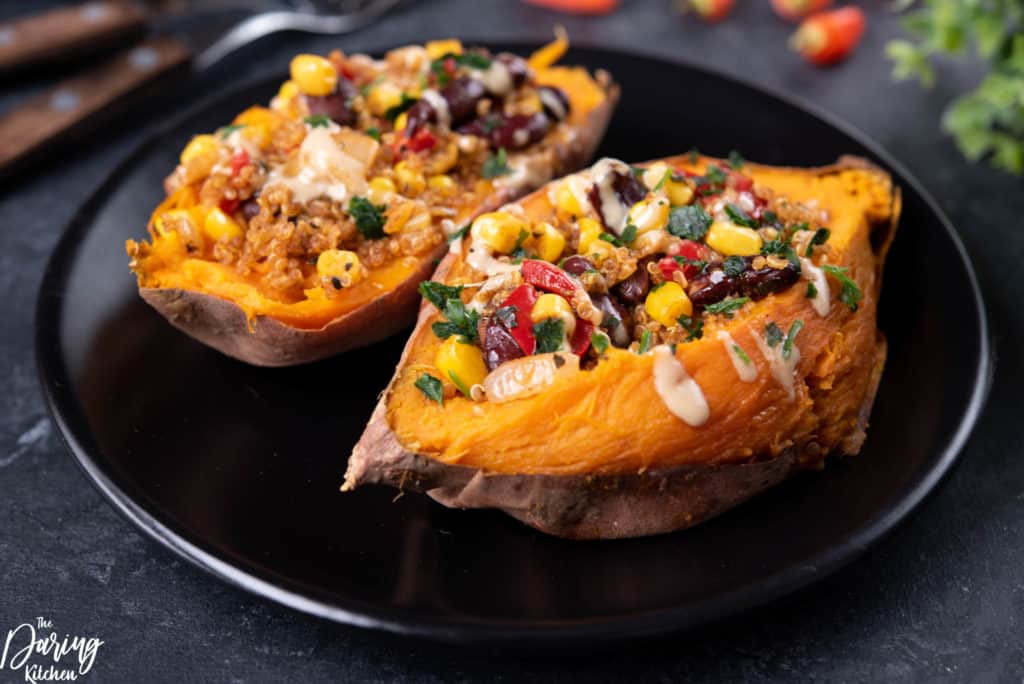 Enjoy!
I would love to see how you decorated your baked sweet potatoes! This is seriously one of the most delicious and healthy recipes. Don't be shy to take a photo of these pretty baked potatoes and share them on Instagram (or social media!) You will have everyone hungry.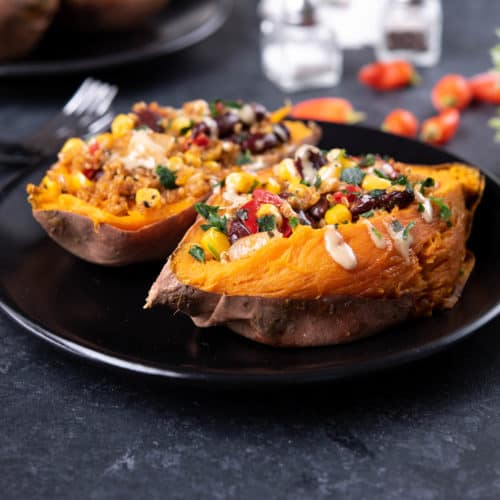 Mexican Quinoa Stuffed Sweet Potatoes
Dairy free, vegan, and gluten free - these stuffed sweet potatoes are the perfect meal for anyone!
Print
Pin
Rate
Equipment
Baking tray or any kind of baking dish

Skillet

Spatula

Knife

Fork
Ingredients
2

sweet potatoes

1

tbsp

olive oil

¼

cup

chopped onion

½

cup

chopped red bell pepper

1

cup

cooked quinoa

½

cup

can corn,

drained, rinsed

½

cup

can red kidney beans,

drained, rinsed

1

tbs

cumin powder

1

tsp

chili powder

1

tsp

Mexican oregano

Salt, and pepper,

to taste
To serve with:
Tahini

Lemon juice

Cilantro

Mashed avocado
Instructions
Prick sweet potatoes with a fork and place in a baking dish. Bake for 40 minutes or until fork-tender.

In the meantime, heat olive oil in a skillet over medium-high heat.

Add onion and bell pepper. Cook, stirring for 5 minutes.

Add quinoa, corn, beans, cumin, chili powder, and oregano.

Cook for 3 minutes. Season to taste with salt and pepper.

Remove the sweet potatoes from the oven. Let them cool down a bit.

Cut each potato in half and mash the center with a fork.

Fill each potato with the quinoa mix.

Serve, drizzled with: tahini, lemon juice, chopped cilantro, or mashed avocado.
Nutrition
Calories:
199
kcal
|
Carbohydrates:
34
g
|
Protein:
5
g
|
Fat:
5
g
|
Saturated Fat:
1
g
|
Sodium:
80
mg
|
Potassium:
536
mg
|
Fiber:
5
g
|
Sugar:
5
g
|
Vitamin A:
16229
IU
|
Vitamin C:
3
mg
|
Calcium:
78
mg
|
Iron:
4
mg