When trying to select a beverage, it can seem like there's just too many options out there. Pure fruit juice, fresh fruit nectar, fruit juice from concentrate, thirst-quenching fruit drink–what does it all even mean!
While you can count on all of these liquids to be at the very least fruit flavored, the truth is, some contain far more actual fruit juice than others, while others contain hardly any fresh fruit juice at all!
Let's take a stroll down the beverage aisle, focusing on two of the most popular ways to drink your daily dose of fresh fruit: nectars and juices.
What is Nectar?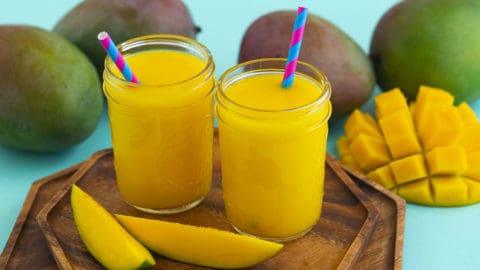 Just like a fruit juice, fruit nectar is the liquid result of blending fresh fruits. However, fruit nectars have a much thicker texture than fresh juices, as they are essentially pureed fruit. This is due to the fact that the juices of certain fruits remain bonded to the fruit pulp, and therefore are unable to be strained and clarified into fruit juice. As a result, fruit nectar is far too thick to drink on its own, and it also tends to be too acidic to be palatable.
In order to combat this thickness and high acid content, fresh fruit nectar is typically diluted with enough water to achieve a drinkable consistency before being bottled and sold. Generally, nectar often has added sugars, preservatives, or other ingredients which make the beverage more palatable. While both fresh fruit nectar and bottled fruit nectar bear the same name, you can check the labeling to determine whether or not the nectar has been diluted or if you are in possession of pure fruit puree.
Buyer beware! In terms of packaging, the term "nectar" is far less regulated in some countries as opposed to 0thers. Some major players in the beverage industry brands may have the word "nectar" in their name or offer products called "fruit nectar" when in fact these drinks fail to possess the above characteristics. Sometimes these beverages are nothing more than fruit flavored beverages or teas, with little to no fruit nectar to be seen!
Examples of Fruit Nectars
Some commonly available fruit nectars are peach, mango, guava, and banana. The flesh of these nectar-producing fruits is generally rich and thick, just like their nectars. As you may know from snacking on any of these types of fruits, the flesh does not really yield any juice when it is squeezed or bitten into, rather the moisture stays with the flesh. It is this specific characteristic that determines whether a fruit will produce a nectar or a juice!
What is Juice?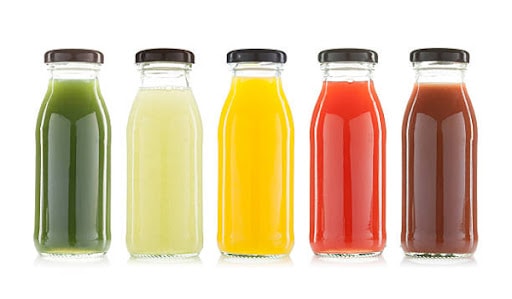 Fruit juice, on the other hand, can be made from either fruits or vegetables and tends to have a much higher degree of clarity than nectar. Think of the way apple juice, or even richly colored grape juice, allows the passage of light through the glass. Try that with a glass of nectar and all you'll end up with is a shadow! This is due to the lower level of fruit pulp that is present in the liquid and the ability to separate the pulp from the pure juice itself.
In many cases, a bottle that is labeled as "juice" will contain juice and nothing (or very little) else. However, this is where labeling requirements and restrictions get a bit tricky. Even though fruit juice is much more palatable in its fresh state (as opposed to nectar), there is always the possibility that a container of fruit juice may contain extra water, added sugar, or preservatives. At times, fruit juice may even be combined with nectar and sold together as one beverage! This technique serves to thin down and improve the flavor of the nectar, as well as jazzes up the straightforward juice. Orange-mango is one classic combination of a juice-nectar hybrid.
Many juices are fully pasteurized, meaning dangerous bacteria are entirely destroyed, making the fruit juice shelf stable for many months and even years. But some fruit juice companies opt for only a slight pasteurization process, as high heat is known to destroy many of the key nutrients found in juices--and the health benefits along with them! These juices that have been only lightly pasteurized have a much shorter shelf life and often must be kept refrigerated, even if they remain unopened.
Examples of Fruit Juices
Some examples of fruit drinks that fall into the fruit juice category (many of which are offered in 100% juice form) are: orange, apple, cranberry, pomegranate, tomato, and pineapple. There are also a wide range of blends made from these juices and countless other unique options such as blueberry, watermelon, beet, and kiwi!
Nectar vs. Juice: How Are They Used?
Since they are essentially made by way of the same process, nectars and juices can both be used in very similar applications. Keep in mind the important distinctions between fruit juice and nectar when selecting them for various culinary uses.
Use either nectar or fruit juice in cocktails, beverages, and smoothies.
Try fruit nectar as a topping for ice cream or other desserts, where it can showcase that rich, thick texture!
Use either fruit nectar or juice in marinades and dressings.
Use fruit juice as a glaze for roasted chicken or grilled meats--nectar is not ideal here as the high content of fruit pulp is more likely to burn.
Add extra flavor to baked goods by using either nectar or juice in place of a portion of the liquid ingredients.
What is Fruit Juice From Concentrate?
Fruit juice from concentrate is basically just that! Unlike pure fruit juice, which is simply squeezed from fresh fruit before being packaged and shipped, juice from concentrate goes through some extra processing steps at the fruit juice concentrate factories. This extra processing is able to greatly extend the shelf life of the juice, as well as widen the overall availability of juices. Since fruit pulp or concentrated juice contains a much lower proportion of water weight than fresh juice, it is therefore much easier and cheaper to ship.
How Can You Tell if Juice is From Concentrate?
For starters, water will most likely be the first ingredient back label, followed by the type of juice concentrate(s) being used and any additional ingredients such as sweeteners or preservatives. Reconstituted juices may also be labeled as "100% fruit juice from concentrate" meaning they contain the juice concentrate plus enough water to return the concentrate to its original consistency.
Is Juice From Concentrate Healthy?
It's true that juice from concentrate goes through much more processing than juice that is not from concentrate, however, this processing does not necessarily make it bad for your health. Rather, it's the additives that may be mixed in when the juice is reconstituted that can pose risks. Oftentimes during the reconstituting process, the concentrates will be mixed with preservatives and/or additional sweeteners such as high fructose corn syrup. Depending on what is added and how much, these extra ingredients can greatly detract from the health benefits of drinking juice.
Final Thoughts on Fruit Juice and Nectar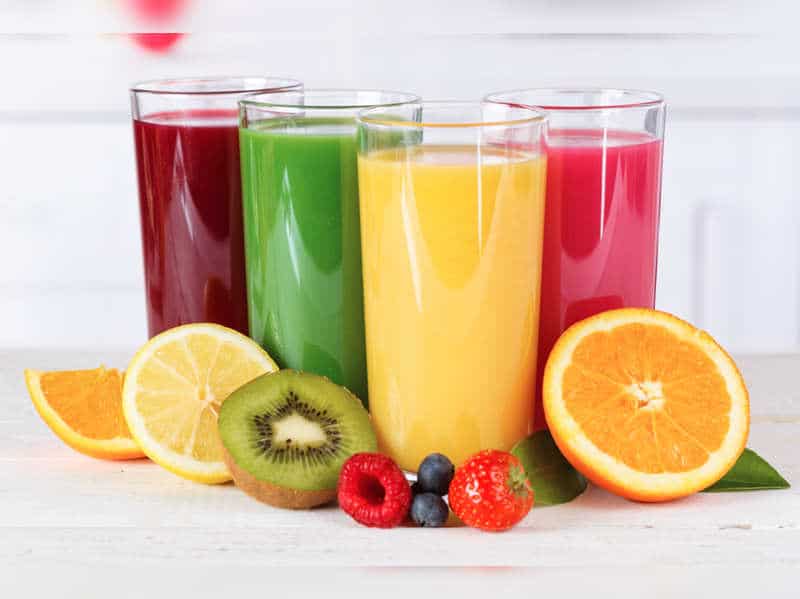 The big takeaway here is a lesson that is important not only when it comes to juices and nectars, but for ALL prepackaged foods you purchase: read the label! It's always in your best interest to look carefully and find out exactly what is in that container. You might be surprised at how much (or how little) or the product featured on the label is actually in there.
Don't be fooled into thinking that just because a packaged beverage bears the refreshing imagery of fruit on the front, that it means it truly contains all of that good stuff inside. Not all fruit drinks actually have any fruit juice present, and a bottle that might appear to be fresh fruit juice may actually contain a load of other ingredients!
No matter what type of fruit drink you opt to hydrate with, the most important thing is that you are making an informed choice. There is a wide range of fruit drinks that lie between fruit juices and nectars, many of them are nutritious and others are simply delicious!