You've come to the right place if you're looking for the best masticating juicer. And even if you're not actively searching for a juicer, but simply interesting in knowing the difference between the various types of juicers, you'll still find that information and more in this article.
The Best Masticating Juicers
Now let's get on with the main business of this article.
There is no shortage of juicers on the market. But there's really no need to scout through a plethora of appliances just to get the best masticating juicer, at least not in an age where you can easily find quality reviews online. We've done all the "heavy lifting" for you through a painstaking review of the various models available. And we're sure you'll find something that suits your juicing needs among our top 5 picks.
1. Hurom H-AA Slow Juicer – Best Design Masticating Juicer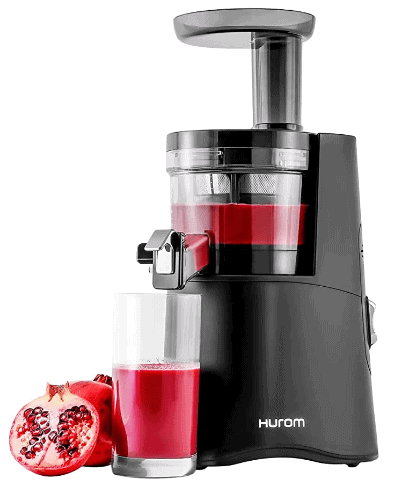 Since we're only interested in presenting the very best masticating juicers, let's kick things off with the less common (but high-quality) types – the vertical masticating juicer. And what better place to begin than with the Hurom H-AA Slow Juicer!
This is the best masticating juicer as far as design goes in the vertical category (at least, in our opinion). It features a streamlined design with smooth curves where it matters, giving it an elegant and stylish look.
But Hurom is not just about aesthetics. This strikingly slim masticating juicer comes with interchangeable strainers – something users will find extremely useful. And as you'll expect, it doesn't take up space on countertops. The product features a 150-watt, 43 rpm top-speed motor that runs almost silently. Users who have used similar compact models will appreciate the product's near-silence, as it is significantly quieter than many slow juicers in the same category.
This juicer packs quite a value and is designed to last for several years, thanks to the improved motor. But just in case you need to set your mind at ease, the appliance comes with a solid 10-year warranty covering its central motor.
However, Hurom has one major drawback. It has a small extraction chamber. That is okay if you don't usually make lots of fresh juice. It is certainly not the best option for those who prefer higher juice quantity with every juicing session.
Detailed Review
Performance
At 43 rpm top speed, this model is considerably quiet during operation. But that is to be expected, taking the rather meek motor into account. We rate the performance at 7.5 out of 10.
Design
This model is rated a solid 8.0/10 when it comes to design. Although this manufacturer is somewhat less-known, the model is impressively slimmer (and sleeker) than previous iterations. Apart from its compact form, the juicer's operational surfaces come equipped with 100% BPA-free plastics.
Usability
There is an obvious tradeoff to the streamlined design of this product – a small chamber. Users might find it necessary to pause more frequently if they have to juice larger produce because of the smaller interior. Although the small chamber in this model was necessary to maintain its slim form factor, it takes away from its efficiency at producing much juice at a go. We score the product's usability a 6.0 out of 10.
Features
The Hurom H-AA Slow Juicer features three interchangeable strainers that can be used for various juicing purposes. For this, we rate the product at 7.5/10, as it is significantly useful when it comes to versatility.
What We Like
Interchangeable strainers for coarse, fine, and ice cream juicing
Significantly quieter with a 43 rpm motor
Slimmer model than previous iterations
Impressive motor lifespan and warranty
What We Don't Like
Customer service leaves much to be desired
Bottom Line
The Hurom H-AA Slow Juicer combines convenience and performance in a gorgeous-looking appliance designed for those who want high juice yield in small servings. Home juicing is convenient with this model, especially for those with smaller kitchens. It will sit conveniently on countertops, even when they are packed with lots of grocery bags.
Price: Around $422. Check out the current price on Amazon.
2. Champion Classic 2000 Masticating Commercial Juicer - G5-PG710 – Best Heavy-Duty Masticating Juicer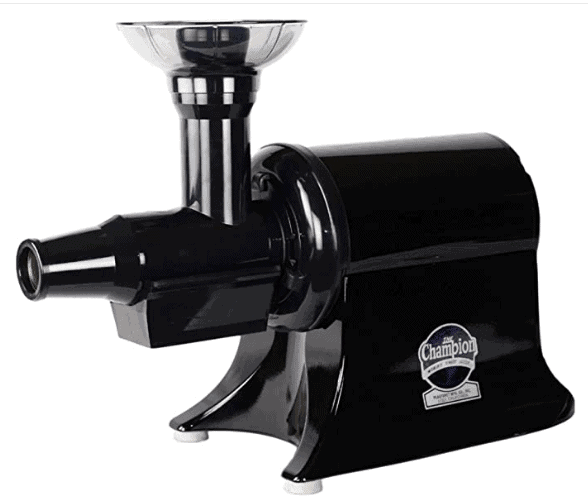 Some juicers look great and perform great, too. But not every masticating juicer is designed for continuous use. In many cases, you'll be shopping for parts if you use them too frequently. But that's not the case with the Champion Classic 2000 G5 – PG710. This brand is constructed with hard-wearing metals in places that matter the most.
The motor shaft is made from stainless steel, making it capable of withstanding wear and tear for a significantly long time (over a decade), even if used daily. After all, it is a commercial juicer, meaning it is ruggedly built to take on daily large juice production demands. The juicer features a funnel that is also made from stainless steel. You can be sure it won't get corroded from the acids in juices. You can load a lot of produce on the juicer at once, thanks to the bowl-shaped hopper.
The funnel is not the only useful additional feature of this juicer. It comes with quite a few other tools that can get your juice started in a matter of minutes. Some of these include sieve, tamper, and specialized sieve. And as if that's not enough, the model comes with a book that shows users helpful tips and tricks for the best juicing experience.
Detailed Review
Performance
The stainless steel shaft that comes with this model works exceptionally well for a long time. We rate its performance at 7.5 out of 10.
Design
The Champion G5 – PG710 may be great in many aspects, but the design is rather stocky. It gets a 6.0/10 rating from us because it can be quite difficult to move it out of a cabinet due to its weight.
Usability
This model scores a solid 8.0 out of 10 for usability. Users will find the bowl-shaped hopper quite helpful as it can streamline the overall juicing process. The funnel can also resist corrosion from high acidity in juices because it is made from stainless steel.
Features
The Champion G5 – PG710 is quite impressive when it comes to features. It takes significantly less time to set up. One of its huge pluses is the inclusion of a tamper that lets users safely plunge their preferred produce without putting their fingers at risk. We rate this model 8.0/10 for features.
What We Like
Comes with a solid 10-year limited warranty
Easy insertion due to bowl-shaped funnel
Motor shaft is stainless steel and can withstand long-term wear and tear
What We Don't Like
Significantly heavier than other types on this list
Might not be easy to move from place to place
Bottom Line
This is the best masticating juicer for commercial purposes. The shaft can perform excellently, even with continuous use. Streamlined juicing doesn't get any better than using the Champion Juicer G5 – PG710 due to its impressive funnel. This is the perfect model for those who prefer sturdy kitchen appliances. You can be sure that this model won't get knocked over your countertop easily!
Price: Around $365. Check out the current price on Amazon.
3. Tribest GSE-5050 Greenstar Elite – Best Masticating Juicer with Twin Augers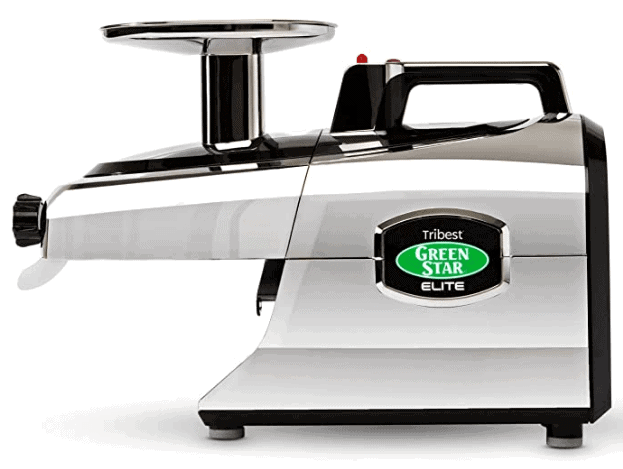 If you are in the market for the best masticating juicer that excels at juicing fibrous and leafy produce, your search is likely to end with Tribest's GSE-5050 Greenstar Elite.
Masticating juicers can do many impressive things, but only a few are actually designed to follow the same juice extracting processes that humans would. This model is built to effectively imitate human chewing – and that's not an exaggeration. Its twin augers ensure that every drop of juice is extracted from your favorite produce.
Tribest GSE-5050 is designed with quite a bit of complexity to ensure that oxidation is actively lessened. This comes down to a significantly high amount of nutrient retention in the resulting juice. The model doesn't work for leafy greens only. It is equally efficient when it comes to nuts and herbs, and that's due to its versatility.
Detailed Review
Performance
We rate the performance of this model at an impressive 9.0 out of 10. There's no arguing the fact that it is the best masticating juicer when it comes to imitating the human process of cutting, slicing, and crushing fibrous produce. It works to deliver every last drop of your greens.
Design
The GSE-5050 comes with a built-in easy-grip handle, making it easy to convey from place to place. However, the hopper's flat design doesn't help the overall juicing process, especially for round produce. Any round produce can easily roll off from the hopper. We score this model 7.5/10 for design.
Usability
This product gets an impressive 8.5/10 rating for usability. Its stain-resistant nylon components make it incredibly easy and quick to clean up after use. Plus, its stainless steel parts are built to resist potential acidic fruit juices.
Features
This model shines when it comes to the things you can do with it. You can make breadsticks, rice cakes, pulp-free juice, and many other delicious foods with the different screens that come with the appliance. The GSE-5050 scores an impressive 8.0 out of 10 for features.
What We Like
Can be used with different produce of various densities due to the pressure adjustment mechanism
Solid 12-year warranty
Twin-gear system delivers impressive mastication
Easy to clean
What We Don't Like
Corrosion can occur in some components
Pricey
Bottom Line
It is extremely difficult to make a mark in a highly competitive market, such as the juicing industry. But the Tribest GSE-5050 stands tall due to its impressive extraction system. Only a handful of models can go toe to toe with the GSE-5050 when it comes to imitating how humans masticate produce.
Price: Starts from $494. Check out the current price on Amazon.
4. KOIOS Slow Masticating Juicer with Reverse Function – Best Budget-friendly Masticating Juicer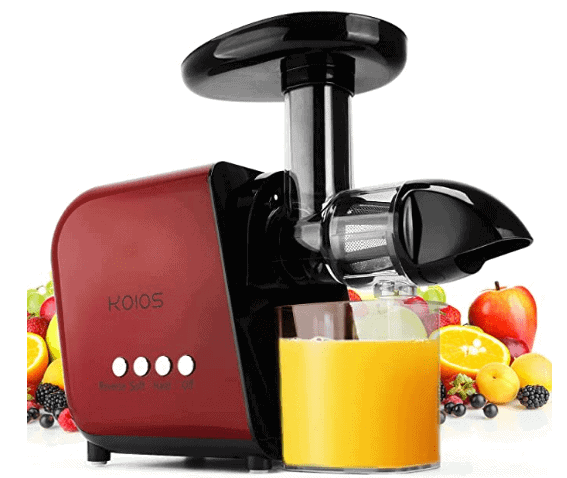 Sometimes, you just want something that can deliver your favorite glass juice without all the bells and whistles. The problem is that many juicers that fit this bill work more like glorified blenders since they are cheap. Therefore, they won't deliver the results you want. But what if you can find an actual masticating juicer that is both affordable, comes with durable parts, and works efficiently?
That is where the KOIOS Slow Masticating Juicer comes into play. This unit is significantly more inexpensive than similar models, but that doesn't mean it is cheap (in the negative sense of the word). Instead, you are sure to get plenty of bang for the buck with this model.
Besides saving you good money, the KOIOS masticating juicer comes with a unique slow squeeze technology aimed at delivering high juice yields. The system combines a PEI auger with its 80 rpm top speed to extract juices. The unit is very quiet, even when packed with produce.
Most cheap juicers are constructed using just about any type of plastic, but that's not the case with the KOIOS juicer. It features BPA-free polyethylene plastics, making it safe, sturdy, and long-lasting. Also, it is quite easy to wash off juice from the plastic.
Unlike many other models, you don't need prior experience with juicers to use this one comfortably. There is practically no learning curve involved with this KOIOS Slow Masticating Juicer.
Detailed Review
Performance
KOIOS gets a solid 8.0 out of 10 rating for performance because it can process most produce, including carrots, ginger, leafy greens, oranges, apples, and even celery. The PEI auger in this model is incredibly efficient and delivers impressive results.
Design
The unit is constructed from safe, 100% BPA-free plastic instead of random plastics, as is common in most cheap juicers. The tear-drop design is not only beautiful but useful, too, as it allows for neater juice output. For this, we rate the design an impressive 8.5 out of 10.
Usability
This unit operates quietly at 60 dB, even at full capacity. Most juicers will hum loudly when loaded with produce, but you can safely use this without disturbing the entire household. We score this model 8.0/10 for usability.
Features
The reverse function can get the juicer unstuck when it is clogged. Plus, the tear-drop shape minimizes splashing and excessive mess, as it directs the juice to flow down smoothly. We give the model an 8.0 out of 10 for features.
What We Like
Very affordable
Impressive 10-year warranty on motor and 3 years on other parts
PEI auger greatly reduces oxidization
Near-silent operation
What We Don't Like
Significantly weightier than similar models
Short usage time (20 minutes or less at a time)
Bottom Line
This model is not just sturdy but surprisingly quiet and durable for its price. It works just fine for most fruits and veggies and could be the best option for anyone looking for affordability and quality.
Price: Around $116. Check out the current price on Amazon.
5. Omega NC900HDC Juice Extractor and Nutrition Center – Best Versatile Masticating Juicer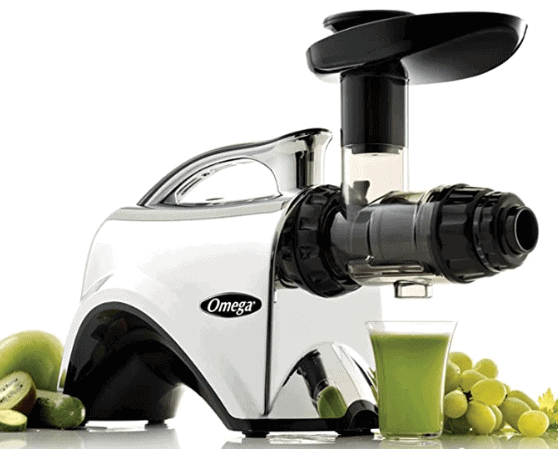 We mentioned that the first product we reviewed is good when it comes to versatility. But guess what? You can bet something better than "good." If you want the best masticating juicer when it comes to versatility, the Omega Juicer could be your best bet.
It is almost unthinkable to review masticating juicers without listing the Omega NC900HDC. The fact that it is coming last on this list doesn't take anything away from the product. In fact, Omega is the gold standard as far as the juicing world is concerned.
The NC900HDC model has an unrivaled 15-year warranty on all parts – that's a leading standard in the industry! Its robust dual-extraction system and a high-performance two horsepower motor combine to produce a high yield from every juicing session. At 80 rpm top speed, you can expect to get a good yield in a relatively short period, regardless of the toughness of the produce it processes.
This horizontal masticating juicer is not known as a nutrition center for nothing! There's hardly any other juicer on the market that can combine the functions of this product. Besides its exceptional juice extracting ability, it can also make fresh spices, frozen desserts, smooth nut butter, and many more.
What To Look For When Buying Masticating Juicers
Performance
Simply put, the Omega NC900HDC Juicer comes with one of the very best dual-stage extraction systems. And for that, it gets a solid 9.5 out of 10 ratings. It leaves nothing out when it processes any type of produce. For good measure, you can squeeze out more juice from tough produce with the various pressure settings.
Design
Omega took aesthetics a bit further with this model. Its shiny enclosure serves a dual purpose. First, it protects the appliance from potential corrosion that can occur if you have highly acidic fruit juices. Secondly, it serves as a beautiful chrome finish. We rate this 8.5/10.
Usability
In our opinion, this model scores high on usability with a rating of 8.0 out of 10. The auto pulp-ejection system means that users don't have to pause frequently while using the appliance. It handles all debris automatically. With this model, there is no worry about accidentally slipping out of your hand. It comes with a built-in handle that ensures safety and convenience when you need to move it around.
Features
For features, we rate this model a solid 9.5.10. Just about any juicer can juice – that's what they are built for, right? But this model does a lot more than mere juicing. It can effectively process pasta, make baby food, chop up herbs, grind the coffee, and lots more! Little wonder it is dubbed a nutrition center. Its many features mean you'll not have to separately buy some single-use kitchen appliances, thereby saving money.
What We Like
15-year solid warranty on all parts
Built-in handle makes it easy to transport
Chrome exterior is resistant to acidic fruit juices
Easy to clean and assemble
High juice yields due to a dual-stage masticating extraction system
Reduced prep time due to wide feed chute size
Significantly quiet operation
What We Don't Like
Juicing screen can be easily broken
Considerably pricier option
Bottom Line
Omega has a long history of manufacturing first-rate products, and the NC900HDC follows that tradition. It works efficiently for any type of produce you want to process, including wheatgrass. Its durability is not questionable, as it is built to function fully for up to a decade and a half!
Price: Around $350. Check out the current price on Amazon.
Let's first see the types of juicers and then double back to where we started from to check out the best masticating juicers.
The 3 Major Types of Juicers
Since you're here, it is safe to assume that you already know that a juicer is an appliance that extracts juice from fruits and veggies, although the term juicer could also mean an alcoholic! Juicers extract juice – true, but not all juicers perform that function in the same way. All juicers are grouped into three major categories, which include centrifugal, masticating, and triturating juicers.
Here's a quick description of the essential differences between these juicers.
1. Centrifugal Juicers
Centrifugal juicers are designed to extract the juice and reduce or remove fiber. They work best for thick vegetables and hard fruits. They are very fast machines that extract juice at high speeds ranging from 3,000 to 10,000 revolutions per minute (rpm). Centrifugal juicers typically weigh a lot less than other juicers, are easier to clean, and significantly more affordable.
By design, these juicers generate heat during juice extraction. This affects the quantity of juice produced, as well as the quality. Some enzymes and nutrients might be lost due to the high oxidation rate, and the juice produced degrades only a few hours after juicing. A lot of foam is produced, and the juice separates rather quickly. And because the machine is very fast, the noise level is also high.
If you are just getting into juicing or want a juicer for casual use, a centrifugal juicer will work just fine. They are easy to assemble and dissemble. Plus, they don't require long prepping before use. Centrifugal juicers take less space and are ideal for individual use.
2. Masticating Juicers
Masticating juicers are built to extract just and remove or reduce fiber. However, they are not limited to simple juicing. Instead, they work exceptionally well for food processing – no here! They are great for making pasta, chopping, and even powder grinding. These machines are suitable for both hard and soft fruits, as well as thick vegetables. But one of the things that make them different from centrifugal juicers is their ability to extract juice from sprouts, wheatgrass, and other leafy greens.
With a speed of about 40 to 100 rpm, these juicers are incredibly slow – slower than all the other types. They also take longer to prep before use. But their slow speed is actually a huge plus because it preserves the quality of juice produced. That means high juice quality and quantity, very little foam in juice, and slow juice separation time. Juices produced using masticating juicers can take up to 72 hours before degradation.
And because the machine is typically slow, there is a significantly low noise level during operation. If you want the best masticating juicer, you will have to pay a significantly higher amount than you would pay for a centrifugal juicer. Masticating juicers are most suitable for families or if you are passionate about juicing. Do you own a juice bar? Consider getting a masticating juicer – it's worth it.
3. Triturating Juicers
Triturating juicers are very similar to masticating juicers but with a few differences. It works great for both hard and soft foods, but might not be the best machines for watery fruits. Like masticating juicers, triturating juicers also produce high-quality juices and can be used for various food processing functions.
They are typically the heaviest of the three juicer types and take a longer time to clean. You will need to pay top dollar for these types of juicers, but it is worth the price if you are a hard-core juicer.
Okay, let's get back to business now that we have all that out of the way.
Types, Configuration, and How Masticating Juicers Work
There are various products within the world of masticating juicers, with an increasing number of manufacturers designing juicers built to meet consumers' juicing needs.
Masticating juicers are classified into two groups, which include:
Single auger
Twin auger
Here's a brief explanation for those who may not be familiar with the term auger or how it works in juicers.
An auger (as far as masticating juicers are concerned) is basically a screw that slowly resolves to masticate produce. The auger pushes fruits, vegetables, and any other material in it against fine a screen or sieve at very high pressure. The entire process is designed to be highly efficient (at least in good-quality masticating juicers).
The output is freshly extracted juice from fruits and veggies. But it doesn't end there. In combination with other components in the masticating juicer, the auger effectively separates the surplus pulp and discards them.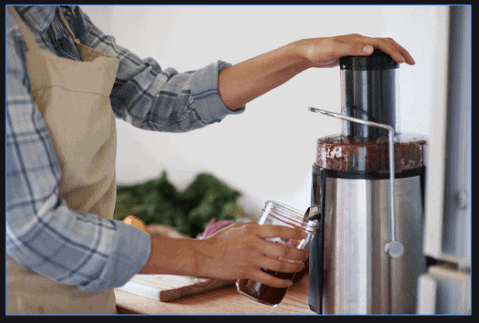 As you would have guessed, masticating juicers with twin augers work faster than those with a single auger. But their faster output rate doesn't necessarily mean the augers or gears spin faster. Instead, both gears work together, making this option extremely efficient. Single auger appliances are great, too. They only work harder to yield the same results as the twin auger types.
Masticating juicers generally come in two configurations, namely:
Horizontal Configuration
Horizontal juicers are the most popular and can have single or twin augers. These types of juicers have augers than run parallel to the floor and are the most efficient when it comes to masticating leafy greens.
The horizontal configuration means the extraction process will take longer, and the unit can take up space on your countertop. However, some attachments come with many models in this configuration. The benefit of having attachments is that your juicer can easily transform into a multi-food processor.
Vertical Configuration
Juicers with vertical configurations have their augers at 90 degrees. They work pretty much the same as the horizontal juicers, but they don't take up space on the counter. Obviously, a vertical juicer has a more compact form factor than horizontal models.
Also, the augers in vertical models take full advantage of gravity. The produce is pulled downward toward the sieve, which helps to slightly quicken the entire extraction process. Many vertical juicers come with a feed chute that is slightly larger than their horizontal counterparts. This means there might be no need to cut your fruits and vegetables into smaller bits.
Another good thing about vertical juicers is that the parts are more accessible, making it easier to clean them. However, by their very design, they are less versatile when it comes to food processing.
Choosing between a horizontal and vertical juicer machine is a matter of personal preference, as both configurations perform excellently well at their primary function, which is to extract high-quality, fresh juice. If your juicing sessions usually feature more leafy greens, it might be best to consider getting a horizontal masticating juicer. On the flip side, a vertical model might be most suitable if you are more about fruits.
Conclusion
Picking the best masticating juicer might seem overwhelming, but not when you have a solid review to guide you. Hopefully, you would have found an option that works best for you from this list. Don't worry if things get a bit messy when you use your juicer. Making your favorite juice and other delicious foods can sometimes come with such a level of mess.
Thankfully, many detachable components in masticating juicers can be washed off in a dishwasher. Don't have a dishwasher or looking to replace your old one with a good-quality alternative? We invite you to check out this article for more on the best types of dishwashers.