People may wonder if ube and taro are the same. There has been a never-ending mix up between these two crops. To shed light on the unnecessary confusion, we'll guide you through comparing the aspects of ube vs. taro, so that your next trip to the grocery store will be a whole lot easier.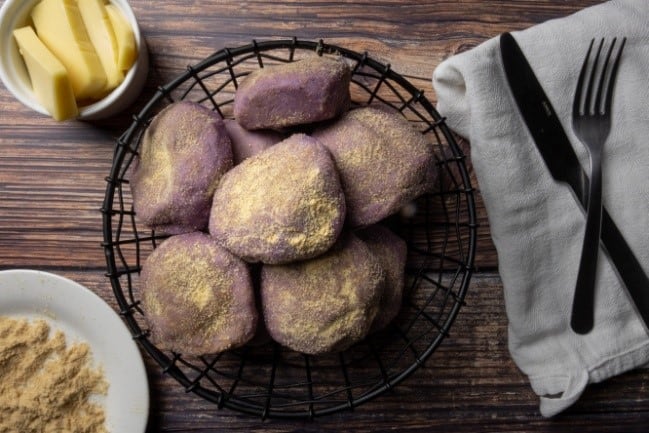 Why Do People Confuse Ube and Taro?
Both ube and taro are part of the sweet potato family. These root vegetables look like potatoes from the outside, but they have different colors and textures.
In Western markets, stores usually sell ube and taro in powder form. Therefore, not all people are aware of how these starchy root vegetables, likened to potatoes, look in their original form.
Manufacturers can also alter taste and coloring, which adds even more confusion. Some labels indicate their names interchangeably, which indicates that they are the same when, in fact, they are not.
What is the Difference Between Ube vs. Taro?
Many Filipino desserts commonly use ube as an ingredient. People who are familiar with Filipino cuisine may notice quite a lot of purple ingredients and menus that note the use of ube. As In western culture, ube is known as purple yam. Indeed, it looks just like a purple sweet potato!
In the case of taro, however, its color ranges from white to pale lavender. You won't find one that's dark. If you ever see one, the color indicates that it's ube.
Taro can't make the food dark, either. Taro-flavored recipes and drinks that have a rich purple color have a coloring added. It's also blander than ube, thus there is also a distinction in taste.
Comparison of Ube vs. Taro
Ube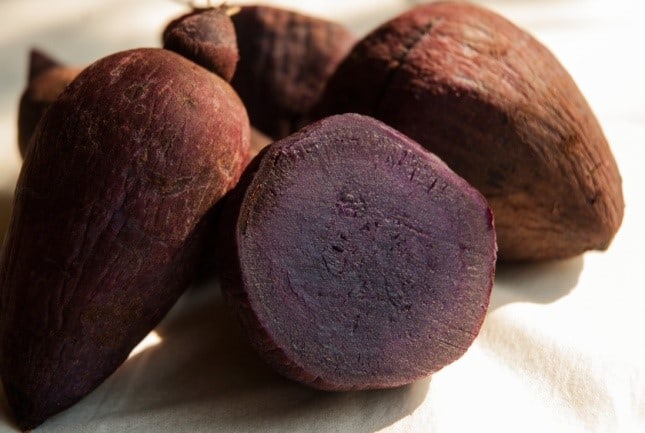 Origin
Ube originated in Southeast Asia and was especially popular in the Philippines. It's a staple in many Filipino dishes and a central food for many people. Other parts of the world such as Africa, Australia, South America, and some areas of the United States also grow it.
Appearance
The most common way to distinguish ube is by color. When you cut an ube open, you'll see a dark purple shade. The intense purple color provides a vibrant violet hue to foods and drinks when ube is used. That's why many chefs and food photographers use purple yam in some of their food images.
Ube's outer covering is also a dark shade of purple. Hence, there is no reason people should confuse it with taro, which looks very different externally.
Flavor
Ube has a rich, sweet taste that's similar to vanilla and white chocolate. The size and the growing process also affect the sweet taste. The larger ubes tend to be sweeter than the smaller ones. Some that are grown and maintained well during winter have a stronger vanilla flavor, since the growth factor helps with starch breakdown.
Texture
Another difference when considering ube vs. taro is clear when you cook them. Ube has a more sticky texture once they're cooked. It also becomes soft and moist, which makes it easy to chew and eat.
Ingredient Pairing
Filipino cuisine is flavorful, demonstrating a wealth of knowledge of different ways to use ube. The sweet, subtle flavor is perfect for many Filipino desserts, such as the ube-macapuno cake and the native delicacy, sweet halayang ube. Ube also pairs well with other ingredients, such as cheddar cheese, coconut, potato, sweet potato, mung beans, and pandan.
Culinary Uses
Generally, it's used in the kitchen to add sweetness and lively color to a dish or dessert. Ube extract, as well as powdered ube, can be derived for a multitude of uses.
Many baked products, from breads to puddings to pies to ube cake, cupcakes and pie, make use of it to enhance taste and presentation.
Moreover, drinks and ice cream can also contain purple yam to provide a certain level of sweetness and purple tint. Some cooks use ube root for savory foods, but this requires special cooking skills to accomplish because if ube is incorrectly added, its sweetness can throw off the taste of the dish.
Taro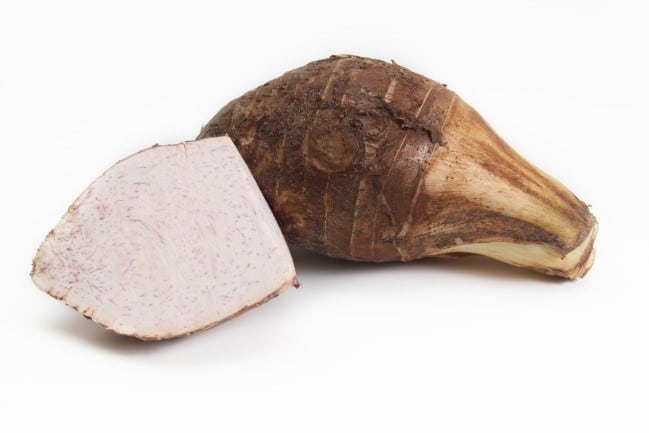 Origin
Like ube, taro also originated from Southeast Asia. It is mostly used in India and has been popular for many years. It's one of the most important crops to be harvested domestically in India. Japanese cuisine also makes use of it, which it's present in many traditional recipes.
Japan even grows a wide range of taro in the country. As of today, taro is widely used all over the world in many dishes. Places like Hawaii, China, Africa, the South Pacific, and the Caribbean all enjoy it in their recipes.
Appearance
When considering ube vs. taro, note that they're distinguishable by their outside appearance. The appearance of taro greatly differs from that of ube. Taros look a bit like coconuts; they are are often covered in white or greyish-brown skin. The larger ones, however, have a faint purple shade.
For regular taros, the light purple shade only appears when cooked. Nonetheless, the color is not even as close as ube's very dark purple shade.
Flavor
Taro offers an earthy, nutty, coconut flavor to any dish or beverage you make. The taste of taro closely resembles that of a sweet potato.
It also has a slight sweetness that is perfect for dessert recipes and savory dishes. Powdered taro is often mixed with additional sweeteners and coloring. Thus, the flavor of the manufactured ones can result in some confusion.
Texture
Once cooked, taro becomes dry and somewhat grainy. It also becomes softer due to the cooking process.
Ingredient Pairing
While taro isn't as sweet as ube, the nutty and vanilla flavor exuded makes a great pairing with many Asian ingredients like matcha, red beans, and black sesame.
You can use taro to provide lush flavors to different dishes. Different kinds of meat, poultry, and fish pair well with taro. Many baking recipes also incorporate taro.
Culinary Uses
Taro has many culinary applications, from being used in soups to casseroles to curries. Since it is less sweet, taro has more versatility in the kitchen, as it can seldom affect a dish's level of sweetness. When used in desserts, you can make a taro paste for a filling. Many beverages, as well as delicacies and pastries, make use of taro as a flavoring.