Stroll down the frozen vegetable aisle and you'll find a number of veggies who seem to be front and center. We're talking frozen peas, frozen carrots, frozen corn, and of course, frozen green beans. But there's one humble green vegetable which is perhaps the best kept secret of the freezer section. Frozen spinach!
The beauty of cooked frozen spinach is that its texture is quite similar to the texture of cooked fresh spinach as well! This makes frozen spinach ideal to have on hand for all of your favorite frozen spinach recipes such as classic spinach and artichoke dip, vegetable lasagna, chicken Florentine, and Italian wedding soup, to name just a few.
Not all of the frozen spinach options are the same though, therefore we took it upon ourselves to try out as many as we could find. Allow us to deliver to you: the best frozen spinach!
Ranking the Best Frozen Spinach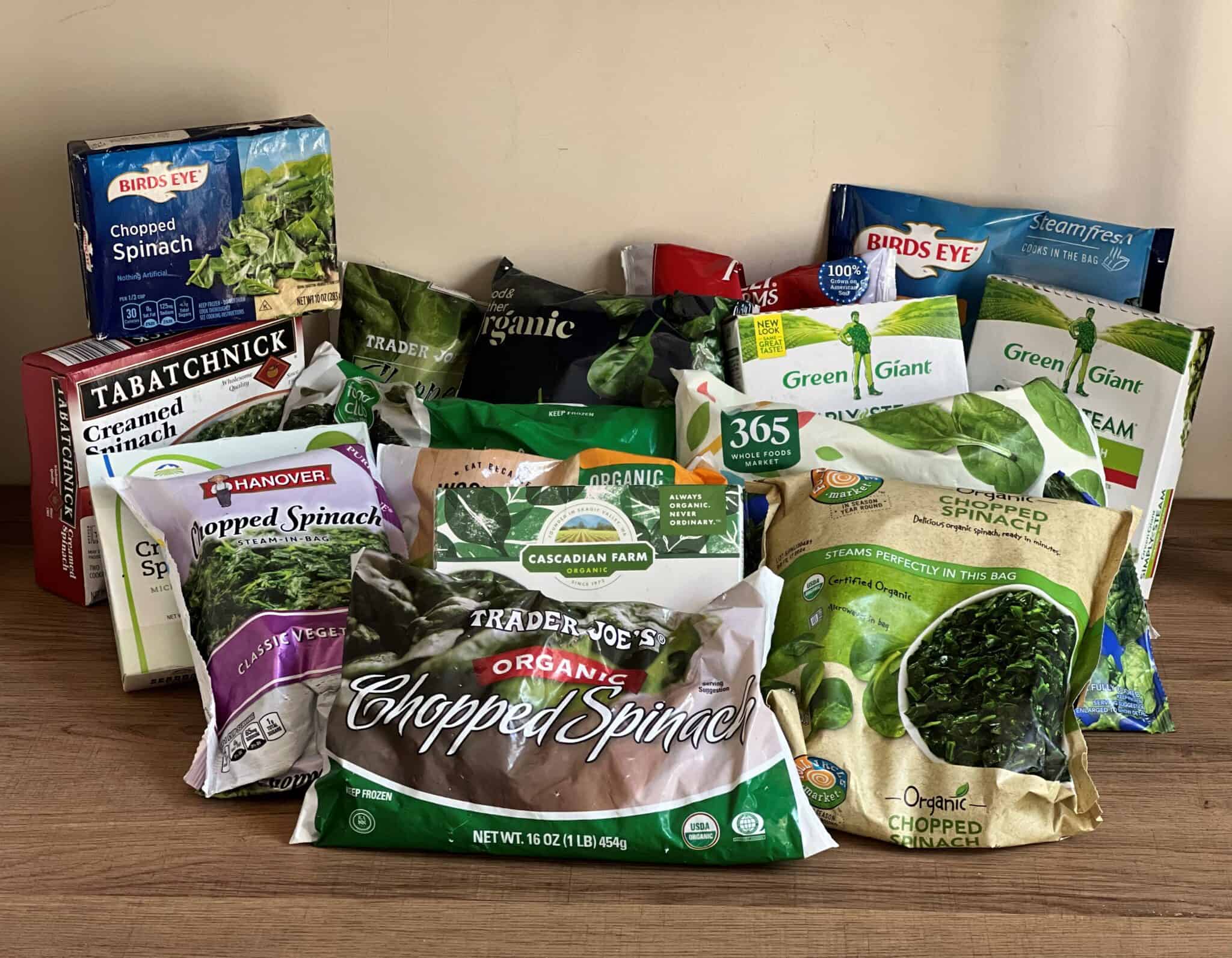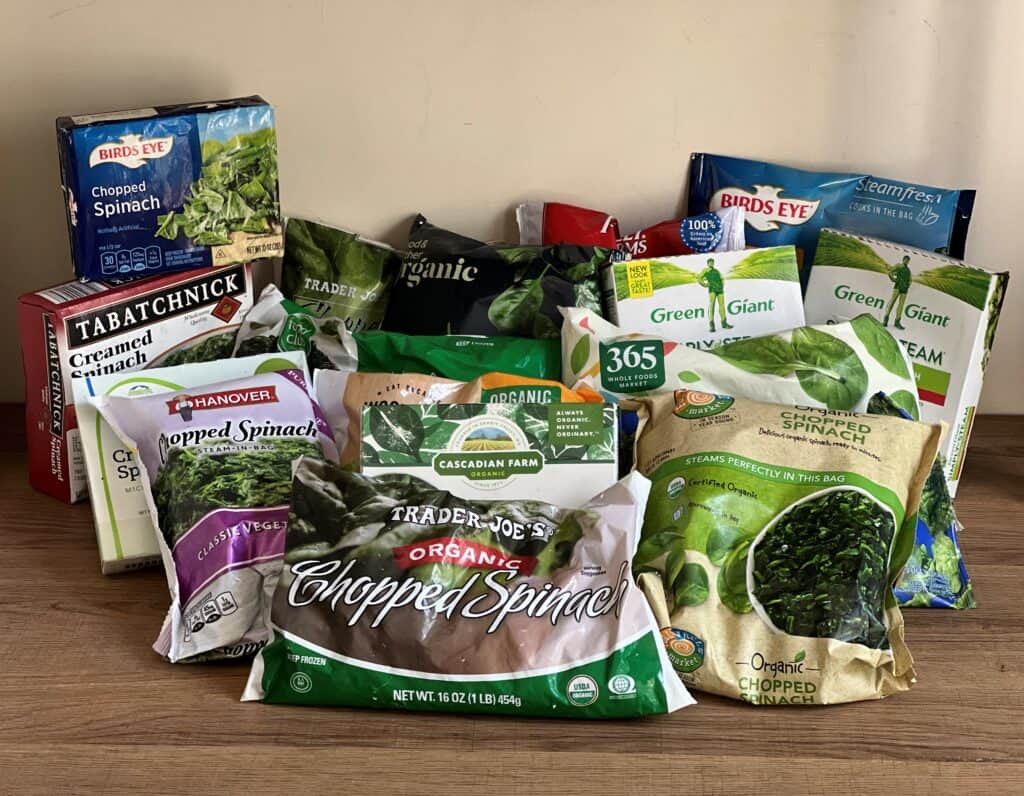 To cover all of our bases, we acquired and evaluated the following seventeen widely available frozen spinach brands and varieties.
365 Whole Foods Market Organic Whole Leaf Spinach
Birds Eye Chopped spinach
Birds Eye Creamed Spinach
Cascadian Farm Premium Organic Cut Spinach
Food Club Cut Leaf Spinach
Full Circle Market Organic Chopped Spinach
Good & Gather Organic Steam-In-Bag Chopped Spinach 
Good & Gather Steam-In-Bag Cut Leaf Spinach
Green Giant Simply Steam Chopped Spinach
Green Giant Simply Steam Creamed Spinach
Hanover Chopped Spinach Steam-In-Bag
PictSweet Farms Steam'ables Baby Leaf Spinach
Seabrook Farms Farm Fresh Creamed Spinach
Tabatchnick Creamed Spinach
Trader Joe's Chopped Spinach
Trader Joe's Organic Chopped Spinach
Woodstock Organic Cut Spinach
Frozen Spinach Facts
Before we get into our best frozen spinach evaluations and rankings, let's first discuss a few ground rules.
Serving Size
As with all frozen vegetables, there is a big difference in volume between their frozen state and their cooked state. This is due to the fact that the water inside the vegetables expands as it freezes, resulting in a collapsed shape of the item when heat is applied.
Some of the brands and varieties we tested offered serving sizes in a quantity of frozen spinach, while others preferred to measure their serving sizes in cooked spinach. We worked to standardize this to ensure that all serving sizes were between 80-90 grams, therefore the nutrition information would be proportionate.
Ingredients and Allergens
Most of the frozen spinach varieties we tested contained spinach and only spinach, with the exception of creamed spinach, which, of course, contains a great number of other goodies! However, there were a few options which did contain other ingredients and we are sure to make note of those whenever applicable so as to be mindful of food allergy issues.
Frozen Spinach and Food Safety
As with all frozen vegetables, it is not safe to thaw frozen spinach prior to cooking it nor to consume it uncooked or undercooked. This is due to the presence of foodborne illness causing bacteria such as Listeria, E. Coli and Salmonella, which unfortunately can make their way into vegetables during processing and packaging.
The blanching and freezing process that most commercially produced frozen veggies go through will kill some of these bugs, but not all! Therefore it is safest to cook frozen spinach straight from the freezer, and to cook it to a minimum internal temperature of 165℉.
Cooking Frozen Spinach
For the purposes of our evaluations, all frozen spinach was cooked according to recommended package instructions. Most packages offered both stovetop and microwave cooking instructions.
Knowing Your Microwave Wattage = Perfectly Cooked Spinach!
If you've ever poured over the back of a frozen food label, you're likely already familiar with the cook time chart which gives several different times for different microwave wattages. How the heck are you supposed to know what the wattage of your microwave is? Or that of the microwave in your friend's apartment you happen to be visiting, or the Airbnb you happen to be staying in, or….the list goes on.
Luckily, there's usually no need to dig out the owner's manual or try to track down your particular make and model on the internet. Take a peek on the bottom edge of or just inside the microwave door and there should be a label with all the information you need right there! Sometimes, this information is stamped on a plaque on the rear of the microwave as well.
1. Best Tasting Frozen Spinach:
Green Giant Simply Steam Chopped Spinach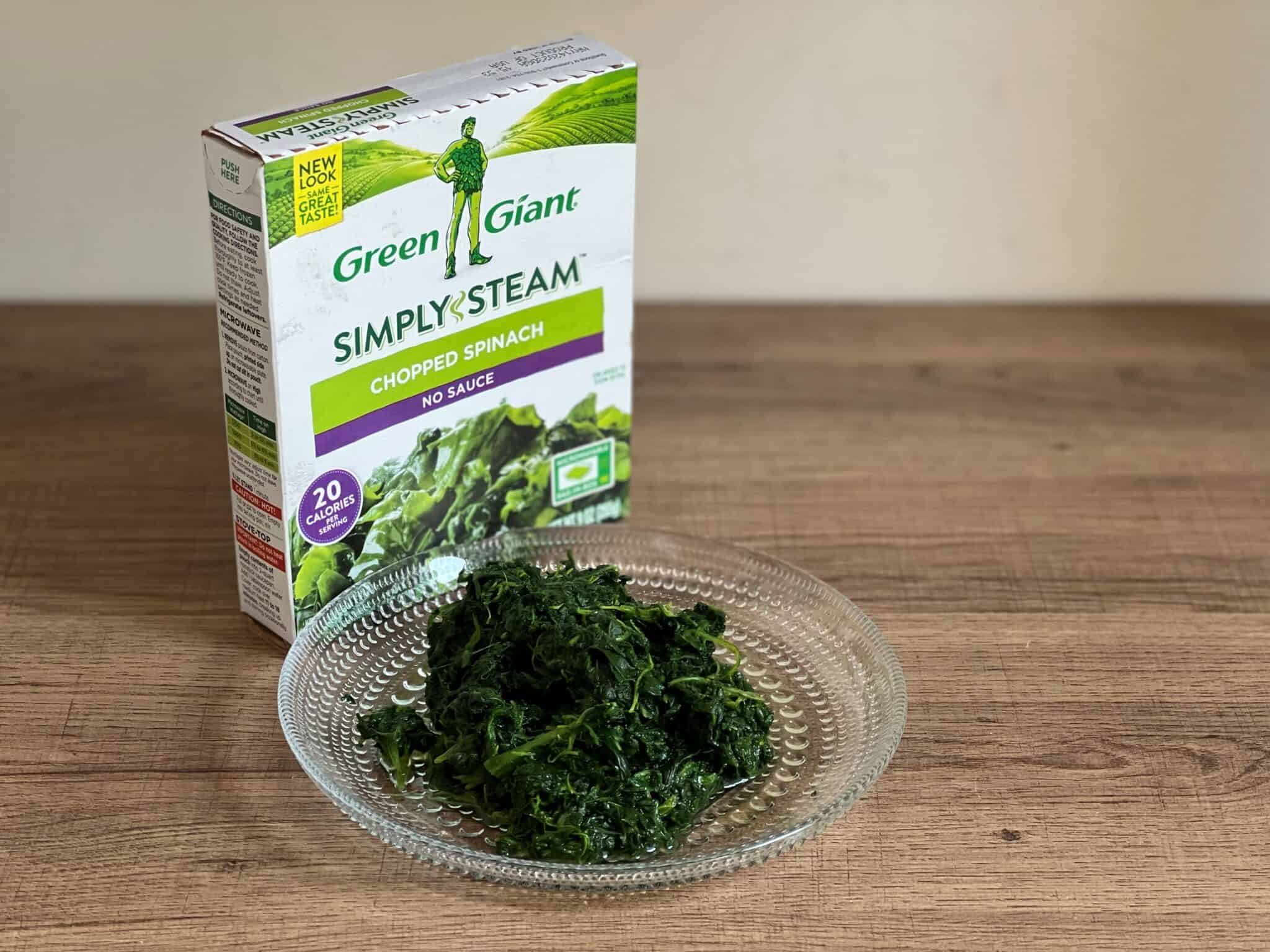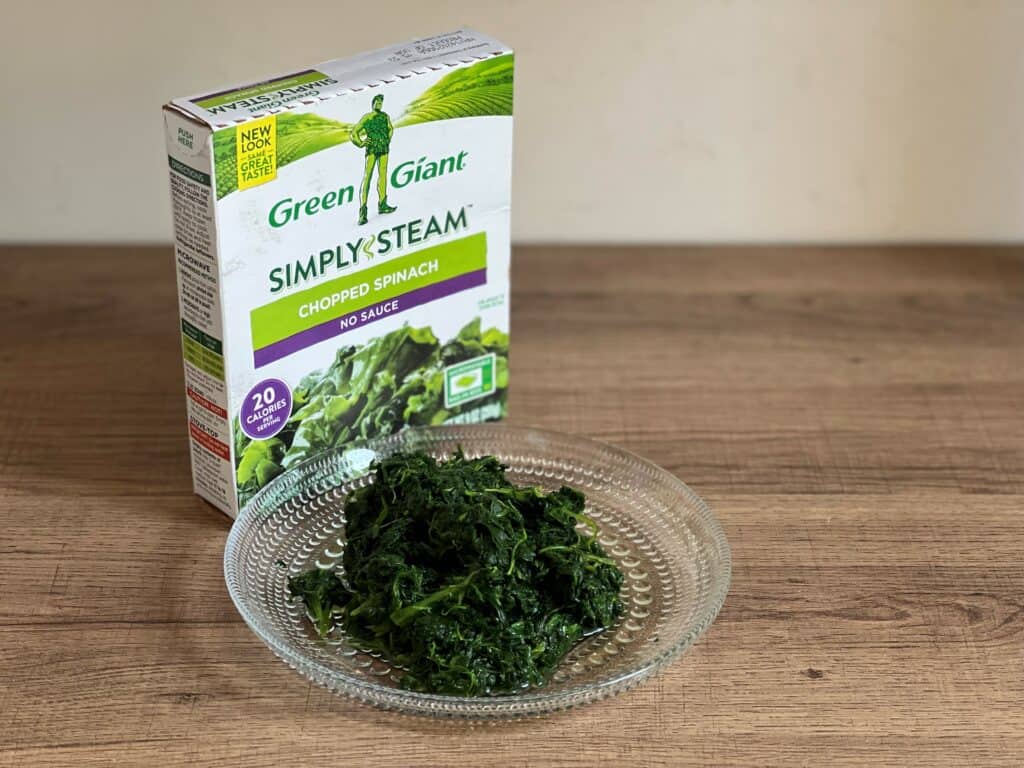 If you grew up under the impression that spinach was one of those foods which is not delicious, you're not alone! The deeply earthy, somewhat metallic taste of this leafy veggie comes on strong, especially to kids, who seem to automatically have an aversion to all things green. Luckily, most folks grow out of this pickiness and realize that the rich, satisfying taste of fresh spinach is one to look forward to. While spinach is not likely to ever be claimed as a favorite flavor, its taste is indeed important to the overall enjoyment of your dish. If it's tasty, you're bound to eat more of it!
About Green Giant Simply Steam Chopped Spinach
It's undebatable that Green Giant is one of the biggest and most well-known vegetable companies on the market. The Jolly Green Giant himself has even been known to make an appearance as a big balloon in the famed Macy's Thanksgiving Day Parade! With all this limelight, it's no surprise that Green Giant Simply Steam Chopped Spinach takes the cake as the best frozen spinach in one of our categories. While plenty of frozen spinach options did have wonderful taste and texture, we settled on this variety as the best, for its rich yet bright flavor, which is far less earthy or bitter than many of the others we sampled.
Furthermore, we found this spinach to hold its shape well after cooking, as opposed to some other frozen spinach varieties which seemed to wilt into nothingness upon cooking. We also love that there are only 20 calories per serving of this stuff, which is the lowest out of all of the options we evaluated--and not to mention, this little box of greens is a proud product of the USA! In addition to great taste and hearty texture, this frozen spinach has an impressive nutritional profile, offering 90 milligrams of immune-system-supporting vitamin C and 45% your recommended daily intake of vitamin A. As if we haven't already said enough good thing, it also has a Smartlabel QR code on the back, which once scanned, takes you to a helpful and informative webpage about the product.
Unfortunately, with great taste often comes great sodium content (cue the Spiderman quotes!) and Green Giant Simply Steam Chopped Spinach is no exception. Each serving delivers 130 milligrams which undoubtedly helps to bring out the savory flavor of the greens, but we are of the mindset that adding your own sodium can make something taste just as good for far less of a salty cost. We also found that the supposedly convenient microwaveable pouch was not all that convenient. After the instructed cook and rest time, the outer edges of the cooked spinach were blistering hot while the center was still cold. This required the package to be opened along the (not) easy-open seam, which we actually needed scissors to get into, and emptied into a separate bowl to finish cooking. Nice attempt at convenience! But not so successful.
Pros:
Features the best taste and most hearty texture of all varieties tested!
Contains only 20 calories per serving.
Is a product of the USA!
Provides a respectable 90 milligrams of vitamin C as well as 45% your daily value of vitamin A.
Packaging features a scannable QR code which brings up tons of product information.
Cons:
Has a pretty high sodium content, delivering 130 milligrams per serving.
The "convenient" microwaveable pouch was not so convenient--did not allow the spinach to cook evenly and was difficult to open when hot as instructed.
2. Most Nutritious Frozen Spinach:
365 Whole Foods Market Organic Whole Leaf Spinach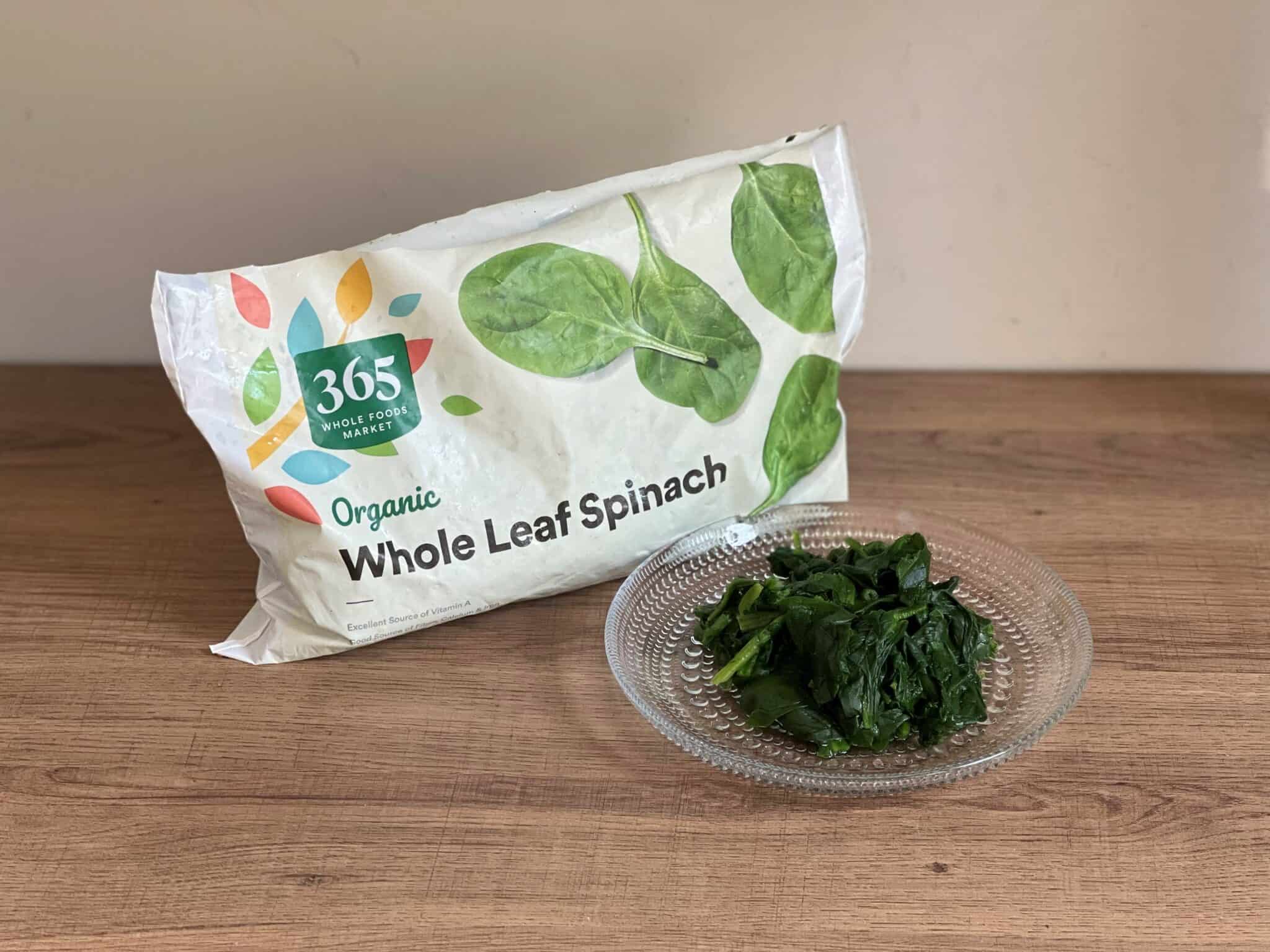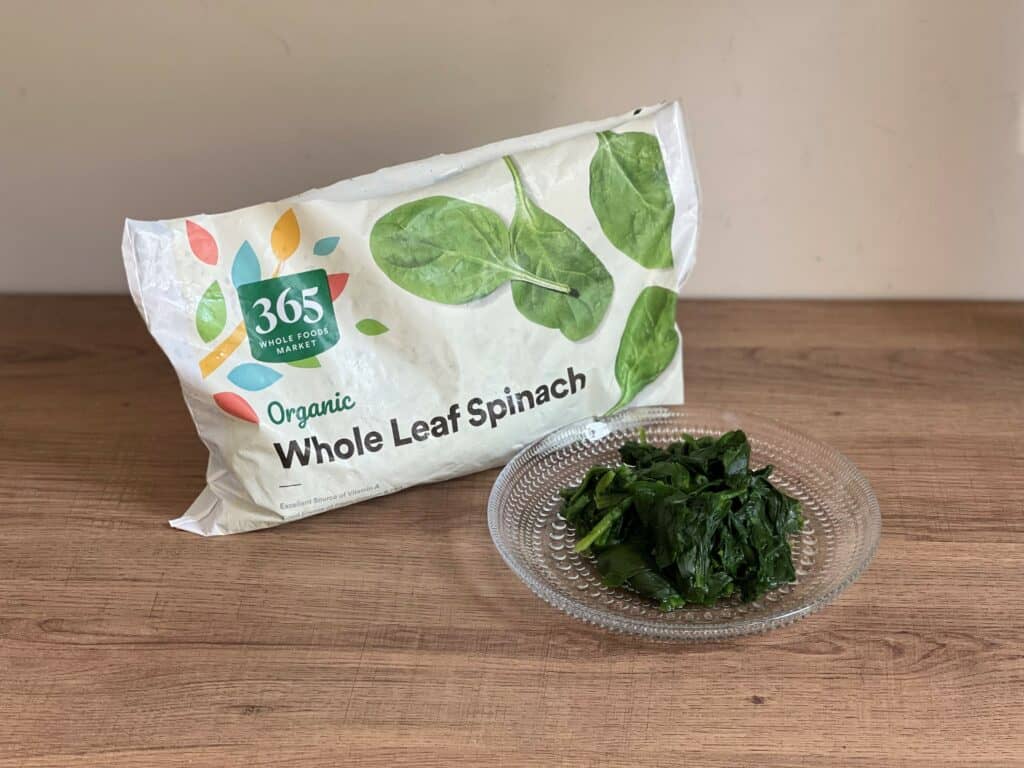 It doesn't take a nutritionist to know that spinach is good for you! Each and every one of the frozen spinach options we evaluated provides a load of health benefits and nutrition, from important vitamins and minerals to those all so vital pigment compounds--chlorophylls and carotenoids, both of which offer antioxidant properties. These essential nutrients are found in other leafy greens such as kale and chard, but unfortunately, those items are far less likely to be found in the time-saving freezer section! Some of our frozen spinach options are for sure healthier than others though, and therefore we opted to seek out the healthiest frozen spinach of the bunch and give it a shoutout here.
About 365 Whole Foods Market Organic Whole Leaf Spinach
With a name like Whole Foods, it's honestly no surprise that this company delivers one of the most nutritious versions of frozen spinach that we sampled. Inside the bag are super green, big beautiful leaves of baby spinach, which truthfully look almost the same as some lightly Steamed Fresh Spinach! Each serving packs 4 grams each of protein and fiber, both the highest quantities out of all of the spinach options we found. It also has tons of nutrient benefit, providing a whopping 600 micrograms of vitamin A, which equates to 70% your recommended daily intake! It is also a good source of calcium, iron, and potassium, delivering 150 milligrams (10% DV), 2 milligrams (10% DV), and 300 milligrams (6% DV), respectively. In addition, this spinach is certified organic by Quality Assurance International and non-GMO verified, so not only can you feel good that this product has great nutrient content, but also that it is free of any chemical fertilizers and dangerous pesticides.
The old adage good things take time is certainly applicable to our most nutritious frozen spinach, though. 365 Whole Foods Market Organic Whole Leaf Spinach had the absolute longest cook time out of all products we tested, with an instructed microwave timeframe of 7 to 12 minutes! In addition, the product is not able to be cooked in its packaging, therefore you must transfer the frozen spinach into a dish which is safe to be microwaved for an extended period of time as well. Therefore, we don't recommend using plastic in this case as even microwave-safe plastics may suffer after such a long time. Opt for microwave-safe glassware, or use the stove top cooking option instead.
Pros:
Consists of whole leaves of baby spinach which nearly resemble the fresh stuff!
Provides 4 grams each of protein and fiber.
Excellent source of vitamin A, giving 70% the recommended daily value.
Also is a good source of other necessary minerals like calcium, iron, and potassium.
Certified organic by Quality Assurance International.
Non-GMO verified.
Cons:
Has a really long cook time, at 7-12 minutes in the microwave on high.
Not able to be cooked in the packaging, requiring you to hunt for a dish which can withstand such a long stint in the microwave oven.
3. Best Steam-In-Package Frozen Spinach:
Good & Gather Steam-In-Bag Cut Leaf Spinach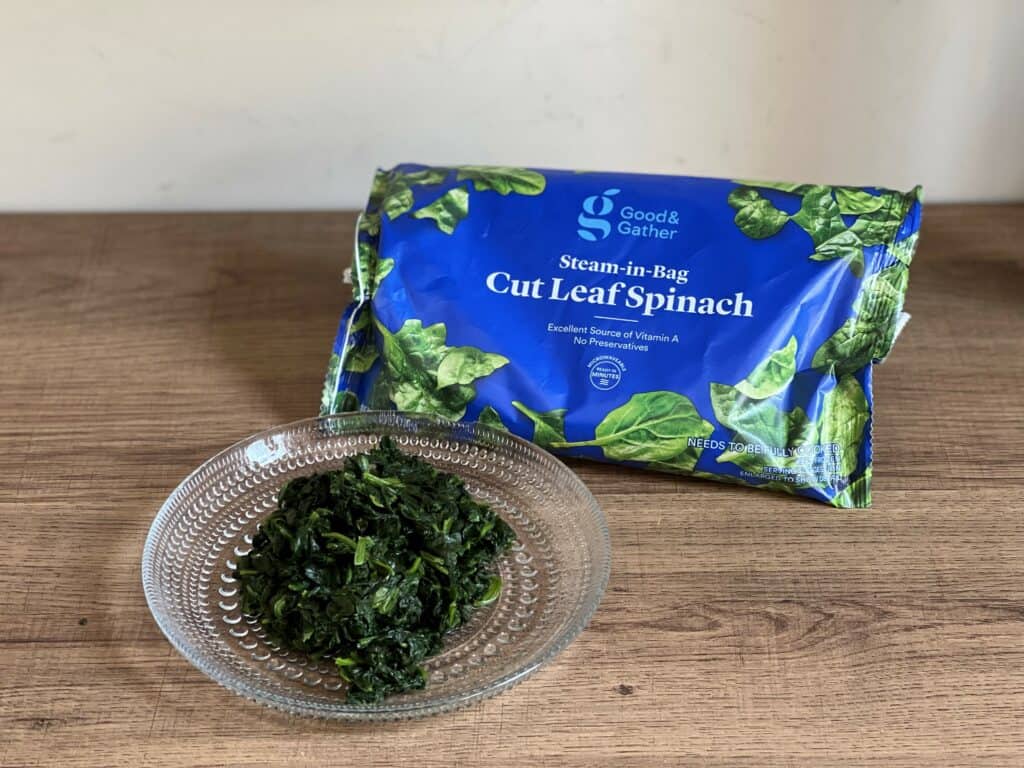 Out of all of the food technologies to hit the freezer aisle, the steamable packaging option might just be the best thing since sliced bread. These packages are specially designed with multiple layers, so as to perfectly strike the balance between trapping the steam generated by the food as it heats up, thereby helping it to cook, while also venting a portion of the steam in order to prevent too much buildup. While many manufacturers make some version of steamable packaging, not all of them hit the nail on the head, and a poorly designed steam-in-bag option can suck the convenience factor right out of your frozen veggies!
About Good & Gather Steam-In-Bag Cut Leaf Spinach
This is where Good & Gather Steam-In-Bag Cut Leaf Spinach comes in. The fine folks at Target have done it again, providing a product which ticks so many of the boxes we look for! First and foremost, the steamable package. It actually worked as promised, cooking the spinach thoroughly and evenly without causing it to disintegrate! The package instructions were spot on for how long to cook and to allow the spinach to rest and it all came out of the package piping hot with a rich green color and super savory flavor. The nutritional perks are nothing to sneeze at either! With only 65 milligrams of sodium per serving, this frozen spinach variety had among the lowest levels we found, while also providing a full 500 micrograms of vitamin A. Also, this bag of tasty greens is made right here in the USA and at only $0.14 per ounce, it is one of the most affordable frozen spinach options we found!
One of the most unfortunate downsides to this package of Good & Gather Steam-In-Bag Cut Leaf Spinach is that the steam vents (a series of small slits throughout the packaging) seem to be much larger than many of the other brands. This caused green-tinted liquid to drip out of the bag and made a bit of a mess after removing it from the microwave. However, once you are aware of this issue, it can be easily avoided by tipping the bag over a dish, which honestly seems like a small price to pay for perfectly steamed spinach that you didn't have to dirty up a cooking pot for! Another downside to be aware of, on the allergen section of the ingredients label, it clearly states "processed in a facility that also handles milk, soy, and wheat ingredients". If you have food allergies which are sensitive to cross-contamination, take note!
Pros:
Steamable package cooked spinach perfectly!
The cooking method was described accurately and worked exactly as promised.
Spinach itself has a rich green color and deeply savory flavor.
Contains only 65 milligrams of sodium, one of the lowest levels we found.
Provides a full 500 micrograms of vitamin A.
Made in the USA!
One of the most affordable frozen spinach options.
Cons:
The steam vents in the bag are cut in such a way that causes spinach water to leak out if you tip the bag while removing it from the microwave.
The label warns about the fact it is produced in a facility along with various food allergens.
4. Best Organic Frozen Spinach:
Woodstock Organic Cut Spinach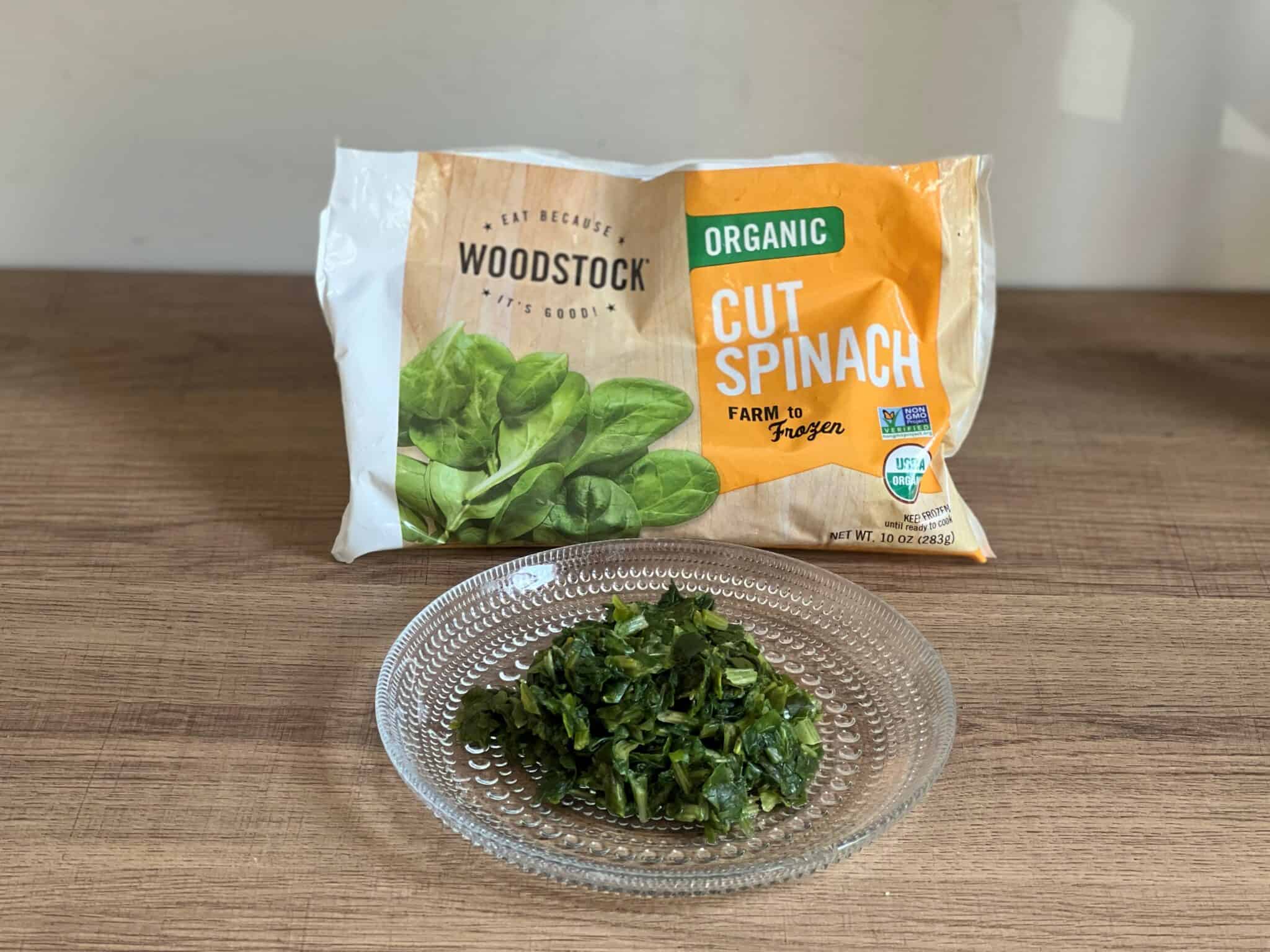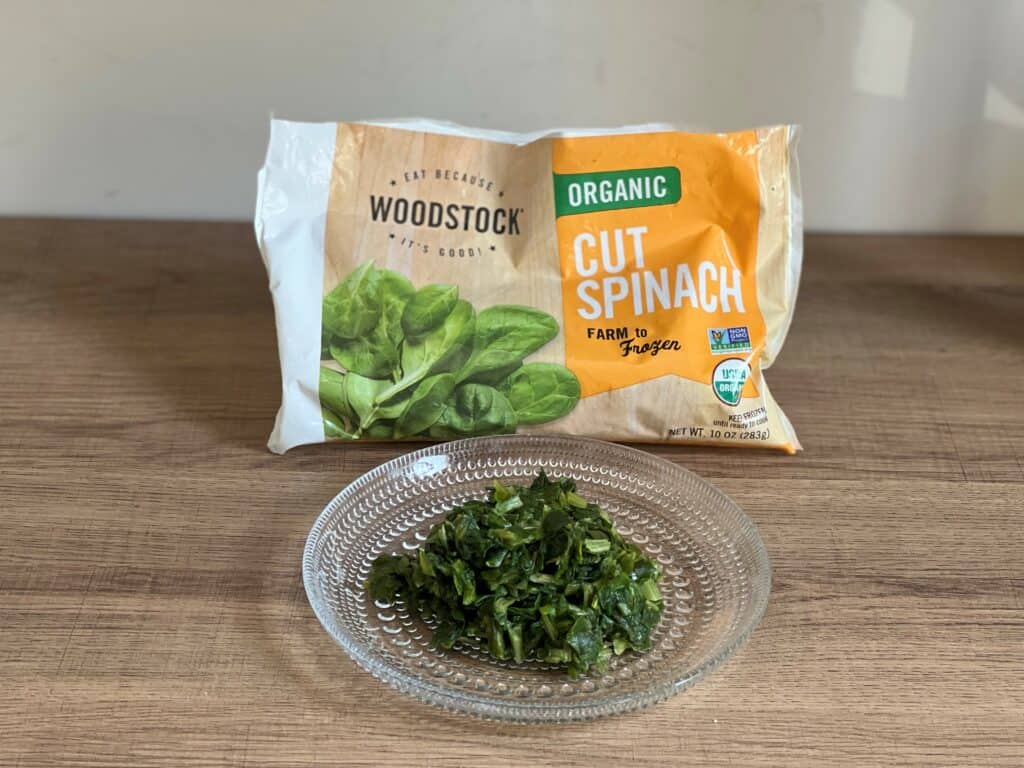 Due to limitations of selection or regional availability, brand preferences, and the simple realities of living on a budget, shopping organic 100% of the time is next to impossible for most folks. Therefore, it makes sense to consider the organic options when your specific circumstances allow, as opting for organic is more important when it comes to some foods as opposed to others. Due to its soft, porous leaves, spinach is one of these foods which is extremely prone to hanging onto pesticide residue. While it's true that the washing and blanching process that most frozen spinach goes through does remove a great deal of any chemical residues, there is still the chance for some to remain. Therefore, we have chosen to have the best organic frozen spinach in a category of its own!
About Woodstock Organic Cut Spinach
First things first, Woodstock Organic Cut Spinach is certified organic to the USDA standards by Quality Assurance International, an independent organic certification service. By the same token, this bag of spinach is non-GMO verified. It has a robust, hearty taste and we love that the only thing on the ingredients label here is one thing: spinach! No added salt or preservatives here, nor any baking soda for that matter, which many manufacturers include to preserve green-ness, but research conducted by The Boston Globe uncovered it can actually detract from the nutritive content of frozen veggies.
This frozen spinach is also in a BPA-free bag, which not very many manufacturers disclosed information about! And, while this individual product is wonderful for all of the reasons which we outlined above, we also think that Woodstock Organics is a great company as a whole. They really seem to live by their motto "eat because it's good!", and we are routinely impressed by their line of products. As a supporter of the American Farmland Trust, they help ensure that farming will continue to be sustainable and environmentally sound, ensuring that there will be healthy food for generations to come!
Unfortunately, this frozen spinach just doesn't look all that great. It is rather brown in appearance, as compared to the other, bright green varieties we evaluated. And rather than consisting of large, satisfying leaves or chopped pieces of spinach, Woodstock Organic Cut Spinach has sort of a strange, shredded appearance. In addition, it hit our shopping basket at $0.36 per ounce, which was by far the most expensive frozen spinach of our bunch! Furthermore, that little bag of spinach made it all the way from Mexico to your supermarket and dinner table, which isn't always ideal when there are so many farmers likely growing the same spinach closer to your home.
Pros:
Certified organic by Quality Assurance International.
Non-GMO verified.
The spinach has a wonderfully hearty and robust taste!
The only ingredient in this product is the spinach itself.
Is packaged in a BPA-free bag.
Woodstock has attractive company values and is a proud supporter of the American Farmland Trust.
Cons:
Appearance is less than ideal, with a more brown-ish coloring and fairly shredded spinach leaves.
Ounce for ounce, is the most expensive frozen we found.
Is imported as opposed to being grown and sourced more locally.
5. Best All-Around Frozen Spinach:
Food Club Cut Leaf Spinach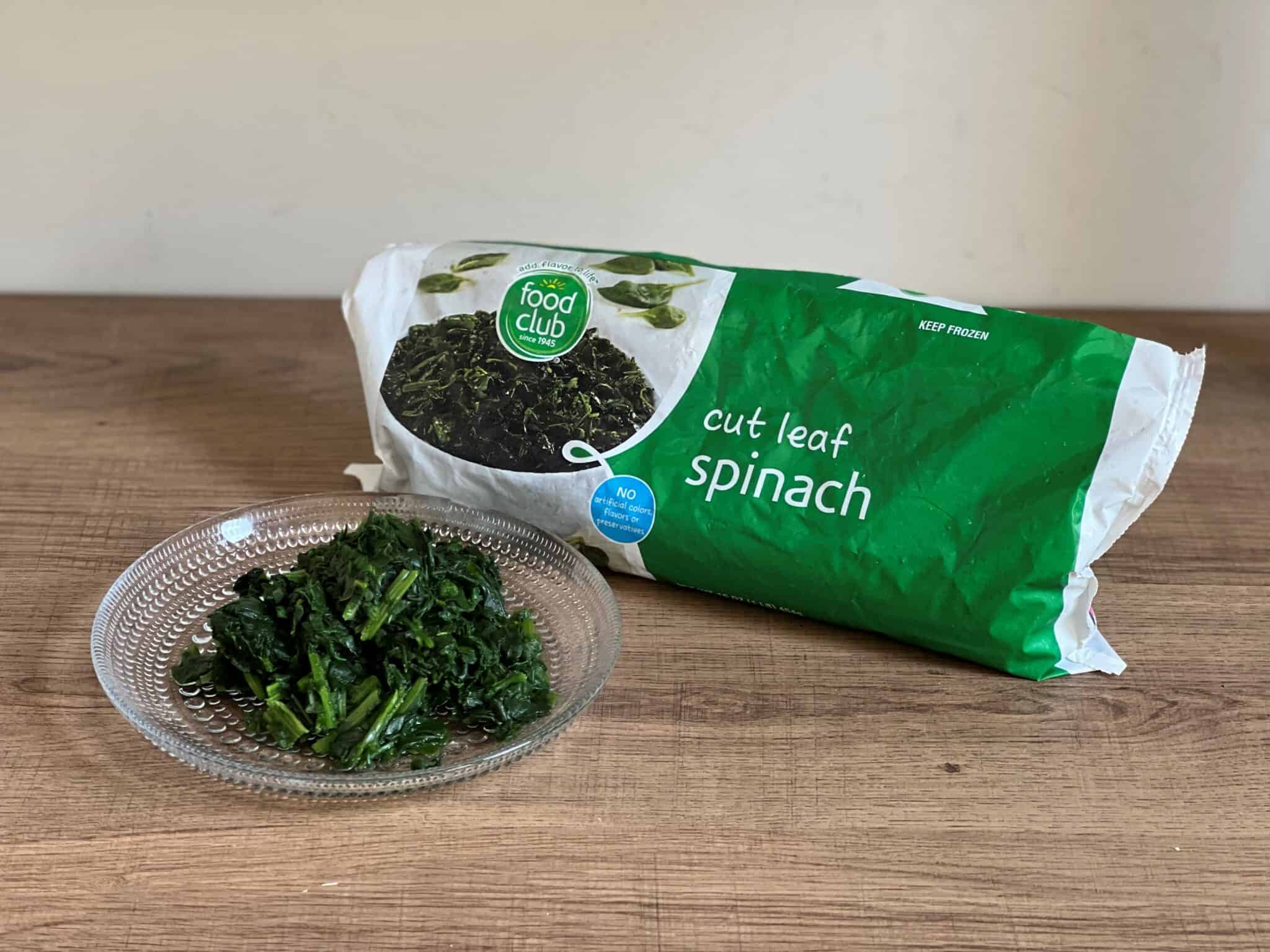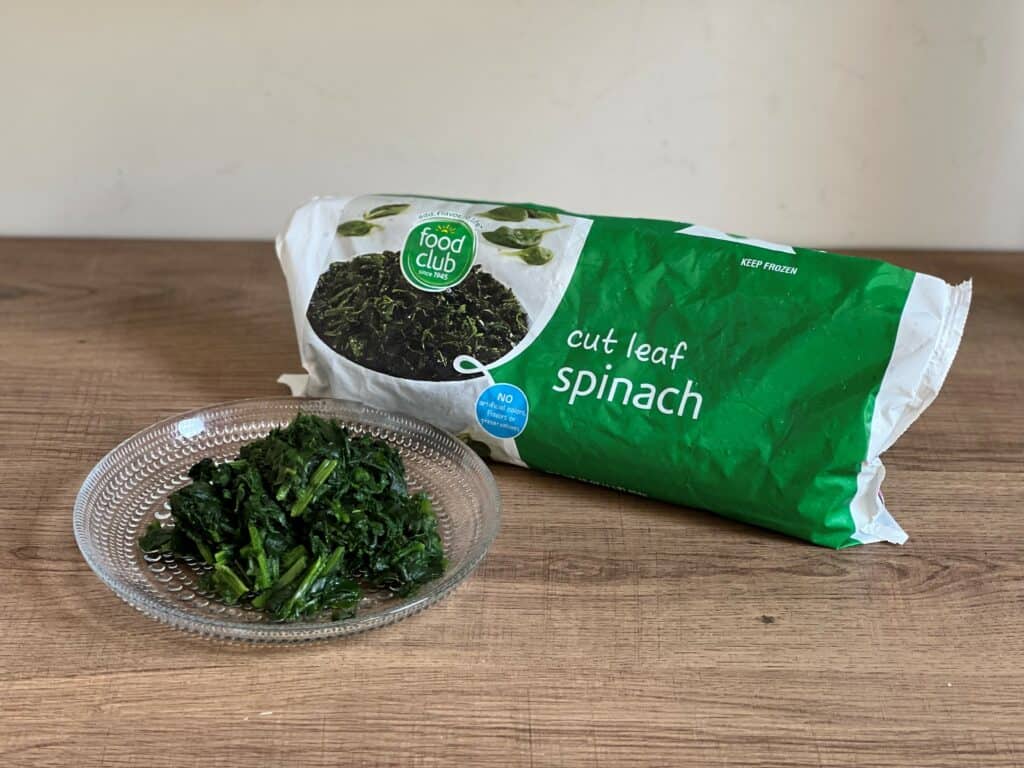 Sometimes you just need an all-around good option. One which isn't perfect in any one category, yet doesn't drop the ball on anything major either. On those extra busy days when you don't have time to consider all the different options, or if you're simply the type of person who prefers classic and dependable over novel and unique, the best all-around category is for you!
About Food Club Cut Leaf Spinach
The first thing that grabbed our attention about this bag of frozen spinach is the photo of the product on the front of the package. It doesn't look great, and needless to say, our hopes were low. Imagine our surprise when the spinach that poured out once we opened the bag turned out to be bright, green, and beautiful! The front of the bag also proudly states that there are no artificial colors, flavors, or preservatives, so you can be sure that all of this gorgeousness is all-natural! While not quite the best in terms of nutrition, Food Club Cut Leaf Spinach boasts an impressive amount of calcium and potassium, as well as smaller amounts of iron and even a touch of vitamin C. This nutrition is affordable as well, and was the third least expensive! And, not only does Food Club offer a 100% satisfaction guarantee or double (yes, double) your money back, but it is even packaged in a fully recyclable bag. Come on!
While it does just fine in some of the nutritional categories, Food Club Cut Leaf Spinach lags in protein content. Delivering just 2 grams, this quantity was the lowest out of all the spinach options we tried. Also, this spinach is only available in a 16-ounce package--a full pound of frozen spinach! This could easily fall into the pro column if you eat spinach very often or have many mouths to feed, but otherwise, this poses a serious freezer-space challenge.
Pros:
This frozen spinach is bright green and beautiful, in stark contrast to the photo shown on the packaging!
No artificial flavors, colors, or preservatives.
Contains good quantities of several vitamins and minerals including calcium, potassium, iron, and vitamin C.
One of the most economical frozen spinach options we found.
100% satisfaction guarantee or get 2x the money back!
Plastic packaging is fully recyclable.
Cons:
Contains only 2 grams of protein--the lowest level we encountered in our research.
Only available in a large, 1-pound package. That's a lot of spinach to work your way through!
6. Best Frozen Creamed Spinach:
Seabrook Farms Farm Fresh Creamed Spinach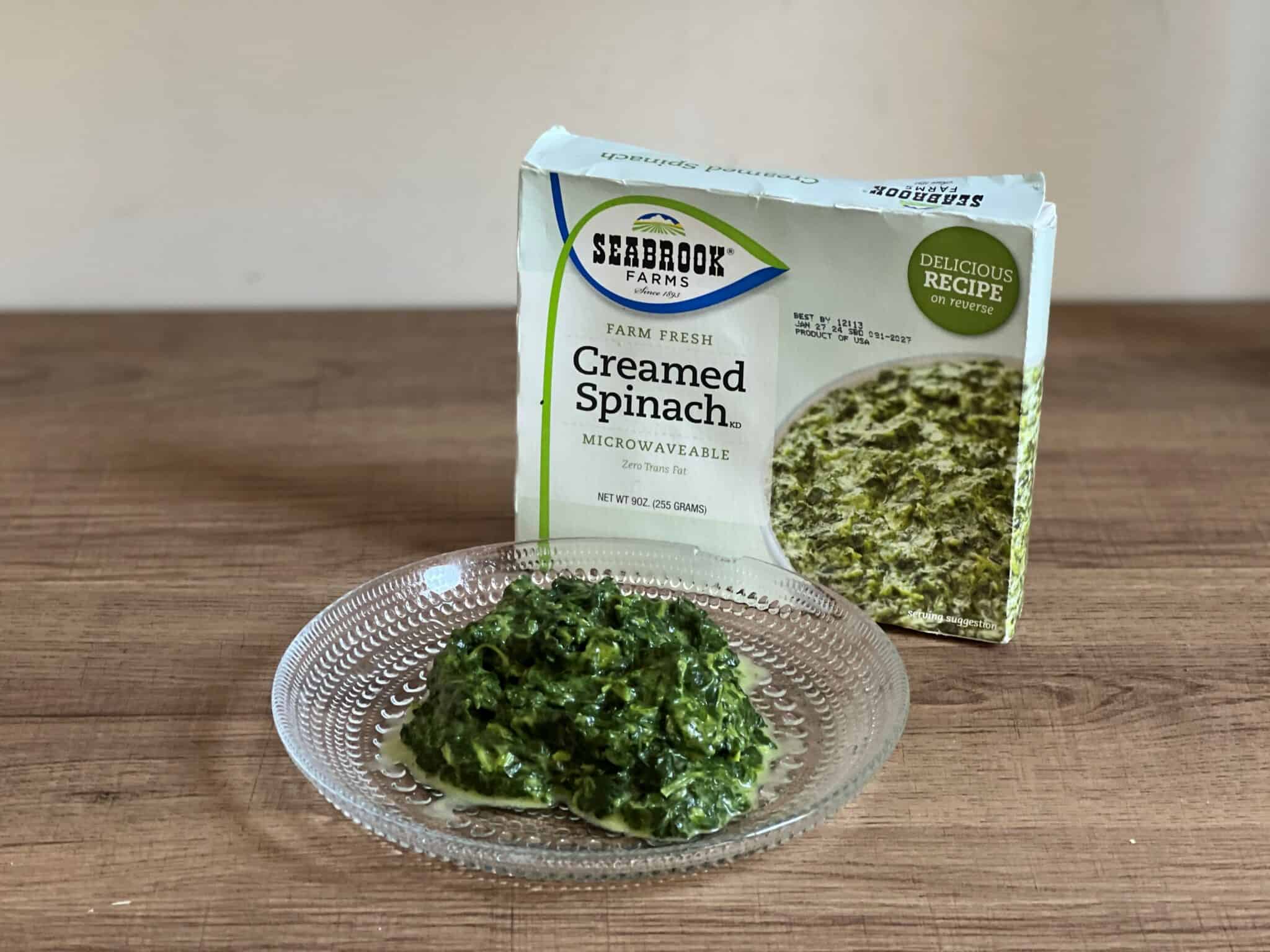 No in-depth analysis on frozen spinach would be complete without this category, of course: creamed spinach! While some people opt to buy plain frozen spinach (such as one of those we've featured above) in order to create a creamed spinach recipe of their own, there are actually several great tasting and ready-made creamed spinach options in the freezer aisle. One of these choices stood out quite clearly from the others!
About Seabrook Farms Farm Fresh Creamed Spinach
When you see something such as "Since 1893" on a product, you can immediately assume that it hails from a company steeped in history, and therefore have had all of that time to perfect the item in question. Such is the case with Seabrook Farms Farm Fresh Creamed Spinach. In stark contrast to the other creamed spinach varieties we evaluated, this version by far offered the best taste and texture. Rich without being overly fatty, and thick and cohesive as opposed to soupy. Eating this stuff feels like a really rich treat, yet there are only 80 calories per serving! For that, go ahead and eat the whole package for lunch (2 servings worth)--we sure did. You're getting all of the calcium, iron, and potassium of regular frozen spinach, plus 4 grams of calcium in--if you ask us--a much tastier little package! If you'd like to punch your creamed spinach even further, Seabrook Farms offers a simple recipe for Spinach Soufflé on the back of their packaging. Just add egg whites and cream of tartar! And once again, we have another USA made product on our hands.
While it's no surprise that a prepared food item such as frozen creamed spinach would contain some sodium, Seabrook Farms Farm Fresh Creamed Spinach does contain quite a lot. It's not quite the saltiest offender we came across (which rang in with an incredible 450 milligrams per serving!) but it does deliver a punchy 390 milligrams per serving. And as mentioned above, if you feel compelled to eat both servings in the package and call it a meal (ahem--please join the club with us), that makes for a ton of salt in one sitting. Furthermore, we found this creamed spinach to contain a huge list of extra and not-so-whole ingredients. Um, what even is "fumed silica", anyway?
Nevertheless, taste and texture were the name of the game here and as long as you're mindful of your frequency and quantity of consumption, we think this creamed spinach is just good enough to be worth the nutritional downsides.
Pros:
Best taste and texture of all the creamed spinach: rich, thick, and creamy but not oily or soupy!
Is a very tasty way to acquire a ton of nutrition: 4g protein per serving, as well as great quantities of calcium, iron, and potassium.
Offers an easy to pull off recipe for spinach soufflé on the back of the packaging.
Product of the USA!
Cons:
This dish contains a ton of sodium--almost 400 milligrams per serving.
The ingredients list also contains a large number of complicated ingredients and "extra" ingredients.
What's the Best Frozen Spinach? The Bottom Line.
We hope that one of these excellent frozen spinach options happens to strike your particular fancy. Whether you aim for nutrition or taste, convenience or dependability, there are all kinds of ways you can weigh your choices in the freezer aisle.
And, if you find yourself (somehow) in need of yet another option, it's quite simple to freeze your own fresh spinach using our step by step guide! Whatever works best for you, just be sure to get your (frozen) greens in. Your body will thank you!