Every baker craves that precious moment of slicing through freshly-baked bread, smearing some butter, and sinking their teeth into homemade goodness. But, nowadays, the soaring number of allergies and ailments tied to bread and gluten gets in the way.
To bolster this, studies unveil that 1% of the global population (70 million) suffers from a type of digestive disorder known as celiac disease. And those that don't have celiac disease are gluten intolerant or sensitive to it.
Granted, the solution to this is a gluten-free diet. But, eliminating gluten from your diet can be an uphill battle, more so if you require doing away with common foods such as bread.
Luckily, in today's technological era, the best gluten-free bread machine is the Holy Grail for those that want to bring their bread dreams back to life. There's a wealth of options on the market that recognize the exact chemistry of a gluten free bread recipe to bake up delicious options in a foolproof and streamlined process.
To narrow down your search, we've reviewed the top 5 options that will give you value for your money. Read on!
1. Best Overall: Zojirushi Home Bakery Virtuoso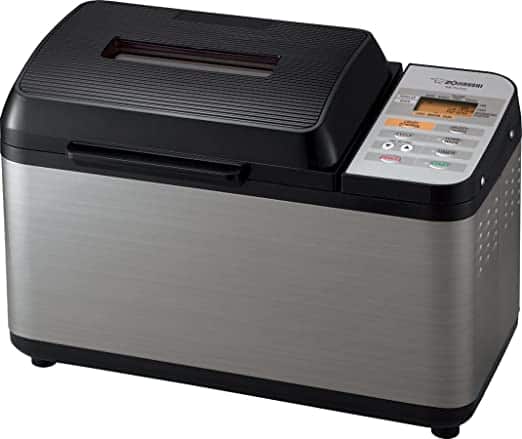 For regular-sized loaves with an ideal 360-degree browning, the Zojirushi Home Bakery Virtuoso takes the crown when it comes to functionality. And its longer and thinner design is a beast at saving space without compromising the unit's quality makeup.
Ideal for crafting 2-pound loaves, the machine has 13 bread settings. What sets it apart from the pack is that you can set 3 custom profiles with adjustable timing in the built-in LCD screen. Granted, the screen looks a tad bit outdated, but looks can be deceiving, as they say.
It's entirely automated with timely reminders to perfectly shape the loaf and sprinkle a few nuts or pieces of fruit. You'll notice that the Zojirushi Home Bakery Virtuoso operates better with integration compared to automated cycles provided in other machines.
Contrary to other units that have seem to have brought the gluten setting on board as an afterthought, this machine has dedicated a full chapter of its recipe book to gluten-free recipes. So, you can take your pick from comprehensive bread recipes ranging from Flaxseed, Brown Rice, and Italian Herb to Café Au Lait.
Following these recipes to the letter ushers in inventive and flavorful loaves that any bread lover will enjoy, more so, with a cup of the best instant coffee.
With a direction handbook, recipe book, and an instructional CD, the Zojirushi Home Bakery Virtuoso is armed to tackle a vast assortment of projects. They include meatloaf, jam, different types of dough, and cake. This unit stands out from its rivals because it has a built-in heating element in the lid. It's this handy feature that gives your bread a uniform and alluring golden brown shade all-round.
Pros
Standard 2-pound loaf size
Automatic 1-hour warming cycle
13 programmable loaf settings
Not as technologically advanced as other models
Viewing window
Contains blades for dual kneading
Programmable start time of up to 13 hours before
Spoon, CD, measuring cup, and recipe book included
Budget-friendly
Cons
2. Best Budget: Hamilton Beach Digital Bread Maker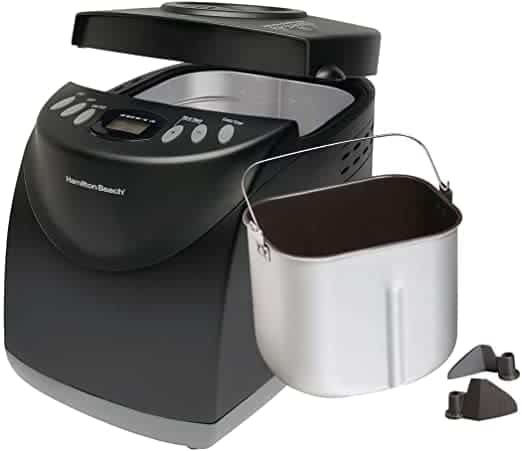 Are you on the quest for a quick bread solution? Then your search ends here with the Hamilton Beach Digital Bread Maker. At an affordable cost, this unit ushers in a myriad of perks. What makes it stand out from its competitors is that it has the 1-hour express setting functions equally as excellent as the 2-hour gluten-free setting.
So, flavorful loaves are just three steps away; measure your wet ingredients and dry ingredients using the best food scale, add them, choose a cycle, and press 'Start' to get the ball rolling.
With three loaf shades and 12 bread settings available at your disposal, this machine has relatively average choices and customization levels. It has two loaf sizes: quick French bread without yeast, 1.5 lb express, 2 lb express, whole grain and bake, dough, cake, and jam.
In turn, this lowers the amount of waste in smaller households that can't finish larger loaves in a week. The Hamilton Beach Digital Bread Maker comes with an audible reminder for sprinkling nuts or fruits.
You have free rein to choose from dark, light, and medium with three crust settings, depending on your preference. The large digital display has a delay time view. So, you can add the ingredients and kick-off the baking process later, making the unit ideal for entertaining guests and breakfast.
As a low-maintenance device, a dishwasher-friendly bread pan and two kneading paddles are included in the package. The paddles allow you to use one as the other is in the dishwasher.
You'll also find an informative and easy to understand guidebook that's packed with recipes derived from Bob's Red Mill Natural Foods who craft a vast assortment of gluten-free flour alternatives.
Compared to other models, you'll find these recipes more precise and will be blown away by the lightness of the loaves. While it has nonstick legs, we recommend keeping the Hamilton Beach Digital Bread Maker in a safe spot on your kitchen counter to prevent accidents.
Pros
Dishwasher-friendly pan
Automated reminders
2 loaf sizes (1.5 lbs and 2 lbs)
2 dishwasher-safe kneading paddles
Versatile use
Dark, medium, and light crust settings
12 loaf settings
Setting for 1-hour express baking
Cons
Noisier than other models
Paddles get immersed in the loaf and must be dug out with each use
3. Elite Gourmet Maxi-Matic EBM8103B Bread Machine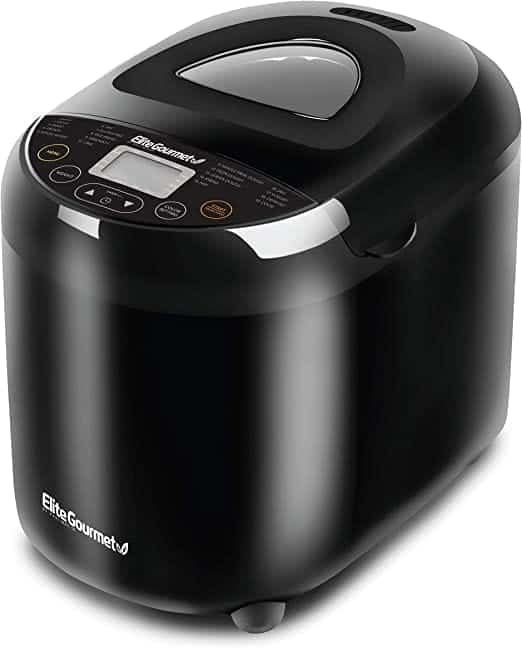 With the uncanny ability to produce the best gluten-free bread, the Elite Gourmet Maxi-Matic machine does all the kneading, rising, and baking for you. Thus, it eliminates the guesswork of making homemade bread that's free of all preservatives. Perfect for busy chefs, this unit comes with 19 preset functions for various types of flours and bread.
They include whole wheat, quick (without yeast), rice and sandwich bread, basic, French, gluten-free, sweet, and rye. You also have free rein to prepare different dough types, including leaven, pizza, and whole meal.
You can bake up to 2 pounds of the loaf with different settings; 2-pound, 1-pound, or 1.5-pounds of fresh bread. Preparing a boatload of flavorful bread is as an easy process; add the ingredients, choose your cycle, press start, and voila, you're good to go. You can then delight in delicious cakes and bread right from the comfort of your home.
After reveling in your first homemade batch of goodness, you can level up to other mouth-watering recipes that will have family and friends hooked from the get-go. They include yogurt, jam, and pies. With a 15-hour delay function, you can bake overnight.
And, you get to enjoy warm bread (courtesy of the 60-minute keep warm feature) with an amazing cup of fresh brew from your single-serve coffee maker. Isn't that just what the doctor ordered to start your day on the right foot?
The light, dark, and medium settings give you free rein to choose your preferred crust color. And, for a personalized touch, you can throw in your favorite dried fruits, seeds, or nuts. The handy device mixes and prepares dough for cinnamon rolls, pizza, or focaccia bread. With a metal hook for lifting out a kneading blade, a measuring cup and spoon, a kneading blade, and a nonstick bread pan, the Gourmet Maxi-Matic EBM8103B Bread Machine has everything you need. As a true multi-purpose unit, it saves a great deal of money and time.
Pros
19 preset menu options
1-hour keep warm feature
15-hour delay timer
Small kitchen footprint
Recipes included
Inexpensive
Multi-purpose machine
Comes with handy accessories
Viewing window
Cons
Doesn't mix the ingredients as well as other models
Lacks a manual on how to precisely position the pan
4. AICOOK Automatic Bread Maker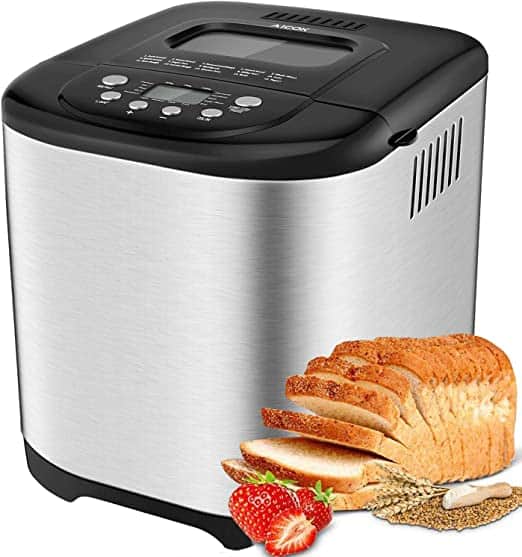 Packed with an array of options and settings for excellent bread making, the AICOOK Automatic Bread Maker provides unmatched customization compared to its rivals. Constructed from sturdy and durable stainless steel, this solid design is significantly quieter than other units. But, it occupies a large kitchen footprint. So, if you're looking to minimize space, this might not be the best option for you.
Designed for entirely fluffy and customizable loaves with efficient and uniform heat distribution and balanced baking, this unit provides quality baked goods coupled with top-notch functionality. With 19 settings, including gluten-free, the AICOOK Automatic Bread Maker is worth the extra space.
Constructed with nutrition in mind, the settings include quick bread, cake, sweet bread, gluten-free, yogurt, Sourdough, and Milky Loaf. There's also an audible reminder for sprinkling nuts and fruits.
With three loaf sizes and three crust settings, this programmable device has a maximum capacity of 2 pounds of a loaf, making it a great option for larger families. And you can take your pick from dark, light, and medium settings.
You can produce perfectly-sized bread that's tailored to suit your needs and expectations. Courtesy of the 13-hour delay timer, you can schedule your loaves for at least 2 hours beforehand.
The settings permit scheduling for up to 15 hours in advance. Thus, you can wake up to the aroma of your favorite bread wafting through your home with the 60-minute warm-keeping. Furthermore, the machine has a 15-minute power interruption recovery that guarantees fresh bread each time. Homemade bread is not only tastier but also healthier.
The AICOOK Automatic Bread Maker comes with a removable lid and a bread basin that's nonstick and dishwasher-friendly, making the cleaning process a walk in the park. Moreover, the unit's lightweight design makes it convenient to transport it around the kitchen as need be and safely tuck it away when it's not in use.
The machine comes with a 2-year warranty and lifelong technical support if any issues crop up. Thus, this gives you the much-needed peace of mind when buying the AICOOK Automatic Bread Maker. The included recipes use the metric measurement system, which may require conversions.
Pros
15-hour delay timer
Automatic reminders
Lifelong technical support assistance
3 crust color settings
Comes with a 2-year warranty
1-hour warm-keeping feature
3 loaf sizes available
15-minute power interruption recovery
Dishwasher-friendly components
Lightweight for enhanced portability
Cons
Large kitchen footprint
One kneading paddle
Confusing instructions
5. Best Premium: Breville BBM800XL Bread Maker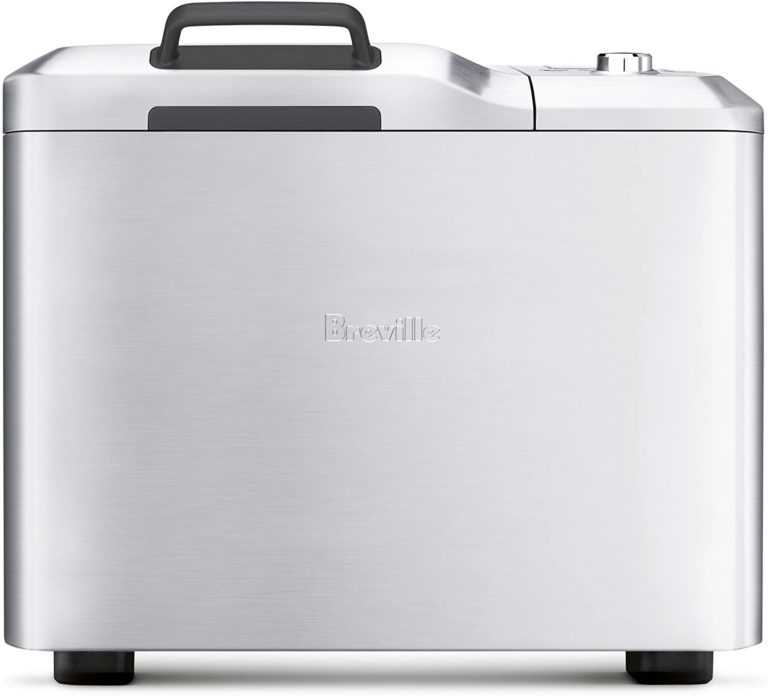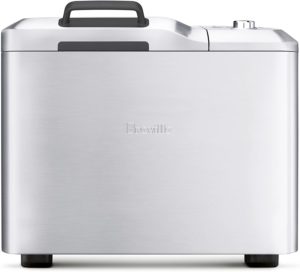 Do you bake different-sized loaves at varying times? Then the Breville BBM800XL Bread Maker was designed with you in mind. With four loaf sizes, ranging from 2.5lb, 1lb, and 2lb to 1.5lb, you don't need to purchase separate machines for baking large and small loaves. The unit has a nut and fruit dispenser for uniform and quick distribution, depending on the recipe.
The kneading blade automatically folds in after the completion of the kneading stage, thus creating more space for the bread dough to rise and diminishing the hold at the bottom of the bread, which most bakers are notorious for leaving.
One of the features that make the Breville BBM800XL Bread Maker stand out from the rest is the power backup. In the unfortunate event of a power outage, the unit has a 60-minute backup power supply that'll keep your bread baking as you find an alternative power source or wait for power restoration.
The LCD control panel is not only easy to read and user-friendly but also has 13 auto settings. When it comes to customization, the world is your oyster. The machine also comes with 46 recipes that include custom recipe charts, whole wheat, basic, gluten-free, and yeast-free. You have free rein to select the automatic settings or choose to manually input your preferred settings. Your respective settings will be displayed on the LCD screen.
Pros
Comes with 46 step-by-step recipes
60-minute backup power
Ideal for large households
1-year limited warranty
Constructed from sturdy and durable stainless steel
Auto nut and fruit dispenser
Smart LCD screen with progress indicator
4 loaf sizes and 3 crust colors
Cons
Bulky; occupies lots of counter space
Irregularly-shaped bread pan
Buying Guide: How to Choose the Best Gluten-Free Bread Machine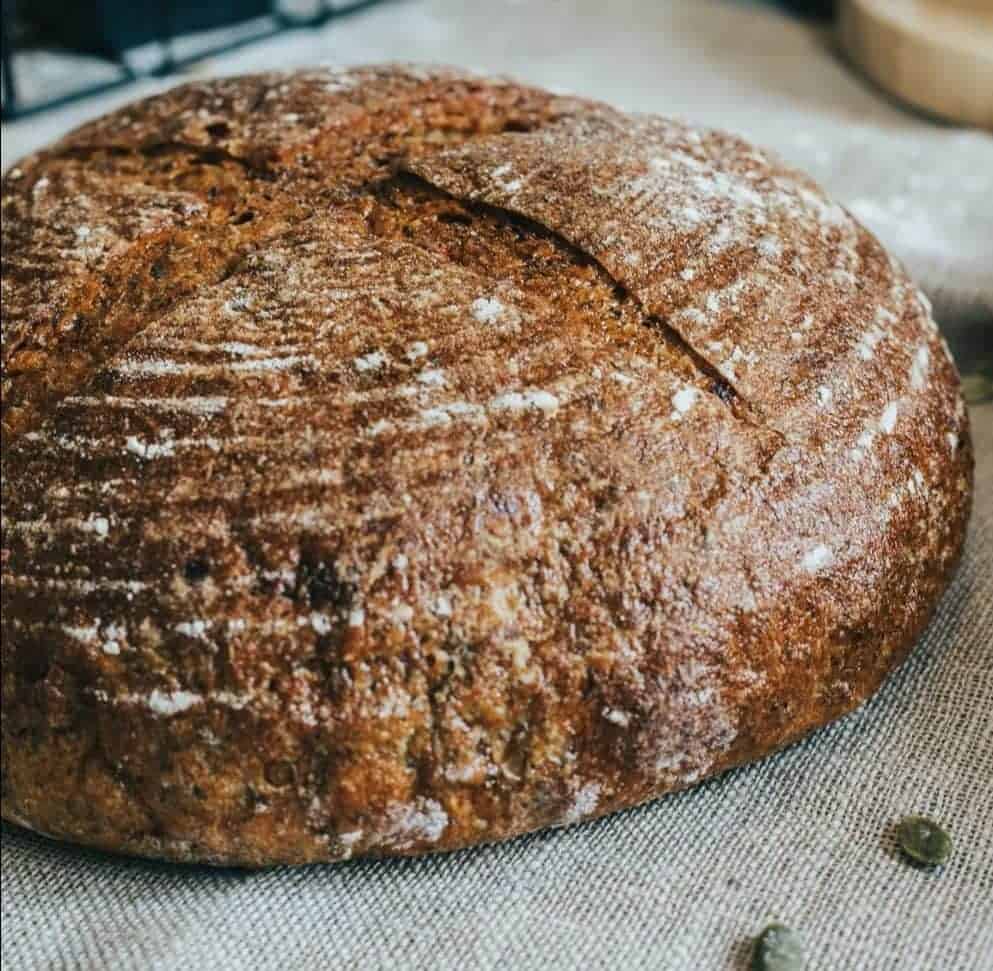 With the boatload of options that have littered the market, finding the ideal gluten-free bread machine that best suits your needs can be an uphill battle. After all, to the unfamiliar eye, they all look the same. Therefore, we've rounded up a few essential factors to consider that will help you narrow down your search.
1. Price
A common misconception is that size directly impacts the price. So, a multitude of people assumes that the larger a product is, the pricier it is. While this may be the case with other kitchen appliances, when it comes to bread makers, size is a non-factor. Instead, the more programmable features and options it has, the pricier it is.
Furthermore, the pricier models produce more appealing and uniform loaves of bread compared to the lower-end counterparts. Gluten-free bread machines fall anywhere between $60 and $300, so there's a vast assortment of options to suit all budget needs.
If you plan to use your machine multiple times a day or daily, then you'll want a durable option. So, a bread maker that costs way below $100 simply won't cut it. Instead, we recommend choosing excellent quality brands such as Breville that will require you shelling out extra bucks but will serve you for years down the road.
Remember, as with everything else in life; you get what you pay for.
2. Kneading Paddles
These come in vary in size. Some bread makers come with a kneading paddle designed for dough and a replacement for pasta. But a pair of paddles is required for proper kneading of the bread.
Dual kneading paddles get the job done equally as well as using your hands or a stand mixer. Units with one kneading paddle may come with a spare one as well. Moreover, consider whether or not you can remove the paddles after the kneading cycle.
After all, the last thing you need is baking bread that will leave a gaping hole at the bottom of the loaf. Opt for machines that will notify you to inform you to take out the paddles before the baking cycle commences.
3. Delayed Timer
A great feature to keep your eyes peeled for is the delayed timer functionality. It grants you free rein to choose precisely when you want the baking process to start. For instance, you can put the ingredients in the machine the night before and set the timer to start kick-off the process at 5 a.m. As a result, you'll wake up to the aroma of freshly baked bread.
4. Noise
Given that gluten-free bread machines knead and mix the bread dough, finding one that does so quietly is like looking for a needle in a haystack. Keep in mind that the noise level varies from one unit to another. The cheaper and flimsier models make the most noise.
They vibrate intensely enough to move around your counter and possibly land on the floor, possibly getting damaged. To avoid resigning yourself to this fate, choose machines that are less noisy and don't move around when in use. They are constructed from sturdier and more durable materials.
5. Specialty Items
Are you looking to be more adventurous in the kitchen and venture outside standard bread? Then machines with customizable settings to easily make specialty items are right up your alley. Aside from gluten-free bread, you can make noodles, pizza, wheat bread, bread with seeds and nuts, where the gadget tells you to throw them in, jam, dough, sourdough bread, and pizza.
If you're looking to spice things up in the kitchen and step up your baking skills by a few notches, then a gluten-free bread maker with unique functions is a great option to consider.
6. Programmable Options
During your search, you'll quickly learn that bread makers don't vary much in cost between the brands, or depending on the size of the loaf, it bakes. However, when it boils down to the programmable alternatives, remember, the more your unit has, the pricier it is. And it's worth every coin.
If you want to regulate the crust color in terms of light, medium, and dark, then these programmable options come in handy. They also aid in the baking of the dough minus the kneading process or the duration you want it to bake, rise or knead. Ultimately these options give you full control and free rein to customize your baking as you please.
Furthermore, bread machines contain pre-programmed settings ranging from sweet, gluten-free, and French to whole wheat. Therefore, you'll want to select a machine that contains the programs you want so that making your ideal bread is a breeze. Higher-end units also provide the option to customize your cycle if the unit doesn't already have a cycle that gels with your needs and expectations.
7. Exterior
Before hastily choosing the first gluten-free bread machine that catches your eye, consider its shell. So, select a material that's a breeze to clean with little to no maintenance required, isn't impacted by moisture, and is a sight for sore eyes.
Stainless steel, in all its glory, fits the bill. Its durability and beauty are unmatched. You should gravitate more towards a product that has a handle for easy storage and transportation.
Keenly analyze the base's structure, as you keep your eyes peeled for rotating rubber wheels that deliver an impressively stable base. They remain glued to the surface as the unit is kneading. This prevents it from moving around the counter and possibly tipping over, which would damage it.
8. Durability
A top-notch bread machine is one that can last for years down the road but doesn't lose its functionality. So, this boils down to the quality of the materials used, craftsmanship, and components.
Telltale signs that serve as proof of a well-constructed unit range from the use of sturdy materials, flawless finish, and a hardy frame without dents to exquisite design and joinery. If the unit's exterior looks and feels flimsy (a cheap look and loosely-assembled components), you can almost be certain that trouble and frustration are waiting in the wings.
Stick to renowned brands when choosing a bread machine to steer clear of issues encompassing usability and durability. While some renowned brands may have the occasional defective model, remember, it's the exception, and they'll likely replace it upon notifying them.
9. Warranty
A myriad of gluten-free bread machines has at least a 1-year warranty along with a 30-day return policy from the date of purchase. Therefore, it's advisable to put the machine to the test within this timeframe. Doing so allows you to pick up on any malfunctions in due time and qualify for a replacement or refund if you decide to return it.
10. Loaf Capacity
Consider the size of the loaf of bread that the gluten-free bread machine can make. It's essential to know beforehand as it's the determining factor as to whether or not you'll have enough bread for you and the members of your household. The capacities range from 1 lb (the smallest) and 1.5lbs to 2 lbs, 2.5 lbs, and 2.2 lbs for the larger models.
A multitude of machines is built to bake varying loaf sizes. So, if you require different bread sizes at various times depending on the number of people you're feeding, then a machine with varying loaf sizes is your best bet.
The Breville BBM800XL Custom Bread Machine comes in 4 sizes. While it's a premium option, its versatile nature is worth every dollar. Moreover, the T-fal Stainless Steel Bread Machine supports three bread sizes.
Benefits of Gluten-Free Bread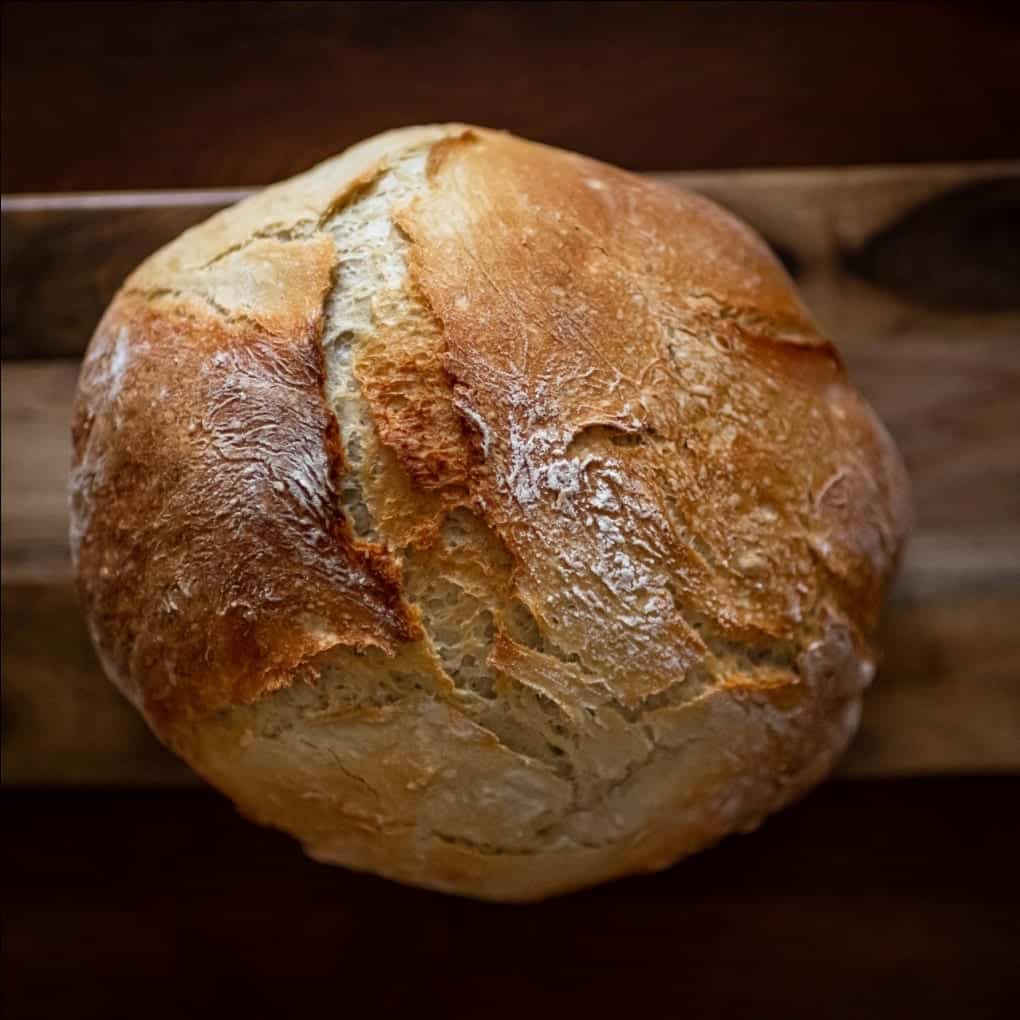 Here's a breakdown of the undeniable perks of homemade gluten-free bread.
Healthy Digestive Tract
Those with gluten intolerance face the risk of developing scar tissue along with delayed emptying from the attempted digestion of gluten-rich foods. So, it ushers in unpleasant symptoms ranging from bloating, nausea, gas, and cramps. By contrast, gluten-free is friendly to the digestive tract. Its nutrients are completely absorbed and, in turn, fuel the production of good bacteria in volumes in the intestines.
Boosts Energy Levels
People with gluten intolerance typically suffer from severe fatigue. It stems from the consumption of gluten bread and other products that damage their intestines. In turn, this impairs the absorption of iron and other essential nutrients.
Iron deficiency, for instance, ushers in anemia, which causes debilitating exertion intolerance and fatigue. Switching to a gluten-free diet is your saving grace. It will allow your intestines to heal, thus restoring the absorption of nutrients. As a result, you'll notice a significant increase in your energy levels.
Healthy Weight Gain
Gluten intolerance and celiac disease symptoms range from diarrhea and gas to bloating and chronic fatigue. These may seem minuscule, and more often than not, the condition may go undiagnosed for years down the road.
Consequentially, this causes many nutritional deficiencies and, in most cases, uncontrolled and chronic weight loss. A gluten-free diet, including bread, will aid in regaining lost weight and eliminating nutritional deficiencies.
Diminishes Joint Pain
While gluten intolerance and celiac disease are typically associated with the gastrointestinal tract, they have far-reaching adversities. Given that celiac disease triggers an irregular immune reaction, it increases the likelihood of inflammation.
Therefore, it comes as no surprise that joint pain, typically in the wrists, back, and knees, is a common symptom of celiac disease. Adopting a gluten-free diet that includes substituting regular bread with the gluten-free option will help prevent this type of joint pain.
Take the necessary steps to make sure that you don't ingest even the smallest quantity of gluten as it can lead to the recurrence of your symptoms.
Boosts Bone Health
Those with undiagnosed celiac disease typically suffer from chronic calcium deficiency due to the mal-absorption of nutrients. The calcium mal-absorption is tied to an elevated risk of bone ailments ranging from osteopenia to osteoporosis. Studies have shown that celiac patients who strictly consumed gluten-free bread and other foods experienced a considerable improvement in bone mineral density.
Lowers Hair Loss
Gluten intolerance and celiac disease have been tied to malnutrition that ushers in significant hair loss. Adopting a gluten-free diet can fuel the reversal of gluten-related hair loss, thus improving hair texture and density.
Reduces Cholesterol
The integration of gluten-free bread into your health regime is an effective way to cut back on cholesterol. Furthermore, home-baked goodness lowers the unnatural content such as preservatives and trans-fat that store-bought brands contain. With ingredients such as ancient flax and grains, gluten-free bread diminishes cancer and heart disease risk.
Promotes Healthy Skin
Those that have undiagnosed gluten intolerance or celiac disease are more susceptible to breakouts, hives, and skin conditions such as psoriasis and eczema. Therefore, strictly abiding by a gluten-free diet can improve your overall skin health and possibly get rid of these skin problems.
Lowers Depression
Studies have shown that gluten disorders are linked to mood disorders. So, anyone with celiac disease has a greater likelihood of suffering from depression. But, following a gluten-free diet has a favorable outcome on the symptoms of depression. It helps boost a patient's quality of life.
Lowers the Frequency of Headaches
Over the last couple of decades, scientists have unveiled the close connection between the brain and the gut. It's undeniable that anyone with celiac disease and gluten intolerance is more susceptible to headaches. Reports have indicated that converting to a gluten-free diet can significantly lower the frequency of these headaches.
To Wrap It Up
Regardless of the model you settle for, ensure you carefully read the user manual. It'll teach you how to properly use your gluten-free bread machine. Remember to add the ingredients in the exact order that the user manual states.
While deciding that a certain diet is best for you is not easy, it'll pay off in the long run. After all, health is wealth. Order the best gluten free bread machine today, and your future self will thank you.
Happy baking!