There's nothing like the aroma of freshly baked bread – especially when it's homemade bread too. But the majority of us tend to purchase loaves at our local supermarkets due to its convenience: white bread, wheat bread, sourdough, multigrain bread, rolls, French bread, rye, pumpernickel, focaccia, you name it. There are so many bread options at hand, but what many don't get is that you can make each of these plus more right at home for cheaper.
In fact, did you know that the average American purchases approximately 43 loaves of bread a year? Depending on the type and brand you opt for, the annual cost of bread for an average household can range anywhere from $86 to $172. Especially for larger families, the cost of quality bread can add up quickly. This is tough for those who are on tighter grocery budgets but who want quality, healthy options.
That said, if you want to save money or simply personalize your bread to your liking, you might just want to consider purchasing a bread maker to whip up your own bread. To help you out with your decision, I've created a list of some of the best bread makers of 2018.
1. Zojirushi BB-PAC20BA BB-PAC20 Home Bakery Virtuoso Breadmaker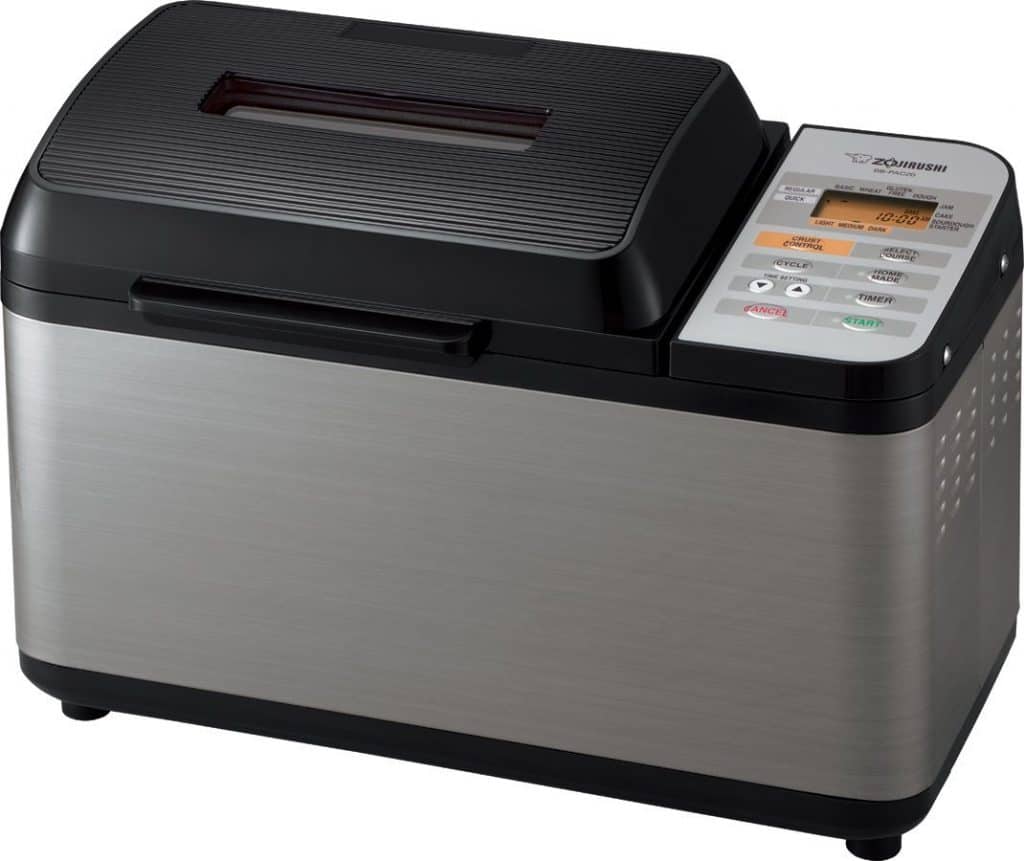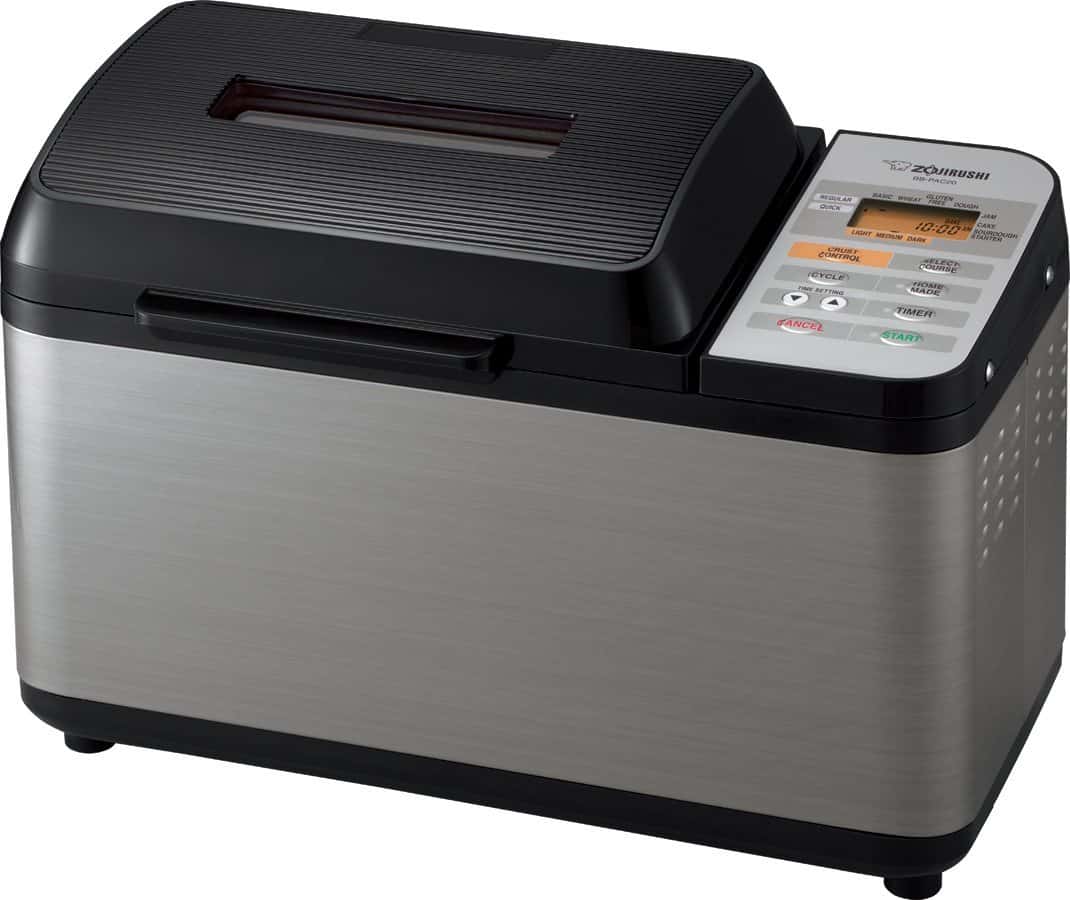 The Zojirushi BB-PAC20BA is a heavily popular bread maker with gluten free setting. It whips up evenly-cooked, rectangular-shaped, 2-pound loaves as soon as two hours thanks to its quick baking cycle. Its high-quality dual blades are sufficient for preparing dough for general breads, pizza, cinnamon rolls, bagels, pretzels, and other goodies.
As an added bonus, if you want to wake up or come home to freshly-made bread ready to eat, simply use the Zojirushi Home Bakery Virtuoso Breadmaker's delay timer, which can be set up to 13 hours. At any time you want to check on your bread, just look through the viewing window located on the bread maker's lid.
While this bread maker machine is a little more moderately priced, it is well-noted for its consistency and useful features. Reading reviews, most users find this bread maker worth it for their wants and needs.
Top Features:
10 pre-programmed settings. Includes Basic Bread, Wheat Bread, Sourdough Starter, Quick Bread, Gluten Free Bread, Cake, Jam, plus 3 homemade settings
Gluten-free and custom setting
Dual kneading blades
Easy-to-read LCD screen
Integrated window on the lid
3 memory settings
13-hour delay timer
Dual kneading blades
Even baking help in part by extra heater on lid
Liquid measuring cup, nested measuring cup, measuring spoon, bread maker recipes, and instructional DVD included
2. Hamilton Beach HomeBaker 2 Pound Automatic Breadmaker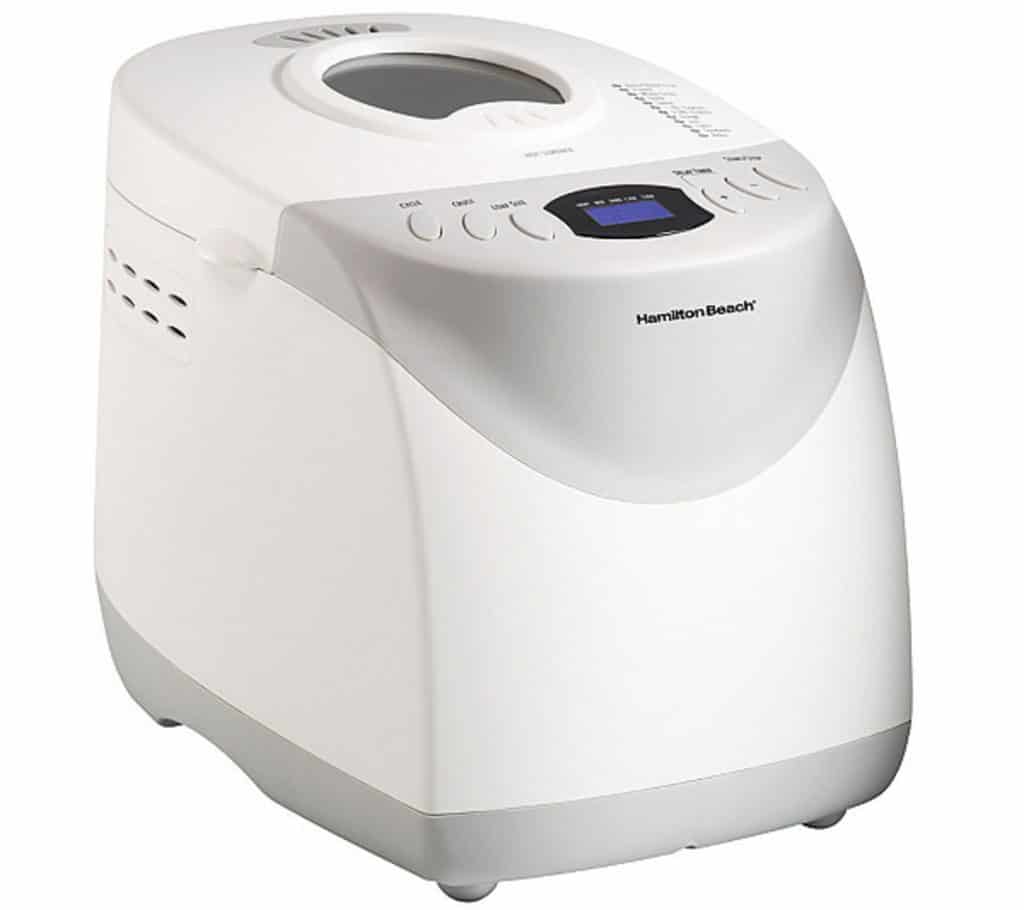 The Hamilton Beach HomeBaker 2 Pound Automatic Breadmaker is perhaps the best bread maker under $100. It offers a simple design holding a dishwasher-safe, non-stick baking pan and is incredibly easy to use and clean. In fact, there are only three steps involved in operating this machine. Just add your ingredients, select the appropriate cycle, and hit the 'Start' button. (The hardest part is waiting for your food to be finished!)
This machine is capable of cooking both whole grain and gluten-free breads among its total of 12 different cycles. It even has cycles for dough-making, express cooking, baking, for making cake and jam, and more along with a delay timer in case you aren't ready to start cooking or baking just yet.
Unfortunately, this item is discontinued (can't understand why; it has very positive reviews), but you still find it for sale from a plethora of sources including Amazon.
Top Features:
3 simple steps to operate
12 cycles to choose from. Includes French, Sweet, Whole Grain, Gluten-Free, Quick Bread, 1.5-lb Express, 2-lb Express, Dough, Bake, Cake, & Jam
Settings for light, medium, and dark crust
Dishwasher-safe, non-stick pan
Cool to the touch on the exterior
Delay timer
Bread make recipes included (whole grain and gluten-free)
Extra kneading paddle included
3. Sunbeam Programmable Bread Maker, 2 Pound, White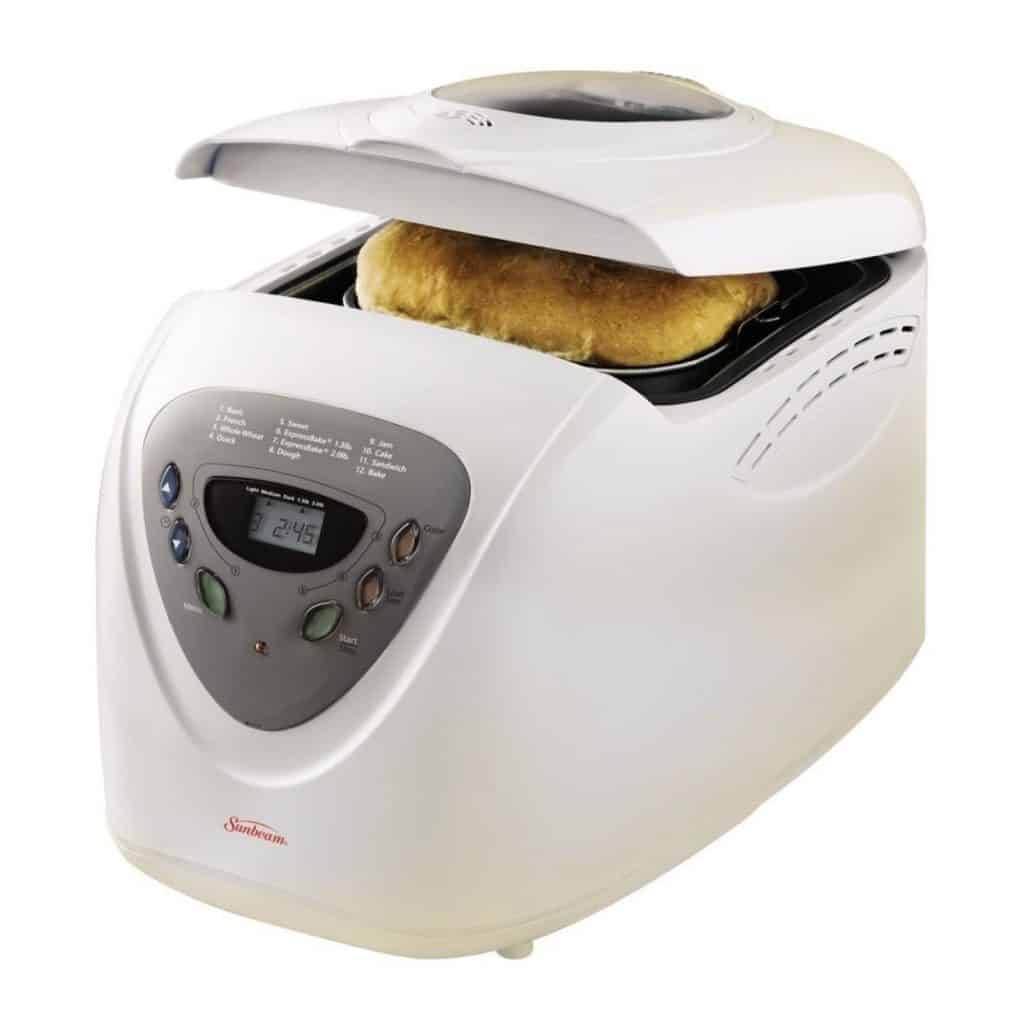 This next machine is a bread maker pro – and it's under $60. It has the capability of producing beautiful, 1.5- to 2-pound loaves in one of three crust shade colors of your choice. This Sunbeam bread maker machine is often complimented for its ease of use. Just add the ingredients of your choice, select one of 12 cooking settings along with a crust shade option, and start (or delay with the delay timer) your bread.
One issue is that bread may come out over- or under-baked. But each time with this machine, you'll receive even baking. Plus, you should never have an issue with your bread sticking in the pan as it offers a non-stick baking pan. After your cooking session, the pan within this break maker can simply be clean with a bit of soap and warm water. Overall, this Sunbeam machine is a great bread maker for beginners, is easy to use, and cleans beautifully.
Top Features:
12 cooking functions for making dough, bread, cake, and jam
3 crust shade selections
13-hour delay timer
Large LED screen display
Removable, easy-to-clean non-stick pan
4. Zojirushi BB-HAC10 Home Bakery 1-Pound-Loaf Programmable Mini Breadmaker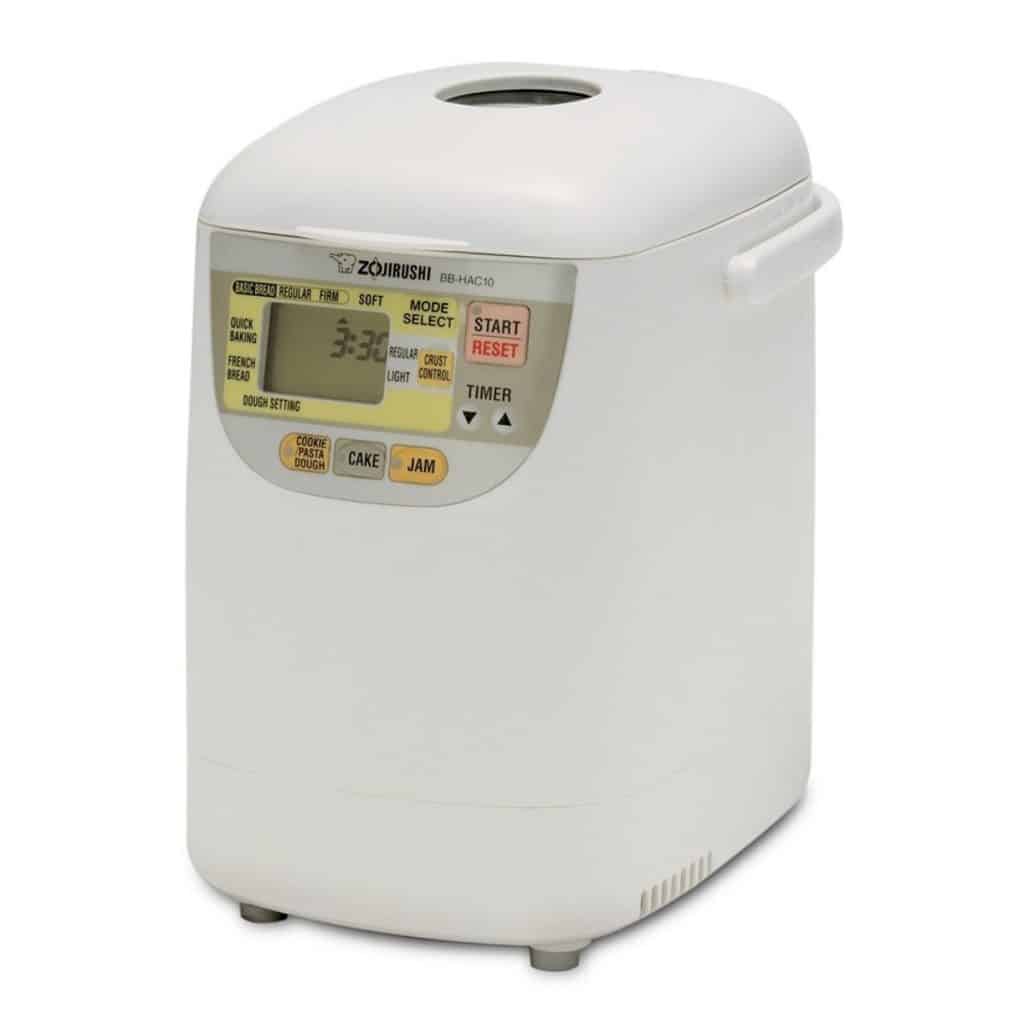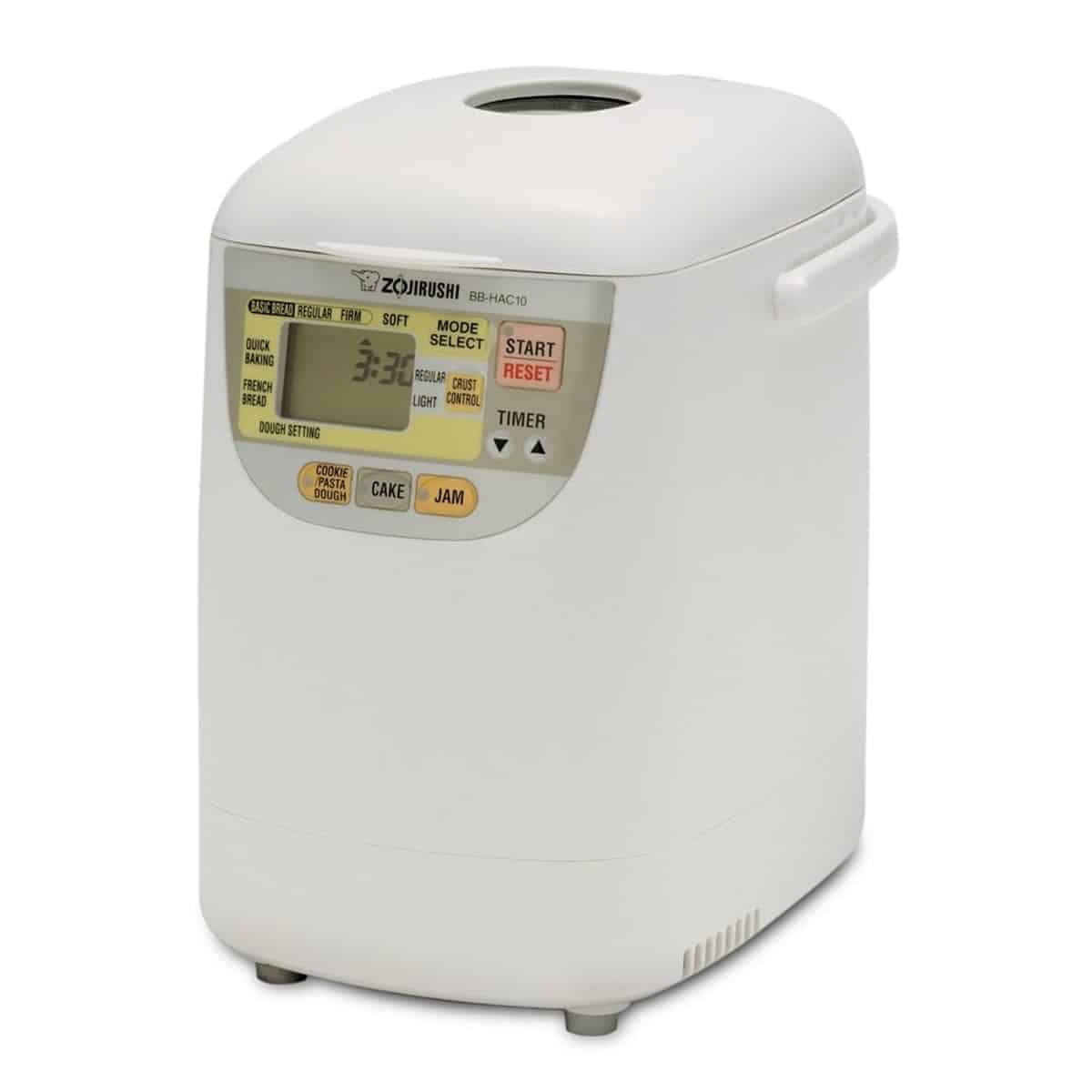 Here's another Zojirushi bread maker that is hard to resist: the BB-HAC10 Home Bakery 1-Pound-Loaf Programmable Mini Breadmaker. Now, this is a machine for those who need something compact, whether because they have limited space in their kitchen, because they want to travel with it, or simply because they want smaller breads (1-pound to be exact). This is also a great machine for households with only one or two people.
With this machine, Zojirushi keeps things pretty simple. The design is basic, and there isn't a clock apart of the LCD panel, but the quality is all within the breads and other products it produces. This device is also very quiet when in operation and operates perfectly even in higher altitudes.
One downside, however, is that this machine is heftier in price despite being smaller and only capable of 1-pound loaves, and not to mention, a little basic when it comes to aesthetics. Yet, this device can still be considered the best break maker under $200 as it has everything one could need in a bread making machine: plenty of cooking settings, an LCD control panel, and a convenient storage due to its small size and nifty cord storage.
Top Features:
Compact, skinny design
LCD control panel
Large handle
Cord storage
Convenient viewing panel
13-hour delay timer
3 bread texture options (regular, soft, or firm)
Non-stick pan and kneading blade
Cooking settings include French, Basic Bread, Quick Bread, Soft, Cooke/Pasta Dough, Jam, Dough, and Cake
Instruction video and bread maker recipe booklet included
5. SKG Automatic Bread Machine 2LB – Beginner Friendly Programmable Bread Maker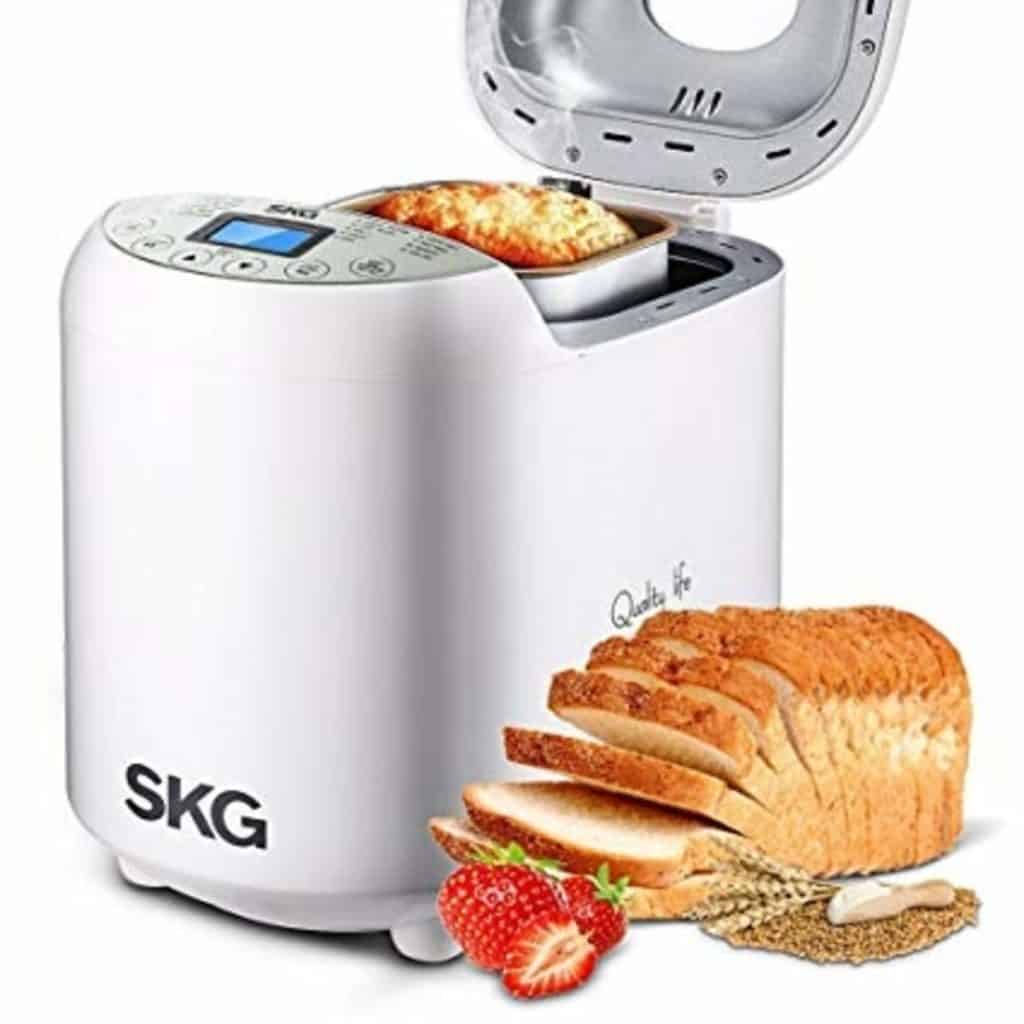 Both bread-making pros and newbies will love the SKG Automatic Bread Machine. With a viewing window and brushed stainless-steel accents, this machine is convenient as it is gorgeous. Unlike many machines out there, it has three size options for your loaf of bread (1-pound, 1.5-pound, 2-pound). This SKG machine also has three crust color options and a whopping 19 cooking settings from gluten-free bread and corn bread to yogurt and jam.
Apart from versatility in the types of breads and other foods you can prepare in this machine, two other convenient features include its 15-hour delay time – many machines only have 13-hours of delayed time – and 1-hour warmer feature. To me, this means getting a bread maker that is capable of working with our busy lives. After all, one big excuse many don't make our own bread is because they are "too busy," but this machine allows you to do it anyway. And surprisingly, for all this SKG machine can do, it can be bought for under $100.
Top Features:
19 automatic programs. Includes French, Basic, Gluten-Free, Corn Bread, Whole Wheat, Yogurt, Jam.
3 loaf size options
3 crust color options
15-hour delay timer
1-hour warmer feature
15-minute power interruption recovery
Brushed stainless steel accents
PP food grade interior
Oven window
Includes 19 bread maker recipes
6. Panasonic SD-YD250 Automatic Bread Maker – White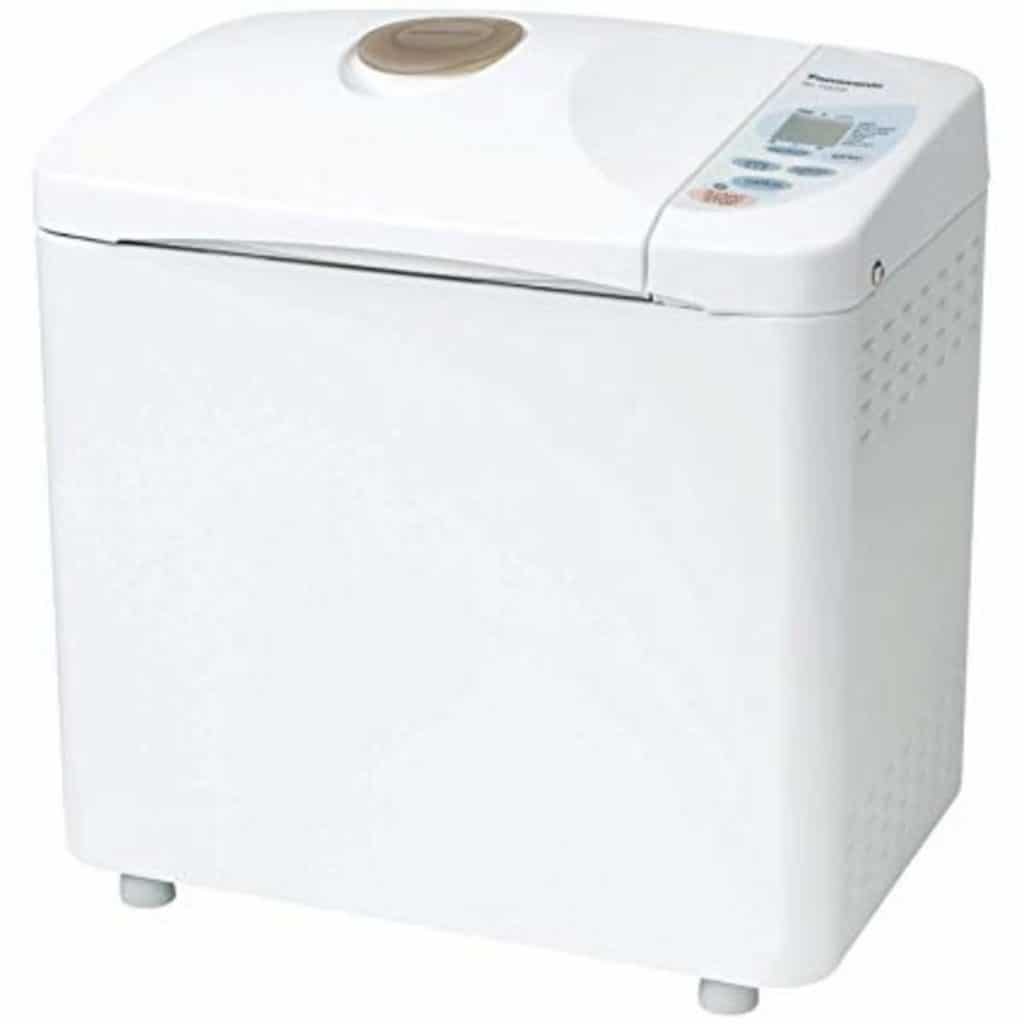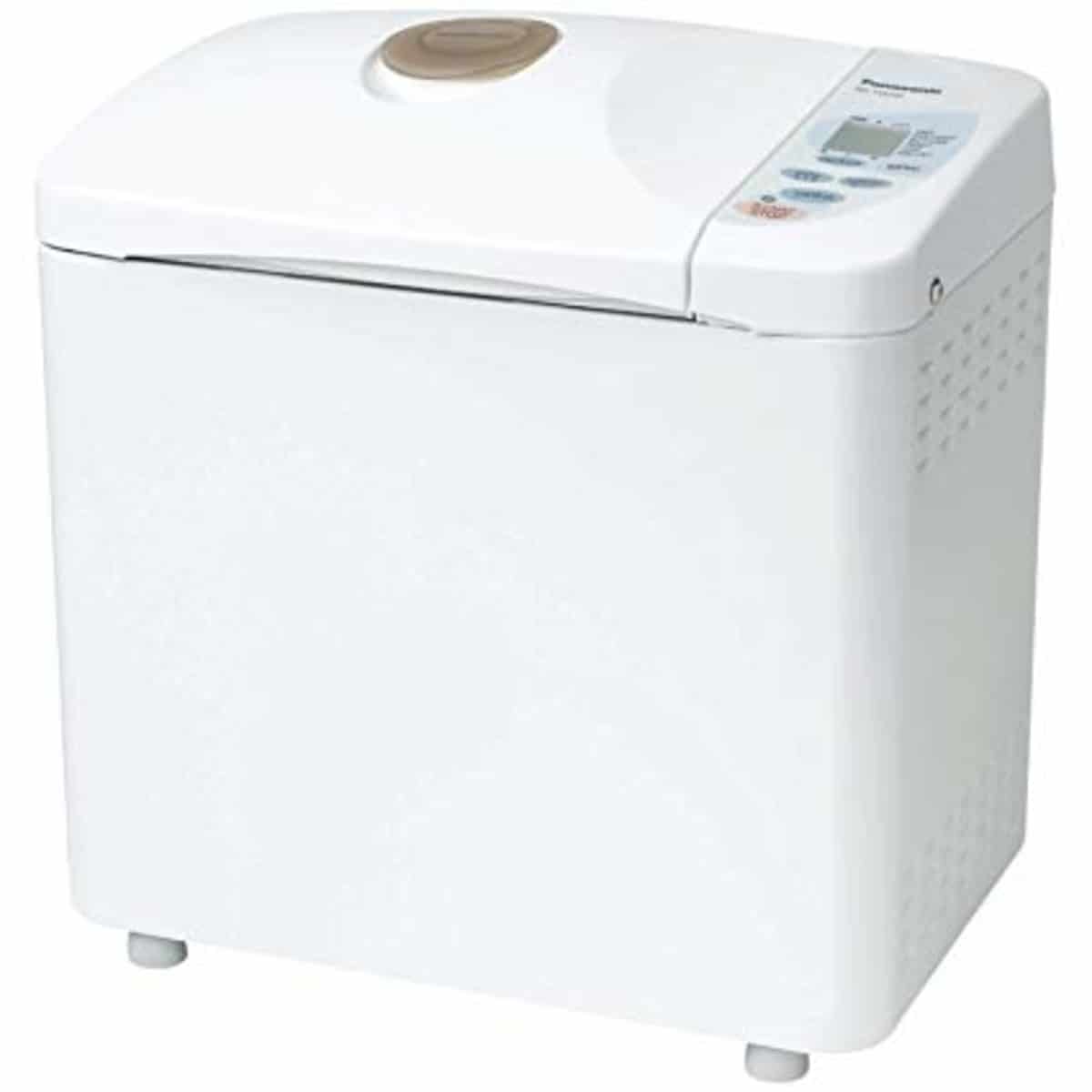 Next, we have a bread maker Panasonic has created to bring us the ease of making fresh bread at home. Apart from its easy to read and operate LCD display and simple use overall, this bread maker is phenomenal in ergonomics and general convenience in terms of providing a durable, non-stick pan and a handle on the baking pan. These may seem like basic features, but everyone knows that releasing our freshly-baked bread from the baking pan and then cleaning the bread machine after use are some of the most frustrating bread-making experiences.
The Panasonic SD-YD250 Automatic Bread Maker may have a very bland appearance in the opinion of some, but it makes some of the best bread in three loaf sizes, three crust size options, several programmable settings from multigrain bread to cake, and an automatic yeast dispenser to ensure your loaf receives the ideal amount. Like many machines, you even receive the option to delay your bread-making by up to 13 hours.
Top Features:
Settings for White, Multigrain, Whole Wheat, French, Dough, Quick Bread, Cake, and Pizza
Easy-to-read, soft-touch LCD display
Light to dark crust color options
Convenient handle on baking pan
3 loaf size options
Automatically adds the right amount of yeast
13-hour delay timer
Removable, non-stick pan
Measuring cup, measuring spoon, kneading blade, and bread maker recipes included
7. Cuisinart® Automatic Breadmaker – Stainless Steel CBK-100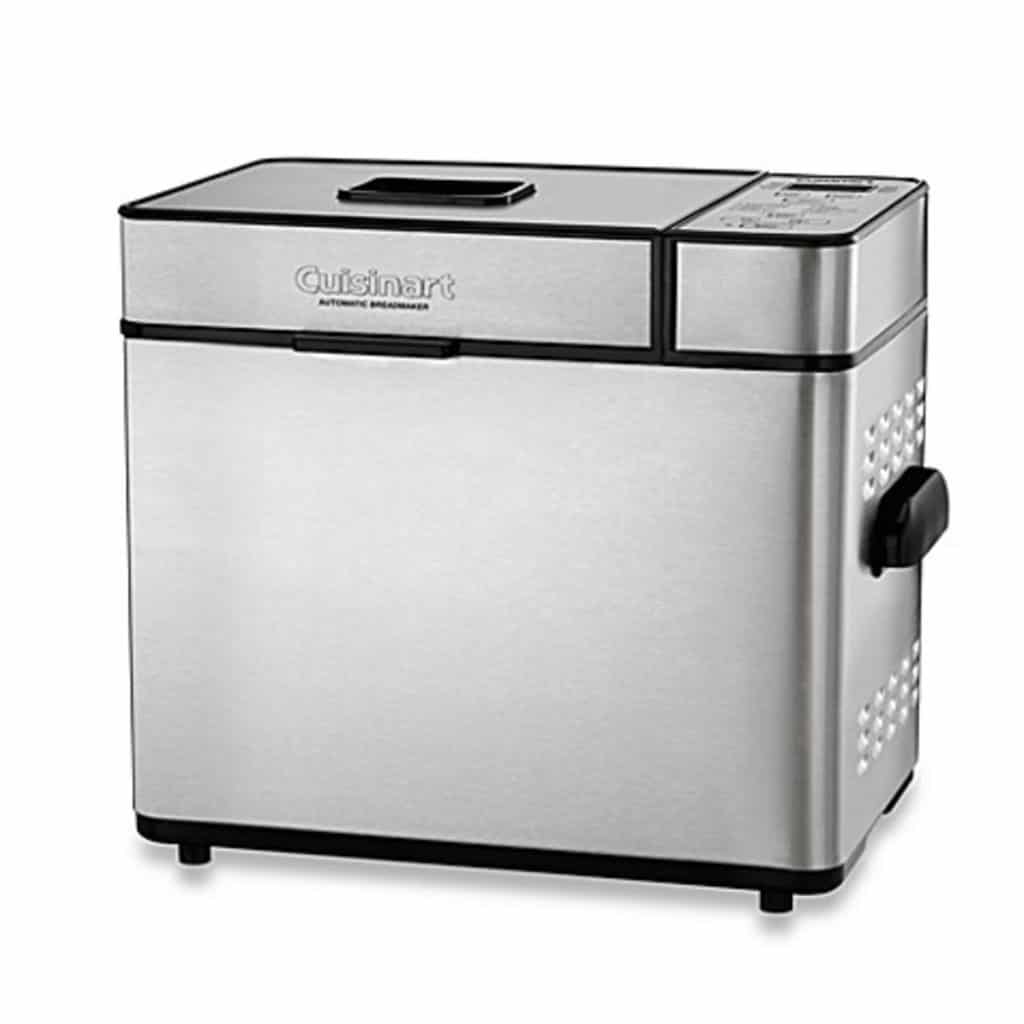 The CuisinArt CBK-100 instantly offers the beautiful, modern design, even disregarding its LCD display. In fact, I would say it's one of the most attractive on the list so far. Looks aren't all though, because this model makes some excellent bread too! It features 12 settings for your bread-making needs including gluten-free, three loaf size options, and three crust color selections to pick from.
This bread maker adjusts to mix, knead, rise, and bake times without missing a beat. To assist you with your bread-making experience, you can watch your bread mix or bake via the window located on the machine's lid or even delay your bread thanks to its 13-hour delay. After baking your delicious bread or other item, just rinse and pop your baking pan and kneading paddle into the dishwasher. The ease of using and cleaning this machine is obviously a bonus not every machine offers.
The bottom line is, the CuisinArt CBK-100 is a top machine with a $200 appearance all for under $80. It's made by a trusted company, it includes several recipes, and it whips up perfect loaves each time.
Top Features:
12 setting options. Includes Gluten-Free, French, and Sweet Bread
3 loaf size options
3 crust color options
LCD display
Window on lid
13-hour delay timer
Dishwasher-safe pan and kneading paddle
Includes measuring cup, measuring spoon, and recipes
8. Oster ExpressBake Bread Maker, White (CKSTBR9050-NP)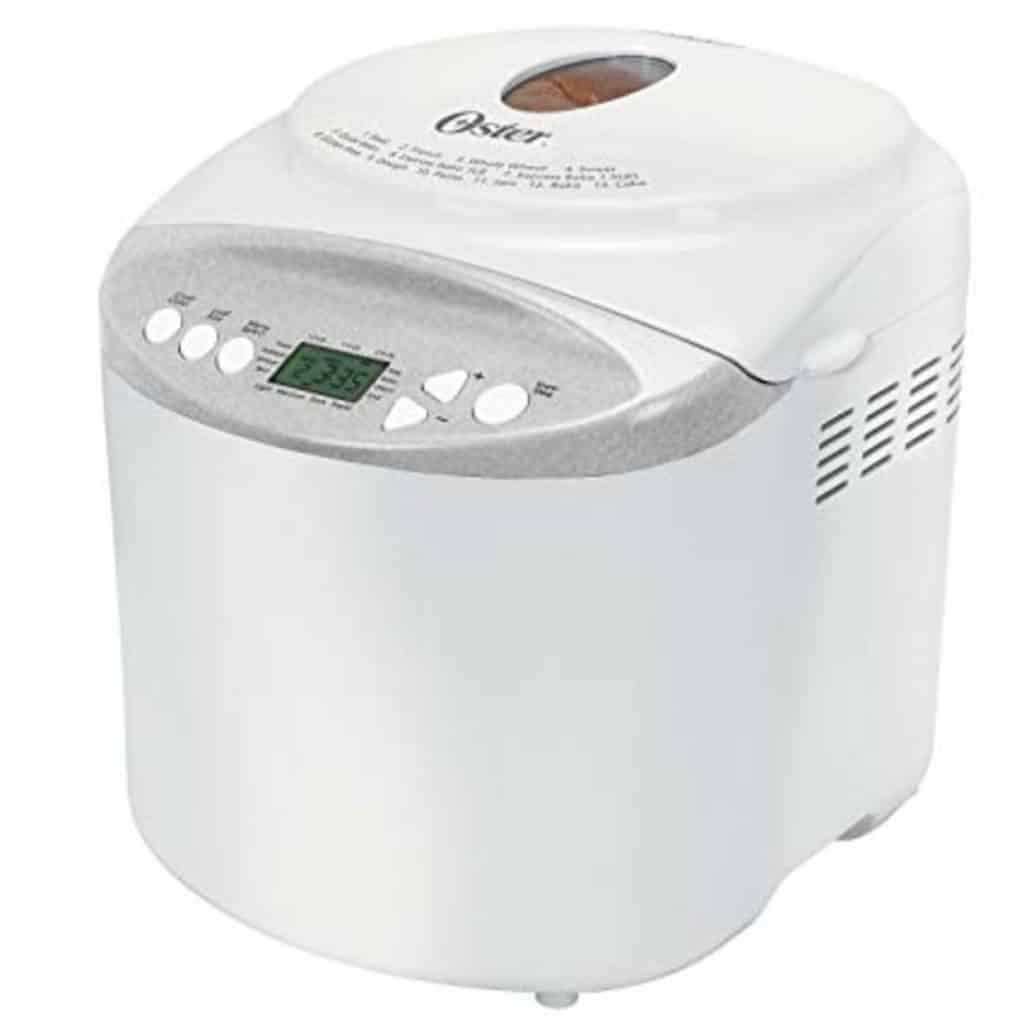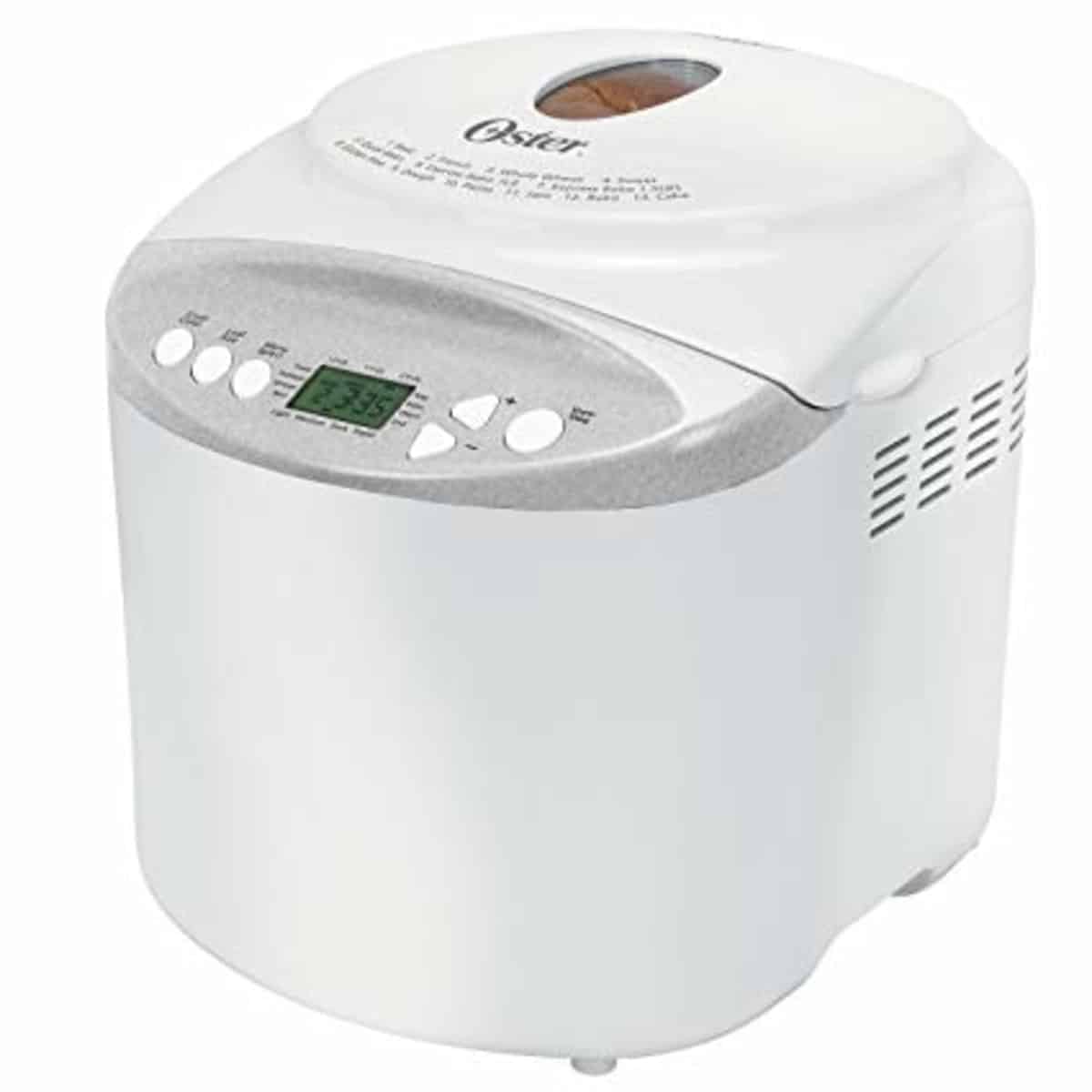 If you want one of the best bread machines for $80 or less, consider the Oster 2-Pound ExpressBake. Its design isn't all that modern, but it does feature a large LCD screen that is easy to read and navigate. This bread machine also offers 12 cooking options for breads and other foods, three crust settings, and a 13-hour delay-start timer. Using its express bake feature, you can have fresh bread weighing up to two pounds to enjoy in just an hour.
The Oster ExpressBake is very easy to use and has the basic settings anyone who loves to bake bread will appreciate. It's affordable, long-lasting, and not to mention, is built by a reputable company that has excellent customer service. But if you're new to bread-making, make sure to refer to the Oster manual or carefully follow the tasty recipes that come with your Oster bread machine.
Top Features:
Easy navigation with its large LCD screen display
13 cooking options from Gluten-Free Bread to Jams
Makes up to two-pound loaves
3 crust color options
13-hour delay timer
Express bake feature to cook in just an hour
Receives highly rated break maker reviews
Measuring tools, kneading blades, and recipes included
9. Kuissential 2-Pound Programmable Bread Machine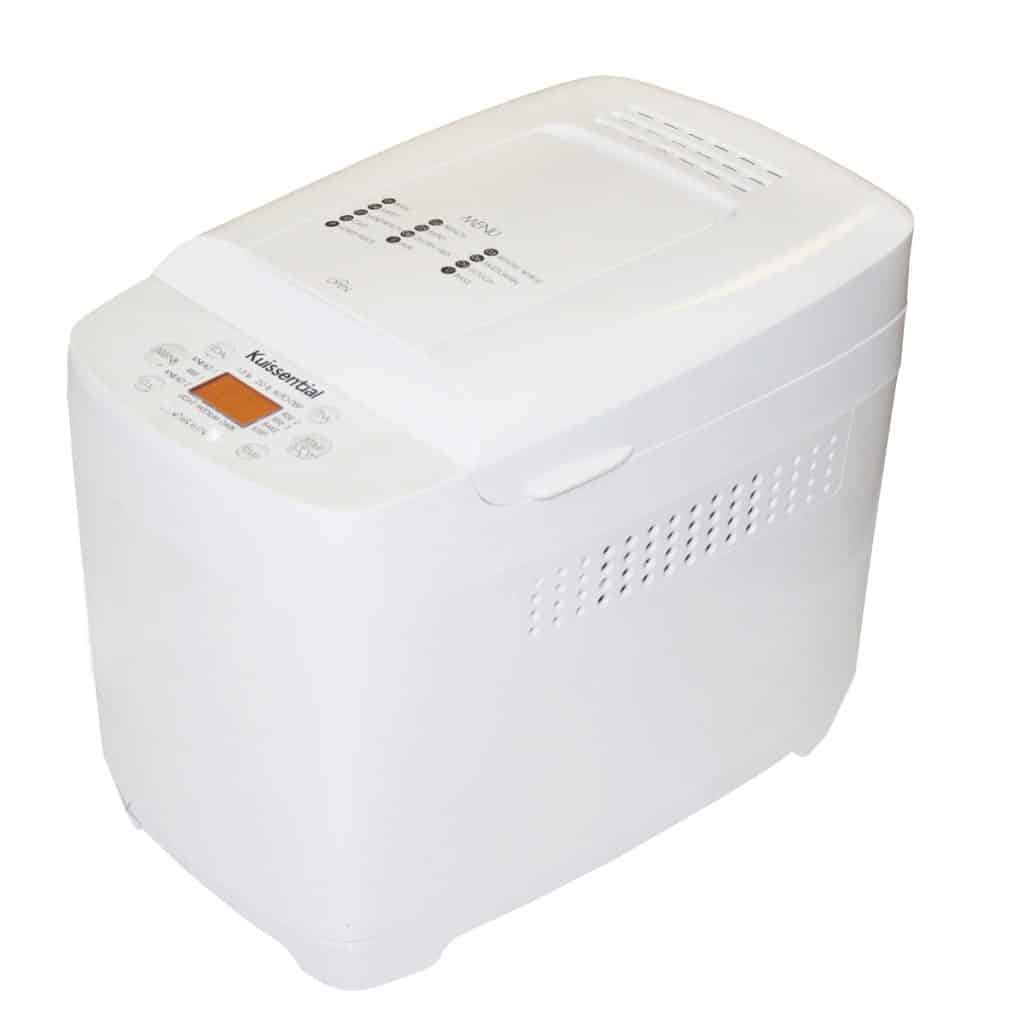 For under $70, the Kuissential 2-Pound Programmable Bread Machine offers 12 cooking settings, three crust options, and even an auto dispenser for fruit and nuts, allowing you to create the type of bread you want without bending over backwards. I'll admit that I'm not a huge fan of the Kuissential 2-Pound Programmable Bread Maker's appearances, especially after seeing the CuisinArt CBK-100, but it definitely has value for its price.
From this bread maker machine, you can be sure to receive consistency in the crust color and flawlessly kneaded dough. Interestingly, this machine has a twisting lock design on the removable baking pan. To remove, instead of lifting, twist as you remove the pan from the machine. It actually makes removing and placing the pan much easier.
But just so you know, this machine isn't the best bread making machine for those who want a quiet device – because it's pretty noisy. Regardless, the pros outweigh the cons. This machine works very well, the Kuissential manual is easy to read, and the machine works faster than some other models out there.
Top Features:
13 cooking options. Includes Basic, French, Multigrain, Whole Wheat, Sweet, Gluten-Free, Sandwich, Rapid, Dough, Bake, Cake, Jam, and Homemade (customizable)
3 crust color options
13-hour delay timer
Warming function
Auto dispenser for fruit and nuts
Viewing window
Measuring cup and measuring spoon included
10. Hamilton Beach (29882) Bread Maker, 2 Pound Capacity Machine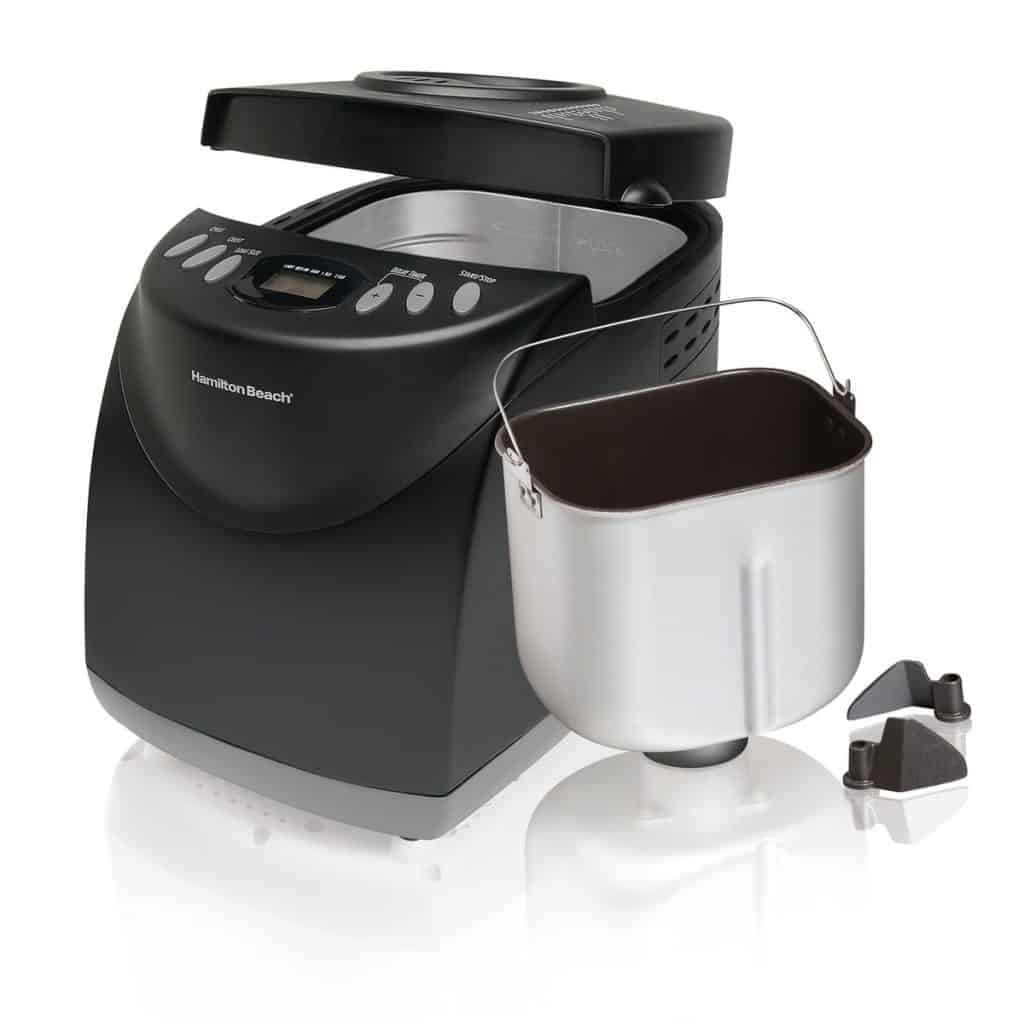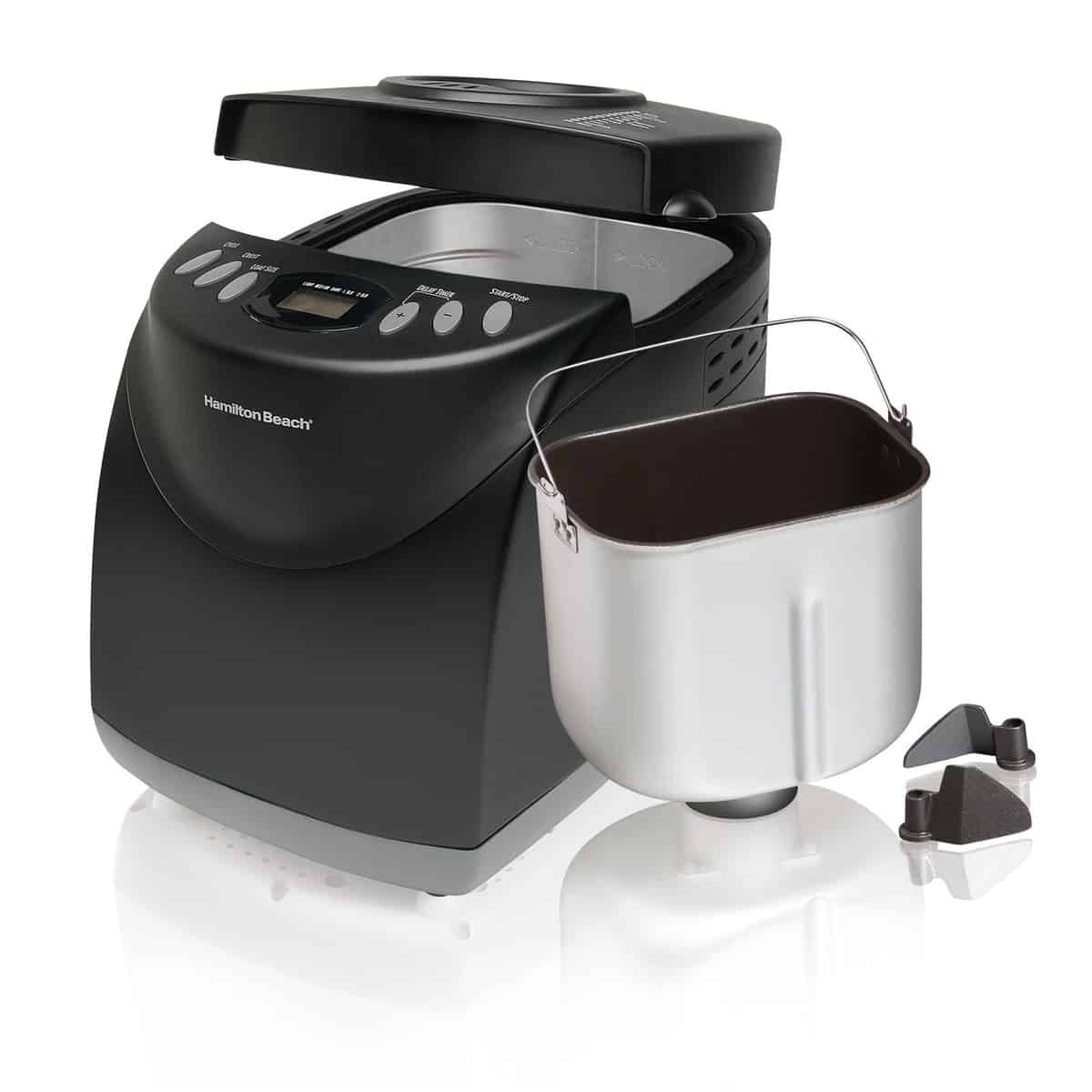 The 29882 2 Pound Capacity Machine is byfar one of the best bread makers Hamilton Beach offers. It is set with 12 settings including a gluten-free option and has the capability of making dough for pizza, croissants, jams, flatbreads, and cakes along with the ability to pick between light, medium or dark crust. Its large digital display and delay timer allow you to better personalize your cooking or baking. With the addition of its alert to remind you to add nuts or fruit to your bread, the convenience is all there.
This machine is cute on the outside, easy to clean as it features a dishwasher-safe pan and kneading paddles, and comes with not just one kneading paddle but two just in case your other one is dirty. Depending on how much you use your model, these bread machines can begin paying for itself within months. Best of all, this Hamilton Beach bread maker practically does the work for you. Overall, it's a great, affordable, and easy investment that is hard to pass up.
Top Features:
12 cooking settings. Includes Quick Bread, Sweet, French, 1.5-lb Express, 2-lb Express, Whole Grain, Gluten-Free, Cake, Bake, Dough, and Jam
3 crust color options
Large digital display
Non-stick, dishwasher-friendly pan and kneading paddles
Alert reminding you to add fruit or nuts
Large digital display
Delay timer
FAQ:
Before considering any bread maker in store or online, it's important to make sure that owning a machine is worth your while. There's nothing quite like homemade bread, but if you're only going to use it rarely, you might be better of sticking to the conventional, old fashioned baking process. Part of finding the top bread makers for sale, is finding what you personally want and need.
How much do they costs?
Bread machines generally costs anywhere from about $50 to $360. Based on the items on our list, you can certainly find a quality bread machine under $50 with everything you need.
How long do bread machines take?
The length it takes to bake will vary depending on your machine and with what you're cooking. However, the average time for most bread maker recipes is around three hours for a 1.5-pound basic white bread loaf.
Are bread machines worth it?
For many, they are totally worth it. It means getting to personalize their breads to their liking and play around with different flavors or types of breads (e.g. gluten-free) that may not be present in stores where one lives.
Do they make good bread?
While you don't need a special machine to make good bread, these appliances can absolutely produce great bread as long as the right ingredients and cooking time are utilized based from the recipe you're attempting to make. Some models are also known to whip up great cakes, jams, yogurts, and other foods.
Is bread maker bread healthier?
The bread is not guaranteed to be healthier, just as store-bought bread isn't necessarily unhealthy. But the benefit of making bread with a machine is that you can use less fat and salt if you wish. For those with dietary restrictions, they can reduce or replace certain ingredients (e.g., wheat) so that their bread can be healthier for them personally. Plus, with the addition of, say nuts or fruit, you can have the power to change the nutritional value of your bread.
Will I save money?
While there is an upfront cost of purchasing a bread maker, you can save money in the long run. Quality white bread in stores typically costs on average 27-cents per slice while making bread at home only costs approximately 13-cents per slice with the same or greater quality. However, costs will vary depending on the ingredients you use.
Can you leave bread machines on overnight?
Yes. They use very little power, making them safe to leave on overnight. If more applicable, you may also wish to use the delayed timer on your machine if it has one.
Can I leave my bread maker unattended?
Yes. They are fairly safe to leave unattended, just like crock pots. But if it still concerns you, consider using the delayed timer on your machine if it offers this feature.
When did these appliances become popular?
Matsushita Electric Company Co. (Panasonic) created the first bread maker machine in Japan in 1986. Within a decade, this machine become a hit in the United States, the United Kingdom, and Australia. In fact, 25-million Americans owned a bread machine in the 1990s.
Can I take a bread maker on a plane?
Yes, they can be taken on a plane if they are transported in a carry-on or a checked bag. Be sure to check with the specific airline beforehand to ensure your model will safely fit under your seat or in the overhead bins.
Can bread makers make rolls?
Yes. You can use a them to make rolls. Ensure to follow any guidelines within your machine's user manual and/or follow a roll rec