Pretzels have been around in some form or another for thousands of years, and today, they still reign supreme as a top favorite way to get snack-happy. These twisty, savory, crispy, golden brown bites dominate the snack aisles of supermarkets and convenience stores, providing a popular alternative to other craveable crunchy treats like chips and crackers.
The world of pretzels has broadened considerably since its inception though, as some pretzels go the traditional route while other pretzel recipes are more unique, featuring the inclusion of modern ingredients like alternative flours or specialty seasonings.
This all means that taking on the task of pretzel selection can be a tough one, as there are so many factors to consider! Lucky for you, we're considering them all for you by tasting and reviewing as many of the top store bought pretzels as we could find. Whether you want to snack straight out of the bag or are looking for the perfect pretzel to crumble into your sweet and salty brownie batter, we're giving you the countdown of all the best pretzels!
What Are Pretzels?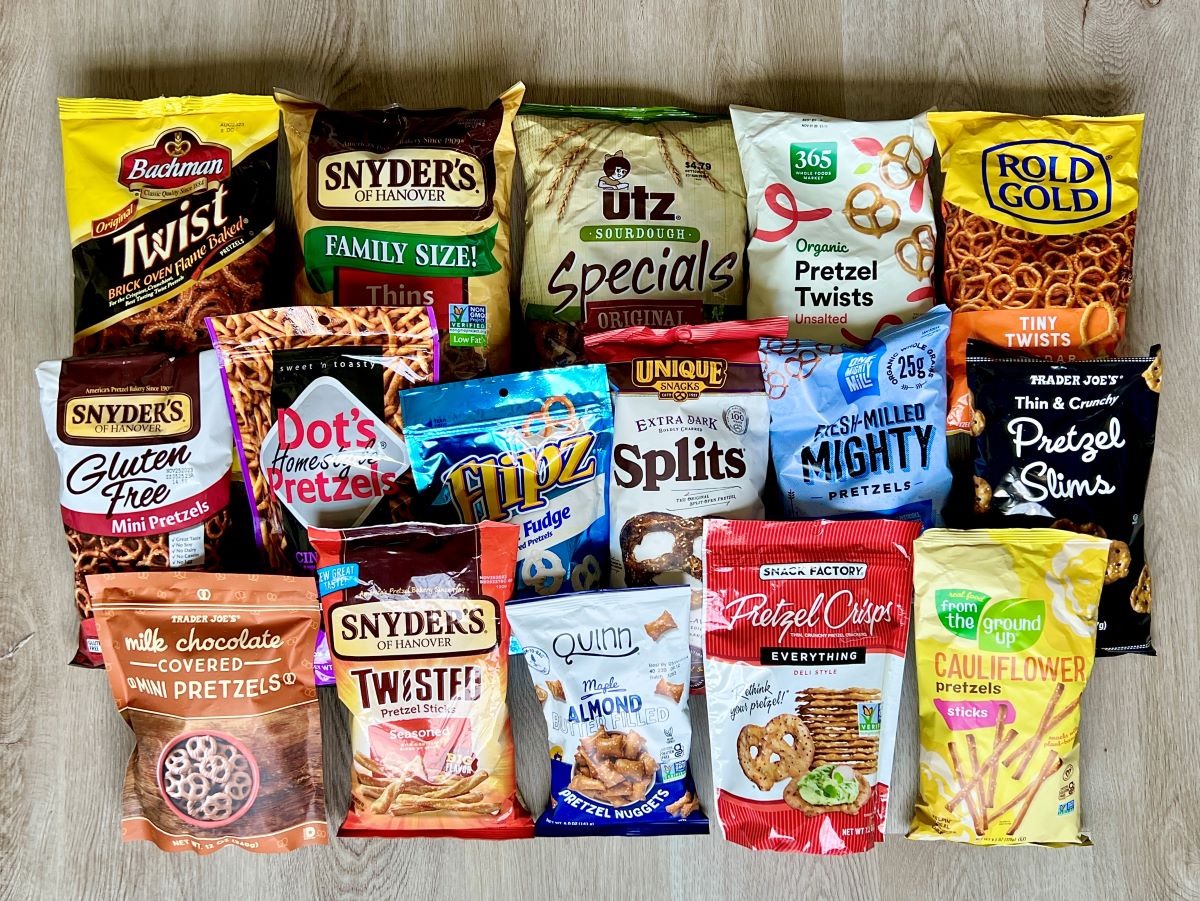 The origin of the pretzel is a murky one, with stories of its invention set in many different countries across Europe. No matter where, or why, it was invented though, the details of the pretzel remain the same: a simple dough made of wheat flour and water was twisted into the iconic shape before being baked until crisp and topped with salt.
In order to achieve the dark brown exterior, the pretzels are traditionally dipped in lye--or, these days, more often a baking soda bath--which produces a chemical reaction that causes the pretzel's surface to brown deeply during baking.
Types of Pretzels
Pretzel dough is typically made from wheat, but these days, alternative pretzels may be made with rice flour, corn flour, nut meal, or a blend.
In addition to the traditional knotted shape, pretzels now come in many other shapes such as sticks, twirls, rods, rounds, and even squares. Plain salted pretzels are the most common but there are many seasoning options out there from spicy to sweet, cheesy to chocolate coated!
Ranking the Best Pretzels
The Test Subjects
We amassed a pile of pretzels, comprised of the following 16 brands and varieties of these crunchy snacks:
365 Whole Foods Market Organic Unsalted Pretzel Twists
Bachman Original Brick Oven Flame Baked Pretzel Twists
Dot's Homestyle Cinnamon Sugar Seasoned Pretzel Twists
Flipz White Fudge Covered Pretzels
'From the Ground Up' Cauliflower Pretzel Sticks
'One Mighty Mill' Fresh-Milled Mighty Sea Salt Pretzels
Quinn Maple-Almond Butter Filled Pretzel Nuggets
Rold Gold Cheddar Tiny Twists
Snack Factory 'Deli Style' Everything Pretzel Crisps
Snyder's of Hanover Mini Pretzels-Gluten Free
Snyder's of Hanover Thin Pretzels
Snyder's of Hanover Twisted Seasoned Pretzel Sticks
Trader Joe's Milk Chocolate Covered Mini Pretzels
Trader Joe's Thin & Crunchy Pretzel Slims
Unique Snacks Extra Dark Pretzels 'Splits'
Utz Sourdough Specials
The Methodology
To nail down our winning pretzels, we established 7 distinct categories of review and set out to determine the best pretzels from each category:
Best Traditional Pretzels
Best Sourdough Pretzels
Best Small Batch Pretzels
Best Low Sodium Pretzels
Best Crisp-Style Pretzel
Best Flavored Pretzels
Best Dipped Pretzels
The Taste Test
Our taste test structure for our best pretzel contenders was fairly straight forward--taste a pretzel, rank a pretzel! We first started with the lower sodium options, then moved on to plain salted pretzels, and finished up with the different flavored options.
The Criteria
Throughout the taste testing, research, and comparison phases of our pretzel evaluation, every product was given a score in each of 5 key criteria:
Taste & Texture: evaluating the flavor of each pretzel as well as the consistency, especially in terms of crunch!
Nutrition Content: taking into account factors such as calorie, fat, fiber, and sodium contents as well as overall quality of ingredients.
Unique Characteristics: this may be a unique ingredient, special preparation style, or any other distinguishing factor which sets one pretzel apart from the competition.
Value: calculated to the price per ounce.
Production & Packaging: how & where each pretzel variety is made, whether or not it is readily available in most areas, any noteworthy factors of production, and any positive or negative packaging features.
From the 5 criterial scores we calculated an overall average grade for each pretzel variety. The highest scoring pretzels became our winners in each of the aforementioned 7 categories!
Best Traditional Pretzels: Bachman Original Brick Oven Flame Baked Pretzel Twists
Size: 10-Ounce Bag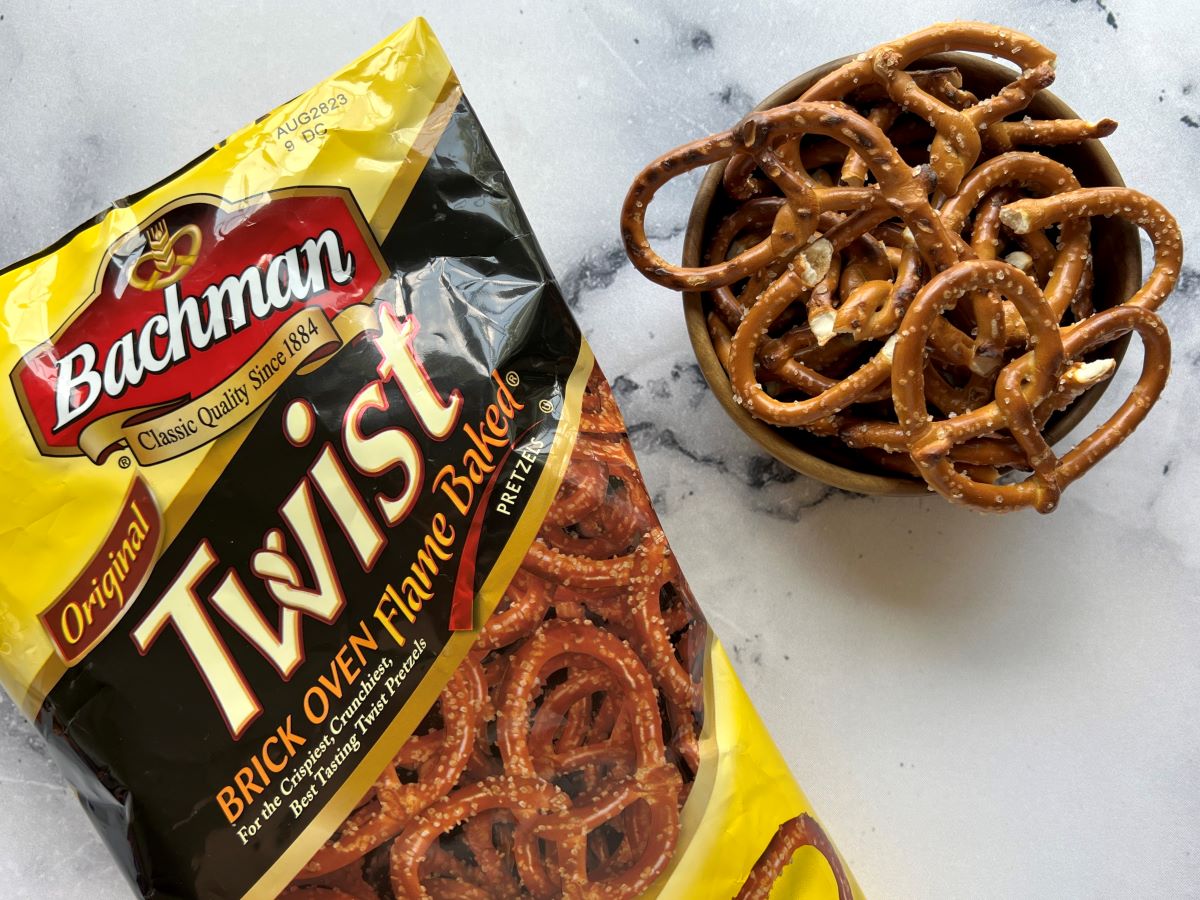 Here is how Bachman Original Brick Oven Flame Baked Pretzel Twists scored in each of our criteria categories:
Taste & Texture: 5.0 / 5.0
Nutrition Content: 5.0 / 5.0
Unique Characteristics: 4.3 / 5.0
Value: 4.4 / 5.0
Production & Packaging: 4.1 / 5.0
Overall Score: 4.5 / 5.0
Bachman Original Brick Oven Flame Baked Pretzels are completely classic in more ways than one. Not only do they have an on-the-nose classic pretzel taste and texture, but they're made using traditional methods as well!
Though Bachman is a division of pretzel giant Utz, they're doing things their own way and the difference really shows. As opposed to stamping their pretzels from a large sheet--as many pretzel makers do these days--Bachman continues the old fashioned method of twisting their pretzels by hand. The result is a snack that has just the right touch of rustic appeal, uniqueness, and plenty of crunch.
In addition to being hand-shaped, these pretzels also go through a traditional baking process as well. Instead of electric ovens, Bachman makes use of their vintage brick ovens to flame bake these pretzels, thereby giving them an extra savory, roasty flavor. There are even a few slightly charred spots on the base and edges of each pretzel--love that!
Our tasting panel enjoyed the thickness of these pretzel twists as they are more satisfying than other super thin twists and sticks, but not as dense and overly crunchy as larger pretzels. Each serving of these pretzels has 0 grams of sugars and is actually the lowest calorie option we tested, coming in at just 100 grams per 1-ounce serving. And, just in case you're not completely satisfied with your brick oven, flame baked purchase, this brand offers an unconditional money back or replacement guarantee.
The bad news? These pretzels seem to be extremely susceptible to damage during shipping and handling. We literally found only ONE whole pretzel in the bag, while the rest of it was pretzel pieces and parts.
We were initially inclined to write this off as a fluke and wonder what type of particular trauma our specific bag of pretzels had been through. But in looking into what other folks had to say about their purchases of the same brand online (even though we purchased ours locally from the grocery store), it seems most of them received a bag of broken bits as well. Bummer!
Pros:
Pretzels are hand-kneaded and twisted.
Flame baking in a brick oven gives these pretzels a great taste.
Texture is nicely balanced between thick and thin.
Sugar free.
Low calorie, just 100 per serving.
Comes with a quality guarantee.
Cons:
Packaging is not adequate for keeping the pretzels intact during transit.
Best Sourdough Pretzels: Utz Sourdough Specials
Size: 16-Ounce Bag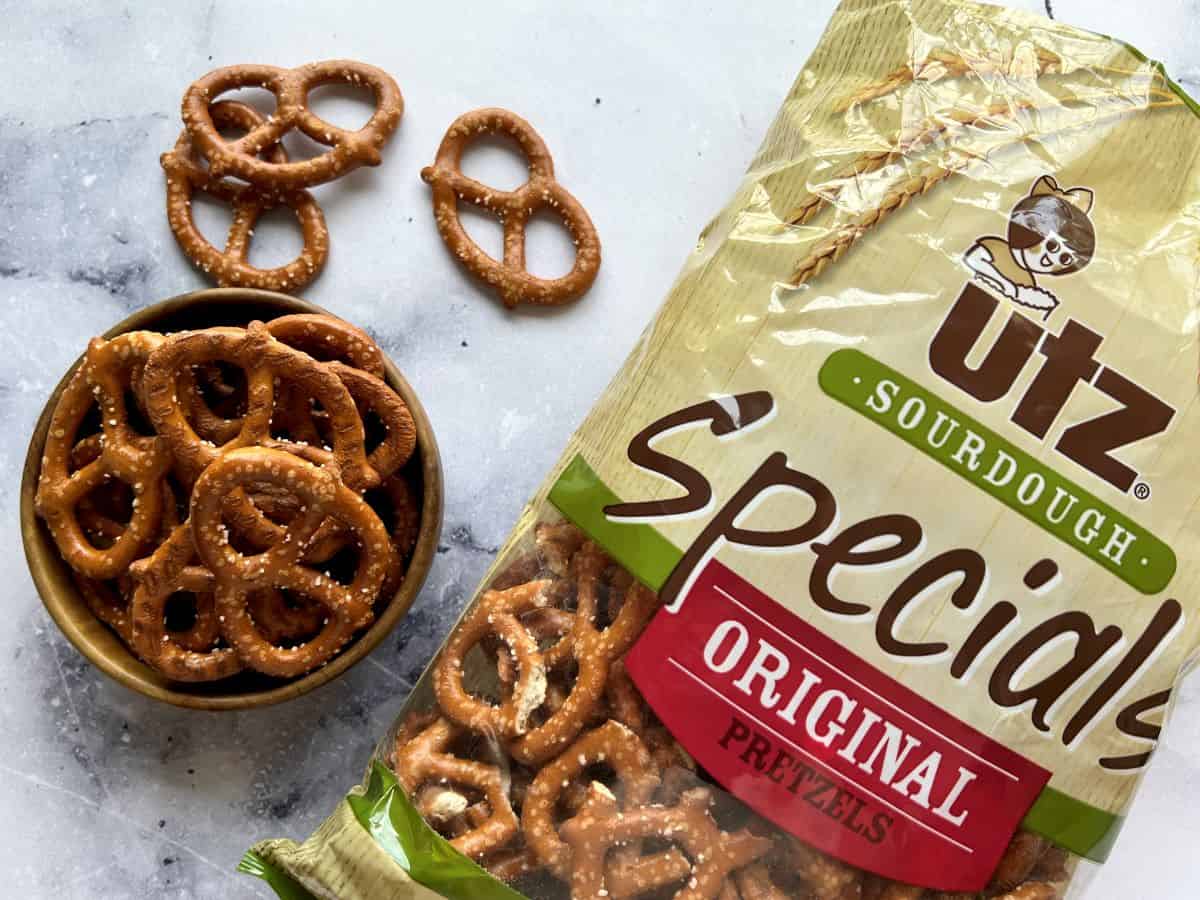 Here is how Utz Sourdough Specials scored in each of our criteria categories:
Taste & Texture: 4.6 / 5.0
Nutrition Content: 4.4 / 5.0
Unique Characteristics: 4.8 / 5.0
Value: 4.8 / 5.0
Production & Packaging: 4.7 / 5.0
Overall Score: 4.7 / 5.0
Sourdough pretzels are in a league of their own, and Utz's version of this Pennsylvania-Dutch classic is just about everything we look for in a super-sized, sour pretzel snack. If you're looking for a big, hearty pretzel to sink your teeth into, this is the one!
The sourdough flavor is subtly tangy and savory, offering a unique pretzel experience that has you feeling more like you're eating a homemade pretzel as opposed to snacking out of the store bought bag. The texture and makeup of these pretzels is super hearty, and we love that the folks at Utz took special care to craft this option into a "less hard" version of a hard pretzel and instead came up with this semi-soft pretzel recipe. They're still plenty crunchy, mind you, but they are free from that tooth-cracking texture that many sourdough and other large pretzels come with. We'd love to serve warm honey mustard alongside these for dipping!
These pretzels are one of the most affordable pretzels we got our hands on, with a price tag of just $4.79 for the big ol' one pound bag. Utz Sourdough Specials are made in a facility that is completely free from peanuts and tree nuts and they come with a satisfaction or your money back guarantee as well.
Though we appreciate the efforts made to render these pretzels softer and more chewable than their counterparts, we did find them to have an overly crumbly and dry mouthfeel. Also, the sodium level of these pretzels is on the higher end, with 450 milligrams per serving, and the pretzels seem to be rather unevenly salted at that! Some of these Sourdough Specials had plenty of salt sprinkle while others were sadly lacking.
Pros:
Large size makes these super hearty and satisfying!
Features a great sourdough taste.
Specially crafted to be softer than traditional large sourdoughs.
One of the lowest priced pretzels, just $0.30 per ounce
Made in a tree nut and peanut free facility.
Comes with a money back guarantee.
Cons:
A little overly dry and crumbly.
High in sodium.
Pretzels are unevenly seasoned.
Best Small Batch Pretzels: 'One Mighty Mill' Fresh-Milled Mighty Sea Salt Pretzels
Size: 7-Ounce Bag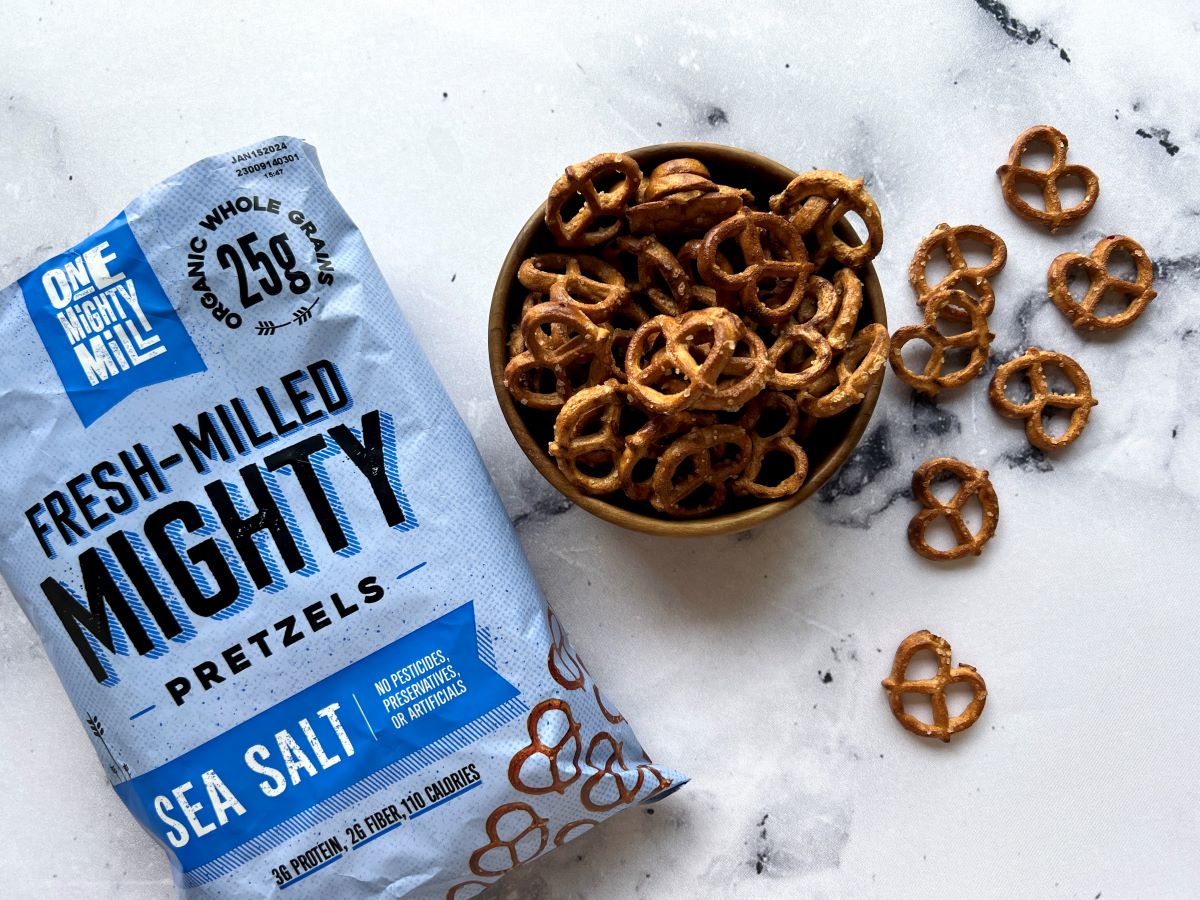 Here is how 'One Mighty Mill' Fresh-Milled Mighty Sea Salt Pretzels scored in each of our criteria categories:
Taste & Texture: 4.4 / 5.0
Nutrition Content: 4.5 / 5.0
Unique Characteristics: 5.0 / 5.0
Value: 4.2 / 5.0
Production & Packaging: 5.0 / 5.0
Overall Score: 4.6 / 5.0
One Mighty Mill's Fresh Milled 'Mighty Pretzels' are far from your typical store bought pretzel, and that's exactly why we love them! A handful of these little pretzels comes with all of that small-batch, handmade goodness that leaves you feeling like you just got them fresh out of someone's kitchen.
These pretzels don't have that "cookie cutter" appearance and ingredient-wise, these pretzels are far less processed than any other pretzels we encountered. The ingredients list is short and sweet, featuring just organic 100% whole grain flour, sunflower oil, organic honey, salt, yeast, baking soda. And that flour is not just your run-of-the-mill flour, it is stone ground the old fashioned way, which, according to One Mighty Mill's credo, "keeps in more of the flavor, protein, vitamins, and minerals that industrial processing takes out".
This certified B-Corp is on a mission to provide healthier food and more sustainable systems to all, and they even worked directly with local farmers to build the mill and facility that serves to benefit pretzel makers and farmers alike. The result is a hearty, satisfying pretzel that is as hunger-zapping as it is good for you. These are a great option if you want the convenience of store bought snacks but without all the processed junk. The only way you could one up these pretzels is to go out and make your own!
Each serving of these pretzels provides 25 grams of organic whole grains and is completely free from pesticides, preservatives, and artificial ingredients.
Sadly, these pretzels are not quite mainstream yet and we didn't see them on too many grocery store shelves. We did find our bag at Whole Foods Market, which likely means there is a decent online distribution channel for them though.
And oddly enough, though these pretzels were not the highest in terms of sodium content, they do taste incredibly salty. Also, as you might expect from such a snack made with stone ground whole wheat, they do have a grainy texture which might be a hate-it or love-it kind of thing for many folks.
Pros:
Minimally processed, with whole food ingredients and traditional manufacturing methods.
No "factory flour" here, just organic stone ground whole wheat.
One Mighty Mill is a certified B-Corp.
Each purchase helps support local & organic farming and healthier food systems.
Pretzels are hearty and very filling.
Each serving provides 25 grams of whole grains.
No pesticides or anything artificial.
Cons:
Not as readily available as other larger pretzel brands.
Taste comes across very salty.
Stone ground flour has a grainy, somewhat gritty texture.
Best Low Sodium Pretzels: 365 Whole Foods Market Organic Unsalted Pretzel Twists
Size: 8-Ounce Bag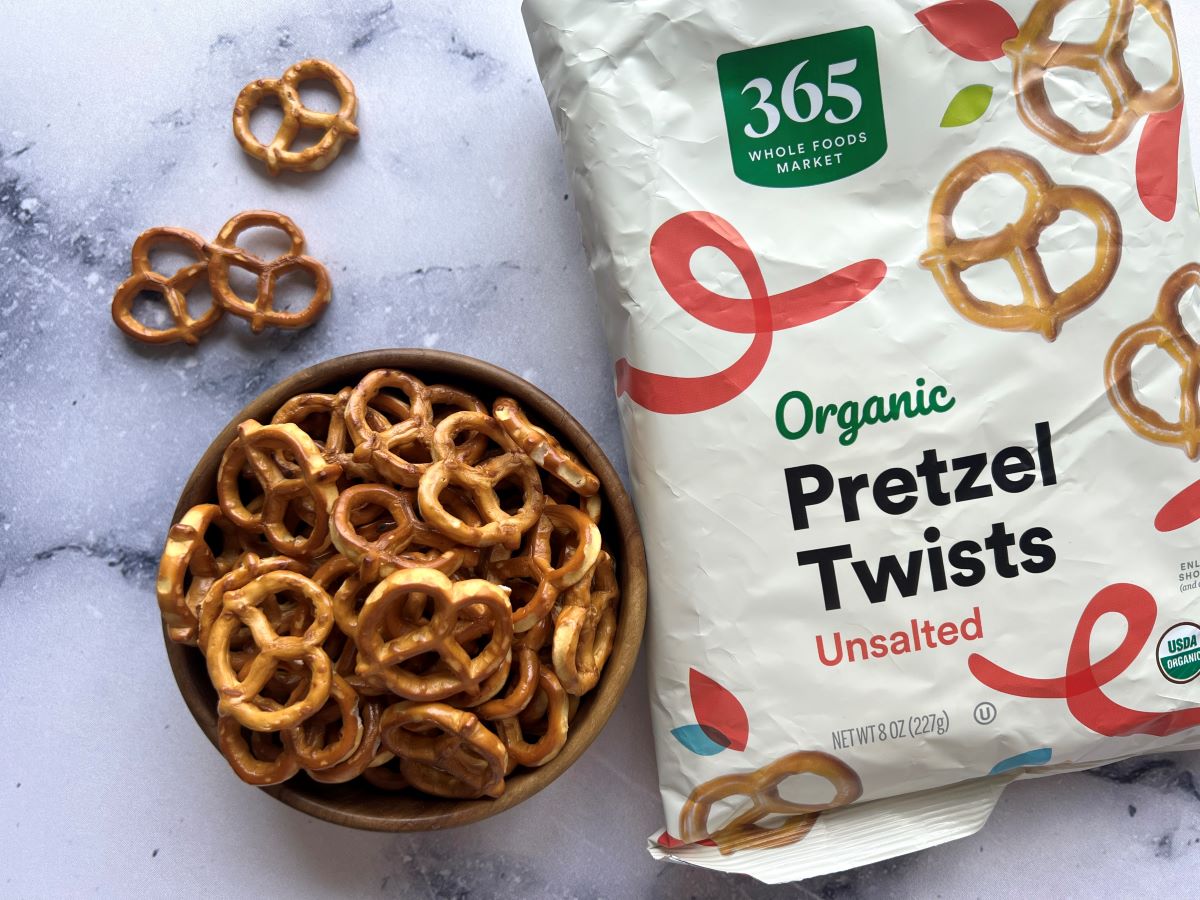 Here is how 365 Whole Foods Market Organic Unsalted Pretzel Twists scored in each of our criteria categories:
Taste & Texture: 4.3 / 5.0
Nutrition Content: 5.0 / 5.0
Unique Characteristics: 4.5 / 5.0
Value: 5.0 / 5.0
Production & Packaging: 4.6 / 5.0
Overall Score: 4.6 / 5.0
If you seek more of a blank pretzel canvas, unsalted is the way to go! This option from 365 Whole Foods Market Organic showed up as our top pick in the Lower Sodium category. Aside from rocking an incredibly low sodium content of just 40 milligrams per serving, these pretzels still manage to taste nutty and savory on their own, with just the right touch of caramelized sweetness too!
In addition to snacking right out of the bag, these pretzels offer a ton of versatility as you can feel free to pair them with any number of salty accompaniments like sliced deli meats, roasted nut butter and aged cheeses, or dip them in a pool of ranch dressing! Or, take them for a sweet turn by crumbling them into brownie batter, crushing them for a pretzel crumb crust, or slathering with our 4-Ingredient Vegan Nutella.
The ingredients list contains just 3 (yes you read that right, only three!) items: organic wheat flour, organic expeller pressed soybean oil, and organic malted barley flour. These pretzels are USDA certified organic by Quality Assurance International, non-GMO project verified, and are the most economically priced pretzels we tested costing just $0.29 per ounce. Each serving has just half a gram of saturated fat, zero sugars, and comes with 2 full grams of gut-healthy dietary fiber!
Our only complaint here is that the experience of these pretzels on their own is, of course, just a bit bland. Salt has this magic way of making everything that is tasty, even tastier, and with so little of it, these pretzels are bound to come across rather plain.
That said, adding your own seasonings to plain pretzels like these is a great way to amp up the flavor while staying in control of the salt content and overall quality! Check the FAQ section at the end of this article for all the how-to's.
Pros:
Lowest sodium of all pretzels, just 40 milligrams per serving.
Base flavor is a nice balance of nutty, savory, and caramelly.
Offers the most versatility as they are a blank canvas for pairing, dipping, and adding to recipes.
Made from just 3 ingredients.
USDA organic and non-GMO project verified.
Super affordable.
Low in saturated fats and sugars.
2 grams of fiber per serving!
Cons:
Taste on their own is rather plain.
Best Crisp-Style Pretzels: Trader Joe's Thin & Crunchy Pretzel Slims
Size: 8-Ounce Bag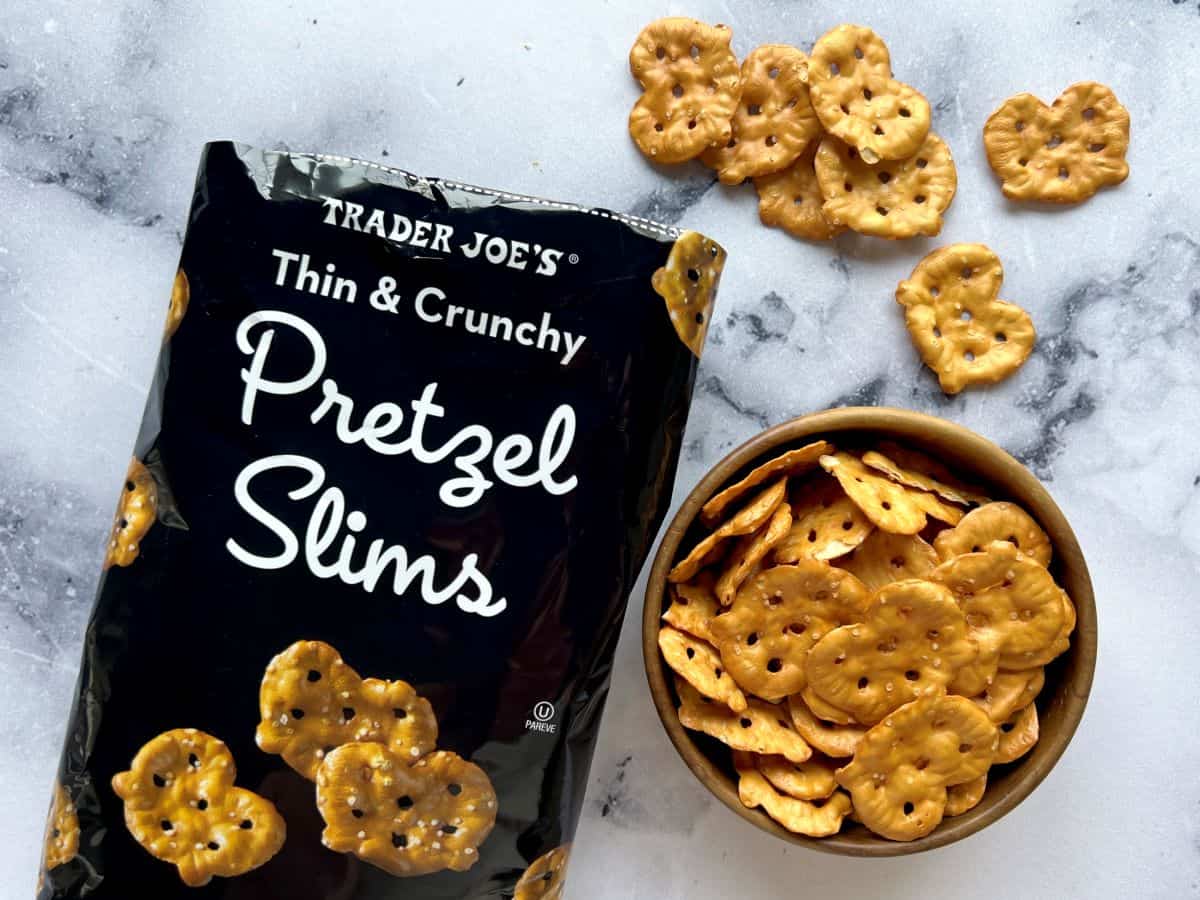 Here is how Trader Joe's Thin & Crunchy Pretzel Slims scored in each of our criteria categories:
Taste & Texture: 4.6 / 5.0
Nutrition Content: 4.8 / 5.0
Unique Characteristics: 4.5 / 5.0
Value: 4.8 / 5.0
Production & Packaging: 4.7 / 5.0
Overall Score: 4.7 / 5.0
Pretzel crisps are one the best things to hit supermarket shelves in recent years. It's everything you love about a pretzel--the deep, caramelized exterior, salted surface, and rich flavor--all in a crisp, cracker like snack!
Out of the pretzel crisps we tested, we found ourselves really digging the version offered by none other than Trader Joe himself. These Thin & Crunchy Pretzel Slims are nicely compact in size, and smaller than the other pretzel thins we evaluated. We love the versatility offered by this snack, as they can stand up to whatever you'd like to do with them! Whether you want to eat them straight from the bag, dip them like chips, or top them like crackers, these pretzel crisps are up for the challenge.
Don't let their thinness fool you though, these pretzels are surprisingly sturdy, with very little breakage in the bottom of our bag. Whether you're looking to dip them into a pile of airy hummus or going for something a bit denser like our Monster Cookie Dough Dip, these pretzel slims are sure to hold up.
Each serving of these pretzels has just half a gram of saturated fat--among the lowest of our pretzely test subjects--and provides 8% your DV of iron! Not a ton, but hey for a snack, we'll take it!
If this was a beauty contest however, Trader Joe's Thin & Crunchy Pretzel Slims would unfortunately not be in the running. They're quite pale as opposed to typical pretzel-brown, and the round holes give them a very un-pretzel like appearance.
Also these contain some ingredients that are more highly processed than those found in most of the other pretzels we tested, such as invert sugar syrup and sodium hydroxide.
Pros:
Have a compact, snackable size.
Crisp like a cracker yet rich like a pretzel!
Versatile for snacking, dipping, or topping.
Sturdy enough to hold up to even thick dips and toppings.
Low in saturated fats.
Good source of iron.
Cons:
Have an odd appearance, with pale surface and round, un-pretzel like holes.
Contains some highly processed ingredients.
Best Flavored Pretzels: Snyder's of Hanover Twisted Seasoned Pretzel Sticks
Size: 12-Ounce Bag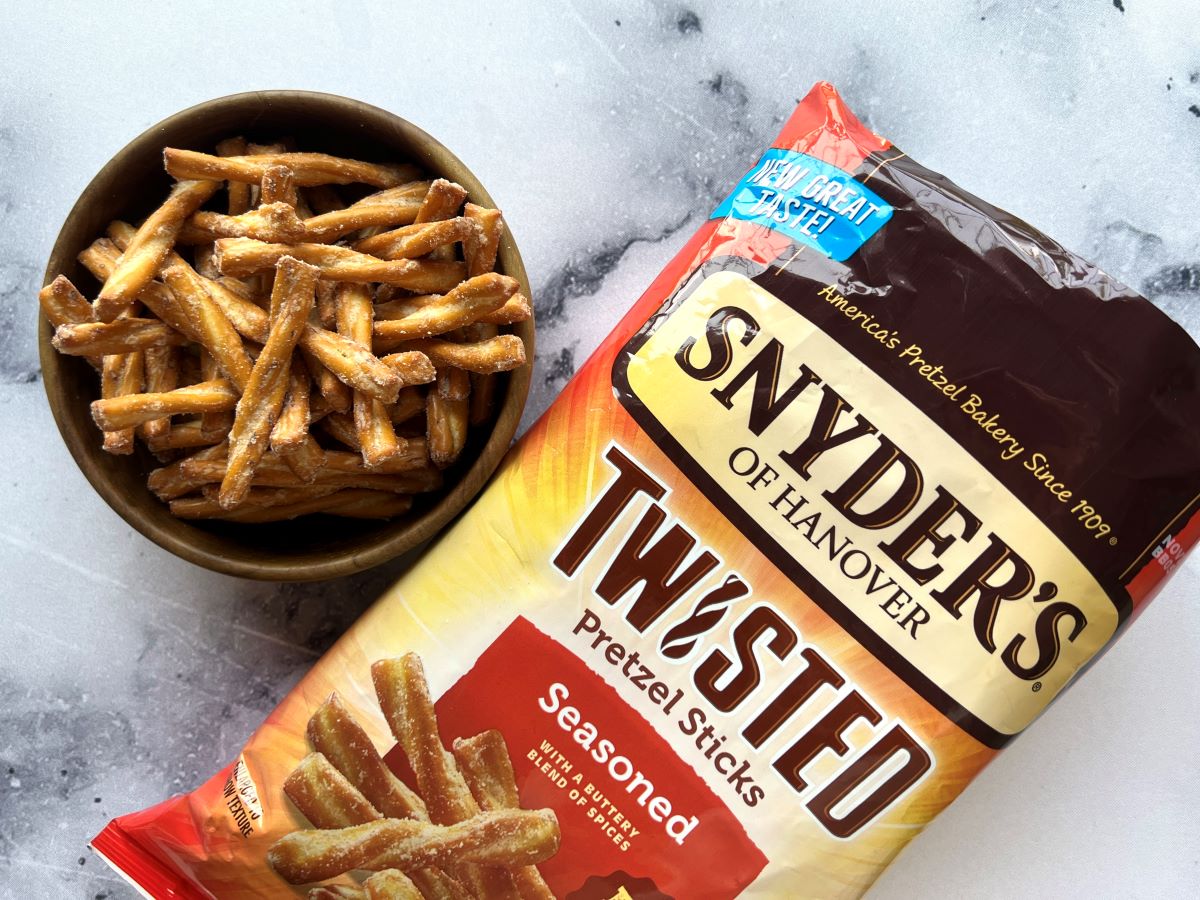 Here is how Snyder's of Hanover Twisted Seasoned Pretzel Sticks scored in each of our criteria categories:
Taste & Texture: 4.8 / 5.0
Nutrition Content: 3.9 / 5.0
Unique Characteristics: 4.5 / 5.0
Value: 4.6 / 5.0
Production & Packaging: 4.5 / 5.0
Overall Score: 4.5 / 5.0
In addition to classically pretzel-flavored pretzels, we encountered a ton of different specialty flavored pretzels as well! From cheddar cheese dusted, cinnamon sugar sprinkled, and honey BBQ seasoned, there is a flavored pretzel out there to satisfy any craving.
Our favorite among them: Snyder's of Hanover Twisted Seasoned Pretzel Sticks. These crunchy pretzel twirls are dusted in a seasoning blend that strikes all the right notes--sweet, salty, savory, smoky, spicy, tangy, rich, buttery--the list goes on! This unique blend of flavors is thanks to ingredients like tangy real buttermilk, savory butter, garlic powder, onion powder, spicy red pepper, and earthy white pepper.
Though these twists are not exactly what you think of as a typical pretzel, they are an excellent snack in their own way, and their overall taste was a top favorite of our tasting panel. The result is an addictive snack that leaves a lingering heat in your mouth and, more importantly, leaves you wanting more. Other good notes: each serving of these pretzel sticks provides a bit of blood cell supporting iron and this product is made in a peanut free facility!
On the downside, these pretzels contain some heavily processed ingredients like myristic acid, sodium caseinate, monosodium glutamate, and bioengineered corn and sugar products.
It's also important to note that the dusty, oh-so-tasty seasoning blend that coats these craveable pretzels unfortunately adds a ton of extra sodium. In contrast to the average 330 milligrams of sodium per serving provided by the entire group of pretzels we tested, these have nearly 500 per 1-ounce serving.
Pros:
Seasoning blend is complex and well balanced.
Contains tasty ingredients like buttermilk, red pepper, and real butter.
Top flavor favorite of our tasting panel.
Moderate source of iron.
Produced in a peanut free facility.
Cons:
Contains many processed ingredients.
Made with bioengineered ingredients.
Very high in sodium.
Best Dipped Pretzels: Flipz White Fudge Covered Pretzels
Size: 7.5-Ounce Bag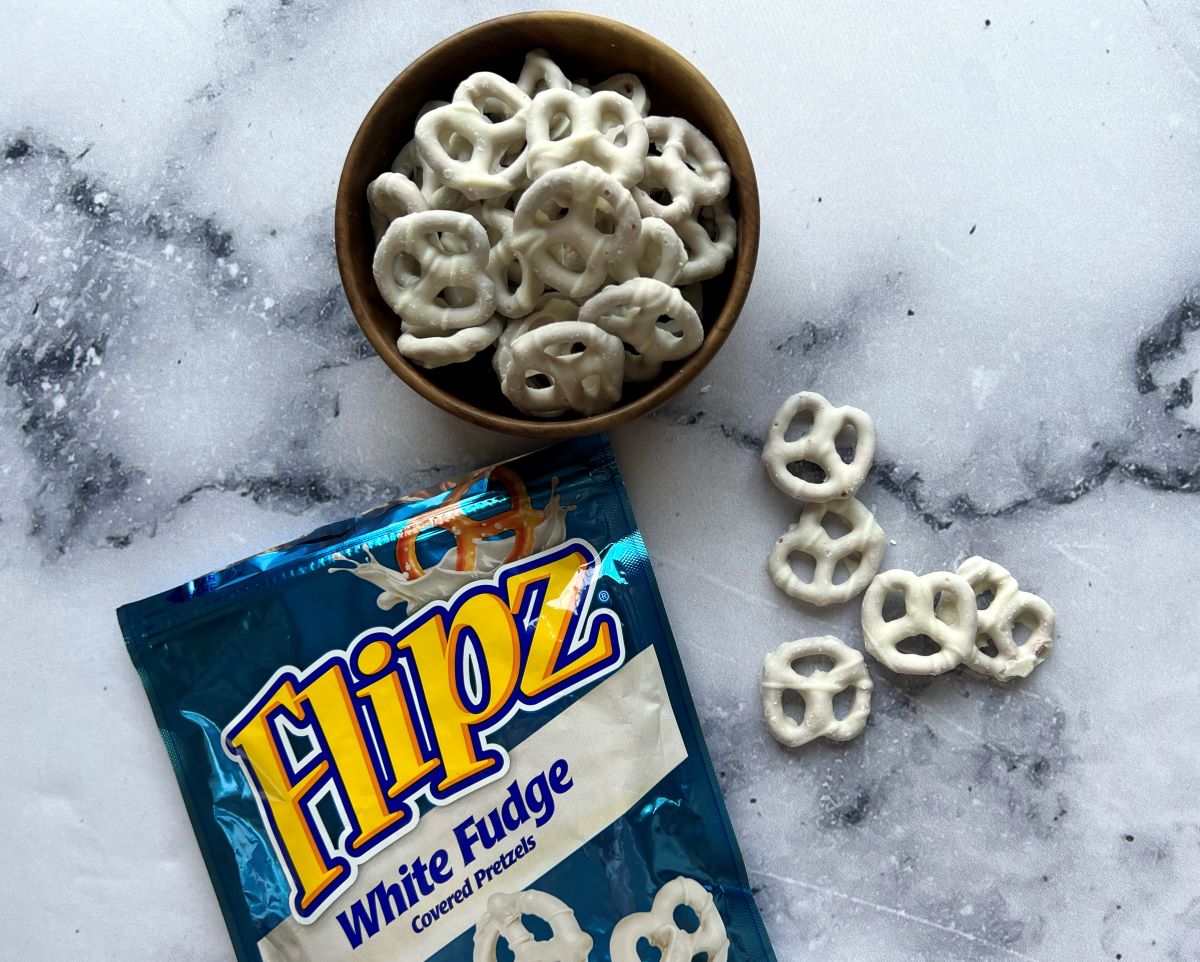 Here is how Flipz White Fudge Covered Pretzels scored in each of our criteria categories:
Taste & Texture: 5.0 / 5.0
Nutrition Content: 3.7 / 5.0
Unique Characteristics: 4.5 / 5.0
Value: 4.2 / 5.0
Production & Packaging: 4.8 / 5.0
Overall Score: 4.4 / 5.0
If you like things sweet as opposed to savorily-seasoned, dipped pretzels are without a doubt, the way to go. While yogurt dipped pretzels are a favorite of ours as well, these White Fudge Covered Pretzels from Flipz take the top spot this time around!
We love the fun combo of sweet and salty offered by this nostalgic treat. Where many dipped pretzels tend to start with unsalted twists, Flipz opts for salted ones which provide a nice contrast to the sweet and creamy coating. There seems to be some excellent quality control going on over at Flipz too, as all the pretzels are completely and uniformly covered with the white chocolate coating. We only found a few pretzels that were stuck together and can't say we minded one bit, as we could then justify eating 2 of these tasty treats for the price of one!
We love the characteristic iridescent blue bag these snacks come in, as well as the fact that it features a zipper seal so you can easily store whatever remaining portion–no chip clip needed! That is, if you can even resist the urge to eat them all in one sitting.
It probably goes without saying that these pretzels are not going to be the healthiest option here on our list. These pretzels feature the highest sugar and saturated fat contents of all we tested, with 13 grams of sugar and 4.5 grams (20% your DV!) of saturated fat per serving.
Also, there are several different big time allergens in these pretzels, including wheat, milk, and soy. And these pretzel treats are processed on equipment shared with peanuts and tree nuts.
Pros:
Favorite dipped pretzel of our tasting panel!
Has the perfect sweet yet salty flavor combo.
Each pretzel has just the right amount of fudgy white coating.
Pretzels are uniform and well-crafted.
Comes in a resealable zip-top bag.
Cons:
Very high in saturated fats.
High in sugar.
Contains several allergens and has exposure to others.
Best Pretzels FAQs
What is the Original Pretzel Brand?
While the history of pretzel-making goes back thousands of years in European countries, the very first commercial pretzel company here in the United States is a brand known as The Julius Sturgis Pretzel Bakery. Today, the pretzels are regionally available and sold as "Tom Sturgis Pretzels".
Are Pretzels Healthier Than Chips?
There are so many different varieties of pretzels and chips out there, a hard and fast "healthier than" rule can't really be applied here.
That said, pretzels are typically lower in fats as compared to your average potato chips due to the fact that they are baked as opposed to fried. However, both snacks are usually quite high in sodium content and are carb-heavy as well.
Are Sourdough Pretzels Better For You Than Regular Pretzels?
Yes! Bear in mind, sourdough pretzels are still a salty, calorie-dense snack and you should still pay close attention to serving size here. But due to the fermentation of the dough, sourdough baked goods have a slightly lower glycemic index than other pretzels while the sourdough offers some potential microbiome benefit.
What's the Difference Between Regular Pretzels and Soft Pretzels?
Regular pretzels are also called "hard pretzels", and these are the pretzels you'll find in sealed bags in the snack sections of grocery store aisles. Soft pretzels, on the other hand, tend to be much larger and are sold in bakeries, at pretzel carts, or at sporting events where they are consumed like a fresh baked good.
Hard pretzels are cooked for much longer than soft pretzels and the pretzel dough itself features a lower water content, resulting in a pretzel that is crunchy and brittle. As a result, hard pretzels have a nice long shelf life whereas soft pretzels are best consumed right away.
Can You Season Your Own Store Bought Pretzels?
Yes! If you prefer to be in control of what your hard pretzels are seasoned with, we salute your ambition! Make sure you choose unsalted pretzels for this job, then arrange them in a single layer on a prepared baking sheet. Spray the pretzels very lightly with nonstick cooking spray and sprinkle with seasonings of your choice.
If you want to go savory, salt and freshly cracked black pepper will do the job nicely while a mix of light brown sugar and cinnamon can make your pretzels sweet. Or, get creative with a BBQ dry rub or a shower of Old Bay Seasoning!
Ranking the Best Pretzels: The Takeaway.
As you can see, what makes for the perfect pretzel is an incredibly personal choice. Some folks like their pretzels super-salted and crunchy like Snyder's Seasoned Twists, while others prefer a softer or less-seasoned bite like that of Utz Sourdough Specials.
If you like things sweet, there are plenty of sugared or dipped pretzels like Flipz White Fudge Pretzels to choose from. If you're looking for a healthier alternative, reach for options like One Mighty Mill pretzels which are made from whole grain flour and are minimally processed.
If all of this pretzel talk hasn't filled your snack stomach just yet, take a peek at some other options with our guides to the Best Tortilla Chips, Best Salt and Vinegar Chips, or Best Gluten Free Crackers. Snack on!