Sweet, chocolatey, and full of monster eyeballs, this edible cookie dough dip recipe is vegan and perfect for your little monster's birthday or as a Halloween treat!
Looking for the perfect out-of-the-box dessert for your little monster's birthday party? How about something that is so fun it will also be a hit at Halloween? And you'll feel good feeding it to the little monsters because it's made with maple syrup instead of refined sugar! Yay for that, and yahoo for this Monster Cookie Dough Dip Recipe!
This is a fun recipe to make with kids because everyone will love playing with the monster eyeballs. They're so cute you might not want to eat them - but we did anyway...that's how good they taste when mixed into the cookie dough!
It's vegan, so everyone can enjoy it - even those with dietary restrictions. All of the ingredients are simple and easy to find in any grocery store, making this dish a breeze to whip up! The best part is that there is no baking required. This dip will be ready in just 10 minutes! You'll love how easy it is to put together and how much fun your guests will have eating it too!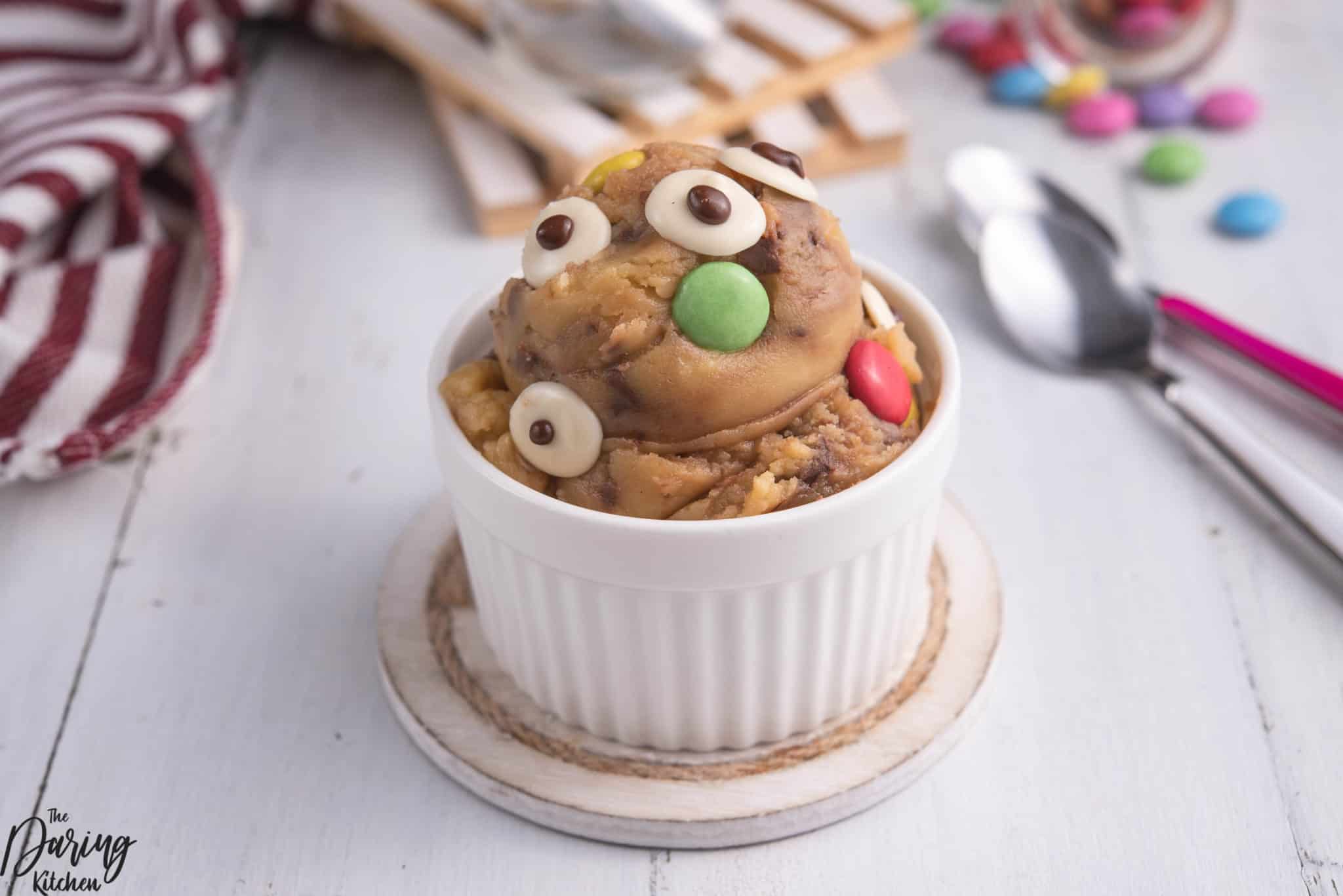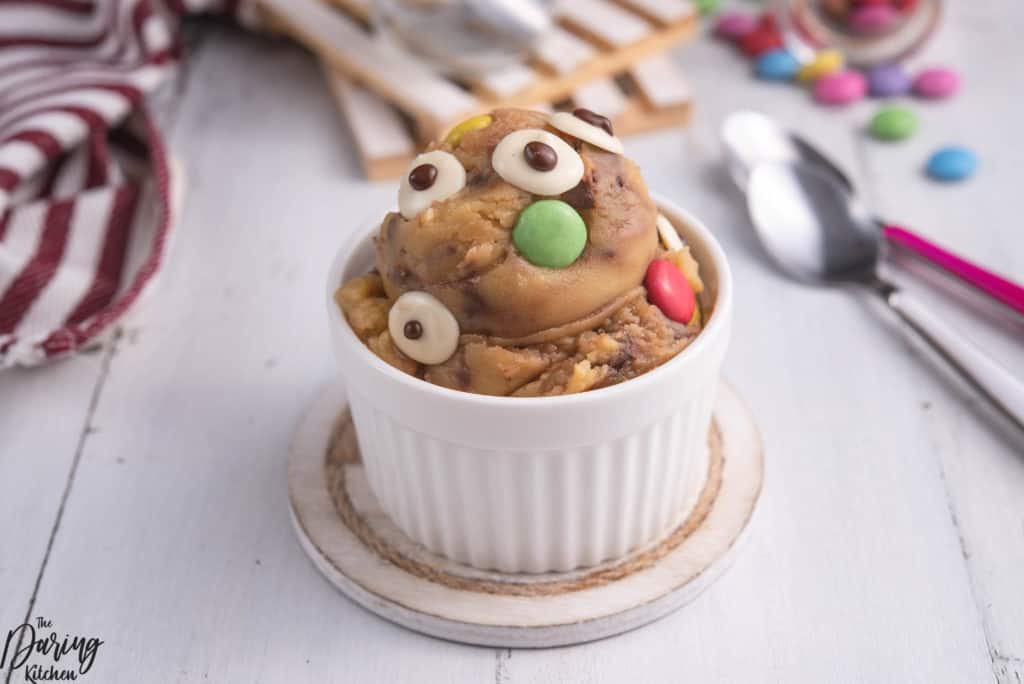 Fun Monster-themed Party Food Idea For Children!
Whether you are celebrating your little monster's first birthday or planning a classroom Halloween party, kids of all ages love edible cookie dough. You can make this fun party dessert into a fun party activity by letting the children add their own mixins, like gummy bats, ghosts, spider sprinkles, etc. The options are endless!
Equipment You'll Need To Make Monster Cookie Dough
For this recipe, you'll need a hand mixer, a medium-sized bowl, a baking sheet, and parchment paper along with a few utensils. Cleanup is relatively easy so that is a plus along with the quick prep time!

Ingredients For Your Cookie Dough Dip
Vegan Butter
Maple Syrup
All-purpose Flour
Dark Chocolate Chips/chunks
Vegan Chocolate Candies
Vegan Candy Eyeballs
How To Make Edible Monster Cookie Dough Dip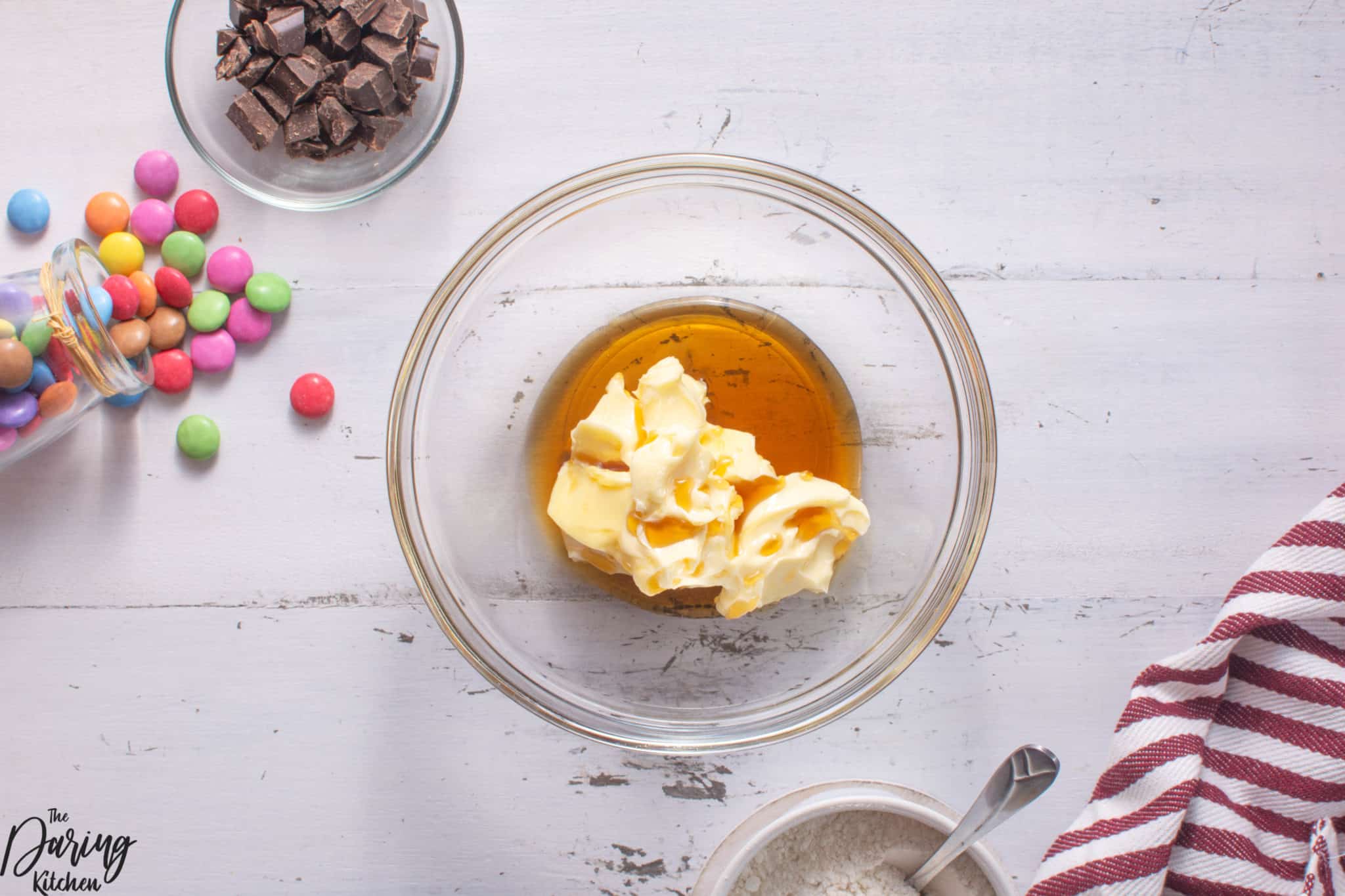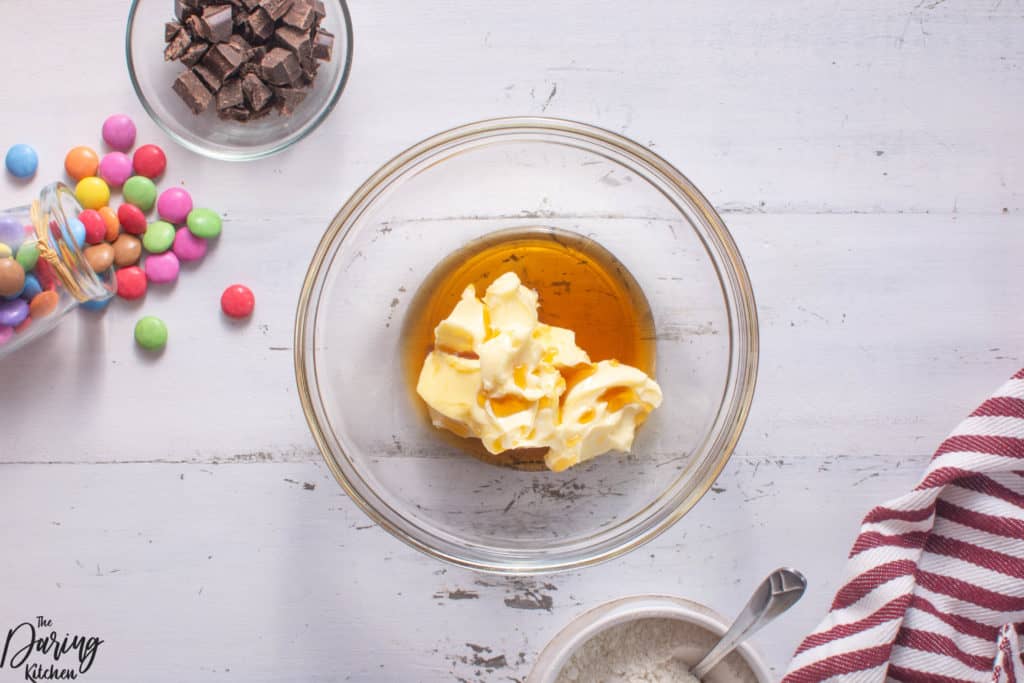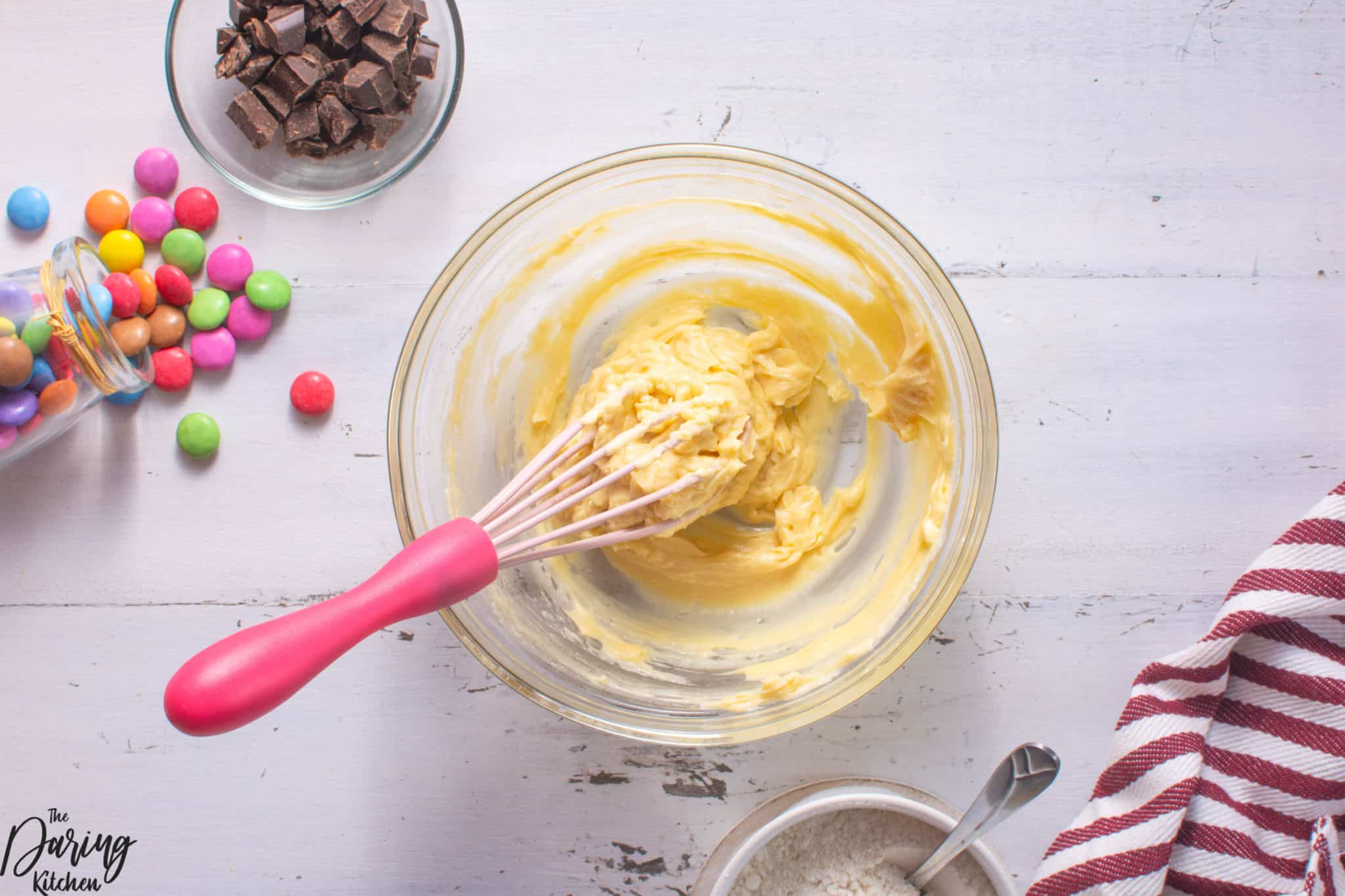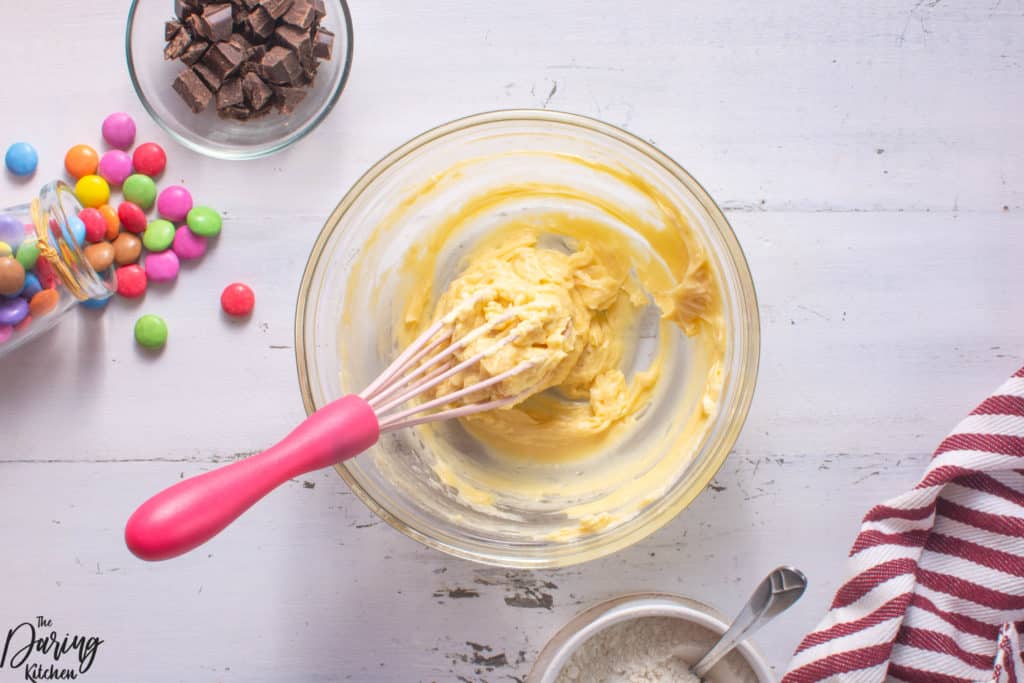 In a mixing bowl, beat Vegan butter and maple syrup until well incorporated.
Fold in warm (not hot) toasted all-purpose flour. By adding the flour warm it blends together better with the butter and produces a really soft cookie dough dip.

Next, you'll want to fold in chocolate chips and chocolate candies. Try and distribute them as evenly as possible through the mix.

Using an ice cream scoop, scoop the cookie dough into the serving bowls.

Decorate with candy eyeballs or any other decorations you may have on hand.
What to serve with your monster cookie dough dip
Graham crackers make great dippers for your monster cookie dough. Other dipper ideas include pretzels, apple slices, and of course, cookies!
Monster Cookie Dough Dip FAQs
Can I make this recipe ahead of time?
Yes! Not only is this recipe quick to throw together, but it's also easy to make ahead of time. Just mix everything together and store in an airtight container until you're ready to serve your dip! You will want to let it sit out for 20-30 minutes before you are ready to serve so it can soften up a little bit.
Can I use gluten-free flour?
Yes! If you prefer to use gluten-free flour, feel free to swap it out for almond, coconut, or even oat flour. Whatever you have on hand should work fine. You will still want to toast the flour off to kill anything in it.
Why do I need to toast raw flour before making this?
Raw flour can contain harmful bacteria that can make you sick if not killed off before eating it. By baking the flour, it kills anything in the raw flour that may be harmful, so it's safe to consume this cough dough dip.
What's your favorite way to enjoy edible cookie dough?
My family loves enjoying this recipe with a glass of non-dairy milk and graham crackers, but there are so many fun ways to eat it! Try adding a scoop of ice cream on top or even some fresh fruit. The possibilities are endless, and kids will love coming up with their own creations too!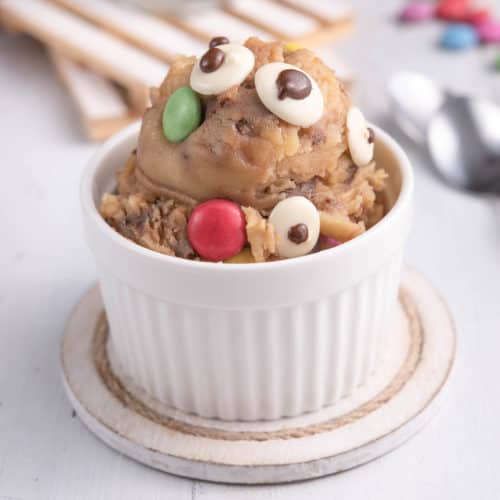 Ingredients
½

cup

Vegan butter

(margarine or coconut oil)

⅓

cup

maple syrup

1

cup

toasted/baked all-purpose flour

⅓

cup

quality dark chopped chocolate or chocolate chips

¼

cup

Vegan chocolate candies, like brand No whey foods or Little Secrets chocolate pieces

Chocolate décor, like candy eyeballs
Instructions
In a mixing bowl, beat Vegan butter and maple syrup.

Fold in gently warm toasted all-purpose flour. It will blend better with the butter and give a really soft cookie dough.

Fold in chocolate chips and chocolate candies.

Scoop the cookie dough into the serving bowls.

Decorate with candy eyeballs.
Notes
Note: I made my eyeballs with white and dark chocolate. Melt the white chocolate and pipe on a baking sheet lined with parchment paper. Freeze until firm. Melt the dark chocolate and pipe on top of the white. Freeze until firm. Use as a décor.
Nutrition
Calories:
237
kcal
|
Carbohydrates:
18
g
|
Protein:
1
g
|
Fat:
18
g
|
Saturated Fat:
5
g
|
Polyunsaturated Fat:
5
g
|
Monounsaturated Fat:
7
g
|
Trans Fat:
1
g
|
Sodium:
185
mg
|
Potassium:
68
mg
|
Sugar:
16
g
|
Vitamin A:
1079
IU
|
Calcium:
29
mg
|
Iron:
1
mg