Used for a wide range of espresso and coffee drinks, frothed milk and steamed milk are two distinct products which are vital to any successful barista business. These two terms are often used interchangeably as they share many common traits and are even included in some beverages together, however they are indeed two very different dairy preparations!
Been dying for some clues on how to bring those coffee house vibes into your very own kitchen? Look no further! Let's discuss everything there is to know about the two most important kitchen devices of the hour: the milk frother and milk steamer.
Milk Frothers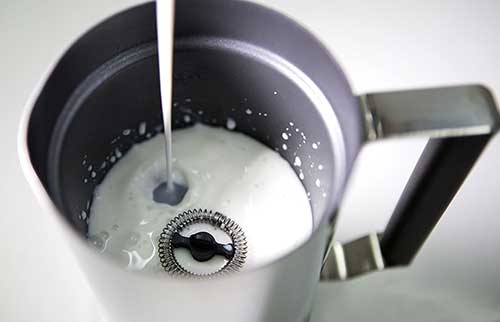 Milk frothers function by way of incorporating air into milk, thereby lightening it and giving the finished coffee beverage plenty of body. Frothed milk is aerated, but not necessarily heated, therefore it is possible to make frothed milk for chilled coffee beverages such as iced macchiatos and iced cappuccinos.
In order to froth milk, there are three main types of devices one may use, and we'll cover the differences between them here.
Types of Milk Frothers and How to Use Them
Handheld Milk Frothers
A handheld milk frother is a small, battery-operated, wand-style device which you hold in your hand to operate. The motor powers a fairly small, wiry, whisk-like head which you submerge in milk. Pressing a button causes the head to spin rapidly, thereby whipping the milk and incorporating air into the milk.
These types of milk frothers are ideal when you need to froth milk on a cup by cup basis, as you can quickly aerate a small amount of milk–the perfect portion for a drink or two without any leftovers to worry about!
Hand-Pump Milk Frothers
Frothing milk with a hand-pump frother takes a bit more elbow grease. This style is a manual milk frother, meaning there is no electrical cord or battery power to help you meet your milk frothing needs.
Very similar in appearance and functionality to a French press, these devices consist of a chamber in which a perforated plunger moves up and down within. After you add your milk, the plunging action froths the milk by way of incorporating air bubbles and distributing them throughout the liquid.
Despite the extra effort, the hand-pump milk frother remains one of the best milk frother options as it allows you to easily adjust how many servings of foamed milk you're making. The chambers often have a decent size capacity and therefore you can aerate milk just for you or for a crew.
Automatic Milk Frothers
Automatic milk frothers are electric, meaning they require the least amount of effort on your part but also tend to be the most expensive. To operate an automatic milk frother, simply pour the milk into the chamber, replace the lid, press the button, and voila! You have as much perfectly frothed milk as you like.
These types of milk frothers can typically generate more foam than either the handheld or manual options as the motor can move more quickly than either human or battery power, therefore they are good for making larger amounts of frothed milk at a time. In addition, many models offer either hot or cold options, and work nicely with alternative or plant-based milks as well.
Milk Steamers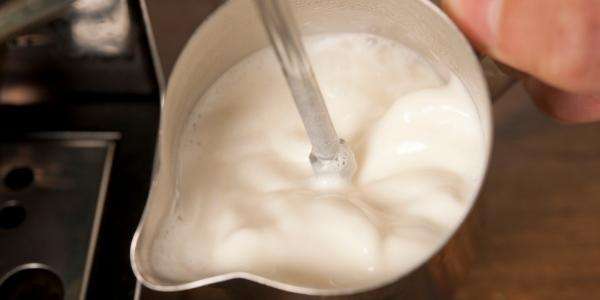 Like a milk frother, a milk steamer also serves to incorporate air, however the main distinction is that milk steamers also heat the milk by way of–you guessed it–hot steam! Steamed milk is a vital component in coffee drinks such as the latte and the cortado. That gurgly whooshing sound of milk being steamed is one of those iconic coffee shop sounds, a sure sign you're about to receive a steamy, creamy beverage!
There are two main types of steamers, and no matter which is being used, they work just about the same way. Every milk steamer has a steam wand which must be dipped into the milk in order to heat it. The key difference between these two types of milk steamers lies in the way in which the steam is generated.
Types of Milk Steamers and How to Use Them
Electric Milk Steamers
Electric milk steamers are powered via electrical cord, and they use that power to boil water internally, thereby generating pressurized steam. In order to move the steam from within the unit and into your patiently waiting pitcher of milk, these devices have steam wands which have an on/off valve, allowing you to either keep the steam contained or release it when needed.
Most espresso machines are manufactured with a steaming wand already on the unit. How convenient is that! Since an espresso machine is already highly pressurized, it only makes sense that this pressure should be made available for the milk steaming process as well.
Stovetop Milk Steamers
A stovetop milk steamer does everything the electric version does, but without the use of electricity. This type of steamer is a specially designed multi-compartment pot which when placed on a stovetop burner or other heat source, builds up steam within. Just like the electric variety, these milk steamers feature a steam wand, which allows for release of the steam out of the chamber and into the milk. Stovetop milk steamers are much more affordable than those big fancy espresso machines as well as more portable.
How to Use a Milk Steamer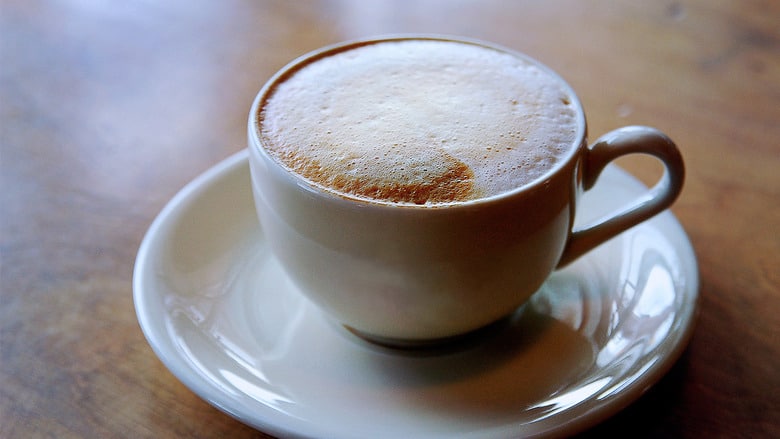 Steaming milk is a bit more complex than frothing, since you are in control of how much heat will be injected into your milk and at what rate. Too much heat which is too rapidly applied can easily scorch milk and negatively affect the overall flavor of your beverage! Proper technique will impart just the right amount of aeration as well, giving you perfectly foamy milk with less obvious air bubbles than those that result from use of a milk frother.
Step 1
First and foremost, it's wise to purge the steam wand before each and every use just in case there is any residual milk or water lingering in the nozzle. All you need to do is open the valve so as to allow the wand to release steam for a few seconds (being careful to keep the nozzle pointed down and towards the drip tray) and your purge is complete!
Step 2
Next place your pitcher of cold milk with the end of the wand sticking just below the surface of the milk. Turn on the steamer and allow it to steam only the top layer of milk for just a few seconds. When steaming milk, this step is important as it serves to create foam within the milk before being heated the rest of the way.
Step 3
Then, raise the pitcher of chilled milk so as to lower the wand into the body of the milk, while tilting the pitcher on a slight angle to encourage a whirlpool effect. This will help to result in uniformly hot milk.
Step 4
Continue steaming and whirlpooling until the milk reaches your desired temperature. Ideally, the pitcher would be just barely getting too warm to comfortably handle.
Milk Frother vs. Steamer: FAQ's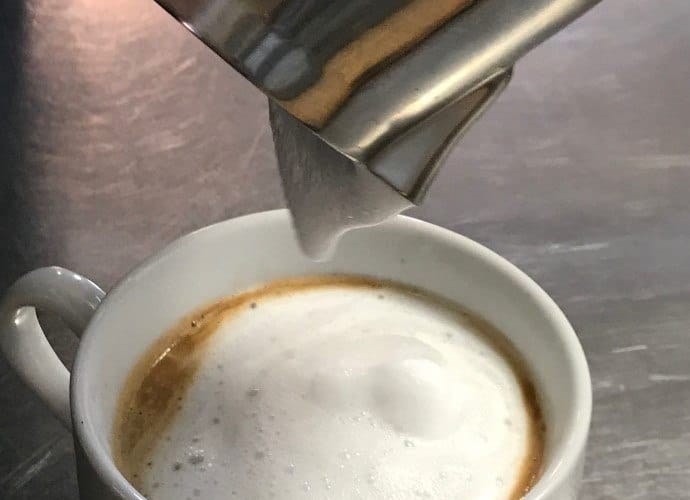 Why Steam Milk for Coffee?
It's true, there are other ways to warm milk in order to make coffee based drinks, however the process of steaming is by far considered the best.
It's a known fact that heating milk brings out its inherent sweetness, as the lactic sugar is broken down into simple sugars as it warms. Using a proper milk steamer is the easiest way to ensure smooth, even heating of the milk. If you simply heat milk in a pot on the stovetop, there will be a constant mix of hot and cold spots, putting the milk at risk of scorching, at which point the flavor suffers.
Secondly, properly steaming milk is the only way to simultaneously incorporate air during the heating process, and as mentioned above, this air affects the final texture as well as flavor of the finished product.
Can You Froth Hot Milk?
We discussed using a variety of frothers to produce cold milk foam, but in lieu of a milk steamer, can you simply froth milk which is already warm? Yes and no. It's not exactly ideal as milk has an easier time taking in air when it's cold, but if you'd like your frothy milk to be warm and bring out the sweetness, go ahead and warm it prior to frothing!
Keep in mind that neither the flavor nor the texture will be quite as good as steamed milk, so if you find yourself frequently in need of warm and foamy milk, you may want to invest in a milk steamer as this will accomplish both tasks.
Milk Frother vs. Milk Steamer: Summary of Key Differences
Let's review the key differences between a milk frother and a milk steamer.
A milk frother produces milk which is foamy, with relatively large bubbles and a light, airy texture. This frothy milk is most often used in the uppermost layer of drinks such as the cappuccino and macchiato. Most milk frothers only aerate the milk and do not heat it as well, allowing you to create cold foam for topping any other coffee beverages.
A milk steamer heats the milk using pressurized steam as well as brings air into the liquid as it swirls. The air bubbles in steamed milk are much smaller and more evenly distributed than those of frothed milk, therefore steamed milk is often used in the body of drinks like lattes! This micro foam gives steamed milk a thick and velvety texture
Despite the differences between these two milk preparations, they each bring a quite similar effect to the coffee drinks they are poured into--giving that roasty yet sharp cup of a coffee a much needed hit of airy cream!