There's nothing quite as refreshing as a fresh cappuccino or latte to get you going in the morning.
However, it's easy to grow tired of the daily coffee shop run, especially when you figure that high-end signature drinks can easily end up costing more than four or five dollars a pop. 
While it's not difficult to brew your own coffee at home, lots of people are intimidated by the idea of making their own cappuccinos and lattes. Investing in the right milk frother can make a world of difference.
There are many types of milk frothers you can choose from, but all of them can help you save a substantial amount of money. Plus, you're sure to impress your friends and family with your newfound skills as a home barista!
Not sure what to look for? In this article, we'll tell you everything you need to know to find the best milk frother for your needs, budget, and personality. 
Get Cafe-Quality Beverages with One of the 8 Best Milk Frothers
1. PowerLix Milk Frother Handheld Battery Operated Electric Foam Maker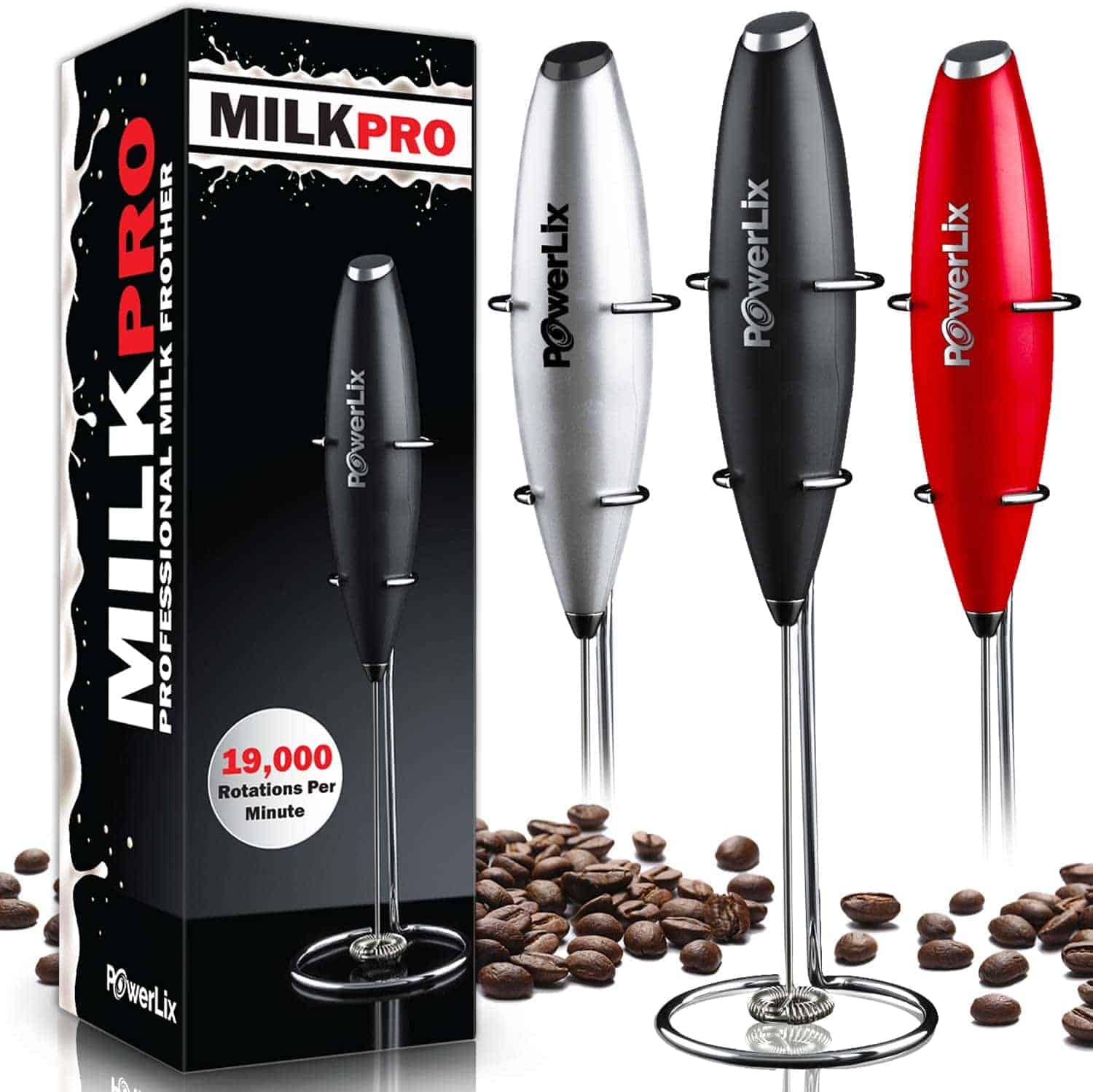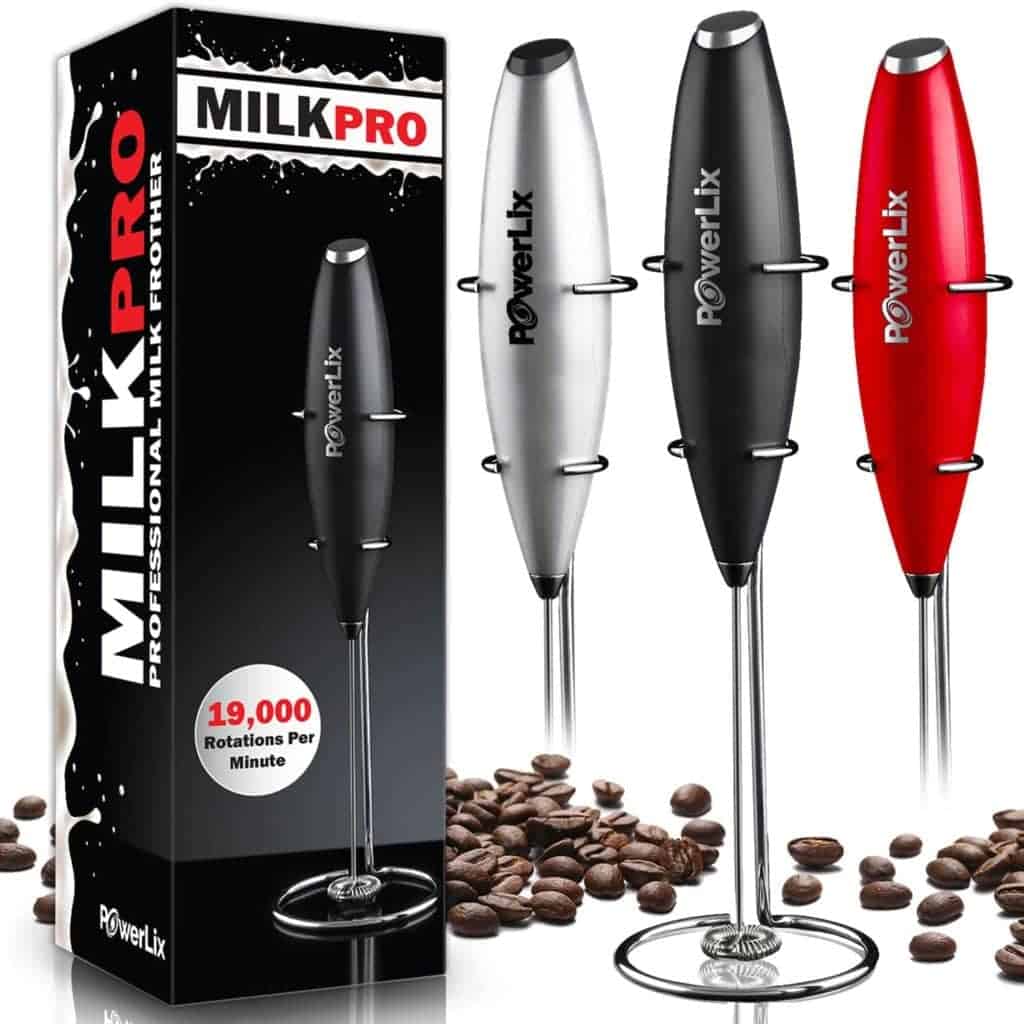 This milk frother by PowerLix is one of the most compact and, overall, one of the best milk frothers you are going to find. You'll be able to get delicious,creamy froth quickly and easily with this portable handheld milk frother. It's battery-operated so that you don't have to worry about electrical outlets or cords - nor do you have to worry about straining your hands making your favorite drink!
To get started, simply heat the milk, put the espresso maker in it, and turn it on. The foamer will begin to create cream froth instantly. In just fifteen seconds or so, you'll have a cup of delicious froth ready to be used in your favorite coffee latte.
With a high-powered motor, this milk frother has an impressive 19000 RPM and a dual spring, 18/10 food safe stainless steel spiral whisk. It won't rust or break down over time, but it also delivers twice the power of other frothers. 
The power button is located on the top of the unit and that's the only button you need to use or worry about. Everything is self-contained and easy to use. Don't worry about disturbing your family while you're making your morning latte, either. This milk frother hardly makes a sound.
A gorgeous black milk frother, it is sleek, lightweight, and ergonomically designed. The soft touch handle makes it comfortable to hold but it's also easy to clean. Just give it a quick rinse!
If you're not sure that a milk frother is a wise investment for you, consider this - this milk frother can be used for all kinds of other beverages, including milkshakes, cocktails, and hot chocolate. Your options are virtually unlimited! 
What We Liked: 
Comes in two separate colors

Easy to use and incredibly versatile

Comes with a helpful free eBook
What We Didn't Like: 
Does not come with the necessary batteries
2. Aerolatte Milk Foamer, The Original Steam-Free Frother

With the Aerolatte, you'll have everything you need to make your own delicious frothed beverages right at home.
It has a polished chrome finish so that you can enjoy frothy drinks right at home - no electricity required. When you buy, you will get the chrome froth finisher, but you can also choose to buy the separate stand if you'd like a place to store it. No worries if you don't, though - it can also be stashed right inside a drawer. 
Don't worry if chrome isn't your thing, either - you can also choose to buy the satin finish frother instead.
No matter which option you choose, you're sure to be delighted. It's made out of 18/8 stainless steel and plastic. It is certified to be free of dangerous ingredients like cadmium, lead, BPA, and phthalates so you don't have to worry about your safety when you're making your favorite morning beverage either.
Not only that, but this milk frother comes with batteries so you can get started immediately.
When you're ready to make your drink, all you need to do is measure some milk into a glass. Submerge the whisk end of the frother and hold the power button to froth. Usually, you'll only need to do this for about half a minute to a minute (or until the desired level of froth has been achieved).
This durable, portable product is small enough so that you can take it anywhere. It can be used on any kind of milk, not just cow's milk, such as goat, hemp, soy, almond, coconut, cashew, and other non-dairy milk. 
A compact, economical machine, it is easy to clean. All you need to do is submerge the whisk end in warm, soapy water and give it a quick hand wash.
What We Liked: 
Made with high-end materials

Comes with a free recipe idea sehet

Two color options available
What We Didn't Like: 
Can be quite fragile and easy to break
3. Nespresso 4192-US Aeroccino4 Milk Frother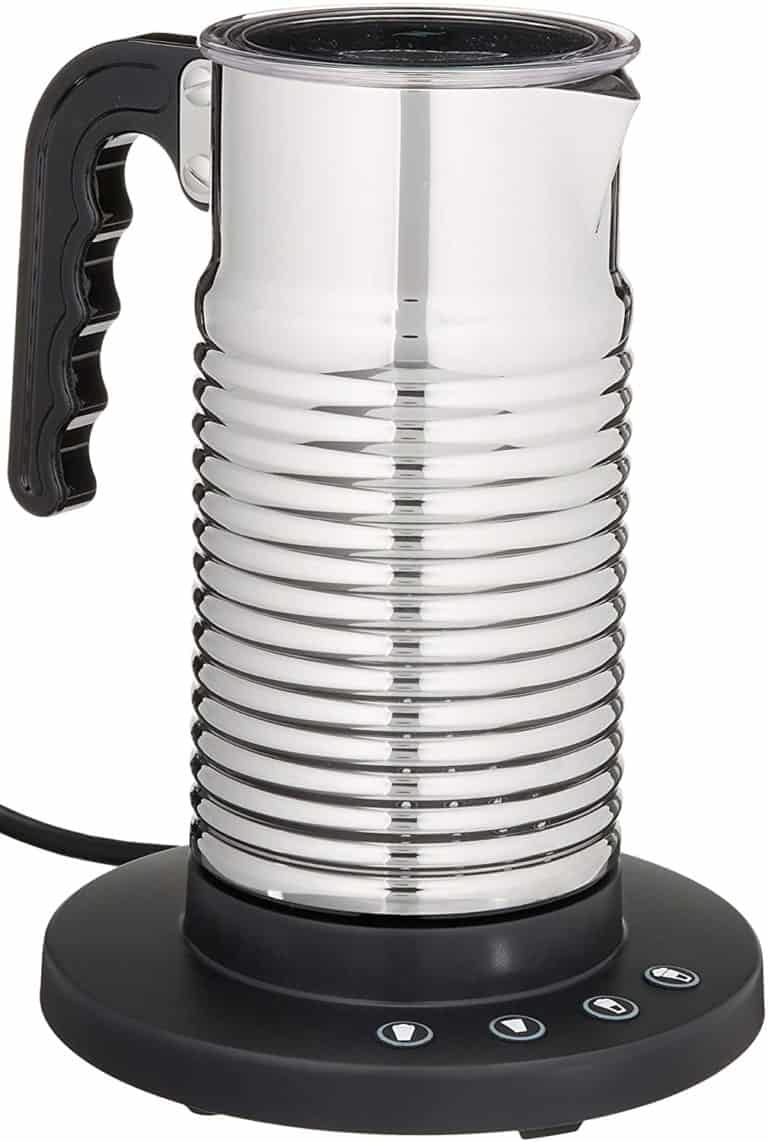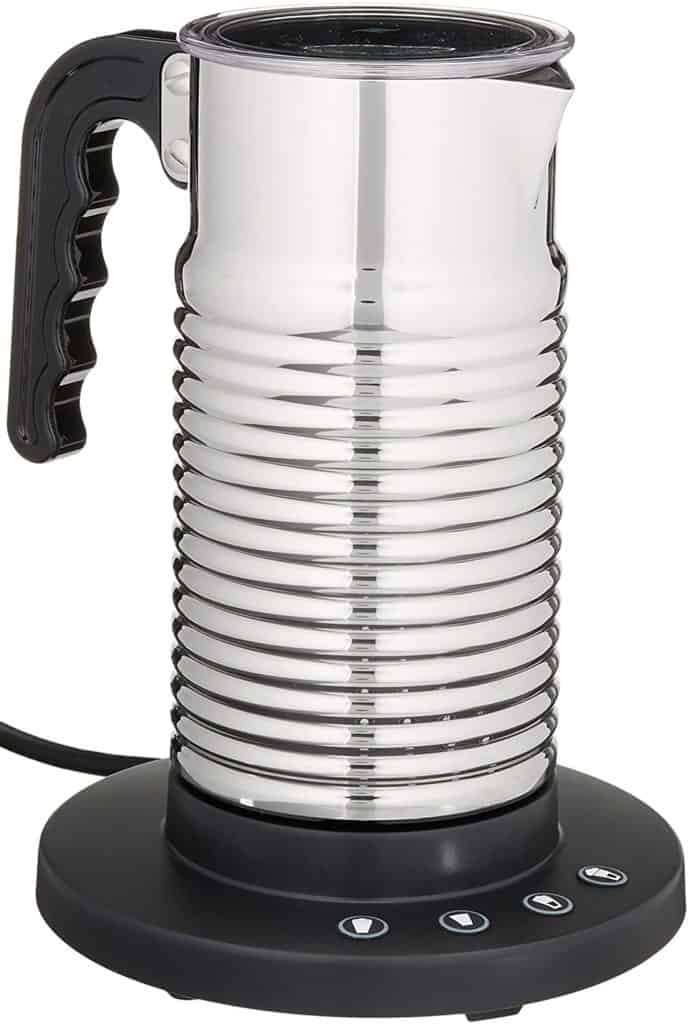 The Nespresso Aeroccino4 is another one of the best milk frothers on our list. Although it's not the fanciest looking frother, it can produce two different types of hot foam, cold foam, and hot milk. With the Aeroccino 4, you'll have more options on how you want to prepare milk and coffee recipes right at home. It even comes with a single whisk for all preparations so you don't have to worry about choosing between, storing, and handling a million different separate parts. 
This milk frother is dishwasher safe for easy clean-up. This machine is far more versatile and durable than any of its predecessors. With a nonstick ceramic coating, you won't have to worry about any mess when you are done using this milk frother. 
What We Liked: 
Several options so you can customize the consistency of your foam

Dishwasher-safe

Automatic operation
What We Didn't Like: 
4. HIC Milk Creamer Frother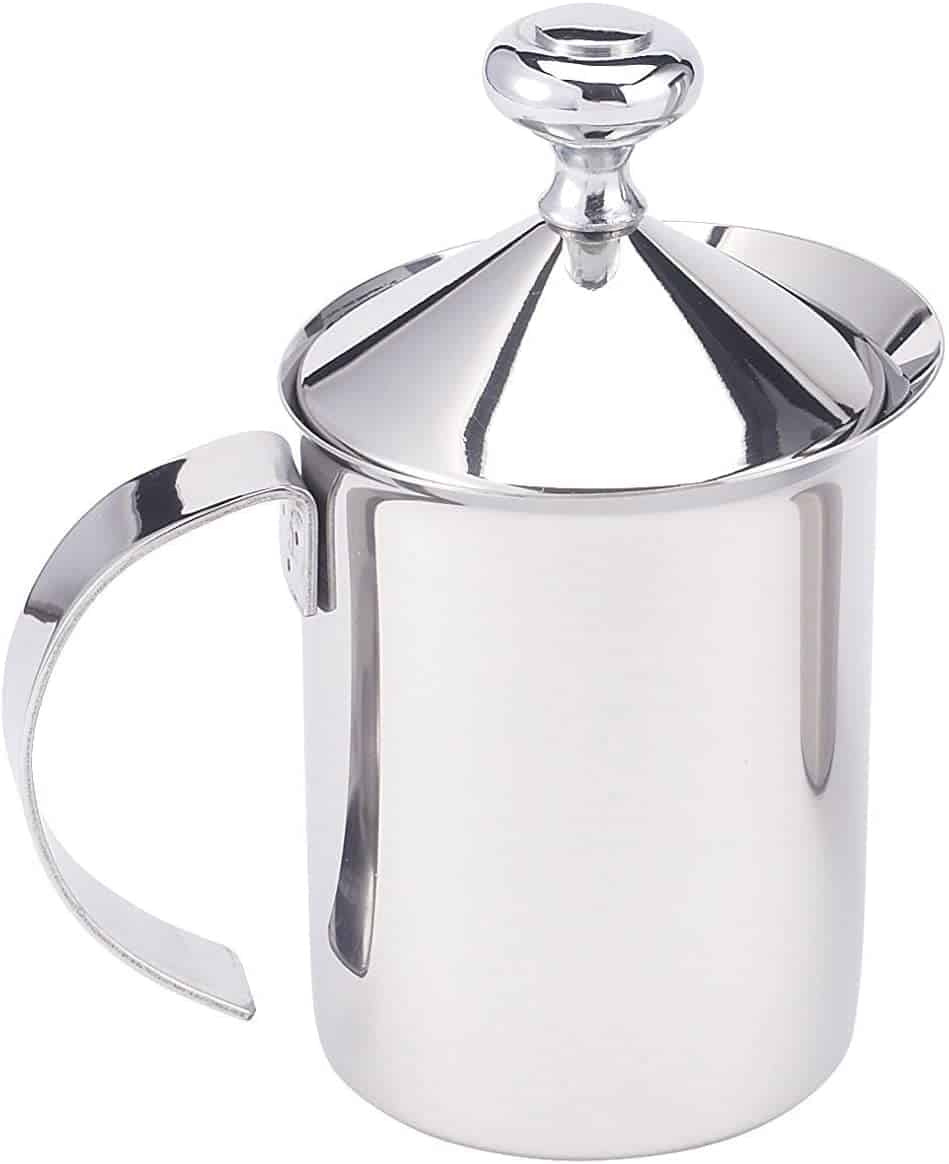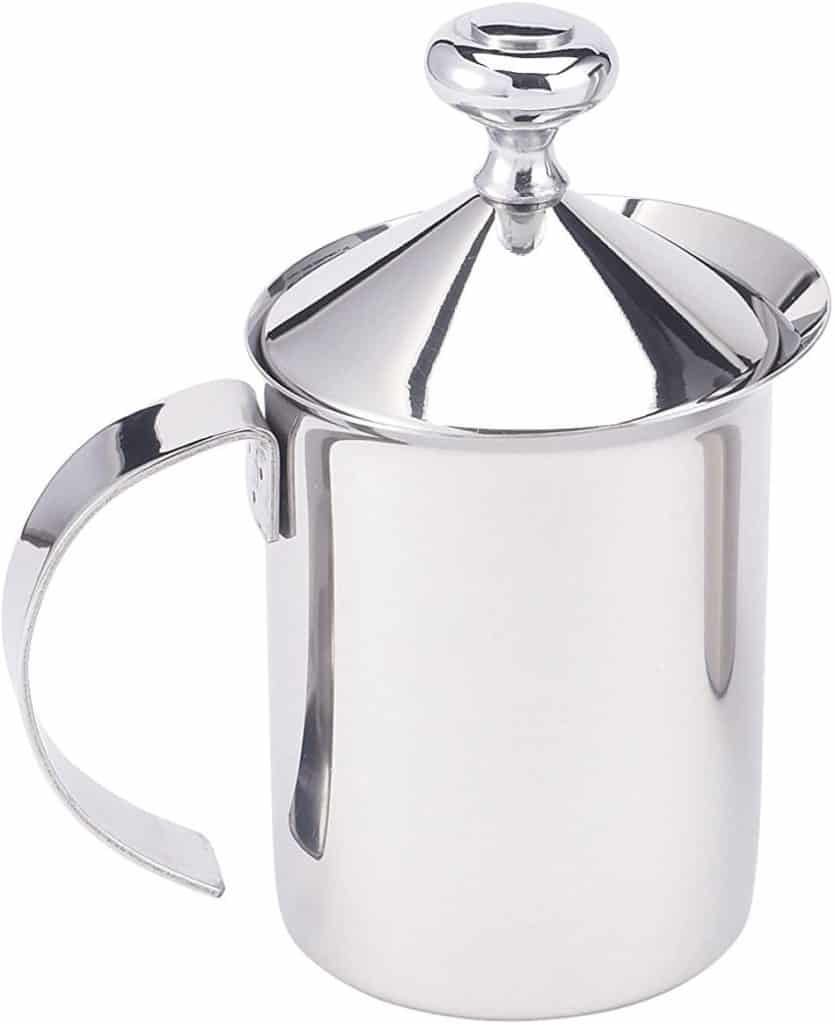 When you shop with HIC (Harold Import Co), you will have several different purchasing options. You can buy a milk frother in a 14- or 16-oz capacity, or you can purchase a 6-, 12-, or 24-  oz Turkish Warmer.
The Milk Frother is truly one of the best. With this frother, you'll be able to top delicious hot and cold beverages in a mere 60 seconds or less - no electricity or batteries required to operate. It is made out of durable 18/8 stainless steel and nylon, with a lid that has a built-in double mesh aerator and easy-grip handle. 
A durable, versatile unit, it can hold an impressive 12- or 14- ounces of fluid, depending on which option you buy. 
To get started with it, all you need to do is measure milk into the pitcher. Put the plunger inside and secure its lid, pumping the handle up and down, for about 30 to 60 seconds. As soon as the foam has reached the desired consistency, you'll be ready to go.
It's important to note that, with this milk frother, you aren't limited just to regular cow's milk. You can use any kind of milk with this machine, including almond, soy, cashew, hemp, goat, and more. 
This milk frother is easy to use and economical. It is even more reliable than many of the more expensive high-end espresso machines. When you're ready to put it away, you can slide it into the top rack of your dishwasher for quick and easy cleanup.
What We Liked: 
Quick and easy to operate

Requires no electricity or batteries

Has an ergonomic handle and pouring edges
What We Didn't Like: 
Not compatible with induction stovetops 
5. Breville BMF600XL Milk Cafe Milk Frother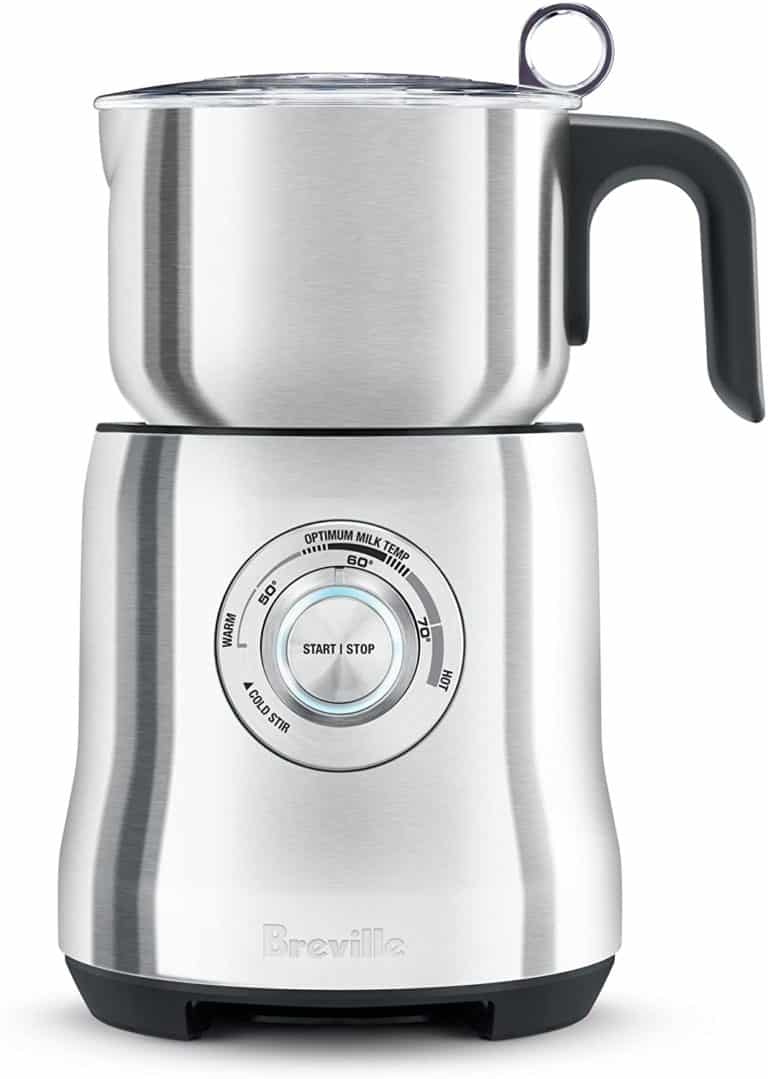 Although this isn't the cheapest milk frother you will find, it is certainly one of the best. Made by Breville, a leading name when it comes to caffeinated beverages, the milk frother comes with a special latte frothing disc to help you make smooth, creamy, and silky frothed milk. It also comes with a cappuccino frothing disk and a built-in hot chocolate maker.
To use the hot chocolate maker, all you need to do is add a bit of chocolate syrup, flakes, or hot chocolate powder to the warming milk.
Everything is self-enclosed in this one handy unit. You'll get on-board disc storage so you don't have to worry about storing a separate million parts. It's powered via induction heating, so all you need to do is place the jug in the dishwasher for quick, easy cleaning.
This unit has an impressive three-cup capacity so you can make three beverages all at once. It has an automatic shut-off feature that will enable the unit to froth and then turn itself off once the desired temperature is reached. Its adjustable temperature provides for gentle, even heating - plus, it even comes with a cold stir setting for the ultimate level of customization.
What We Liked: 
Has a cold stir option and variable temperature settings

Comes with a measuring lid that allows you to add other ingredients

Dishwasher-safe components
What We Didn't Like: 
Can take up to five minutes to fully process your milk 
6. Ikea Milk Frother 100.763.20

This handheld battery-powered milk frother by Ikea is not only easy to operate, but it's also incredibly compact. It can froth milk in less than 20 seconds before being stashed in a drawer - that's how versatile and tiny it is! You can use it for both hot and cold milk. Either way, it will froth your milk in just fifteen or twenty seconds.
When you're done making your beverage, clean-up is a cinch. All you need to do is wipe it clean with a damp cloth. 
Made out of durable ABS plastic, stainless steel, and silicone rubber, this Ikea Milk Frother is a top pick on your search for the best milk frother for your morning drinks.
What We Liked: 
Versatile and easy to use

Inexpensive product

Works quickly
What We Didn't Like: 
Does not come with the necessary batteries 
7. Secura Automatic Electric Milk Frother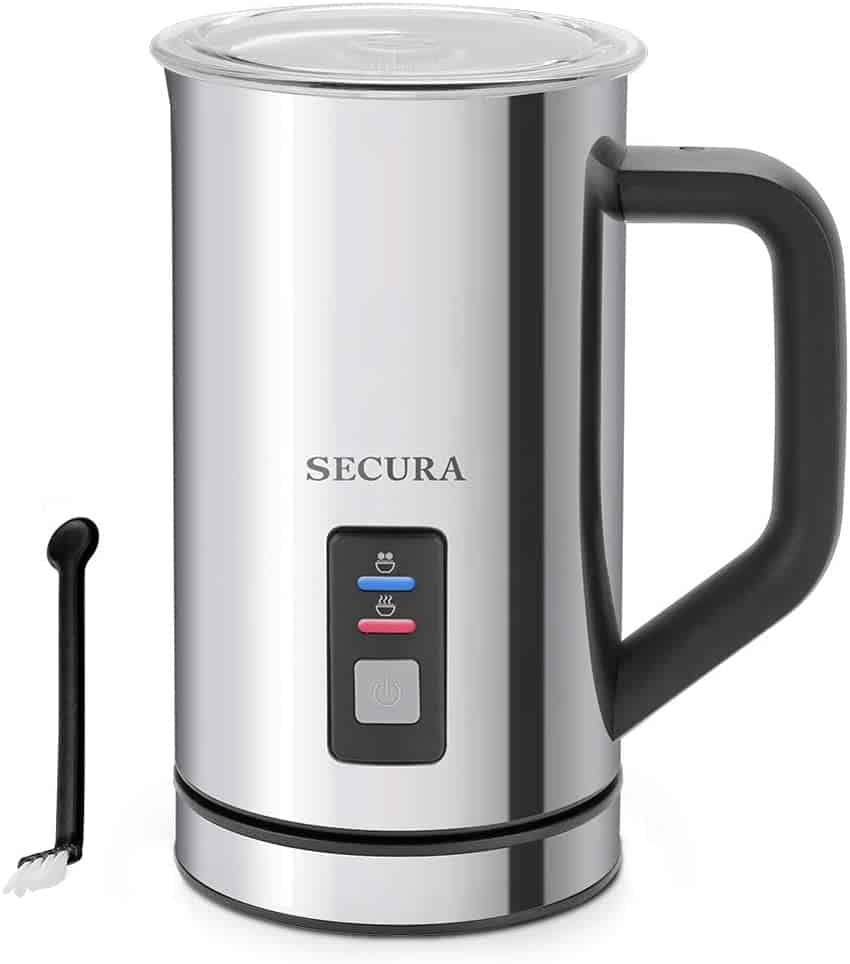 The Secura Automatic Electric Milk Frother is available in two separate sizes - 250 and 500 ml. It will prepare both any temperature of milk froth for you to enjoy steaming hot lattes and cappuccinos. It comes with a maximum level indicator both for the milk frother and the milk warmer. 
This electric milk frother is easy to power, as a 120 V only, ETL-certified product. It has a stainless-steel outside with vacuum insulation. It comes with a free cleaning brush as well as a detachable base to make your coffee-making duties even easier!
Getting started is simple. To make your favorite beverage, all you need to do is press the on/off button once and release. The brother and heater will turn on. Then, keep this button pressed down for three seconds and the frother will power  on but the heater will not. This will help you make cold drinks (as compared to hot beverages).
As a 3-in-1- device, this milk frother makes it easy for you to enjoy your favorite beverages with friends. Its nonstick interior makes it easy to clean as well, so you don't have to worry about spending unnecessary amounts of time cleaning up your unit.
What We Liked: 
Easy to keep clean and has a detachable base

Comes with a cleaning brush

Backed by a generous two-year warranty 
What We Didn't Like: 
Small amounts of milk are frequently burned in every frothing cycle 
8. Norpro Glass Froth Master

Made out of glass, this milk frother is one of the most attractive you will find. It helps add a classic coffee shop flair to your countertops and allows you to froth milk manually without adding steam for a lighter, longer-lasting froth.
You'll be able to create the creamy foam topping you love right at home. With a 16 oz capacity, this glass breaker can be used to make froth not only for coffee beverages but also for things like dessert, hot chocolate, and more. You'll get recipes and detailed instructions included with your purchase, which will allow you to create the perfect pick-me-up drink at any time.
What We Liked: 
Requires no electricity or batteries to use

Has a drip-free pouring spout

Comes with a free recipe book
What We Didn't Like: 
Fragile glass is brittle and easily broken 
What to Look for in a Milk Frother: A Short Buying Guide
Type
There are several kinds of milk frothers you can choose from, some of which are electric and require a power supply. Others can be powered by batteries. There are even milk frothers that are manual, relying on nothing besides human "elbow grease" to get the job done.
To decide which type of milk frother is best for you, consider how much frothing you want to do on a regular basis. If you plan on doing a lot, an automatic (electric or battery 0 powered) will likely be better suited to you than a manual model.
Capacity 
Consider the capacity of your milk frother. If you're just making beverages for yourself, this might not be a dealbreaker. However, if you plan on making large amounts of drinks at once, you'll want a milk frother with a larger capacity. 
There are several units that can be used to heat your milk, so it's important to find out how much milk your model can hold while in heating mode. Usually, the capacity will vary to 100 to 200 ml for foam and 200 to 500 ml for heating. 
Features
There are milk frothers that can heat milk for a variety of options besides just cappuccinos and lattes. Look for milk frothers with bonus features that match up with your goals and style. For example, some milk frothers allow you to customize the type of froth you prefer as well as its temperature. 
Another helpful feature is a milk frother with an automatic shut-off function. With this function, your device will stop as soon as the froth is ready - no more worrying about timing when you're making your cappuccino! 
Ease of Use
How ergonomic is your milk frother? The more comfortable it is to use, the more often you will use it - and the less time it will take you to get used to its use, too. Most milk frothers are relatively ergonomic, but you'll want to make sure your device is also easy to use and comes with detailed instructions in case you get stuck. 
Don't forget how easy it is to clean, too! Clean-up time can add a great deal of hassle to your morning chores. If your milk brother requires extensive cleaning after each and every use, you are going to have a harder time convincing yourself to use it rather than stopping by the coffee shop on your way to work.
Luckily, many milk frothers are not only dishwasher-safe, but have pitchers, lids, and whisks that can be detached and popped into the dishwasher for quick cleaning, too.
Design
If you only plan on making drinks for yourself, you may not care too much about the design of your milk frother. After all, it will probably be sitting in a drawer most of the time. But if you plan on keeping your brother on display on your countertop (or making drinks to impress your friends!) you may want to look for a milk frother with a sleeker, more sophisticated design. 
So What's the Best Milk Frother?
Although we chose the PowerLix Milk Frother Handheld Battery Operated Electric Foam Maker as our favorite milk frother (and with all those features, why wouldn't you?) keep in mind that there are plenty of options out there to suit any style, preference, or budget. You don't have to spend a fortune to get coffee-shop quality beverages at home.
Consider the buying guide above to find the milk frother that will help you whip up your perfect batch of java - and stop paying for overpriced lattes and cappuccinos at your corner coffee store. With just a little bit of practice, you can be your very own home barista in no time!