Buying ground coffee offers one of the simplest, fastest solutions to getting your caffeine fix at home. If you love to visit your local coffee shop or would prefer to pick up a latte on your way to work, have at it! But if you want the home-brewing process to be as quick and easy as possible, pre-ground coffee is the golden ticket to getting that morning boost so many of us long for!
There are many ground coffees out there to choose from though, and it can be tough to know which options will produce a morning coffee that you will reliably love! We're sorting it all out, walking you through the nuances of and differences between all of the best ground coffees of 2023. Coffee lovers, this one's for you!
What is Ground Coffee?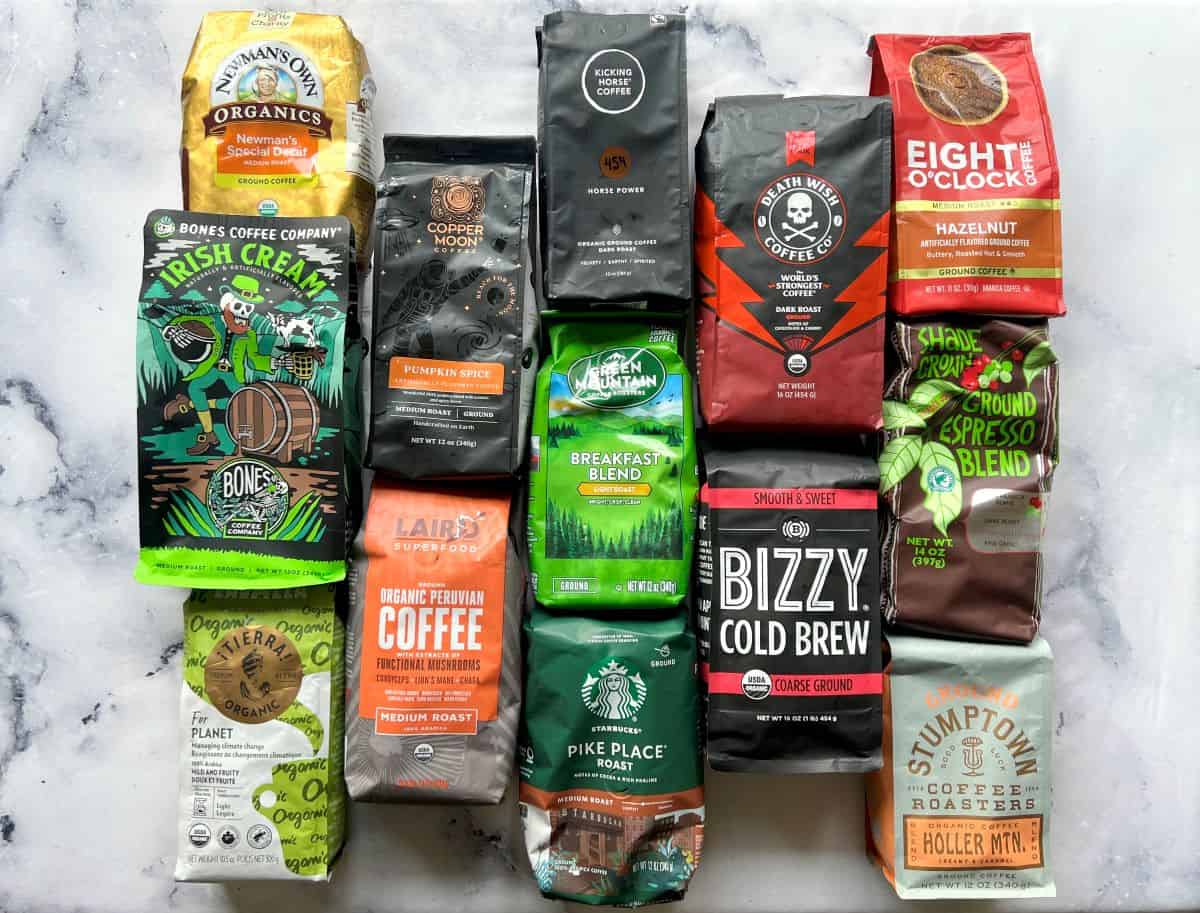 In order to be brewed, whole coffee beans must first be ground so as to allow the hot water to extract as much flavor and color as possible. It used to be done by hand but these days to grind coffee, the roasted beans are poured into a large grinder fitted with metal blades which blends and crushes the beans to a desired consistency.
Many coffee drinkers and coffee shops prefer to do this daily, as freshly ground coffee is richer in flavor as compared to that which has been sitting around for some time. However, if you plan on using your coffee often and are looking for optimal convenience, pre-ground coffee is definitely the way to go.
Types of Ground Coffee
Though they all start at the same point--as a whole bean (which is actually a seed!) from a fruit known as the coffee cherry--there are actually innumerable ground coffee types and variations out there.
Ground coffees made from arabica beans, robusta beans, or a blend of the two, and each unique mixture offers a different characteristic and flavor profile. Different coffees also feature roast levels ranging from light to dark, and may even be flavored by vanilla, hazelnut, or even more creative concoctions. Other differences to look out for include decaf coffee options and different coffee grinds such as fine or coarse.
We'll get into how to navigate all the options and offer our picks for the best of each below!
Ranking the Best Ground Coffees
The Test Subjects
Our coffee shopping expedition turned up the following 13 unique brands and varieties of ground coffee:
Bizzy Cold Brew 'Smooth & Sweet'
Bones Coffee Company 'Irish Cream'
Copper Moon Coffee 'Pumpkin Spice'
Death Wish Coffee Company 'Dark Roast'
Eight O' Clock Ground Coffee 'Hazelnut'
Green Mountain Coffee Roasters 'Breakfast Blend'
Kicking Horse Coffee '454 Horse Power'
Laird Superfood Organic Peruvian Coffee 'Medium Roast'
Lavazza ¡Tierra! 'For Planet Premium Blend'
Newman's Own Organics 'Newman's Special Decaf Blend'
Starbucks 'Pike Place Roast'
Stumptown Coffee Roasters 'Holler Mountain Blend'
Trader Joe's 'Shade Grown Espresso Blend'
The Methodology
We organized our ground coffee blends according to common characteristics, thereby establishing 8 distinct categories of review. Our goal was to select a winning cup of coffee for each of the following:
Best Light Roast Ground Coffee
Best Medium Roast Ground Coffee
Best Dark Roast Ground Coffee
Best High Caffeine Ground Coffee
Best Flavored Ground Coffee
Best Cold Brew Ground Coffee
Best Enhanced Ground Coffee
Best Espresso Blend Ground Coffee
The Taste Test
Once we gathered and researched each of our test subjects, it finally came time to put our taste buds to the test.
We brewed each coffee using the same drip coffee maker with filtered tap water. If a coffee brand offered instructions of a specific grounds to water ratio, we followed. If no guidelines were given, we used the industry-standard measure of 2 tablespoons of grounds per 6 fluid ounces of water.
As each coffee completed its brewing cycle, our tasting panel first sampled each fresh coffee on its own, black. Once all coffees were brewed, we conducted another round of taste testing for side by side comparison, and then again with a splash of half and half swirled into each cup.
The Criteria
As we taste tested and evaluated our range of ground coffees, we awarded each a grade in the following 5 criteria:
Taste & Texture: considering factors such as aroma, mouthfeel, and flavor of each ground coffee variety.
Quality: evaluating the overall quality of each coffee, from beans to bag.
Unique Characteristics: special flavorings, creative additives, notable processing methods, or any other factor that sets one ground coffee apart from the next.
Value: in terms of dollar per ounce.
Production & Packaging: this includes all angles of the coffee industry such as bean origin, harvesting methods, where the coffee is roasted and processed, and how readily available it is in most markets.
The 5 criteria scores were then used to calculate and award an overall average score to each of the best ground coffee contenders. The highest scoring, most delicious cup in each of the aforementioned 8 categories were crowned our winners!
Best Light Roast Ground Coffee: Green Mountain Coffee Roasters 'Breakfast Blend'
Size: 12-Ounce Bag
Roast: Light
Origin: Indonesia, Central America, East Africa, Colombia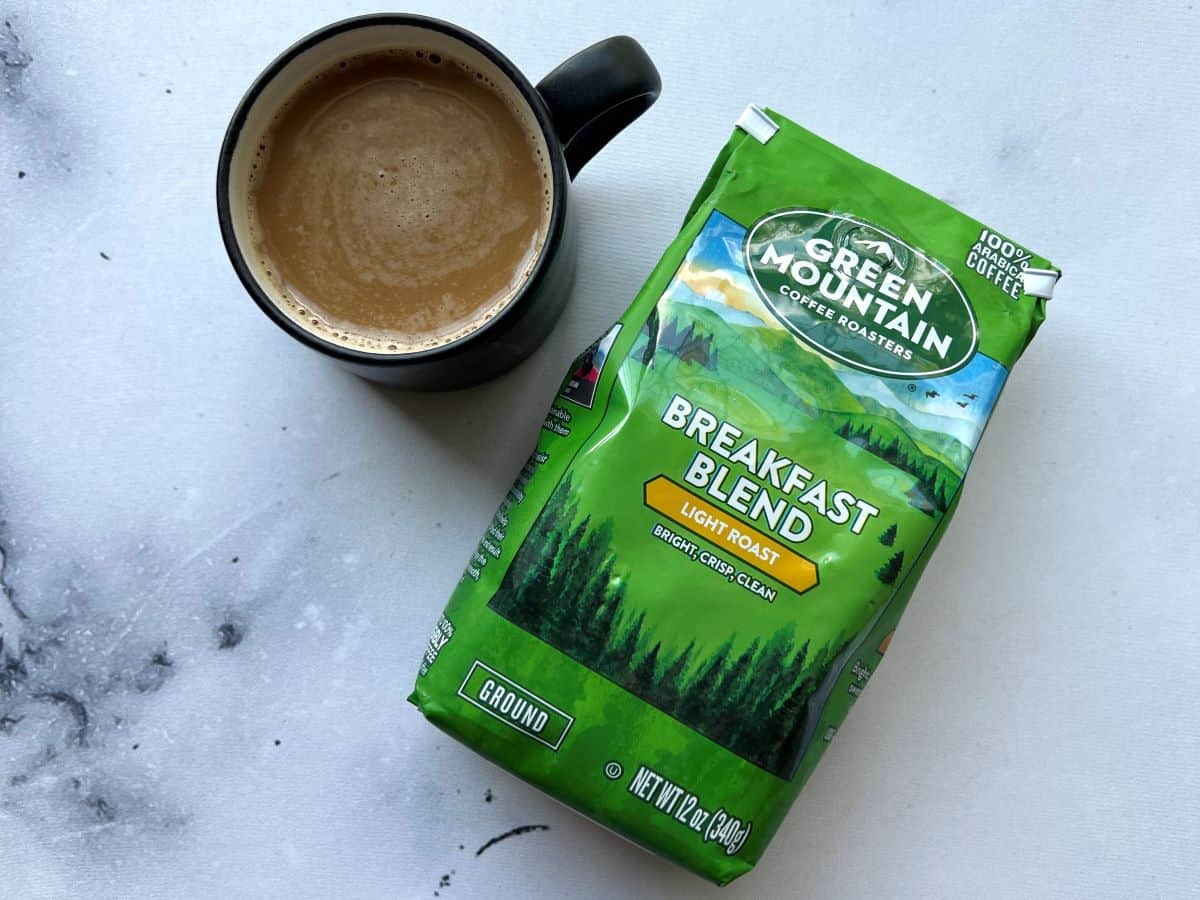 Here is how Green Mountain Coffee Roasters 'Breakfast Blend' scored in each of our criteria categories:
Taste & Texture: 4.3 / 5.0
Quality: 4.4 / 5.0
Unique Characteristics: 4.5 / 5.0
Value: 5.0 / 5.0
Production & Packaging: 4.2 / 5.0
Overall Score: 4.4 / 5.0
We found Green Mountain Coffee's 'Breakfast Blend' to be light roast coffee at its finest! This well-known roaster uses 100% arabica bean coffee in all of their blends and the light roast of this blend really allows those beans to shine.
The taste is equal parts nutty and vibrant, with notes of citrus fruit and a snap of acidity that is typically lost on medium and darker roast coffees. The 12-ounce bag we sampled comes with handy brewing instructions for both hot and iced versions of this blend, and it is the most budget-friendly of all of the coffees we tested at just under $0.60 per ounce!
We also love that Green Mountain Coffee is committed to making a true difference in the coffee world. They make sure their coffee is 100% responsibly sourced, and even take things a step further by offering tons of resources to the farmers and producers they partner with. Among these assistance programs: an initiative that provides new coffee tree seedlings to replace aging trees, programs to increase access to clean drinking water and to educate communities on water system improvements and maintenance, and even funding to further coffee research which aims to help meet the ever-increasing global demand for these humble beans.
One thing to note with this--and most any light roast coffee for that matter--is that the tart and tangy acidity may not be to everyone's tastes! We greatly preferred to drink this blend with a splash of milk as it helped to balance the acidity while also delivering some pleasant body. In the words of one of our tasters, this coffee is "very good, but very average". Not the most standout contender, but a solid everyday coffee choice!
Pros:
Made from 100% arabica beans.
Light roasting brings forward the naturally tart and fruity characteristics.
Good for versatile, everyday coffee drinking.
Includes both hot and iced brewing instructions.
Most affordable ground coffee we tested.
Green Mountain provides environmental, educational, and community support to their coffee growing regions around the world.
Cons:
Inherent acidity may not be to everyone's taste.
Best Medium Roast Ground Coffee: Stumptown Coffee Roasters 'Holler Mountain Blend'
Size: 12-Ounce Bag
Roast: Medium
Origin: East Africa, Central & South America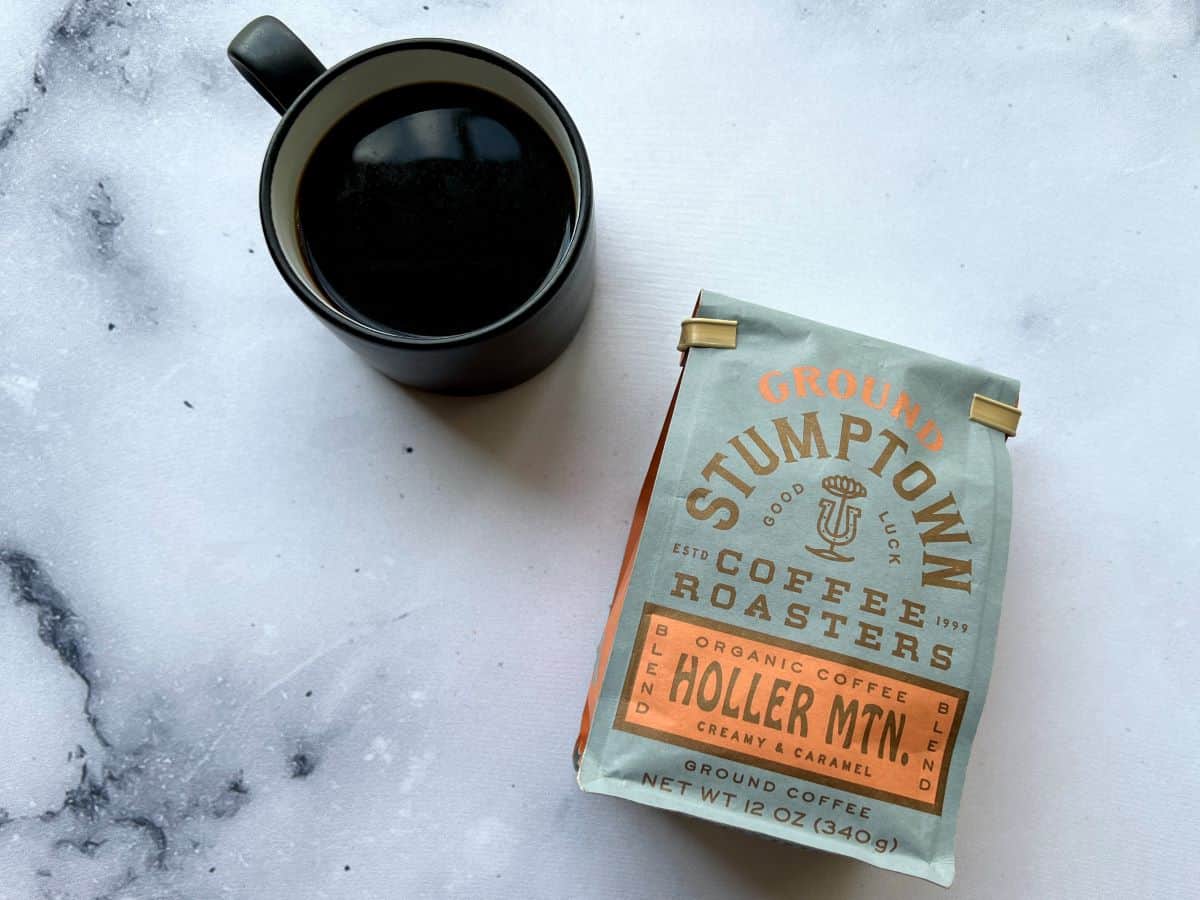 Here is how Stumptown Coffee Roasters 'Holler Mountain Blend' scored in each of our criteria categories:
Taste & Texture: 4.6 / 5.0
Quality: 4.7 / 5.0
Unique Characteristics: 4.6 / 5.0
Value: 4.1 / 5.0
Production & Packaging: 4.8 / 5.0
Overall Score: 4.5 / 5.0
The flavor of Stumptown Coffee Roasters 'Holler Mountain Blend' is, in a word, complex. We mean this in a good way though! The aroma wafting from the bag took hold of us from the start and once brewed, a cup of this coffee blooms into a full-bodied collection of berry, caramel, and hazelnut notes. Our tasting panel found this variety to be the most interesting medium roast coffee of the batch with a smooth taste and full mouthfeel. We think the mellow, caramelly taste of this blend makes it perfect for swirling with maple syrup and a topper of frothy oat milk for a trendy maple-oat latte!
We love the small batch vibes given off by this certified organic coffee with its rustic paper packaging, each blend featuring its own signature combination of eye-catching pops of color. Each bag features a hand stamped best by date and roasting date--so you know this is as close to freshly roasted coffee as you can get.
Stumptown Coffee Roasters is a certified B Corp, which means their operations meet the highest environmental and social standards. For example, they operate on a "direct trade" relationship with their growers, which sets the framework for a sustainable, trusting relationship between coffee producers and Stumptown Roasters. And, with a quick trip to their website, you can even see the entire network of farmers and producers that Stumptown partners with and get to know each of them. For the true coffee lover, you'll also find detailed information on many of the unique arabica bean varietals that Stumptown uses in their coffees!
As is often the case with hand-crafty, small batch products, the price tag is up there. The humble 12-ounce bag cost us nearly $16.00! And while we love the look and feel of the paper bag, it definitely made us wonder if it might not protect the coffee as well, leaving it more susceptible to moisture.
Pros:
Features complex yet versatile flavor notes.
Mouthfeel is super smooth and full bodied.
Certified organic by OCIA.
Each bag includes the date it was roasted.
Package styling is small-batch and handcrafted.
Stumptown is a certified B Corp.
Produced via sustainable business models which support both product quality and farmer welfare.
Cons:
Very expensive.
Paper packaging is not as protective as other bagged coffees.
Best Dark Roast Ground Coffee: Kicking Horse Coffee '454 Horse Power'
Size: 10-Ounce Bag
Roast: Dark
Origin: Peru, Colombia, Sumatra, East Timor, Uganda, Guatemala, Nicaragua, Mexico, Honduras, and Ethiopia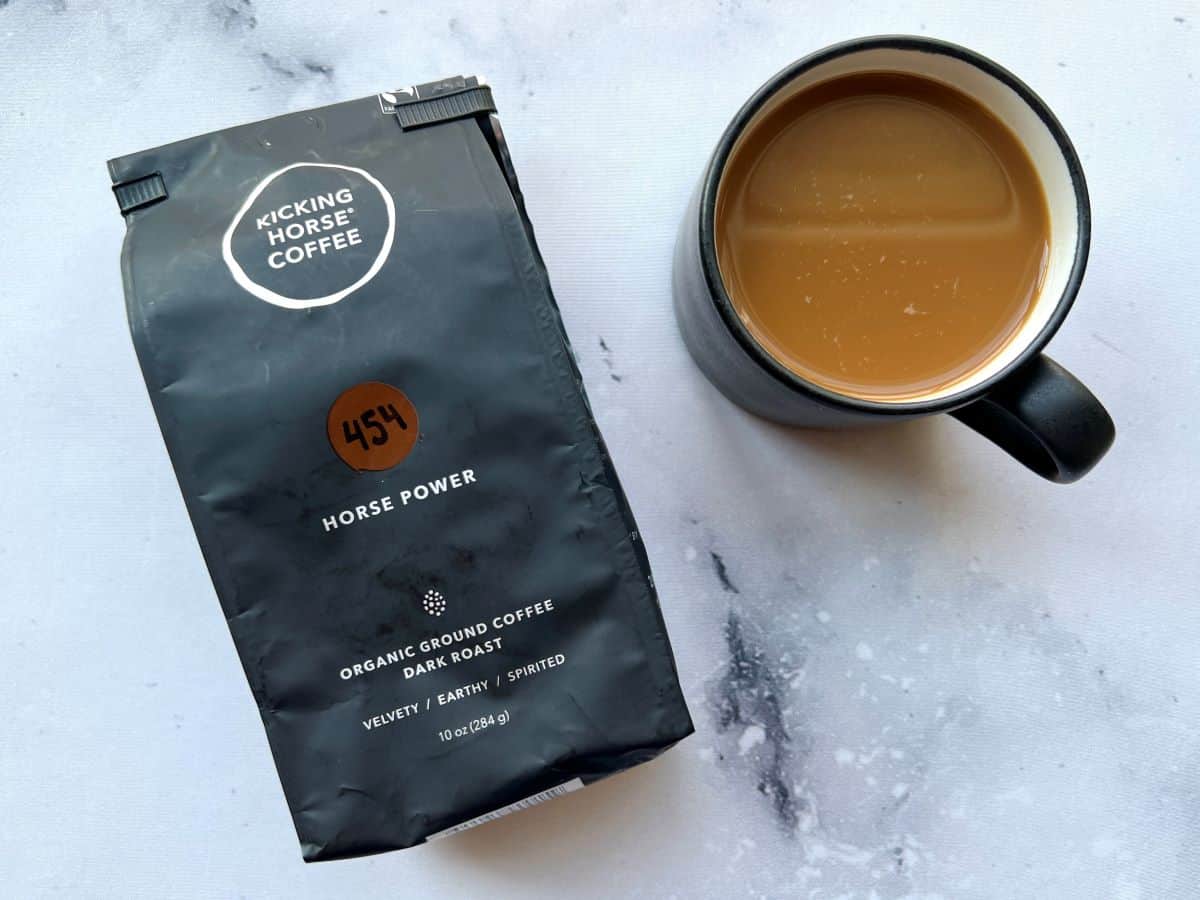 Here is how Kicking Horse Coffee '454 Horse Power' scored in each of our criteria categories:
Taste & Texture: 4.8 / 5.0
Quality: 4.8 / 5.0
Unique Characteristics: 4.6 / 5.0
Value: 4.3 / 5.0
Production & Packaging: 4.6 / 5.0
Overall Score: 4.6 / 5.0
If a deeply flavored, dark roast coffee is your thing, the '454 Horse Power' blend from Kicking Horse Coffee is for you! A cup of this stuff provides a rich experience, with heavy flavor notes like warm licorice, bitter cocoa, and earthy molasses. Despite all this weight, the drinking experience is surprisingly smooth with a velvety mouthfeel and a satisfying aftertaste that lingers on the tongue nicely.
Kicking Horse Coffee uses 100% organic and fair trade certified coffee beans from all over the world including countries of South America, Central America, and Africa. In contrast to this global sprawl, Kicking Horse specifically sources from farms which are small in scale and produce shade-grown coffee beans--a technique that helps to preserve natural habitat while also yielding higher quality beans. From these little farms all over the world, the beans make their way to the Canadian Rocky Mountains, where they are expertly roasted into this winning dark roast coffee and other high quality blends.
We found Kicking Horse blends in many of our local markets and grocery stores, however, with a bit of research it seems that this brand--or at the very least, this particular blend--is not always easy to get your hooves on. Also, there is no brewing advice on the bag nor the website! While that of course wouldn't stop anyone from brewing up a cup according to their usual method and ratio, we always prefer to hear the best practices as offered by the roaster itself, especially when it comes to specialty coffees like this.
Pros:
Rich, heavy, earthy, and boldly flavored.
Mouthfeel is smooth and velvety.
Coffee beans are 100% organic and fair trade certified.
Kicking Horse sources from small scale farms all over the world.
Coffee beans are shade grown
Cons:
Not as easy to find as other ground coffee brands.
No brewing instructions or tips here, you're on your own!
Best High Caffeine Ground Coffee: Death Wish Coffee Company 'Dark Roast'
Size: 10-Ounce Bag
Roast: Dark
Origin: India, Peru, Central and South America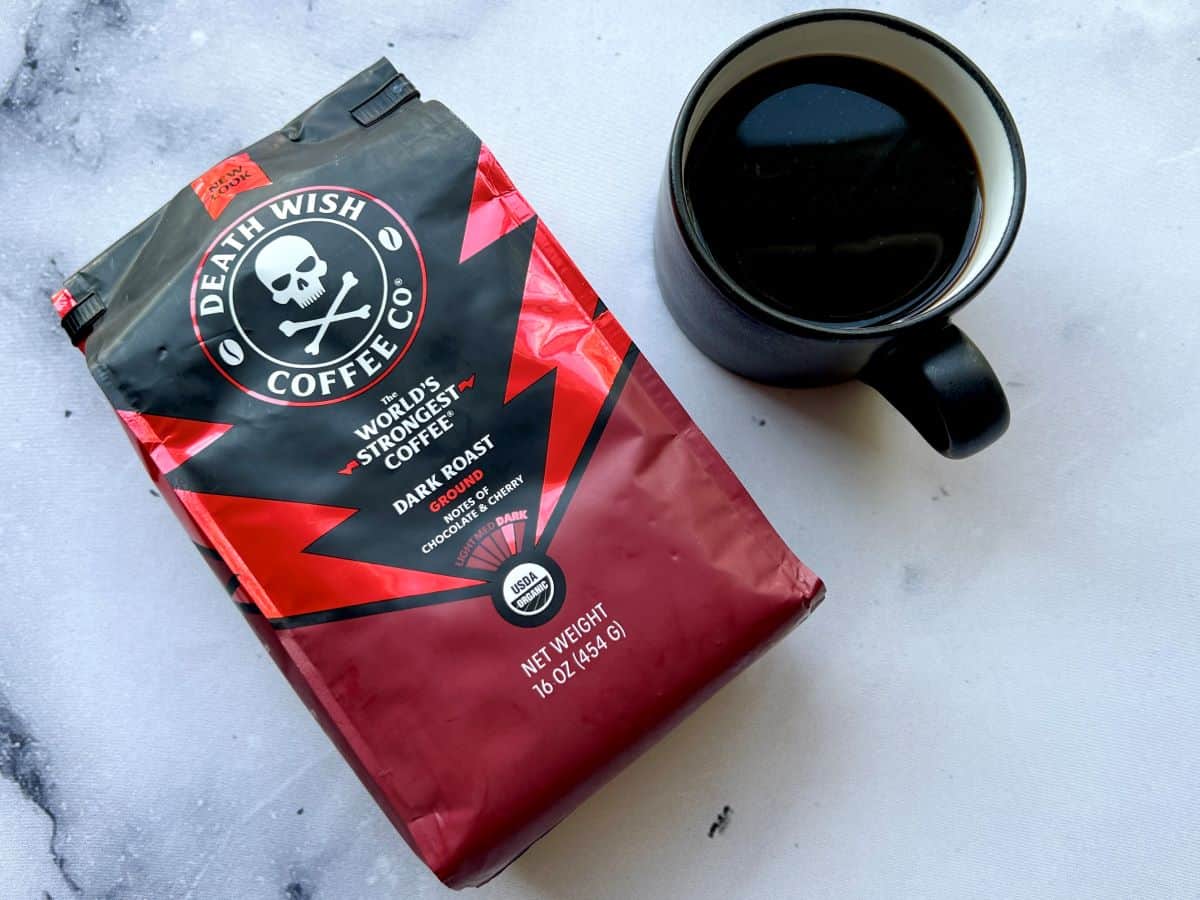 Here is how Death Wish Coffee Company 'Dark Roast' scored in each of our criteria categories:
Taste & Texture: 4.3 / 5.0
Quality: 5.0 / 5.0
Unique Characteristics: 4.8 / 5.0
Value: 4.5 / 5.0
Production & Packaging: 4.7 / 5.0
Overall Score: 4.6 / 5.0
When it comes to the caffeine content of coffee, there's regular, and then there's supercharged coffees. Death Wish Coffee Company is cranking out the latter in a few different varieties and we were lucky enough to score a bag of their Dark Roast.
Their motto "the world's strongest coffee" is truly no joke. While it's tough to get a straight answer out of their website, some sources seem to indicate that a cup of Death Wish coffee may contain four to six times as much as the average 100 milligrams of caffeine per cup that other coffees hover around. Where most coffee roasters focus on arabica beans for their superior taste and quality, Death Wish has figured out how to mix highly caffeinated robusta beans into their coffee blends--resulting in a superior energy boost without sacrificing the flavor to get there.
While we're on the subject of flavor, let's talk about it! Each cup puts forth intense and smoky notes of dark chocolate and black cherry along with something a little more piquant, like cracked pepper and cinnamon. Each bag of their coffee is USDA certified organic and fair trade, ensuring that each purchase supports fair labor for farmers and sustainable farming techniques for the land. And, yes, there are brewing instructions included on the packaging of this special ground coffee!

The main downside here is that the bold flavor is not going to be for everyone. Robusta beans are notorious for producing coffees which may carry a bitter aftertaste, and though Death Wish works hard to mitigate this by way of their careful blending, the astringency is still very much present.
Also, the high caffeine content may be an issue for some coffee lovers here. While it is up to everyone to make their own choices regarding caffeine consumption (and that of medical professionals if you have certain cardiovascular or other conditions), the fact remains, this coffee may contain more than you'd expect--a lot more--and we wish the caffeine content was clearly marked on the packaging.
Pros:
Is a special blend of velvety arabica beans and bolder, more highly caffeinated robusta beans.
Provides an extra boost of energizing caffeine when you want it!
Notes of smoky dark chocolate, cherry, and pepper.
USDA organic.
Fair trade certified.
Brewing instructions are provided on the bag.
Cons:
Inclusion of robusta beans gives the coffee a slightly bitter aftertaste.
Caffeine content is not clearly marked, and may be much higher than consumers expect.
Best Flavored Ground Coffee: Bones Coffee Company 'Irish Cream'
Size: 12-Ounce Bag
Roast: Medium
Origin: Central & South America, Africa, South Pacific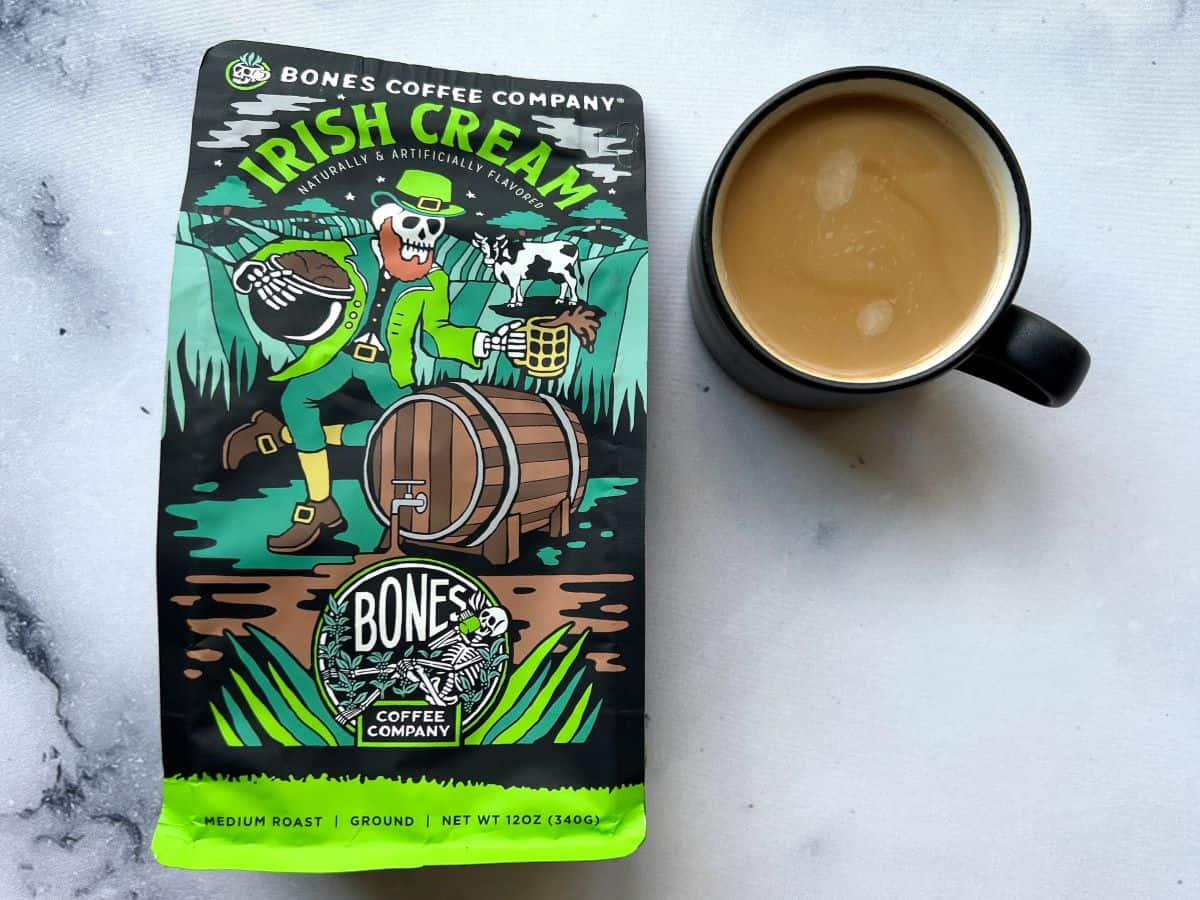 Here is how Bones Coffee Company 'Irish Cream' scored in each of our criteria categories:
Taste & Texture: 4.8 / 5.0
Quality: 4.8 / 5.0
Unique Characteristics: 5.0 / 5.0
Value: 3.9 / 5.0
Production & Packaging: 5.0 / 5.0
Overall Score: 4.7 / 5.0
When it comes to flavored coffee, there is certainly no shortage of options. We tried several tasty flavors of ground coffee including the popular (or cringe, depending on who you ask) pumpkin spice, hazelnut, and caramel but our favorite is hands down, this Irish Cream variety from Bones Coffee Company.
We weren't sure what to expect with this one and found ourselves pleasantly surprised when, upon first sip, it was all Irish cream, all the way. With notes of nutty caramel and sweet butterscotch, this coffee provides everything you love about the famous nightcap, without the whisky of course! If Irish cream isn't your thing, Bones has still got you covered, as they make over thirty other unique flavors including French toast, bananas foster, and strawberry cheesecake as well as seasonal specials and even movie-themed blends!
No matter the flavor, Bones Coffee is always made from 100% arabica beans and is small-batch roasted to order. They offer a freshness guarantee, which they expertly support by packaging their coffees in resealable zip-top pouches--the only coffee we tested to come in such a great format! This roaster is a family owned and operated outfit which makes a point to only source beans from Rainforest Alliance Certified Farms. By doing so, they support producers which work to preserve rainforests, promote sustainable farming, and uphold human rights and social wellness for their communities and beyond.
It's important to note that flavored coffees such as this--and many other flavored food items for that matter--do contain a compound known as propylene glycol. While the FDA considers this food additive to be GRAS ("generally recognized as safe") some folks may prefer to avoid such controversy-sparking additives. Also, though we loved the special flavor of this coffee, we found the coffee itself to have a tangy undertone which wasn't our favorite. Nothing a splash of creamer couldn't fix however!
Pros:
Flavor is caramelly, sweet, and creamy--just like Irish cream!
Bones Coffee Company makes tons of other fun flavors to choose from.
Made from 100% arabica beans.
Roasted to order in small batches.
Packed in a resealable pouch and guaranteed fresh.
Coffee beans are from Rainforest Alliance Certified farms.
Cons:
Contains propylene glycol as part of the flavoring additives.
Coffee itself has an underlying tangy flavor.
Best Cold Brew Ground Coffee: Bizzy Cold Brew 'Smooth & Sweet'
Size: 16-Ounce Bag
Roast: Medium
Origin: Guatemala, Peru, Nicaragua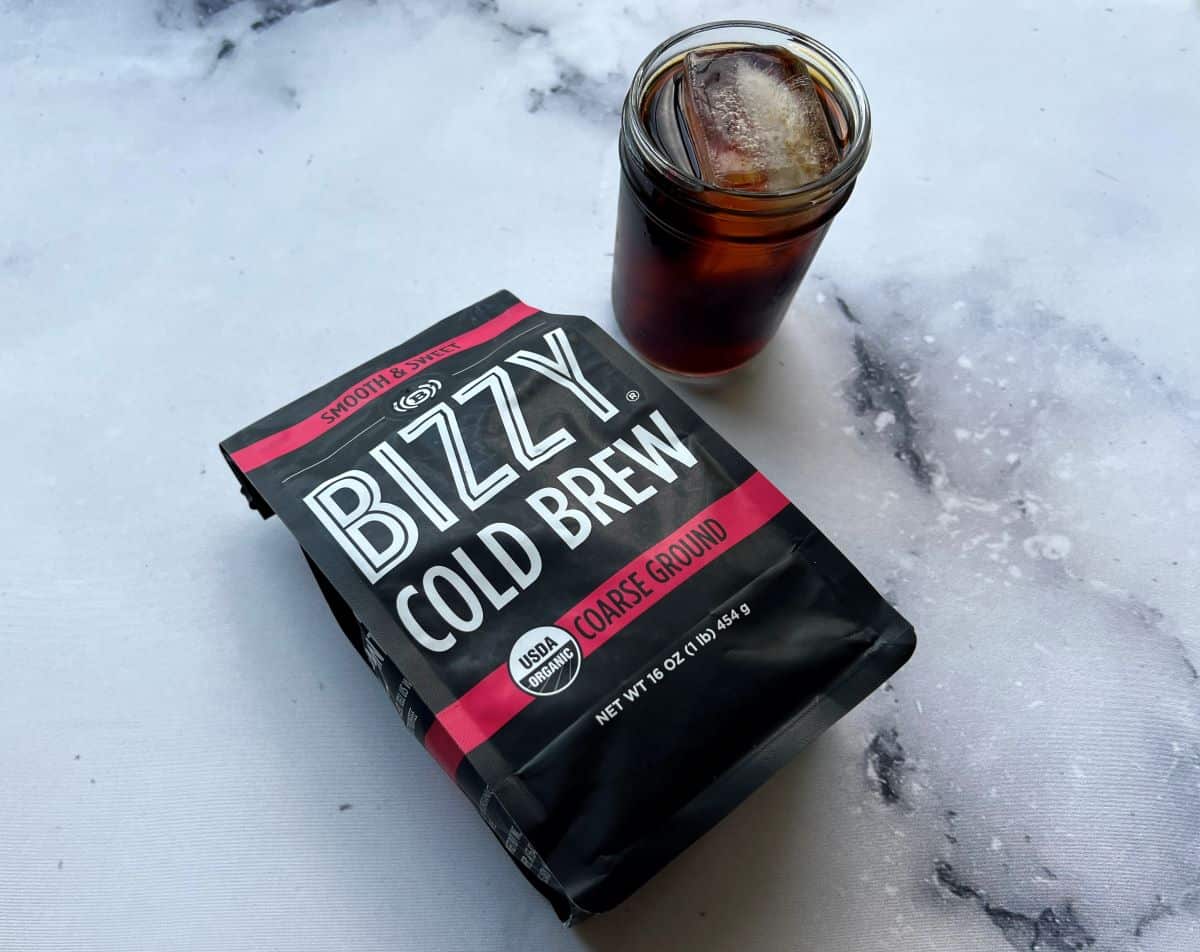 Here is how Bizzy Cold Brew 'Smooth & Sweet' scored in each of our criteria categories:
Taste & Texture: 5.0 / 5.0
Quality: 5.0 / 5.0
Unique Characteristics: 4.6 / 5.0
Value: 4.6 / 5.0
Production & Packaging: 4.8 / 5.0
Overall Score: 4.8 / 5.0
While you can make cold brew from just about any ground coffee you like, the best results come when it is made using coarse grind coffee. We sampled a bag of Bizzy Cold Brew 'Smooth & Sweet' and found it to be ideal for the task!
Bizzy is the brainchild of 2 friends who put their extensive R&D and consumer research experience to work, carefully testing as many types of beans, roasts, grinds, and brewing techniques as they could with the goal of creating the highest quality, best tasting cold brew possible. It took them 5 years, but they finally succeeded on both counts! In fact, this coffee ended up being our tasting panel's favorite in terms of taste--across the board!
This cold brew blew us away with its smooth mouthfeel and velvety pecan and caramel flavor notes. If you hand someone a tall glass of this with ice--or turn it into our Homemade Pumpkin Cream Cold Brew--they'll swear you must've gotten it from a fancy coffee shop! Each cold brew blend from Bizzy is made with USDA certified organic coffee beans which are sustainably produced and ethically sourced. And, they even partner with local farms to turn their used coffee grounds into compost.
Each bag comes with helpful brewing instructions and a link to the brewing info page of their website for additional help. Their recommended method could not be easier: simply mix grounds and water in a French press and let the mixture sit overnight. In 14-20 hours, your perfect cold brew is ready!
It's important to note that the ratio of water to grounds instructed on the package creates a cold brew concentrate which must be cut with water before drinking. The bag recommends a ratio of 2 parts water to 1 part cold brew, however, we found this to come out a bit weak for our tastes and landed on a 1:1 ratio.
It might take a little bit of experimentation to find the dilution that tastes best to you! What this means however, is that this type of ground coffee may not last as long as others, due to the fact that its yield may be lower.
Pros:
Is a super balanced coffee--nutty and rich, without the sharpness!
Tastes like something out of a high end coffee shop.
USDA certified organic.
Bizzy sources sustainable and ethically produced coffee beans and participates in composting programs.
Offers extremely easy and convenient brewing.
Cons:
The recommended ratio of dilution seems like it would be too weak for most folks.
Each bag may not last you as long, due to the lower yield.
Best Enhanced Ground Coffee: Laird Superfood Organic Peruvian Coffee 'Medium Roast'
Size: 12-Ounce Bag
Roast: Medium
Origin: Peru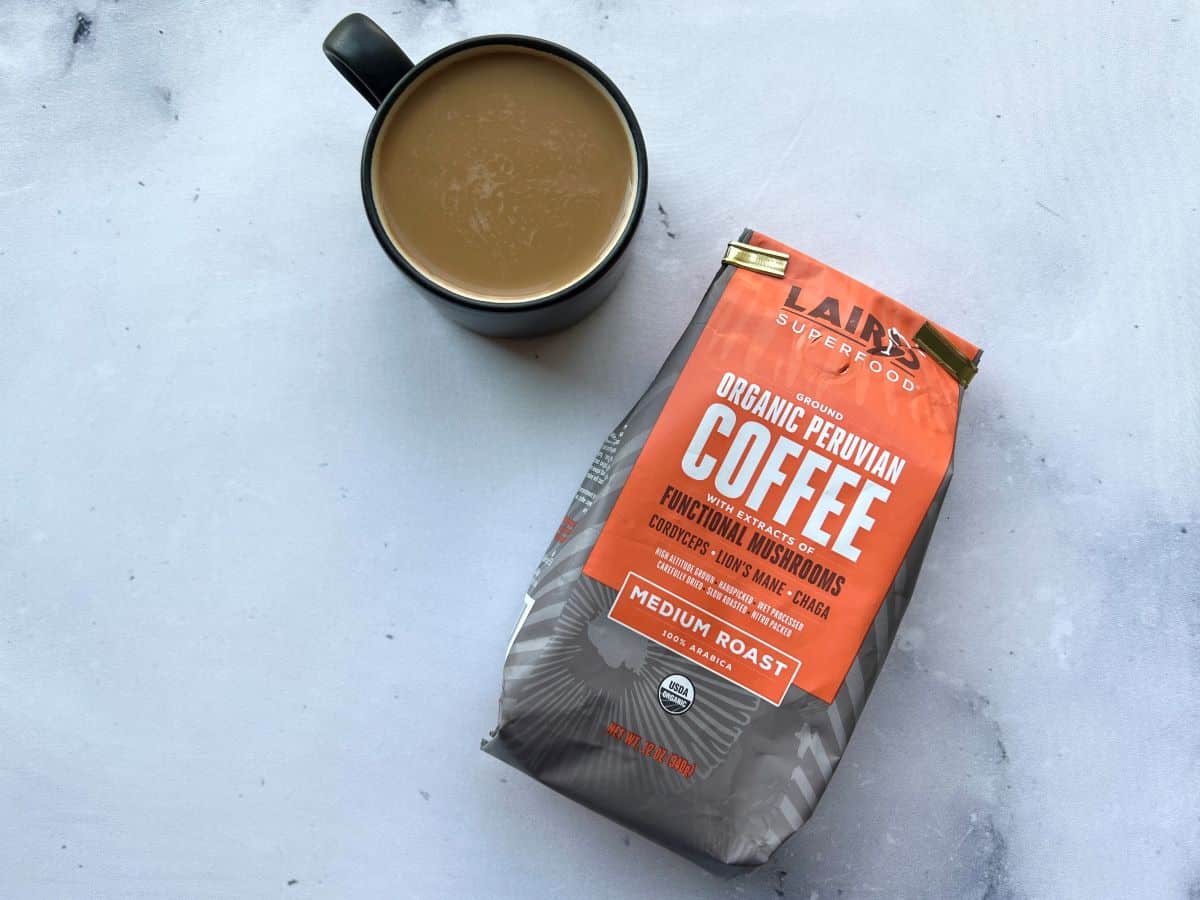 Here is how Laird Superfood Organic Peruvian Coffee 'Medium Roast' scored in each of our criteria categories:
Taste & Texture: 4.5 / 5.0
Quality: 4.7 / 5.0
Unique Characteristics: 5.0 / 5.0
Value: 4.5 / 5.0
Production & Packaging: 4.6 / 5.0
Overall Score: 4.7 / 5.0
Dominating the specialty coffee niche these days are "enhanced" coffees that feature additives like vitamins, MCT oil, or in the case of Laird Superfood Organic Peruvian Coffee, functional mushrooms.
Each bag contains extracts of cordyceps mushrooms, lion's mane mushrooms, and chaga mushrooms. Mushrooms like these are chock full of antioxidants and other vital compounds. Therefore, incorporating extracts of these superfoods into your diet is thought to help reduce inflammation, ward off signs of aging, balance blood sugars, and beyond!
As for the coffee part of this equation, Laird Superfood uses high altitude grown 100% organic arabica beans which are handpicked, wet processed, and small batch roasted. Once the coffee is processed and ground, the folks at Laird Superfood package their coffees in a nitro-based "proprietary inert gas packaging system". This eliminates oxygen in the packaging thereby helping to keep the precious grounds fresh for as long as possible!
All of these careful and time consuming production choices are thought to bring out the best flavor from the beans, with earthy, milk chocolate notes permeating the cup. And, if you're not a big mushroom fan, don't be put off by this one just yet! Our tasting panel didn't pinpoint any "mushroomy" flavor and we think that, if anything, the roasted mushrooms only serve to enhance the natural earthiness of the roasted coffee beans themselves.
That said, the flavor of the coffee itself here was not one of our favorites. We found it to be lacking in richness and the mouthfeel was a little off, but all things considered, not at all a bad way to kick off your day with some nutrient dense goodness!
Pros:
Contains nutrient dense extracts of 3 different mushrooms.
Made with organic arabica beans.
High altitude grown, handpicked, wet processed, and small batch roasted.
Nitro-packed, for optimal freshness.
Flavor is earthy, milk chocolatey.
Mushroom flavor is barely detectable.
Cons:
Overall coffee flavor is not as tasty as others we tested.
Best Espresso Blend Ground Coffee: Trader Joe's 'Shade Grown Espresso Blend'
Size: 14-Ounce Bag
Roast: Dark
Origin: Nicaragua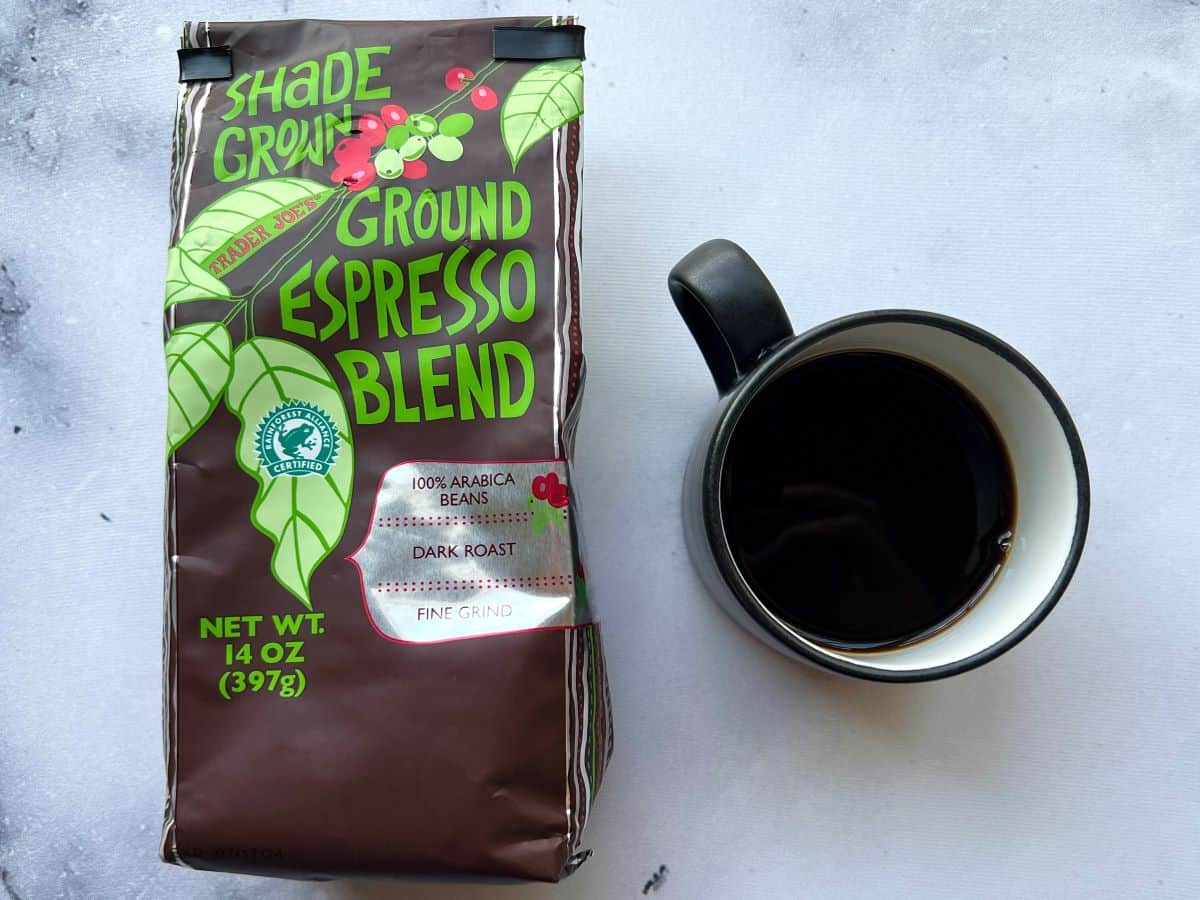 Here is how Trader Joe's 'Shade Grown Espresso Blend' scored in each of our criteria categories:
Taste & Texture: 5.0 / 5.0
Quality: 4.7 / 5.0
Unique Characteristics: 4.4 / 5.0
Value: 4.8 / 5.0
Production & Packaging: 4.2 / 5.0
Overall Score: 4.6 / 5.0
Trader Joe's 'Shade Grown Espresso Blend' won our hearts with its rich flavor-low acidity combo that offers an unbelievably robust yet smooth coffee drinking experience. With oaky, nutty notes and a hint of cacao, this fine grind blend made from arabica beans makes for a killer cup of espresso. It's also super versatile! If you brew it like any other ground coffee, it makes for a tasty, deeply flavorful cup of dark roast coffee. However you choose to use it, there are helpful instructions printed right on the bag for both of these options.
As for the beans themselves, they are shade grown on a family owned plantation in the Nicaraguan mountains. By shade growing the beans, they grow more slowly and therefore are allowed to develop and concentrate their flavors more deeply than sun grown coffee. In addition, shade growing helps to preserve natural habitat, making this a bird friendly, Rainforest Alliance Certified coffee. Despite all of this careful attention to origin and growing technique, this coffee still manages to be one of the most affordable blends of all we tested, coming in at just $0.65 per ounce.
You may be wondering, what exactly makes this ground coffee an espresso blend as opposed to a regular coffee? In addition to the dark roast, it boils down to the grind size. Finely ground coffee is ideal for espresso brewing as it allows the most amount of flavor and color to be extracted in the short, hot brewing time.
One thing this coffee can't do, however, is be brewed in a French press. Fine coffee grounds such as this option tend to clog or simply pass through mesh filters like those found in French presses. You're much better off using an espresso machine or a drip coffee maker for this one!
Pros:
Has robust flavor yet low acidity--very smooth!
Made with shade grown coffee beans.
Rainforest Alliance Certified and bird-friendly.
From a single origin, family owned plantation in Nicaragua.
Fine grind is perfect for making espresso.
Can brew as espresso or use it like regular ground coffee.
Cons:
Not ideal for use in a French press.
Best Ground Coffee FAQs
How Do You Pick the Right Ground Coffee?
When it comes to choosing ground coffee, it is for the most part a matter of personal taste. Factors like roast, flavor, and bean origin combine to create coffees which offer different drinking experiences, and this is exactly where personal preference comes into play.
As discussed above, grind size is important to consider in light of your chosen brewing method. Coarsely ground coffee is best for french press coffee and cold brew methods while finely ground coffee is necessary for espresso. No matter which variety you prefer, the best coffee, however, is always going to be the freshest coffee. Be sure to check the dates on packaging!
Is it Better to Buy Whole Coffee Beans or Buy Ground Coffee?
Again, this is a matter of personal preference. Whole bean coffee lasts longer, but pre ground coffee offers unbeatable convenience!
If you do opt for the former, you'll need to grind your own beans using a coffee grinder. Check out our guide to the Best Manual Coffee Grinder if you're in the market for one.
How Do You Store Ground Coffee?
To keep your ground coffee as fresh as possible for as long as possible, you want to be sure to store it properly. Keep the grounds in a tightly sealed, airtight container and store them in a dry, temperature stable area of your kitchen.
You might think that refrigerating your grounds will help them last longer, but refrigeration actually exposes your precious coffee to moisture. Keep them out of the fridge, or, for long term storage, pack them tightly and freeze them.
How Do You Brew Ground Coffee?
There are many ways to go about making the perfect cup o' joe! Here are a few of our favorite brewing methods, tips, and tricks.
Make French press coffee. Check out our full guide on How to Use a French Press and, discover some of the Best French Press models of 2023!
Use a coffee maker. Using automatic drip coffee makers is one of the easiest ways to make coffee! Simply add your grounds, add water, flip the switch, and let the unit do the rest.
Do it yourself! No coffee maker or press? No problem! We walk you through How to Make Coffee Without a Coffee Maker with a DIY pour over method.
What Can You Do With Used Coffee Grounds?
Once you have your energizing cup in hand, don't toss the grounds just yet! Their nitrogen rich nature means you can sprinkle them in a garden to fertilize plants and repel pests. Coffee grounds are also naturally abrasive and they offer a great natural option for scouring pans, cleaning kitchen surfaces, or even as a body scrub!
What's the Difference Between Ground Coffee and Instant Coffee?
Where ground coffee is the product of whole coffee beans which have simply been roasted and ground, instant coffee is produced from actual liquid coffee which is already brewed. Once it has completed the brewing process, the coffee concentrate is freeze dried, turning it into a powder that readily dissolves in water, thereby creating a cup of coffee once more!
Coffee grounds, on the other hand, do not dissolve in water and must be soaked in hot water and strained in order to extract their coffee goodness.
Final Thoughts on the Best Ground Coffee
No matter what type of coffee buzz you're looking for, there's a bag of ground coffee out there ready to help you achieve it. From a dizzying array of flavored coffees to the most perfect cold brew and espresso blends, we hope that our guide to the best ground coffee will help you to find your perfect cup.
In the mood for more coffee inspired recipes? Try our take on Chocolate Covered Coffee Beans or this Cinnamon Coffee Cake. And if you're in the mood for something different, take an alternative route to the caffeine kingdom with a steaming cup of Earl Grey or green tea!