Chocolate-covered blueberries- Fresh blueberries are coated in creamy melted chocolate and frozen until the chocolate has hardened. Chocolate-covered blueberries are a taste of paradise in bite-size pieces. When you bite through the hardened chocolate layer, you'll discover a fresh burst of fruit inside. These chocolate-flavored blueberries are a delicious snack or dessert to bring to parties that everyone will enjoy!
Move over, strawberries and chocolate. There's a new chocolate-dipped fruit in town, and it's fresh juicy blueberries! These sweet little blueberries make the perfect snack on their own, but when they're dipped in rich, creamy chocolate, they are out of this world! Chocolate-covered blueberries are a delicious way to enjoy some antioxidant-rich fruit while satisfying your sweet tooth guilt-free. Plus, they're super easy to make at home. So gather up your supplies and get started on these delicious homemade chocolate-covered blueberries. You won't regret it!
Why You'll Love This Chocolate Covered Blueberries Recipe
Simple-

No fancy equipment or complicated skills are needed for this tasty treat. With only two ingredients, these chocolate-covered blueberries may be one of the easiest recipes you can make! 

They Look Luxurious–

Whether you coat each individual berry in chocolate or make chocolate-covered blueberry clusters, they look really beautiful. They taste just as luxurious as they look! Serve them in a pretty bowl at parties or give them as a homemade gift with a cute bag and ribbon.

No Baking Required –

You can enjoy a delectable treat at home without even turning on the oven! This recipe only requires only a microwave, so you won't be heating up the whole house to satisfy your sweet tooth.

Healthy(ier)-

We all enjoy a good dessert from time to time, and these chocolate-covered blueberries have it all. They're delicious as a post-dinner sweet treat, they contain fruit, and they are full of antioxidants. You can enjoy these chocolate-covered berries guilt-free.
Equipment Needed To Make Chocolate Covered Blueberries
Microwave-safe bowl

Mixing bowl

Measuring cup

Toothpicks

Paper cups

Baking sheet

Parchment paper

Ingredients For Your
Chocolate Covered Coffee Beans Recipe
Chopped Chocolate

Blueberries
How To Make Chocolate Covered Blueberries
To make chocolate-covered blueberries, all you need is melted chocolate and some blueberries. Combine melted chocolate with the blueberries and arrange on a baking sheet for the chocolate to harden. Once the chocolate-covered blueberries have become firm, it's time to enjoy them!
What to Serve/Pair with Chocolate Covered Blueberries
Chocolate-covered blueberries taste amazing on their own, but they also pair nicely atop cheesecake, Pumpkin Pancakes, Vegan Vanilla Ice Cream, or Sweet Pear Flatbread. Try adding chocolate-covered blueberries to yogurt, waffles, or mixed with whipped cream, for an extra burst of sweet and fruity flavors.

Popular Substitutions & Additions
The most popular substitution for homemade chocolate-covered blueberries is the type of chocolate used to cover the blueberries. This recipe does not require a specific type of chocolate to make these homemade chocolate-covered blueberry sweets. There are many types of chocolate to choose from, including dark, milk, and white chocolate. Choose whatever kind of chocolate you like best. Have fun and play around with it. You can mix chocolate flavors together and create something magical.
Vegan, keto, and gluten-free choices are also available if you're on a diet or have food allergies.
The second substitution in chocolate-covered blueberries is the type of blueberries to use. Fresh blueberries may be substituted with dried blueberries. While fresh blueberries are soft and juicy, dried blueberries have the texture of a raisin, are a little sweeter, and keep longer in the refrigerator. Chocolate-covered dried blueberries would be a great addition to trail mix.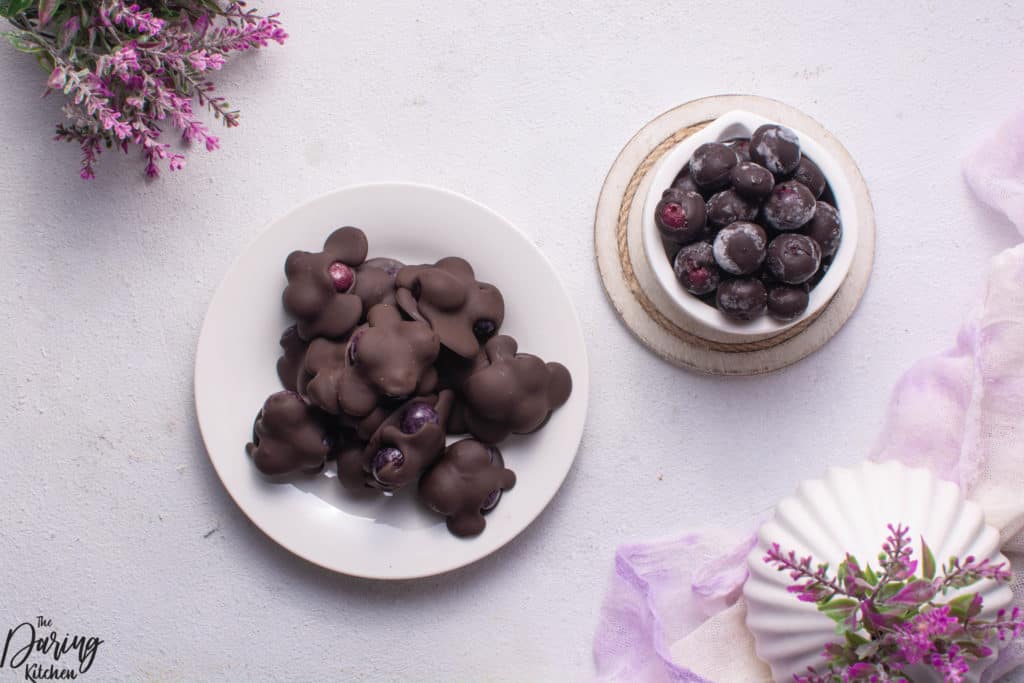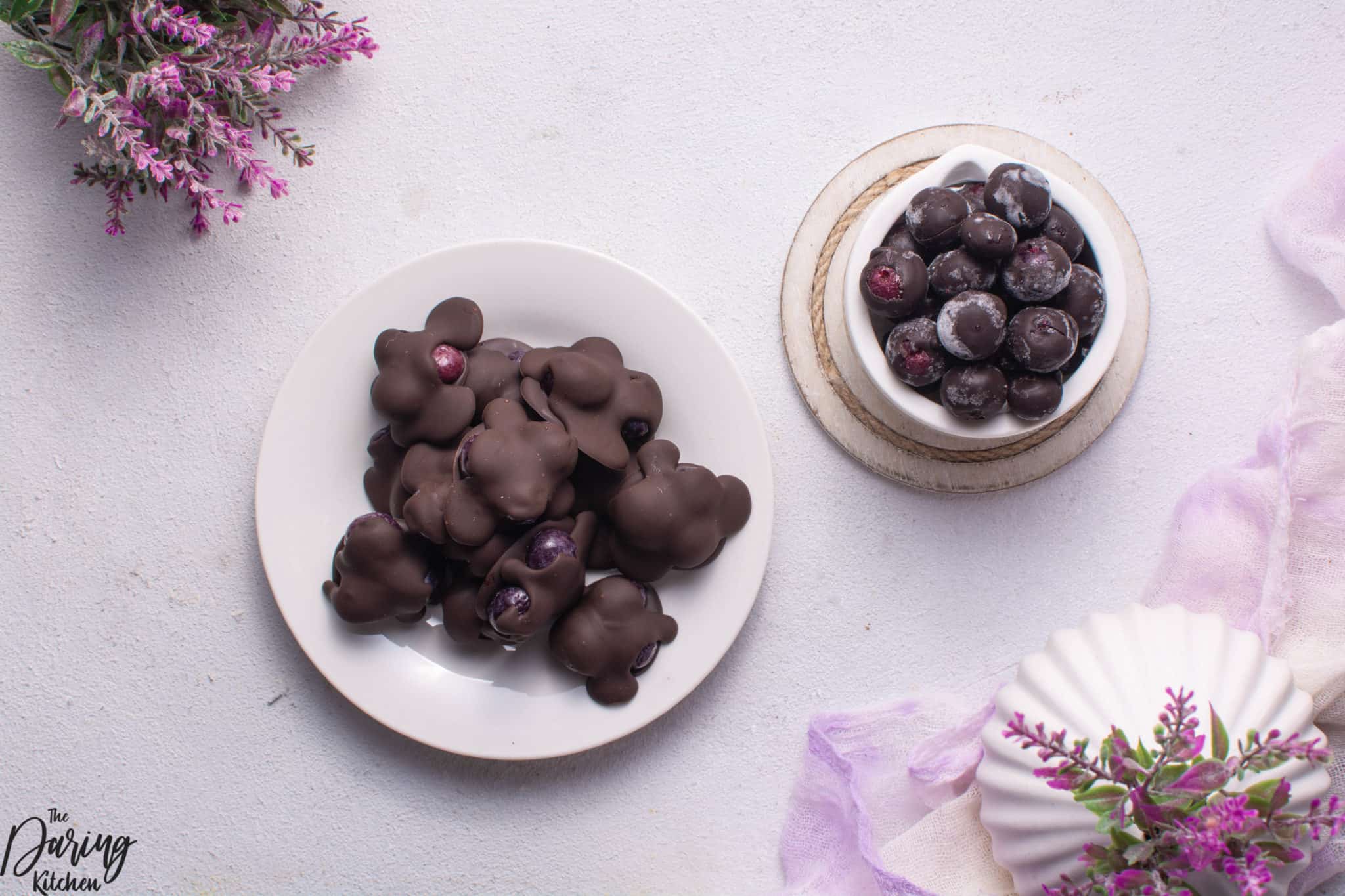 How To Reheat & Store Chocolate Covered Blueberries
Best Way To Store Homemade Chocolate Covered Blueberries
The best way to store chocolate-covered blueberries is in an airtight container or in a ziplock bag. 
How Long Will Chocolate Covered Blueberries Last In The Fridge?
If properly stored in an airtight container, homemade chocolate-covered blueberries will last up to three days in the refrigerator.
Can I Freeze Homemade Chocolate Blueberries?
Yes, you can freeze your chocolate blueberries in an airtight container or freezer bag. If stored properly, they will last up to 6 months in the freezer.
How To Reheat Chocolate Covered Blueberries
Reheating chocolate blueberries is not recommended. When you warm or cook chocolate-covered blueberries, they become gooey and messy! The berries will get soggy, and the melted chocolate will be all over the place. They are best when served at room temperature.

Homemade Chocolate Covered Blueberries Recipe
FAQs
Can I use frozen blueberries for this recipe?
No. The frost on frozen blueberries would keep the chocolate from sticking to them. When frozen blueberries thaw, they usually tend to be soggy and mushy, so I wouldn't try using them. For best results, I suggest using fresh blueberries.  
Do I wash the blueberries before covering them in chocolate?
Yes! Before eating or using it in a recipe, wash any fruit or vegetable. Washing blueberries thoroughly and patting them dry with a paper towel is very important. Make sure the blueberries aren't wet at all; if they are, the chocolate won't stick to them.
Can I add more chocolate to the blueberries to make a thicker chocolate coating?
Yes! To make a thicker layer of chocolate on the blueberries, follow the recipe as written. After about 30 minutes, the chocolate should be hard. Once the chocolate has hardened, repeat the chocolate dipping and cooling process. You can do this several times to achieve the desired chocolate thickness.
Will chocolate chips work in this recipe?
Of course, use the chocolate you have on hand. If the chocolate is a larger piece, cut it into small pieces to speed up the melting process and avoid burning it.
If I don't have a microwave, can I still make this recipe?
Yes, you can. If you don't have a microwave, you may use a double boiler on the stove instead. You can also use a make-shift double boiler with a normal saucepan and heat-safe bowl.

Other Mouthwatering Recipes With Fruit You'll Love
Don't Forget To Come Back And Let Me Know How Your Milk Chocolate Covered Blueberries
Turned Out!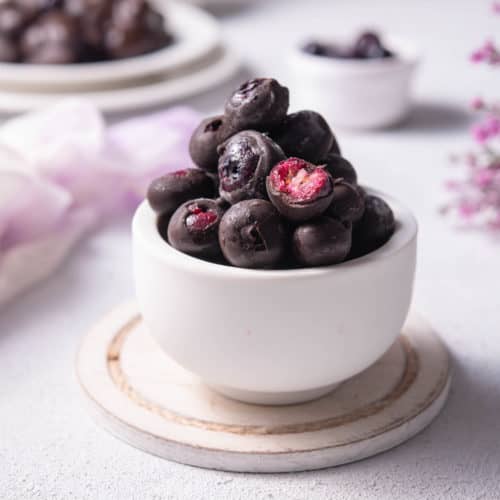 Chocolate Covered Blueberries
Perfectly ripe, plump blueberries wrapped in rich, dark chocolate. A heavenly indulgence that's both sinful and satisfying.
Print
Pin
Rate
Instructions
Pop your blueberries in a freezer for 10 minutes. This way the chocolate will instantly firm up on blueberries.

Melt the chocolate in a microwave.

You can coat blueberries in two ways: the first method is to prick the blueberries on a toothpick and dip them into the chocolate. Once coated fully, you can use the paper cups to hold blueberries upward so the coating is perfectly round.

The second method involves placing some of the chocolate on the baking sheet lined with parchment paper. Add a few blueberries on top of the chocolate and cover with some more chocolate.

Freeze the blueberries until the chocolate is firm.
Video
Nutrition
Calories:
306
kcal
|
Carbohydrates:
48
g
|
Protein:
3
g
|
Fat:
15
g
|
Saturated Fat:
9
g
|
Polyunsaturated Fat:
1
g
|
Monounsaturated Fat:
5
g
|
Sodium:
8
mg
|
Potassium:
241
mg
|
Fiber:
6
g
|
Sugar:
37
g
|
Vitamin A:
80
IU
|
Vitamin C:
14
mg
|
Calcium:
19
mg
|
Iron:
2
mg