There's no denying that toaster ovens and air fryers are convenient appliances that perform closely similar functions. While they share similarities, they also differ in various aspects.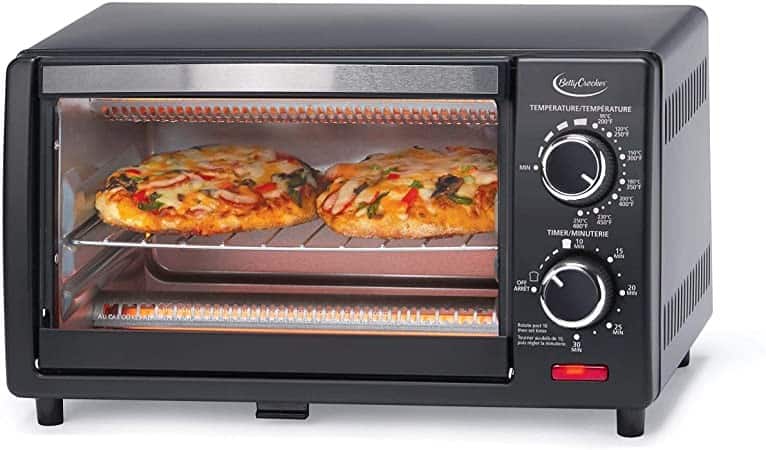 Therefore, it's no surprise that there's some debate as to which of the two appliances produces better quality food, and in most instances, people support the one they own.
With that being said, if you're engulfed in a wave of confusion, wondering which appliance is most suitable for your home, you've come to the right place. In this guide, we'll delve into comparing an air fryer vs toaster oven to help you make up your mind. Read on!
What Is an Air Fryer?
Defined loosely, air fryers are compact kitchen appliances that use convection air currents for meal preparation. These appliances have been fitted with powerful fans that circulate hot air at soaring speeds to produce crisp meals with fried textures.
The fact that an air fryer can replace the generic deep fryer is the reason why this handy device is becoming increasingly popular among chicken lovers. Just as the name indicates, air fryers don't use oil.
How to Use an Air Fryer for Meal Preparations
An air fryer has a removable bucket that houses the basket, which sits above the drip tray. To start the cooking process, take out the bucket, place your food inside the basket, and jerk it back into the air fryer. Then, alter the timer and temperature control to achieve the desired outcome.
Given that the appliance's heating elements are positioned on the top side, you'll need to shake the basket a few times to ensure uniform cooking of your meal. Doing so is particularly important when the ingredients are clumped together.
What Is a Toaster Oven?
As a smaller version of a generic oven, a toaster oven comes in handy for broiling, toasting, and baking, depending on the meal you're cooking. Moreover, this appliance retails with front doors, granting you free rein to open it horizontally, vertically, or have it fitted with top-notch elements at the bottom and top.
How Does a Toaster Oven Work?
For hot meals, radiant heat will emanate from the oven of your toaster. As a result, it will heat the elements and warm up the air in the toaster, implying that the baking pan's conduction is the main heat source.
Air Fryer vs Convection Toaster Oven
The only variation between a regular toaster oven and the convection counterpart is that the latter is supercharged by fans. While air fryers also use convection for cooking food, they are more powerful, which implies that they circulate heat faster than convection toaster ovens.
Furthermore, air fryers come with baskets in which you place small portions of food. It's a no-brainer that smaller spaces translate to more confinement. Therefore, the fan of this appliance solely focuses on its heating in a small space.
Air Fryer vs Toaster Oven: What's the Difference?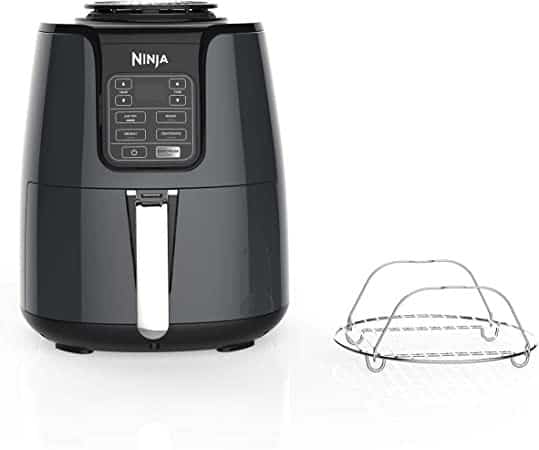 Now that you understand what these two appliances are and how they work, let's explore their differences.
Cooking Methods
Some foods, such as chicken nuggets, breaded foods, and baked chicken, are better suited to an air fryer than a toaster oven. It's gentler on food than during baking compared to toaster ovens.
However, this doesn't imply that a toaster oven doesn't cook baked foods equally as great as it can produce more flavorful delicacies, depending on the type of food and chef's skill.
With an air fryer, you can lower the additional fats in your diet as the foods cooked in them don't need any oil. The uniformly-distributed heat will perfectly cook and bake your food, making it an incredible option for anyone adopting a healthier lifestyle that includes diminishing fat intake.
While a toaster oven is more versatile, cooking a vast assortment of foods compared to an air fryer demands a dab of oil or more for moisture.
Heat Source
Granted, both appliances generate heat. However, it's the method that differs. Toaster ovens use a fundamental strip of heating elements put on the top and bottom concurrently. For older models, the heating elements are only put at the top.
Contrarily, an air fryer has stronger heating elements, usually in the form of a coil. Nonetheless, it's the powerful fan of an air fryer that makes all the difference. Even if you opt for a toaster oven that uses convection, it's still no match for an air fryer.
Cooking Duration
An air fryer cooks food in nearly half the time it takes for a toaster oven as it soars to extreme temperatures faster. While doing so, it makes sure the ingredients are well-preserved without killing the nutrients.
Cleaning and Maintenance
Regarding the requirements and cost to maintain an air fryer vs. toaster oven, they are at par. While cleaning each appliance is a walk in the park, an air fryer takes the cake if you don't use oil for cooking your meals.
The pan in the air fryer is usually nonstick, making it easy to clean. Furthermore, getting the surrounding materials spick-and-span is a breeze.
Although the difference in the time you'll take to clean each appliance is negligible, air fryers may take a shorter time as they are smaller. On the other hand, the larger space of toaster ovens makes it easier to reach all corners inside during cleaning.
It's worth noting that manufacturers are churning out self-cleaning toaster ovens in recent times, making them an enticing option to consider.
Temperature
It's worth noting that an air fryer heats faster, reaching significantly higher temperatures than a toaster oven. It does so because it's more compact with a better heat distribution system. It's this feature that makes air fryers perfect for exquisite dishes and a myriad of desserts.
A toaster oven may at times have an automated temperature adjustment feature whereby it re-adjusts the level of heat inside. This excellent feature promotes trying out a multitude of recipes.
Size
An air fryer is considerably smaller than a toaster oven, making it unsuitable for extensive course meals. Nevertheless, it can cook a vast assortment of foods, one after another, faster.
A toaster oven is larger, allowing you to cook larger food quantities at a time. For instance, you can cook lamb chops and chicken, something that an air fryer cannot accommodate.
Furthermore, an air fryer is more compact, which means it can be easily tucked away into tighter spaces in your kitchen. Keep in mind that both appliances can be unplugged and stored away when they are not in use.
Insulation
Compared to an air fryer, a toaster oven boasts little insulation. Consequentially, its exterior surface heats in a jiffy. Experts advise against placing plastic objects or flammable materials next to it to curb hazardous fire situations when using a toaster oven. Furthermore, you're advised to make sure you're using a toaster oven in a well-ventilated room.
With an air fryer, the cooking basket is placed in a well-insulated bucket. Moreover, the appliance is properly insulated. Therefore, if you reside in a hot area, we recommend using the air fryer vs. toaster oven.
Power Usage
Upon looking at a Hamilton Beach Toaster Oven, you'll notice it has a rating of 1400 watts compared to the Ninja Air Fryer of 1550 watts. For a more powerful kitchen appliance, this wattage difference is minimal. Moreover, the better insulation that an air fryer provides makes it more energy efficient compared to a toaster oven.
Safety and Potential Mechanical Problems
Air fryers are relatively new cooking appliances that use more powerful and complex heat sources to evenly cook the food inside. Toaster ovens, on the other hand, exude more simplicity and have been around for years. Overall, this implies air fryers are more susceptible to mechanical issues compared to toaster ovens.
If you invest in a top-quality air fryer, it's still likely to break down. However, the likelihood is much higher compared to a toaster oven.
Furthermore, the intense heat in air fryers makes them more vulnerable to safety issues. When used correctly, an air fryer is a safe appliance. However, in comparison with a toaster oven, safety issues are more likely to crop up.
Price
When you compare the typical air fryer vs. toaster oven, there's no denying that air fryers are pricier. Both appliances have a wide range of products, which is usually the case.
However, upon checking out the most affordable toaster oven on sites like Amazon, you're looking in the $30 to $40 bracket, for instance, the Betty Crocker BC-1664CB.
The most affordable air fryers, on the other hand, are at least $50. Most people will purchase a toaster oven for $40 and shell out a few hundred dollars for an air fryer. That's a big price gap.
Digital
Nowadays, nearly all air fryers are fitted with digital displays that come across as contemporary and create the impression of a smart appliance. The same can't be said about toaster ovens that still use the traditional rotary dials.
Air Fryer vs Toaster Oven: Common Features
Despite the differences, these two appliances share the following commonalities.
Easy Cleanup
A conventional air fryer is regarded as easier to clean because you can lift the cooking compartment entirely out of the unit to clean in the sink with soap and water. Nevertheless, cleaning a toaster oven is also a hassle-free process. When it comes down to it, both units are easy to clean.
Compact
Both kitchen appliances are compact countertop units compared to conventional ovens. Their compact nature makes it easy to transport around the kitchen.
When they are not in use, you can easily tuck away a toaster oven and air fryer. It's worth noting that the increased insulation of an air fryer makes it easier to store.
Air Fryer vs Toaster Oven: Which Is Healthier?
From a layman's point of view, both of these kitchen appliances are closely similar as far as health is concerned. Some may argue that a toaster would be the healthier option as it allows you to cook foods without the addition of oil. However, for foods cooked by an air fryer, it's advisable to spritz the surface with oil for better crispiness.
To Wrap It Up
As you can see, there's no surefire way of assuring you about the kitchen appliance that would best suit your needs. Toaster ovens and air fryers feature many purposes, so it's essential to grasp all these functions to select the appliance that complements your cooking lifestyle.
An air fryer would be the smartest option if you have a small kitchen top and prefer a versatile gadget. Moreover, it's also recommended for anyone who wants to cut back on the amount of fat in their cooked foods.
Being cheaper than an air fryer, a toaster oven is the best alternative for people who gravitate more towards toasted foods than fried options and are on a tight budget.