Here's the deal!
Starting your baby on solid food can be both exciting and terrifying. Sure, buying pre-mushed sachets of baby food and baby formulas from the grocery store seem infinitely easier. But then there's the added stress of figuring out what's in the commercial food you're buying, and whether it's actually safe for your little one. So, to be on the safe side, many parents opt to cook the food themselves. The problem is that unlike adults, children don't have the teeth to bite into those foods. Fortunately, there's a simple solution to this problem: a baby blender.
Making healthy homemade baby food is a lot easier when you have a trusty contraption that does the bulk of the work for you. However, with dozens or possibly hundreds of options out there, each with its own features, pros, and cons, how do you figure out which is the best baby food blender for your needs? If you're having trouble coming to a decision, we've done all the heavy lifting for you so that you don't have to.
In this guide, we are going to do an expert review of 10 best baby blenders you'll find on the market.
Let's dive right in.
Why Buy a Baby Blender?
Still on the fence about buying a baby blender? Here, well discuss a few reasons that might just change your mind.
Saves Time
In the absence of the blender, you'll probably need to use a ton of appliances to get the food done. A pot, steamer and even a hand mixer perhaps. All of which could take up a chunk of time to whip up a decent meal. With a blender, however, you can perform all steps in one place and end up saving yourself both time and energy.
Far Less Clean Up
This is pretty simple really. Without a baby blender, you'll have to use a set of different appliances before you can get the food ready. Meaning you'll have more utensils to clean too.
Factors to Consider When Buying a Baby Blender
Even though they share a common purpose, various baby food blenders will have different discrepancies that set them apart from the rest. Here, we are going to discuss a few common features that you should keep an eye out for when choosing a suitable product to buy.
Cleanup
Blending food is a messy affair. And between taking care of the baby and cooking food, the last thing you want is to have to deal with a blender that just doesn't seem to get clean. Not to mention, hard to clean models can also become a breeding place for bacteria. Hopefully, keeping your new appliance clean won't be too much trouble. A thoughtfully build blender won't have too many crannies, ridges, and nooks for dirt and debris to collect inside. Or worse get stuck. Some blenders even feature an automatic cleaning mode to make cleaning it up fairly easy. Therefore, when making a purchase decision, check to see that the baby food blender you're going for is easy to clean and has easily removable parts so that you can wash the blender from the base up.
Power
Pretty much any blender can blend soft foods into a smooth puree. However, tougher items such as leafy greens with lots of fiber require an appliance with a powerful motor and well-designed blades to get that smooth lumpless puree.
Price
How much are you willing to spend? Baby food blenders vary widely in price. You can buy one for $100, several hundreds or close to $1,000. Many fancy baby blenders will even come with a gourmet treatment with recipe books and treats but at a much higher price. However, if you can do without the fancy lavish perks choosing a more mundane baby blender will save you tons of cash.
Technology
A lot of baby blenders these days try to incorporate sophisticated technology to help prepare food automatically. So, you might come across a blender with buttons to blend soups, smoothies or crush ice with just one key press. You definitely want to make sure that your baby food blender offers maximum convenience to take the chore out of cooking.
Materials
Most baby food blenders are made from plastic. Now, while this is not much of a problem, there's the risk of some plastics containing Bisphenol A (BPA) which can leach into the food you are preparing. And while there's no proof that BPA is indeed bad for your health, the mere fact that it can leach into food and drinks is cause for alarm. As such, you might want to avoid a model that has BPA components altogether.
Capacity
The capacity of the blender is an important factor to consider because it dictates the portions of food you can whip up at a go. If you only intend to make a single portion at a go, then a smaller capacity would be more suitable for you. On the other hand, if you intend to cook several batches at a go and refrigerate them for future use, you'll want a blender that has a larger capacity.
Durability
A well-constructed baby blender gives you a longer shelf life for years and years to come. Which is perfect especially if you're planning to have more children in the future. A flimsy model, on the other hand, will cost you far much less but will have higher chances of giving into wear and tear. Not to mention the fact that there's the risk of a part breaking off and making its way into your baby's food, therefore, causing more harm than good.
Consistency
When babies first start off on solid foods, you want to ensure that the food is completely smooth to avoid the risk of choking on the lumps. However, you and I both know that at some point you'll have to increase the lumpiness of the food so as to get the baby used to different textures. As such, the baby blender you opt for should be capable of producing foods for varying consistencies.
Space
If this is going to be a permanent addition to your kitchen, you need to check that its footprint won't take up too much of your kitchen counter space. In Addition to that, its height should be reasonable enough to allow it to slide into a cupboard when you need to store it in between uses.
Best Baby Blenders Reviews
Braun MultiQuick 5 Baby Hand Blender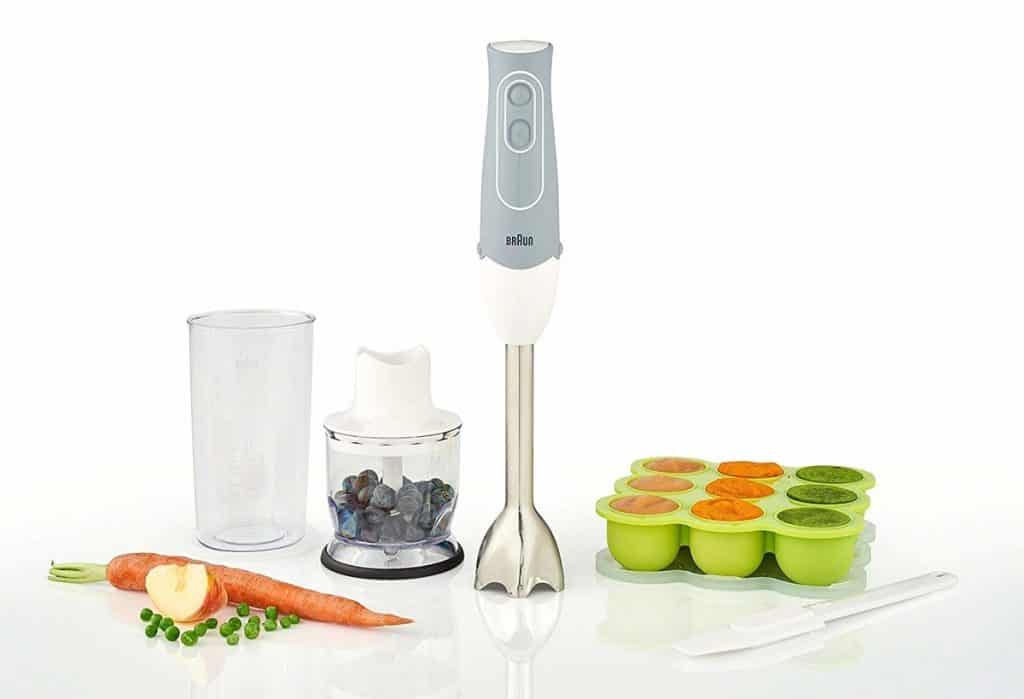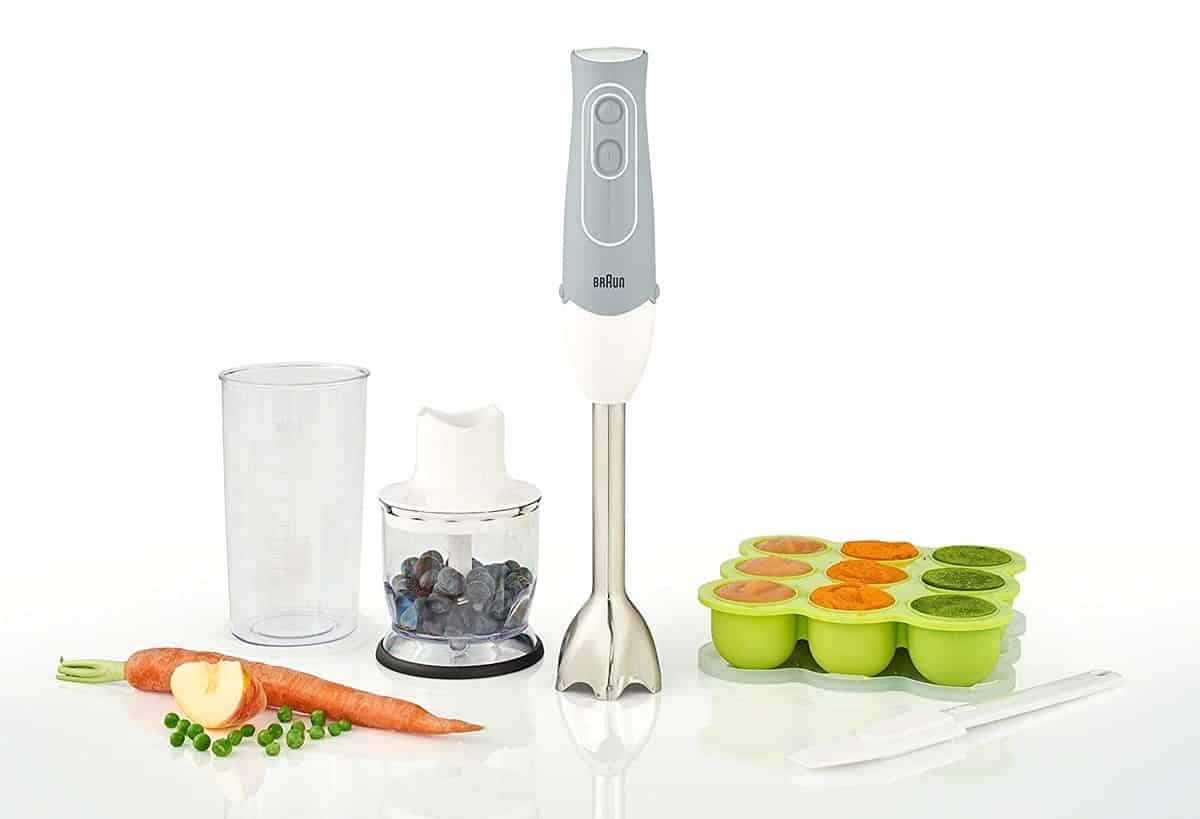 According to Braun, the MultiQuick is the perfect way to introduce your little one to solid foods (and we agree!). Featuring a Powerbell plus technology that provides an extra milling blade that finely chops and evenly blends foods into smooth purees, the Braun MultiQuick is without a doubt reminiscent of any top rated blenders for baby food you can think of on the market. It has a Splash control that eliminates splashing to facilitate a rather seamless cleanup time and has easy click attachments that help you whip up a decent mill in just a couple of minutes. In addition, you can also create soups, smoothies, and sauces for yourself too. Small in size and easy to store, this is is a great hand blender for baby food making!
Highlights of the Braun MultiQuick 5 Baby Hand Blender
Splash control technology that prevents splashing.
Ergonomic design that provides a comfortable grip and slip-proof operation.
Large capacity that allows you to prepare multiple meals at a go.
Qooc 4 in 1 Mini Baby Food Maker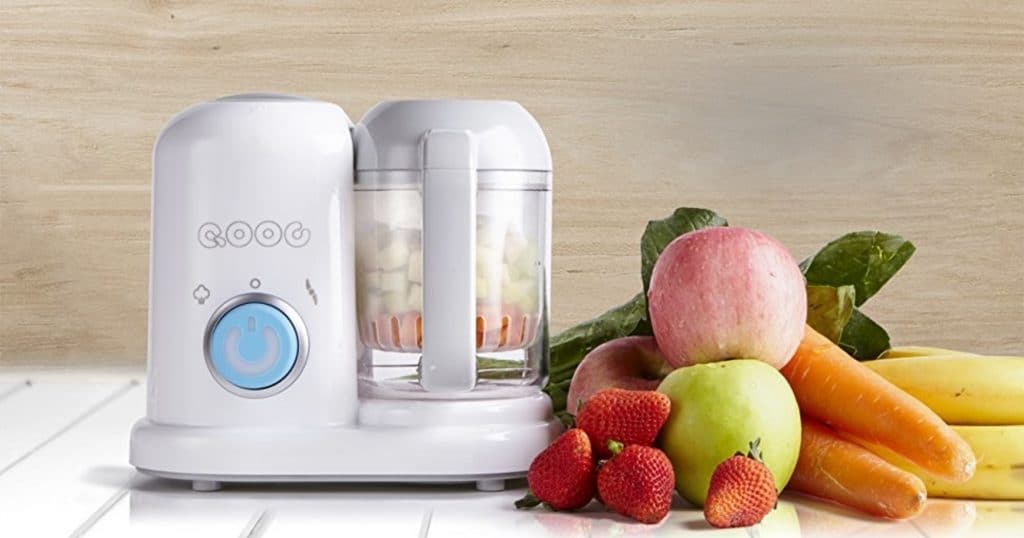 Whether you want to steam or blend your baby's food, you can get the best of both worlds with the Qooc 4 in 1 Mini Baby Food Maker. Costing just about $69.95, this uniquely designed baby food maker features high-quality blades that make the chopping process faster and has a compact design that takes up a fairly small footprint on your countertop. In addition, it has an ergonomic design that allows for easy one-handed operation when you're preoccupied with other chores.
Highlights of the Qooc 4 in 1 Mini Baby Food Maker
It is 100% baby safe.
Ability to function with little or no noise at all.
Ability to steam, defrost, reheat and blend in a little under 15 minutes.
A compact footprint that makes it easy to store.
Easy to clean and use.
Easy one-handed controls that allow you to prepare food while still holding your baby on the other arm.
Impact resistant design that extends its lifetime.
Mliter All in One Baby Food Maker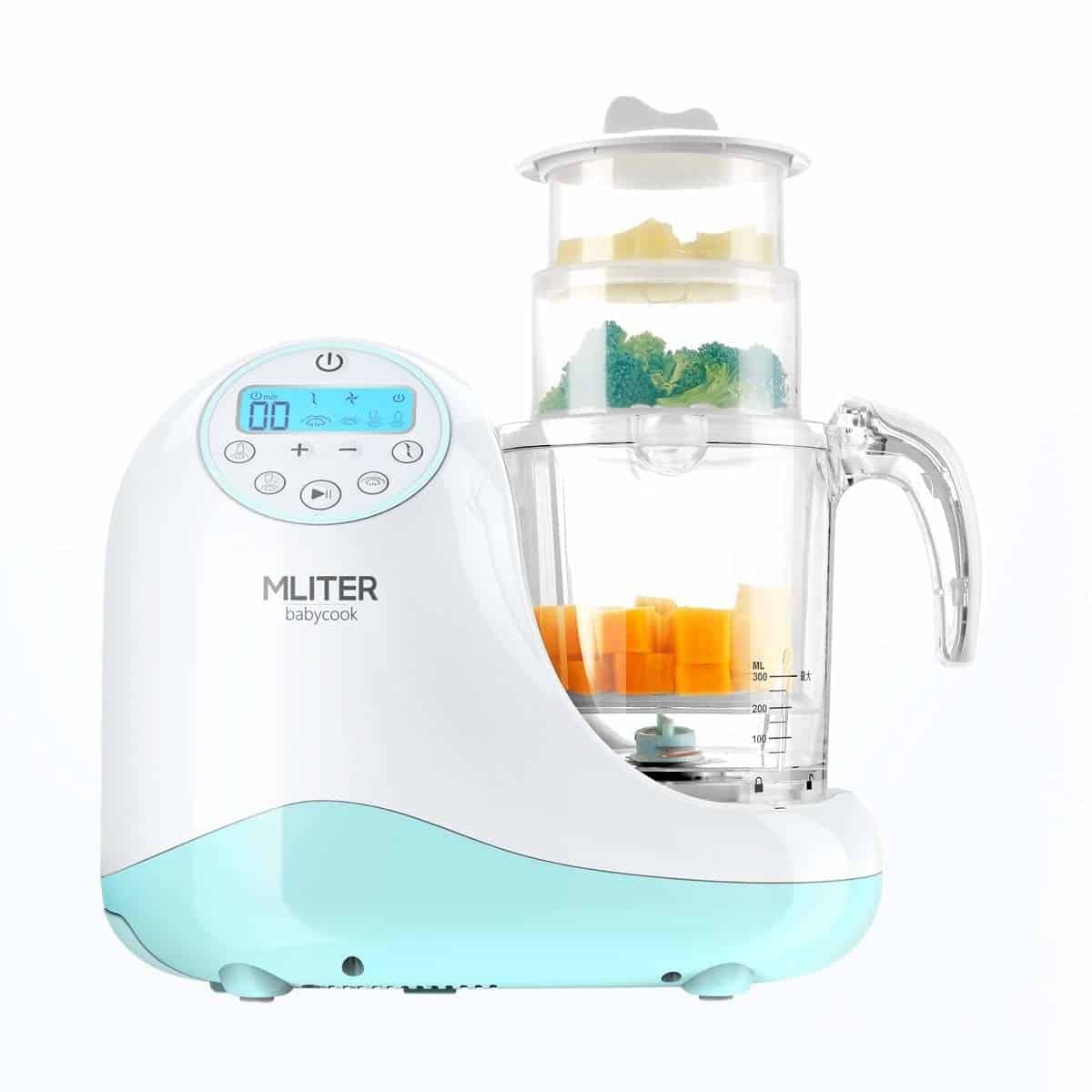 Featuring a professional yet simple to use design, this top baby food maker is an all in one appliance that allows you to steam, blend, chop and reheat all types of baby food. Convenient for pretty much all busy moms, this ingenious blender has a large enough capacity that makes it easy to whip up batches of food at a time. As for how much counter space it takes up, well this appliance is pretty compact and leaves a fairly small footprint meaning that it not only takes up little space on the counter, but you can also slide it into the cupboard in between uses if you want it out of the way.
Highlights of the Mliter All in One Baby Food Maker
Easy to use and clean.
Ability to steam, reheat, cook, blend, and chop.
LCD display that shows all working status.
Philips Avent SCF870/21 Combined Baby Food Steamer and Blender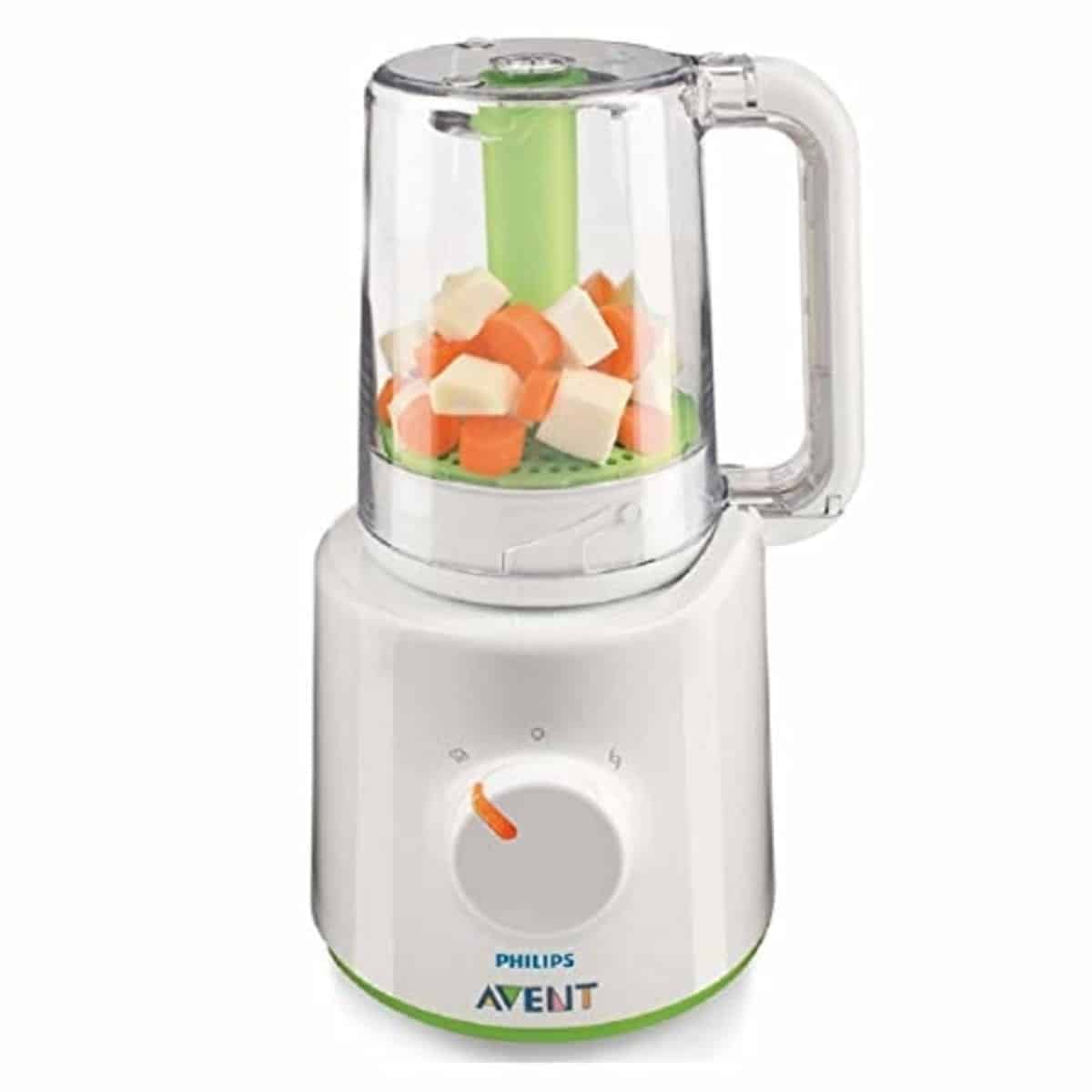 For those who don't mind splurging a little more cash to get a high-quality blender, the Philips Avent baby blender makes for a great choice. Costing about $249.90, the Avent baby blender has everything you need for a stress-free weaning. The blender is also BPA free and comes with a recipe book to guide you on the various meals you can whip up.
Highlights of the Philips Avent Baby Blender
Unique 4 in one design that steams, defrosts, blends and reheats baby food.
Tasty and nutritious weaning recipes.
Easy to clean.
Beep alert notification that alerts you when the food is cooked to perfection.
Cooks up to four meals at a time.
Compact design for easy storage.
Ability to cook several portions at a go.
Magic Bullet Baby Bullet Baby Care System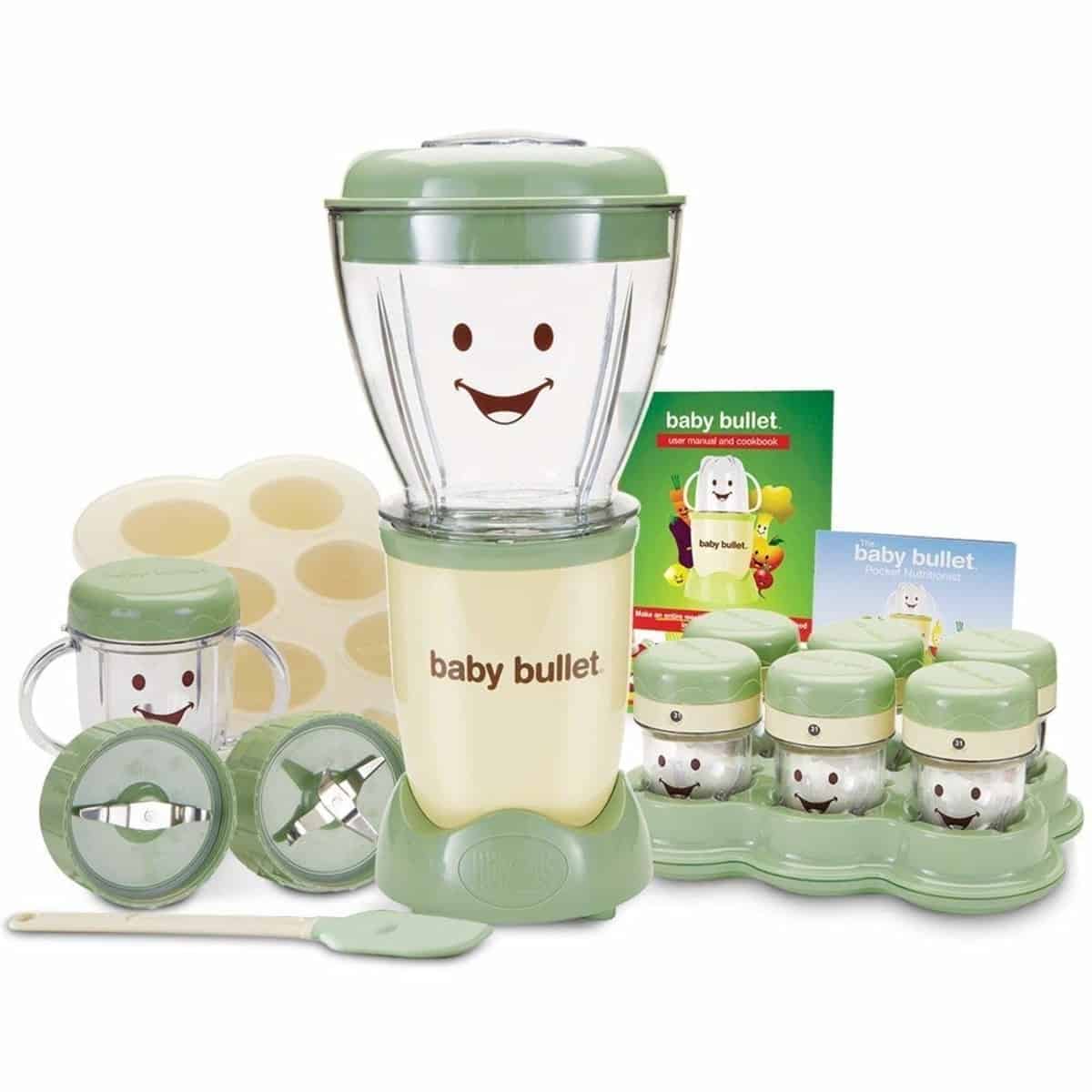 The Magic baby blender bullet is an easy and convenient blender that takes your culinary game up a notch. It comes with a refrigerator-friendly date dial feature that allows you to keep track of your food and a tip-proof tray that helps you store each date dial cup without worrying about the food tipping over and spilling. It also has a large enough capacity that makes it easy to prepare several batches of food at ago for later use. Costing about $52.95, the Magic Bullet is everything you need to make wholesome healthy meals in minutes.
Highlights of the Magic Bullet Baby Bullet Baby Care System
Easy to use and clean.
Saves time.
It has a date dial feature that helps you keep track of your baby food.
It prepares food in under 5 minutes.
Ability to make healthy, wholesome nutritious meals.
Cuisinart BFM-1000 Baby Food Maker and Bottle Warmer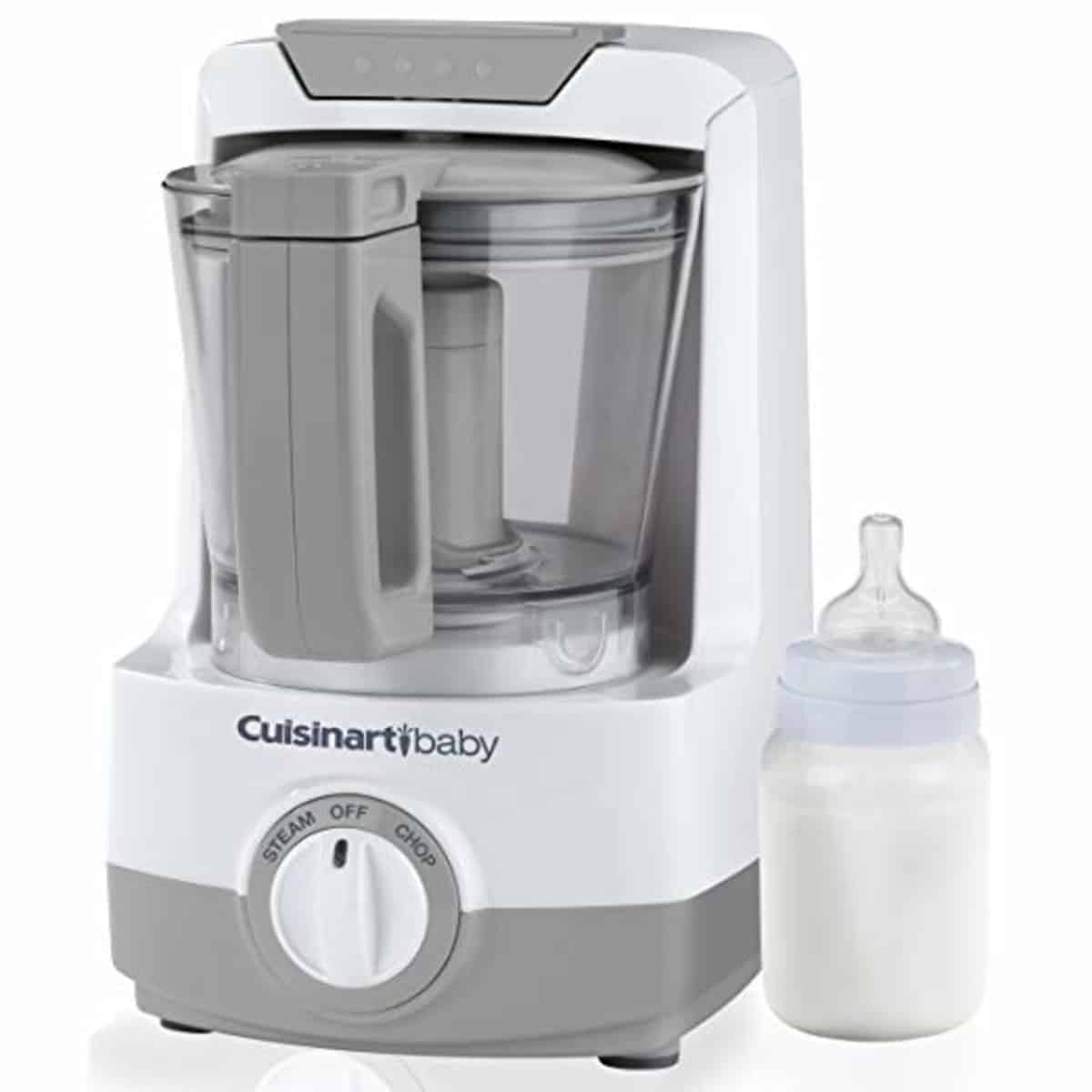 Making food for your little one has never been easier! Boasting of a 4-cup work bowl for plenty of extra leftovers to keep for later, Cuisinart is a fast and easy way to prepare healthy meals that the child will enjoy. As an extra perk, the blender also comes with a recipe booklet that takes the guesswork out of cooking by detailing which foods to try, the ages and the exact food to water ratio so that meals are done to perfection.
Highlights of the Cuisinart BFM-1000 Baby Food Maker
Ability to steam, chop and puree food.
It comes with a bowl seal that prevents spilling.
Auto shut off feature that turns off the unit when the water has evaporated.
User-friendly dial control with LED indicator light.
Blade lock system that holds the blade in place while pouring.
A built-in bottle warmer that heats up the baby's bottle to the right temperature.
Easy to use and clean.
Beaba Babycook 4 in 1 Steam Cooker Blender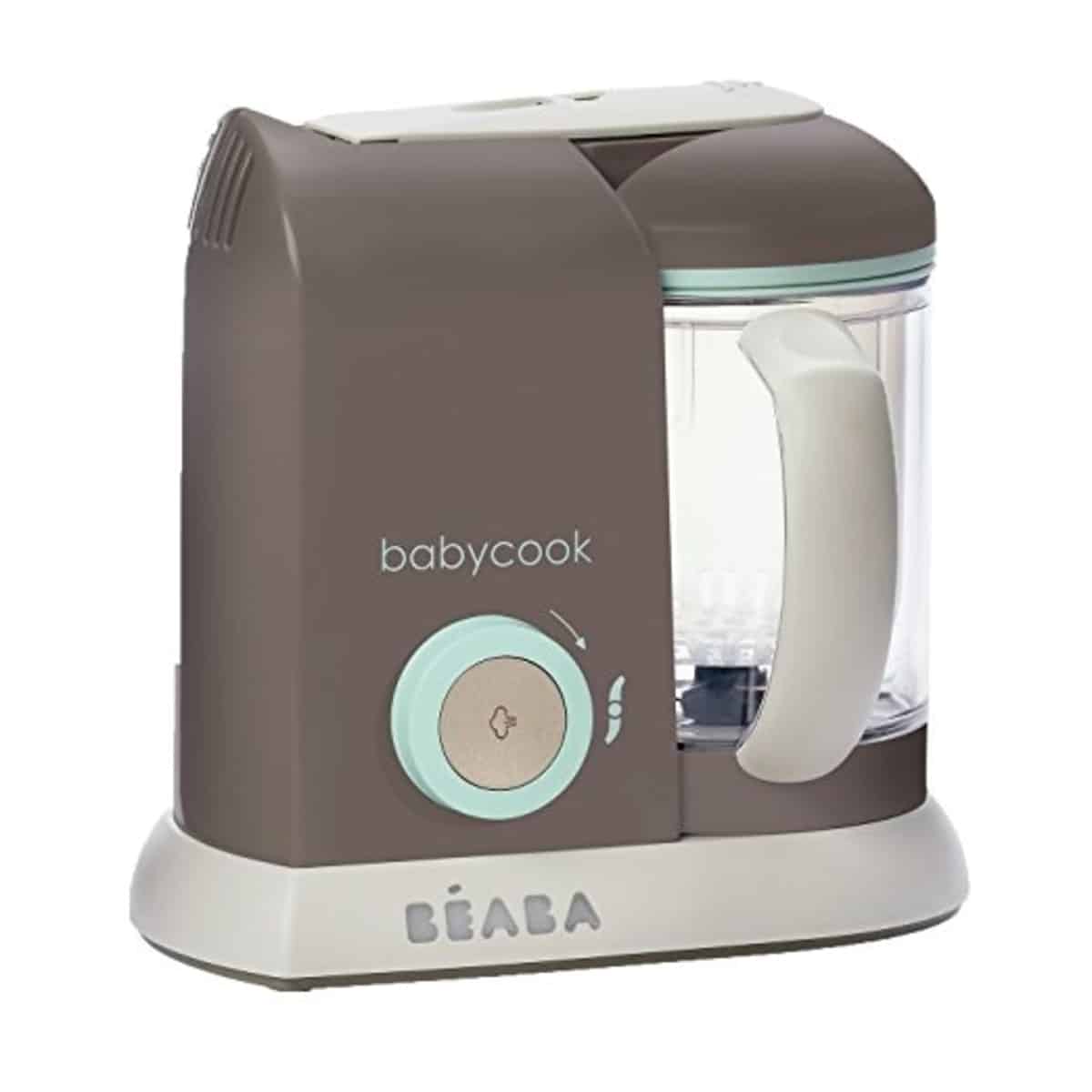 Synonymous with quality, Babycook is a one of a kind appliance that doubles up as a blender, steamer, defroster and warmer to prepare healthy nutritious baby food. Chic enough to pose as a decoration atop your counter, this exquisite blender can easily be mistaken for a coffee maker. It has a unique and innovative one hand design and a remarkable sense of convenience which makes it easy for you to whip up a nice meal while holding your baby in your arms.
The Beaba Babycook also boasts of a large capacity of up to 4.7 cups of food meaning that you can prepare several batches of food at a go and then refrigerate or freeze the leftovers for later. Not to mention it has a compact ingenious design that ensures it takes up a small footprint on the countertop.
Highlights of the Beaba Babycook 4 in 1 Steam Cooker & Blender
Ability to steam, defrost, blend and reheat.
Large capacity that allows you to prepare up to 18 servings of food at a time.
Easy to use.
Stainless steel water reservoir.
Unique one-handed operation.
Tommee Tippee Baby Food Blender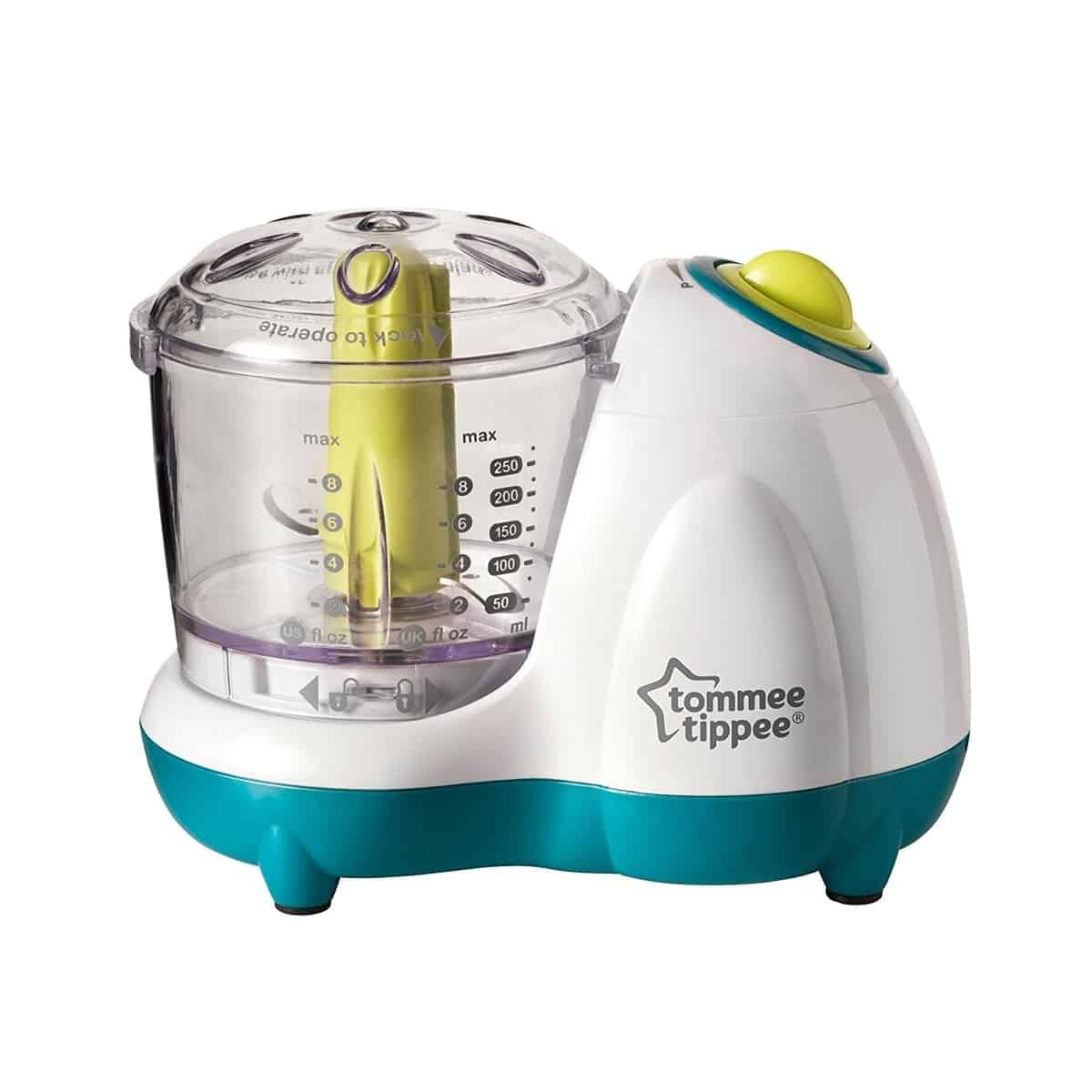 Perhaps the most affordable baby blender on the block, this fabulous fresh food blender has two-speed settings and pulse action that easily whizz up vegetables, fruits, meat, and fish to a variety of healthy and nutritious purees. Perfect for all stages of your baby's development, the Tommee Tippee is the perfect ally when you need to prepare small portions of food at a go.
While you can't make bulk portions of food, the blender offers exceptional consistency and unmatched speeds at an excellent value. What's more, it is also easy to clean and assemble and has a light and compact body that leaves a small footprint atop your countertop. This model is the best blender for making baby food if you're on a budget and need a balanced all 'rounder.
Highlights of the Tommee Tippee Baby Food Blender
Easy to clean container and blade.
Two-speed settings for different textures.
Ideal for blending small portions.
Nuby Garden Fresh Mighty Blender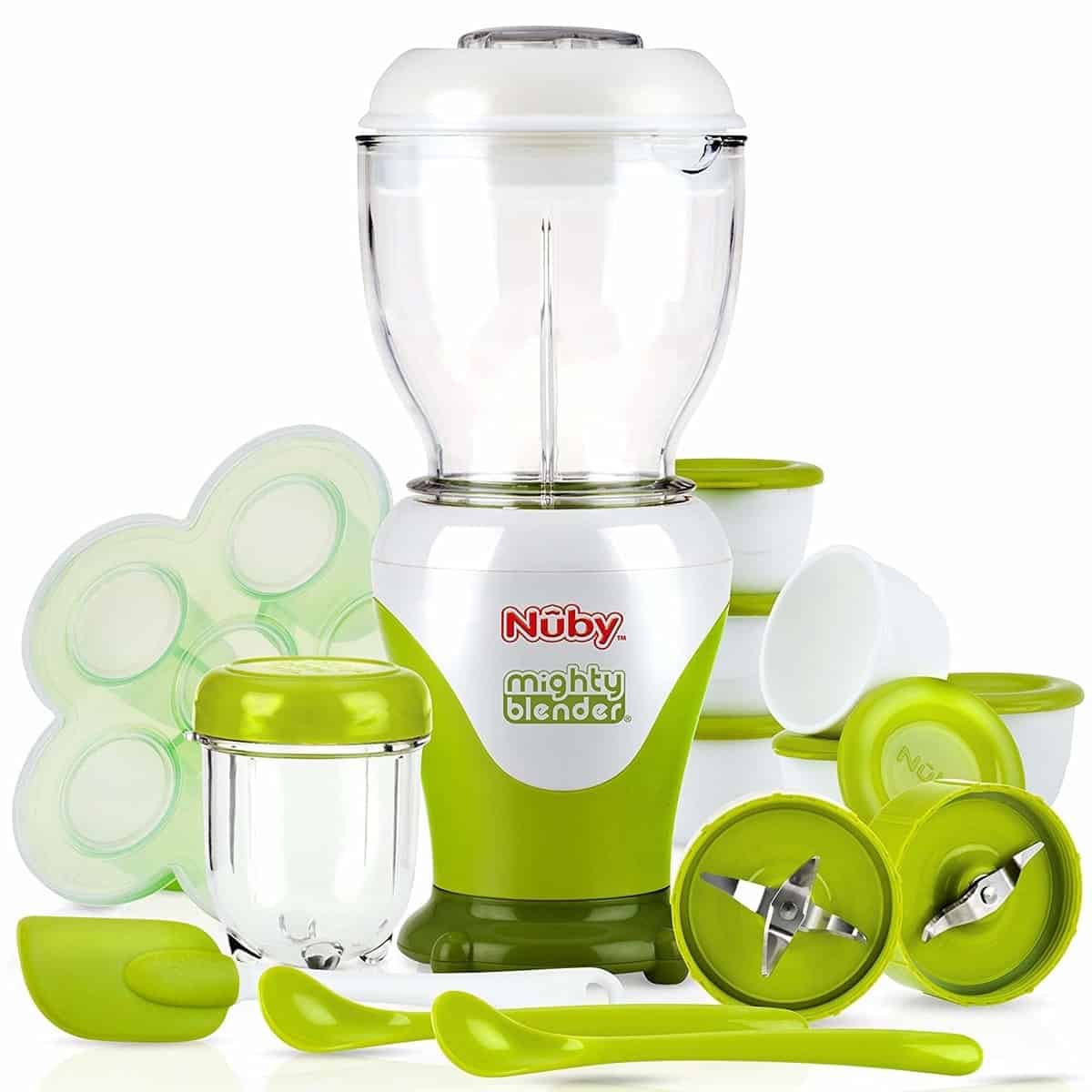 If you're looking for a versatile blender, the Nuby Garden Fresh Mighty Blender is one worth considering.  Costing a little under $65, Nuby Garden Fresh offers a safe and simple solution to all your baby food problems and contains all that you need to get started with preparing the best food for your little one. From perfect purees to chopped baby food, this is the best ally when weaning your baby.
The blender also comes with a large batch bowl and a cup so that you can easily switch between preparing single meals and batch cooking and also has two blades for blending and milling the food. The blender is also suitable for all stages of weaning from purees and chunkier textures to mini meals for older babies and comes with a host of accessories including a spatula, storage containers and cups, and interchangeable blades to make preparing food a somewhat seamless process.
Highlights of the Nuby Garden Fresh Mighty Blender
Ability to chop and puree food.
All pieces are BPA free and totally safe for baby use.
Ability to whip up a healthy meal in under 5 minutes.
Easy to use.
Babymoov Nutribaby 5 in 1 Baby Food Maker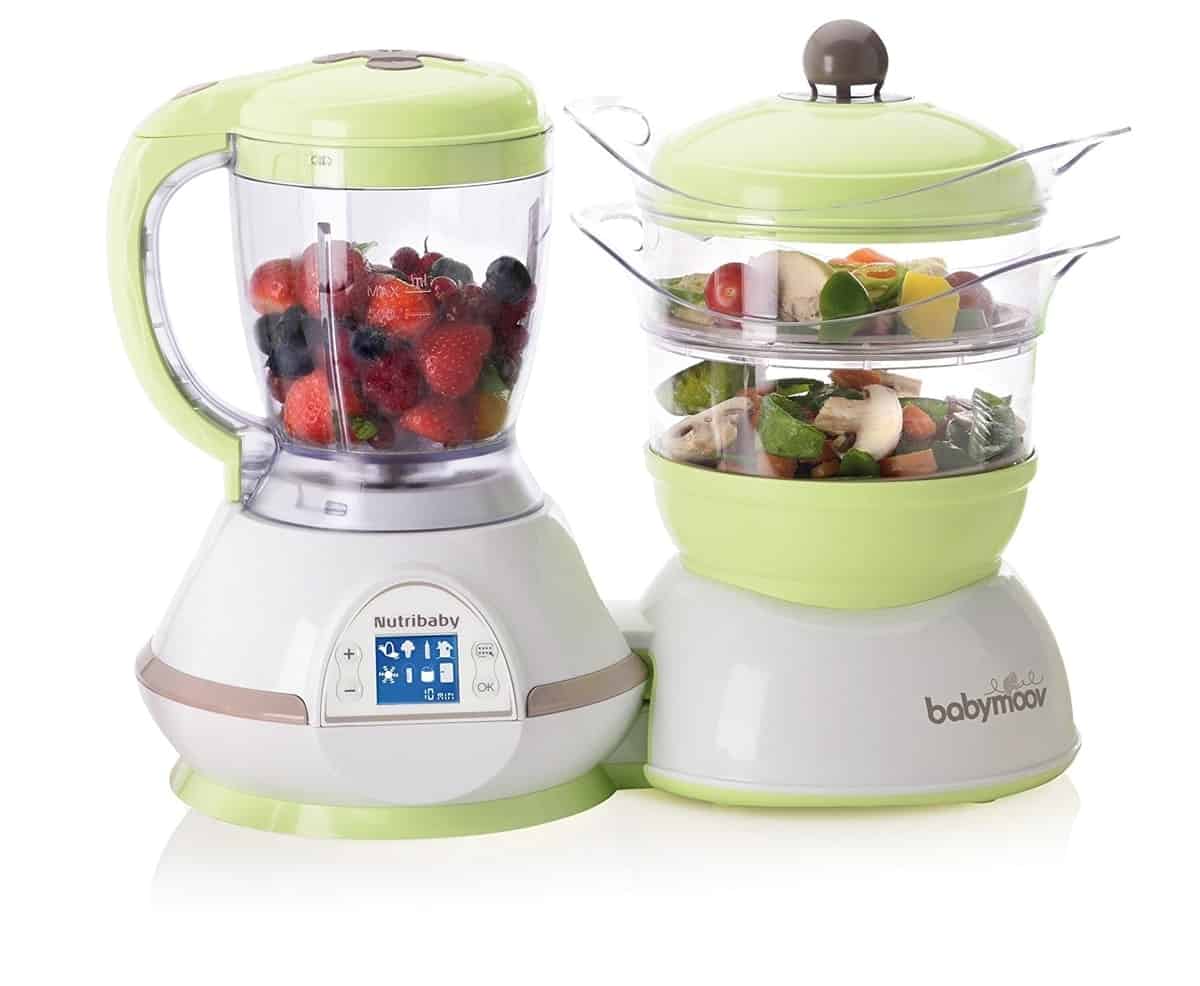 With five different functions, there's very little that the Babymoov Nutribaby can't do. Ideal for making lots of food for freezing, Babymoov has a large cooking capacity of 1500 ml and 600ml for blending. It has a sleek ultra-modern look that's to die for and a small enough footprint to ensure that it takes up very little space on your kitchen counter.
Along with the fact that it has a plethora of amazing features, Babymoov has also been a household name for over 20 years now. It has virtually the best innovations and ever since it was founded, Babymoov has strived to put innovation at the heart of its products.
Highlights of the Babymoov Nutribaby 5 in 1 Baby Food Maker
Easy to use and clean.
Ability to steam, defrost, blend and warm food.
Large capacity that allows you to make extra portions.
5 in 1 design that helps save space.
LCD screen that helps you choose programs with ease.
Frequently Asked Questions
What is a baby blender?
A baby blender is an electric appliance that grinds and mixes baby food into a smooth puree. Essentially, it's a small food processor, food grinder, and steamer in one easy-to-use package. These baby products are better than your usual food processors and regular baby food makers because they take the hassle and stress out of preparing baby puree meals – and they're remarkably affordable too!
Are baby blenders easy to use?
Not all baby blenders are the same. Some are pretty straightforward to use. However, others can be a little more complex. Nonetheless, as long as you follow the instruction manual, you should have no trouble at all getting the ropes.
Do I really need a baby blender?
Yes. During the early stages of weaning your baby, it's more than likely that they won't have the teeth to bite into food. So, you'll need to blend the food into a smooth puree so that they don't choke on the lumps. Now while you can probably whip up the food into a smooth puree using any other equipment, a blender ensures that the foods are consistently smoothened out. Which is far much more than you can achieve with any other equipment in the kitchen.
Where do I get recipes for making baby food?
The best baby blenders come with a recipe book or a simple guide that gives you ideas of some simple foods to start with. However, if you're weaning your baby for the first time, you might want to stick to one or two fruits or vegetables.
Do baby blenders come with additional accessories?
Yes and no. Some top baby blenders come with a range of storage pots and spatulas which can be quite useful if you don't already have them.
How often do I need to descale my baby blender?
As a general rule of the thumb, you should descale the unit at least after every 4 weeks. However, you can choose to do it sooner if you notice limescale and other debris build up.
Is the blender dishwasher safe?
Certainly! Both the container and the lid are dishwasher safe, but you need to place them on the top shelf so that they don't get discolored by other utensils getting cleaned up.
 Can I disassemble the blender when cleaning up?
Yes. You sure can! However, you need to take care to reassemble the parts exactly as they were.
Conclusion
Weaning the baby for the first time can be a daunting and arduous task. And without the right tools in your arsenal, things can get all the more complicated. That's why a blender is so important for any mum. In this review, we have analyzed 10 of the best baby food blenders available on the market including their different features and a few top features that make them stand out. One thing's for sure though, no matter which baby blender you go for, it will be one of the best purchases you've ever made.