Food Dehydrators are incredible appliances. They can help you eat healthier, while also cutting down on waste or preserving the bounty of a garden or CSA share. The ability to create everything from jerky to fruit leather or dried herbs in your home kitchen is a real game-changer and choosing the best food dehydrator for your needs will only make that job easier.
Whether you are looking to increase your beef jerky consumption, in need of some homemade apple chips or fruit leather, or even replacing your spice cabinet with house dried herbs from your garden, there is definitely a food dehydrator on this list for you!
Top 6 Best Food Dehydrators!
Whether you are new to dehydrating food or have been using dehydrators for a while and looking to upgrade, there is definitely an option for you on this list.
From all-purpose models like the Cosori 6-Tray Dehydrator, Professional units like the Excaliber, or budget options like the Presto Dehydro, if you are looking to add a dehydrator to your kitchen arsenal then this list can absolutely provide some clarity on the subject.
One key thing to remember when looking at a dehydrator is the fact that food will shrink as it dehydrates, and you'll most likely need a larger option than you would expect. This is especially true if you are planning on making your dehydrator a big part of your weekly meal prep. Opting for a larger size to start can often save you a lot of headaches later on, especially if the option you choose can scale to accommodate larger amounts of food, like with stackable machines.
Best Overall: Cosori Premium 6 Tray Food Dehydrator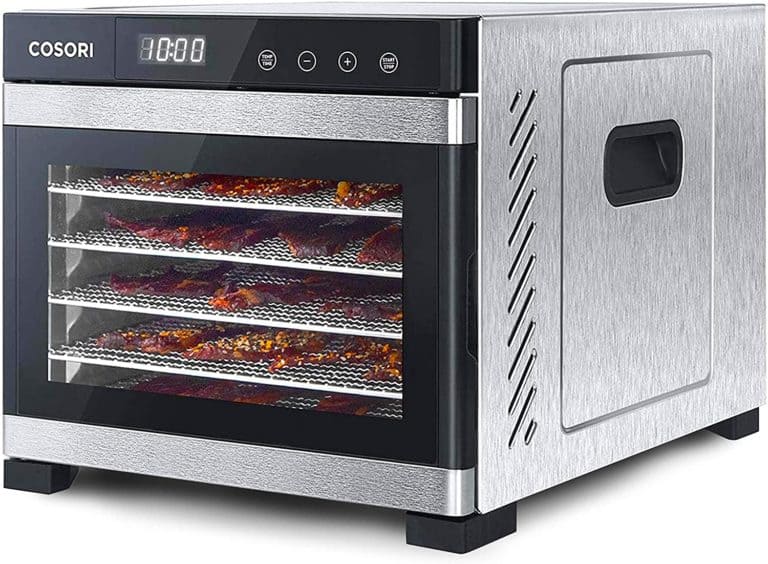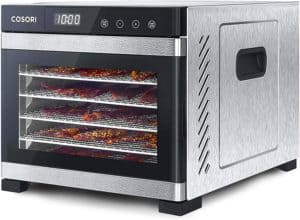 Pros:
Large 6 tray capacity
High powered fan
Digital temperature control
Dishwasher safe trays
Runs for up to 48 hours
Cons:
Large size makes it difficult to store
Inside of oven chamber is difficult to clean
Using the Cosori Food Dehydrator:
Overall, the Cosori 6 Tray Food Dehydrator is a really nice piece of kitchen equipment. With a large 6 tray capacity and a rear-mounted convection fan/heating element, this dehydrator makes it easy to create large batches of dehydrated foods without fussing with the trays or rotating the product.
Tray dehydrators are some of my favorite types of dehydrators to use because they are easy to load, and you can achieve really nice-looking fruit leather or garnishes without having to worry about a circular profile. I like to use dehydrator liners and the Cosori Food Dehydrator works really well both with the traditional paper liners and custom-fit silicone liners for things like soups or fruit leathers.
The Cosori model comes equipped with both 6 stainless steel racks but also 6 plastic liners that help keep smaller ingredients from falling through as they dehydrate. This can be useful especially when making veggie chips or crispy dehydrate garlic among other snacks.
To dehydrate foods in the Cosori Dehydrator, simply load the ingredients onto the stainless steel tray, with or without a liner, and then load it into the oven. The glass door gives you a great view of the product as it dehydrates, making it easier to see when the food is ready without having to open the door.
Once you've loaded the product, you can set the digital thermostat and timer for your desired cooking program. The user's manual included with the Cosori dehydrator provides a chart with common time/temperature settings for various ingredients, but over time you'll fine-tune these recommendations to your needs/tastes.
Once you've achieved the perfect level of crispiness in your veggie chips or beef jerky, you can remove the product and load it into air-tight containers to protect the flavor/texture. The mats and trays are dishwasher safe, but it's best to wash them by hand with non-abrasive cleaners to help keep them functioning like new.
One nice thing about the large chamber size on the Cosori oven is the appliance's ability to double as a proofing box or fermenting chamber for things like yogurt, or bread/baked goods. If you remove the trays you can fit a medium/large bowl which can be used to help speed up the proofing cycle for bread or keep milk at an ideal temperature for yogurt making.
Best Stackable Tray Unit: Hamilton Beach Digital Food Dehydrator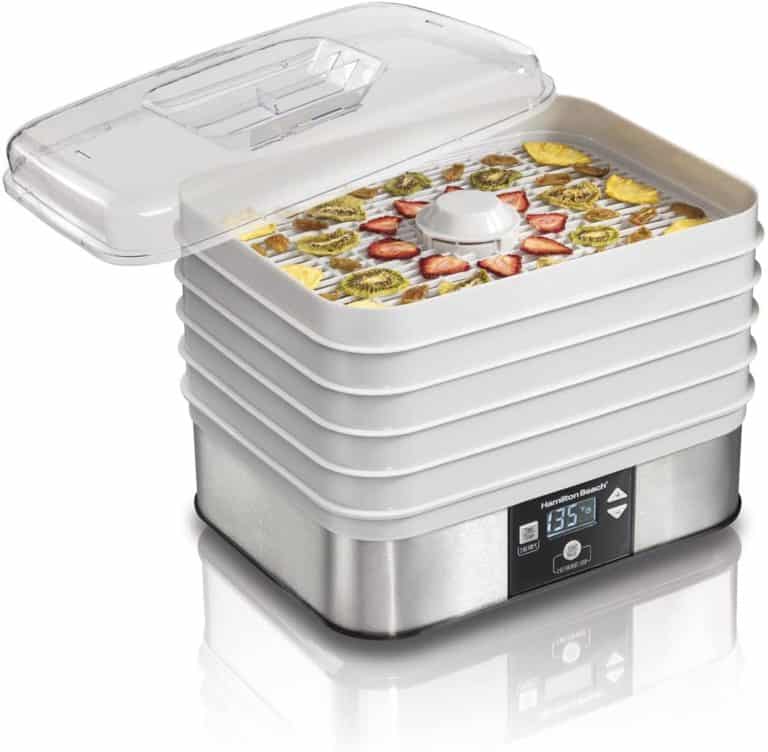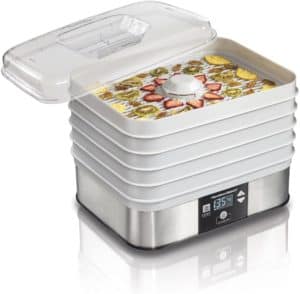 Pros:
Fits easily in drawers or cabinets
Dishwasher safe construction
Digital Display and Control Panel
Rectangular Design
Cons:
Food dehydrates unevenly between trays
Using the Hamilton Beach Food Dehydrator:
The Hamilton Beach Food Dehydrator is the best of both worlds in terms of the overall design. While this model is a stackable unit that can fit easily in a cabinet or drawer, it has a rectangular design and digital display that make it easy to load and use.
With a bottom-mounted fan/heating element, and a digital display, the Hamilton Beach Food Dehydrator is easy to use and easy to scale depending on your batch size. If you only want to dehydrate enough snacks for yourself or a friend then using 1-2 trays should do the trick. On the other hand, if you want to make enough beef jerky or veggie chips for your entire family, then you can increase the number of trays your using to accommodate the larger batch size.
Because of the bottom-mounted heating element, rotating the trays throughout the dehydrating process is important to promote even, consistent results. Thanks to the design of tray-style, stacking models like the Hamilton Beach Food Dehydrator, food on the lower trays tends to dehydrate more quickly, while the upper trays are slower to dry.
By rotating the trays every hour or so you can ensure super crispy, evenly dehydrated foods. As you reach the desired crispness level in your food, you can remove the trays one by one and allow the remaining ingredients to continue dehydrating. This can be great, especially if you craving a piece of beef jerky or apple chip, but it also means you might eat most of the batch before it's finished dehydrating so it's best to exercise some restraint.
Thanks to the dishwasher safe design of the stackable, dehydrating trays, once you've finished using them you can load them directly into the dishwasher with little issue. When it comes to stainless steel appliances I prefer to wash them by hand to help preserve their finish and keep them from rusting. However, this isn't necessary with high-temp plastics like the Hamilton Beach dehydrator trays, and it's actually better at times to let them take a spin in the dishwasher.
Overall, if you are looking for a dehydrator that can scale to a large batch size quickly, and can store easily beneath your countertop or in a drawer, then the Hamilton Beach Food Dehydrator is a great option for you. With a rectangular design, digital control panel, and easy to clean trays, using the Hamilton Beach Food Dehydrator is a breeze.
Best Budget Model: Presto Dehydro Electric Food Dehydrator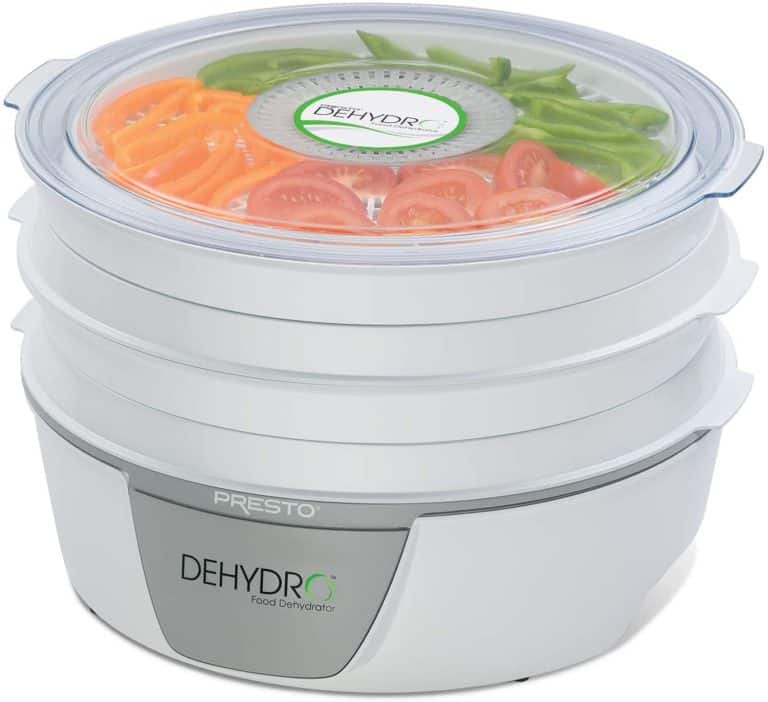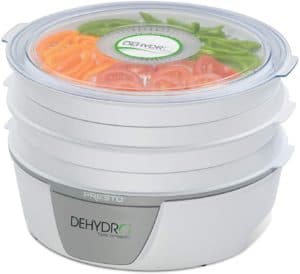 Pros:
Low Cost
Small size makes it easy to store
Dishwasher Safe
See-through lid
Cons:
Food dehydrates unevenly between trays
No power button
No temperature control
Using the Presto Dehydro Foood Dehydrator
If you are looking for an incredibly simple and straightforward food dehydrator, then look no further than the Presto Dehydro. With only 1 temperature setting and no on/off switch, the Presto Dehydro makes it incredibly easy to dehydrate almost any food you can think of.
To operate the Presto Dehdyro, simply load the trays with your ingredients, stack them onto the dehydrator base, and covert the topmost tray with the see-through lid. Next, plug in the dehydrator and wait until your food reaches the ideal level of dehydration.
While many more expensive dehydrators come with temperature control that allows you to fine-tune your dehydration schedule, the Presto Dehdyro runs at a constant temperature of 140°f. While this may be a tad high for more delicate ingredients, it is definitely appropriate for almost all foods, especially the ones you'll find yourself dehydrating most if you like fruit/veggie chips and jerky.
Because of the stackable tray-style design, you will need to rotate the trays throughout the dehydrating process. This is a common issue with tray-style dehydrators because of the bottom-mounted fan and heating element. When using the Presto Deyhdro food dehydrator I like to try to rotate the trays every hour or so to promote even drying. It's not 100% necessary to rotate your trays, just make sure to remove the ingredients on the lower trays earlier than the upper trays.
Overall, the Presto Dehydro is a great little dehydrator, especially if you want to dehydrate your own foods but don't want to spend a lot of money getting started. While more expensive models do include features like a digital display, larger capacity, and temperature control, if you're planning on making veggie chips or fruit leather for just 1-2 people, the Presto Dehydro will definitely suit your purposes.
Best Large Capacity: Excaliber 9 Tray Food Dehydrator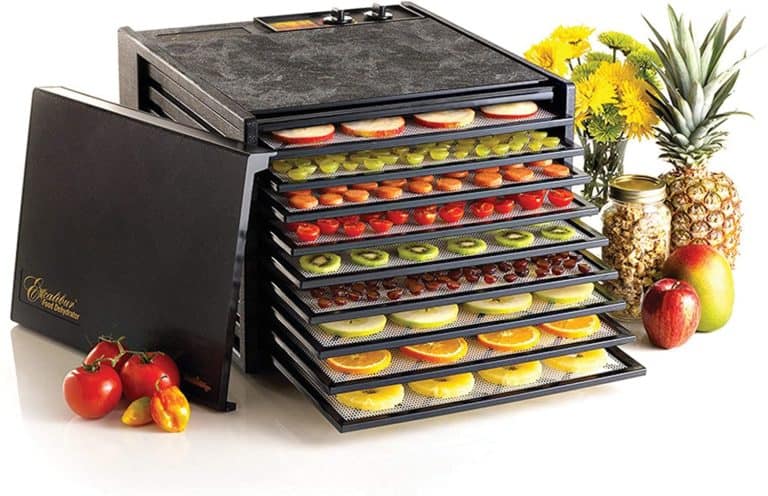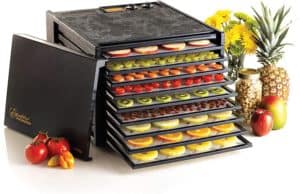 Pros:
Extra-large 9 tray capacity
Strong Motor
Dishwasher Safe Trays
Professional Quality Construction
Cons:
Extra-large size/footprint
Analog temperature controls
Door/Cover design is hard to use
Using the Excalibur Food Dehydrator:
The Excaliber 9 Tray food dehydrating system is what I would consider an extra-large or professional-grade model dehydrator. While purchasing this accessory for your home is more than feasible, it is large and is best suited to a countertop location, which isn't always possible for those with smaller kitchens.
The Excaliber Dehydrator has a footprint of 19x17x12.5 which means it has a total capacity of about 15 square feet. If you are looking for a large dehydrator to handle big projects like making pounds of jerky, bags of banana/apple chips, or making lots of yogurt, then this is definitely the dehydrator for you.
With a temperature range of 110°-165°f, the Excalibur is made to handle a huge range of foods and recipes. From low temp items like veggie chips or fruit leathers to hotter temperature processes like jerky production or even yogurt making, the Excalibur Food Dehydrator is built to handle anything you throw its way.
One frustrating part about this dehydrator is the door/cover. Because this machine has vertically stacked trays that are loaded from the front of the machine, it has a removable door panel that hangs from the top of the dehydrator when closed. Compared to other, hinged door dehydrator models, the Excalibur's cover is a little more difficult to get seated. Furthermore, it can fall off if bumped or agitated during the dehydrating cycle.
Using the Excalibur Dehydrator is a very straightforward process. Simply load the dehydrating racks with ingredients, slide the trays into the dehydrator and carefully hang the lid from the front of the dehydrator. Set the temperature knob to the desired temp setting and allow the food to dry until it's reached the desired level of doneness.
Thanks to the rear-mounted heating element and fan, you don't have to rotate the trays as the food dehydrates, which can be helpful. However, the Excalibur does not come equipped with a timer so you'll need to monitor the doneness of you're ingredients to make sure they don't overcook.
Overall, the Excalibur 9 Tray Food Dehydrator is a great option for anyone who plans on making a lot of dehydrated foods and also has the room to keep it on a countertop full time. Because of its large size, it's not really built for closet or drawer storage, so you'll want to find a permanent position for it if you plan on using it regularly.
Best Old School Design: Nesco GardenMaster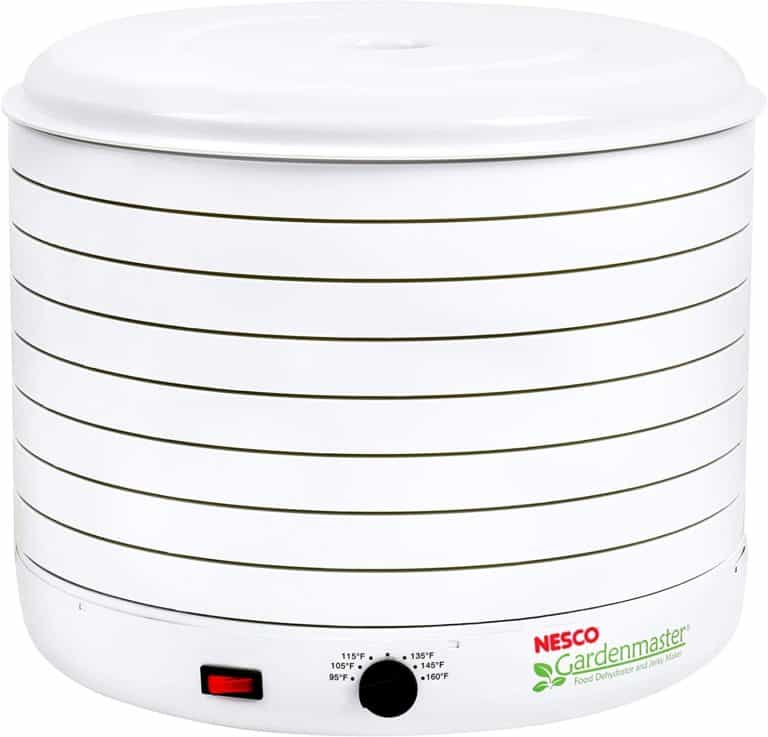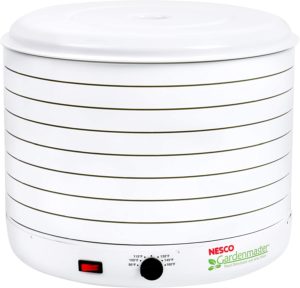 Pros:
Trusted brand with decades of experience building food dehydrators
Large size/expandability
Super strong motor
Cons:
Circular trays make it difficult to create clean edges
Noise Level
Using the Nesco Garden Master:
Nesco has been making food dehydrators for a very long time, and more many the Nesco dehydrator is synonymous with home food dehydrators.
All these years later, they really haven't changed much about their design or at least their overall aesthetic. The Nesco Garden Master has all the hallmarks of the Nesco design with a white finish, and a modular stacking system that makes it easy to expand for larger batches.
With a bottom-mounted fan and an easy-to-use Temperature Selector Knob, the Nesco Food Dehydrator is maybe one of the easiest models to operate on this entire list, and with a 1000w motor, it can definitely handle a lot of food at once.
Despite the circular design, the Nesco Garden Master makes it easy to dehydrate your ingredients. Simply load as many trays as you need with your banana chips, apples, jerky, or whatever you are looking to dry. Fill as many as you need and then load the trays onto the Garden Master dehydrator.
Once the trays are loaded, pop the lid into place and dial the temperature selector knob to your chosen temperature setting. Because the Nesco GardenMaster doesn't have a timer function you'll need to track the time for yourself, also because of the stacking design, food at the bottom towards the heating element/fan will cook faster than food at the top of the stack. It's important to rotate your ingredients throughout the dehydrating process to ensure even drying.
Once your fruit chips or snacks are done dehydrating make sure to keep them sealed away in an airtight container. Dehydrated food will last for ~7 days as long as it's kept dry and air-tight. If you plan on keeping dehydrated ingredients around for longer you might want to invest in desiccant packets which help wick away excess moisture before it has a chance to affect your food quality.
Best Air Fryer/Multi-Function Model: Chefman 6.3 Quart Air Fryer/Dehydrator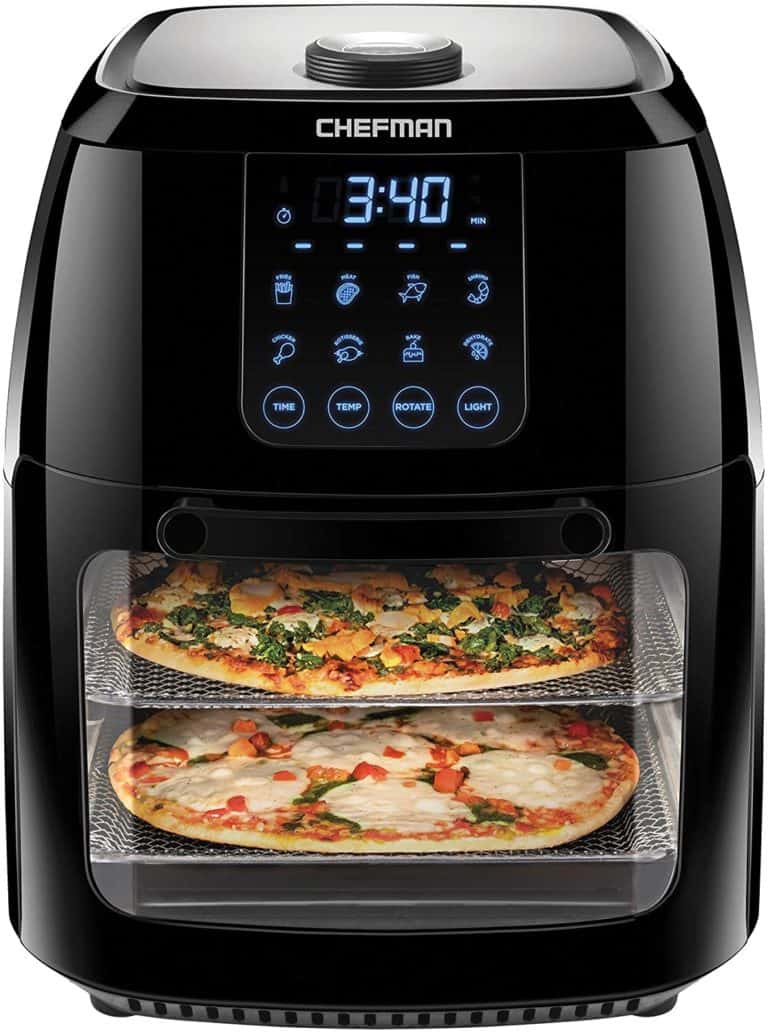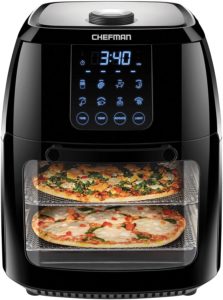 Pros:
Touch Screen control panel
Auto Shutoff
Dishwasher Safe
Cons:
Only 2 Racks/Small Batch Size
If you are looking for a full rundown of the Chefman line of air fryer ovens/dehydrators you can check out our Chefman Air Fryer Comparison here, but from that list my favorite model is the Chefman 6.3 quart digital air fryer oven.
This model air fryer is the perfect size for almost any family, it can handle a lot of food at once and thanks to its 8 preset features, digital control panel, and front-loading design, it's super easy to use. AS a dehydrator this air fryer works really well thanks to its precise temperature control and auto-shutoff, making it easier to produce consistently crispy dehydrated food with little effort.
To use the dehydrator feature on this air fryer, simply load your ingredients onto the two front-loading oven racks and slide them into the air fryer oven. Set the control panel to the dehydrator function and set the temperature/timer to your desired levels. From there all you have to do is sit back and wait for the dehydrator to do its job!
Overall, this is a great dehydrator, despite its smaller size. Most purpose-built dehydrators have a considerably larger capacity than an air fryer, this is because the heating element for dehydrators often take up less space thanks to its smaller power requirements.s Air fryers need larger, higher-powered fans and heating elements that take up more room in the oven chamber leaving less room for racks and ingredients.
I love combo cookers like air fryers because they can achieve so many different results out of one smile machine. While I do wish this model had a larger capacity so I can create more dehydrated foods at once, it is really nice to be able to find an appliance that can do so many different things really well.
How To Choose a Food Dehydrator.
While appliances today are sleeker, arguably better designed, and often safer, the underlying technology behind food dehydrators really hasn't changed that much over the past decades.
At their heart, all food dehydrators are essentially low-temperature convection ovens. By circulating controlled hot air throughout the cooking chamber, dehydrators can slowly remove the inherent moisture in ingredients, concentrating flavor and creating unique textures and flavors.
No matter what your kitchen footprint looks like there is definitely a food dehydrator for you. Before you begin your search, it's definitely important to consider a few factors to make sure you pick the best option for your lifestyle and space.
Size:
Food dehydrators run the gamut of sizes, from smaller/stackable models that fit easily in a cabinet or drawer, to larger oven-style options that are meant to sit permanently on a countertop.
Depending on your space and dehydrating schedule you might want to go with one or the other. It's important to consider how often you'll be dehydrating and how many people you will attempt to produce food for.
Most users who are new to dehydrating are often surprised at just how much space you need to create an adequate amount of any dehydrated food and this is especially true for vegetable/fruit chips. While jery will lose weight through dehydration, because fruits and vegetables contain so much water, they will shrink pretty drastically by the end of the drying process.
I've always found it's best to air on the side of caution when you are purchasing a tool like a dehydrator and this is especially true if you really want to use your dehydrator to feed your family. Larger models or stackable units allow you to scale to whatever amount of food you may want to produce, while smaller models are great for 1-2 people who occasionally eat dried foods.
Shape:
Oven-style models are almost uniformly square/rectangular. This is primarily because the trays need to slide easily in and out, making square options the best overall. Stackable units on the other hand come in both rectangular models as well as circular units.
The classic food dehydrator most people think of when it comes to dehydrators is a circular stackable unit with the oven/fan as the base and trays filled with food stacked on top. Stackable models are great because they are often less expensive and allow you to scale the size of the unit to whatever batch size you are making at that time.
Food dehydrators operate similarly across the different styles/shapes, so it really comes down to preference.
Functionality:
Beyond dehydrating food quickly and efficiently, food dehydrators today come equipped with a lot of different options. Whether you're looking for a digital display, wireless integration, the ability to make things like yogurt, or even proof bread, there is definitely a food dehydrator with the options your looking for.
Most air fryers also come equipped with a dehydrator option. While they often have a much smaller capacity than
That being said, if all you want is a food dehydrator that makes it easy to make great jerky, fruit leather, or dried herbs, there are a lot of options for that as well.
Final Thoughts.
Whether you are thinking about getting a dehydrator for making veggie chips, beef jerky, or preserving the bounty of your garden, making sure you do your research before buying will help keep ensure you end up with the model that's best for your needs.
Make sure to think about things like how many people you are cooking for, how much dehydrated food you eat per week, and how much kitchen real estate you are willing to dedicate to a food dehydrator before you make your purchase.
If you have a favorite dehydrated recipe you like to make, I'd love to hear about it in the comments below!