The best way to get perfect rice every time is to use a rice cooker. This appliance has been a must-have in Asian households for decades and it's now a favorite in the United States, too. But how can a small, relatively inexpensive kitchen appliance know how to cook food so perfectly? How does a rice cooker work without ever burning rice? Why does rice turn out better in the rice cooker than when we cook it on the stove? Today, we're answering all your questions.
A Quick Look Inside a Rice Cooker
The answer to how does a rice cooker work starts with looking at the different parts that make up the appliance.
For starters, there's the heating element at the bottom of the rice cooker. Although all models are different, all rice cookers have this. Instant pots follow a similar working logic. When you plug in your appliance, the heating element warms up and sends heat up the cooking pot.
This cooking pot is made from a good-conducting element, such as copper or aluminum. It soaks up the heat right away and helps the water in the pot start to boil quickly. The lid then seals in the heat, letting steam form. This is what will cook your grains.
How Does a Rice Cooker Know the Rice Is Cooked?
To turn hard grains of rice into that fluffy goodness we know and love, you need two things: water and steam.
When you turn on the rice cooker, the heating element will heat up (duh), raising the temperature in the pot where the rice and water (on a 1:2 ratio) are.
As a result, the water will heat up until it reaches its boiling point of 212 degrees Fahrenheit (or 100 degrees Celsius). It then starts to evaporate, turning into steam, which is trapped in the cooking pot.
This is where it gets interesting: as long as there's water in your rice cooker, the temperature won't rise any further. It will plateau until all the water has been soaked up by the rice or turned into steam.
When there's no more water, the inside of the cooking pot will get hotter again. Rice cookers are programmed to sense this shift in temperature and will shut off automatically at this point.
Some models go into "keep warm" mode, meaning they'll keep your cooked rice at the perfect serving temperature.
Now, your rice is cooked to perfection. It's recommended that you let it sit, with the rice cooker turned off, for up to fifteen extra minutes to get rid of the excess moisture.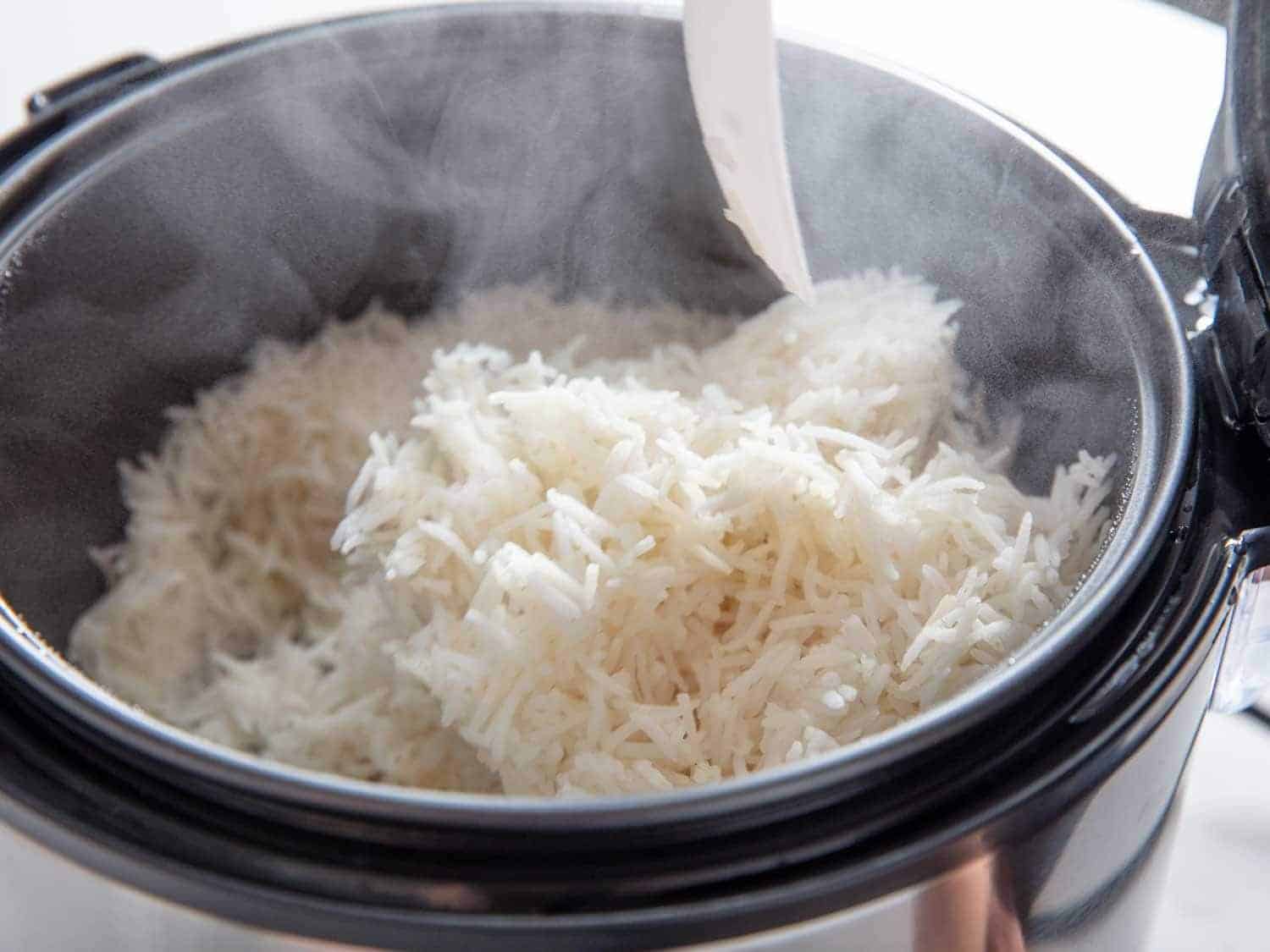 Does Rice Stick to the Bottom?
If you've cooked any type of grain (be it Jasmine rice or quinoa) on the stove, you know the frustration of a burnt layer of rice at the bottom of the pot. It's one of the main reasons why home chefs switch to electric rice cookers so often.
It happens because all the water evaporates but there's still heat being applied to the cooking pot. In other words, all the water is gone but you kept the pot on the burner.
With electric rice cookers, you don't get this annoyance. As we've mentioned, these appliances shut off automatically when there's no more water left. Because they're concerned with temperature and not with sticking to a timer (unlike home cooks), they crank out perfect rice every time.
Do They Cook Rice Faster?
Cooking rice usually takes between 15 and 45 minutes to cook, depending on if you're cooking white rice or brown rice. And while rice cookers are incredibly convenient, they don't speed up the cooking process at all. It will take you just as long to cook rice on a stove as on a rice cooker.
What Is Fuzzy Logic? Is It Worth It?
If you've looked at lists of the best rice cookers on the market, you may have noticed that the most expensive models boast something called "fuzzy logic." The name may sound silly, but the technology is anything but.
Rice cookers with fuzzy logic have computer chips built-in that let them make adjustments to cooking times as they're cooking. It's a bit like what you do when you make rice on the stovetop: you look into the pot and, if you notice there's barely any water left, you turn off the hob and let the rice rest. It's an interestingly human approach to technology, once you think about it.
The reason why having fuzzy logic in your rice cooker is so good is that it brings more precision to cooking rice. Especially if you're different types of rice that take longer to cook (such as red or black rice), it might be worthwhile to invest in a more reliable, more tech-savvy rice cooker.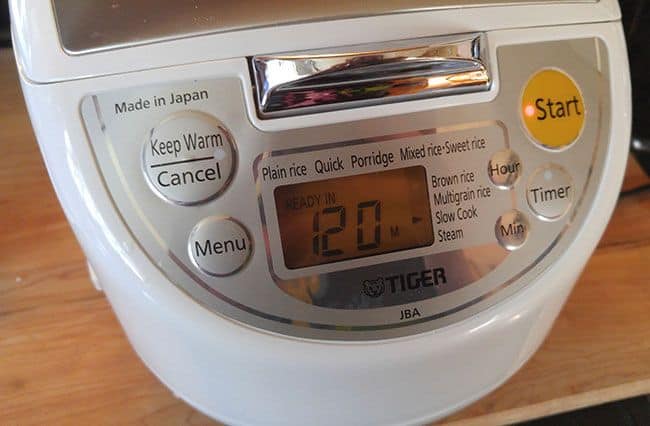 How Does a Rice Cooker Work with Other Foods?
You know how cooking rice in a rice cooker works. You can easily and conveniently make the perfect base for vegetable curries and nourish bowls. But what about cooking other foods in rice cookers? Can you cook anything else, despite the appliance's name?
In short, you can. Since this technology is based on varying temperatures, you can cook other grains that also soak up water and steam. For instance, you can cook quinoa, barley, and oatmeal. Just make sure to adjust the amount of water to grain ratio.