Hi! I'm Rebecca from BakeNQuilt, a member of the Daring Bakers since 2011. I'm excited to be hosting this month! I've been a baker for as long as I can remember but I also love the challenge of making candy so that's what I've chosen for you this month, a candy I'm especially fond of called Nougat.
A friend of mine who often makes it for Passover first introduced me to nougat. I had never had it before and had only heard about the soft and fluffy kind of nougat that shows up inside candy bars. This nougat was completely different – chewy and filled with nuts and dried fruits. It's addictive stuff! Since then, I've been on a quest to make it myself.
Nougat is an aerated candy made from sugar, honey, egg whites and nuts. This type of nougat has been around since the 16th century (according to Larousse Gastronomique). The most well known nougats are the French Montélimar nougat and the Italian Torrone nougat. Montélimar nougat contains at least 30% nuts and includes pistachios as well as almonds. Italian Torrone and Spanish Turrón are similar, typically containing almonds and sometimes other nuts. The cooking temperature and the quantity of sugar determines the texture of the finished product. Nougat can be chewy, soft and tender to hard and brittle.
The flavors, textures and add-ins may vary, but the process of making nougat is fairly standard. Traditionally, nougat is made by adding cooked honey syrup to egg whites that have been whipped. Nuts are usually folded in and occasionally dried or candied fruits or citrus zest are added. The mixture is poured out onto edible wafer paper and smoothed into a block, which is allowed to set before cutting. Nougat is most commonly white, but can also be flavored. To really dress it up, it can be dipped in chocolate.
I hope you will have as much fun with this challenge as I did!
Recipe Source:
Listed with each recipe
Blog-checking lines:
The March 2014 Daring Bakers' challenge was hosted by Rebecca of BakeNQuilt. She challenged us to learn to make classic nougat and to make it our own with our choice of flavors and add-ins.
Posting Date:
March 27, 2014
DOWNLOAD PRINTABLE FILE HERE
Notes:
Success in nougat (as with most candy-making) relies on an accurate thermometer, dry weather, no distractions, and preparing everything in advance so it's ready to go when you need it.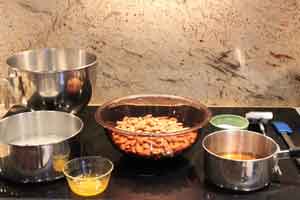 My two favorite candy thermometers are digital and analog mercury thermometers made specifically for candy making, as they are more likely to be accurate. I have been amazed at the inaccuracy of all types of candy thermometers, so to be safe I recommend testing yours. There's a good article about how to do this on Candy.about.com using boiling water. Testing is important because even 2 degrees can make a difference in the finished texture of some candies. The candy thermometer should not be directly touching the bottom of the pot when you use it or you will be measuring the temperature of the pot, not its contents, and you run the risk of blowing out your thermometer.
I discovered that there is great variation in sugar syrup temperatures in nougat recipes, ranging from 252°F to 320°F (122°C to 160°C), but most commonly 270°F-300°F (132°C-149°C) (soft crack stage). The temperature listed in each recipe is the temperature that I used in testing. If your batch comes out harder or softer than you'd like, try adjusting the syrup temperature the next time.
Weather also plays a part in the outcome of nougat. Nougat is best made on a cool, dry day, as humidity can noticeably affect the texture of the nougat and its shelf life. Nougat made on a humid day may turn out softer than nougat made on a dry day even if you cook the sugar syrup to the same temperature each time. You may want to play with the temperature of the sugar syrup to work with your climate.
Cooking with hot sugar can be dangerous and requires full attention. I recommend not answering the phone and not walking away from the stove. Encourage children and pets to be elsewhere (easier said than done, I know!).
Most nougat recipes call for toasted nuts. To toast nuts, put them on a rimmed baking sheet in a preheated moderate oven 350°F/180°C/gas mark 4 for 10-15 minutes until lightly colored, stirring them occasionally. This works for any kind of nut, however, pistachios will lose their green color when toasted so if you want pretty green ones in your nougat, don't toast those. Nougat recipes also may call for the nuts to be kept warm prior to adding them to the nougat because cold nuts don't cause the warm nougat to set up faster and they are easier to fold in when they're warm.
Nougat sets up pretty quickly, so it's important to work fast once the sugar syrup has been added. It's a bit of a judgment call in whipping the nougat enough that it is well aerated and not so long that it stiffens up on you. It should look kind of like a thick cake batter. If your nougat gets too stiff to work with, you can try aiming a hair dryer on high heat at the nougat and the bowl for a few seconds to warm it up and make it more pliable.
The recipes I've provided both call for corn syrup. The corn syrup acts as a flavorless stabilizer and prevents crystallization. I haven't tried substituting for it, but according to my candy books you should be able to use glucose syrup, invert syrup, molasses or more honey in its place. Be mindful of anything with flavor though as it will change the taste of the nougat. There are also recipes for homemade corn syrup substitutes, but they may not work as well to prevent crystallization.
Mandatory Items:
I have provided recipes for two basic nougats. However, you are welcome to use any other nougat recipe as long as it uses a technique similar to the recipes provided. If you choose a different recipe, please share it with us, and share your source.
Variations allowed:
Any add-ins or flavors you like! Add-ins should be dry, as any moisture will affect the texture of the finished nougat.
Preparation time:
Listed with each recipe
Equipment required:
•Stand mixer with a minimum size of 4.5 quarts (4.25 litres) with a whip attachment. I think nougat would be nearly impossible to make by hand, especially by just one person, but let me know if you try it!
•Candy thermometer. I don't recommend trying to make candy without a candy thermometer. They are very affordable if you go for a basic one. However, if you're really determined to do it without one, you can try using the cold water test method.
•2 quart (2 litres) saucepan
•1 – 1.5 quart (1-1.5 litres) saucepan
•Heat-proof spatulas
•Parchment paper OR edible wafer paper. Edible wafer paper for candy making may be found in some specialty stores or online at Sugarcraft or Amazon. Wafer paper is NOT the same thing as the rice paper used to make spring rolls.
•9×9 inch (23×23 cm) or 9×13 inch (23×33 cm) baking pan, depending on which recipe you're using. Flexible pans are nice as they are easier to get the nougat out of. Nougat can also be spread flat on a lined baking sheet.
•Measuring cups and spoons and/or a kitchen scale
•Pastry brush (optional)
•Sharp knife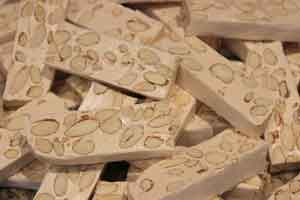 Nougat Torrone:
Recipe Source: Chocolates and Confections by Peter P. Greweling
Servings: one 9×13 inch (23×33 cm) slab
Prep time: approximately 45 minutes
Cook time: approximately 30-45 minutes
Cool time: approximately 45 minutes
Ingredients
4 sheets edible wafer paper, 8×11 inches (20×28 cm) (optional, see Recipe Notes)
For the Meringue:
2 large egg whites, at room temperature
¼ cup (60 ml) (50 gm) (1¾ oz) granulated sugar
½ teaspoon (3 gm) cream of tartar
For the Syrup:
1½ cups (360 ml) (500 gm) (18 oz) honey (preferably light in color and flavor)
3 cups (720 ml) (600 gm) (21 oz) granulated sugar
½ cup (120 ml) (170 gm) (6 oz) light corn syrup (see introductory Notes)
½ cup (120 ml) water
1 vanilla bean, split and scraped
Add-ins:
2 tablespoons (30 ml) (25 gm) (1 oz) cocoa butter, melted (see Recipe Notes)
5 cups (1.2 litre) (680 gm) (24 oz) toasted whole unblanched almonds
Recipe Notes:
Edible wafer paper is nice to have if you're giving nougat as gifts as it helps with the stickiness issue. However, it's not essential. If you can't find it, grease the pan and then line it with parchment paper. Grease the parchment as well. You should probably wrap each cut piece individually to keep them from sticking together.
Fat (cocoa butter in this case) is added to nougat to give it a shorter texture and cleaner bite. I've tried the recipe without it and it still comes out tasting good, it's just chewier. I haven't tried any other fat in the mixture, but let me know if you do! Any fat added to nougat should be one that is solid at room temperature.
Directions:
1.Place the toasted almonds in a heat safe bowl and put in an oven at 250°F/121°C until needed.
2.Line the bottom of a 9×13 inch (23×33 cm) pan with wafer paper, cutting it to fit. I like to put plastic wrap or parchment under the wafer paper just for extra insurance that I'll be able to get the nougat out of the pan.
.


3.Combine the egg whites, sugar and cream of tartar for the meringue in a 4.5 or 5 quart (about 5 litre) mixer bowl fitted with a whip attachment but do not begin whipping.
4.Heat the honey in a small saucepan or in the microwave until nearly boiling
5.Combine the remaining ingredients for the syrup (sugar, corn syrup, water and vanilla bean) in a 2 quart (2 litre) saucepan.
6.Bring the sugar mixture to a boil and then lower the heat and boil for 3 minutes, covered.
7.Remove the lid and attach the candy thermometer. Continue to cook uncovered on high heat without stirring until the syrup reaches 290°F/143°C.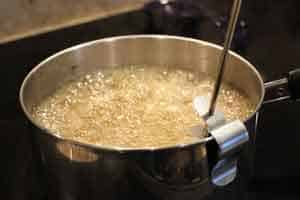 8.When the sugar mixture reaches 290°F/143°C, start whipping the egg whites on high speed and move the sugar mixture off the heat and slowly pour the heated honey into the sugar mixture. The mixture will foam up initially.
9.Put the pan back on the heat and continue cooking until the mixture again reaches 290°F/143°C.
10.Remove from the heat and use tongs to take out the vanilla bean pods.
11.Slowly pour the hot syrup into the whipping whites by letting it run down the inside of the mixer bowl. Don't pour it directly on the whites or they may collapse.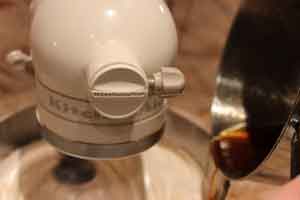 12.Whip on high speed for 3 minutes.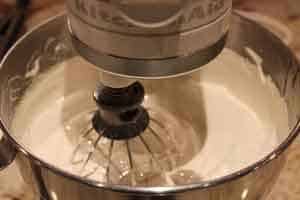 13.Add the cocoa butter and whip JUST until the mixture is smooth again. Do not over mix. If you have a 4.5 quart (4.5 litre) mixer like I do, you may need to initially lower the speed of the mixer while pouring in the cocoa butter as it will try to slop out.
14.Remove the bowl from the mixer and dump in the hot nuts from the oven. Mix quickly with a heat-safe spatula until the almonds are evenly distributed.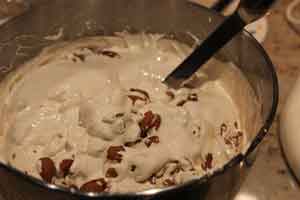 15.Immediately pour the hot nougat into the prepared pan, on top of the wafer paper. Cover the top of the nougat with more wafer paper and press to smooth and even out the nougat.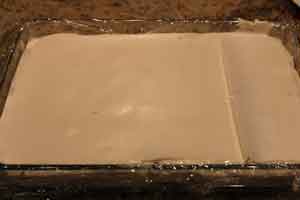 16.Let the nougat cool at room temperature until just warm to the touch, about 45 minutes. Don't let it go too long or it will be very difficult to get out of the pan and difficult to cut. You want it to still be a little flexible when you remove it but not so soft that it loses its shape.
17.Pry the nougat out of the pan with a spatula and dump it out onto a cutting board. Trim the edges and cut the nougat with an oiled knife into the size pieces you want.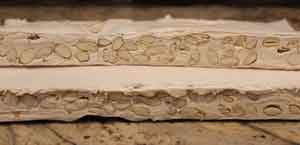 18.Wrap the nougat individually or store at room temperature in an airtight container. The texture of the nougat will soften a bit after a few days, especially if you have added dried fruits in with the nuts.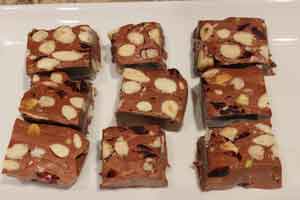 Chocolate Nougat:
Recipe Source: Adapted from Chocolate Epiphany by Francois Payard
Servings: one 9×9 inch (23×23 cm) slab
Prep time: approximately 45 minutes
Cook time: approximately 30 – 45 minutes
Cool time: 24 hours
Ingredients:
Vegetable cooking spray, for the pan
For the syrup:
2 ½ cups (600 ml) (500 gm) (18 oz) granulated sugar
½ cup (120 ml) water
¼ cup (60 ml) (85 gm) (3 oz) light corn syrup (see introductory Notes)
For the Meringue:
3 large egg whites, at room temperature
¾ cup plus 1 tablespoon (200 ml) (250 gm) (9 oz) clover honey
2 tablespoons (30 ml) (45 gm) (1½ oz) corn syrup (see introductory Notes)
Add-ins:
3 oz (80 gm) 100% chocolate, very finely chopped
7 oz (200 gm) 72% chocolate, very finely chopped
About ¾ cup (180 ml) (80 gm) (3 oz) dried fruits, such as cranberries, raisins or chopped apricots
½ cup (120 ml) (60 gm) (2 oz) pistachios, toasted
1 ½ cups (360 ml) (200 gm) (7 oz) almonds, toasted
1-1/3 cups (320 ml) (175 gm) (6 oz) hazelnuts, toasted
Recipe Notes:
This recipe makes very thick nougat if you use the 9×9 inch (23×23 cm) pan. If you prefer thinner nougat, use a bigger pan or spread the nougat out on a lined baking sheet.
The original recipe called for a cooking temperature of 320°F/160°C. However, my climate is dry and the first batch I made came out was hard to cut, so I lowered the temperature to get a texture I was happy with. If you live in a humid climate or like harder nougat, feel free to use the original temperature.
Directions:
1.Spray a 9×9 inch (23×23 cm) baking pan with vegetable spray and line it with parchment paper. Spray the parchment paper as well. Set aside.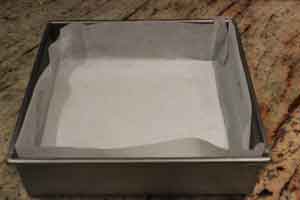 2.Place the toasted nuts in a heat safe bowl and put in a preheated very slow oven at 250°F/121°C/gas mark ½ until needed.
3.Combine the sugar and ¼ cup (85 gm) (3 oz) of corn syrup with the water in a 2 quart (2 litre) saucepan and set it aside.
4.Place the egg whites in the bowl of an electric mixer with the whip attachment. Do not start to mix yet.
5.Combine the honey and 2 tablespoon (40 gm) (1½ oz) of corn syrup in a small saucepan (the honey mixture will foam up and grow to about 3 times the starting size so make sure your pot isn't so small that it will overflow) on medium-high heat. Attach a candy thermometer. Start beating the egg whites on low speed.
6.When the honey reaches 240°F/115°C, raise the speed of the mixer to high and beat the egg whites until they hold stiff peaks, watching the honey mixture until it reaches 248°F/120°C. As soon as the honey reaches 248°F/120°C, put the pan with the sugar mixture on medium-high heat as you remove the honey from the heat.
7.While beating the whites on high, slowly stream the hot honey mixture down the inside of the mixing bowl and into the whites. Do not pour it directly on the whites or they may collapse. Keep beating on medium-high speed.
8.As the sugar mixture starts to bubble, dip a pastry brush in water and brush the sides to remove any sugar crystals. Alternately, you can put on a lid on the pot for a couple of minutes once it's bubbling and let steam do the job for you.
9.Attach the candy thermometer. When the sugar mixture reaches 310°F/154°C, turn the mixer back up to high and slowly pour the syrup into the egg whites in a slow stream down the inside of the bowl. Do not pour the syrup directly on the whites or they may collapse.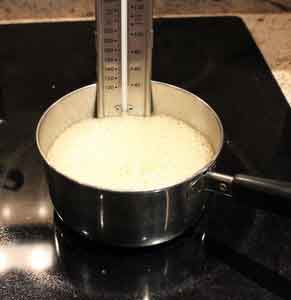 10.Once the sugar syrup is incorporated, continue beating for 3-5 minutes until the whites feel warm, not piping hot (if your mixer bowl is metal, the bowl will still be hot even when the whites have cooled some).
11.Add both chocolates to the bowl and beat on high until the chocolate is combined. The heat from the egg mixture will melt the chocolate.
12.With a spatula, fold in the dried fruits and warm nuts.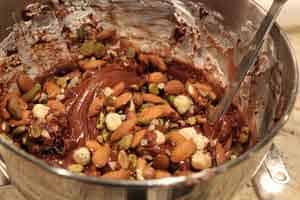 13.Pour the mixture into the prepared pan and spread it in an even layer.
14.Let it sit for 24 hours at room temperature, uncovered.
15.Invert the nougat onto a cutting board and remove the parchment paper. Cut as desired.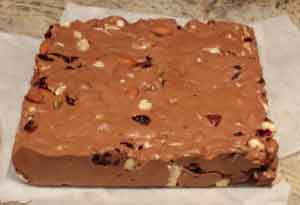 16.Store in an airtight container in a cool, dry place for up to 2 weeks. The texture of the nougat will soften a little after a couple of days.
Storage & Freezing Instructions/Tips:
Most Nougat improves in texture after a day or two and will keep up to two weeks at room temperature in an airtight container. Covered in chocolate, it will probably keep longer. However, if you live in a damp climate it may not last very long as humidity can make the nougat sticky and lose its shape. Nougat will stick to itself; so make sure to wrap the slices if you are not using wafer paper. Even nougat with wafer paper should be stacked in layers with parchment in between to prevent sticking on the cut edges.
Additional Information:
http://www.frenchfoodintheus.org/spip.php?article4755
http://candy.about.com/od/nougatcandyrecipes/ss/sbs_nougat.htm
http://www.youtube.com/watch?v=7JGQj9h4HxU
http://www.youtube.com/watch?v=ZGuT2hTJvcw
http://www.youtube.com/watch?v=U89cNn1Rb9Y
http://www.davidlebovitz.com/2011/12/candy-thermometers/