Are you tired of making messes and breaking your back when you clean your floors with a conventional mop and bucket? Have you considered outsourcing mopping to a robot? These battery-powered, self-propelling mops can get rid of stains, grime, and dirt from wood, stone, tile, and many other types of hard floors.
Many of the robot mops that you see on the market can last for up to three years – which is much longer than traditional mops, which tend to last for six months up to a year. But you still want to shop wisely because these high-tech mopping tools require a much larger investment up front.
To find the best robot mop, there are certain things that you should look out for – we'll get to that later. But first, let's talk about some of the best robot mop models available to consumers today.
1. Coredy Robot R500+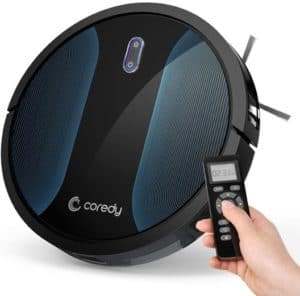 The Coredy Robot R500+ has plenty of amazing features, making it the best robot mop on the market. The first thing that you'll notice about this robot mop is that it's very stylish. If you think about an oversized hockey puck constructed with glass, then you won't be far off from what this robot mop looks like. It's only 2.7 inches high, so it can slip under any low sitting furniture that you might have in your rooms to seek out all of the dirt and dust.
It features dual-edge brushes and a tri-point cleaning system. It operates using boundary strips, which you need to purchase separately from the robot mop. The sensors can detect where the strips are located, so the mop stays in the areas that you've set up.
It can clean both carpet and hardwood floors and can transition between them effortlessly. Navigation is very important for robot mops, and the R500+ has learned from previous models' experience.
The sensors are better equipped to avoid crashes, and there's even a pressure-sensitive soft bumper on this robot mop. This soft bumper aids the mop to respond when it comes to obstacles without you having to go and help it. Additionally, the sensors help keep the robot from falling down stairwells.
It can struggle to properly clean large rooms because if the boundary strips aren't near to keep the robot on track, it can become confused. This means that the robot can miss cleaning areas of the room.
When the mop is finished cleaning, it will return to the port and recharge by itself. When it's fully charged, this robot mop can keep cleaning for two hours.
This package includes a one-year warranty with 24-7 technical support. Along with the mop, you'll also get one main brush, a cleaning brush, four side brushes, and an efficient filter. You'll also receive a remote control that comes with batteries, an adapter, and the charging dock.
There might not be as many smart features on this robot mop as you would get with a more expensive model, but you can set the mop to clean at certain times. It's also not as powerful as some of its rivals, but it runs quietly and cleans nicely.
Pros: 
Expertly moves across carpet and hard floors
Great for cleaning in tight areas
Long-lasting battery
Cons: 
Not as powerful as other robot mops
Can get confused in large room
2. ILIFE V5s Pro Robot Mop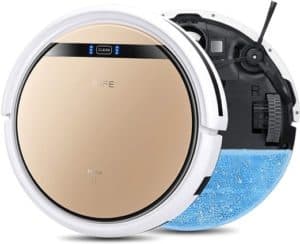 If you're on the hunt for the best robot mop that won't break the bank, consider the ILIFE V5s Pro. This is another sleek, disc-shaped robot mop that's designed to only clean on hard floors. It won't work if you have carpets, but this model has some features that make up for that. For example, this robot mop can mop up wet spills and sweep up dirt and dust.
Your floor also doesn't need to be entirely flat because it can take on slopes that are up to 15 degrees and rollover barriers that are up to 10mm high. It has sensors on the front of this model that will avoid any bumps. In the case of unexpected obstructions, the bumper also avoids damage to both the robot and the obstacle. There's also a whole package of cliff sensors that help prevent your robot mop from falling downstairs.
It features a low-profile design that will easily slip under furniture and comes with four separate cleaning options. You can choose from edge cleaning for walls, spot cleaning for troublesome areas, and auto clean, plus you can even schedule when the robot mops.
You'll find that there are a few restrictions to this robot mop when it's in mop mode. You're able to set the time for the robot to start sweeping, for instance, but not for mopping. Additionally, you have to remove the water tank when the mop is on its charging dock.
If you have large rooms to clean, you'll be very happy with the battery time on this mop. With a full charge, this model can run for a total of 140 minutes without stopping.
This robot mop doesn't have the same features that a more expensive model has. For example, it won't connect to your wireless internet connection. You won't receive reports about when and where the robot mop has cleaned. The navigation isn't as great as what you would get with some of its competitors on this list, either. But if you're searching for a robot mop that is reliable and sweeps and also mops, this model is worth looking at.
Pros: 
Can suck up liquid spills
Vacuum and mop in one robot
Can deal with bumpy floors effectively
Four cleaning methods
Cons: 
Navigation isn't as great as other models
Doesn't connect to wireless internet
Doesn't send you cleaning reports
3. Roborock S5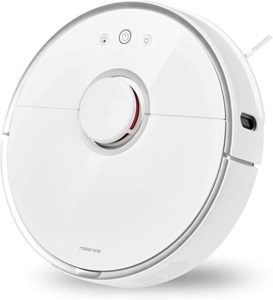 If you're looking for the best robot mop with broader features, take a look at the Roborok S5. This model is compatible with Alexa and Android and even comes with its own app. This feature lets you schedule cleaning times and can be used to store your home maps, so your robot mop knows where to clean. It even allows you to set different cleaning modes for different areas of your home, as well as allowing you to set no-go areas.
You can choose from sweeping and mopping, with different cleaning modes for carpets, turbo, maximum, and balanced suction. It even features a quiet mode if you want this model to clean without disturbing you.
Navigation is incredibly effective with this model. The technology of this robot mop can map out cleaning routes and make schedules. You can even monitor the progress of this mop and make adjustments as needed.
It can go back to its dock to recharge when it's done cleaning, maneuver around tricky barriers, and even avoid falling downstairs. It also has a systematic cleaning pattern feature that provides you with comfort that the robot is cleaning every area of your floor.
In addition to being able to travel smoothly over carpet and hard floors, this model can take on obstacles that are 2cm high. This robot mop and vacuum limitation is a deep pile carpet, where it can fight against the high fibers. With a low pile carpet, this robot works great. There's even a specialized mode for carpeting that lets the mop identify the carpet's construction and switches the cleaning performance to suction to clean it. When it leaves the carpeted area, it returns to mop mode.
This robot features 2000Pa suction, which is one of the most powerful suctions on a robot on the market. Additionally, it can run for 2.5 hours on a full charge. However, there are a few minor flaws.
One deals with the software, where occasionally, it will return an error message saying that the main brush is clogged. This isn't a big issue but can be annoying since most of the time, the main brush won't be clogged. The second issue is that it won't clean corners as well as a conventional vacuum or crevice tool would, but that's a small price to pay for all of the other amazing features.
Pros: 
Compatible with Alexa and Android
Excellent navigation system
Systematic cleaning pattern
Powerful 2000Pa suction
Cons: 
Doesn't clean corners well
The software can be glitchy
4. ILIFE V8s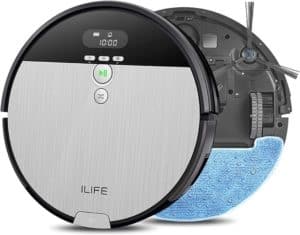 This is another robot mop that is focused on hard floors and is the best robot mop for pet hair. This robot will vacuum, damp mop, and sweep, and you can pick from six cleaning modes. Select from random cleaning pattern to systematic cleaning pattern, and from three variable speeds to drop water when the robot is mopping.
The V8s doesn't feature a mapping system. Instead, it divides the floor into squares. If you choose the "path" cleaning function, it will go back and forth, cleaning each square.
This robot mop does have limitations. For example, if you have a complex room layout, the robot will struggle. Additionally, it would help if you cleared your floors of obstacles, such as cables, before you start the mop or stop working.
There aren't any fancy apps or wireless internet connection with this model as well. There is, however, a clear display on the robot that allows you to see its features. You can operate this mop with the buttons located on the unit or with the remote control.
The V8s will return to its charging dock by itself and empty itself after cleaning. The waste bin can hold three-quarters of a liter, which means that you won't have to empty it during the cleaning session.
Pros: 
Great at cleaning pet hair
Three separate water dispensing speeds
Large waste bin
Cons:
Can't handle small obstructions
The navigation isn't designed for complex floor plans
5. iRobot Braava Jet 240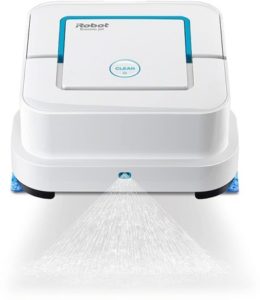 This robot mop changes up the design trend for robot mops by being square instead of round. Once you get over the unorthodox shape, you'll find that this robot mop offers a wide variety of functions: wet mopping, damp mopping, and sweeping of dry floors. It does a great job mopping all flooring types, including hardwood, stone, and tile surfaces.
It comes with different cleaning pads depending on if you're sweeping dry floors or damp or wet mopping. Place the chosen pad on the bottom of the robot, and it will automatically pick the correct function.
This robot mop doesn't just pass over your floor. Instead, when it's in damp or wet mopping mode, the cleaning pad gently vibrates as it moves to scrub away stains and dirt. The square shape of this model also comes in handy when cleaning the corners of a room.
There's another neat feature on this robot mop called the "virtual wall" mode. This mode lets you set borders between rooms that don't have doors, which keeps the robot in the desired area. Additionally, it has a pad ejection button to save you from having to touch a filthy cleaning pad.
There are a few limitations, however. For instance, there's no option to utilize any other cleaning solution other than the Braava cleaning solution. Plus, the pads tend to bunch up during cleaning sessions, affecting the cleaning process.
Pros: 
"Virtual wall" mode stops the mop from going into areas where it isn't required
Great for cleaning crevices and corners
Offers three cleaning modes: dry sweeping, damp mopping, and wet mopping
Cons: 
Navigation can struggle in complex room layouts
You can't use your personal preferred cleaning solution
6. bObsweep Robotic Mop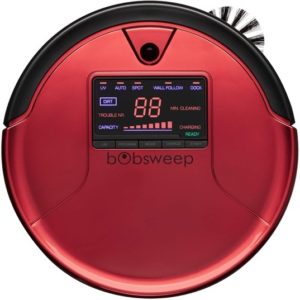 This fancy red robotic vacuum and mop is designed to make sure that you can find it throughout your house, and it has some neat features.
The first feature is that you can schedule out the cleaning times for this mop. You're able to set different times for this mop to start cleaning on a one week cycle. You can easily do this using the buttons located on top of the robot or with the included remote control.
You also able to choose between mopping and sweeping, but the sweeping function is far more effective. The mop isn't as effective because it doesn't apply downward pressure so that it can't clean up tricky stains. There are also some complaints about the wheels slipping after the floor becomes wet.
You can run this robot on carpets, tiles, and wood floors, but you need to keep rugs with fringes out of the way from this robot. The brushes on this robot can get caught on them, which can interfere with the cleaning process.
This mop doesn't map out your room and will roam aimlessly around your floor cleaning, but it will continue going until the floor is clean. If it misses any spots, you can easily redirect it using the remote control.
The battery gives you at least an hour of cleaning time. When it's completed, the mop will automatically return to its docking station to recharge. Make sure that it doesn't get stuck under your furniture. If this happens, it will begin to beep to alert you that it needs help so you can easily find it.
A huge bonus to this robot is its 1100 milliliter dust bag, which is by far the biggest that you'll find on the market for robots. Plus, if you're looking for the best robot mop that's quiet, this is the one for you. You can keep it running when you're working, reading, or watching TV, and it won't disturb you – you might even forget that it's running.
Pros: 
Runs quietly
Large dust bag
Great at cleaning up pet hair from hard floors
Cons: 
The mop function isn't very effective
It's prone to get stuck underneath furniture
Doesn't map out your room
What the Best Robot Mop Offers
Before you settle on a robot mop, consider the following features and functions that will set apart the rest's best robot mop.
They Mop and Vacuum
Single-use robots that only mop floors are usually the cheapest options available to you. But the more expensive hybrid models can meet all of your cleaning needs – vacuuming and mopping. Both single-use robots and hybrid models will feature a cleaning pad and reservoir that has to be filled with water or special cleaning fluid. Still, hybrid models also have a dustbin that can be removed and emptied after vacuuming.
Single-use robots are better for homeowners who mostly have hard flooring types in their homes and use a standard vacuum cleaner on the rare carpeted areas. However, suppose you have a mixture of carpeted and hard floors and haven't purchased a separate vacuum cleaner. In that case, the hybrid robot option is worth the money.
They Have Multiple Cleaning Modes
When shopping for the best robot mop, make sure that you pay attention to the cleaning mode options that the robot has. You'll usually find these options:
Wet Mopping. This is when the robot releases a heavy stream of cleaning fluid and will make several passes over the floor to deep clean.
Damp Sweeping or Mopping. This is when the mop releases a smaller stream of fluid and makes fewer passes over the floor than when it wet mops.
Dry Sweeping or Mopping. This is when the mop will make a single pass over the floor to pick up and clear any moisture from the surface. You can run the dry sweeping or mopping cycle after a wet or damp mopping session to dry your floors, or independently of a wet or damp mopping session when your floors only need a light cleaning.
On hybrid robot models, the vacuum function will either run with the sweeping or mopping cycle, or it will be available as a special vacuuming mode that you can run separately.
They Boast a Long-Lasting Battery
The battery on the best robot mop should range anywhere between 30 to 200 minutes. To avoid the need to recharge the mop during a cleaning session, find a robot mop that's able to clean for 60 to 90 minutes on a single charge. Keep in mind that the battery of your mop will slowly decrease with every charge, so it's best to start strong.
They Have Reliable Sensors
Stairs or furniture can interrupt the cleaning path of robot mops. Still, most models come with sensors that prevent them from running into these obstacles. The most expensive (read advanced) models have sensors that are smart enough to clean only within your floor areas that have been predefined.
You Can Schedule Clean
Advanced models let you schedule cleaning times in advance. This is an optional feature that comes in handy if you need to clean your floors while you're on vacation or at work. Without it, you have to be home to start up your robot mop.
They're Portable
The lighter and smaller the robot mop, the easier they are to transfer from room to room. Look for a mop that isn't more than 15 inches long or wide, and that weighs no more than five pounds for the best portability.
Final Thoughts
Finding the best robot mop doesn't have to be difficult, but it can be easy to get lost in the details and features that robot mops offer. You can be torn between getting a hybrid robot mop or a single-use robot mop – in most cases, getting a hybrid is the better option, especially for the money you're spending.
You want to make sure that you're getting a robot mop that is going to work with your cleaning needs, whether that be scheduled cleanings or being able to differentiate between carpet and hard floor. Or, you could want a robot mop that maps out your room and provides cleaning reports, so you know that it cleaned your entire floor.
It doesn't matter what requirements you have; chances are you can find the best robot mop for you if you simply make a list of your needs and wants. By using this guide, you will hopefully be able to find the best robot mop for your cleaning needs.