It doesn't get better than this mashed sweet potato recipe. It's vegan, nutritious, and requires just 3 ingredients to make. In just under a half-hour, you can have luscious and creamy sweet potatoes everyone will love.
The Best Mashed Sweet Potatoes Recipe Ever
Everyone loves a good mashed potato. Their delicious richness is so hard to resist, especially when paired with the perfect gravy. But, mashed potatoes don't come in just one form - they come in many!
One of my favorite ways to make mashed potatoes is with sweet potatoes. I discovered this through my own journey of plant-based eating. As I cut out a lot of my meat intake, I began to explore various new vegetable recipes.
The craving for mashed potatoes of course came around in this process. Mashed potatoes can easily be made vegan. But, as I evolved my plant-based eating, I fell more and more in love with sweet potatoes. They are versatile, naturally sweet, and completely irresistible. To be honest, I prefer mashed sweet potatoes the most!
Rather than boil the sweet potatoes (which can decrease the nutritional value of the potatoes,) I decided to steam them. This keeps all the flavor and vitamins inside the sweet potatoes. It also speeds up the cooking process entirely.
Roasting sweet potatoes is always an option. It will give a more smoky roasted character to your mash, something very delicious with a little maple syrup. But, oven roasting will substantially increase the cooking time in this recipe.
This recipe is 100% vegan and gluten-free. If you aren't vegan, you can easily sub the vegan butter for regular ole melted butter as well. Although I am not 100 percent vegan, I prefer using vegan alternatives as they are much lower in saturated fat.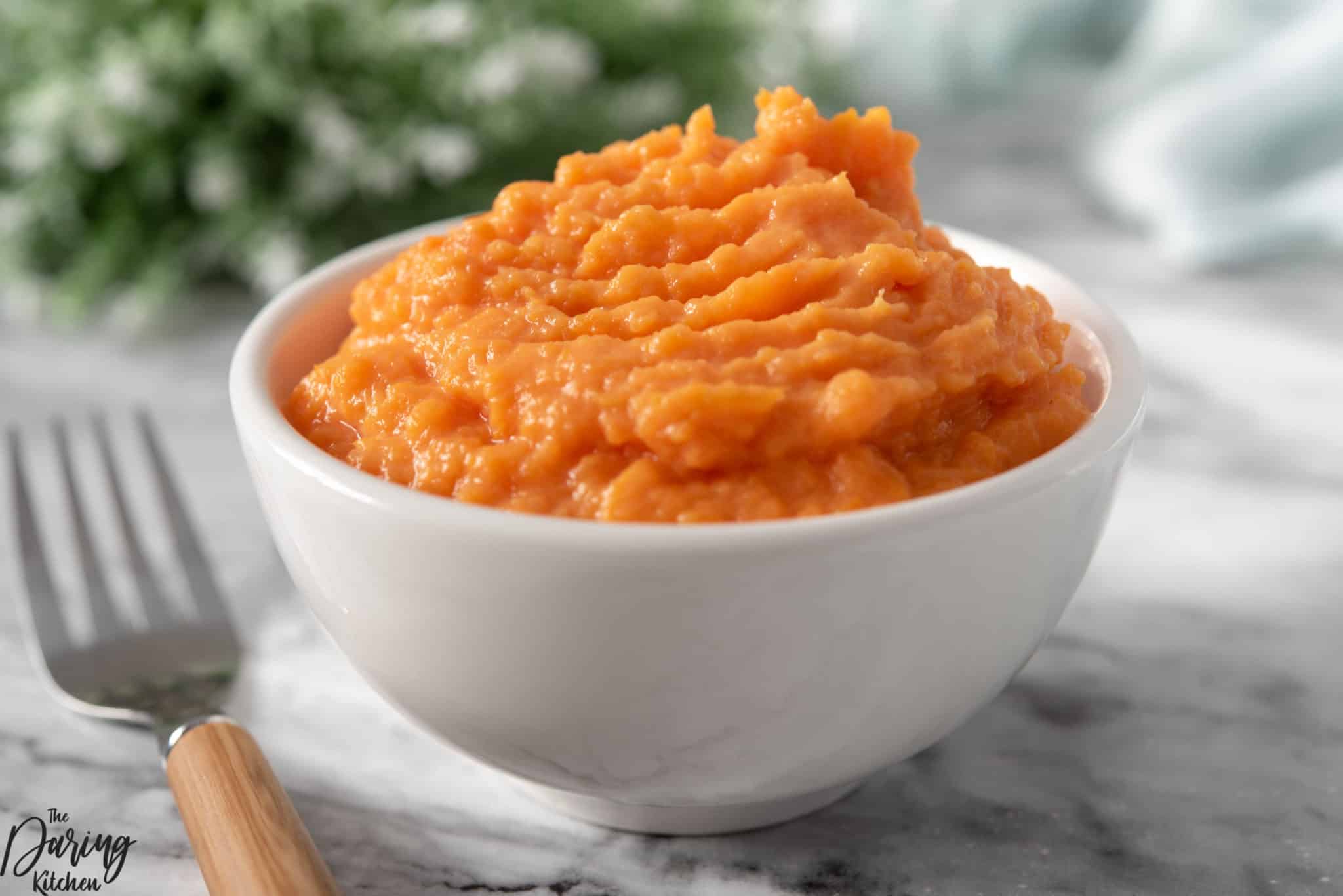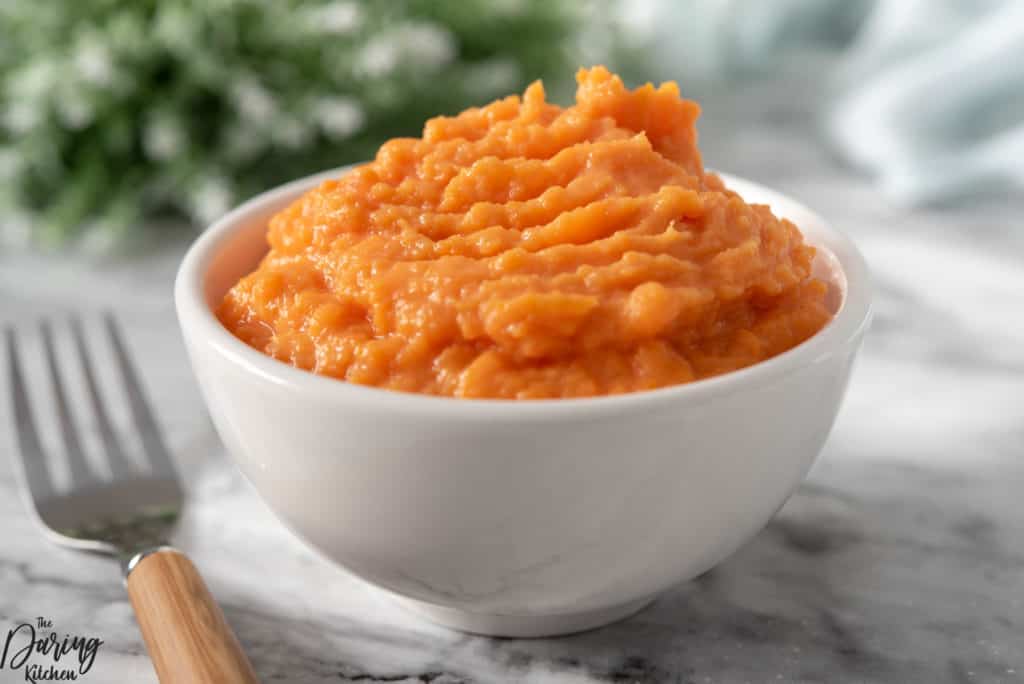 Why Sweet Potatoes Rock
I may have said this a million times, but sweet potatoes are the absolute best. For those looking to fill their diets with healthier carbs, sweet potatoes are the answer. They give you energy and tons of vitamins. Plus, sweet potato fills you up and sustains your hunger for hours!
Sweet potatoes are nutrition powerhouses. They have a boatload of vitamin A, which is great for your eyesight and skin. These roots also have plenty of antioxidants and fiber, helping to support healthy digestion. All of these make sweet potatoes great any time of the year, to give your immune system some extra protection.
Another reason I love sweet potatoes is their versatility. You can enjoy sweet potatoes in both sweet or savory dishes. This particular mashed sweet potatoes recipe is definitely more savory. But, with a little maple syrup or brown sugar, you can turn this into a more festive mashed potato recipe.
I love creating a little burned brown sugar topping, especially when I make this recipe for a special celebration. I've made this sweet potato recipe for the last few Thanksgivings - it is always a hit! Plus, these mashed sweet potatoes look amazing on a Thanksgiving table.
Ingredients in Vegan Mashed Sweet Potatoes
So, you know that there is sweet potato in this recipe, that is for sure. But, what else is in this mashed sweet potatoes recipe?
Just 3 ingredients - that's it! Along with a few kitchen appliances, that is really all you need. That is why I love this recipe. Its prep time and cooking time are very quick. It demands little of your time and gives you a lot of flavor.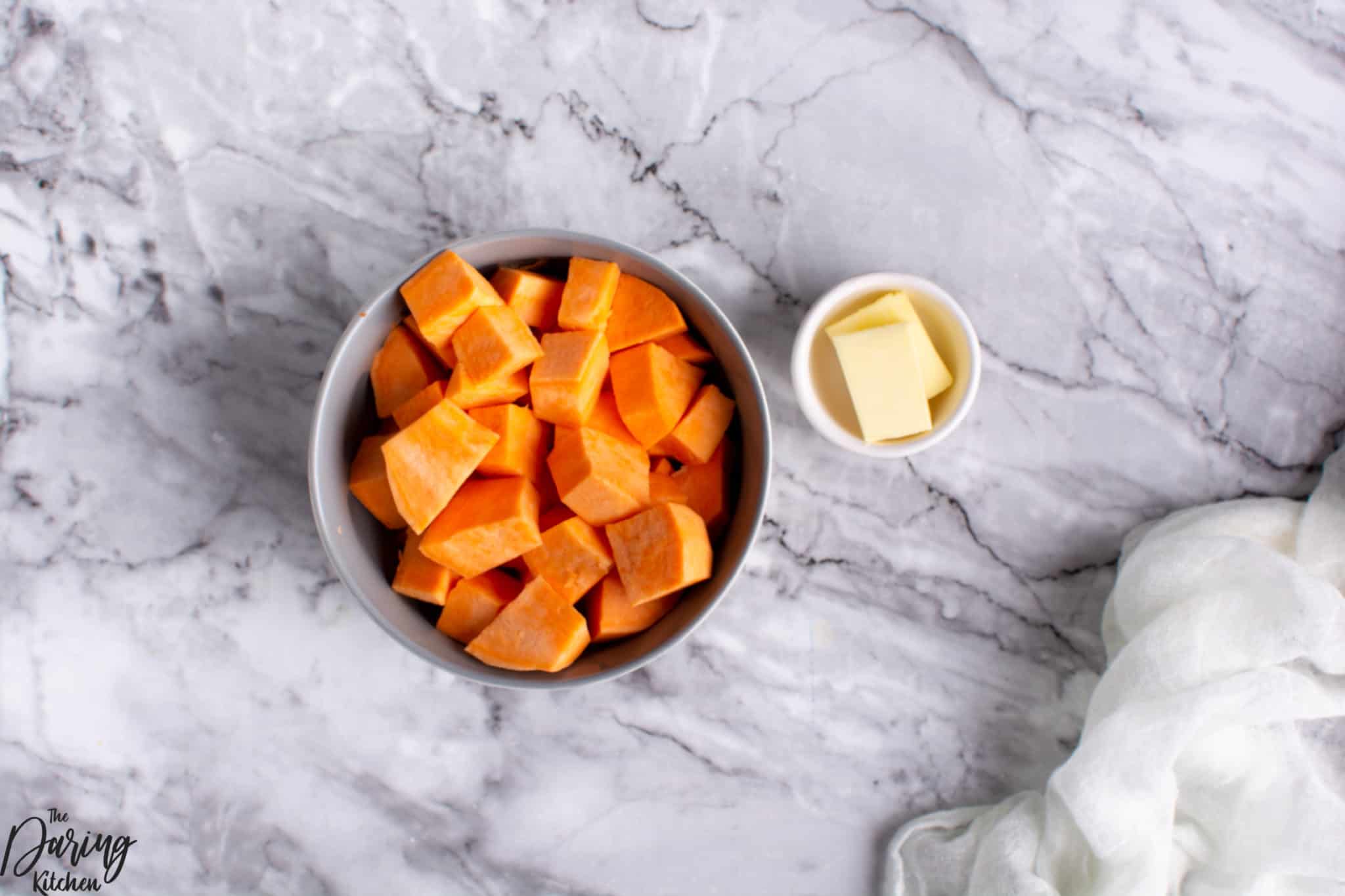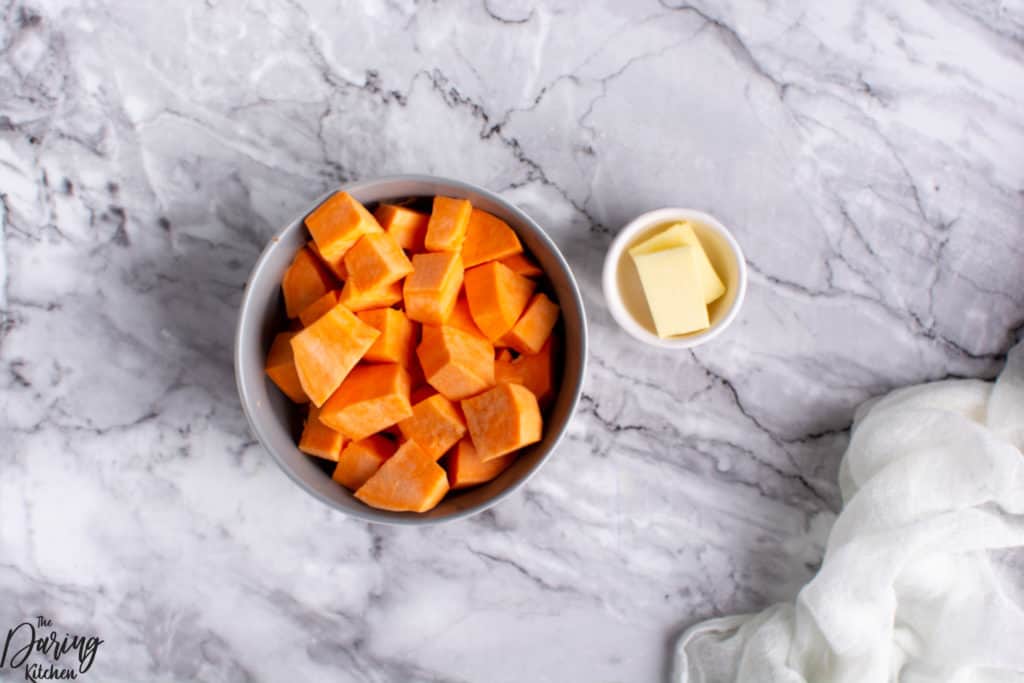 Ingredients you will need in this sweet potato recipe:
Sweet potato
vegan butter (or coconut oil)
salt (and freshly ground black pepper if you like!)
And I cannot forget the kitchen appliances you will need as well!
saucepot
steamer basket
Bowl
potato masher (immersion blender or food processor works as well)
These ingredients all come together to create delicious and creamy mash sweet potatoes. You have to trust me! Sometimes, if I am feeling a little extra indulgent, I add some coconut milk too. It is totally optional.
If you are craving a sweeter mash, try adding in a bit of maple syrup or brown sugar to this recipe. The combination is unbeatable. This more sweet version tastes delicious with rich vegan gravy.
If you decide to keep the sweet potato recipe the same, I love pairing these sweet potatoes with pesto or coconut milk cream. During the holidays, this mash is the perfect accompaniment for vegetarian wellington! Sometimes, I get a little creative and add in cayenne pepper for an extra kick.
Oh, did I mention this recipe gives you a little workout too? Using a potato masher definitely lets you break a little sweat!
How to Make Mashed Sweet Potatoes
I've talked up these potatoes enough. Let's dive into how you make these delicious mashed sweet potatoes.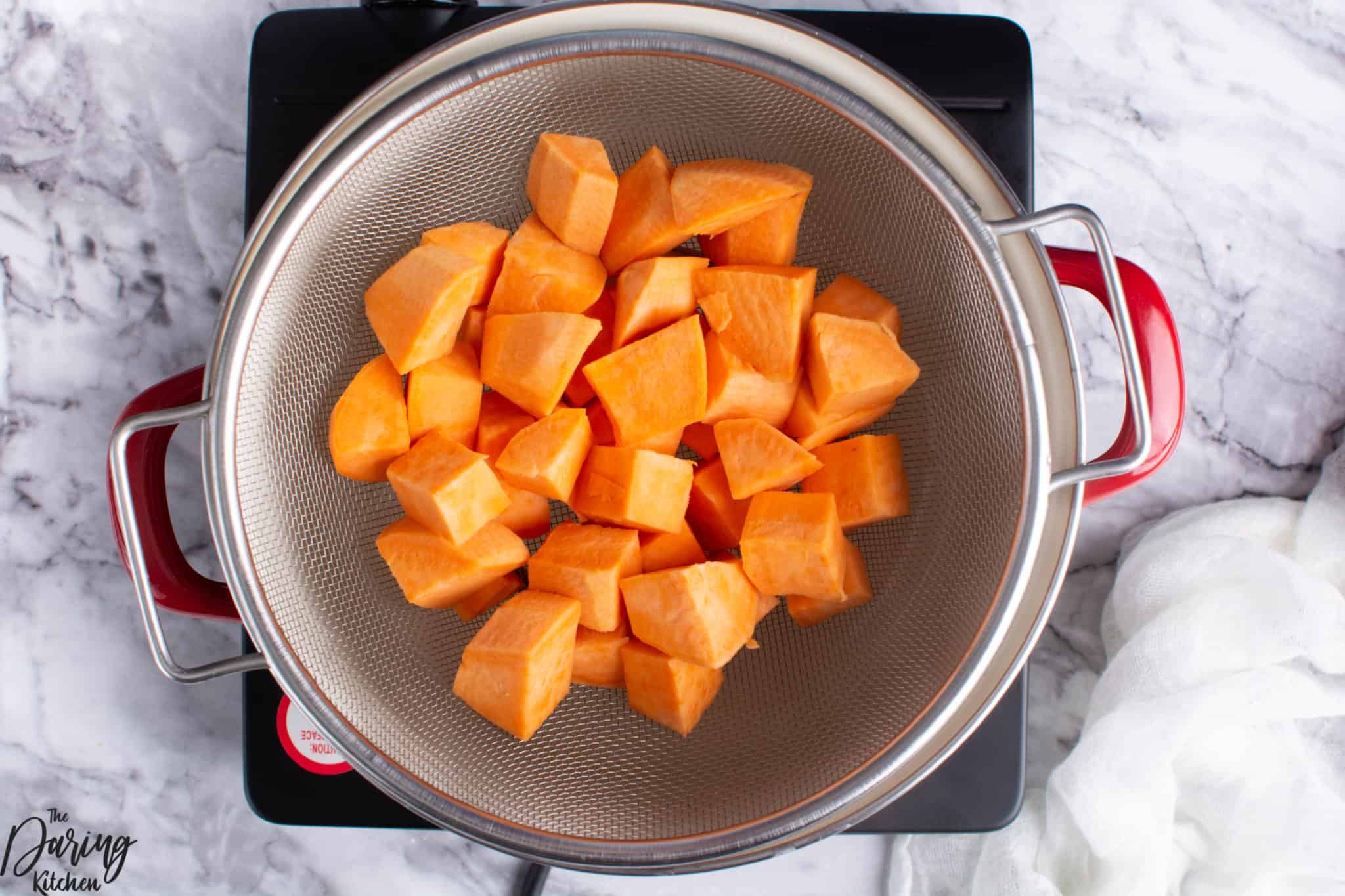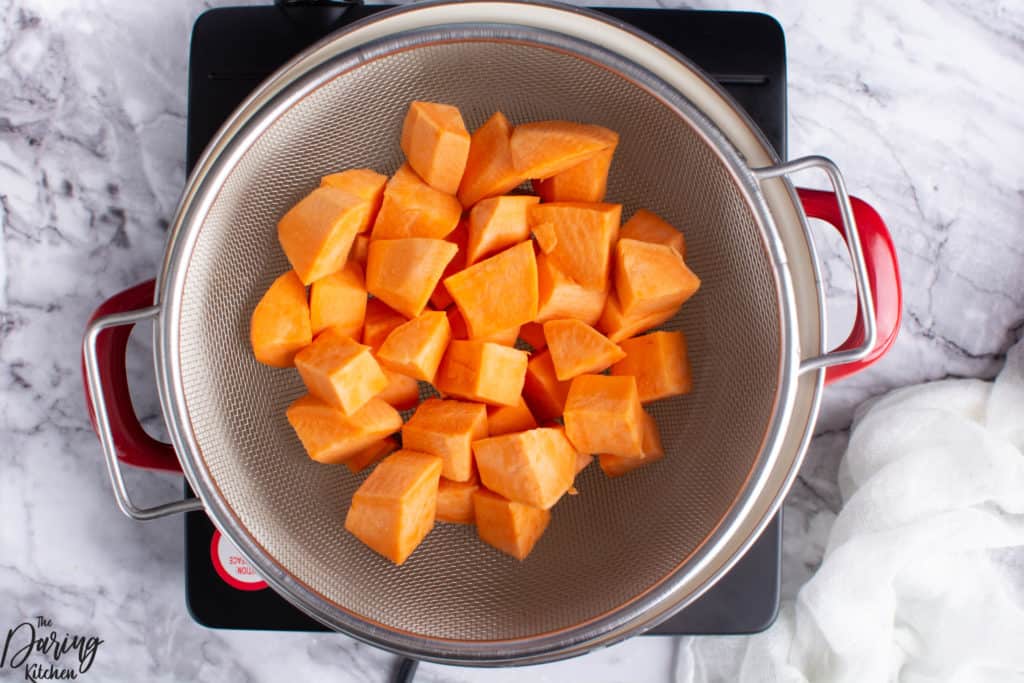 First, you need to set up your steamer. Find a saucepot that will fit your steamer basket (if the two didn't come together already!) I suggest using a large pot, to ensure that that the steamer basket fits. Then, add water to your saucepot. You will need about 2 inches of water inside your pot.
Place the pot over medium heat. You will want the water to begin to boil before you add your sweet potatoes. While you wait, peel and chop your sweet potatoes into cubes.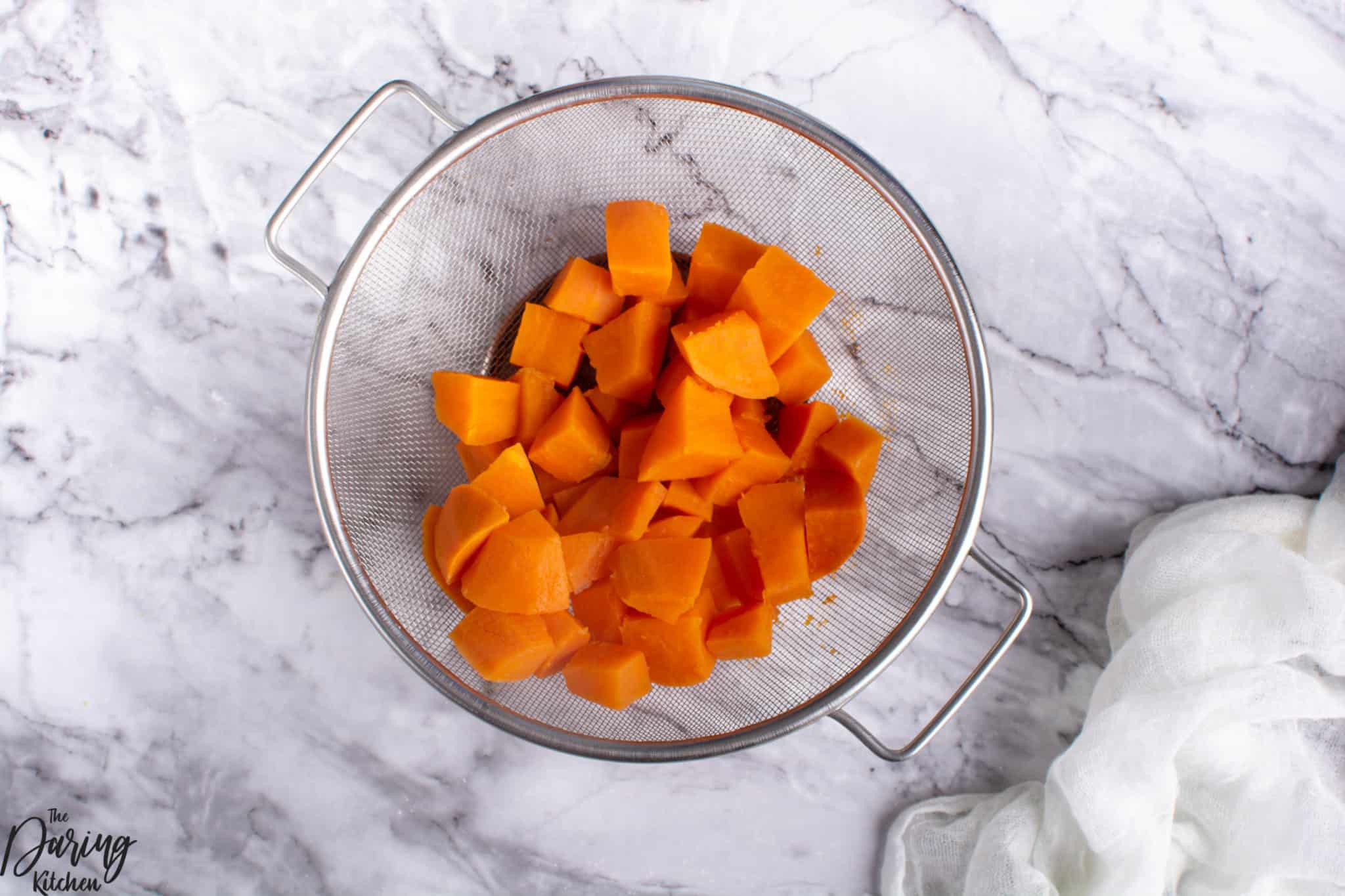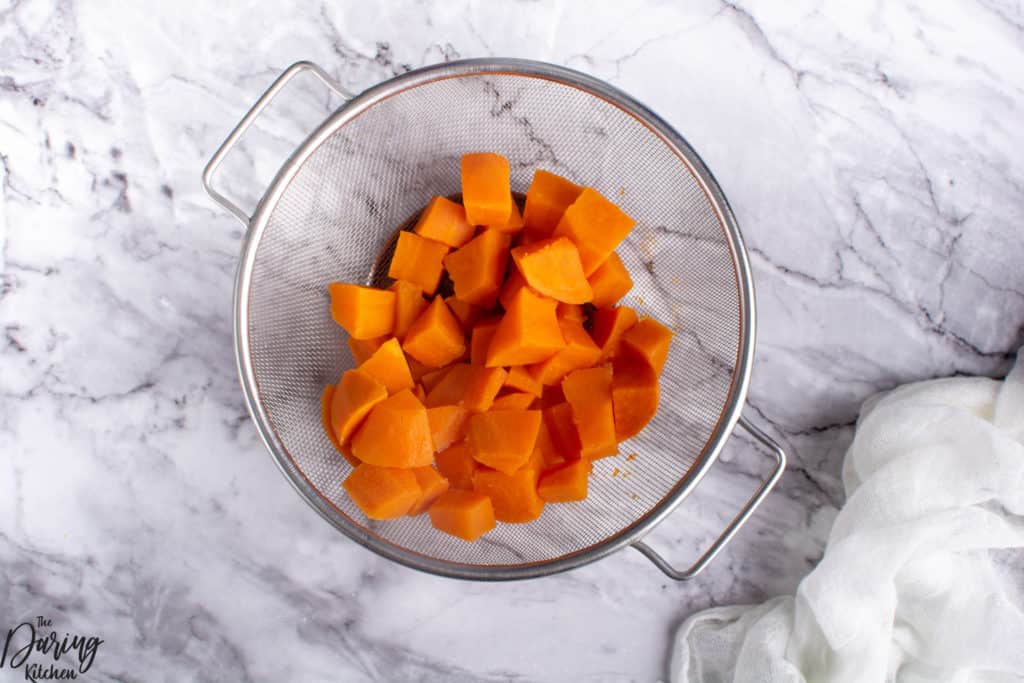 Carefully place your sweet potatoes in the steamer basket, ensuring the cubes aren't too crowded. Then, cover your pot with the lid and steam potatoes for 20 minutes. When the sweet potatoes are fork-tender, they are ready.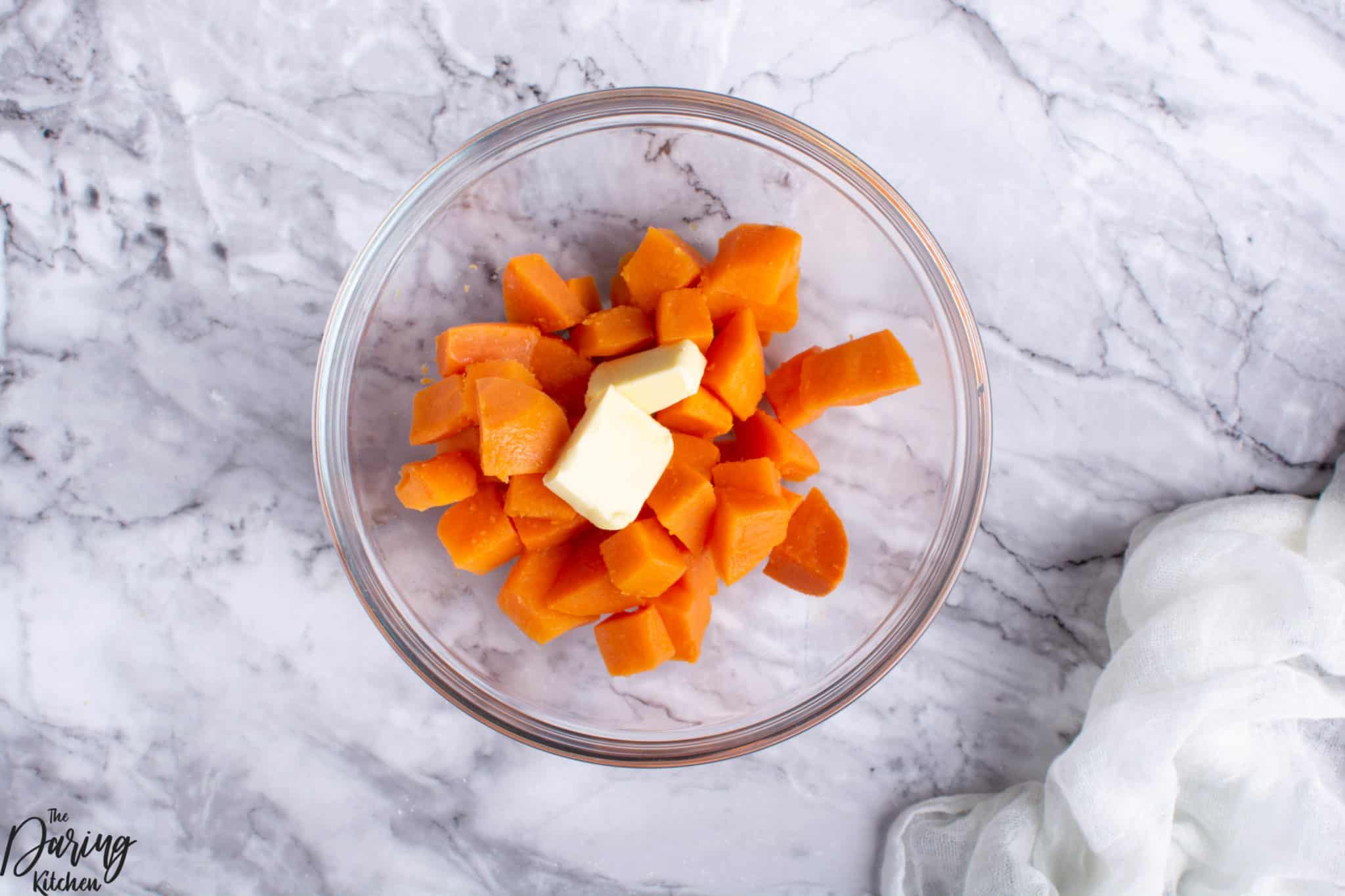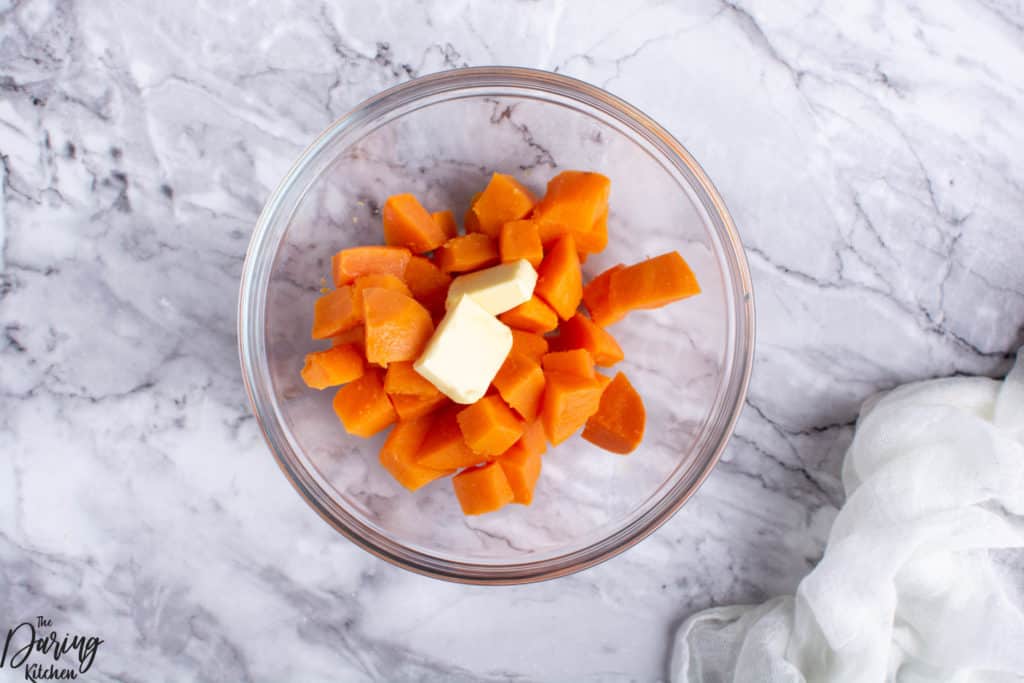 Gently add the cooked sweet potatoes into a bowl. Mix them with melted vegan butter or coconut oil. If you are going for sweet in this recipe, now's the time to add in your maple syrup, brown sugar, or sweetener. The same goes if you decide to add in any coconut milk or almond milk for extra creaminess.
With a potato masher (or immersion blender,) mash your potatoes until smooth. The desired texture isn't a puree. So, if you do use an immersion blender or food processor, make sure you don't over-blend the potatoes!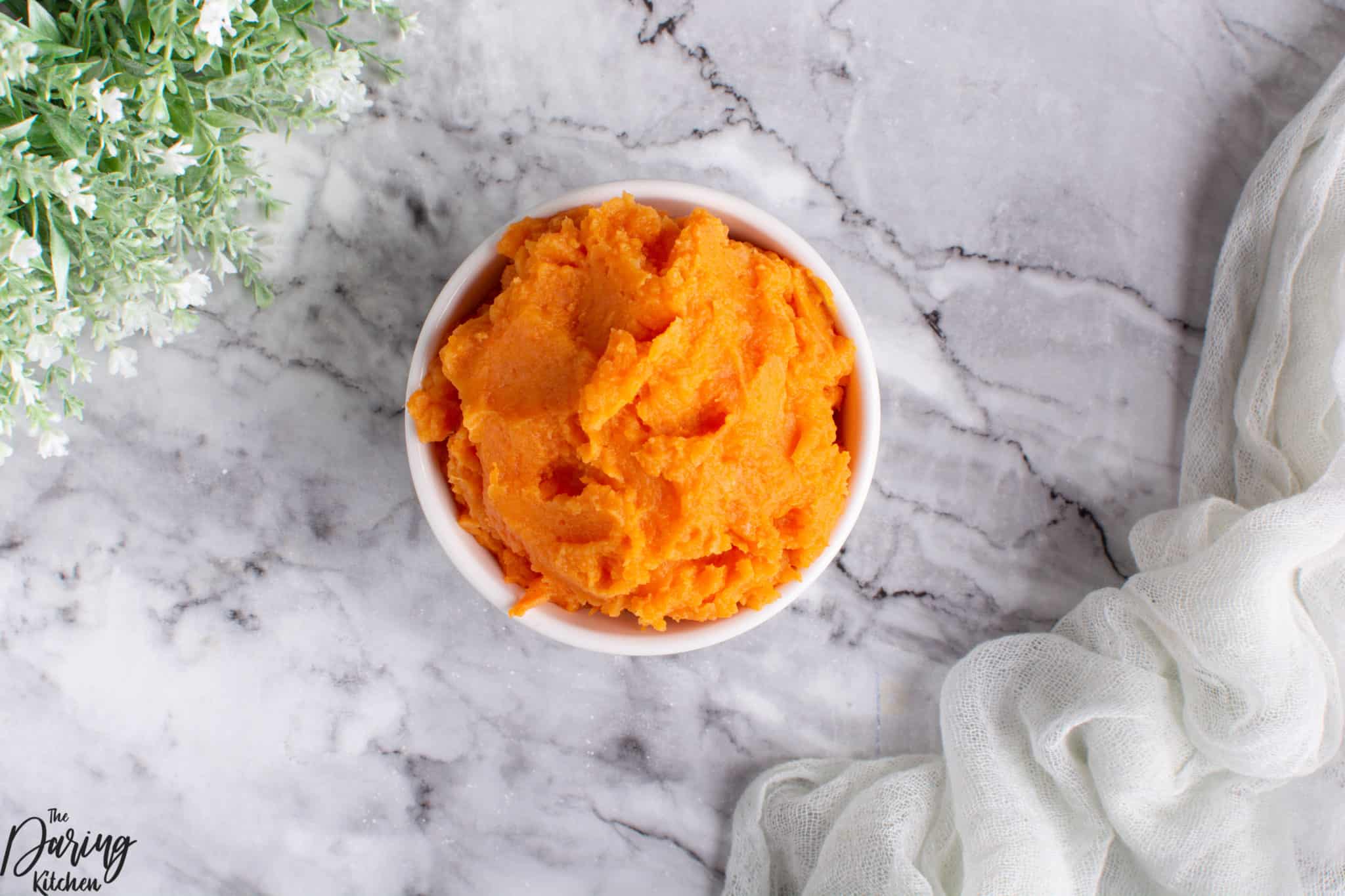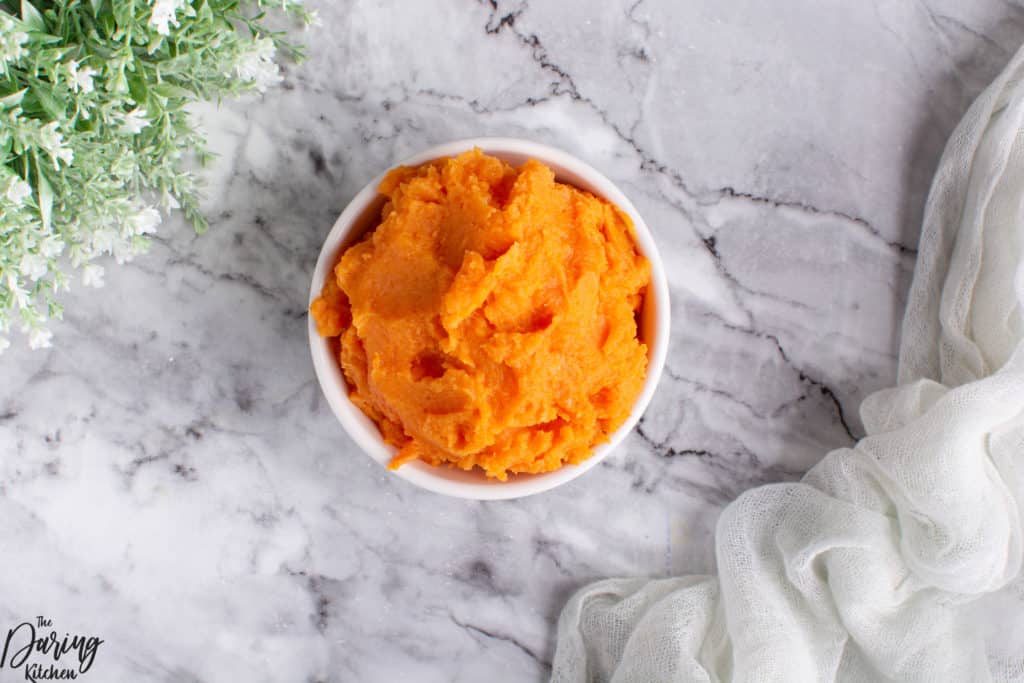 Pour your mashed sweet potatoes into a serving bowl. Serve hot, with a festive garnish. I love to garnish these with toasted pecans! If you are making this recipe vegetarian, parmesan cheese is a great addition too.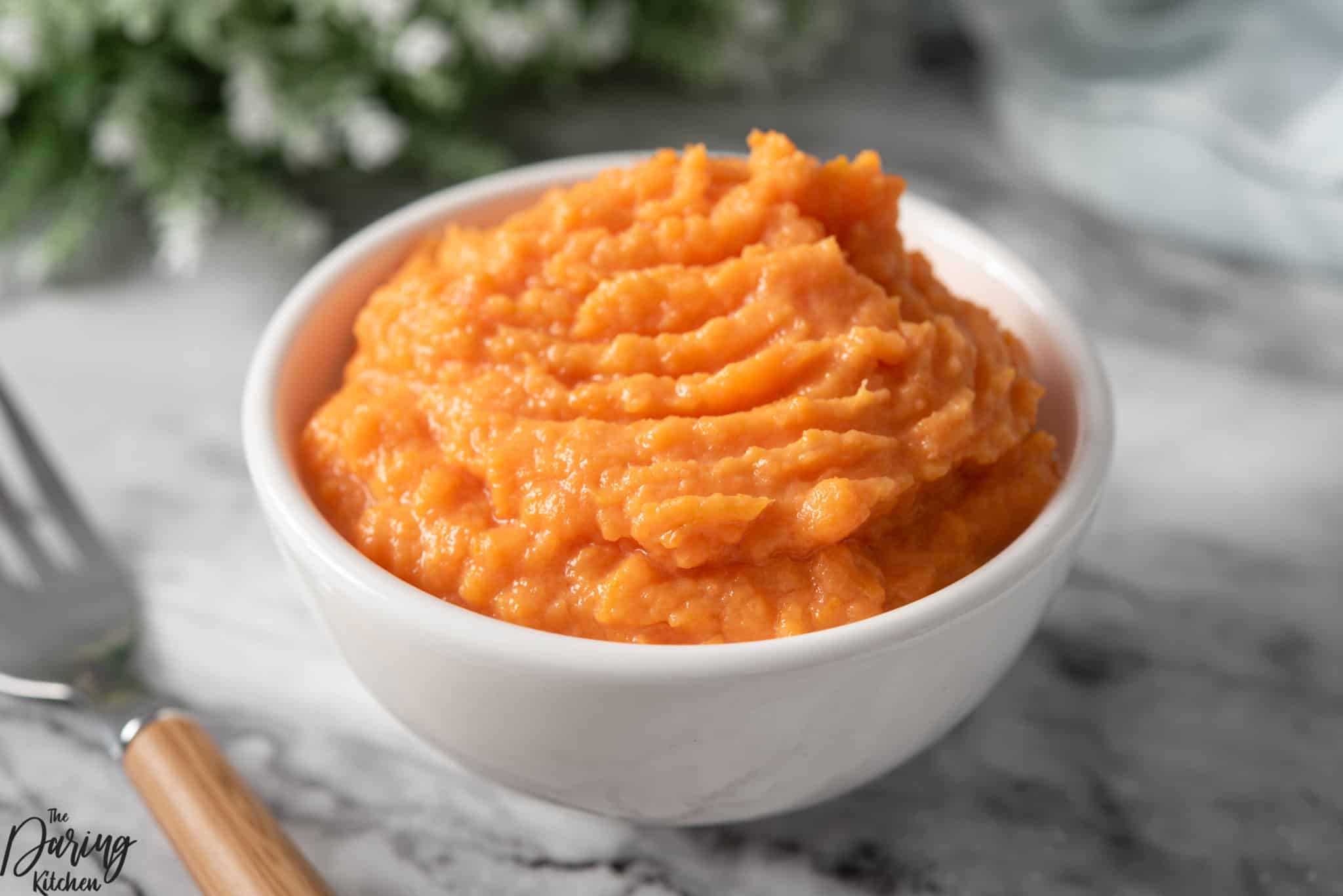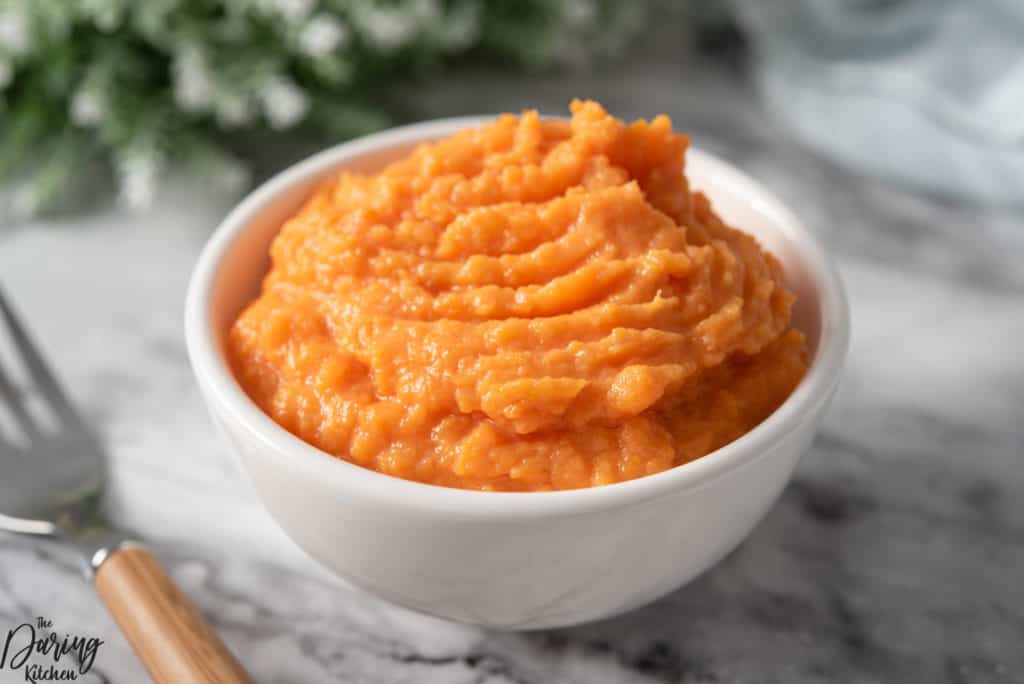 Curious about more sweet potato recipes? Maybe to create the best thanksgiving menu? I have a ton, with various flavors and suit different diets!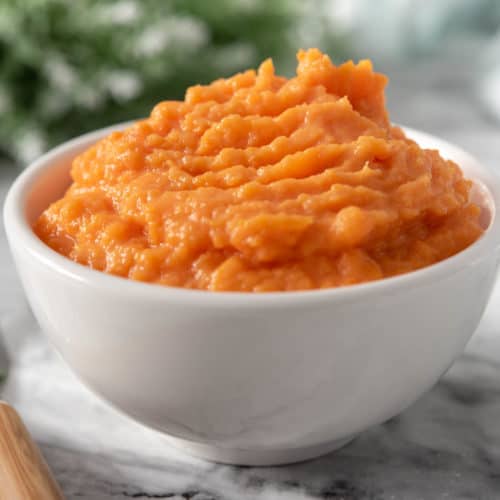 Sweet potato mash
Easy, creamy, and vegan sweet potato recipe that everyone will love, even if it's not Thanksgiving!
Print
Pin
Rate
Ingredients
1

lb

sweet potato

1

tbsp

vegan butter, or coconut oil

Salt, to taste,

if making savory
Instructions
Pour 2-inches of water in a saucepot.

Insert a steaming basket or any heat-proof basket that fits your pot.

Peel and chop potato to equal cubes.

Arrange the potatoes in a steaming basket. Cover with a lid and steam for 20 minutes.

Transfer the potatoes into a bowl.

Add vegan butter or coconut oil, and mash using a potato masher.
Notes
I suggest steaming sweet potatoes, because classic boil will add to much water and make them too runny.
Nutrition
Calories:
65
kcal
|
Carbohydrates:
15
g
|
Protein:
1
g
|
Fat:
1
g
|
Saturated Fat:
1
g
|
Sodium:
42
mg
|
Potassium:
255
mg
|
Fiber:
2
g
|
Sugar:
3
g
|
Vitamin A:
10725
IU
|
Vitamin C:
2
mg
|
Calcium:
23
mg
|
Iron:
1
mg