There's no denying that donuts are a confection of sweet fried dough that is a real treat for children and adults alike across the globe.
These sweet treats are a highly personal subject for even the most average foodies, possibly second to coffee and chocolate. It's, therefore, no surprise that coffee and donuts make such a renowned comfort combo.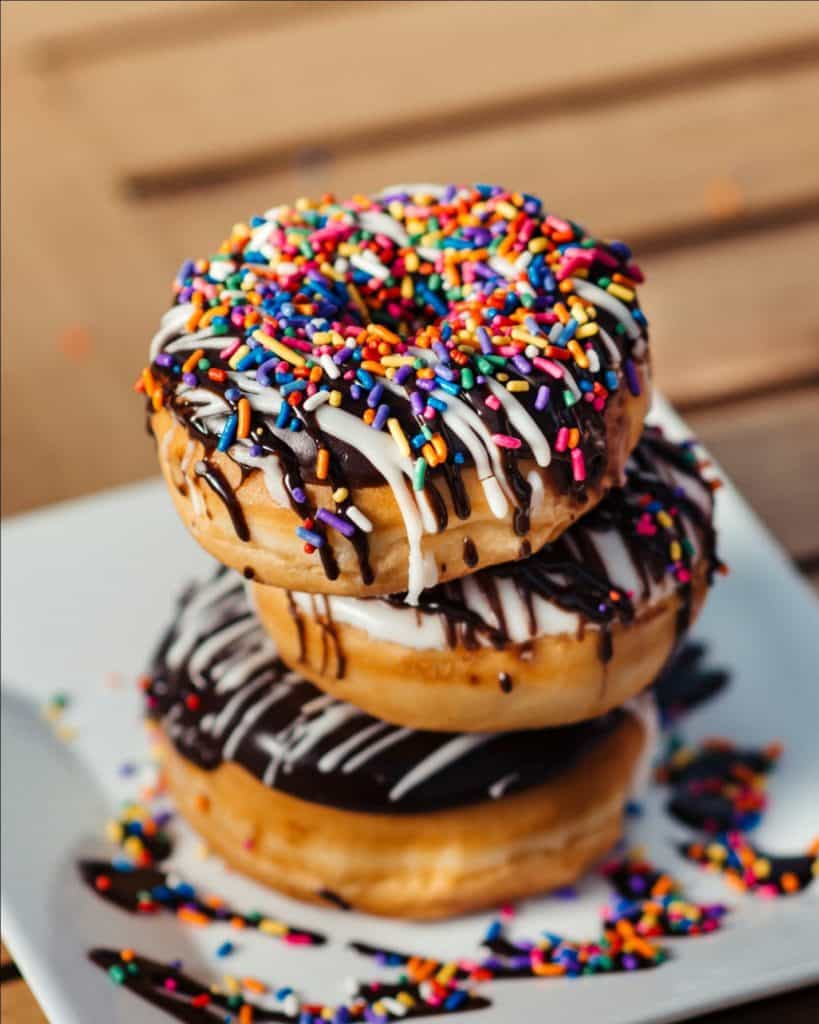 While donuts give us the warm fuzziness and universally regarded as the masters of soothing emotions, how often should we indulge in them?
More importantly, for those following a strict plant-based diet, are donuts vegan? If we've sparked your curiosity, read on as we delve into these soft, gooey goodies that many people know and delight in.
Ingredients in Donuts
To answer the question, 'Are donuts vegan?' we'll start by pinpointing these sweet treats' ingredients. The issue is whether or not anyone following a strict plant-based diet can have donuts, so it's important to first be aware of what donuts are made of. Granted, there is an increasing number of popular donut alternatives. However, they're not all the same.
With that being said, these are the ingredients in simple, traditional donuts with nothing more sugar sprinkled on top. Generic Sugar & Cinnamon donuts have:
Baking Powder
Milk
Cinnamon
All-purpose flour
Butter
Salt
Cooking oil
Eggs
Not only the ingredients but also their proportions vary. Nonetheless, these are the most common ingredients you'll find in store-bought and homemade donuts. It's a no-brainer that traditional donuts contain an abundance of problematic products in the realm of a vegan or plant-based diet.
These include butter, eggs, milk, and sugar (it may or may not be vegan). Moreover, gluten-free vegans will have a problem with the all-purpose flour as it's usually wheat flour.
Are Donuts Vegan?
Veganism is a lifestyle known for its exclusion of animal products. A plant-based diet spills to all facets of life, which means vegans are concerned with everything that leads to harm, including animal and human suffering.
Therefore, they don't eat dairy, meat, eggs, or otherwise from animals. Keeping that in mind, traditional donuts are non-vegan as they contain a boatload of animal products, with the main ones being milk, eggs, and butter.
Nonetheless, the good news is, donuts can be vegan. Substituting animal ingredients with vegan-friendly products is a walk in the park. As a result, vegan donuts are readily available in the US and other countries across the globe. Furthermore, these sweet treats are a breeze to make at home.
Do All Donuts Have Eggs?
One of the most essential ingredients of conventional donuts is eggs. Commonly used in non-vegan baking, eggs infuse immense texture to the donuts by essentially gluing the mixture together to make it spongy. Nonetheless, they are easily replaceable with the following powders and ingredients.
Soy Yogurt
Baking Soda
Mashed Bananas
Nut Butter
Tofu
This is just a small sampling of the countless possible substitutes.
Do All Donuts Have Dairy?
Based on the above ingredients, all conventional donuts have dairy. As much as we care about preserving tradition, the truth is, recipes change over time, and donuts are no exception. There's a multitude of vegan recipes for donuts for you to select from.
Traditional donut recipes use eggs and dairy. However, vegans can substitute those ingredients, for instance, milk. It's the easiest ingredient to substitute as there are various kinds of vegan milk as listed below.
Wheat Milk
Rice Milk
Soy Milk
Almond Milk
Coconut Milk
Are Donuts Vegetarian?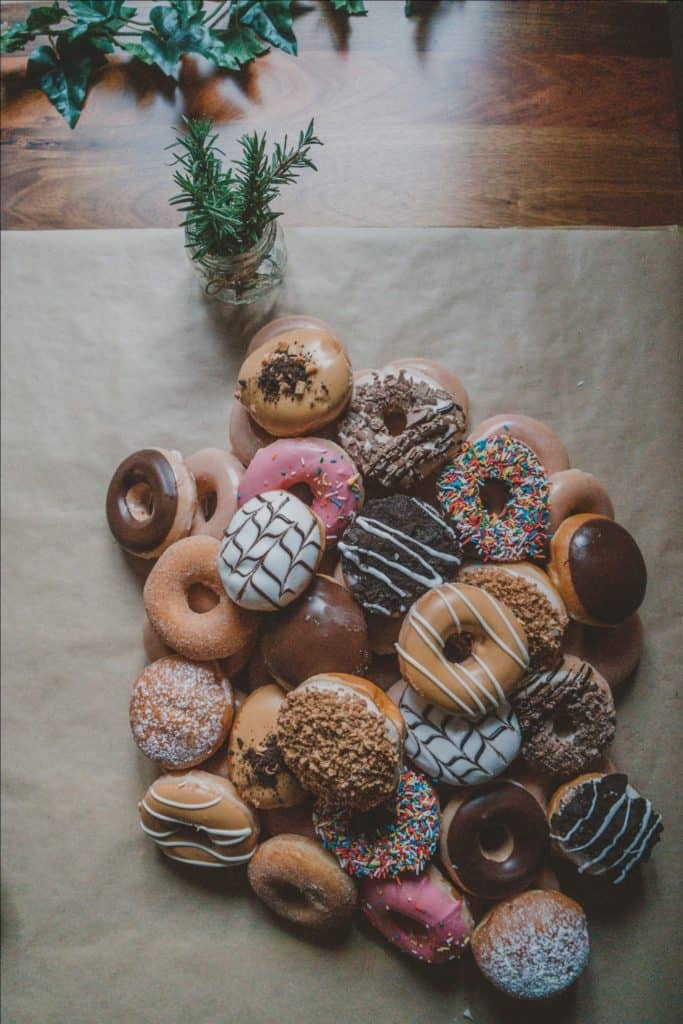 Whether it's for dietary or ethical purposes, vegetarians are mostly concerned with their diet, excluding all animal products. The vital differentiation between a vegetarian and a vegan is that vegetarians don't eat meat. However, they consume foods such as milk, eggs, and butter.
Fortunately for vegetarians, donuts are usually 100% vegetarian. The reason for this is, while they contain eggs, milk, and butter, they exclude meat. Therefore, vegetarians can safely consume donuts while adhering to their diet.
However, there are a few exceptions. Some companies use non-vegetarian artificial flavor enhancers that are labeled as:
animal enzymes
natural flavor
gelatin
These ingredients are not all vital to donuts. While most donuts won't have any of these, it's worth noting that some may. For instance, the donuts you should steer clear of if you're a vegan or vegetarian are those with types of gummy bear flavorings.
The reason for this is, more often than not, gummy bears and other similar candies use gelatin. While it gives donuts structure, unfortunately, it's an animal byproduct.
Are Donuts Gluten-Free?
In today's era, the gluten-free diet is soaring in popularity. While some people adhere to it for a healthier lifestyle, others do so due to gluten sensitivity. Regardless of the reason, a gluten-free diet lacks all forms of gluten, such as wheat protein, commonly found in barley and rye.
If you're wondering whether donuts are gluten-free, the answer is yes! Most store-bought donuts and recipes factor in all-purpose flour. As a wheat product, this type of flour is problematic for a gluten-free diet because it contains gluten. However, while most donuts are not 100% gluten-free, they can be.
Gluten-Free Donuts
As is the case with the boatload of other ingredients used to make donuts, wheat flour is easily replaceable. What you may not realize is that it's probably the easiest ingredient to substitute. Here's a list of the gluten-free alternatives to all-purpose wheat flour.
Oat Flour
Brown Rice Flour
Buckwheat Flour
Corn Flour
Teff Flour
Almond Flour
These substitutes allow you to easily enjoy gluten-free donuts. Along with replacing non-vegan ingredients, you can make gluten-free vegan donuts. It also means that bakeries and other food businesses can make gluten-free donuts, and many do.
Are Dunkin' Donuts Vegan?
Wildly popular across the globe, Dunkin' Donuts is a chain that takes pride in its products. Their delicious donuts lure in people in droves, more so because they offer a boatload of vegan options such as English muffins, hash browns, oatmeal, and bagels. Nonetheless, vegans will have tough luck getting plant-based donuts at Dunkin.'
To Sum It Up
Donuts can be gluten-free, vegan, or vegetarian. However, traditional donuts are neither gluten-free nor vegan-friendly. There's an abundance of alternatives you can use to substitute animal products in regular donuts.
You can easily substitute the eggs, dairy, and wheat flour, to get a closely similar outcome. All in all, vegan donuts (homemade and store-bought) are equally as good as the regular kinds.