For a hassle-free snack that is ready in record time to an easy dinner, a cocktail party or a comfort meal on a rainy day, quesadillas can transform any filling you love or even yesterday's leftovers into a fusion-inspired creation. The options are limitless.
Of course, you can use a simple skillet to make a quesadilla, but a quesadilla maker can reduce the cooking time in half and make the cooking process a lot easier, which is a great thing especially for beginners.
Now you may be thinking: what else can this device do apart from quesadillas only? Well..this may not look like a super versatile kitchen appliance in the first place. However, some quesadilla makers are designed to cook other things as well such as grilled cheese sandwiches, flatbreads, hash browns, cookies, and even waffles.
Curious to find what the best quesadilla maker is? Let's jump right in!
Top Quesadilla Maker Reviews
Hamilton Beach 25409 Quesadilla Maker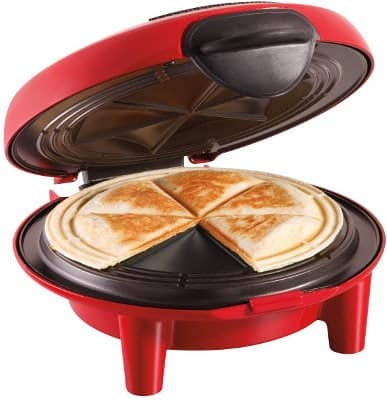 Loving a quesadilla feast for yourself but can't afford a daily visit to the nearest Mexican restaurant? You can still enjoy quesadillas grilled to crispy perfection at the comfort of your own home in less than 5 minutes.
Hamilton Beach 25409 quesadilla maker is an easy to use appliance that has a small footprint and can easily be stored in an upright position. The heating elements on the top and the bottom ensure that your quesadilla is grilled without the need to flip it over while the 'ready' light lets you know you when the device is ready for use.
This best quesadilla maker takes 6-8 inch tortillas and features ribs on the inside that crease the edges so that you can easily separate the wedges with a butter knife of a pizza slicer once the food is ready. The rubber pad on the top makes it easy to close but when opening, it is better to wear an oven glove to prevent burning yourself.
The edge-sealing rings and the locking lid keep the fillings from coming out unless you overfill the tortilla in which case the latch won't lock and the fillings will pour out to the sides. Forcing the latch down is not a good idea either.
Besides, the interior is non stick so you may only need to rub a little oil on the cooking surface before use. It opens wide and is super easy to wipe down with a damp cloth. Just make sure that you don't scrape the interior when removing the food. Use a heat resistant spatula or tongs made from plastic.
Wondering what else this little beauty can do? According to the manual, you can make an egg omelet (the recommendation is to use 2 eggs and 188 ml of filling).
Additional Specs:
Model number: 25409
Prepares 6 wedges
Comes with power and preheat lights
Includes recipes
Limited warranty
Santa Fe Quesadilla Maker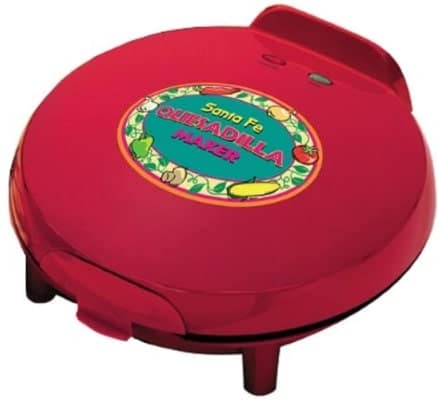 Whether it's melting your favorite cheese, using leftover cooked vegetables and chicken or preparing apple pie quesadillas for a quick yummy dessert, every creative combination is possible for a quesadilla maker, you get the idea.
Sante Fe is a 10-inch large quesadilla maker, which is substantial for hungry crowds or families. Plus, it's easy to use, too. Turn the unit on and allow 2-3 minutes to heat up. In the meantime, you can prepare your fillings. Chop or shred them into small pieces and toss them together with the cheese.
Once the 'ready' light is on, center a tortilla in the maker. Spread the ingredients onto the bread evenly but not up to the edges so they can seal. Place another tortilla on the top and then close and lock the lid. Depending on the thickness and type of your ingredients, the cooking time can vary, but normally you can expect 2-3 minutes for it to brown.
Remember: this unit does not cook, but only heats your toppings and melts the cheese. All the raw ingredients such as meat, vegetables, eggs, grains or rice need to be cooked before adding them to your mix. If you have any left-overs, it's even better, no need to spend any extra minute cooking in the kitchen.
Did you forget something? Whether it's a healthy yogurt garlic dip, sour cream or hot salsa, a dipping sauce is a must and can fully transform the taste of your quesadilla.
When compared to other brands, users like that Santa Fe is a large unit with deep dish pockets, which means you can use more filling. It also works well with meat ingredients. The nonstick coating is durable and easy to clean. It also comes with a drip tray for added convenience and less mess on your countertop.
Additional Specs:
Model number: QM2R
Dimensions: 12″ x 12″ x 6″
900-Watt appliance
Comes with an 'on-off' light, 'ready' light and a steam guard
Cool-touch pads for heat resistance
Recipes included
1 year limited warranty
George Foreman Electric Quesadilla Maker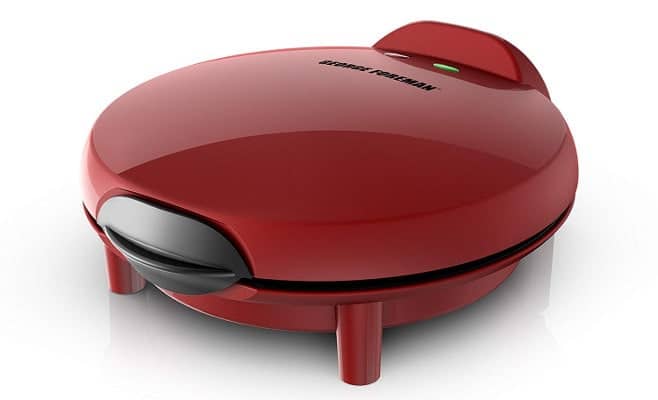 If you are looking for a super affordable gift for a quesadilla enthusiast or anyone who appreciates quick meal solutions such as a college student or a busy mom, this George Foreman quesadilla maker should do the trick.
This red little beauty features a compact modern design that would look good on any countertop. For less clutter, wrap the cord on the base and store vertically in your kitchen cupboard.
Besides, the 10-inch cooking surface is good for making tasty large quesadillas. The seal lines keep the heat inside for even heat distribution and prevent the ingredients from coming out.
The deep sockets are specially designed to host rich food fillings, but here is a word of advice: do not overdo it. Stick to only a few ingredients and about half a cup of cheese per quesadilla.
This kitchen appliance prepares a quick snack in only 3-4 minutes and is simple to serve as the deep lines provide an easy to follow cutting guide. To prevent melting cheese from creating a mess to your countertop, there is a crevice between the bottom and the grills. However, this may take a little extra effort to clean if the cheese overflows into the crevice.
Finally, one thing that users negatively review about this model is that the latch is flimsy and it gets very hot so you have to use a potholder to unlatch.
Additional Specs:
Model number: GFQ001
Makes 6 wedges
Non stick surface
'Power' and 'ready' indicator lights
3 year limited warranty
BELLA 8-inch Quesadilla Maker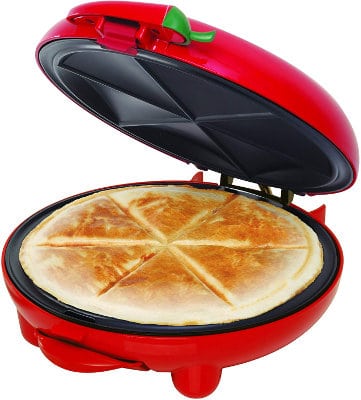 A problem when cooking quesadillas in a pan is that they can end up greasy and soggy instead of yummy crispy.
How? By using more butter or oil than what it's needed. Fortunately, with a quesadilla maker, you don't have this kind of problem.
The non-stick plates require none to minimal use of a fatty substance, which is also good from a 'health' point of view. Warning: Avoid using an aerosol spray oil because it will ruin the non-stick surface. Instead, wipe the nonstick plates with a little cooking oil.
This Bella 13506 electric quesadilla maker heats up fast and makes 8-inch tortillas (6 wedge slices) in almost 5 minutes. You can use a variety of ingredients and the good thing is that any excess grease is selected by a built-in drip tray which is dishwasher safe.
Besides, the handle stays cool to the touch unlike many other similar appliances, and it locks for upright storage.
When it comes to cleaning, you can easily wipe it with a paper towel. A quick tip: It is easier to clean while the surface is still a bit warm(always unplug before cleaning.)
Users love this little lunch and dinner maker but there have also been some complaints about the latch breaking off. To avoid putting a lot of pressure on the latch, use a heating pad to push the top so it latches more smoothly.
Finally, the appliance does not have an 'off' switch so you need to stay close and unplug once your food gets ready.
Additional Specs:
Model number: 13506
'Power on' and 'ready' lights
El Paso chili recipes are included
BPA free
2 year limited warranty
NOSTALGIA Electric Deluxe Quesadilla Maker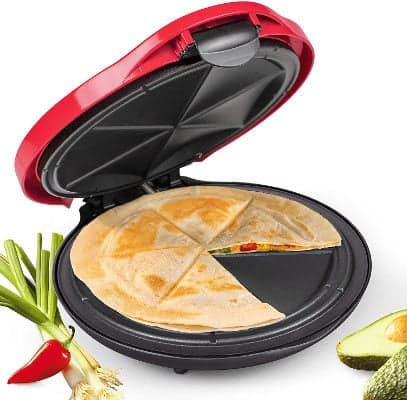 If you love stuffed thick quesadillas, Nostalgia quesadilla maker boasts a 2-position latch that adjusts to the thickness of your food, unlike other models that feature 1-position latch.
However, this does not mean you can go wild with your fillings because overfilling can still create a mess. For properly sealed perfect quesadillas here's a tip: avoid the urge to overfill and don't spread the ingredients up to the edges of the tortilla bread.
Other than that, this product features a 10-inch cooking surface that is adequate if you are cooking for a crowd. To keep all the quesadillas warm before serving, slide them onto a metal tray and keep them warm in the oven. When it's time to serve, take them out of the oven and cut into wedges.
This model prepares 6 wedges in just a few minutes and comes with two indicator lights. The plates are non-removable but easy to clean. For compact storage and a small footprint, it can stand vertically.
Users love how fast and easy it is to use this device. They also find it quite versatile since they can make different quick snacks such as grilled cheese sandwiches, French toast, and flatbreads.
The only complaint they have though is that the lid gets hot and there is no rubber pad to help you push the lid down. To avoid burning your fingers, you need to wear an oven mitt. Also, the latch is a bit flimsy.
Additional Specs:
Model number: EQM10
Non-stick cooking plates
El Paso Quesadilla Maker
This El Paso maker heats up fast and makes crispy quesadillas in less than 4 minutes. However, there is another secret to perfectly crisp quesadillas: avoid moisture. This is not the right time for fresh mozzarella and foods that are watery and very greasy.
To prevent sogginess, use dry ingredients as much as possible. Sauté the chorizo to remove excess grease, drain the beans, wring out the spinach, steam the boiled potatoes for a while and so forth. Using lots of sauce can also make the tortilla soggy and prevent the edges from sealing.
Choosing the right cheese is important not only in terms of the taste but of holding the quesadilla together. Cheddar, Havarti or Monterey jack are great for quesadillas but any type of melting cheese will do.
This El Paso device features a fun design that would make a great gift. It comes with non-stick plates for easy food removal and fast clean up. You can use 10-inch tortillas and the integrated drip tray is handy. The weight is approximately 4.3 pounds, which is fairly lightweight.
Overall, users review that this is a great purchase for the price. However, a few negative reviews mention that the latch is somewhat flimsy and the lid gets hot so you need a potholder to open and close.
Additional Specs:
Model number: 10023
Power and ready lights
Comes with El Paso Chile recipes
Elite Cuisine Maxi-MaticQuesadilla Maker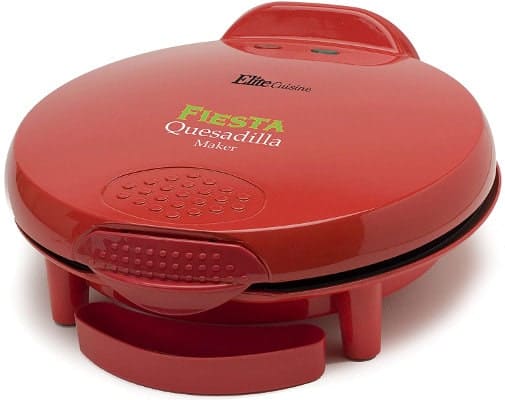 Love that gooey melted cheese taste and crunchy texture of freshly baked quesadillas but you are not yet so experienced? A safe choice is to start practising with an electric quesadilla maker.
This Elite Cuisine EQD-118 is very easy to use and features a big surface that can cook 10″-11″ tortillas for the whole family and guests in less than 5 minutes. The wedge guides provide 6 evenly sized pieces and the 'preheat' light warns you when your unit is ready to cook.
Nobody likes cluttered countertops. Storing this product in an upright position can help you save space. It also comes with a drainage rim and a drip tray that you need to slide under the front of the device. This comes handy especially if the cheese you are melting is too oily.
For durability, avoid pushing hard to close the lid because the plastic hinge can break.
Users review that this is a great unit for the price but the locking latch handle is not so easy to grip due to the ergonomics and the fact that it gets hot. In any case, you will need to open the locking lid with a potholder so you don't burn yourself.
Additional Specs:
Model number: EQD-118
Product dimensions: 12.75 x 12.75 x 4.88
900 Watts
Non-stick surface
Black & Decker Quesadilla Maker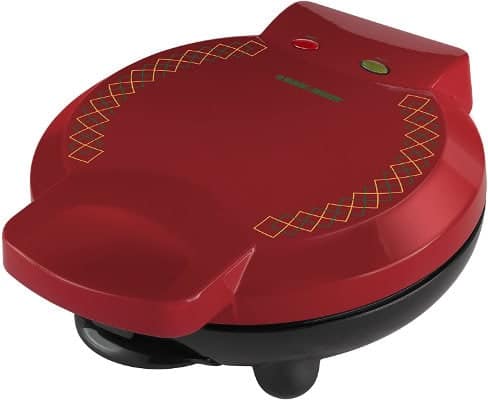 For the simplest of pleasures ready on your plate in a matter of a few minutes, we have also chosen this Black & Decker appliance as one of the best quesadilla makers.
It features 8-inch plates with press and seal lines to prevent cheese from oozing out and give nice markings to the bread for easy cut. The pockets are deep but it is better to start with less filling until you find what works best.
It also comes with an integrated drip tray that is easily removable and washed. However, the plates are not removable. What we like more about this model as compared to other similar models is that the handle is not too short and has a better grip.
Also, the hinge is metal covered and more durable than those easy to break plastic hinges. This is a sturdy unit that heats up quickly, cooks fast and is easy to clean.
A quick tip! When you are making quesadillas for a crowd, close the lid right after you remove each quesadilla so that the heat does not escape. This, way you will also reduce your cooking time.
Additional Specs
Model number: QM1088
900 watts
Nonstick surface
Power and ready lights
Vertical storage and cord wrap
PFOA-free
Nostalgia MyMini Quesadilla Waffle Maker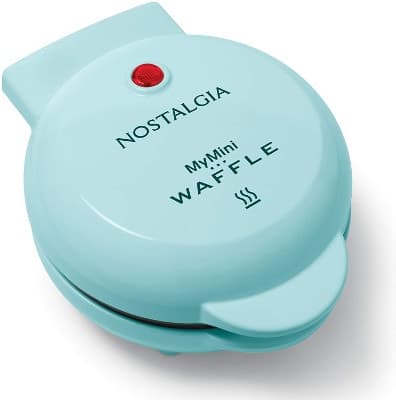 This Nostalgia electric maker is a versatile mini device that is designed to cook a variety of foods such as waffles, hashbrowns, grilled cheese, quesadillas, French toast, cookies and more.
It doesn't have the ridges of a quesadilla maker but the grooves of a waffle maker, so it is perfect for waffle quesadillas.
Its compact lightweight size is great for small kitchens, dorms, offices, and campers. It doesn't create clutter on the counter and cleaning is a breeze. Each surface is 5 inches wide. For one person or two dieters, this comes handy but for a big family, it may not be the most useful solution in terms of speed and capacity.
This little beast is also very popular for making chaffles and users love its cute design and beautiful color. It is very easy to use, too. After you plug it in, you wait for 1-3 minutes and when the 'green light' comes on, you are ready to cook. Overall, it takes 5-6 minutes to make one waffle.
Users love the versatility and very cheap price of this device. Some users wish that their waffles came out a bit crispier, though.
Additional Specs:
Model number: MWF5AQ
Dual-sided non-stick surface
Heat-resistant handles
Indicator lights
Top Features To Look For In A Quesadilla Maker – Buying Guide
Size
Most quesadilla makers feature an 8 inch or 10-inch cooking surface. If you often entertain or have a big family, the bigger size is more suitable. The size of the tortillas should match the size of the cooking surface and should not be larger than that. For example, in a 10″quesadilla maker, you can use a 9 or 10″ tortilla.
A reminder: flour tortillas are more pliable than corn tortillas so they don't break apart when you flip, fold or cut them. Corn tortillas are preferably used for tacos.
Deep Sockets
If you love combining different ingredients to create rich fillings, look for a model with deep sockets. However, even with those deep socket models, overfilling the quesadilla is not recommended.
Heat Resistant Handle
The handle in most of these small quesadilla makers gets hot. However, there are options with cool-touch handles and a rubber pad on the body of the maker to help you open the lid without burning your fingers.
Metal Hinge
For a more durable latch, look for a product that features a metal hinge instead of a plastic one. Also, avoid putting a lot of pressure on the lid to close latch shut, which may be the case when you have an overfilled quesadilla.
Non-Stick Plates
For easy food release and clean up, choose a non stick quesadilla maker. Avoid scraping the coating with metal utensils, a simple wipe down is most of the times enough. However, if you need to remove dried food such as burnt cheese, do it gently with a damp cloth. Most of these kitchen appliances come with non-removable plates.
Drip Tray
The drip tray is good for selecting the extra grease or sauce leaking out of your maker. It is either built-in or it comes separately. If you don't overfill or use juicy ingredients, you may never need the tray.
Versatility
For common quesadillas, French toast, grilled cheese sandwiches, hash browns and more, any quesadilla maker will do, but if you want to add waffles to your diet, go for a waffle quesadilla maker.
Easy Storage
For easy storage and less clutter on your kitchen top, look for a model that can be stored vertically and has a locking handle.
Price
From as little as $15 to less than $150, there are many quesadilla makers available at a very affordable price.
6 Tips For Making The Perfect Quesadilla
Choose the right size of a tortilla for your quesadilla maker.
Do not overfill it.
Use dry ingredients as much as possible so your quesadilla doesn't become soggy.
Do not use a lot of oil on the plates.
Use flour tortillas rather than those made from corn.
Remove the quesadilla from the cooking unit when golden brown and crispy.
The Bottom Line
As you have seen, most quesadilla makers have similar features but the size, ergonomics, price, and durability varies. Looking for a quick guide to the best quesadilla maker? Here is a shortlist with the top options:
• Best large quesadilla maker: Santa Fe QM2R
• Best overall: Hamilton Beach 25409
• Best budget-friendly: George Foreman GFQ001