If there's any underrated small kitchen appliance everyone should have, it's an electric griddle. The wide range of foods that can be whipped up on griddles make these devices enticing for many consumers. From hot sandwiches and burgers to French toast and eggs, these appliances can cook just about anything.
On top of that, the large, flat cooking surfaces of griddles ensure food is easy to flip and gets nice and crispy on the edges as moisture isn't trapped in. Imagine the nice crisp you could achieve on hash browns! The performance of many griddles can sometimes even outdo a skillet for some foods. Seriously.
If you have yet to purchase your very own electric griddle, you've come to the perfect place. For you, we have listed the top 10 best electric griddles to help narrow down your pick. You'll find that apart from the variant brands and price ranges, each electric griddles offer a series of different functions, sizes, and temperature ranges. Some griddles may offer lids, others may have a clamp-down top to double up as a panini press, and then there are some griddles without a lid or press at all.
Let's see what the best electric griddle options are to date:
1. Presto Tilt 'n Drain Cool-Touch Big Griddle
With an average rating of 4.6 out of 5-stars on Amazon accumulated from over 1,300 reviewers, the Presto Cool Touch electric griddle is a reliable griddle option. It features a heavy cast aluminum base with a non stick surface. In fact, Presto claims that this griddle's surface area is large enough to cook as many as 12 French toast slices at a time.
With this Presto electric griddle's Tilt 'n Drain feature, you can ensure this device will easily adjust depending on what you're cooking. For instance, the griddle surface will adjust to a slight angle for cooking things like eggs and can adjust back to a flat surface for items such as pancakes. Even heat is simple to maintain thanks to the Presto Tilt 'n Drain's Control Master automatic heat control system. For an easy clean, this griddle is fully immersible once the heat control is removed and offers an easy-to-clean, slide-out drip tray for grease.
While there are a lot of great features the Presto Tilt 'n Drain Cool-Touch Big Griddle offers, there are a few important cons to address. For instance, there are complaints that the drip pan is too small. Many also find that this griddle takes up too much space on the counter and when going to store the griddle. However, these cons can easily be overlooked. After all, the Presto Tilt 'n Drain Cool-Touch is a great price for offering exceptional quality.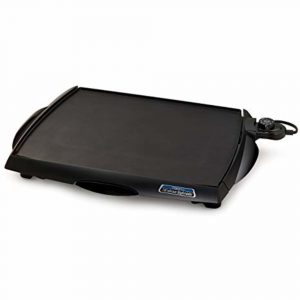 Features:
Heavy cast aluminum base
Premium, non-stick surface
Integrated backstop ledge
Tilt 'n Drain feature
Control Master automatic heat control
Slide-out drip tray
Fully immersible
2. Hamilton Beach 38546 3 in 1 Electric Grill/Griddle – 20.1″
While electric griddles are already versatile in what they can cook, there are griddles like this bad boy that ensure you get even more versatility at hand. In fact, the Hamilton Beach 38546 3 in 1 electric griddle works in a trio of ways: as a griddle, a grill, or as a grill/griddle combo thanks to its dual cooking areas with reversible plates. If you want to cook two different things at once, you can do that too as the dual cooking areas also have their own adjustable temperatures.
This electric grill & griddle reversible appliance from Hamilton Beach is set with a grease channel, PFOA-free cooking plates, and 180 square inches of cooking space. With the ability to grill on this griddle, this small appliance is suitable for those who don't want to whip out $200+ for a decent grill or don't have space for such.
Before you consider this product, however, first know that this may not be your first choice if you want a griddle that offers proper grease drainage and a large cooking space. Some also complain that the dials on this appliance offer cheaper construction. However, other reviewers are pleased with the fact that this griddle quickly heats up, is fairly easy to clean, and of course, offers dual plates that are easy to remove and pop into the dishwasher. Nevertheless, being within the $30 price range for a grill griddle combo with appreciable innovation, this is a hard product to pass up.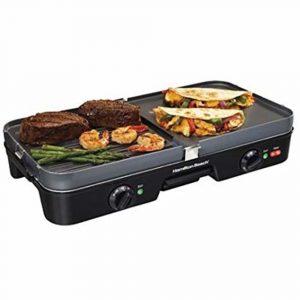 Features:
2 cooking areas
180 square inches of total cooking space
2 reversible, removable grids
Center grease channel
Dual adjustable heat
PFOA-free cooking plates
Dishwasher-safe
3. Zojirushi EA-DCC10 Gourmet Sizzler Electric Griddle
Coming to a ceramic electric griddle by Zojirushi, the EA-DCC10 Gourmet Sizzler, you'll receive 19″ x 12.5″ of cooking space on a removable, non stick cooking plate. The manufacturer claims that this electric griddle will be durable and easy to clean due to its titanium coating. While on the higher end price-wise, the average rating of 4.3 out of 5-stars proves this electric griddle to be one of the most favorable on Amazon.
This non stick electric griddle also offers adjustable temperature up to 425 degrees Fahrenheit along with a keep-warm function to ensure your just-made food stays fresh for longer. With the addition of a removable lid, something a majority of electric griddles on the market lack, you can ensure your food will cook evenly and quicker. As a bonus, the bodyguard and cooking plate are both fully-immersible, making for easy clean-up.
Looking at the Zojirushi Gourmet Sizzler Electric Griddle reviews, many of the top compliments users give this griddle have to do with the reliable heat element of this griddle that cooks evenly across the plate. Many also say the large size, non stick cooking plate, long cord, general construction, and large size provided by the Zojirushi Gourmet Sizzler are excellent. The complaints are minimal and are generally geared around the price, the fact that this griddle is made in China, and how the griddle cover is on the thinner size. Regardless, there is a lot to enjoy with this electric kitchen appliance.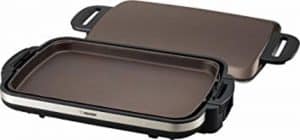 Features:
Removable, non-stick, ceramic cooking plate
Attachable lid
Temperatures range from 176 to 425 degrees Fahrenheit
Keep-warm function (176 degrees Fahrenheit)
19″ x 12.5″ of cooking space
Fully immersible bodyguard and cooking plate
cETlus listed
Includes a stainless-steel spatula
4. Secura GR 1503XL 1700W Electric Reversible 2 in 1 Griddle
Next up, we have an electric grill and griddle combo with reversible cooking plates from Secura. For those who want an electric griddle with a lid, the Secura GR 1503XL is an excellent, mid-priced appliance. The tempered glass lid helps not only make cooking quicker and more versatile but also acts as a splatter guard. This lid also comes in handy when you wish to maintain great moisture when cooking meats. The side vents ensure that when grilling with the lid down, your food will come out tender, juicy, and crispy on the edges.
With a cool-touch handle and body, you can ensure that this electric griddle will be extra safe if there are children or pets in your kitchen during a cooking session. Even clean-up is easy with this grill and griddle duo. The addition of the quality grease channels and a removable drip tray, the cleaning process after using the Secura GR 1503XL is that much easier.
All in all, this non stick electric griddle from Secura, while a little more expensive than the average griddle as it's just under $80 and while it's not the best at catching grease, is still an excellent buy. Many reviewers find that the Secura GR 1503XL electric griddle grill is easy to clean, leaves great grill marks on meats, and is overall a well-made product for its price point. Generally, the versatility provided by the double-sided cooking grate along with the tempered glass lid allow one to cook to their liking while keeping smoke and juices within the appliance during the cooking process.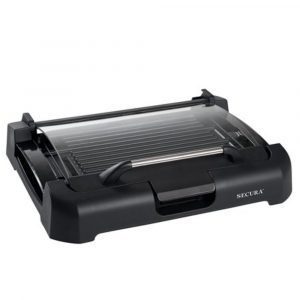 Features:
Non-stick, reversible, tri-ply cooking plate
180 square inches of cooking space
Removable, adjustable temperature gauge
Cool-touch body and handle
Grease channels
Detachable glass lid
Removable drip tray
1700 watts
5. Black+Decker Family Sized Electric Griddle (GD2011B)
This Black and Decker electric griddle may look simple, but it has everything most griddlers would need. From an adjustable thermometer and temperature-ready indicator to a removable drip tray and an immersible base, there are favorable features present for the lower cost of this electric griddle. It also features cool-touch handles and a non stick surface.
While this may not be the best griddle in terms of visual appeal, as to many, it may appear "plastic-y," what it does secretly offer is quality cooking. With a low-risk price and a two-year warranty to guarantee your griddle works as intended, there isn't much to lose when purchasing this product.
However, if there is anything most users would change about the GF2011B, it would be a longer cord, higher-end base construction, and more even heating across the plate. Other than the latter, others find that the Black+Decker Family Sized Electric Griddle is lightweight, easy to clean, has a great non stick surface, and is a great size for the average family. That said, if you want a great-working electric griddle and aren't as worried about aesthetics and heavy-duty construction, this might be a great buy. Overall, many find this Black and Decker electric griddle worth it, especially for its affordable price.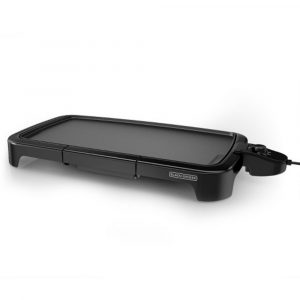 Features:
Non-stick cooking plate
10″ x 20″ cooking surface
Click & lock thermometer
Adjustable temperature
Temperature-ready light
Cool-touch handles
Immersible base
Removable drip tray
2-year limited warranty
6. Presto 07061 22-Inch Electric Griddle with Removable Handles
With an average rating of 4.6 out of 5-stars and within a lower to moderate price range, the Presto 07061 22 inch electric griddle might spark your interest. The simpler, cleaner design of this griddle is timeless and would appeal to many, and not to mention, would look stunning in a variety of settings.
This nifty Presto electric griddle features a heavy cast aluminum base with a sturdy, non stick cooking plate that Presto claims is "virtually warp-proof." Best of all, there is no need to worry about the heating on this griddle not being accurate. The Control Master heat system apart of this device automatically keeps temperatures at the perfect setting. Thanks to a slide-out grease drip tray, immersible parts, and handles that remove from the base, you can ensure cleaning up after your cooking session will be trouble-free.
Generally, this Presto electric griddle is affordable for what it offers. While some complain that this non stick electric griddle doesn't have the evenest heating and that the grease trap is small, there's more good that comes with this product. For instance, this countertop electric griddle heats up quickly, is easy to store and transport due to its lighter weight and very flat surface, features a great range of adjustable temperatures, is easy to clean, and is neither too big nor too small for the average griddler.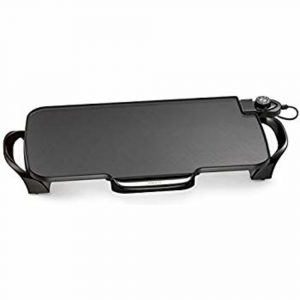 Features:
Heavy cast aluminum base
Non-stick cooking plate
Control Master heat control
Fully-immersible
Slide-out drip tray
Removable handles
1-year limited warranty
7. Presto 07211 Liddle Griddle
If you're wanting a Presto electric griddle but aren't sure exactly what model to go for, the Presto electric grill 07211, the Liddle Griddle, is another great buy to take a look at. In fact, this small appliance is by far the best griddle Presto has created. It's within a lower price range yet has earned a beautiful average rating of 4.7 out of 5-stars on Amazon from over 1,100 reviewers. For a little guy like the Liddle Griddle, that's pretty impressive! Then again, Presto tends to take the lead of electric griddles.
Reaching temperatures up to 400 degrees Fahrenheit and offering a large, integrated grease channel, this griddle is suitable for just about anything you wish to cook. However, the flat, non stick griddling surface of the Presto 07211 especially makes this a great electric griddle for pancakes, quesadillas, and other flatter foods as the edges of this griddle are virtually non-existent, and thus, aren't a bulky hassle when it comes time to flipping.
But don't let the name fool you; this small electric griddle can still fit up to four eggs or two decent-sized steaks at a time, making it the perfect griddle for whipping up a meal for a few people. Coming to the cons, however, there isn't an indicator light, and the grease channel isn't removable for cleaning purposes. Still, reviewers love that the Presto 07211 Liddle Griddle heats evenly, is lightweight, offers accurate temperature control, and doesn't take up too much counter or storage space.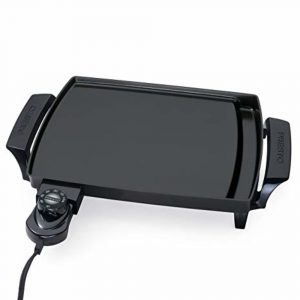 Features:
Warp-resistant cast aluminum construction
Non-stick cooking surface
8.5″ x 10.5″ cooking plate
Master heat control
Temperatures range from warm to 400 degrees Fahrenheit
Built-in grease channel
1-year warranty
8. Wolfgang Puck Electric Reversible Grill and Griddle
Coming to the Wolfgang Puck Electric Griddle with temperature control and reversible plates for both grilling and griddling, you'll receive a fairly large amount of cooking space and a large, removable drip pan. With 207 square inches of cooking space, you'll have plenty of room to cook for a smaller gathering while still ensuring the small appliance can still be equitably easy to store after the fact.
This extra large electric griddle offers a lot of features, just as it should considering the price is above $200. However, what this grill griddle combo offers will make you realize that it's worth the heftier cost. Apart from a reversible cooking plate, this appliance is equipped with an adjustable temperature probe, a removable drip pan, a heating system capable of reaching up to 400 degrees Fahrenheit, and heating assistance for preheating and searing. With your purchase, you'll also receive a limited one-year warranty.
Holding an average rating of 4.5 out of 5-stars, the reviews, as expected, are mostly in favor of the quality the Wolfgang Puck Electric Reversible Grill and Griddle has to offer. While cons tend to be related to this grill and griddle's cheaper-feeling base and slight uneven heating across the cooking plate, there are more pros listed. For instance, many claim this Wolfgang Puck appliance heats quickly, sears well, is easy to dissemble and clean, and offers substantical cooking space.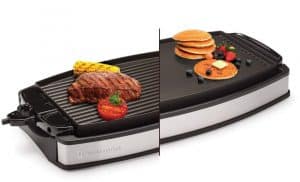 Features:
Removable, non-stick, reversible cooking plate
207 square inches of cooking space
Adjustable temperature probe
Heating assistance for preheating and searing
Safety interlock system on the base
Removable drip pan
Dishwasher-safe cooking plate and drip pan
1,800 watts of power
1-year limited warranty
Includes a grilling guide and dual-sided scraper
9. Oster Titanium Infused DuraCeramic Griddle
This Oster electric griddle with warming tray is a great pick if you're wanting a quality griddle $40 or less. The warming tray, which is found toward the bottom of this appliance, conveniently pulls out like a drawer when you're ready to use it. Just with a feature as simple as this, one can ensure they can cook a meal ahead or cook large amounts of food while keeping the rest toasty warm during the process. After all, finding a great electric griddle with a separate warming tray is not always easy.
With a titanium-infused, DuraCeramic coating on the cooking plate, Oster claims that you can ensure your Titanium Infused DuraCeramic Griddle will be non stick eight times longer than your average griddle. Even better, this coating is PTFE- and PFOA-free, and in turn, is natural, non-toxic, and won't peel or flake over time.
On Amazon right now, the Oster Titanium Infused DuraCeramic Griddle just might be the best electric griddle with warming tray on the market to date. Although this griddle can be a bit slow when reaching the ideal temperature and doesn't have the most effective grease channel system as the angle on the cooking plate isn't quite sloped enough. But the pros make it apparent that this griddle is still worth buying. According to reviewers, this Oster non stick electric griddle offers a very smooth cooking surface, gives off consistent and even heat, and is simple to clean.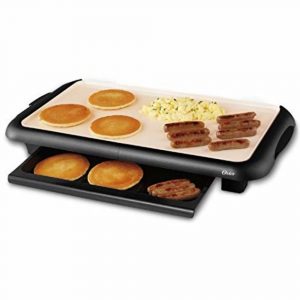 Features:
Titanium-infused, Duraceramic, non-stick cooking surface
Scratch-resistant
10″ x 18″ cooking plate
PTFE- and PFOA-free coating
Removable, adjustable temperature gauge
Warming tray
10. Cuisinart GR-4N 5-in-1 Griddler, Silver
For some people, the more, the merrier. If you're looking for just that, you'll be pleased with this next electric griddle. The Cuisinart GR-4N 5-in-1 Griddler is a versatile, stainless steel electric griddle capable of not just griddling but also grilling, contact grilling, panini pressing, or half grilling and half griddling.
This Cuisinart electric griddle grill combo features a gorgeous, brushed stainless-steel finish to add a touch of elegance to your kitchen. But fortunately, it doesn't just look great and perform poorly; rest assured that this higher-end griddle, grill, and panini press will provide excellence thanks to its versatile functions, non stick plates, and quick heating component. In fact, the Cuisinart GR4N 5-in-1 Griddler has earned an average rating of 4.3 out of 5-stars from over a whopping 10,000 reviewers on Amazon. And although we're focusing on electric griddles, this Cuisinart model has also earned Amazon's Choice for "panini press."
Of course, the cons of this product are still important to address. Some wish this Cuisinart electric griddle had a timer, higher-quality dials, and a more appropriately-placed drip tray. Disregarding the latter, there's plenty of good to discuss. This quality electric griddle offers incredible adjustable temperature control, dishwasher-safe cooking plates, and a convenient temperature-ready light. Additionally, you can count on the Cuisinart GR-4N 5-in-1 Griddler to heat up quickly, cook evenly, provide plenty of cooking space, offer great temperature control, and be easy to clean and store.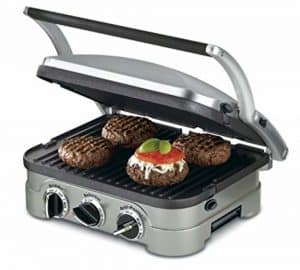 Features:
Brushed stainless-steel finish
11″ x 19″ cooking plates
5-in-1 function: full griddle, full grill, half griddle/half grill, panini press, or contact grill
Adjustable temperature control
Temperature-ready light
Removable, dishwasher-safe cooking plates
Includes scraping tool and recipes
Three-year warranty
Griddle FAQ
To ensure you select the best griddle, and that this type of appliance is even right for you in the first place, you're probably going to want some more information. For that reason, make sure to skim through the following frequently asked questions for answers to the possible inquiries you may have.
What to cook on electric griddle?
Here is a list of some of the things you can cook on electric griddles:
Eggs
Hash browns
French toast
Pancakes
English muffins
Hot sandwiches
Tortillas
Quesadillas
Vegetables
Meats
Fish
How to clean electric griddle?
Cleaning an electric grill is fairly easy. However, before cleaning your griddle, make sure to refer to your electric griddle user manual first. It's important to consider the materials your device is composed of and what parts of your griddle are and aren't waterproof. Additionally, some griddles offer removable parts for cleaning purposes whereas others do not.
But as a general guideline, always make sure to unplug and let your griddle cool before you clean it. If your griddle can be submerged in water, always make sure that the electrical components (i.e., the plug) are not submerged too.
Typically, warm water and soap can get the job done when it comes to cleaning and sanitizing your griddle. Making a baking soda paste to lightly scrub onto the cooking plate of your griddle can provide a gritty texture to remove any stuck-on food or stains present, if applicable.
For the parts that cannot be submerged in water, apart from the electrical components (e.g., the base of your griddle), simply wipe down any drippings with a damp cloth.
Can an electric griddle be used as a warming tray?
Most electric griddles are not designed to be used as warming trays. In fact, some griddles may get too hot to be used as a warming tray; some may not have adjustable temperature at all. For that reason, never use an electric griddle as a warming tray unless the manufacturer states that you can. If you are unsure, refer to the user manual, do research on your electric griddle online, or get in touch with the manufacturer themselves.
However, there are some griddle models that can either double-up as a warming tray or have a separate, integrated warming tray. From our list, the Oster Titanium Infused DuraCeramic Griddle is one of the electric griddles out there that offers such a feature. Some may also offer a keep-warm function like the Zojirushi EA-DCC10 Gourmet Sizzler Electric Griddle.
Are electric griddles dishwasher safe?
Never presume that your electric griddle is dishwasher-safe or even able to be submerged in water for that matter. Always check your electric griddle user manual before cleaning your appliance with water.
Although, many griddles do in fact offer waterproof and/or dishwasher-safe parts (e.g., cooking grate, drip pan), but only select parts may be able to get wet depending on the griddle model. Since electric griddles offer electrical components, this is the main thing to consider before safely cleaning your device.
Why buy an electric griddle?
It isn't necessary to consider purchasing an electric griddle, but the great thing about having one is that there are so many things that can be cooked on it. In some cases, a griddle can outperform other appliances at cooking the same thing.
Additionally, electric griddles are portable, some of which that can even be brought on camping trips if electrical outlets will be present. Griddles are especially ideal for those who don't have a working stove or grill for whipping up certain items like burgers or pancakes. Thus, electric griddles can be an affordable alternative for some larger kitchen appliances, especially for those living in a rental home or apartment.
Where to buy electric griddle?
Electric griddles can be bought at general merchandise stores, home goods stores, kitchen supply stores, or from numerous sources online. Regardless of where you plan on purchasing your electric griddle – online or in-person – doing some research online can help you spot the best deals. Consider costs of shipping as you hunt for the best electric griddles price-wise.
What is the best electric griddle to buy?
Rhese griddles are among the top four thanks to their popularity and favorable ratings from verified reviewers on Amazon:
Presto 07211 Liddle Griddle (average 4.7 out of 5-star rating; 1,100+ reviewers)
Presto 07061 22-Inch Electric Griddle with Removable Handles (average 4.6 out of 5-star rating; 2,200+ reviewers)
Presto 07046 Tilt 'n Drain Big Griddle Cool-Touch Electric Griddle (average 4.6 out of 5-star rating; 1,300+ reviewers)
Secura GR1503XL 1700W Electric Reversible 2 in 1 Grill Griddle w/ Glass Lid (average 4.6 out of 5-star rating; 270+ reviewers)
But in actuality, the best griddle doesn't exist. What matters is that you find the griddle that best fits your needs. The important factors to consider for your next griddle would be the size, material(s), temperature range, price, and the general features it offers (e.g., warming tray, adjustable temperature, lid, etc.).