If there's any underrated small kitchen appliance every home cook should have, it's the best electric griddle for their kitchen. The wide range of foods that can be whipped up on griddles make these devices enticing for many consumers. From grilled cheese sandwiches and burgers to French toast and fried eggs and bacon, these appliances can cook just about anything.
On top of that, the large cooking surface of the griddles ensures food is easy to flip and gets nice and crispy on the edges as moisture isn't trapped in. Imagine the nice crisp you could achieve on foods like hash browns! The performance of many griddles can sometimes even outdo a cast iron skillet. Seriously.
If you have yet to purchase your very own electric griddle, you've come to the perfect place. For you, we have listed the best electric griddles on the market today to help narrow down your pick. You'll find that apart from the variant brands and price ranges, each electric griddles offer a series of different functions, sizes, and temperature range. Some griddles may offer lids, others may have a clamp-down top to double up as a panini press, and then there are some griddles without a lid or press at all.
1. Presto Tilt 'n Drain Cool-Touch Big Griddle Plate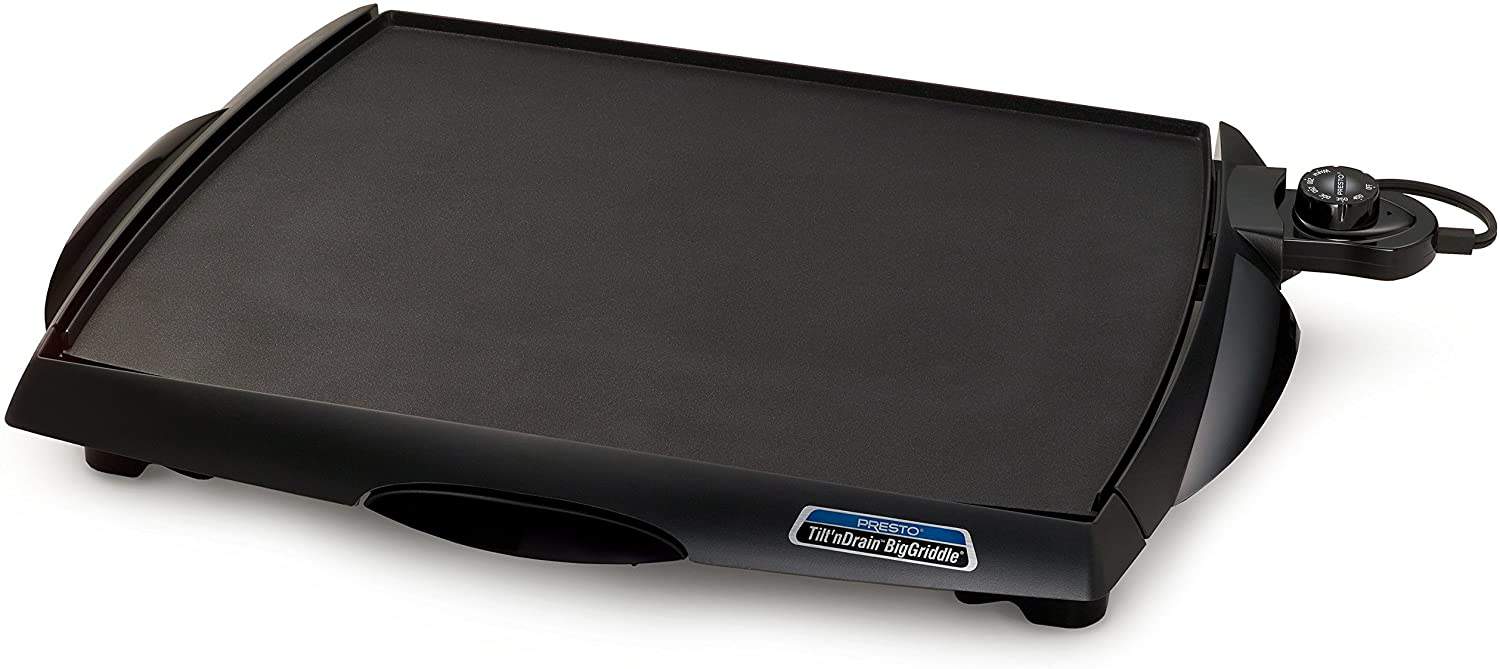 Presto is a household name in the world of electric griddles—quite literally. This Presto model is proof of that. It features a heavy cast aluminum base with a nonstick coating. In fact, Presto claims that this griddle's cooking surface area is large enough to make as many as twelve French toast slices at a time.
With this Presto electric griddle's Tilt 'n Drain feature, you can ensure this device will easily adjust depending on what you're cooking. For instance, the griddle grilling surface will adjust to a slight angle for cooking things like eggs and can adjust back to a flat surface for cooking pancakes. Even heat is simple to maintain thanks to the automatic heat control system. For easy cleanup, this griddle is fully immersible in soapy water once the heating element is removed. Plus, it offers an easy-to-clean, slide-out grease tray.
While there are a lot of great features the Tilt 'n Drain Big Griddle offers, there are a few important cons to address. For instance, there are complaints that the drip pan is too small. Many also find that this griddle takes up too much real estate on the kitchen counter and storage space. However, these cons can easily be overlooked. After all, this unit is one of the best electric griddles available with an affordable price tag.
Top Features:
Heavy cast aluminum base
Premium, non-stick cooking area
Integrated backstop ledge
Control Master automatic heat control
Slide-out drip tray
Fully immersible
2. Hamilton Beach 3-in-1 Electric Grill, 38546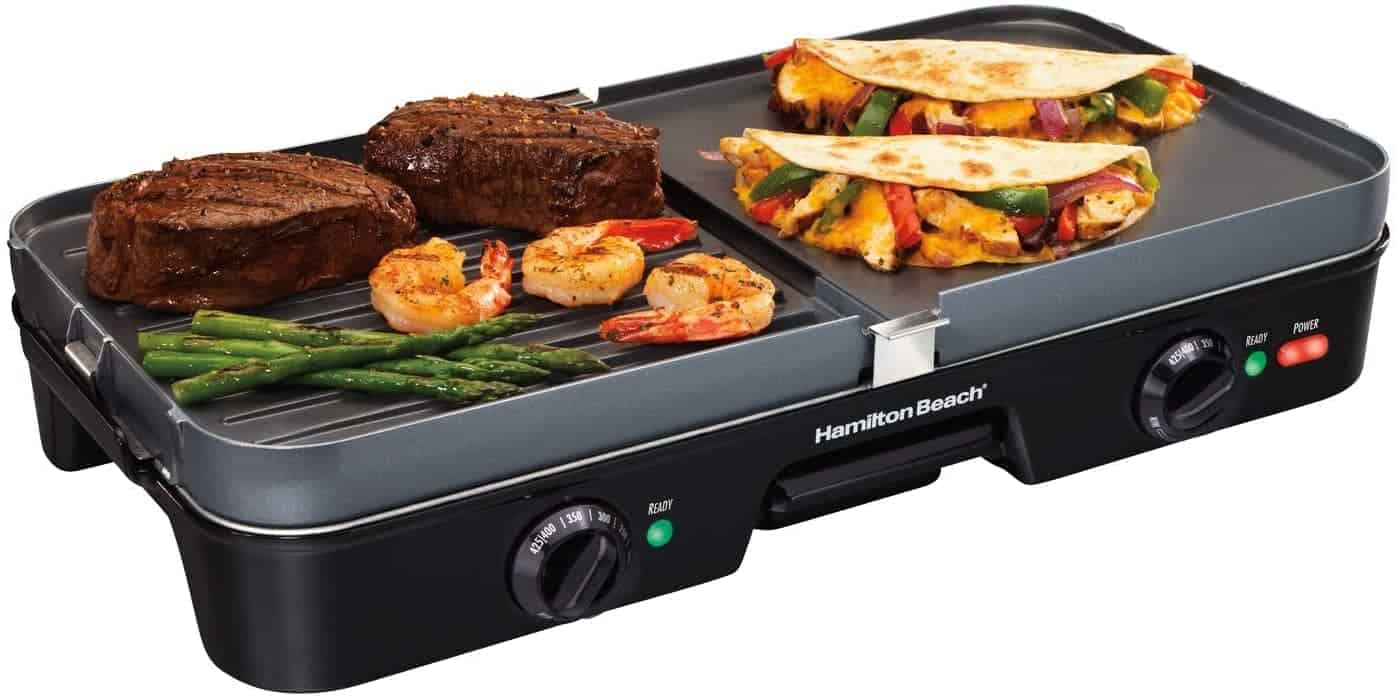 While electric griddles are already versatile in what they can cook, there are griddles like this bad boy that ensure you get even more versatility at hand. In fact, the Hamilton Beach 3-in-1 electric griddle works in a trio of ways: as a griddle, a grill, or as a grill/griddle combo thanks to its dual-cooking reversible nonstick griddle. If you want to cook two different things at once, you can do that too as the dual cooking plates also have their own cooking temperature controls. One side has a flat griddle and the other has a griddle with ridges.
This electric grill & griddle reversible appliance from Hamilton Beach is set with a grease channel, PFOA-free plates, and 180 square inches of cooking space. With the ability to cook on this griddle, this small appliance is suitable for those who don't want to spend a fortune on a decent grill or don't have space for such.
Before you consider this product, however, first know that this may not be your first choice if you want a griddle that offers proper grease drainage and large cooking space. Some also complain that the dials on this appliance offer cheaper construction. However, most reviewers are pleased with the fact that this griddle quickly heats up, boasts easy cleanup and, of course, offers dual grill plates that are easy to remove and pop into the dishwasher.
Top Features:
2 cooking areas
180 square inches of total cooking space
Two reversible, removable grids
Center channel for grease runoff
Dual adjustable heat
PFOA-free plates
Dishwasher-safe
3. Zojirushi EA-DCC10 Gourmet Sizzler Electric Griddle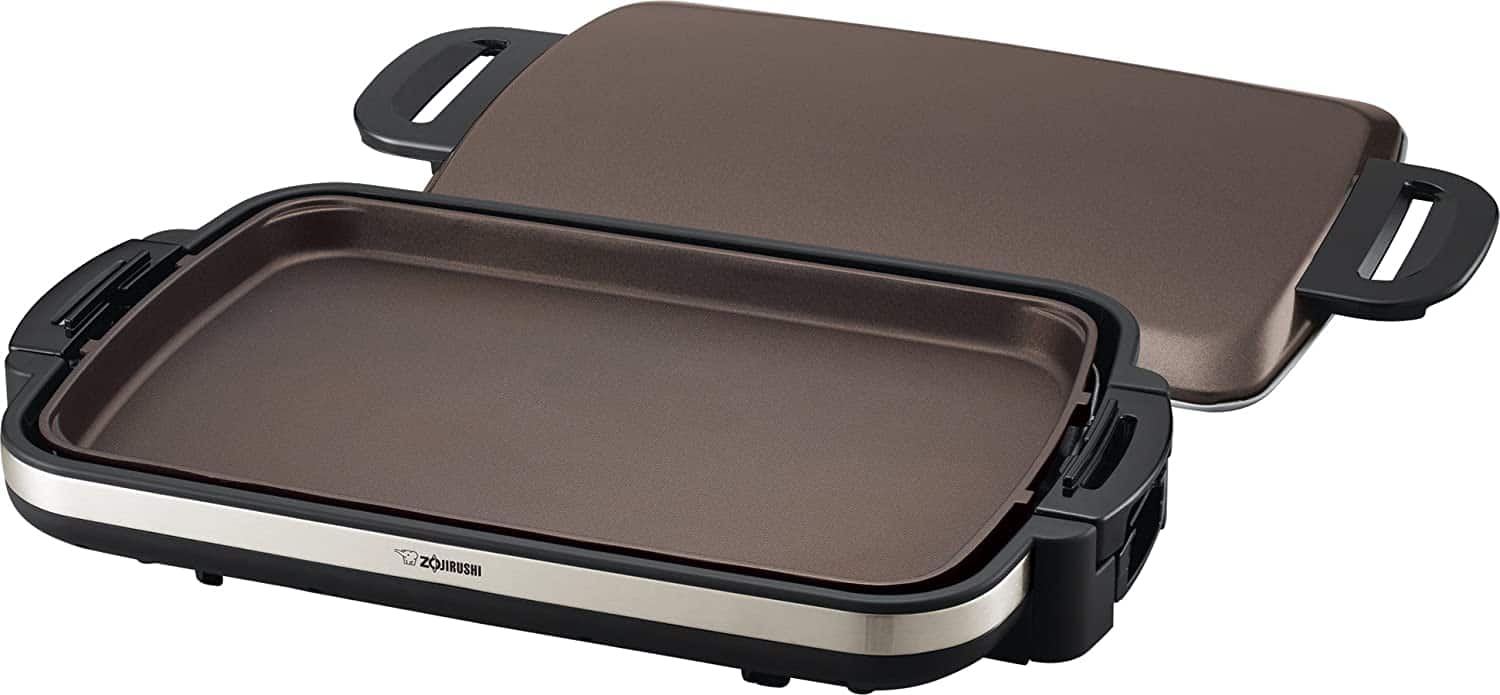 Coming to a ceramic-coating electric griddle by Zojirushi, the EA-DCC10 Gourmet Sizzler, you'll receive 19" x 12.5" of cooking space on a removable, nonstick cooking surface. This electric griddle to be one of the most popular on Amazon.
This nonstick surface electric griddle also offers adjustable temperature up to more than 400 degrees Fahrenheit along with a setting to keep your food warm. With the addition of a removable lid, something a majority of electric griddles on the market lack, you can ensure your food will cook evenly and quicker. As a bonus, the bodyguard and plate are both fully-immersible, making for easy cleaning.
Looking at the Zojirushi Gourmet Sizzler Electric Griddle reviews, many of the top compliments users give this griddle have to do with the reliable heat element of this griddle that cooks evenly across the plate. Many also say the large size, nonstick cooking plate, long power cord, general construction, and large size provided by the Zojirushi Gourmet Sizzler are excellent.
The complaints are minimal and are generally geared around the price, the fact that this griddle is made in China, and how the griddle cover is on the thinner size. Regardless, there is a lot to enjoy with this electric kitchen appliance.
Top Features:
Removable, non-stick, ceramic-coating cooking plate
Attachable lid
Cooking temperatures range from 176 to 425 degrees Fahrenheit
Keep-warm function (176 degrees Fahrenheit)
19" x 12.5" of cooking space
Fully immersible bodyguard and cooking plate
cETlus listed
Includes a stainless-steel spatula
4. Secura GR 1503XL 1700W Electric Reversible 2 in 1 Griddle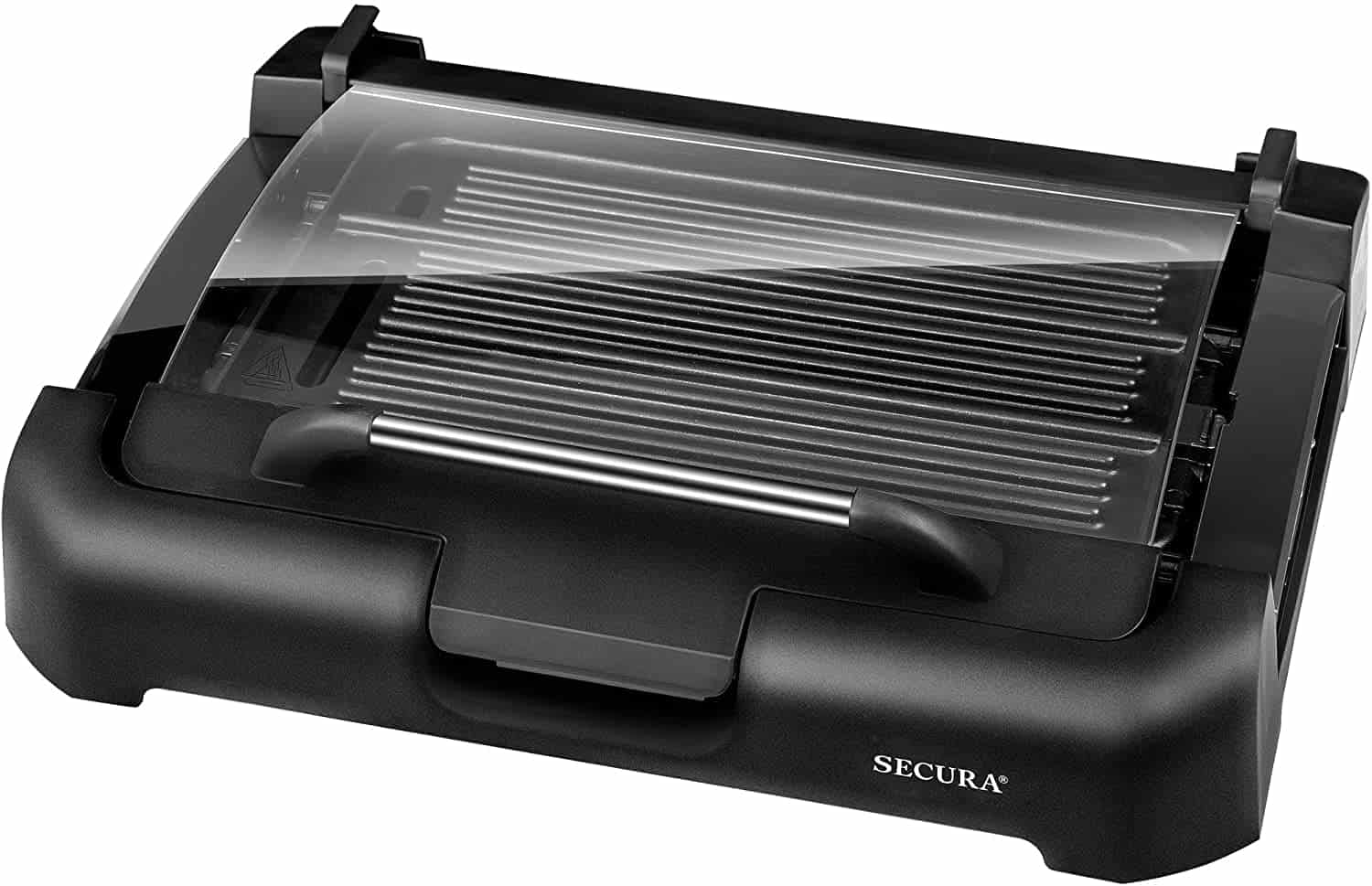 Next up, we have an electric grill and griddle combo with reversible cooking plates from Secura. For those who want an electric griddle with a lid, the Secura GR 1503XL is an excellent, mid-priced appliance. Plus, on one side you have ridges and on the other side you have a completely flat surface, giving you more cooking options.
The tempered glass lid helps not only make cooking versatile, cooking, and easy because the lid also acts as a splatter guard. This lid also comes in handy when you wish to maintain great moisture when cooking pork chops and even stakes. The side vents ensure that when grilling with the lid down, your food will come out tender, juicy, and crispy on the edges.
With a cool-touch handle and body, you can ensure that this electric griddle will be extra safe if there are children or pets in your kitchen during a cooking session. Even clean-up is easy with this grill and griddle duo. The addition of the quality grease channel and a slide-out drip tray, the cleaning process after using the Secura GR 1503XL is that much easier.
Many reviewers find that the Secura GR 1503XL electric griddle grill fosters easy cleaning, leaves great grill marks on meats, and is the best overall product for its price point. Generally, the versatility provided by the double-sided cooking surface along with the tempered glass lid allows one to cook to their liking while keeping smoke and juices within the appliance during the cooking process.
All in all, this nonstick electric griddle from Secura, while a little more expensive than the average griddle is still an excellent buy. It's one of the best electric griddles because it is so sturdy and versatile.
Top Features:
Non-stick, reversible, tri-ply cooking surface
180 square inches of cooking space
Removable, adjustable set-temperature gauge
Cool-to-the-touch body and handle
Grease drippings channels
Detachable glass lid
Removable drip tray
1700 watts
5. Black+Decker Family Sized Electric Griddle (GD2011B)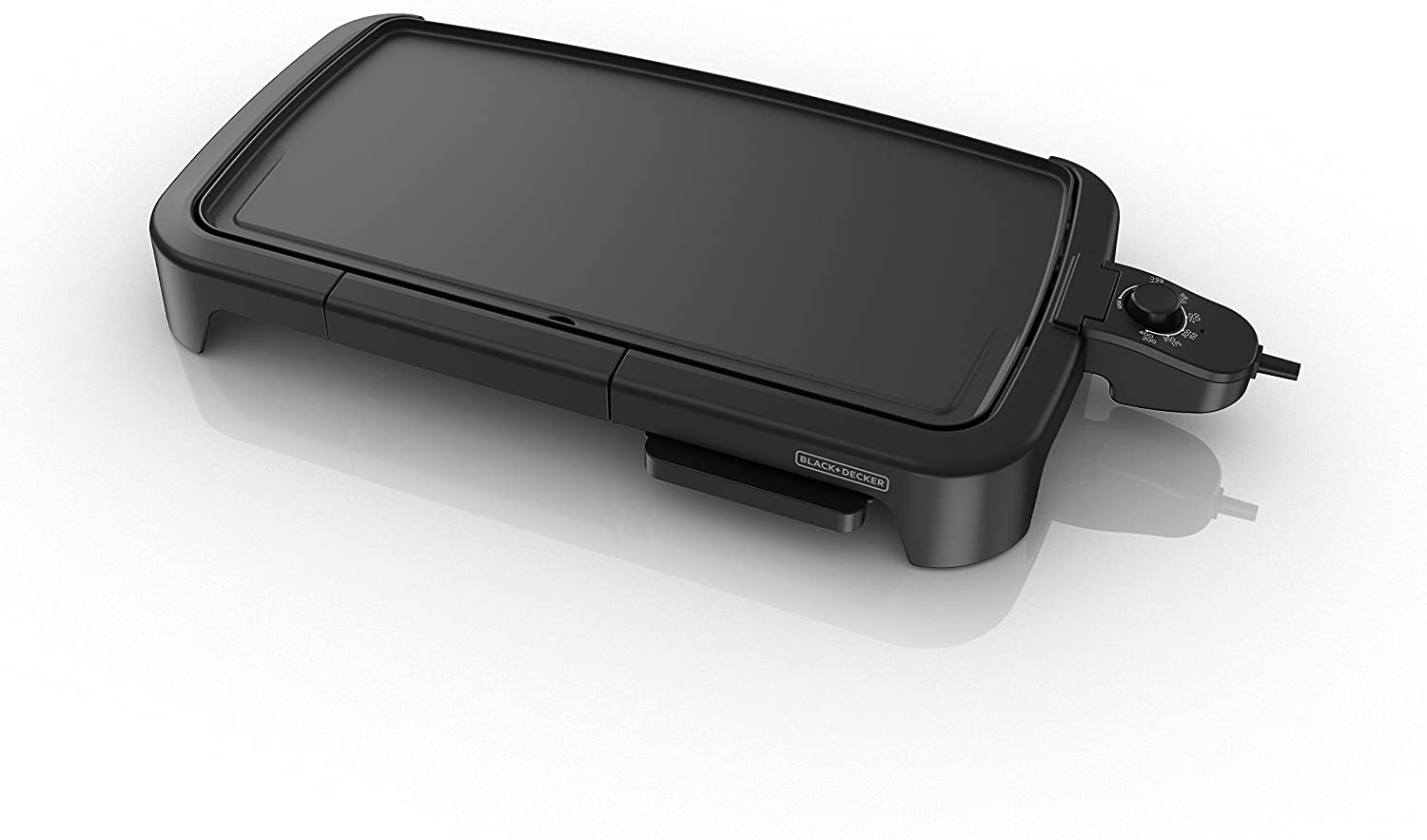 This Black+Decker electric griddle may look simple, but it has everything most griddlers would need. From an adjustable thermometer and temperature-ready indicator to a slide-out drip tray and an immersible base, there are favorable features present for the lower cost of this electric griddle. It also features cool-to-the-touch handles and a nonstick surface.
While this may not be the best electric griddle in terms of visual appeal, what it does secretly offer is quality cooking. When you're done cooking your food, you can place it on the griddle with warming tray to keep it at the perfect serving temperature.
With a low-risk price and a two-year warranty to guarantee your griddle works as intended, there isn't much to lose when purchasing this product.
However, if there is anything most users would change about the GF2011B, it would be a longer cord, higher-end base construction, and more even heat distribution across the plate. Other than the latter, others find that the Black+Decker Family-Sized Electric Griddle is lightweight, easy to clean, has a great nonstick coating, and is a great size for the average family.
Top Features:
Non-stick plate
10" x 20" grilling surface
Click & lock thermometer
Adjustable temperature
Griddle with warming tray
Temperature-ready light
Cool-to-the-touch handles
Immersible base
Removable drip tray
2-year limited warranty
6. Presto 22-Inch Electric Griddle with Removable Handles

With an average rating of 4.6 out of 5-stars and within a lower to moderate price range, the Presto 22-inch electric griddle might spark your interest. The simpler, cleaner design of this griddle is timeless and would appeal to many, and not to mention, would look stunning in a variety of settings.
This nifty Presto electric griddle features a heavy cast aluminum base with a sturdy, nonstick cooking surface that Presto claims is "virtually warp-proof." Best of all, there is no need to worry about the heating on this griddle not being accurate. The Control Master heat system and warming tray keep temperatures at the perfect setting both for serving and cooking.
Thanks to a slide-out grease drip tray, immersible parts, and handles that remove from the base, you can ensure cleaning up after your cooking session will be trouble-free.
Generally, this Presto electric griddle is affordable for what it offers. While some complain that this nonstick electric griddle doesn't have the evenest heating and that the grease trap is small, there's more good that comes with this product. For instance, this countertop electric griddle heats up quickly, is easy to store in kitchen cabinets and transport due to its lighter weight and very flat cooking surface, features a great range of adjustable temperatures, is easy to clean, and is neither too big nor too small for the average griddler.
Top Features:
Heavy-duty base
Non-stick cooking surface
Doesn't take up too much countertop space
Control Master heat control
Fully-immersible
Slide-out drip tray
Removable handles
1-year limited warranty
7. Cuisinart 5-in-1 Electric Griddle, Silver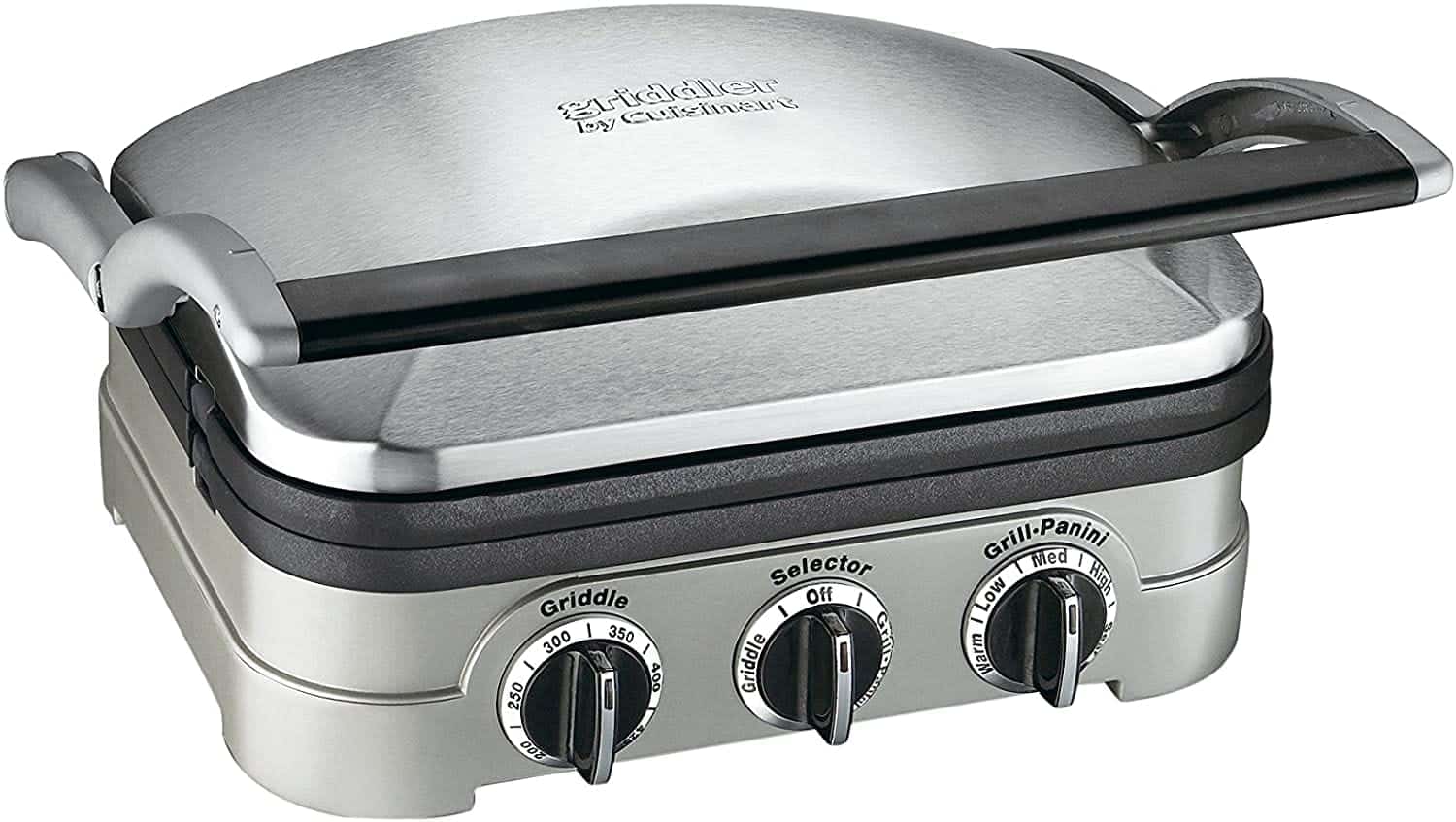 For some people, the more, the merrier. If you're looking for just that, you'll be pleased with this next electric griddle. It's the best overall unit for versatile cooking.
The Cuisinart 5-in-1 Griddler is a dual-use, stainless steel electric griddle. Open the lid to create a flat top and use it as a grill or close the lid and use this electric griddle as a grill panini press.
This Cuisinart electric griddle grill combo features a gorgeous, brushed stainless-steel finish to add a touch of elegance to your kitchen. But fortunately, it doesn't just look great and perform poorly; rest assured that this higher-end griddle, grill, and panini press will provide excellence thanks to its versatile functions, nonstick plates, and quick heating elements.
Of course, the cons of this product are still important to address. Some wish this Cuisinart electric griddle had a timer, higher-quality dials, and a more appropriately-placed drip channel. Disregarding the latter, there's plenty of good to discuss. This quality electric griddle offers incredible adjustable temperature control, dishwasher-safe plates, and a convenient temperature-ready light. Additionally, you can count on the Cuisinart GR-4N 5-in-1 Griddler to heat up quickly, cook evenly, provide plenty of cooking space, offer great temperature control, and be easy to clean and store.
Top Features:
Brushed stainless-steel finish
11" x 19" plates
5-in-1 function: full griddle, full grill, half griddle/half grill, panini press, or contact grill
Adjustable temperature control
Temperature-ready light
Removable, dishwasher-safe plates
Includes scraping tool and recipes
Three-year warranty
What to Cook on an Electric Griddle?
Electric griddles are known for making delicious breakfast foods. But breakfast items is not all electric griddles can help you cook. Here is a list of some of the things you can make on the best electric griddles:
Fried Eggs
Hash browns
French toast
Grilled cheese
Pancake batter (no need to cook with pancake griddles)
English muffins
Hot sandwiches
Tortillas
Quesadillas (it doubles as a quesadilla maker)
Vegetables
Meats
Fish