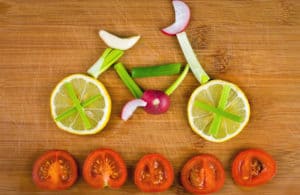 These are just a few of the (politer) comments that we hear on a regular basis at Grow to School. To say we are passionate about food, gardening and health is an understatement and one of our strengths is the ability to see beyond such phrases. For each 'Yuk', we hear "I've never tasted that before", for each 'I don't like vegetables', we translate to " My taste buds are undeveloped" and for each "Bleugh! I'M NOT eating THAT!" shouted in horror, we pick up the unspoken "Wow! I have never seen food like that before!"
Children are used to food that comes ready mushed up in handy bite sized parcels that bear no resemblance whatsoever, to the vegetable whose name is nestled among the other long list of ingredients. Despite Jamie's campaigns, other organisations like ourselves and recently government intervention, all pushing hard to change public opinion, the sad fact remains that fresh food is still perceived as alien and unfriendly to so many children.
So how do we get children eating and trying different food? The answer lies in taste. Not just the need to educate and develop those young taste buds but also just explaining that a taste, is all that is required. Grow to school sessions involve growing, harvesting and tasting alongside cook and eat activities. Time and time again we have proved that a little creativity, a little curiosity and a little amount to taste can have more impact than trying to get a reluctant eater, staring at a huge plate of food, to open their mouth.
Our top tips to taste:
1. Involve children from the beginning. A tiny seed – what will it produce? Guess the plant to be harvested – will it be enormous or small, fast growing or slow? Nurture your seed.  Give it the same things all children need to grow healthy and happy: food, water and sun – but don't forget that magic fourth ingredient – love. Spark their curiosity, engage their creativity and have confidence that they will taste the fruits of their labour.
2. Engage them in creating new recipes. Choose a variety of vegetables and design four new sandwiches. As a base use something you know they will eat; cheese or ham for example. Then together create four different recipes. Be daring, be bold and have fun. Broccoli, grated carrot, beetroot, shredded cabbage, tomato, cucumber, apple, avocado, lettuce or other leaves, cauliflower the list is endless. Add a bit of mayo if you think that will help.
3. Cut each sandwich up into bite size pieces. This is the key to taste. You are not asking them to eat loads just to taste their creations and choose the best. Allow them to spit out anything they really don't like but to be able to vote for the best sandwich they must try all the options.
4. When faced with "But I don't like ….", remind them they created the recipe, this flavour combination is unique – they have made it so they have never tasted it quite like this before.
5. Vote in class, in the family or amongst friends. The more you can engage in the tasting experience the more success you will have. Food is meant for sharing, discussing and enjoying so the more the merrier.
6. Remember at all times the three C's: curiosity, creativity and confidence. Always be confident that they will enjoy the outcome. Never say 'you might like it', but always say 'I am sure you will like it'. Over time this confidence raises the aspirations of those young taste buds.
7. Finally don't forget sometimes we have to taste something up to ten times before the taste buds enjoy the flavour. So don't stop trying and be patient.
The proof of the pudding is in the eating and we have had many a fussy eater munching on food they started off refusing. Yussef was in poor health and refused to eat any fresh vegetables, yet couldn't get enough of one of the wraps he and his friends made. He surprised himself and his pride and delight were evident to all. Oliver, who only ate over cooked and mushed up processed food, happily made vegetable vehicles using cut up raw vegetables. He not only devoured his motorbike but also discovered the wonders of humous and proudly took the recipe home to his mum. A whole class surprised themselves in voting the winner of a smoothie competition as the avocado and banana smoothie – despite every child in the class informing us they hated avocado before we started.
So be curious, be confident but most of all be creative.