Wouldn't it be great if enjoying delicious, homebrewed espresso beverages was as simple as putting your cup in front of a machine and pressing "on"?
With a Nespresso machine, that's more or less all you need to do. However, there are a few tasks you will need to complete from time to time to keep your brew tasting fresh and delicious - and to help your machine last as long as it possibly can.
Knowing how to clean a Nespresso machine isn't exactly intuitive-  it is a bit more challenging than caring for your standard, run-of-the-mill coffee maker. Fortunately, with a bit of know-how, you can clean your Nespresso machine easily and keep it running in tip-top shape.
Nespresso: How to Descale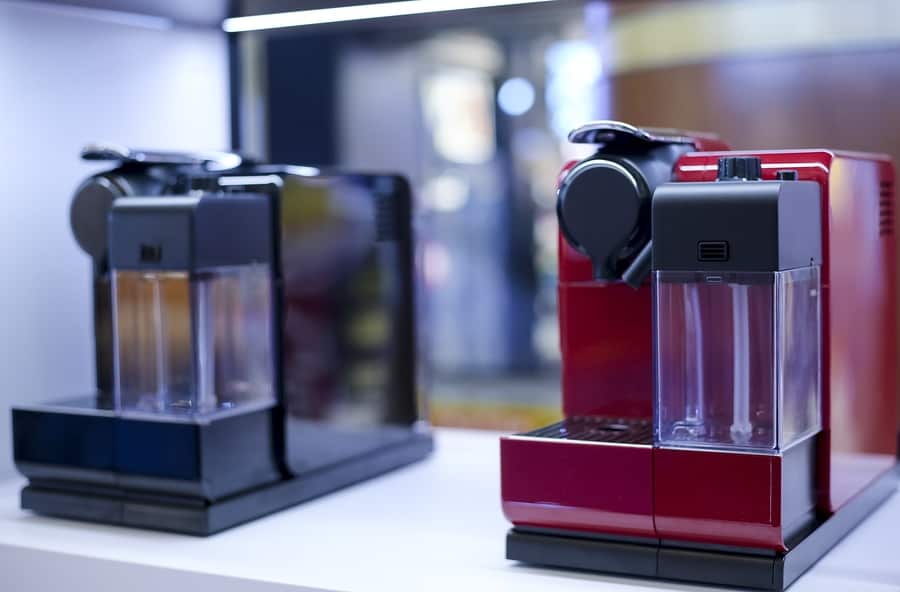 In most cases, when people are wondering how to clean a Nespresso machine, they're really wondering how to descale it. Nespresso descaling is the process of removing the build-up of lime and calcium deposits, both of which appear in your coffee machine over time if you are using untreated water.
Not only are these calcium and lime deposits unsightly and not so clean to look at, but they also need to be removed to help your Nespresso machine continue to run properly. 
You should descale and clean your machine once every three months - that's what Nespresso recommends as a bare minimum. However, if you use your machine on a regular basis, you may want to invest some time in descaling your machine even more often than that (like every time you go through 300 capsules or so).
Forgetful? Consider setting an alarm on your phone or writing it down on your calendar. That way, you will know exactly when your machine needs to be descaled and when it's time to clean. Some higher-end Vertuoline Nespresso machines also have lights that will blink when it's time for you to descale and clean.
When it comes time to clean and work toward descaling a Nespresso machine, you will need to invest in some descaling solution. You can buy a descaler for Nespresso kit directly from the company. You will also need some fresh water and an empty container. 
How to Clean a Nespresso Machine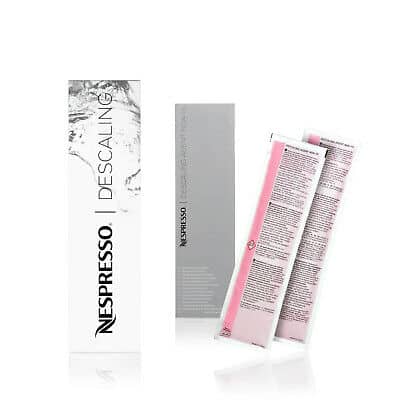 Start by preparing your machine for the descaling process and cleaning process. Do this by removing any spent capsules and emptying the capsule container entirely. Pour the proper amount of water into your water receptacle and mix in a packet of the descaling solution. To figure out how much water you need to add, refer to the user guide that comes with your specific Nespresso make and model.
Then, put a capsule container (you will want one that can hold about a liter of water) beneath the coffee outlet. Power on the machine.
You will then commence the descaling process by pressing one or a series of buttons. This wild expense on the model you have. If it's a Vertuo model, you will hold the single button for seven seconds. If you have another model, like a Citiz, Inissia, or Pixie, you will need to hold down two flashing buttons at once for three seconds (three seconds is the baseline, but some machines require more). 
The descaling process will then start automatically. It doesn't take very long - maybe only about ten minutes to clean. With some machines, you will need to refill your water tank with a used descaling solution and then repeat the descaling mode once more (this can be helpful when you are attempting to descale particularly dirty machines, too). 
After the machine has completed the descaling mode, you can rinse out the water container and add fresh water. Run the cycle for ten more minutes to get any remaining descaling solution out of your machine.
Then, you can empty and clean out your drip tray. Let the drip tray dry. 
Make sure you take your Nespresso coffee machine out of descaling mode by pressing the same buttons you used to start it. Let it dry for ten minutes before you use the Nespresso machine.
Clean Your Nespresso Machine Regularly for Better-Tasting Coffee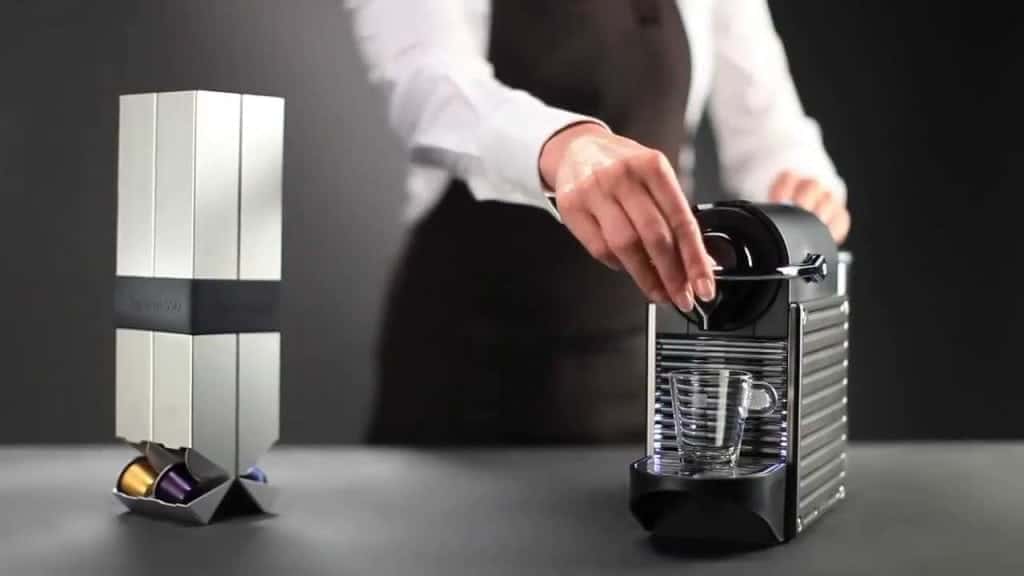 That's all there is to it! Cleaning a Nespresso machine is as easy as pressing a few buttons, so if this is a task that you have been dreading, don't worry - there's no need to put it off any longer. The descaling process for this kind of coffee machine is incredibly easy, and as long as you make sure to follow the steps listed above, it should take you very little time. 
You'll be able to enjoy fresh, uncontaminated espresso beverages for months on end when you know how to clean a Nespresso machine properly.