It's Friday night, so you know what that means - it's pizza night!
If you're like most Americans, you probably order out to receive your favorite pizza at home. However, there's no reason to do so. Making your own pizza at home is not only easy, but making pizza is also an incredibly delicious way to spend an evening. 
Plus, making your own pizza is often the healthier and more budget-friendly option. 
When you have a peel, making your own pizza is quick and painless. But do you know how to use one?
Fortunately, using a peel is easy. This helpful tool will help you place your pizza in the oven and remove the pizza once it's finished cooking. Here's some more information on how to use, clean, and work with any kind of pizza peel.
Types of Pizza Peels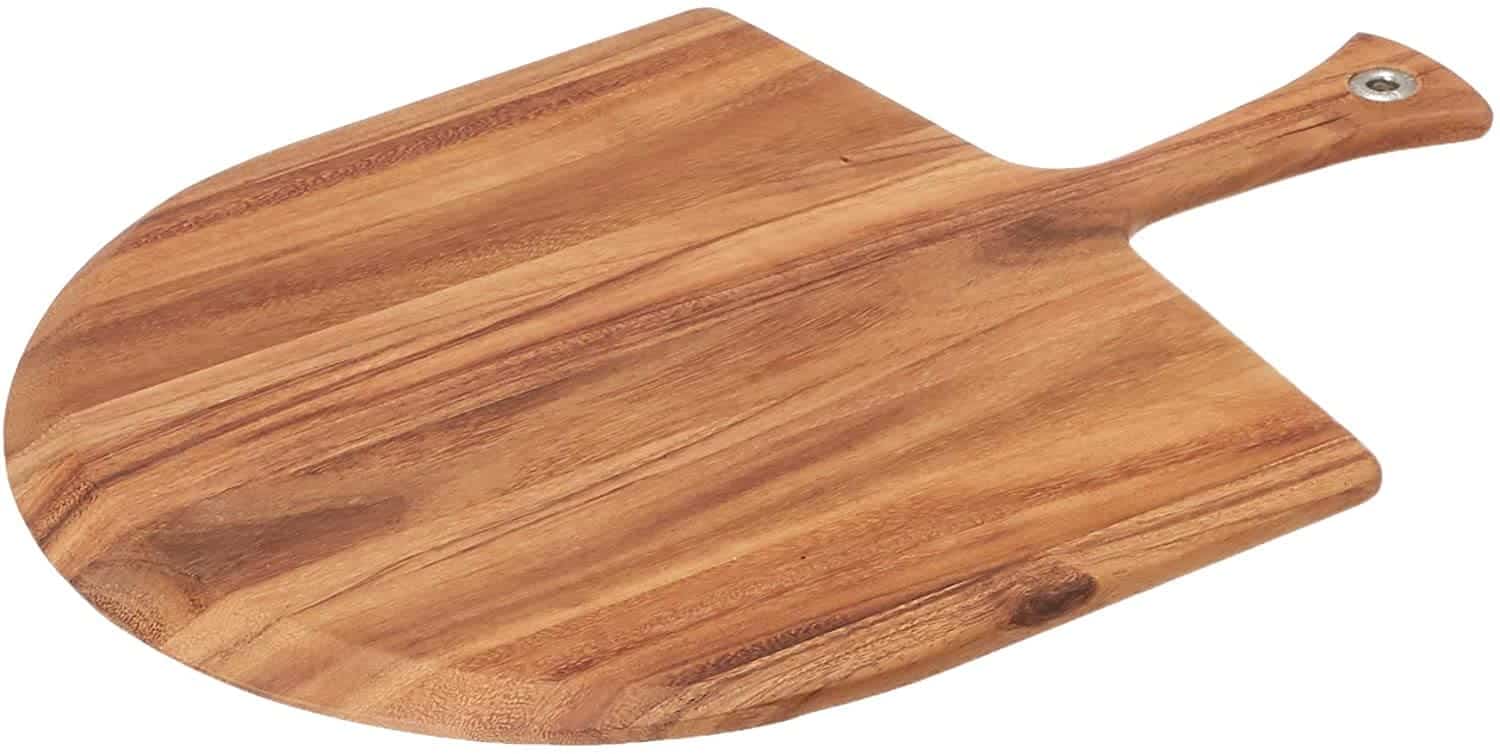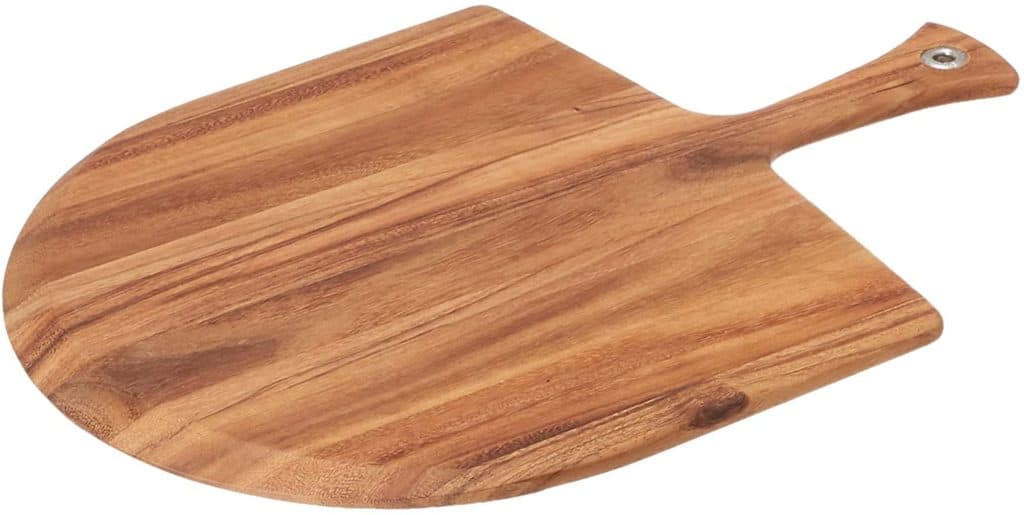 Before you can learn more about how to use a peel, you need to understand the exact type of pizza peel you have. Pizza peels can usually be categorized based on their material, shape, and size. They have been customized in the past to work with all kinds of pizzas and working areas. 
Usually, pizza peels are made out of aluminum, wood, or metal. They generally measure between 33 and 50 centimeters, with larger pizza peels intended for professional restaurants. 
Wooden peels, or pizza paddles,  are considered the traditional type of peel, and while they are the healthiest to use for pizza, they don't last quite as long and can be tough to clean after each pizza you make. 
Steel pizza peels, on the other hand, are much easier to clean - although it's important to note that they can be quite heavy. An aluminium pizza peel will be lightweight and easy to use. 
Using a Pizza Peel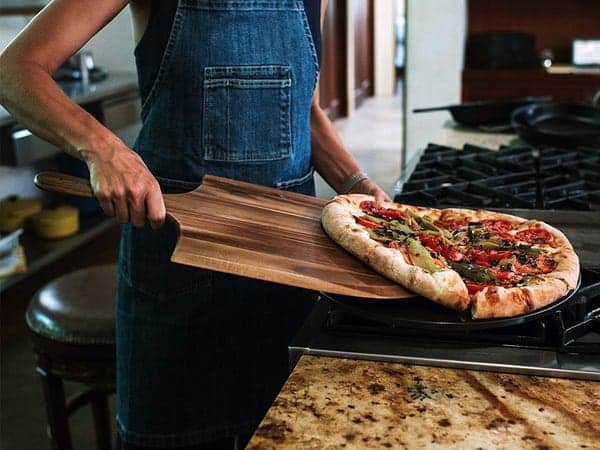 Using a pizza peel is simple and is a process that can be broken down into a few basic steps. 
Step one - make the pizza!
When you make the pizza, make sure your pizza peel is the right size for your pizza. If your pizza is undercooked, the pizza will often sag beyond the edge of the peel, so you should avoid using too many toppings on your pizza dough. This can make your pizza heavier and will cause the pizza to stick to the peel. 
Before you put your pizza on the peel, resist the urge to add any kind of moisture to it. Despite your best intentions, this can actually cause the pizza to stick to the peel. 
Next, prepare your pan for the pizza dough. You will want to use a bit of flour or cornmeal on the peel. Flour is the traditional option to use for your pizza, but you can also use out-of-the-box options like rice flour. Use just a small amount to "season" the pan - using too much can not only lend an odd, bitter flavor to your pizza, but it can also cause the bottom of your pizza pie's dough to burn. 
If you are using an aluminum pizza peel, you may want to add one additional step - you should add a bit of nonstick cooking spray to the peel. This will help coat the surface and keep your pizza from burning to it. You can lay down a few paper towels to prevent the spray from coating your countertop when you apply it, if you wish. Do this before adding your flour or cornmeal. 
Then you can either build your pizza on top of the pizza peel or simply slide the edge of your peel beneath your pie once it has been completed. 
Preheat your oven to the appropriate temperature, slide in the pizza stone, and shut the oven door. Cook your pizza to the desired temperature, then remove the pizza from the oven. Be sure to wear a pair of oven mitts when you remove the pizza so that you don't burn yourself!
Cleaning a Pizza Peel the Best Way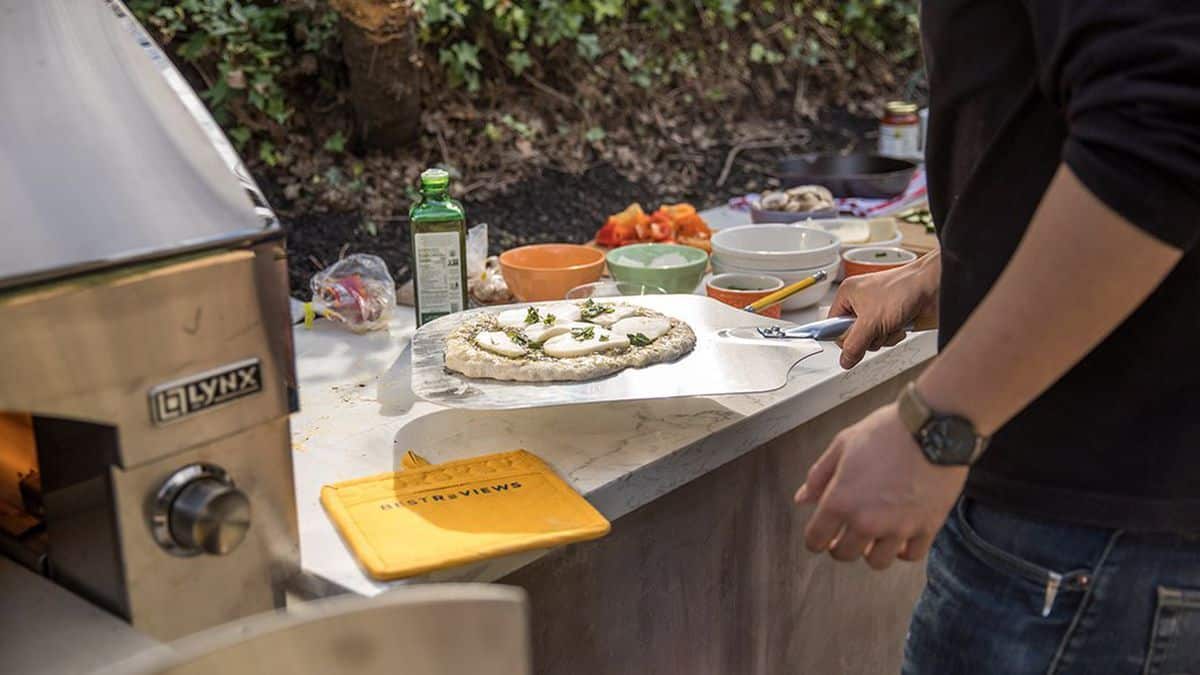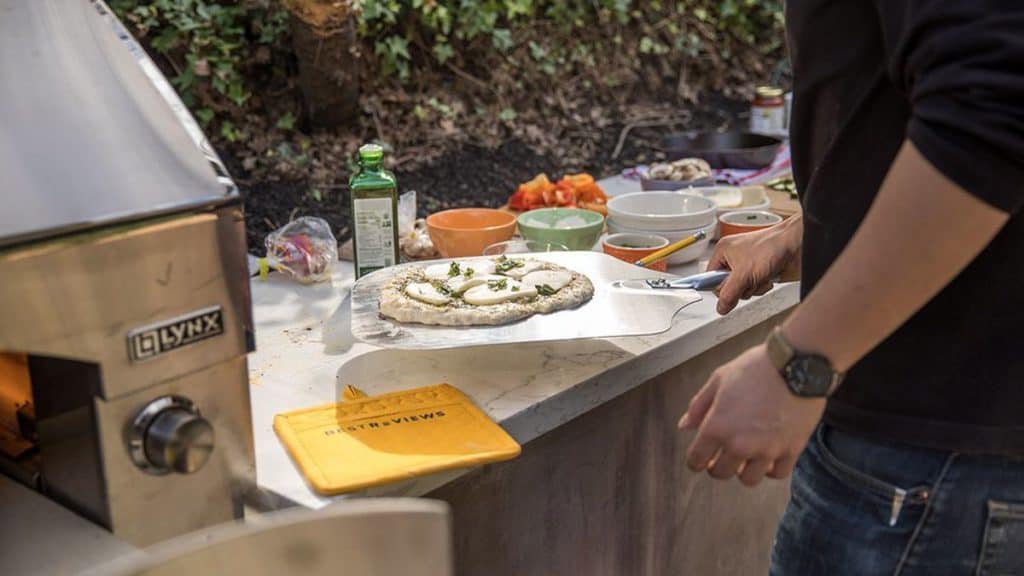 Unfortunately, your job hasn't finished just yet! A big part of knowing how to use a pizza peel is understanding how to clean it. Fail to clean your pizza peel, and you'll be left with a tool that is not only ineffective, but won't last you for very long, either.
Cleaning your pizza peel properly will reduce the likelihood of pizza getting stuck to the pan. Food particles will not only burn up in your oven,but they can also stick to your next pizza, giving it an unpleasant and bitter flavor.
If you use a wood peel to prepare your pizza, you will need to properly sanitize it. Wash it every time you use it but not in the traditional sense. You don't want to soak your wood pizza peel in the sink, as the moisture can cause the material to warp. 
Instead, use a sanitizing wipe followed up with some mineral oil. This will clean the peel and also seal the pores of the wooden peel. This can prevent moisture from seeping into the grain.
To do this, simply dip your pizza peel into mild, soapy water, then scrub gently to remove debris. Rinse off any soap, use a sanitizing wipe, and then dry it with a clean towel. Make sure it has dried completely before you apply a bit of mineral oil to reseal the pores. This should be done every time you use your wooden peel.
If you're using a steel or aluminum pizza peel, you can wash it by hand or scrape it with an scrubber. You can use warm water to loosen stuck bits of food or you can let it soak (as long as the peel does not have wooden handles). Cleaning a metal or aluminum pizza peel is much easier, but it's important that you still allow it to dry before you put it in your cupboard. 
Know How to Use a Pizza Peel for a Stress-Free Pizza Night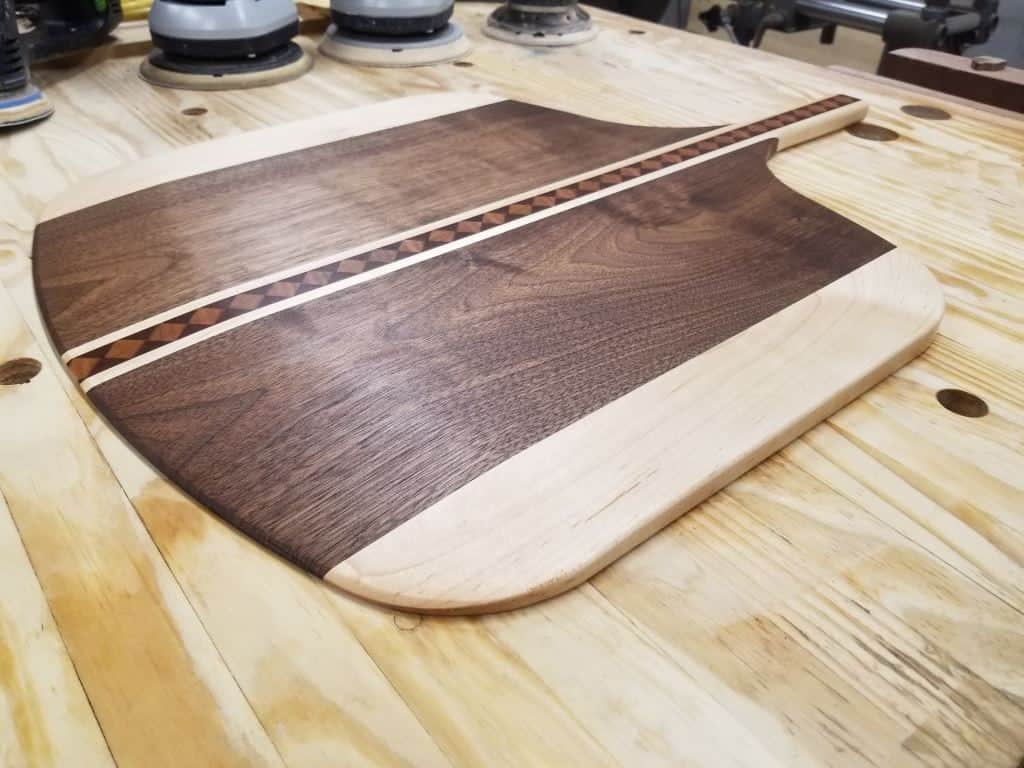 Ready to start making your own homemade pizza? Knowing how to use a pizza peel is the first step in the process. 
Doing so is easy - in fact, the more challenging part of using a pizza peel is learning how to clean it. Otherwise, just make sure you season your pizza peel effectively before placing it in the oven, and you shouldn't have to worry about anything else.
Enjoy that pizza!