G'day! By way of introduction, my name is Joanne; I am American (New York) born and bred, now an Aussie who has called Australia home since 1997. My blog is called What's On The List and I celebrated my 1 year blog anniversary on the 25th of December last year — Christmas Day!
As a PASSIONATE and ENTHUSIASTIC Home Cook, I try and inspire one recipe and one event at a time! My blog is "for fun", but I LOVE learning more about food, ingredients and techniques; nothing gives me greater pleasure than sharing with like minded fun-filled food people such as The Daring Kitchen's Cooks and Bakers.
For this month's challenge, I wanted to do something a little bit different and in honor of Lisa who always believed in me and everyone here. Lisa "touched us all in some way" beyond words and was always understanding if we were "a tad" late for a challenge; as long as we got there.
Since being accepted as a member of The Daring Kitchen in January 2013, I have participated in numerous Cooks' and Bakers' Challenges and each and every one was a challenge indeed! I am always up for a challenge and am sure I can speak on behalf of everyone who participates with each challenge, there is a sense of achievement that only "the smile on the day" can say!
I welcome Cook's Challenges of all kinds and hope you do too! It is the differences in cultures, customs, traditions and foods that we find worldwide we have a lot of similarities too! This month I wanted to challenge Home Cooks with Pathiri; a layered savory cake from Kerala, India which is served in Muslim homes during Ramadan (in the ninth month which is a time of prayer, fasting and charity-giving).
This challenge is very special to me and hopefully it will be for you too! The crepe batter recipe can be a recipe of your choice, but the filling must be of a savory nature and I "challenge" you to be "as creative as you can be!"
My challenge to you is only limited by your own imagination of ingredients to use!
For those unfamiliar with Pathiri, the challenge this month is not only the "easy to do crepe", but you get to choose any savory filling as part of your creativity!
I have made many Pathiri recipes and provide a wonderful example of Pathiri to start you on your way!
Thank you for participating in the Daring Kitchen Cook's Challenge April 2014 Challenge — CHATTI PATHIRI.
I am SO proud of you and LOVE that we continue learning all foods from around the world and recipes together. Is there anything that's better?
Recipe Source:
The following recipe is one that I created, taking inspiration from the recipe linked in the additional information section
Blog-checking lines:
The April Daring Cooks Challenge was brought to us by Joanna from What's On The List. She taught us all about Pathiri and challenged us to create our own version of this inspirational Indian dish!
Posting Date:
April 14, 2014
DOWNLOAD THE PRINTABLE FILE HERE.
Notes:
Pathiri is a multi-layered crepe filled with (for this challenge) a savoury filling
The crepes for Pathiri are pancakes normally made out of rice flour, but the creativity is up to you.
Did you know the word Pathiri traces back to Arabic meaning pastry?
The Pathiri can be served as a sweet or savory, but your challenge for this month is savory.
Parathi is usually served with some accompaniment. I will leave that up to you, but would like you for this month's challenge to focus SOLELY on the savory Parathi.
Some general tips and guidelines:
•Make sure to refrigerate the crepe batter for at least an hour if not more.
•You need to use a "heavy-bottomed" pan; non-stick pans do not always heat the crepe evenly.
If using a non-stick pan, consider adding butter or oil so the crepe does not stick.
•Always S-L-O-W-L-Y heat your pan to the desired temperature. Always make sure the pan is hot enough, or the crepe WILL stick.
•Unless you have some "secret" hint and tip, your first crepe may not always come out how you ultimately want the crepes to be. I tend to use butter in my pan; sometimes a lot with the first crepe, then cutting back as each crepe successfully "lightly" browns.
•Don't be an early flipper! Don't fiddle with it! You only get one chance to make a crepe right; experience helps, but after your first crepe, trust me (based on your pan and heat) you will know what to do!

Mandatory Items:
Make a crepe of your choosing, representing your inner creativity or based on your experience that interests you and add any "simple" condiments to complement your style, your culture or flavors you chose.
I love seeing photos that express your creative Cook's personality!
Variations allowed:
I leave the variations up to you. As long as you have a crepe (many layers; your choice) and a savory filling, than this Cook's challenge will bring out the fun recipe I have set out this month for you.

Preparation time:
I can say the preparation times will vary based on your chosen creative Pathiri Savory recipe and the preparation method and cooking method you choose. But this month's challenge is NOT overwhelming and I KNOW each and every one of you is up for the challenge.
Equipment required:
•Various sized bowls
•Wooden spoon
•Spatula
•Crepe pan or 8-inch (20-cm) frying pan for crepes
•Large frying pan
•Food processor
•Mini grinder or mortar and pestle
•Sharp knife
•Two (2) pastry brushes
•Large plate
•Flipper
Chatti Pathiri:

Ingredients:
For the crepes:
2 large eggs
1 cup (250 ml) milk
1 teaspoon (5 ml) white vinegar
1 tablespoon (15 ml) grape-seed oil or neutral-tasting oil
1 cup (4¼ oz) (120 gm) all-purpose (plain) flour, sifted
pinch of salt
oil for crepe pan

For the filling:
250 gm (9 oz) boneless chicken, suggest thighs
1/4 teaspoon turmeric powder
1/2 teaspoon chili powder
1/2 tablespoon coriander powder
1/4 teaspoon roasted curry powder*
1/2 teaspoon white pepper powder
1/2 teaspoon ginger paste
1/2 teaspoon garlic paste
1 large red onion, diced
1/2 teaspoon chilli paste
20 almonds, roasted, ground
Handful of spinach leaves
1 tablespoon (15 m) (½ oz) (15 gm) ghee
2 teaspoons ghee additional
salt to taste
1-2/3 cup (400 ml) coconut milk
1/2 tablespoon coriander leaves
*feel free to substitute garam masala
Directions:
For the crepes:
1) In a jug or mixing bowl add vinegar to milk; allow to sit for 5 minutes.
2) In a bowl (or larger jug), combine milk mixture with remaining ingredients; refrigerate for at least one hour.
3) Heat pan coating pan lightly with oil; remove excess oil with paper towel.
4) Pour batter to desired size; flip when edges start to lift.
NOTE:
Do not pour batter into a pan that is not hot enough as it WILL stick.
HINT AND TIP:
Place completed crepes on baking paper and layer.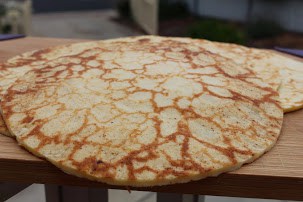 Crepes do freeze well, so I would recommend doing this challenge in two steps so the overall recipe is not too overwhelming. Make sure crepes are in a sealed Ziplock bag and are thoroughly defrosted before using.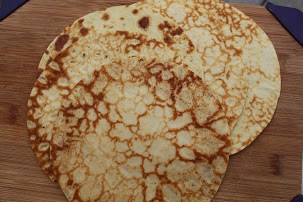 For the filling:
1) Cut chicken into bite size pieces and remove any excess fat.
2) Place in a food processor and mince; set aside.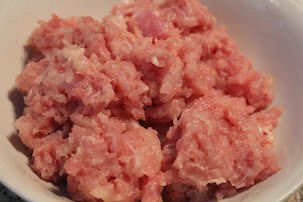 3) Place almonds in a pan; roast under grill (broiler) for 5 minutes or until lightly toasted; remove. In a food processor or mini grinder, grind almonds until fine; set aside.
4) In a small bowl, combine turmeric powder, chilli powder, coriander powder, and roasted curry powder; set aside.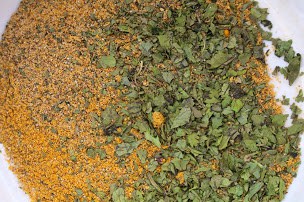 4) In another small bowl, combine ginger paste, garlic paste and chilli paste; set aside.
5) Prepare (i.e. dice) red onions; set aside.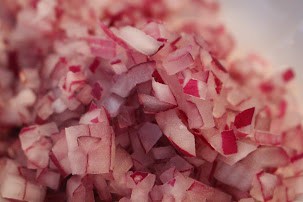 6) With all ingredients now prepared, heat a large fry pan on medium heat, then add 1 teaspoon ghee.
7) Add ginger, garlic chilli paste; sauté for 30 seconds.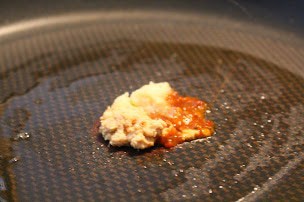 NOTE:
May need to lower heat "slightly" if pan ingredients start to splatter.
8) Add red onions; sauté for about 5 minutes or until soft; move onions to one side of pan.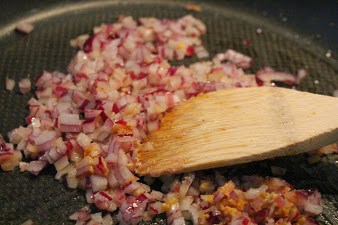 9) Add in powdered spices to opposite side of pan; sauté for about 1 minute; combine with onions.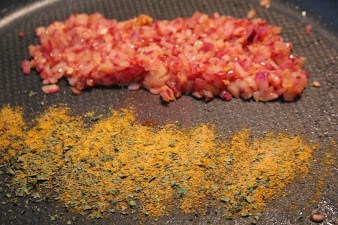 10) Add chicken mince; sauté until brown.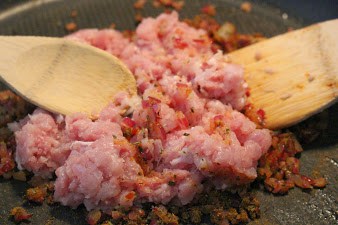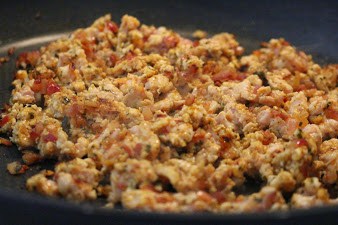 11) Add finely ground roasted almonds.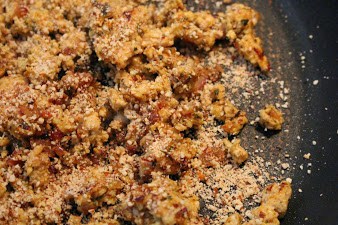 12) Add a good handful of spinach (or more); allow to wilt; approximately 3 minutes.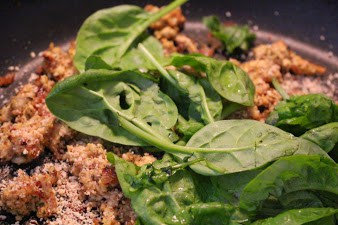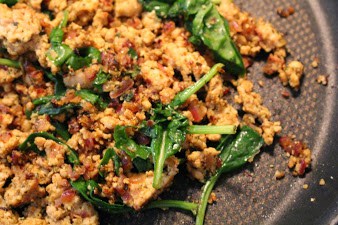 13) Remove mixture from the heat; set aside until completely cool; about 30 – 40 minutes.
HINT AND TIP:
Even though the chicken is minced, I like the mince to be in consistent small pieces (like scrambled eggs). I use two wooden spoons with the tip-part facing down into the pan and then with an up and down motion, I chop the chicken mince so that all pieces are of approximately equal size.

ASSEMBLY
1) In a bowl, combine coconut milk and coriander leaves; set aside.
HINT AND TIP:
1) I would recommend you have 2 tablespoons of ghee melted to make preparation easier.
2) In a cleaned 8-inch (20 cm) fry pan, heat pan over low heat, add 1 teaspoon of ghee until melted.
3) With a pastry brush, coat both sides of the crepe with the coconut mixture; then use the second pastry brush to coat only one side with ghee. Place the coconut mixture "only" side face-down into the fry pan. (The side with the ghee should be facing up.)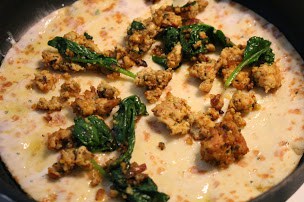 4) Add completely cooled chicken mixture; continue layering for as many layers as you choose to do or until mixture runs out; I did five.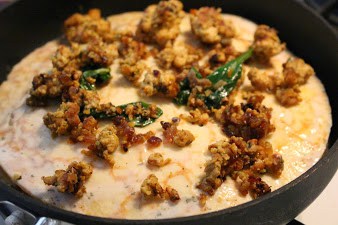 5) Add remaining coconut milk and coriander leaves mixture on top of the layered crepes.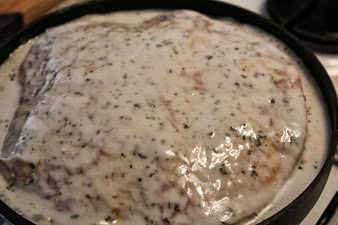 NOTE:
You have two methods to choose to complete the dish; continue on the stove top or place CHATTI PATHIRI in a preheated moderate oven 350°F/180°C/gas mark 4, until all the coconut milk evaporates; you will notice the side "starting" to become dry.
6) When all the coconut milk evaporates, remove from oven.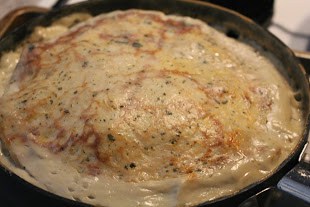 7) Flip CHATTI PATHIRI from pan onto a plate.
HINT AND TIP:
With an egg flipper, I would suggest you check that your CHATTI PATHIRI will not stick to the pan.
8) Congratulate yourself on a job well done in completing this CHATTI PATHIRI; (optional but recommended)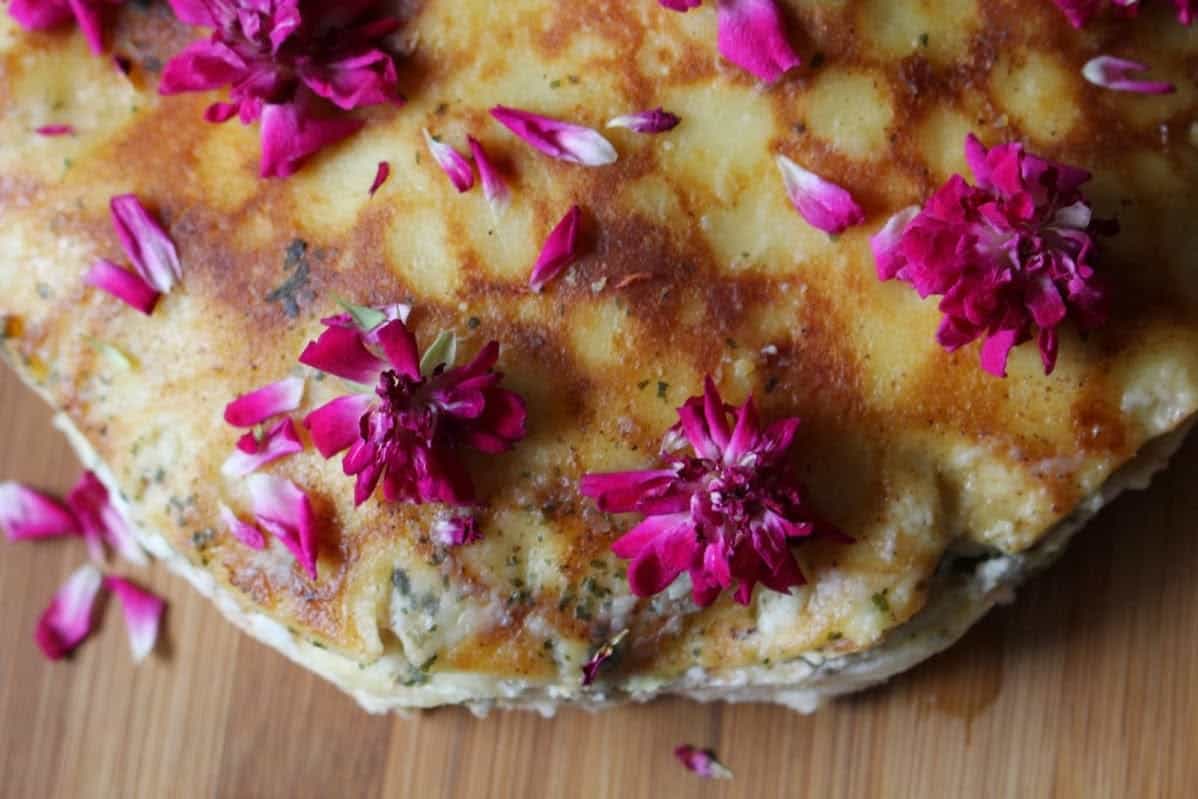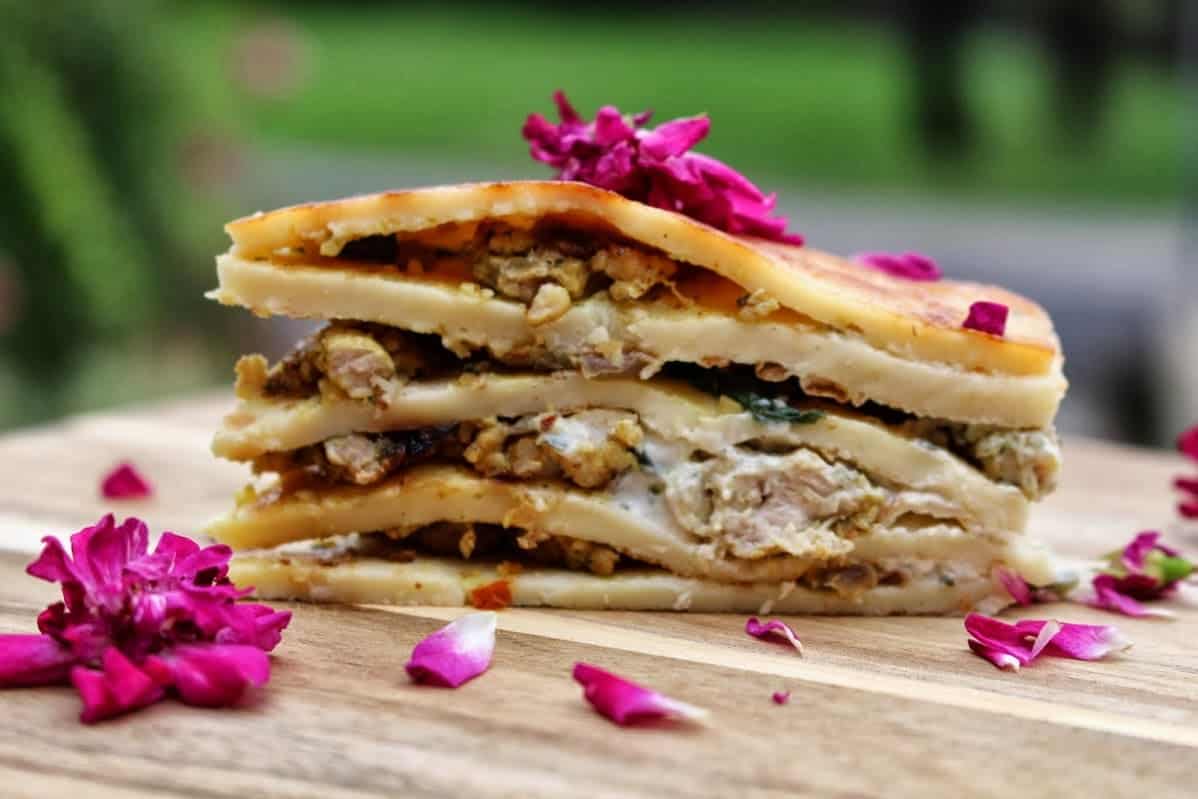 Storage & Freezing Instructions/Tips:
CHATTI PATHIRI is best served from the oven, however I enjoy this after I place it in the fridge until it is completely cooled, easy to cut and I think it's lovely; hope you will too!
Additional Information:
Meena's Athishaya pathiri / Atti pathiri / Layered Savoury Cake / Athishaya pathiri with step by step pictures / Kerala recipe
http://elephantsandthecoconuttrees.blogspot.com.au/2013/06/Athishaya-pat…
Ria's 12 layer CHATTI PATHIRI / MALAYALEE'S LASAGNA …made in a saucepan as "initial" reference sites.
http://riascollection.blogspot.com.au/2010/09/chatti-pathiri-malayalees-…
WikiHow http://www.wikihow.com/Make-Crepes
Kaima Pathiri – Ground Rice Crepes that Melt In Your Mouth