Pop Tarts are nothing short of incredible. Needless to say, they are probably your childhood favorite, more so, the S'Mores and Strawberry flavors.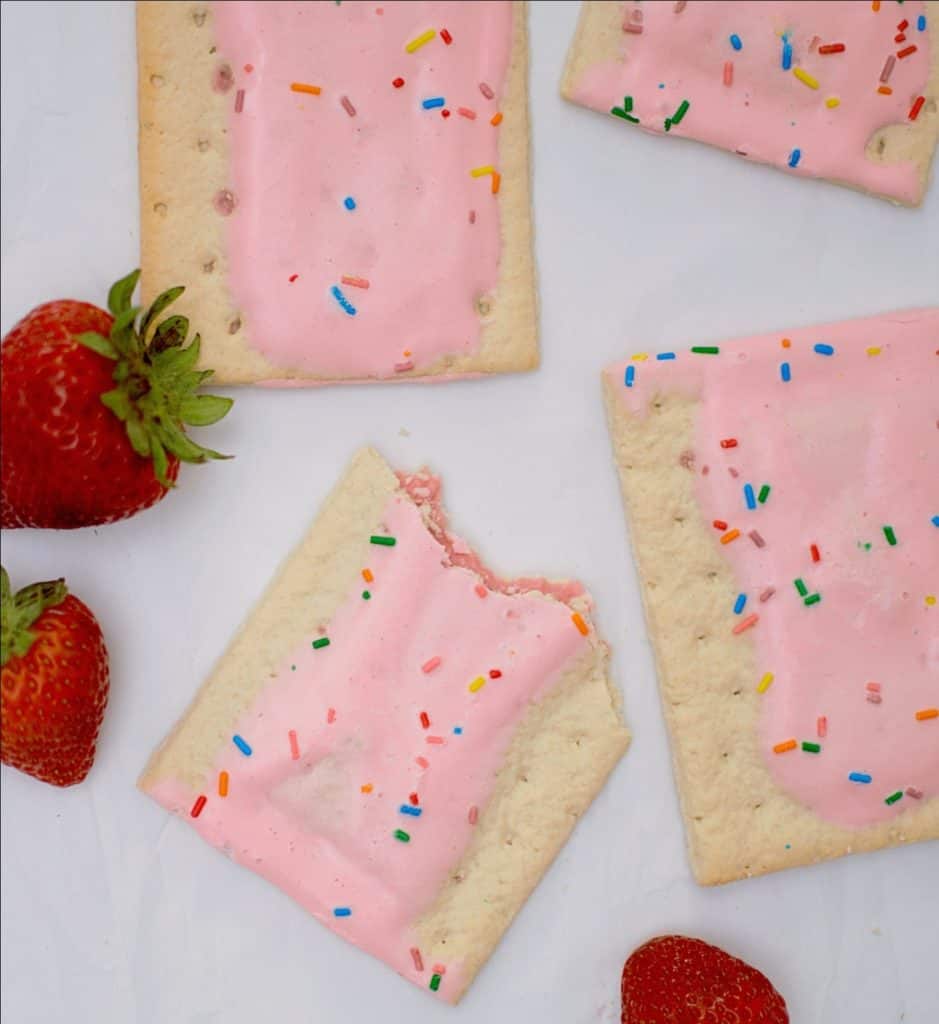 Although you may assume that these yummy treats have animal products such as eggs and dairy and are not, therefore, vegan-friendly, this couldn't be further from the truth.
With that being said, if you're wondering, 'Are Pop Tarts vegan?' you've come to the right place. Keep an eye out for these plant-based pop tart flavors during your next grocery store run because they're for college students and children alike, regardless of your dietary limitations.
The Non-Vegan Ingredients
Although the combination of ingredients varies from one type of pop tart to another, the two main non-vegan ingredients that these treats contain are gelatin and milk. Moreover, you may find cream and whey, which is a form of milk, not forgetting egg whites, yet another non-vegan ingredient.
Non-Vegan Pop Tarts
Among the various non-vegan Pop Tarts, you'll find more than 10 flavors that contain one or more of the non-vegan ingredients we've mentioned. The table below summarizes the non-vegan pop tart flavors and why that's the case.
| | |
| --- | --- |
| Pop Tart Flavor | Non-Vegan Ingredients |
| Gone Nutty Peanut Butter | Milk |
| Blueberry | Gelatin |
| S'Mores | Egg whites, Milk Whey, and Gelatin |
| Hot Fudge Sundae | Gelatin |
| Cherry | Gelatin |
| Strawberry | Gelatin |
| Chocolate Chip Cookie Dough | Egg whites, Milk, and Gelatin |
| Brown Sugar Cinnamon | Gelatin |
| Chocolate Chip | Egg Whites, Whey, Gelatin, and Milk |
| Vanilla Milkshake | Gelatin and Whey |
| Chocolate Fudge | Egg whites, Whey, and Gelatin |
| Strawberry Milkshake | Gelatin and Cream |
| Cinnamon Roll | Gelatin |
It's worth noting that new flavors of Pop Tarts are constantly cropping up, and with the increasing number of people switching to a plant-based lifestyle, more vegan flavors will come up.
Vegan Pop Tarts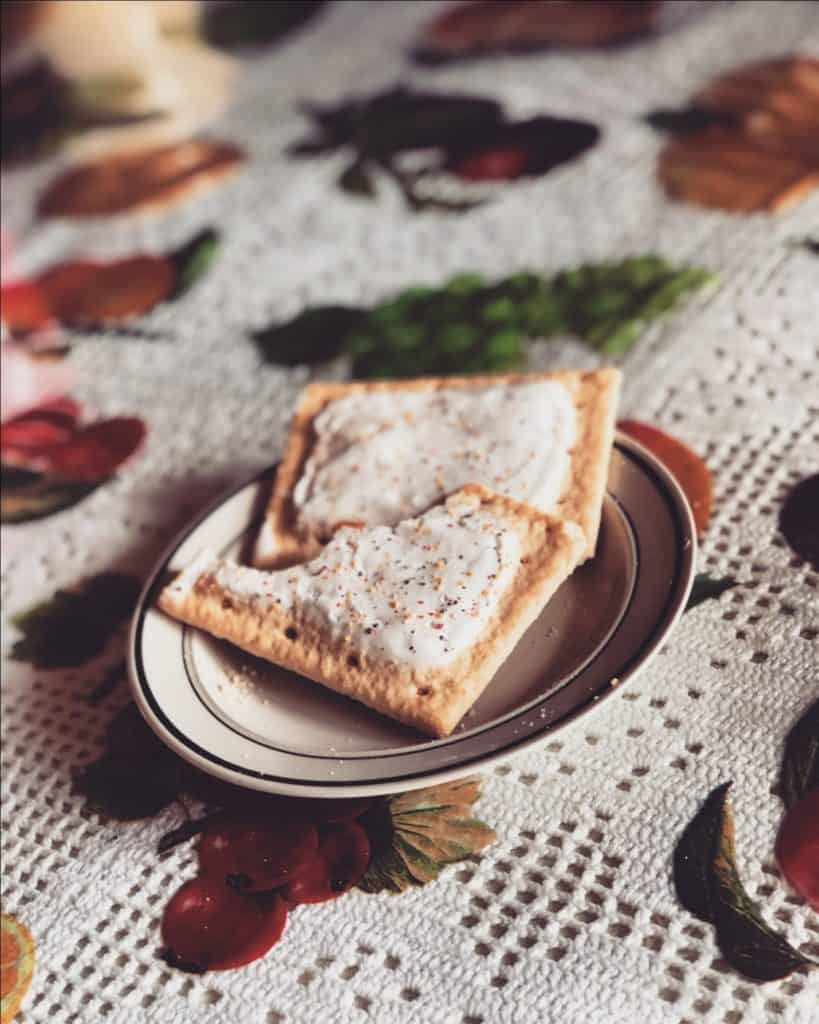 Three types of Pop Tarts are regarded to blend with veganism. While they are regarded as plant-based for many people, a few ingredients may be questionable for a stricter vegan.
Before we delve into that, the three unfrosted variations of vegan Pop Tarts are:
Blueberry
Brown Sugar Cinnamon
Strawberry
For most people, these flavors fall into the category of plant-based foods as they lack animal and flagrant products. Therefore, this makes them vegan by default. However, these products have three ingredients that have a bad reputation in the plant-based community as they are directly linked to animal suffering.
1. Palm Oil
Granted, there's no denying that palm oil is a vegan ingredient. However, its production ushers in social, ethical, and environmental challenges. Deforestation for palm oil plantations kills habitats, consequently threatening particular species such as Sumatran elephants, Sumatran Rhino, Sumatran Tiger, Orangutans, and Bornean Pygmy Elephants.
The unsustainable production of palm oil also contributes to global warming. Unfortunately, the conditioning of the land and palm oil production comes at the expense of draining rainforests. As they dry, the peat-filled soils discharge a greenhouse gas with 23 times the impact of C02 (methane) in large quantities.
In addition to that, palm oil plantations have adverse repercussions for people living nearby. A report from the International Labor Rights Forum (ILRF) states they discovered a boatload of human rights violations during their visit to three palm tree plantations in Indonesia.
Workers are tricked into working at these plantations. Then they're forced to continue working after being misled into debt-bondage situations.
The workers are also forced to recruit children to work at these plantations to meet unrealistic quotas.
Worse still, the report unveils case studies on the Sustainable Palm Oil certified plantations, which are commonly regarded as the 'good' plantations.
2. Added Colors
Some Pop Tarts are loaded with artificial colorings, ranging from Blue 2, Red 40, and Blue 1. The issue with added or artificial colorings is that they are byproducts of animal testing. Although most vegans are comfortable consuming added colors, a handful of stricter individuals firmly stand against it for legitimate reasons.
For example, you may not be aware that added colors need periodic testing to ensure they adhere to the stipulated safety standards. With that being said, we found two tests conducted in 2018 and 2017. Given that artificial colors usher in health risks, tests must be conducted periodically.
3. Natural Flavors
The only 'vegan' variety that has natural flavors is Blueberry (unfrosted version). The issue that crops up with these flavors is that some fall in the non-vegan category. Given that we're referring to Pop Tarts that closely mimic the blueberry flavor, the assumption is that the natural flavor is acquired from a blueberry derived from an authentic blueberry bush. Nonetheless, you can't be entirely certain.
Real Vegan Substitutes to Pop Tarts
Although the options for vegan Pop Tarts are few and far between, you can try out Bobo's Oat Bars. You can take your pick from the various available flavors such as Chocolate Peanut Butter, Blueberry Lemon Poppy Seed, Strawberry Jam, and Chocolate Almond Butter, all of which are plant-based.
Homemade Pop Tarts
If you're on the fence about store-bought Pop Tarts, you can enjoy homemade ones.  They give you full control of the ingredients that go in. Remember to use a substitute for dairy milk. Alternatively, you can try out a plant-based pumpkin pizza or vegan raw energy bars that are quick and easy to make when you want to switch things up a bit.
As a tip when making Pop Tarts, remember to purchase plant-based pie crust that is surprisingly available. Most pie crust and pastry dough are plant-based.
Closing Remarks: Some Pop Tarts Are Vegan
While most Pop-Tart flavors are non-vegan, it doesn't imply you have to skip out on these delightful treats.
Whether you've embraced veganism or not, a few of the best flavors out there are the plant-based options that lack animal products, namely: Strawberry, Brown Sugar Cinnamon, and Blueberry (unfrosted).
If you have no qualms consuming natural flavors, palm oil, and artificial colorings, then these vegan Pop Tarts are right up your alley; otherwise, you can opt for homemade treats.