When cruising the restaurant scene and street food hubs of Vietnam, snuggling into tight tables with elbow room only, you're bound to notice the dishes others are ordering-if not within reaching (tempted snatching) room of these fellow dining strangers and their ordered deliciousness. That's how I found banh xeo. The table next to us had ordered this dish as an appetizer. They undoubtably noticed my 'o' face and 'awwwwww' squees and, kindly, chatted me up a little about what they ordered.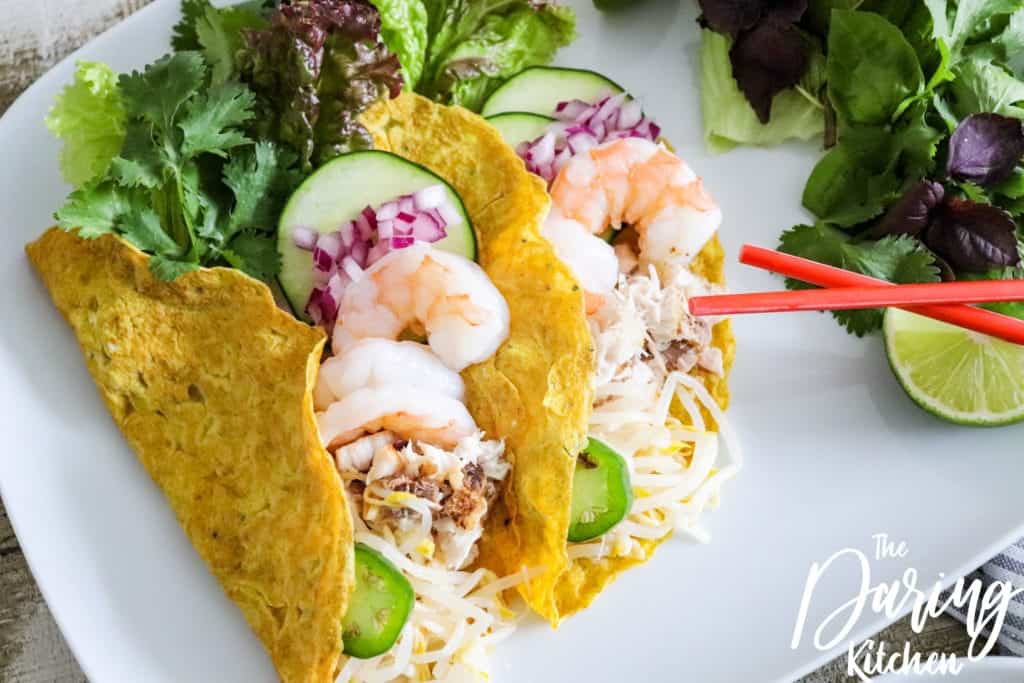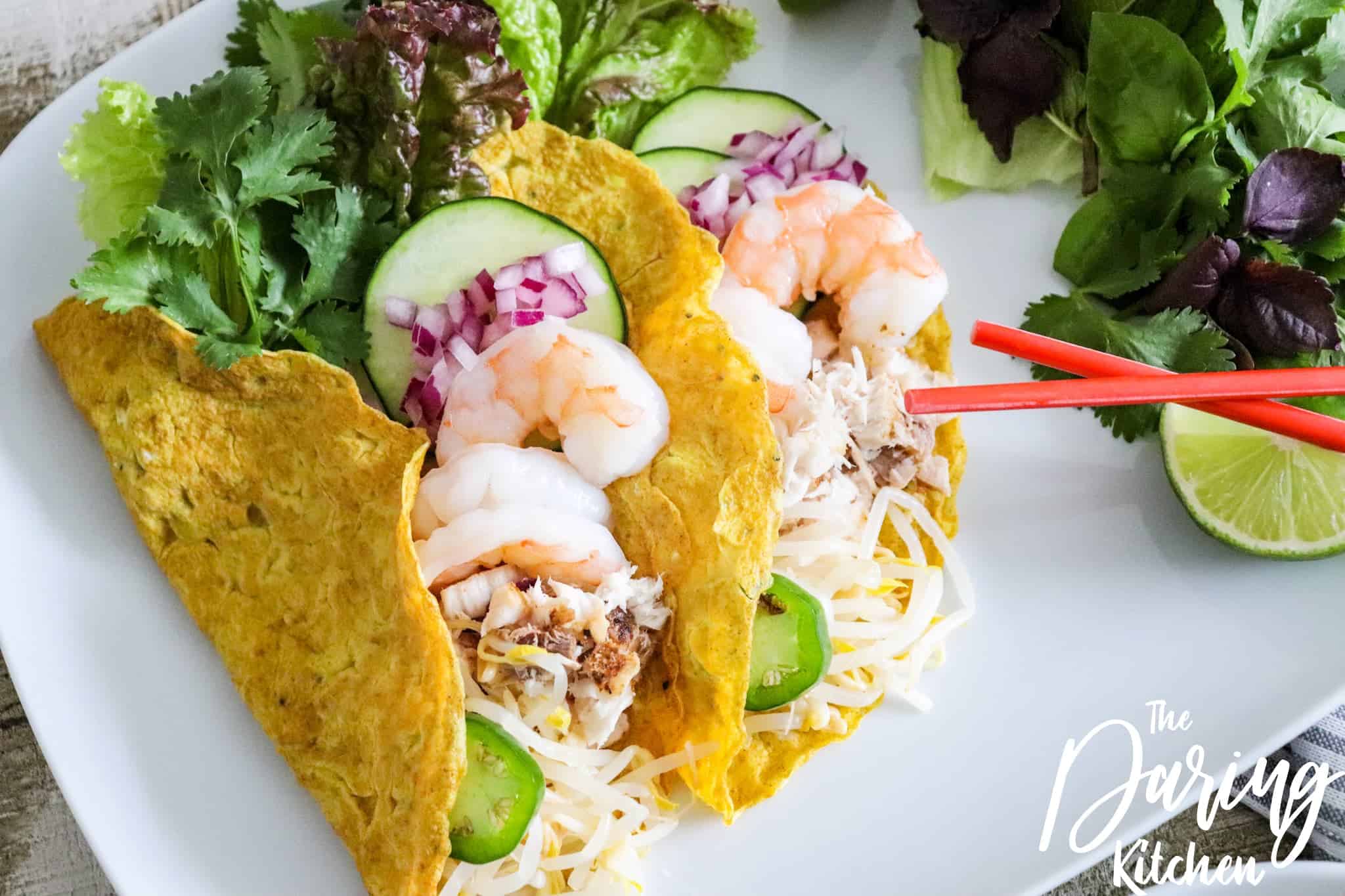 Banh Xeo is a Vietnamese style eggy crepe stuffed with fresh seafood, herbs and veggies. Served along with the requisite additional fresh greens, more bonus herbs plus a lovely nutty dip. This really is an all-day kind of meal, one that can easily squeeze into the breakfast, lunch, dinner or snack categories.
The is a slight adaptation of the original. Easily modified to fit into the Whole30, Paleo and gluten free diets.
serves 4
Ingredients:
egg batter for crepe:
8 eggs
1/4 cup unsweetened coconut milk
1 teaspoon turmeric
1/2 teaspoon salt
1/4 teaspoon black pepper
1 tablespoon sesame seeds
olive oil pan release spray
nutty dip:
1/8 cup rice or apple cider vinegar
1 cup almond butter or sunflower butter
1 garlic clove, peeled and minced
2 teaspoons fresh ginger, peeled and minced
2 tablespoons tamari soy sauce
1 tablespoon fresh lime juice
1/4 cup water
1 teaspoon sriracha (optional)
filling:
1/2 lb. shrimp, peeled and cooked
1/2 lb. white fish, cooked and flaked
1 cup fresh basil leaves
1/2 cup fresh cilantro leaves
1/4 cup fresh mint
1 cup bean sprouts
8 bibb lettuce leaves
1/4 cup red onion, peeled and sliced
1/2 cup cucumbers, sliced
1 jalapeno or chili pepper, sliced (optional)
Instructions:
In a large bowl whisk together the omelet batter ingredients until blended . Heat a large non-stick skillet over medium heat and lightly grease with pan release spray. Pour in 1/3 cup of batter and swirl around the hot pan until evenly and thinly distributed. Cook for 2 minutes, flipping after 1 minute, or until cooked completely. Let omelets cool on a wire rack before filling and serving.
In a medium bowl whisk together the dip ingredients until smooth. Keep refrigerated until ready to serve.
Distribute filling ingredients evenly to cooled omelets and serve with dipping sauce.