This  version of the Vietnamese classic will satisfy you at any time of the day. With all the filling options, you will never get bored of this as a meal or snack!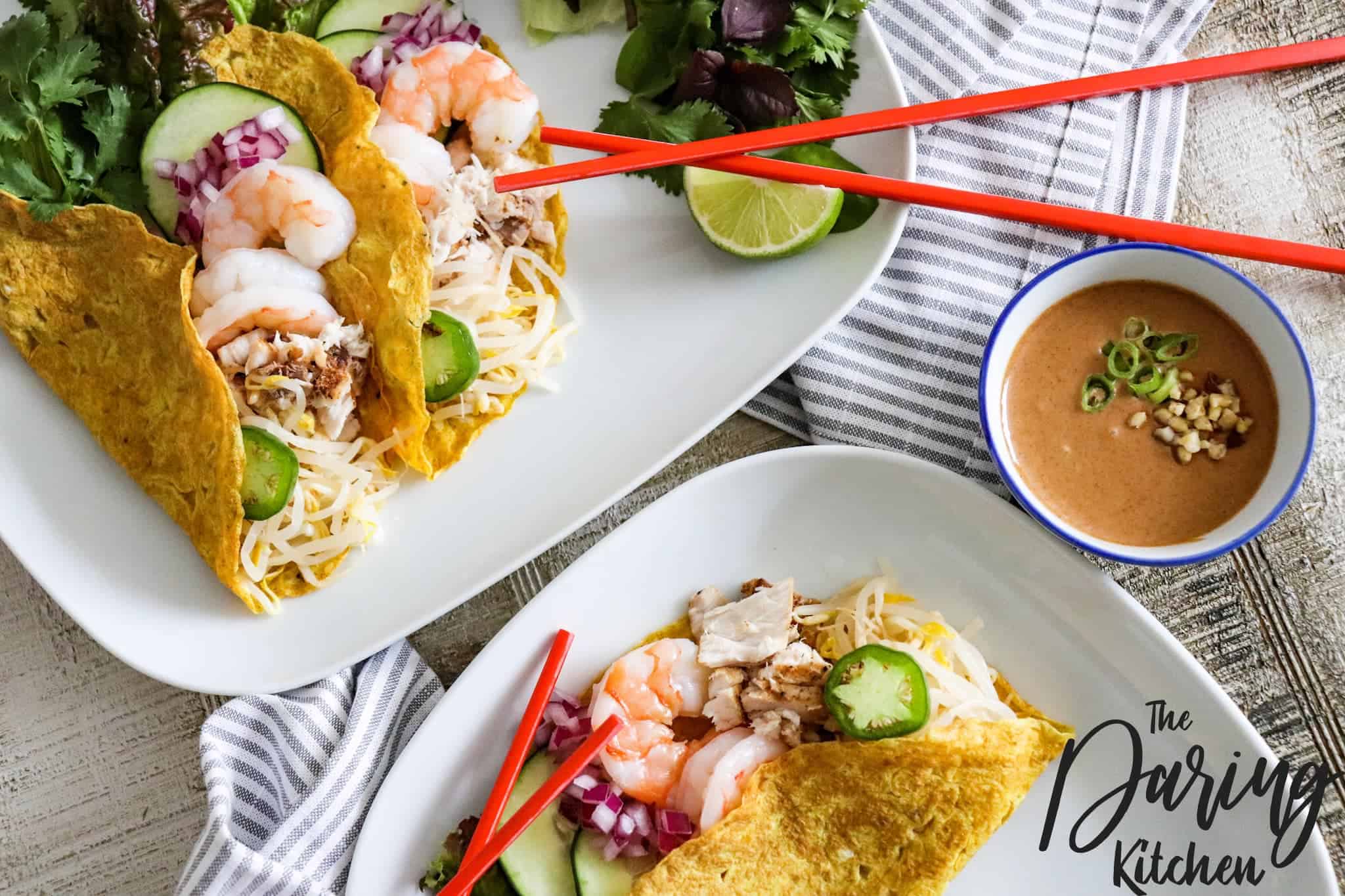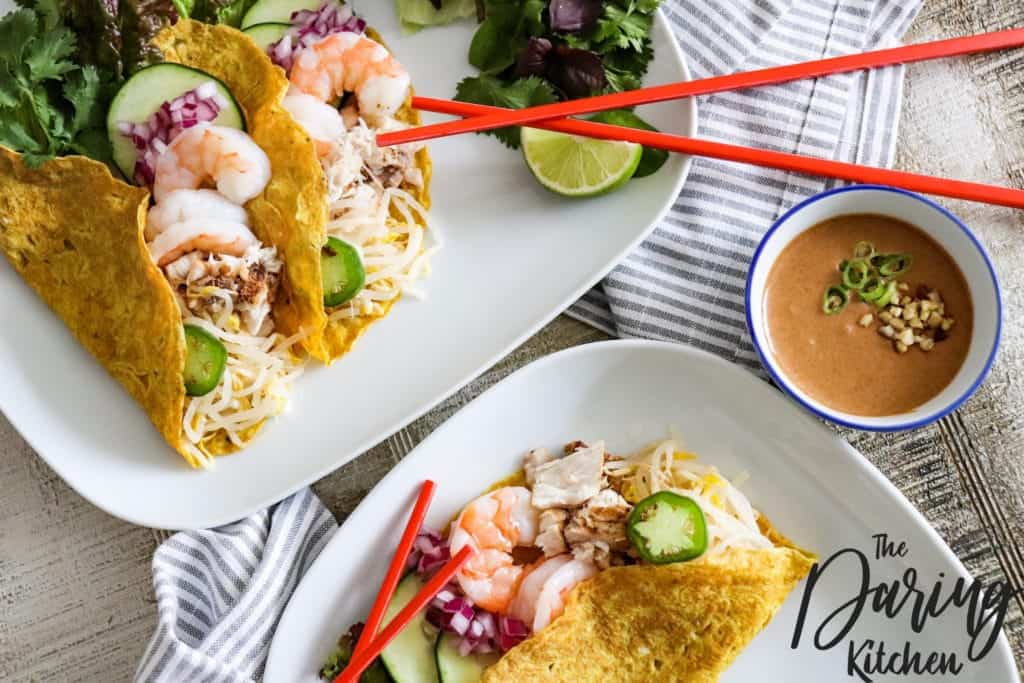 When exploring the incredible food scene in Vietnam, you are overwhelmed with how many dishes there are to discover. Usually, what you end up ordering random things you simply smell or see around you. Bánh xèo came into my life just like that. The table next to us ordered this dish as an appetizer. The first time I saw it, I knew I had to try whatever those golden crepes were. And, I am so happy I did.
Bánh Xèo Explained
So, what exactly is Bánh xèo? Well, to start, it is pronounced "bahn say-o." When you see it, you may think it is something similar to an omelet. But, it is totally different.  
Bánh xèo is a thin Vietnamese style crepe. It is both chewy and crispy. It traditionally consists mainly of rice flour, coconut flour, and turmeric. Sometimes, local mung beans are used in the flour, adding more density and protein to the crepe.
Bánh xèo is typically is made in street food stalls, where the batter is cooked until crispy in skillets. Then, it is filled with all kinds of delicious ingredients. You will often find it served with a combination of pork and shrimp, along with tons of fresh greens. These are most usually mint, cilantro, and bean sprouts. The crepe itself can be eaten alone. Or, it is dipped in nuam cham, a classic Vietnamese dipping sauce. 
A Paleo Recipe Everyone Will Love
In this recipe, I decided to make a low-carb and protein driven version of bánh xèo. Instead of the typical rice flour base, I used eggs. This boosts the protein in the dish, making it the perfect paleo snack or meal.
I also included a delicious dipping sauce, inspired by Vietnam's incredible flavors. Typically, bánh xèo is paired with the nuoc cham, a zesty fish-sauce dip. However, I love how well shrimp pairs with nutty sauces. This resulted in an almond butter-based sauce loaded with fresh ginger, lime juice, and garlic. This makes the crepes a little heartier while staying paleo and gluten-free friendly.

Have Fun with the Fillings
When it comes to fillings, the authentic way is the best for these crepes. In Vietnam, they are often served with seafood or pork. Or, sometimes both!
My favorite aspect of bánh xèo fillings is the fresh lettuce and herbs inside. In Vietnam, mint and cilantro are super popular. It adds such a refreshing bite when you wrap up the crepes. With just a little crunchy lettuce and bean sprouts, the texture just rounds out perfectly.
For this recipe, I chose to use shrimp and white fish to make this dish light and protein-packed. I also put just a little more vegetables in the filling. I love how cucumbers and red onion give a little more crunch to these crepes. Plus, they taste delicious with all the mint and cilantro inside. Combined with the fish, these vegetables and herbs make this crepe incredibly refreshing.
If fish is not what you are feeling, do not be afraid to sub it out. Lean cuts of meat, like chicken breast or pork tenderloin, work well in these crepes. Alternatively, you can even go completely vegetarian by using tofu or omitting the extra protein altogether.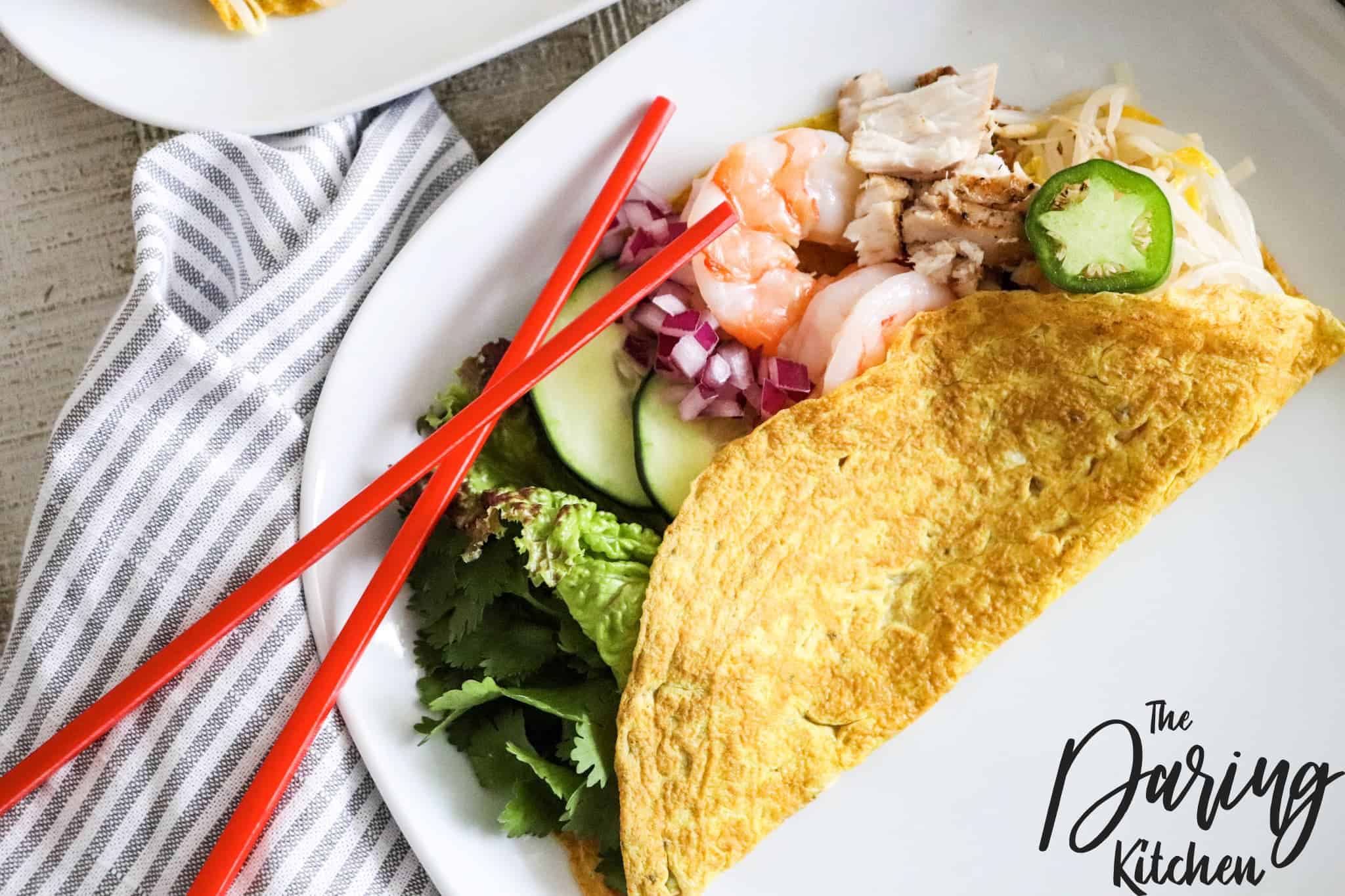 How to Eat Bánh Xèo
Traditionally speaking, bánh xèo is a "finger food." Yes, you eat bánh xèo with your hands. This may seem strange, giving the shape of the crepe. But, bánh xèo is a typical street food made all over Vietnam. It is meant to be eaten quickly and oftentimes standing up. 
There are actually a couple of ways to eat bánh xèo. First, you can hold the entire filled crepe and take a nice big bite. The crepe itself is strong enough to hold everything up. Or, you can simply cut the crepe into quarters and eat it like you would a quesadilla.
Alternatively, you do not even have to fill the crepes. Instead, you can use the crepe as a vehicle to pick up fillings and sauce as you please. This is a popular way to eat it in Vietnam, with a generous side of lettuce and herbs. Whatever way you chose, you will really enjoy the flavor variety of these crepes.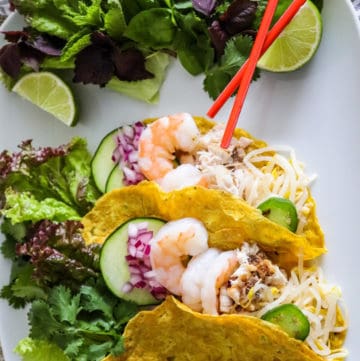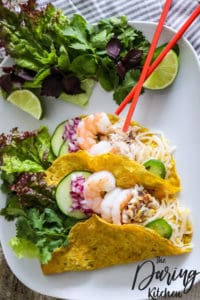 Banh Xeo Recipe
A delicious and traditional Vietnamese inspired recipe.
Print
Pin
Ingredients
egg batter for crepe
8

Eggs

¼

cup

Unsweetened Coconut Milk

1

tsp

Turmeric

½

tsp

Salt

¼

tsp

Black Pepper

1

tbsp

Sesame Seeds

Olive Oil

pan release spray
nutty dip
¼

cup

Rice Vinegar

or apple cider vinegar

¼

cup

Almond Butter

or sunflower butter

1

glove

Garlic

peeled and minced

2

tsp

Fresh Ginger

peeled and minced

2

tbsp

tamari

or soy sauce

1

tbsp

Fresh Lime Juice

¼

cup

Water

1

tsp

Sriracha

optional
filling
½

lb

Shrimp

peeled and cooked

½

lb

White Fish

cooked and flaked

¼

cup

Fresh basil Leaves

½

cup

Fresh Cilantro Leaves

¼

cup

Fresh Mint

¼

cup

Bean Sprouts

8

Bibb Lettuce Leaves

¼

cup

Red Onions

peeled and sliced

½

cup

Cucumber

sliced

1

Jalapeño

or chilli pepper, sliced (optional)
Instructions
In a large bowl whisk together the omelet batter ingredients until blended . Heat a large non-stick skillet over medium heat and lightly grease with pan release spray. Pour in ⅓ cup of batter and swirl around the hot pan until evenly and thinly distributed. Cook for 2 minutes, flipping after 1 minute, or until cooked completely. Let omelets cool on a wire rack before filling and serving.

In a medium bowl whisk together the dip ingredients until smooth. Keep refrigerated until ready to serve.

Distribute filling ingredients evenly to cooled omelets and serve with dipping sauce.
Nutrition
Calories:
407
kcal
|
Carbohydrates:
9
g
|
Protein:
40
g
|
Fat:
24
g
|
Saturated Fat:
7
g
|
Cholesterol:
499
mg
|
Sodium:
1425
mg
|
Potassium:
680
mg
|
Fiber:
3
g
|
Sugar:
3
g
|
Vitamin A:
1840
IU
|
Vitamin C:
14
mg
|
Calcium:
231
mg
|
Iron:
5
mg