Nothing beats waking up to the aroma of a freshly brewed cup of coffee. It has become a ritual for many people across the globe.
Are you tired of always getting that stagnant, flat coffee from your regular coffee shop, or whichever name you use to refer to that cup of brown water? Do you want to tip the odds in favor of attaining a barista-quality brew that enables you to savor the complex flavors from enhanced bodies of greater quality coffee?
Well, the only assured way of doing this is by taking matters into your own hands and making your own coffee. If this is unfamiliar territory, you need not panic. It takes a while to know the ins and outs of coffee making.
The best tools for a beginner are those that have been automated based on input from more experienced aficionados. These usually have instructions that, when applied correctly, will get you the very best coffee experience.
The automatic drip coffee maker is the most practical brewer for a novice to adopt as you work on your barista goals. Not all of them are created equally, however.
While even a cheap, basic coffee maker will get you a hot pot of coffee, you want to ensure you also get that delicious taste from it. After all, it is a long term purchase consideration, and you don't want to sentence yourself to a lifetime of bad coffee. Or on the flip side, to a very short life cycle made of poor choices.
There is a need to balance the qualities to get the best drip coffee maker for your needs. We shall comprehensively review 5 of the best drip coffee makers based on their features and brewing power.
1. OXO Brew 9 Cup Coffee Maker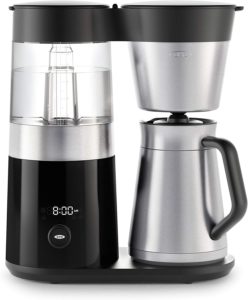 It is SCA Certified, which means coffee experts have tested it for best brewing practices like speed, coffee to water ratio, and optimization of brewing temperatures. This puts it in the race for the best drip coffee maker award already.
At 15 by 8.3 by 17.2 inches, it is a tall drip coffee maker that requires a bit of space reservation in your kitchen or office. Especially factoring in that you will have to lift the lids of the filter basket and the water tanks. It is also not the lightest coffee maker at 11.4 lbs. pre-loading.
It is, however, not imposing, rather an aesthetic marvel that will blend in with your kitchen ambiance. The brushed stainless steel body is contoured with black high-quality plastic. It has a digital display to attest to its modernism that blends well into the body.
It is a 9-cup coffee maker that lest you choose between two brewing options: a 5-9 cups and a 2-4 cups, using a selector dial for and an Oxo button. You need to then fill your water according to your selection since the device uses up all the water in the reservoir to brew coffee.
They installed a drip-stop valve that enables you to remove the carafe in the process of brewing for your emergency cup. You don't have to wait for it to finish.
Its thermal carafe will keep your coffee warm without reheating. It is made of stainless steel and is double-walled for extra insulation.
It has a silicone mixing tube that ensures even temperature distribution in your brewed coffee. The display alerts you if the carafe is out of place.
It starts a timer once it finishes brewing that runs for one hour and turns itself off. This enables you to confirm the freshness of your coffee. All this while it flashes a 'coffee ready' icon that is hard to miss.
It can be programmed to turn itself on any time within 24 hours and start the brewing process automatically.
The OXO drip coffee maker ensures water is evenly dispersed over the coffee grounds in a 4 cone filter via a rainmaker showerhead.
The brew cycle is microprocessor controlled, enabling the production of the exact same amount of coffee in the same amount of time always. This is all SCA standard great tasting coffee.
It alerts you when you need to descale. The LED ring encircling the Oxo button will light up, approximately after 90 cycles. All removable parts are also dishwasher safe, making it easy to clean generally.
Pros
Thermal carafe
SCA certified
Easy to clean
2 brew volume options
Drip stoppable to pour cup mid-brew
Cons
A bit on the pricey side
Bulky size
2. Braun BrewSense Drip Coffee Maker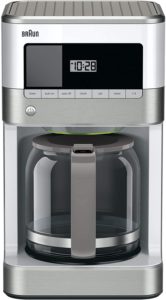 The PureFlavor system makes your coffee at optimum temperature and brewing time to extract the essences and smells.
It has a gold-tone filter that allows essential oils to reach your cup, enhancing the flavor and yielding a strong, delicious cup.
This is further enhanced by its Charcoal water filter that can be adjusted to different levels of water hardness, meaning the ingredients meet in optimum condition. The reusable filter saves you from the hustle of replacing filters every time, also cutting down on costs in the process.
The glass FlavorCarafe is comfortable to the hand and seals in the flavors by preventing contact with the elements.
A programmable 24-hour timer means your coffee will be ready when you are. The auto-shutoff feature will turn it off automatically. And the easy-to-read clock is visible from anywhere in your kitchen to keep you abreast of things.
It has a clear water level indicator, which enables you to ration the water according to the number of cups of coffee you want to make.
It has an auto-programming set up that involves a timer that allows you to set automatic brewing within a 24-hour window. Your coffee will be ready when you are ready.
The auto shut off feature lets you focus on other things and saves power in case you forget to switch it off.
Pros
Compact design- At 7.9 by 7.9 by 14.2 inches, it has a small footprint and a low profile, making it compact enough to fit under a cabinet or on a worktop with other kitchen appliances
Auto-programmable
Charcoal water filter
Permanent gold-tone filter
Cons
It can get messy as water comes up through the filters and spreads the grounds up to the top of the cone during brewing. Sometimes there is a spillage, after which it may need to be wiped.
3. Technivorm's Moccamaster KBG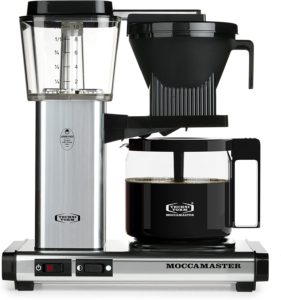 We begin by appreciating the 5-year warranty offered by Technivorm, which indicates they have the utmost faith in their product. This must be fueled by the fact that they are SCA certified. They believe they have blessed us with the best drip coffee maker.
The water hits the filter at optimum temperature at different points at the same time to ensure even saturation through a 9-hole water outlet arm.
The whole process from the 1.25 L water reservoir through the brew basket filter to the carafe is done in under 6 minutes, proof that it merits the SCA certification. This translates to 10 cups.
The automatic drip-stop brew-basket enables you to pull out the carafe mid-brew and pour out a cup without interfering with the coffee making and spilling. The hot plate temperature is adjustable between two settings of 185˚F and 175˚F via a high/ low switch at the base. It has an on and off switch that automatically turns off the hot plate after 100 minutes in case you forget to turn it off.
The housing is made of durable aluminum that has a polished silver color, which blends in really well with the black plastic parts.
All parts that come into contact with the coffee have been designed to be removable, both for cleaning purposes and in case they need to be replaced.
Pros
5-Year warranty
Adjustable carafe temperature
SCA certified blending excellence
Automatic off switch
Automatic drip-stop
Cons
Water does not get all the coffee grounds wet sometimes, forcing you to stir the grounds in the filter
It leans towards the costly side
4. Ninja Specialty Coffee Maker with Glass Carafe- CM401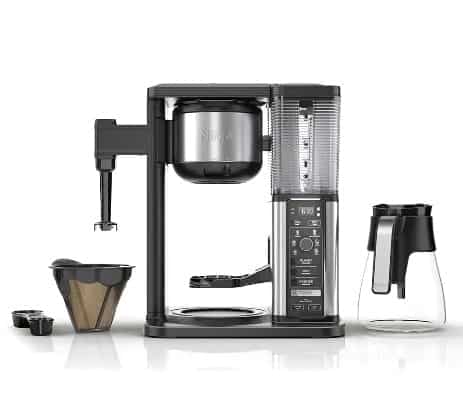 It is considered the best drip coffee maker because of its versatility. It has so many functionalities packed into one brewer. It addresses different brew types, volumes, and temperatures while providing many bells and whistles for convenience.
It has an intelligent warming plate that automatically turns on during half and full carafe brewing. It also adjusts the heat it produces to avoid burning coffee after some time.
You can adjust the time and temperature of the warming plate to suit your needs. By default, it warms for 2 hours, but you can lower or increase the time up to a maximum of 4 hours. If you are concerned that the high temperatures will damage the flavor of your coffee, you can also lower the plate temperature to your specification.
The stay warm button on your control panel allows you to make these adjustments. You can use it to turn off the warming plate immediately after the brew if you are consuming your coffee immediately. The time and temperature you are adjusting to will be displayed on the clock during adjustment so that you are conscious of your settings.
A hot surface indicator shows when the warming plate is on and stays on until it cools to a safe temperature after shut down.
The 12 glass capacity coffee maker has six different brew size options: cup, extra-large cup, travel mug, half carafe, full carafe, and extra-large multi-serve to choose from. This is both efficient and economical as it allows you to brew just the amount you need.
Select your desired volume using the multi-serve button on the control panel. The ninja smart scoop helps you measure the amount of coffee ground required for each brew size. It is conveniently mounted on the side of the coffee maker.
A single-serve cup platform opens above the heating panel from the side of the coffee maker on which you place your cups and travel mugs if you select those options. The coffee flows directly into the vessels from the brew basket.
You don't need it if you select the carafe options as the ninja glass carafe connects to the brew basket directly through its brew-through lid. It is adjustable to four different brew types to suit diverse needs: classic, rich, specialty, and over ice.
The classic brew is smooth and balanced for the regular coffee drinker
The rich brew is for those who like their coffee strong as it has a more intense flavor
Specialty brew enables you to make the base coffee for specialized drinks; it is the ninja version of an espresso machine
Over-ice option makes the brew more concentrated so that it can be poured over ice to make ice coffee that is not watered down. When brewing over ice, fill your vessel with ice before placing it under the brew basket. The ice is not supposed to be placed in the water reservoir.
You can select the brew type by pressing the right button on the control panel and unselect by pressing it again.
The ninja has integrated a frother with a detachable whisk that enables you to make those frothy drinks when you need them. You place your vessel under it and press a button on the frother until you achieve the desired frothiness. The whisk is dishwater friendly and can be cleaned immediately after use.
It has a delay brew option that allows you to set the time you want your coffee to be made automatically in advance. You can specify all the settings for your coffee plus the exact time you will want it made. The delay brew button remains on, and all your selected options are highlighted until the time comes.
The swinging brew basket has a drip-stop button that pauses the brew cycle and allows you to pour a cup. Then you can return the carafe and resume brewing. It gives you a friendly audible reminder if you forget to reopen the drip stop.
The construction is ergonomic, allowing you to access everything you need without struggle. The swinging brew basket enables you to load the filter holder easily and to offload it after use. The top tray of the basket comprising of the filter and the filter holder can be removed without removing the entire unit. It has a removable water reservoir with a flip-top lid, which is easily detachable. This gives you two convenient options when refilling; take it out or fill it within the unit.
It is very easy to clean, despite all the functionalities. All the parts that come into contact with the coffee and its ingredients are detachable, meaning they can be isolated for cleaning. The glass carafe, brew-through lid, permanent filter, removable filter holder, water reservoir, flip-top lid, frother whisk, and scoop are all top-rack dishwasher safe to save you the trouble.
It has a clean button that illuminates whenever a cleaning cycle is due so that you are always aware of the unseen dirt and debris which may damage your brewer. It self-cleanses during the cleaning cycle.
Pros
Intelligent warming plate that allows you to adjust time and temperature
Six brew size options to avoid wastage
Four different brew sizes
Coffee maker tower
Integrated frother
Delay button with advance settings
Easy to clean
Cons
It is very big and may clutter your counter
No storage provision for the frother whisk, which may get misplaced
5. Cuisinart's 14 Cup Programmable Coffee Maker DCC3200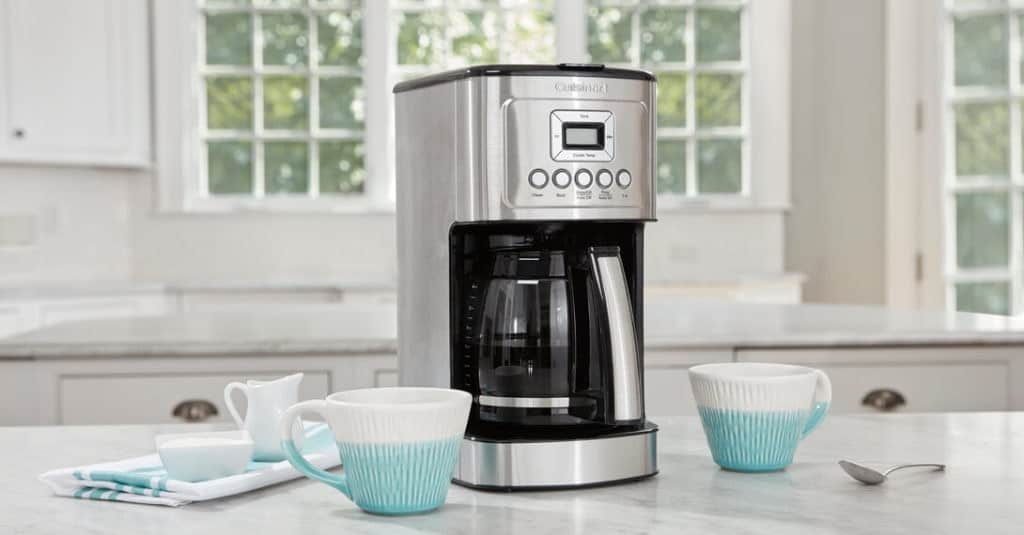 Cuisinart are specialists in kitchenware with many years of experience, which is why we are not surprised by one of their brewer's features in this list of the best drip coffee makers.
This one has a beautiful, compact stainless steel finish fused well with black plastic. All parts that come in contact with the coffee are BPA (bisphenol A) free. This eliminates chances of it seeping into the coffee and affecting your health adversely.
It has the patented Cuisinart Gold tone permanent filter, which eliminates the need for paper filters while allowing just the right concentration of coffee through.
You can interrupt the flow of coffee from the brew basket to remove the carafe and pour out that first cup mid-brew as it is Brew-pause enabled.
A clean LED indicator lights up when decalcification is due; this is the removal of calcium deposits that form over time on the metal parts of your coffee maker. They are usually not visible and may damage your brewer if left unchecked.
It will politely alert you when the brewing cycle is completed by beeping. You can turn off the sound if you are right there, and you don't need it.
You can set an auto-off time based on how long after the brewing is completed you want the coffee maker to be on. This is economical if you forget to turn it off or have to leave urgently.
It also features an auto-on time whereby you program the coffee maker to select the time you will want it to start brewing in the future, up to 24 hours ahead. This will be indicated on the backlit LCD.
They added a charcoal water filter that eliminates chlorine, bad taste, and odor from tap water, which, apart from ensuring they don't affect the flavor of your coffee, reduces the calcification of your coffee maker.
You have three options of setting the carafe temperature Low, Medium, and High using a carafe temperature button
There is a bold button that enables you to increase the strength of the coffee if you want a stronger coffee flavor
It has 14 cups at full capacity, with an easily viewable calibrated water reservoir. There is the 1-4 cup button if you are brewing fewer than 5 cups. The indicator light will illuminate which option is set.
The smart coffee maker has a good memory that recalls the settings even after a power interruption, and you can easily proceed from where you left.
Pros
Programmable carafe temperature with three options
Programmable brew strength with an option of getting a stronger brew
Replaceable charcoal water filter
Automatic on and off buttons
Brew pause feature for getting a cup mid-brew
Cons
Some of the condensed water slips out of the coffee machine through the back and may cause a mess
A bit of a noisy coffee-making experience
How a Drip Coffee Maker Works
In summary, it heats water and disperses it evenly and slowly across ground coffee beans in a filter to produce coffee.
You pour a specific amount of water in a reservoir with a heating element that heats it to the boiling point. The vapor will then condense at the top of a tube where it is harvested.
The harvested hot water is then sprinkled evenly on ground coffee sitting on a filter via a shower head like device.
A fusion of the ground coffee and hot water occurs as the water goes through the filter, which is the actual brewing process. The resulting liquid flows into a vessel called a carafe.
The carafe is kept warm by another metal plate on which it seats, ensuring your beverage stays warm.
Determining the Best Drip Coffee Maker for Your Needs
There are a number of items to watch out for as you shop for your drip coffee maker, which ultimately influence your decision.
Carafe Capacity
This determines the amount of coffee you will get out of your drip coffee maker. The bigger the capacity, the more it will likely cost you.
Consider how many cups of coffee you will need from it at a go. However, it is better to have a higher capacity than to come up short.
Whether it is Programmable
Some drip coffee makers have this added feature that allows you to set the time in advance when you would like your coffee made. All you need to do load it up with water and coffee grounds and set the time. It automatically makes the coffee, waking you up to the sweet aroma.
You can also set it to do other things like automatically turn on and off, stay on to keep the coffee warm, and so on.
If you prefer your coffee, freshly ground well, this is not for you, but if you are kind who will rush out of the house and forget to turn off your appliances, we have a solution.
SCA Certification
SCA stands for Specialty Coffee Association. This is a nonprofit membership-based organization that comprises coffee professionals in all fields, whose goal is to promote coffee specialization.
An SCA certified drip coffee maker has been reviewed by professional coffee testers and experts in coffee science and is deemed to have met their standards.
These standards are there to enforce brewing best practices like the ideal coffee to water ratios, whether the water temperature at the time of contact with the coffee is optimum and if the time taken to brew falls within reason.
These rules collectively are called the Golden Cup Standards. It is definitely a plus if the experts have approved your product.
Whether It's a Hot Plate or a Thermal Carafe
A thermal carafe keeps the coffee warm without exposing it to the heating element.
Coffee heated for long periods loses flavor. You also incur a lot of energy bills just maintaining that plastic carafe on the heating surface.
Naturally, a thermal plate is preferable, but it has a flip side. Because of the convenience, thermal plates are relatively expensive across all cadres of drip coffee makers. If it seems too steep, try exploring ways to take the coffee fresh so that you don't need to leave the coffee maker on.
Other bells and whistles that come with your modern drip coffee maker include:
Built-in Grinders: This enables you to get that freshly ground coffee with all the flavors we all love. It also saves you the hustle of sourcing for a grinder separately, and you might save a few coins in the process. The downside of having the grinder attached to your drip coffee maker is you are not able to use explore other coffee-making techniques using this particular grinder. 
Permanent filters: You never have to worry about replacing filters. They are durable, clean up well, and are built to fit your coffee maker. Some people still opt for paper filters as they prefer their coffee lighter in color and taste. Paper filters are usually finer and trap more of the coffee granules. You can always replace the filter with one of your choices.
Water filters: After the ground coffee, water is the next most important component of that cup. The mineral components and acidity can have a drastic effect on the final product. By SCA standards, the water should be fresh, odorless, clear, and chlorine-free.
Clean indicators: These light up when it is time for descaling. Minerals in water, like calcium and magnesium, pass through your coffee machine and accumulate in the heating element in the form of limescale.
Because your line of sight usually doesn't cover the heating element, this often builds up without you realizing it. It can be disastrous to your coffee maker as the element will no longer give the optimum heat required to extract flavors from your coffee beans.
Clean indicators prompt you whenever such an accumulation is occurring in a good time for you to descale.
High tech brewers come with many bells and whistles that make your work very easy. These usually have an impact on the price as well. Fancy features are, however, not a guarantee that they will produce the best coffee.
At the end of the day, all brewers have their strengths and weaknesses, and the best drip coffee maker for you will depend on the type of coffee you prefer.
It is important to mention that even the best drip coffee maker will not produce that nice flavored coffee if you mess up with the ingredients. Always use clean water and high quality freshly ground coffee.