It's no secret that many people find it a challenge to put up with the unpleasant odor and taste of tap water. After all, who wants to consume water that smells and tastes like it's straight from the pool? Well, the good news is, you don't have to.
Despite its relatively small size, investing in the best faucet water filter is your Holy Grail. Upon installing this handy gadget onto your tap, water is automatically filtered as you open it. Thus, it comes out of the tap crisp clean.
Not only is this a significantly faster but also convenient compared to using water filter pitchers that do get the job done but at a snail's pace. Sounds like a lifesaver, right?
With the boatload of products that have littered the market, sieving out the top-notch options from those at the bottom of the barrel can be an uphill battle. Luckily, you've come to the right place. So buckle up as we explore the top 8 faucet water filters to buy that'll give you the best bang for your buck. Read on!
1. Best Long-Lasting System: The New-Wave Enviro 10 Stage Plus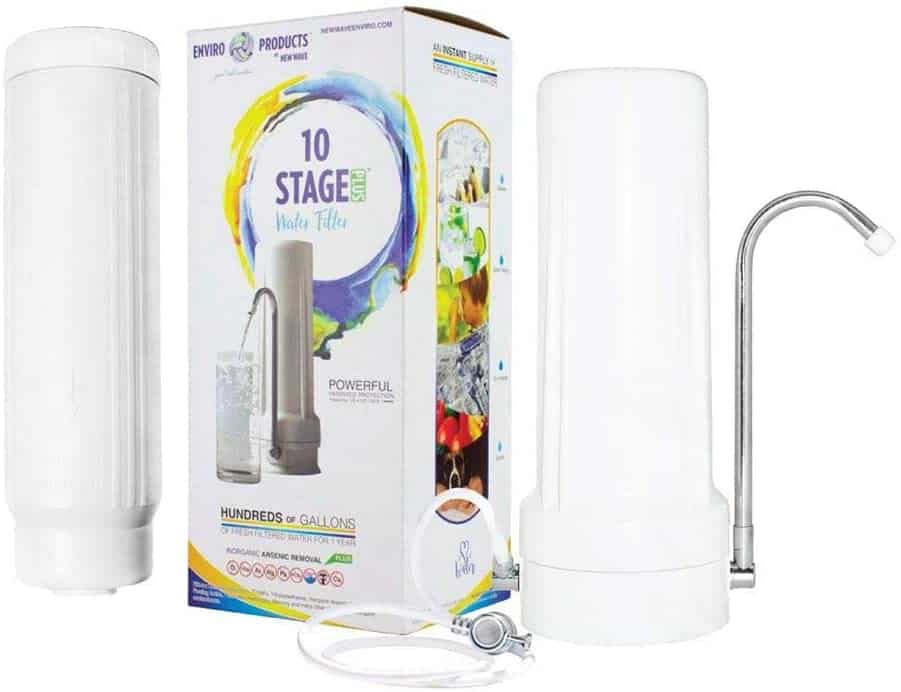 If your family is growing and you're worried about meeting the increasing demands, then fret not because the New-Wave Enviro 10 Stage Plus is here to the rescue. With ten cleaning stages, you can rest easy knowing that this faucet water filter produces the purest drinking water.
Your family can delight in a maximum of 1500 gallons of clean water before the filter requires a replacement. With such a large capacity, you can spend more time catering to your household's other needs. As one of the top long-lasting units, each filter can easily serve a household of up to 6 for a year.
The New-Wave Enviro 10 Stage Plus is not only a walk in the park to install but is also an eyesore on your kitchen counter. All it takes is a few easy steps, and you're ready for action. Alternatively, it's equally as straightforward to install below your sink, with an additional kit sold separately. The hardware on this unit has a 1-year warranty, which puts you at ease when purchasing.
As a bonus, users receive a reminder to change the filter. Furthermore, the New-Wave Enviro 10 Stage Plus has a 30-day money-back guarantee that protects your investment.
Pros
Easy installation
30-day money-back guarantee
1-year warranty
Filters can purify up to 1500 gallons of water
Perfect for large households
10 filtration stages
Affordable
Cons
Space-consuming
Kit for under-the-sink installation is sold separately
2. Brita Tap Faucet Water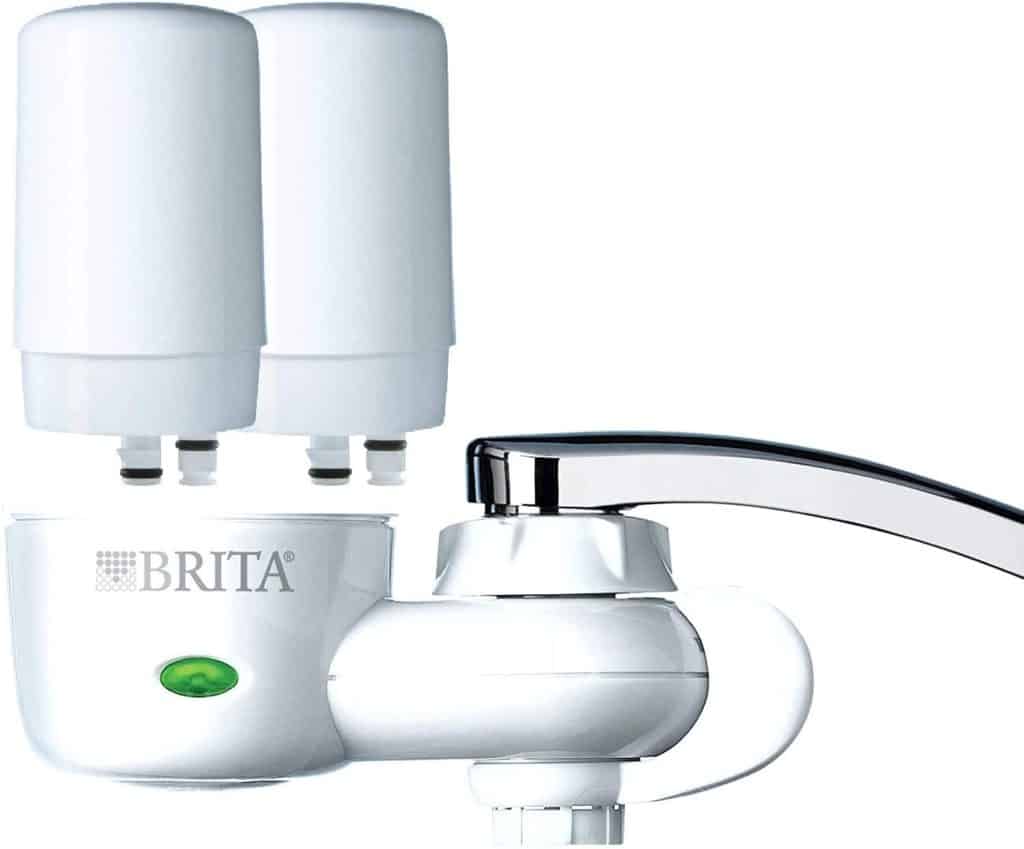 Are you on the quest for a guilt-free way to revel in healthy and pure water? Then the Brita Tap Faucet Water wraps up your search. And, it provides a hassle-free installation with no additional tools required. With unrivaled efficiency and durability, this faucet water filter is also one of the most eye-catching units available if aesthetics matter to you.
The Brita Tap Faucet Water has built-in indication lights that take away the guesswork when it comes to knowing when to replace the filter. And, to trap additional sediment, this unit has a pre-filter protection layer.
With the uncanny ability to fit nearly any faucet, the filter snaps in and out of position when it's ready for replacement. Are you looking to save on space? Then you'll be pleased to learn that the Brita Tap Faucet Water filter uses space of up to 40% less than its rivals.
Furthermore, for a small price, investing in this filtration system will help replace more than 750 plastic bottles, thus cutting down your water consumption cost significantly in the long run. Available in a compact carbon footprint, this unit will certainly lower those unsightly marks (plastic bottles) on the environment.
Average families will only need to replace the tap water filter once per 4 months. With three spray options available, the Brita Tap Faucet Water filter makes filtering a walk in the park. So, you can take your pick from the unfiltered spray, filtered water, and unfiltered water.
Pros
Filters out 60 contaminants, including 99% lead
Filter change reminder
3 spray options
Eco-friendly
Easy installation and filter replacement
Cons
Indicator lights have are not long-lasting
3. PUR FM-3700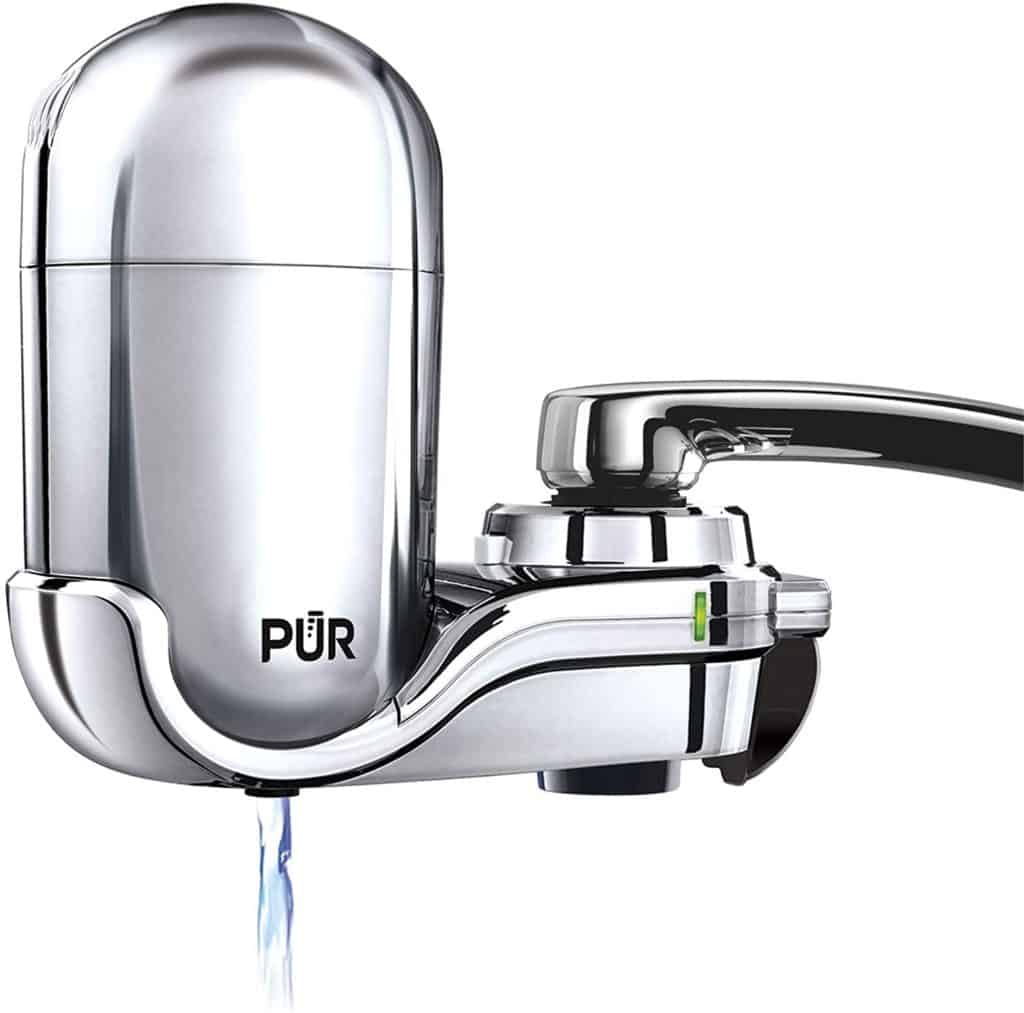 If you're seeking an advanced faucet water filter that's low effort, then the PUR FM-3700 might just be your cup of tea. With a sleek 360-degree filter, attaching it to your faucet is a breeze. The model has an LED indicator that eliminates the guesswork from knowing when to replace the filter. You'll be blown away by how easy the installation process is. With no tools required and a straightforward step-by-step process, you're good to go.
The filter can comfortably handle up to 100 gallons of water before you need to replace it. Ideal for those that prefer riding solo, the PUR FM-3700 gives you the much-needed peace of mind in knowing that you're consuming the purest water.
So, wondering what your water may have picked up as it made its way to your home is the least of your worries. Sophisticated and versatile, this unit is constructed from premium materials and is a snug fit onto nearly all faucets, delivering crisp, clean water each time. Moreover, the filter utilizes natural materials to sieve out all contaminants.
Pros
Lowers more than 70 contaminants, including lead
Simple one-click attachment
LED filter replacement indicator
Easy installation and setup
Functions seamlessly for at least 3 months before you need to replace the filter
Inexpensive
Handles up to 100 gallons of water
Cons
Only compatible with PUR Advanced and Advanced-Plus filters
Not suitable for high water pressure
4. Best Budget: DuPont WFFM100XCH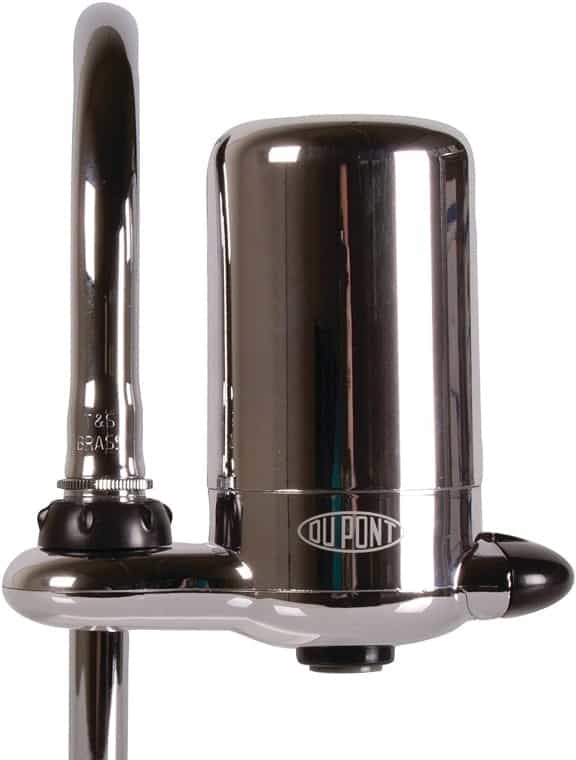 If you're looking for a product that will give you more bang for your buck, then the DuPont WFFM100XCH is your Holy Grail. With two faucet adapters included, installing this model is a breeze. And, it's compatible with nearly all sinks. The unit has two additional filtration layers to diminish sediment. While plastic isn't for everyone, the DuPont WFFM100XCH is constructed from heavy-duty plastic that's not only long-lasting but also excellent-performing.
As one of the models that don't break the bank, it's suitable for daily use and can handle up to 100 gallons of water before a filter change is needed. So, realistically, it will get the job done for 3 to 4 months at a time.
Along with producing odorless, fresh, crisp, clean water with each use, this model has an anti-microbial protection layer that delivers an extended lifespan. The two faucet adapters, a faucet mount, filter, two washers, and a plumbing tape, are included in the package. As a bonus, the cartridges are interchangeable.
Pros
Elegant chrome finish
Anti-microbial protection for extended lifespan
Compatible with standard kitchen taps
Faster water flow
Easy to assemble
Perfect for anyone on a budget
Cons
Needs Teflon tape to avoid leaks
5. Culligan FM-25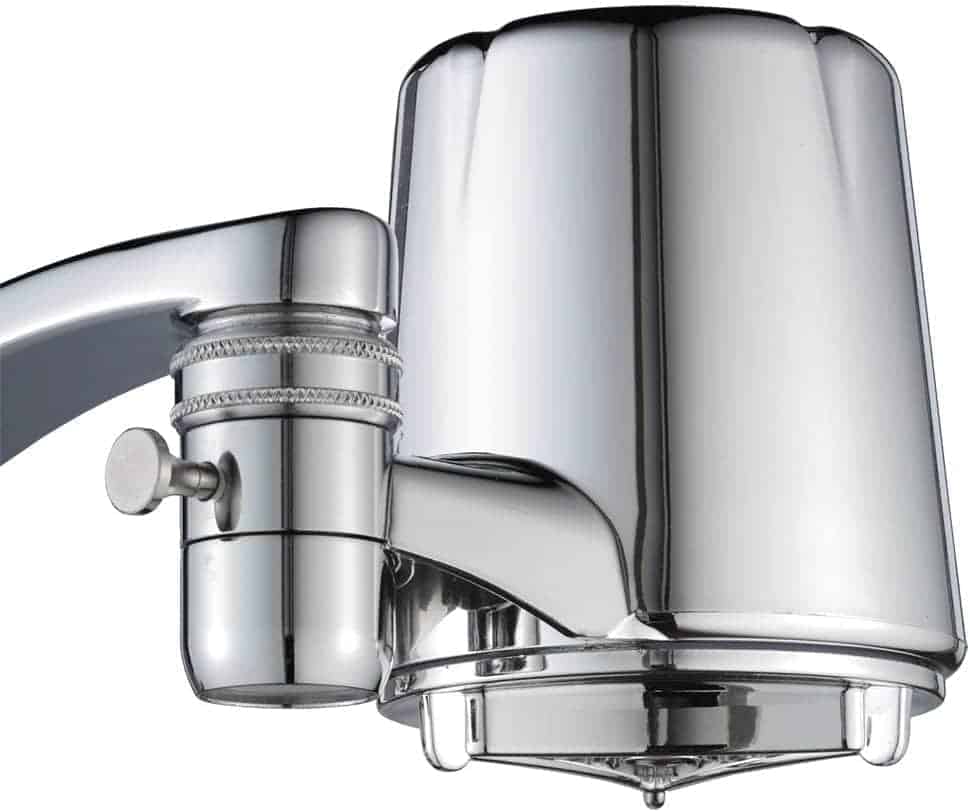 With style and performance rolled into one, the Culligan FM-25 faucet water filter is all you need to have the purest water. Surprisingly, it won't cost you an arm and a leg. Except for pull-down units, this filter is a snug fit for nearly all types of faucets. Requiring no additional tools, the Culligan FM-25 is easy to install.
Simply tap in and tune out with just your hands. With a switch tab included, you have free rein to alternate between delicious filtered water and the plain unfiltered option, as you deem fit.
What sets this model apart from the rest is that it can handle up to 200 gallons of water. And it provides a fast and steady flow of water. In turn, this lowers the turnover rate of filter replacements and provides crisp, clean water with the least wait time.
Contrary to other faucet water filters, the Culligan FM-25 allows you to choose your preferred water temperature and pressure. It also goes the extra mile of getting rid of the contaminants lurking in hot water. Thus, this gives you value for your money as you know the great stuff isn't going to waste.
Available in 2 sophisticated finishes, you can streamline your kitchen's aesthetic down to the smallest detail.
Pros
Handles changes in water temperature and pressure
Pocket-friendly
Easy to install and use
Can handle up to 200 gallons of water
Facilitates easy installation
Comes in sophisticated finishes
Cons
Cumbersome to switch filters
Not compatible with pull-down faucets
6. Engdenton Stainless Steel Faucet Water Filter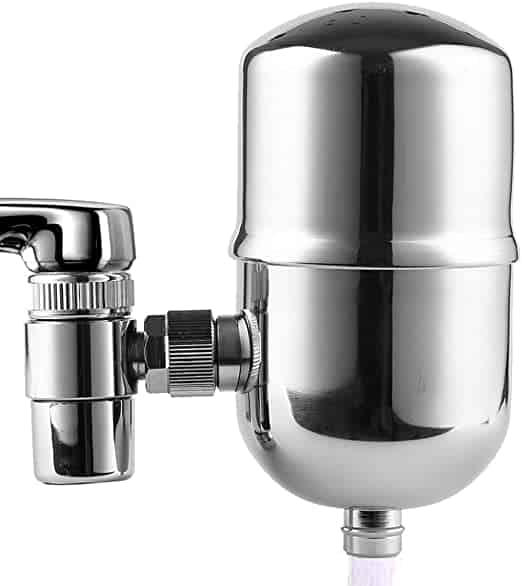 With an elegant stainless steel exterior, the Engdenton Faucet Water Filter has the uncanny ability to get rid of up to 99% of more than 70 contaminants, including lead. Activated carbon represents the filter and implements PAC technology.
According to the manufacturer, it's the newest filter technology. Boasting a fast flow rate, the filter can fill up to 8 cups of water per minute. And it efficiently gets the job done in up to 6 months, which tops its rivals.
As is the case with other faucet water filters, this model pairs well with most regular faucets. And, an adapter comes in handy when in doubt.
Pros
Long lifespan
Designed from durable stainless steel
Fits regular faucets
Leakage-proof and crack-resistant
Cons
Little insight into the PAC filter technology
7. Instapure F2 Essentials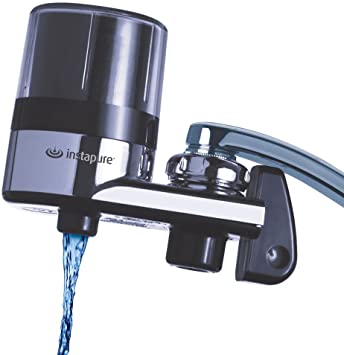 As an NSF 42 and ANSI 372 certified product, the Instapure F2 Essentials faucet water filter is a beast at diminishing contaminants such as chlorine and lead by up to 99%. Thus significantly elevates the taste of drinking water.
With an extraordinary design and clear filter cap, you can easily see the filter's interior. And, it doesn't require tools for installation. Along with handling about 200 gallons of water, the filter can provide top-notch service for up to 3 months before a replacement is necessary.
Pros
Affordable filter replacements
Reduces odor and bad taste from chlorine and other contaminants
Chic chrome base and clear cap
Lever that allows switching between filtered and unfiltered water
No installation tools needed
Cons
Plastic non-durable faucet adapters
Leakages
8. ISpring DF2-CHR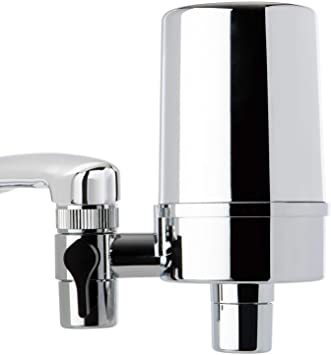 With a large filter span of 500 gallons of water, the iSpring DF2-CHR faucet water filter can last eight months or slightly longer. Moreover, the unit boasts a remarkable flow rate of 1.5 GPS that translates to about ten water bottles per minute. The filter eliminates renowned contaminants such as chlorine coupled with chloramines, VOCs, lead, and bacteria.
What sets this model apart from the pack is that it can filter hot water up to 176 degrees. Contrary to most faucet housings designed from flimsy plastic, the iSpring DF2-CHR is constructed from the top of the range BPA-free and food-grade plastic.
Pros
Fast and steady flow rate
Durable and sturdy housing
Easy filter cartridge replacement
Unmatched filtration efficiency
30-day money-back guarantee
Cons
Benefits of Choosing the Best Faucet Water Filter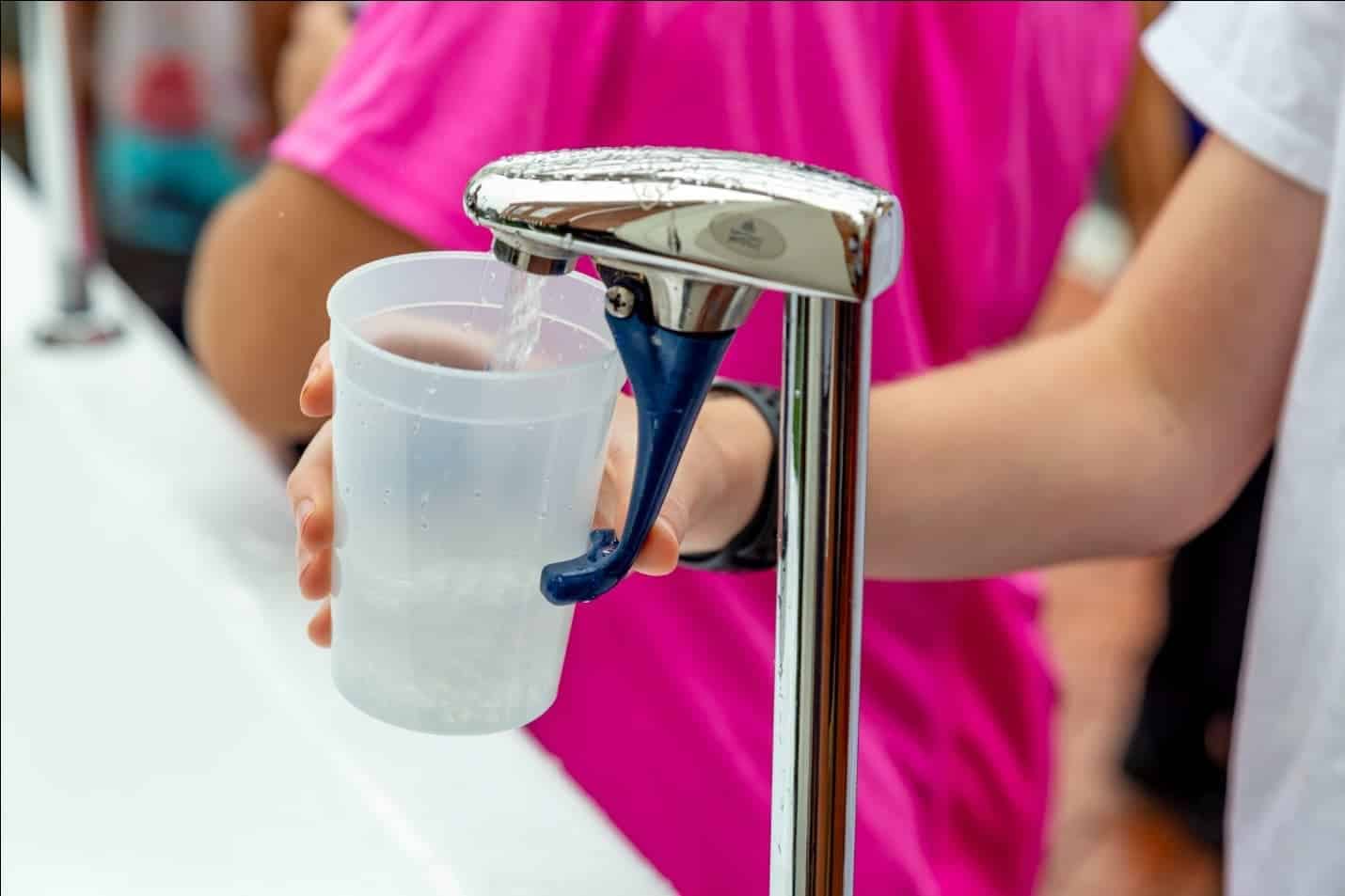 While there's a host of perks to installing a faucet water filter in your home, we've rounded up a few.
Gets Rid of Toxic Impurities and Contaminants
The major purpose of water filter is the production of clean and pure drinking water. Tap water filters can eliminate a boatload of harmful contaminants such as chlorine, heavy metals, lead, dirt, bacteria, and rust.
Granted, these shouldn't usher in safety concerns in household drinking water. But, they can impact the water quality, and a myriad of people opt not to consume them. If you use water from a well for your business or home, then faucet water filters are your saving grace. They are a beast at eradicating the bacteria and other contaminants that are usually lurking in wells.
If you're uncertain as to whether or not a particular faucet filter can get rid of contaminants from your well-water, then we recommend reaching out to the manufacturer before making a purchase.
Provides Excellent-Tasting Water
Many people shell out hundreds of bucks in the long run on bottled, filtered water as they disdain the taste of their home's tap water. Fortunately, the best faucet water filter puts an end to all this and saves you the cost of buying bottled water. It eliminates the contaminants and chemicals such as chlorine that infuse the water with an unpleasant taste. As a result, it produces delicious, clean, and fresh water.
Faucet water filtration systems effectively eradicate contaminants such as sulfur and rust that give water a distinctive discoloration, taste, and smell. If your water is packed with these impurities, then you'll notice a significant difference from running it through the best faucet water filter.
Can Select Between Unfiltered and Filtered Water
It's no secret that many people delight in the free rein to choose when to use filtered and unfiltered water. For instance, if you prefer using cold water for non-consumption purposes such as watering your plants or wiping down surfaces, filtered water is a better fit.
In this scenario, with the best faucet water filter, you can take unfiltered water from your kitchen and only use the faucet for drinking or filling up the water tank of your single-serve coffee maker.
Doesn't Need Professional Installation
Contrary to the best whole house water filter, a faucet water filter doesn't call for mechanical skills. You can easily install it alone, thus cutting down the costs of roping in a handyman or plumber.
All filters come with comprehensive instructions to walk you through the installation process. And, they're typically partially assembled. You'll require installing the faucet and linking your filter to the cold water pipe of your kitchen sink; that's a walk in the park.
Saves on Space
Faucet water filters can easily be stored underneath sinks. So, this saves you significant counter space while ushering in the perks of drinking and using clean water. A countertop water filter looks unattractive and relatively bulky.
So, with the faucet options, you don't need to worry about its aesthetic as it's stored out of plain sight and tucked away in a cabinet underneath the sink. If additional space-saving is needed, you'll be pleased to learn that most faucets can be laid on their side or mounted on a wall.
Cost-Effective
The initial price of a water filter is fairly high. However, compared to the long-term costs of purchasing bottled water, you can make a significant saving. Contrary to the units that implement reverse osmosis, a faucet water filter doesn't waste any water during the filtration process. Therefore, your water bill won't be impacted. Replacement filters are pocket-friendly. You'll only need to buy them after at least six months of consistent use.
Personal to Your Preference
The best faucet water filter is armed with an array of regular filtration functions for getting rid of larger grains, chemicals such as chlorine, contaminants such as bacteria and lead, and sediment.
If you're on a quest for a system that provides more specific filtration, for instance, dust removal, then you can find the desired filter. Furthermore, you can build onto the faucet water filter you buy through the addition of a re-mineralization filter. It infuses the essential minerals such as magnesium and calcium into the water to lower acidity.
Buying Guide: How to Choose the Best Faucet Water Filter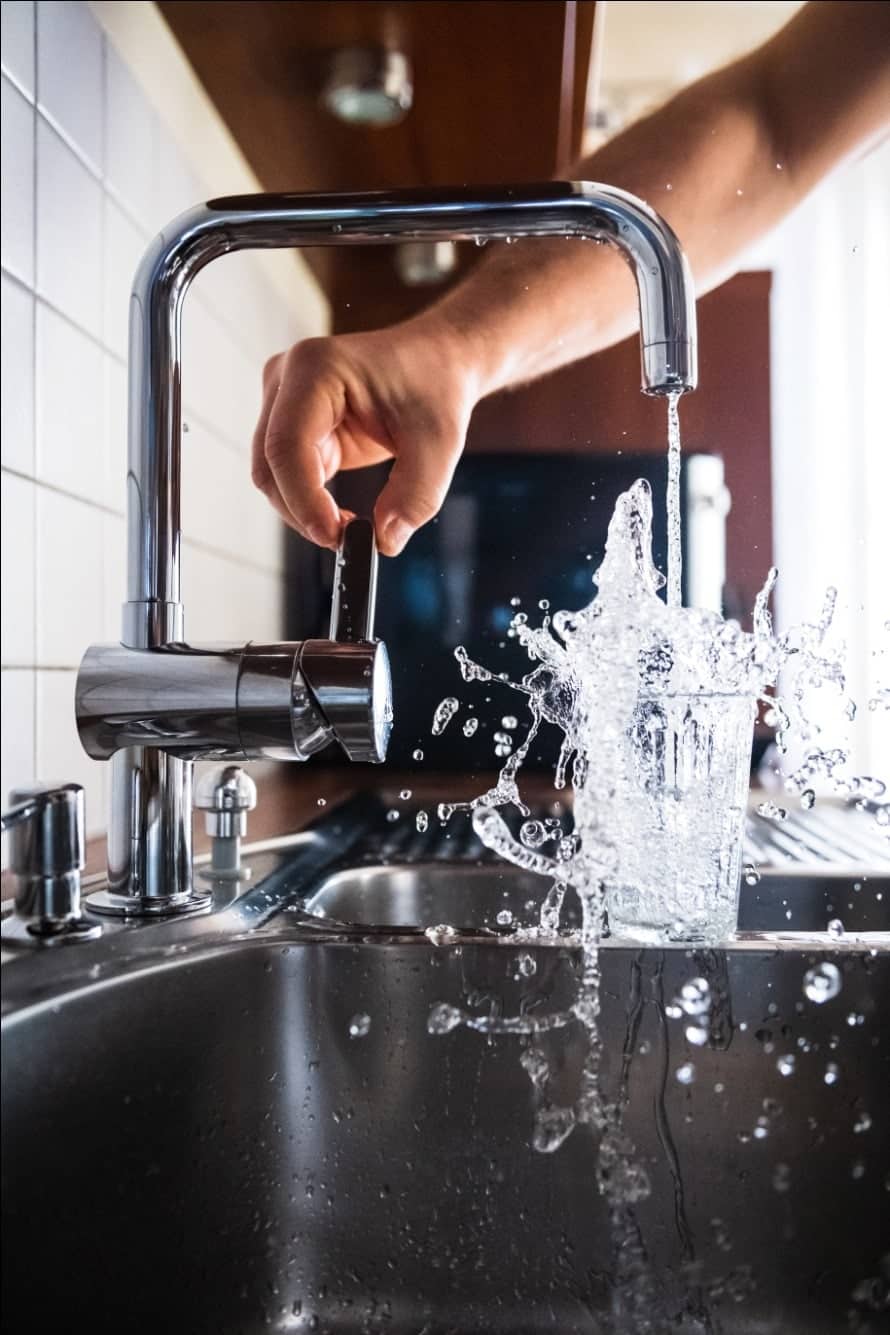 Purchasing a faucet water filter calls for a level of consideration and due diligence pre-purchase. As a major investment that will last for years down the road, it's essential to ensure that you've made the right decision for your requirements right off the bat. So, here's a breakdown of the key factors to consider that'll permit an informed decision.
Budget
It's ultimately the biggest decider when it comes to investing in a faucet water filter. A higher budget will allow you to buy a specialized product with a few extra features or a filter that's known to be significantly more durable with efficient functioning compared to its rivals in the market. But keep in mind that pricey doesn't always translate to quality.
At times, the steeper price could be because the product is being sold by a certain major manufacturer. Therefore, there's the likelihood that you may filter of similar quality but at a lower cost.
Faucet water filters on the lower end of the spectrum may equally not be of the worst quality in terms of the cost. But, we advise checking the ratings and reviews for products that are significantly cheaper than others.
Storage Space
Faucet water filters are built to fit in the cabinet right below your sink perfectly. However, that doesn't imply it's not worth measuring your cupboard area's exact dimensions before hastily buying the first filter that captures your attention. After some faucet water filters are larger than others.
Therefore, if you're limited on the available space to store one, then a space-saving filter that has an array of filtration functionalities rolled into one is a better fit for you. If you're on the quest for a filter that you can easily connect to your fridge, ice machine, or single-serve coffee maker, then you'll need one that can fit below your kitchen sink and has a longer plastic tube to facilitate the connection.
Maintenance and Installation Costs
If you're looking to install the filter, then it won't cost you a dime. You can easily get the job done by following the given step-by-step instructions, as indicated in the user manual, to the letter. And, in today's digital era, you can watch an online video that illustrates the proper installation.
Nonetheless, if you don't have the luxury of time or prefer not to do the manual installation, then you can shell out a few extra bucks to rope in a professional to do the installation in a jiffy. While this adds a layer of convenience, keep in mind that plumbing fees can be relatively steep, even the hour or two that it takes to properly install a faucet water filter. So, it may be worth trying out the installation before hiring help.
Certification
The best faucet water filter system has authentic certification from the Water Quality Association (WQA) or NSF International. Keep an eye out for products with these certifications. They serve as proof that the product they're purchasing functions just as efficient as the manufacturer claims.
1) Water Quality Association (WQA): As an independent body, the WQA represents the industrial, residential, and commercial water treatment sector. A manufacturer that's on the quest to prove its products' quality standards needs to apply for valid certification from this body.
Upon receiving this certification, a manufacturer shows commitment to elevated customer support and maintaining top-notch professional standards. To apply for certification, a manufacturer must provide all the required details of their products to the Association and fill out a detailed application consent form.
The next step is then to submit the products for rigorous performance testing to ensure they meet the standards of the certification.
2) NSF International: With a striking similarity to WQA, it's a product inspection, testing, and certification company, based in the US. According to NSF International, a manufacturer must comply with its stipulated purchasing and regulatory guidelines to qualify for certification.
A manufacturer that wants certification of its faucet water filters will require applying by submitting all the details of its products. They'll then undergo practical lab testing and evaluation.
The manufacturing facility of the products will undergo a rigorous inspection. Manufacturers that successfully acquire authentic certification from NSF International must consent to annual retesting and inspections.
Water Source
Your home's water source is a determining factor in your water filtration requirements and needs. Therefore, it's worth conducting your due diligence on the contaminants in your water before buying a faucet water filter.
To do so, reach out to your local water supplier and have them provide you with a yearly water quality report if you don't frequently receive one. Alternatively, you can conduct a water quality test. You'll gain insight into the necessary measures that must be taken to improve your water, which can be a lifesaver when comparing the different features of water filters.
If you're using a well as a water source, then the ball is in your court to test your water's quality. It's essential to keep in mind that many filters don't provide the level of in-depth filtration to get rid of harmful microorganisms, including bacteria that typically lurk in a well.
Filter Type
A faucet water filter comes with a kitchen sink faucet. And, you'll require installing it along with your regular faucet. Granted, some filtration systems offer a boatload of faucet designs and colors. But, most have one generic faucet. So, you'll have to buy a style upgrade separately.
You may not be fussed over the aesthetic of your filter's faucet. However, if you're on the quest for a faucet that pairs with your kitchen's design or appears smart, you'll need to factor this aspect into your buying considerations. It's important to note that it's nearly impossible to connect a filter to a regular faucet.
Therefore, if you're unsatisfied with the faucet that came with your filter, then you won't be able to purchase any replacement that catches your eye. A filter faucet may come with a few features beyond the aesthetics that you may find alluring.
For instance, some options are lead-free, thus deterring contaminants from lacing clean and filtered water. If you're uncertain about a product, checking with its manufacturer can make all the difference.
Long-Lasting Filters
The filters of faucet water filtration systems need replacement after a given duration. However, some systems are armed with long-lasting filters that deliver effective performance. Therefore, if you want to cut down on the cost of replacing a filter, keep your eyes peeled for products whose filters provide unmatched longevity.
Keep in mind that the lifespan of a filter can be impacted by external forces such as the frequency of use and quality of ingoing drinking water. If your filtered water is strictly for consumption, then there's a high likelihood that your filters will last significantly longer than if you're frequently putting them to work to meet your wealth of needs.
Durable Components
Just like you should gravitate more towards long-lasting filters, you need to factor in the components of your faucet system. A unit that's made up of low-quality components has a higher likelihood of demanding frequent repairs and maintenance than counterparts constructed with well-built and durable components.
Therefore, shelling out extra bucks on a higher-end faucet water filter will cut down on costs associated with maintenance and repairs in the long run. Knowing whether a filter matches up to the quality level that its manufacturer claims is not always a walk in the park. Therefore, checking out the FAQs and reviews can be a lifesaver.
As you do so, keep your eyes peeled for trends in damaged or faulty components amongst previous customers. Moreover, keep in mind that if the faucet water filters have authentic certification from WQA and NSF, then you can rest easy knowing that it has passed the 3rd party performance tests. And, it's as efficient as its manufacturer claims.
Top-Notch Faucet
It's unarguably one of the main components of faucet water filters. Therefore, choosing a faucet that functions seamlessly, is a breeze to install, and is aesthetically-pleasing can be the make or break. Some faucets have a superior design to their rivals, and the materials used to construct them play a major role in their overall quality.
So, select a lead-free faucet that will prevent your clean and filtered water from getting re-contaminated. Refrain from being lured in by companies that provide 'designer' faucets as they don't mean much, and, more often than not, these products are different from their rivals in the industry.
Re-Mineralization Filter
While buying a faucet water filter with the re-mineralization functionality is not mandatory, it can be an alluring feature, depending on your requirements. A barrage of faucet water filtration systems eliminates minerals such as magnesium and calcium that are essential to your overall well-being. And, consequentially, you'll notice that the water has an unpleasant, acidic taste.
Fortunately, here's where the re-mineralization functionality comes into play. It re-infuses the water with these important minerals and high levels, boosting taste and alkalinity.
It's in your best interest to choose a faucet water filter that has this feature even if it means spending a tad bit more, more so, if you find the taste of alkaline water appealing. Remember that you also have free rein to buy a separate re-mineralization filter if the product you settle for lacks one.
Warranty and Customer Support
Every buyer purchases a faucet water filter, crossing their fingers that nothing goes wrong. But, the future is unpredictable. If you receive a damaged or faulty product, having a warranty on it would be your saving grace.
A warranty is the 'armor' that entitles you to a replacement product/component or a money-back guarantee if something (beyond your control) goes wrong within a specified timeframe after purchase. It will give you the much-needed peace of mind that if the product you receive isn't as advertised, you have the right to be reimbursed or exchange it for a new one.
Similarly, if any concerns or queries crop up about the faucet water filter you've purchased, then the ability to speak with one of the manufacturer's customer service representatives would do you good. Many companies offer customer support via Live Chat or phone call, which depicts a great deal of commitment and care. Before making a purchase, it's worth finding out about the manufacturer's available customer support.
Closing Remarks
With a boatload of things out of control nowadays, your drinking water shouldn't be part of the list. Investing in the best faucet water filters is the key to ensuring you have an excellent supply available to you and the members of your household by trapping and removing additives and contaminants. So, order yours today!