Precision in the kitchen can make all the difference between disappointing and palatable. Granted, some recipes have enough flexibility to accommodate a splash or pinch of various ingredients. But for other recipes, particularly when it comes to banking, depend on precise measurements for a successful outcome.
So, if you're looking to step up your culinary skills by a few notches, then a food-scale is your saving grace. It's the go-to in your assortment of trusty cooking gadgets.
While you could get by with measuring spoons and cups, the accuracy of a food scale is supremely advanced. After all, why bake a cake that's average when you could bake one that tastes the same as the kind you'd order from a high-end bakery?
With the wealth of options that have littered the market, finding the best food scale can be an uphill battle. Fortunately, you've come to the right place. We'll walk you through the best food scales to buy that'll give you value for your money and the buying factors to consider.
1. OXO Good Grips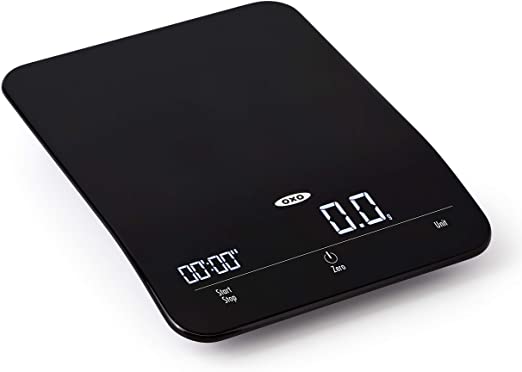 When it comes to aesthetics, the chic, black design of this kitchen scale truly sets it apart from the pack. Known to deliver an accurate outcome, this model grants users free rein of measuring ingredients in kilograms, grams, pounds, and ounces. You can weigh exact amounts of ingredients in 0.1-gram intervals that begin at 0.5 grams.
With a bright backlit display, the OXO Good Grips food scale is easy to read. You're in for a real treat upon discovering that the package comes with a removable silicone. It's designed to protect the weighing pad from heat and scratches during use.
While it comes with a timer, keep in mind that OXO Good Grips wasn't constructed with heavy-duty use in mind. Its 6-pound maximum capacity means that you'll find the usage a tad bit limited. But if you're a casual baker with modest requirements, then this model is right up your alley.
Pros
Timer included
Comes with a removable silicone mat
Provides accurate results
4 AAA batteries included
Smooth surface that's a breeze to clean
Inexpensive
Cons
Not suitable for heavy-duty weighing requirements
2. KD8000 Kitchen Scale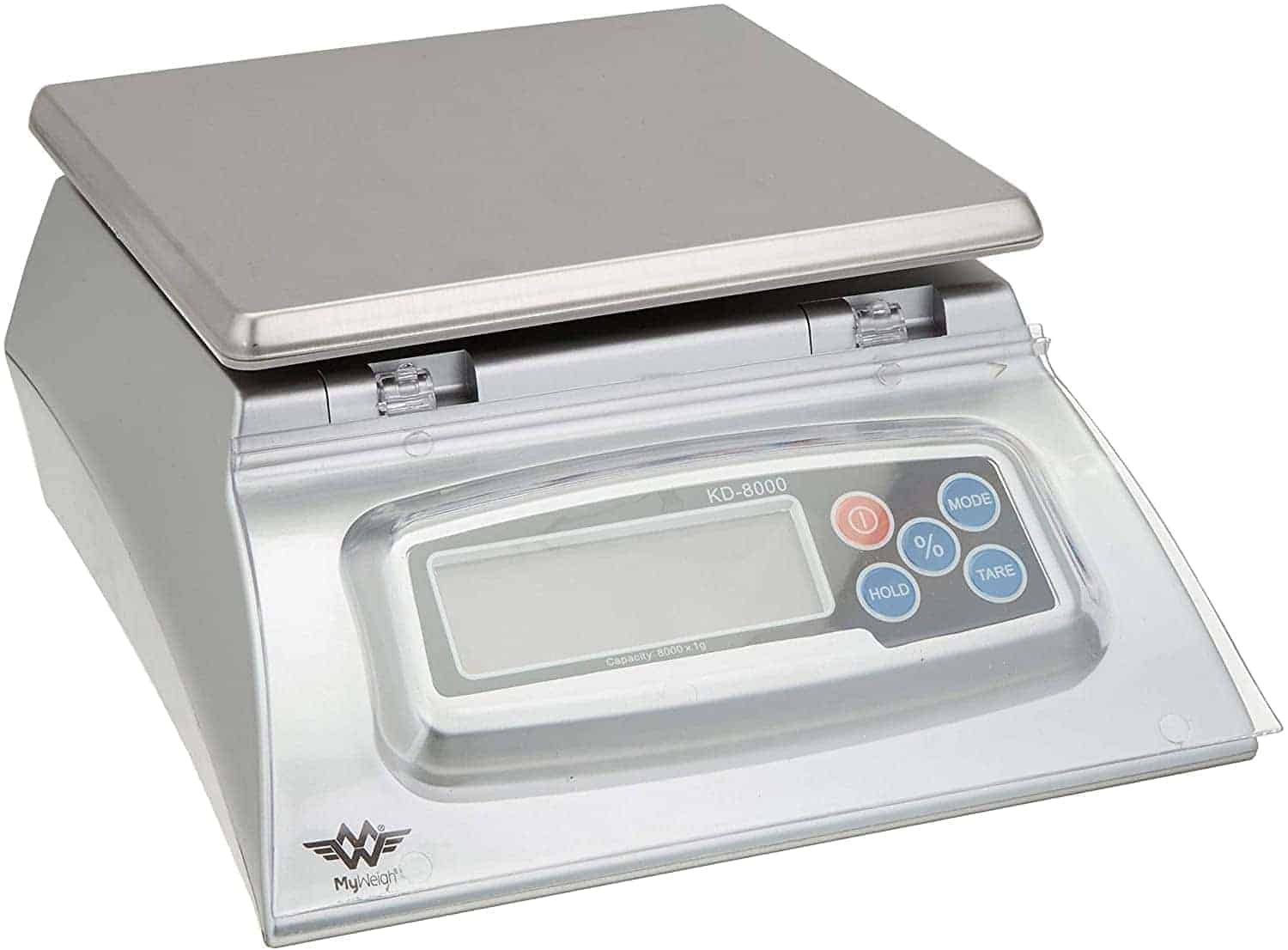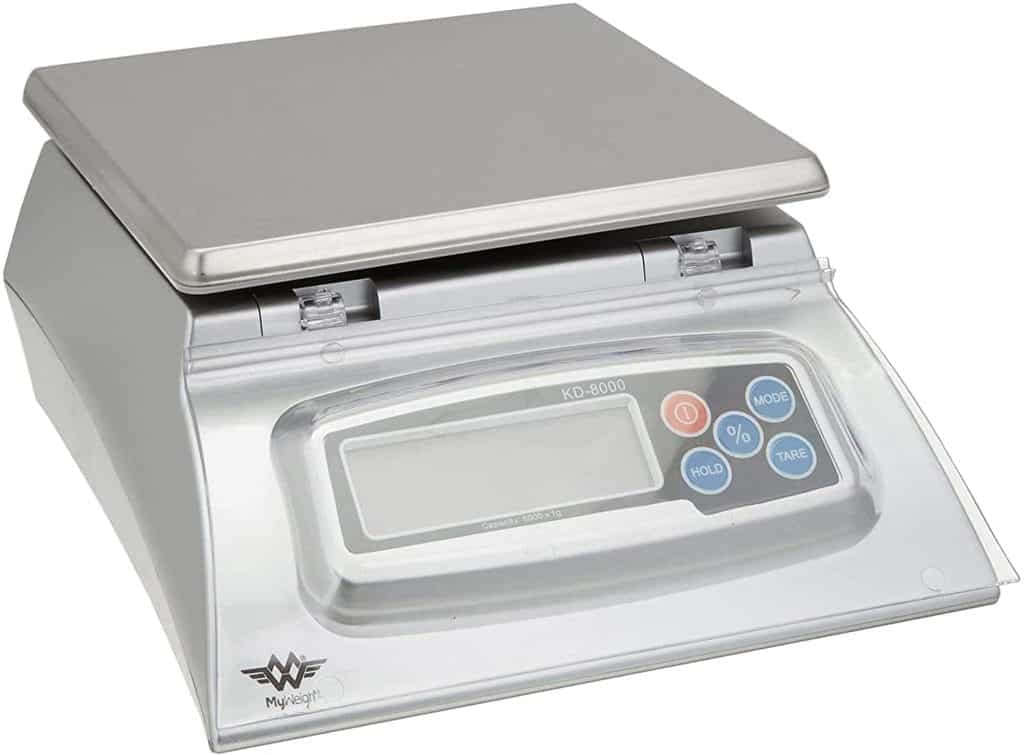 At times, spills are unavoidable when you're cooking up a storm. What's even worse is that if liquids spill on a digital food scale, it may malfunction. Fortunately, with the KD8000, this becomes the least of your worries.
It comes with a unique gunk shield that's a hardcover built as a snug fit over the control panel. The device also includes three disposable covers for the control panel to keep it clean and functioning. The large LCD backlighting ensures the KD8000 is easy to read.
For versatile use, the percentage function comes in handy for those making soap and other beauty products in their kitchen. While the KD8000 doesn't win aesthetic points, it has the uncanny ability to measure up to 8kgs of ingredients concurrently.
Pros
Designed from durable stainless steel
Various weighing modes available
Exceptionally high weighing capacity
Versatile
Easy to clean
Built with a hinged gunk shield
Cons
Bulky
Non-appealing design
3. INEVIFIT Digital Kitchen Scale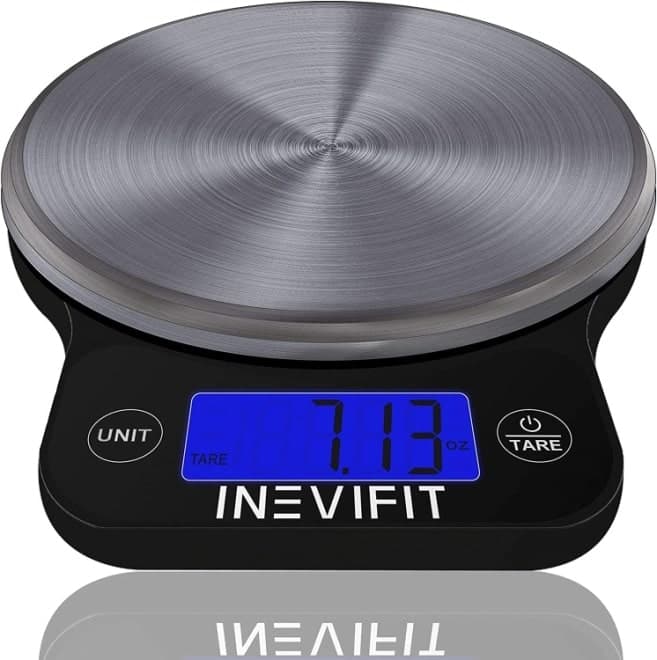 If you're on a special diet, then it's a no-brainer that you'll want to closely monitor what you eat. Before reaching for your bowl, it's essential to know the exact quantity of food you're consuming. Doing so gets rid of the risk of consuming more calories than you need to.
Perfect for placing a bowl on top, the INEVIFIT Digital Kitchen Scale was designed to weigh ingredients of up 6kgs in 1 gram increments. And, as a bonus, it can measure the volume of liquids in milliliters. With a bright backlit display, reading the results is a walk in the park.
The device has a tare function that provides accurate results upon using your bowl. Thus, this makes it a strong contender for the crows of the best food scale for baking. Perfect for those that demand accurate results, the INEVIFIT Digital Kitchen Scale also has a chic, stainless steel finish that's a sight for sore eyes.
With a 5-year warranty included, you have peace of mind knowing that this model will serve you well for years down the road.
Pros
5-year warranty included
Low battery indicator
Can measure liquid volumes in milliliters
Comes with LCD
Unique tare feature
Sophisticated design
Cons
Bulky
Inaccurate when measuring small amounts
4. Greater Goods Digital Food Scale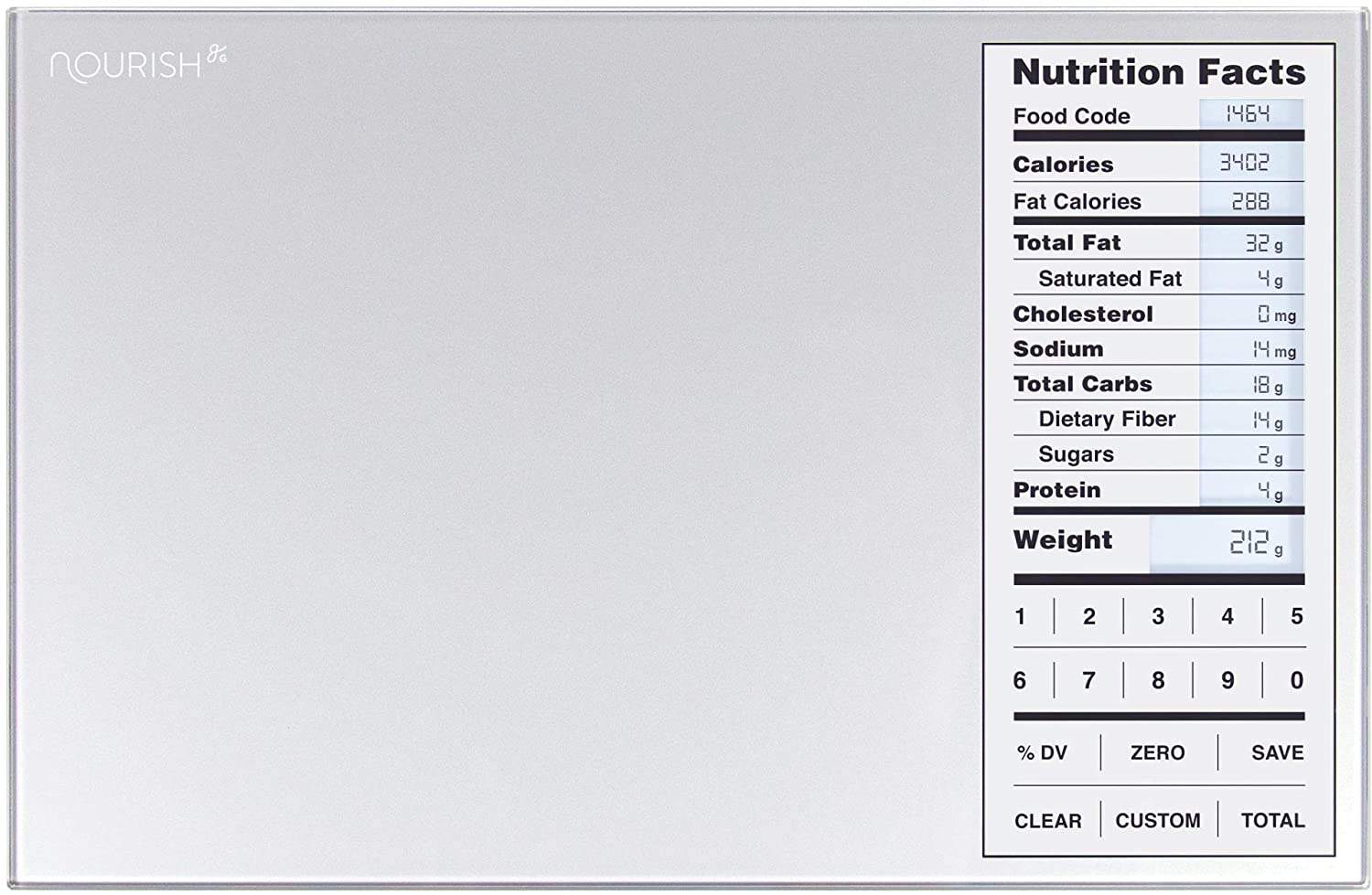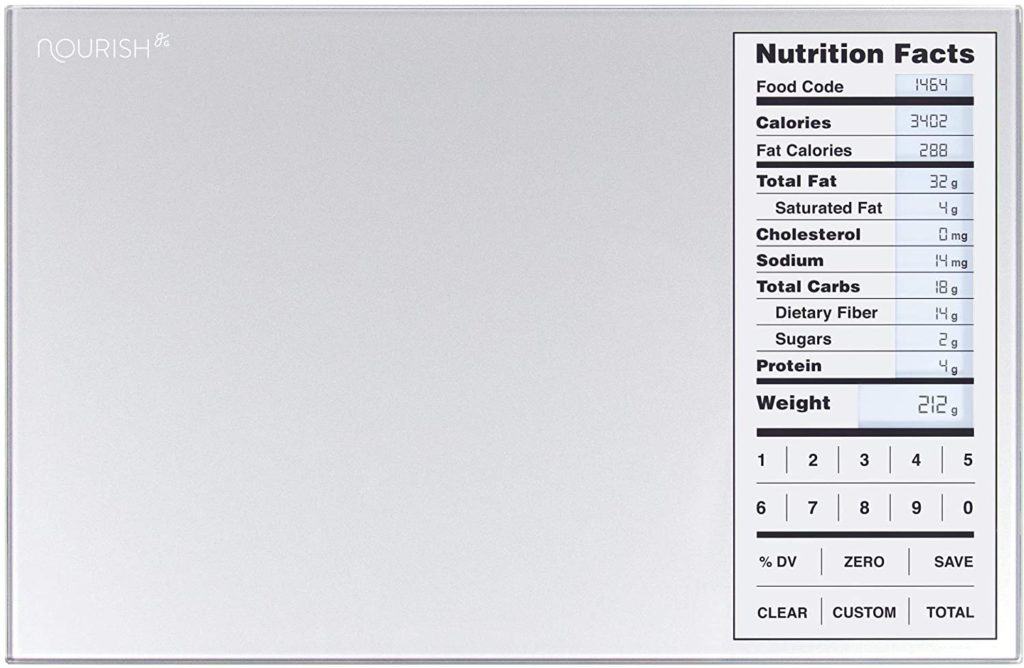 Creating nutritious meals infused with flavor can, at times, be an uphill task. Specific types of food usually have hidden junk and facts lurking in them. Even with the best intentions, you may discover that the food you cook isn't as healthy as you think.
Luckily, the Greater Goods Digital Food Scale is here to the rescue. With balance and style rolled into one, it provides nutritional data for up to 2000 types of foods. Moreover, there's sufficient room to house an array of customized entries.
Simply choose the food you're weighing, and you'll know, in a jiffy, the consequences it will have on your waistline. Remember, a moment on the lips, a lifetime on the hips!
The handy device boasts touch-sensitive buttons couples with a tempered glass platform that's a breeze to clean. Designed to instantly save you on the hassle and time, this kitchen scale has a unique feature for macro counting.
The Greater Goods Digital Food Scale comes with a 2-year warranty that protects you against accidental spills and breaks.
Pros
Provides comprehensive nutritional information
2-year warranty included
Sanitary touch-sensitive buttons
User-friendly
Comes with 4 precision weighing sensors for accuracy
Cons
Fragile glass surface
Top glass plate becomes loose after a while
5. Etekcity Digital Food Scale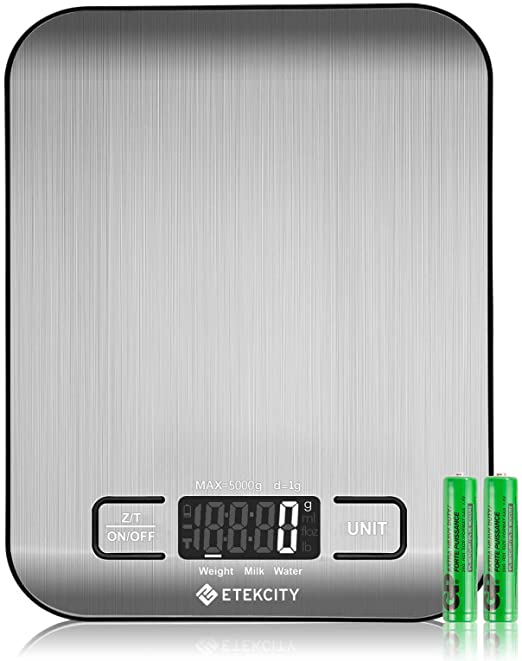 Are you on the quest for a product with limitless uses in commercial and residential environments? Then the Etekcity Digital Food Scale wraps up your search. Designed with versatility in mind, this device has an easy to read LCD with clear, alluring backlighting. With a maximum capacity of 5 kg (11 pounds), you can easily weigh a vast assortment of items.
You can take your pick among different measurements in pounds, grams, milliliters (liquids), and ounces. And with the Etekcity Digital Food Scale, measurements are in exact increments of 1 gram (0.04 ounces) for enhanced accuracy.
It's powered by 2 AAA batteries that are part of the package, making the scale portable and guaranteeing that replacement batteries are easily available. The tare function permits users to subtract the container's weight from that of the total to know the net weight of the contents minus the container holding them.
For energy saving, the Etekcity Digital Food Scale has an auto-off feature that allows the scale to turn off after two minutes of inactivity.
Pros
Tare feature included
Maximum weighing capacity of 11 pounds
Easy-to read-display
Eye-catching silver finish
Various weighing measurements
Auto-off function for energy saving
2-year warranty included
Cons
Must be positioned on a completely flat surface for accuracy
Not as accurate with smaller weights
6. Accuweight 207 Digital Food Scale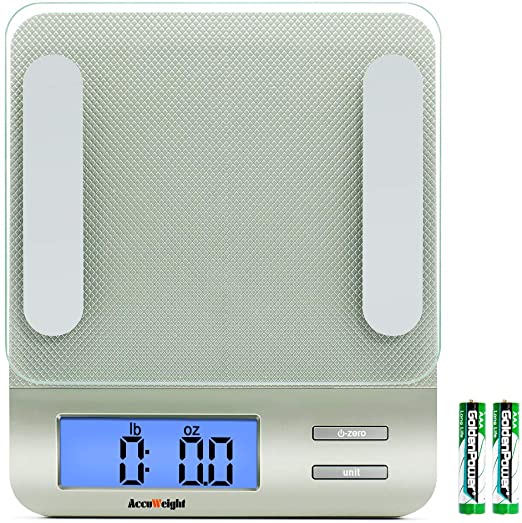 As a pocket-friendly option, the Accuweight 207 Digital Food Scale comes with an array of unique features that will give you value for your money. For starters, it has a unique tare function that zeros out the container weight when weighing multiple ingredients concurrently. Secondly, it's built with longevity in mind and comes with a 3-year warranty. Thirdly, its compact nature makes it perfect for use in even the smallest spaces.
For increased accuracy, the Accuweight 207 Digital Food Scale comes with accurate sensors that deliver measurements in increments of 1 ounce or 1 gram. With an auto shut-off feature, the device automatically turns off after 3 minutes if there's no change in weight or 60 seconds upon removing the weight.
Lastly, it has a low battery and overload indicator that makes the digital scale comfortable to use. It also effectively measures in milliliters, grams, pounds, and ounces.
Pros
Multiple measuring units
Lock and protect function included
Low power indicator
Comes with 2 AAA batteries
Fitted with tempered glass that's easy to clean
It has 4 high-precision sensors for accuracy
Cons
Slow response sometimes
Not as accurate with smaller weights
7. ZERLA Digital Food Scale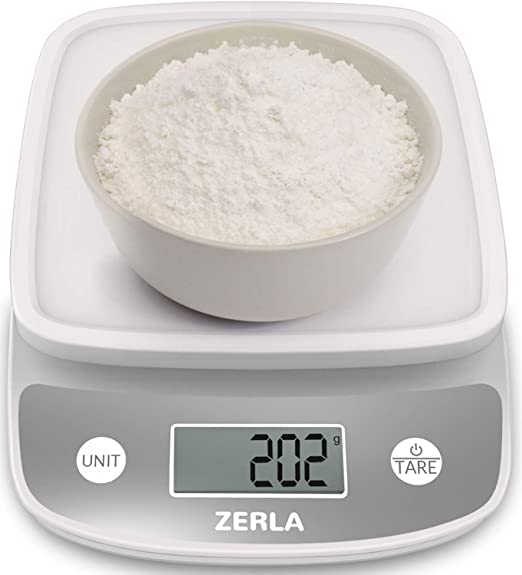 With its crisp white, chic design, the ZERLA Digital Food Scale is unarguably aesthetically-pleasing. And, it packs a host of features that prove there's more to it than meets the eye. With a built-in, high-precision sensitive sensor, the scale accurately counts your calories by increments of 0.04 ounces or 0.1 grams. It has a maximum capacity of 11 pounds (5kgs).
For visibility, the ZERLA Digital Food Scale has an LCD with black backlight, preventing shadow interference and generating clearer readings. Furthermore, it has overload and ultra-low power indication and comes with 2 AAA batteries of immediate use upon delivery.
Armed with a precision tare button, the scale computes your ingredients' exact net weight by automatically deducting the weight of the container housing your food.
Pros
Boasts an 11-pound maximum capacity
Easy to clean
Overload and ultra-low power indication
Food-grade safe
Comes with a tare feature
Auto-off function
Crystal clear display
Cons
Short 30-day warranty
Not as durable as other models
8. Ozeri ZK14-S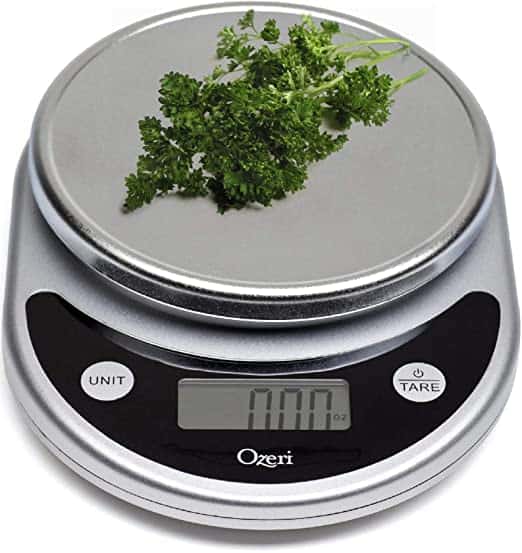 Where style meets substance, the Ozeri ZK14-S food scale boasts a compact and cool design. Besides the classic black and chrome version, you can take your pick from vibrant colors ranging from teal blue and red to a lime green that can brighten your day.
Nonetheless, this model has a boatload of convenient and useful features that make it a worthwhile investment. Armed with an automatic unit button, you can convert up to five measurement units in a jiffy, ranging from milliliters, grams, milligrams, and ounces to pounds.
The results are outputted on an easy-to-read LCD screen. The precision tare button is a lifesaver when it comes to calculating your ingredients' net weight then instantly deducting the weight of the container in which they're placed. The Ozeri ZK14-S runs on 2 AAA batteries that instantly turn off after two minutes of inactivity to increase battery life and contains two large buttons that produce an audible click confirmation.
Pros
Durable and compact design
Available in vibrant colors
Easy-to-read and larger LCD screen
Automatic unit button included
Suitable for granular measurements
Cons
Relatively short auto shut-off time
9. American Weigh Scales LB-3000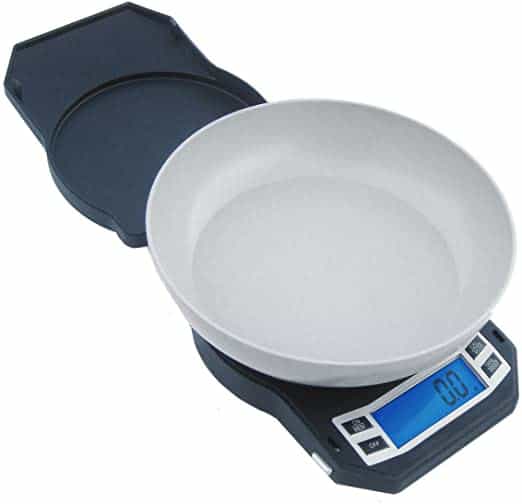 If you're on the quest for a compact, lightweight, and digital food scale that will get the job done, then the American Weigh Scales LB-3000 is your Holy Grail. With dimensions of 7.3" X 5.5" X 1.5", this handy device only weighs 1.12 lbs, making it the ideal size to measure the ingredients for your cooking and baking creations. A large expansion bowl that aids in securing your ingredients is included in the package. It can hold coffee, vegetables, and fruits.
With a backlit digital LCD screen, the numbers are easy-to-read and visible even in dim lighting. Courtesy of the high-precision sensors, you'll receive an accurate measurement each time. The built-in plastic cover keeps your scale looking new and safeguards it against everyday wear-and-tear, including bumps and scratches.
The portable American Weigh Scales LB-3000 scale has a durable surface that's also a breeze to clean. Users have free rein to place their items into the expansion bowl or directly onto the plastic for measuring.
Pros
Lightweight and compact model
Measures in increments of 0.1grams
Backlit LED display
Constructed from heavy-duty and durable plastic
High-precision sensors included
Built-in plastic cover
Large bowl included
Cons
Lower weight limit (2 pounds) compared to other models
10. OXO 1157100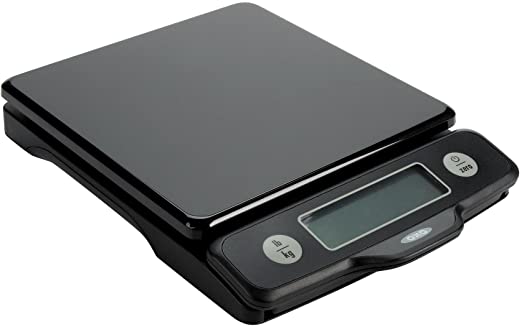 If you're looking for the ideal combination of practicality and affordability, then the OXO 1157100 food scale is your best bet. It has a display that pulls away from the base to curb shadowing from large bowls or plates. With a convenient indicator, you can see the remaining capacity on the scale.
For superior accuracy, the device measures in increments of ⅛ ounces (imperial) and 1 gram (metric). For visibility, the numbers are large, thus making them easy to read. The OXO 1157100 comes with a platform that strictly removable and washable by hand.
With a thin profile, storing this device is a walk in the park. 2 AAA batteries are part of the package, which means you can use the OXO 1157100 food scale right off the bat. The Zero Feature ushers in the zeroing scale before the addition of other ingredients.
Pros
Pullout display included
Comes with a tare feature
Removable and washable profile
Large and easy-to-read numbers
Battery indicator included
Cons
Measurements are displayed in form of fractions
Buyer's Guide: How to Choose the Best Food Scale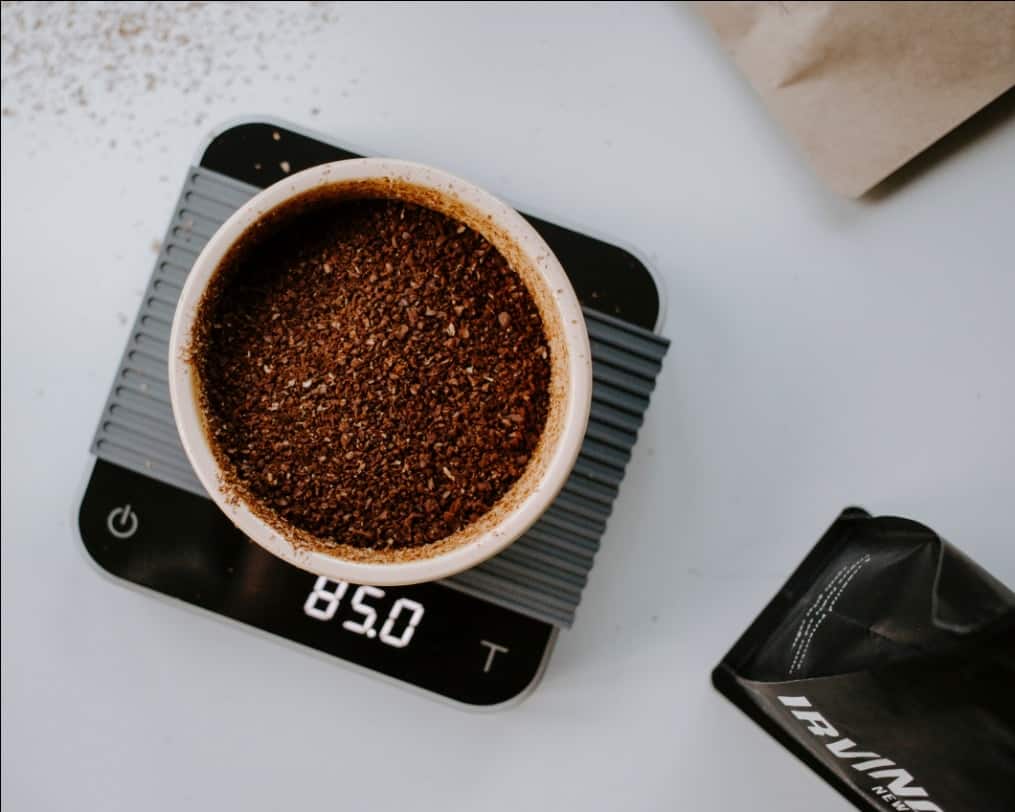 Before hastily buying the first product that catches your eye, here's a breakdown of the key factors to pay attention to that will permit an informed decision.
1. Units in Grams and Ounces
Invest in a food scale that can measure metric and imperial units. Many people tend to gravitate more towards scales that measure ounces in decimals as opposed to fractions because they feel more precise and intuitive. But only a handful of scales offer the best of both worlds, whereas professional chefs usually recommend the decibel system.
2. Extended Auto-Off Duration
It's a no-brainer that most of us opt for food scales that automatically turn off after a short window of inactivity as it helps prolong the battery life. While most scales have a waiting timeframe of 1 or 2 minutes, there's a few that last up to 5 minutes.
At times, the auto-off function may be cumbersome, more so, during baking where there's a barrage of multi-tasking activities happening behind the scenes.
For example, the scale shutting down when you need to weigh the dough as you were preoccupied with the other ingredients can be frustrating, to say the least. Therefore, it's advisable to settle for a scale with extended waiting time before shutting down.
3. Accuracy and Capacity
It's a no-brainer that you want a food scale that delivers unmatched accuracy. It'll be impacted by the increments in which the measurements are delivered. Excellent models typically deliver results in increments of 1 gram. They weigh items with utmost precision and consistency, regardless of whether it measures 10 grams or 20 lbs.
When it comes to weighing capacity, as a rule of thumb, the greater the capacity, the better the food scale; the reason for this is that it aids in making the scale more versatile. So, you'll want to choose an option that has a minimum capacity of 5kgs.
4. Speedy Measurements
Most kitchen scales typically output the measurements in a few seconds. But, some devices can lag, thus displaying the results anywhere between 30 and 60 seconds. The fact is it should provide an accurate reading because the fluctuation of numbers gets a tad bit frustrating.
Nonetheless, the best scales depict the gradual weight increase as you measure the items. In turn, this gives you insight into when to stop adding the content to the container.
5. Tare Feature
It's one of the key components of a kitchen scale. The tare function has the uncanny ability to deduct the container's total weight to accurately produce the precise net weight of the contents. Before selecting a scale, confirm whether or not it can Tare consistently.
You'll then be able to zero out the item's weight in the container to help you measure extra ingredients. The best models allow you to press the tare button twice if you haven't accidentally switched off the power in between your measurements.
6. Laminated Buttons
Choose models that have the controls and display covered in a plastic membrane. As a safety feature, it aids in the prevention of the accumulation of grains of salt or sugar, gunk, or food crumbs in between the cracks. Furthermore, the plastic membrane simplifies the cleaning process without looking into the crannies and nooks for food particles.
7. Rubber Feet
While it's a convenient component for a kitchen scale to have, only a handful of models have rubber feet. With this feature, the scale sliding across the counter and possibly slipping off and falling is the least of your worries, as it provides unrivaled stability.
8. AC Adapter
It's incredible when the batteries of a kitchen scale can last for an extensive period with frequent use, particularly when you're prepping large amounts of food throughout the day. After all, the need to change the batteries in between cooking sessions can be nerve-wracking. So, having a scale with an AC adapter is a lifesaver.
9. Removable and Large Platform
A kitchen scale with a large and removable platform ushers in a bonus as it can easily accommodate a large mixing bowl or sheet pans. You may stumble upon models with a removable platform. It makes the cleaning process a walk in the park.
10. Display
Pick a model with a large display for enhanced visibility of the results. After all, the last thing you need is struggling to read measurements. It's a bonus if the kitchen scale you select has an LCD backlit display.
11. Size
For small kitchen owners, size is an important factor to consider. While digital models are usually bulky, the market is littered with lightweight and compact options. These fit perfectly on the counter and can also be neatly tucked away in your kitchen store or cabinet.
12. 'Smart' Feature
Food scales with this feature allow you to connect to your smartphone or tablet via an app. However, these models are pricey and overwrought. They come with extra functionalities that can be complicated to operate, more so when you're in a race against time.
Closing Remarks
Whether you're a seasoned food scale devotee or simply dipping your foot in the world of cooking, you can be certain that the model you choose will ably withstand any culinary task you throw at it. And, it won't cost you an arm and a leg. Regardless of the option you select from our list, we're sure it'll give you value for your money. So, order yours today!