Who doesn't love the smell of hot coffee in the morning? But spending four dollars every single morning for one cup of coffee at the coffee shop isn't very convenient (or affordable!) for most coffee drinkers. Luckily, you can start saving money while enjoying a great-tasting cup of coffee in the morning with the best home coffee maker for your kitchen. They cut down the brew time and still deliver a delicious punch.
There's just one (small) problem: finding the right coffee maker for your needs isn't a perfect science. With so many different models out there, it can be tough to know which one is best for you. Not to mention there are plenty of knockoffs in the market which makes it harder to find your diamond in the rough.
If you'd like to purchase the best coffee maker use to suit your needs, we invite you to read our top home coffee maker reviews. We've gathered the best-performing coffee makers on the market at a variety of price points. Read on.
1) Technivorm Moccamaster 59162 10-Cup Coffee Maker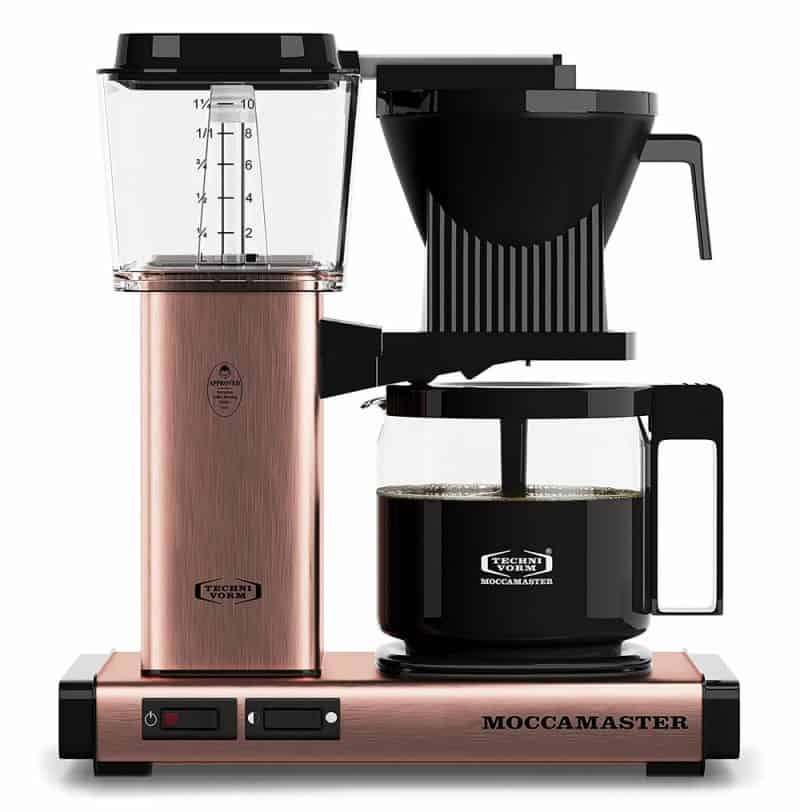 Yes! It makes a fantastic pot of coffee and has a modern stylish look too. This coffee maker is designed to last you years and consistently brew good coffee whenever you need that caffeine boost.
Available in 17 colors, the Moccamaster coffee maker features a glass carafe and an automatic drip-stop brew-basket that prevents dripping even when you pull on the carafe. Additionally, this model is engineered with a separate independent element that rolls heat into the coffee to ensure that there's an even taste. It's one of the top-rated coffee makers, but the price tag is a little high.
Best Features
Automatic brew basked that allows you to pull the carafe without creating a mess.
It brews 40 oz in under 10 minutes.
Simple elegant mid-century design that makes it the perfect kitchen centerpiece.
It is a long-lasting and reliable piece of equipment.
It is available in 17 different hues which makes it easy to choose a color that best compliments your kitchen décor.
2) Hamilton Beach Single Serve 12-Cup Coffee Maker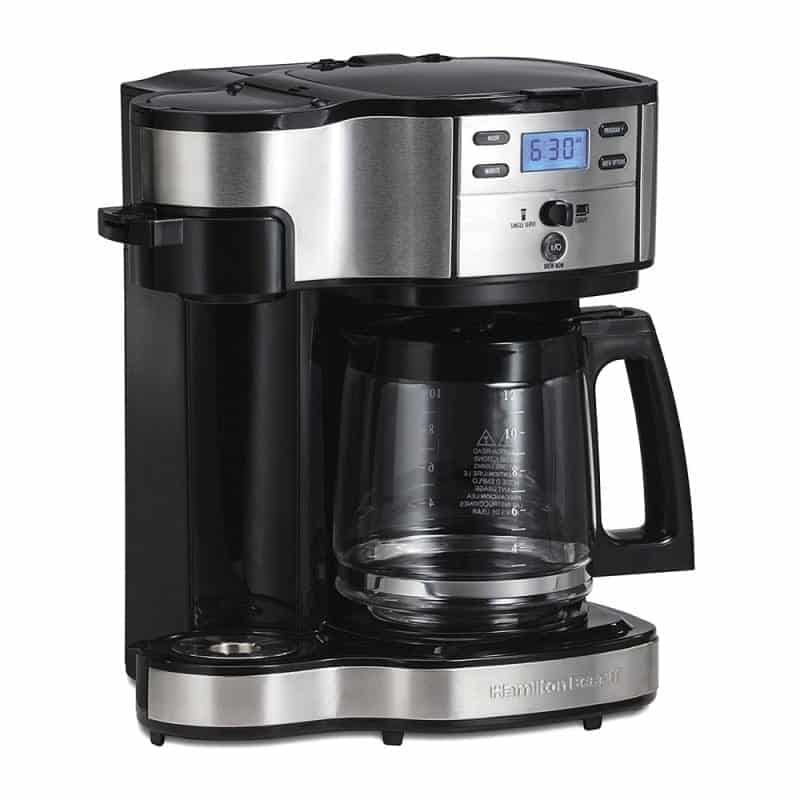 In terms of quality and construction, the Hamilton Beach single serving coffee maker is certainly a cut above the rest. It is an affordable low maintenance coffee maker equipped with an automatic timer that automatically shuts off the coffee maker once your drink is ready.
According to Hamilton, the coffee maker has twice the quick brewing time options as other leading coffee makers on the market and we have to agree. It is a 2-way brewer that doubles up as a 12-cup pot machine and a single-serve coffee maker that's perfect for when you want to make enough coffee for yourself.
In addition to functionality, Hamilton has its bases covered in as far as construction goes too. The coffee maker has stainless steel durability and a compact size that makes it easy to move around the kitchen with ease. And the best part! It doesn't take up so much space on the countertop so you can finally stop worrying about whether you'll have enough storage space for it.
Boasting of hundreds of "best coffee maker" reviews, this dual-purpose unit is also highly respected among the coffee aficionados.
Best Features
A programmable timer that brews your coffee in advance
It is convenient and easy to use
2-way brewing options
3) Bunn NHS Velocity Brew 10-Cup Home Coffee Maker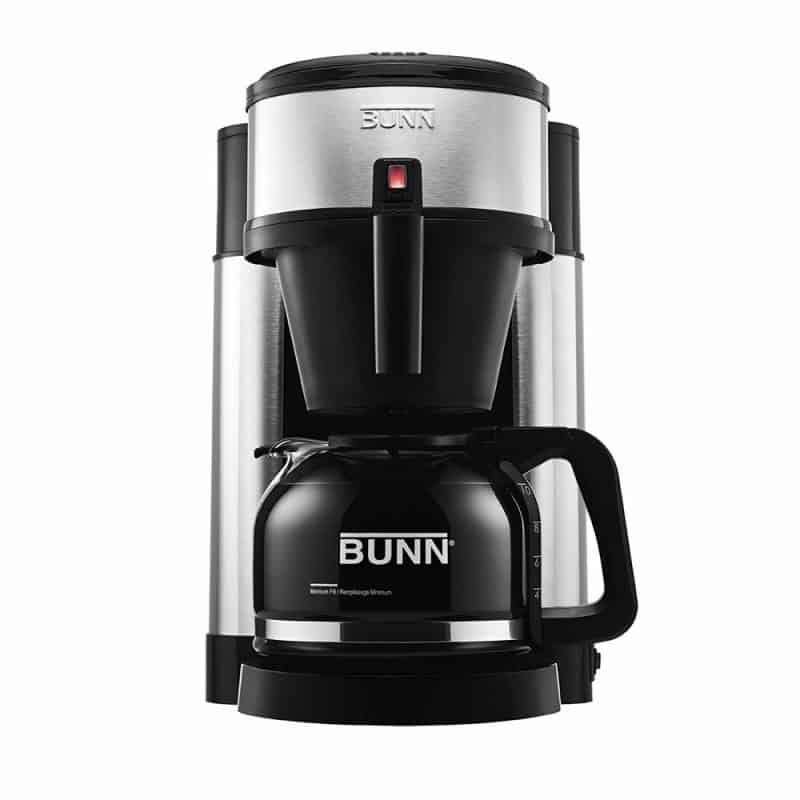 With its quality design and its incredible sense of style, you'll want to leave this Bunn model on the counter even when not in use. But it offers more than good looks! It also has an impressive sense of functionality which places it a cut above the rest.
The Bunn Velocity Brew has a lot of amazing features that make it one of the best home coffee makers on the market. Not to mention it is one of the few home models that brew at 205 degrees Fahrenheit.
The Bunn also has a drip-free carafe that holds up to 10 cups of coffee. It delivers a clean and seamless pour and a multi-stream spray head that fully saturates coffee grounds to give off that amazing taste without the bitter taste.
Best Features
It is remarkably fast
3-year warranty
4) Cuisinart DCC-3200AMZ PerfecTemp 14 Cup Programmable Coffee Maker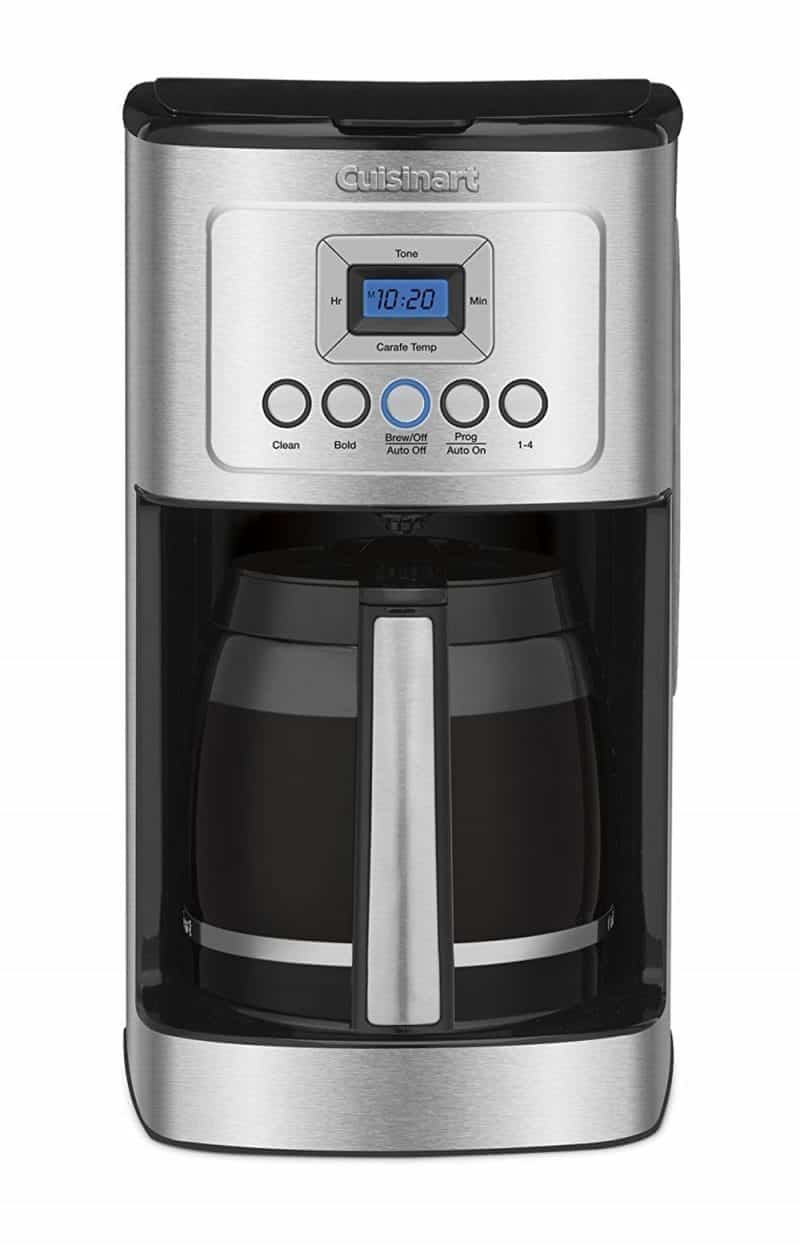 Aesthetics aside, the Cuisinart DCC-3200AMZ PerfecTemp 14 Cup Programmable Coffee Maker packs a lot of remarkable features. From having a brew-strength control feature that allows you to select between bold and regular coffee flavor to having a hot water reservoir window that facilitates more accurate filling to ensure that you don't create a mess.
Additionally, the coffee maker is equipped with state of the art technology that ensures you get both hot coffee and unwavering flavors, no burned flavor notes.
And with hundreds of reviews to back up Cuisinart coffee maker's claims and a resume that dates back to years of vast experience in making culinary tools, it's not that hard to see why it ranks as one of the top-rated home coffee makers on our list.
Best Features
Fully automatic to get your coffee ready when you are ready
A hidden water tank gives the coffee maker a more modern design
State of the art technology that ensures you get warm coffee and still get to savor the tastes and flavors of the freshly brewed cuppa
Optional ready alert tone
5) Braun KF6050WH BrewSense 12-Cup Drip Coffee Maker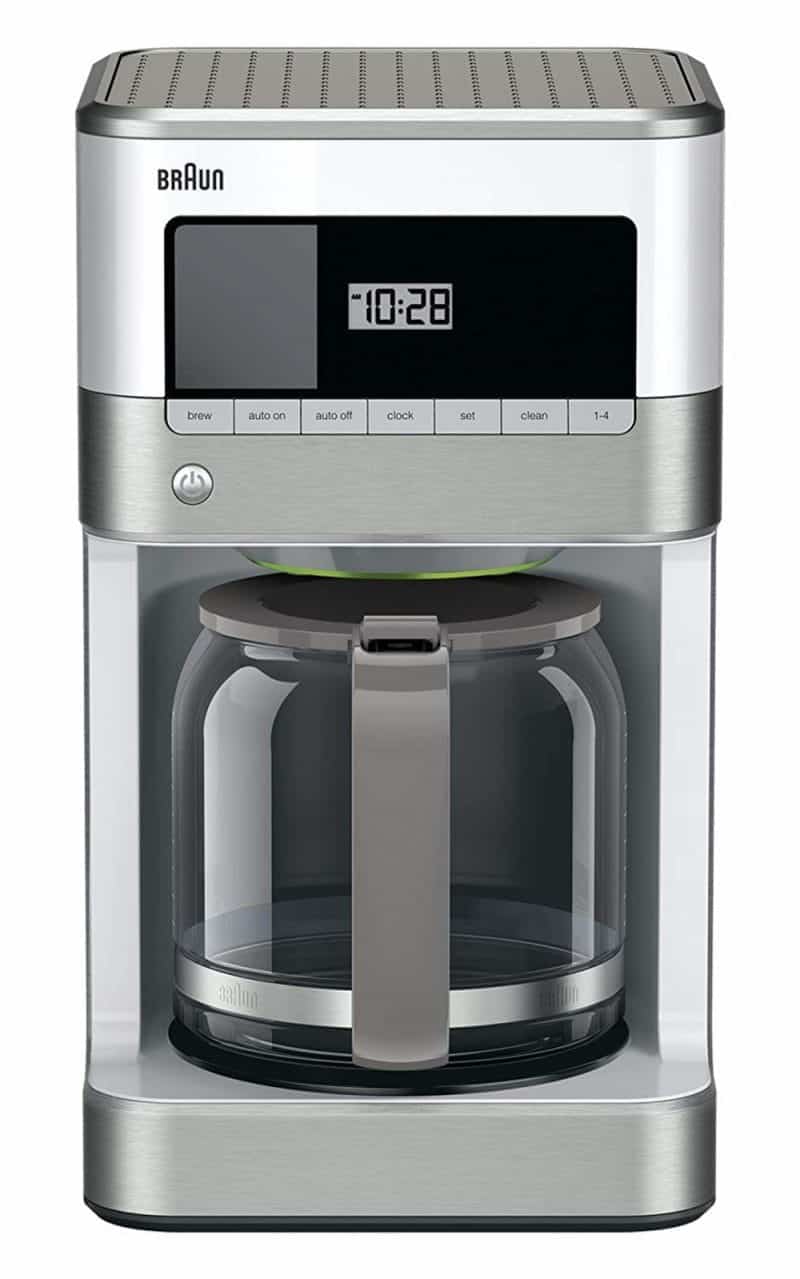 If the Technivorm model above is way out of your budget, we recommend the Braun KF6050WH BrewSense Drip machine. It has a much lower price tag but it works just as well as the Technivorm and has some remarkable features that make it a convenient piece of equipment for your needs.
This product features a special glass carafe (the patented FlavorCarafe) that seals in the coffee's flavors and aromas and a unique PureFlavor system that makes your coffee at just the right water temperature. Nothing less nothing more. And the best part! You get to savor the goodness of a satisfying cup of coffee with luscious aromas of freshly brewed coffee. It also has sleek stainless steel and white finish that gives it a gorgeous rustic look perfect for the kitchen countertop.
Best Features
A programmable 24-hour timer so your coffee will be ready when you are
Generous 12-cup capacity works great for one person or for a family
Auto shut off feature that automatically turns off the coffee maker when your coffee is ready
FlavorCarafe that seals in the flavors and aromas
Smart elegant design that features a small footprint
6) OXO Brew 8-Cup Coffee Maker with Single-Serving Feature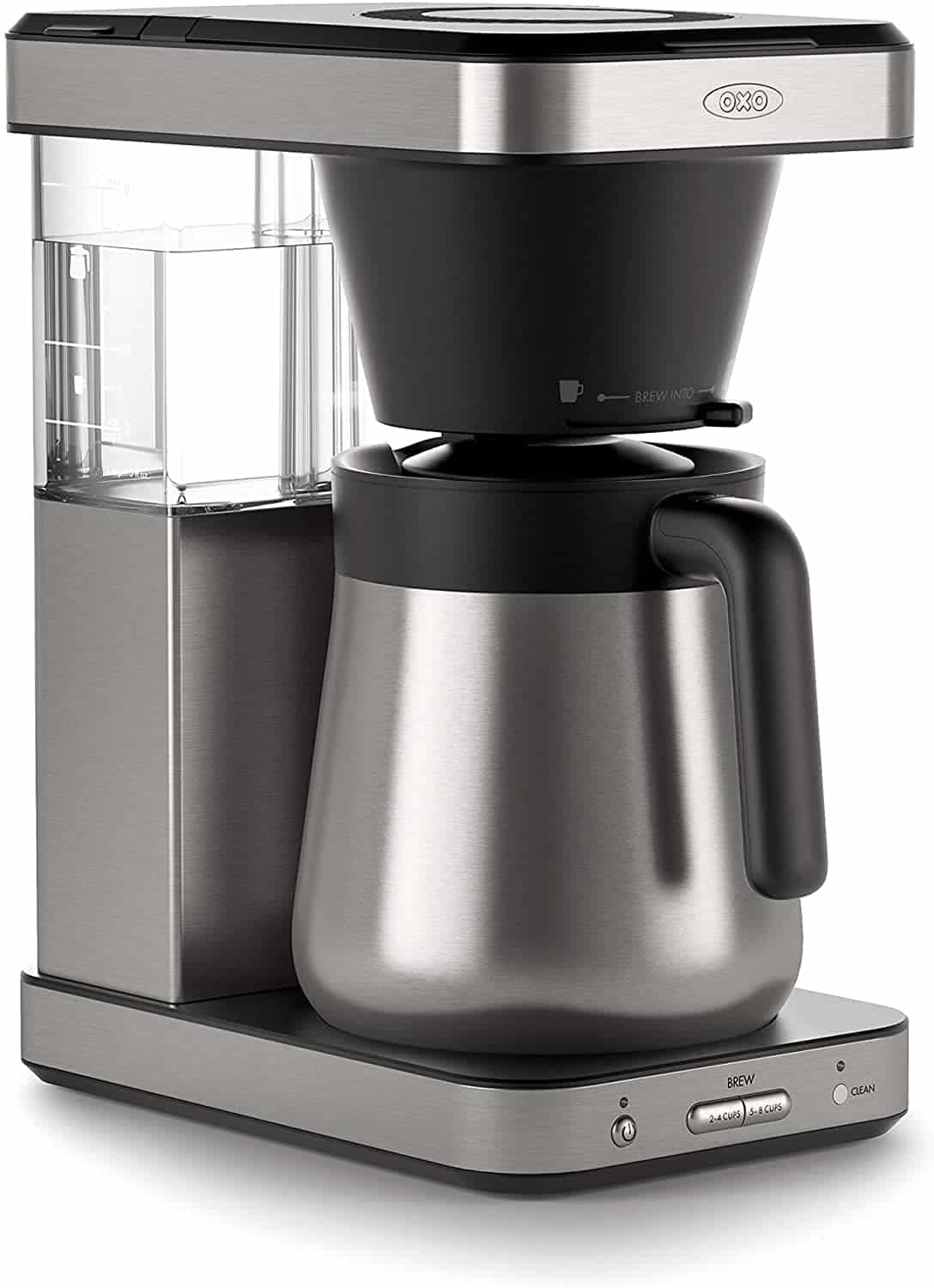 The OXO Brew 8-Cup and Single Serve Coffee Maker model is simplicity redefined. It falls at a higher price scale but it is definitely worth every single penny you pay for it. Moreover, this coffee maker OXO certainly has several perks other coffee pots don't. For starters, you can choose to either brew a single cup or a full pot of coffee; it's all up to you. Lastly, the thermal carafe can keep your coffee hot for up to two hours, if you decide to brew it in advance.
Best Features
Simple buttons make it easy to brew your cup of joe in the morning, half-asleep
The thermal carafe keeps coffee warm
It's easy to fill up the water tank when the water runs out
7) Keurig K55/K-Classic Coffee Maker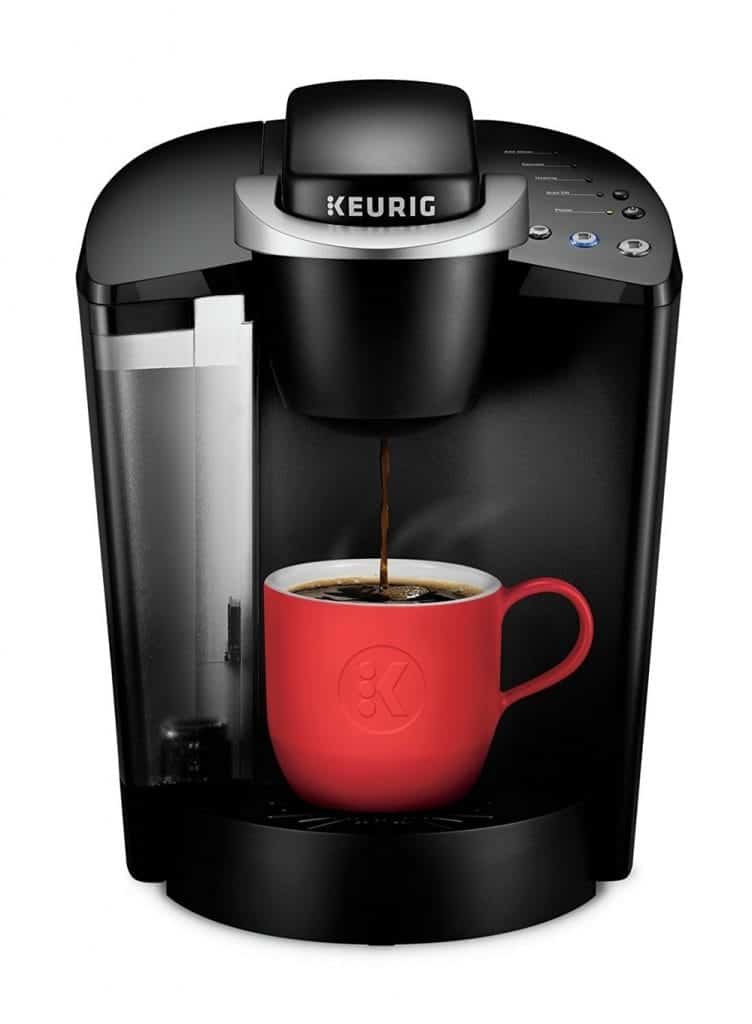 This probably wouldn't be your first pick if you're on a budget but it makes perfect economic sense as an investment. Available in 5 different colors, this gorgeous product is not only a beautiful piece of equipment but also a functional one that defies the adage that not everything that glitters is gold.
A perennial bestseller that has been in the game for years, Keurig seems to have all their bases covered to ensure that they provide nothing but quality products that bedazzle your taste buds. Plus it also helps that the coffee maker comes with simple touch buttons that make your experience less stressful.
And unlike a drip coffee maker or pour-over coffee brewer, this machine can deliver a more flavorful coffee. Moreover, you can choose your favorite flavor specialty coffee pod to brew the perfect cup in the morning.
Best Features

Simple button controls that make the process less stressful
A gorgeous look that makes it the perfect countertop centerpiece
Auto shut off feature that automatically switches off the coffee maker when the coffee is ready
What Is The Best Home Coffee Maker For Me? Different Types, Explained
Who needs a barista when you can make an amazing cup of coffee in the comfort of your own kitchen? If you'd like to let loose your inner DIY-er, here are a few of the most common types of the best coffee maker units for your home out there that will suit your fancy. They're more powerful and techy than a French press coffee maker and boast a lot more features.
Espresso Coffee Makers
Espresso coffee makers work by forcing a small amount of water from the water reservoir through the coffee grounds to get an intensely flavored shot of joe.
Pros
The best espresso makers brew great coffee.
You can customize the strength of the brew.
Cons
Espresso coffee makers are quite expensive.
Using it is not a perfect science. It takes some time and practice to perfect your skill.
Drip Coffee Makers
As the name suggests, a drip coffee maker works by mixing coffee grounds with hot water from the water reservoir and then dripping it through the filter basket. The best drip coffee makers offer the ability to make large volumes of coffee at a reasonable price.
Pros
A drip coffee maker can brew large quantities of coffee at a time.
They are relatively inexpensive.
They are convenient.
Cons
You don't always get the best flavor out of your drink.
Single Serving Coffee Makers
Single serving models use K-cups or pods of coffee grounds to produce a variety of drinks. We've already reviewed the top Nespresso coffee machines and the top Nespresso pods.
Pros
Convenient and easy to use.
You can use it to produce a varied variety of drinks including lattes, hot chocolate, cappuccinos, flavored coffees, and tea.
Cons
Most single-serving products have plastic pods that aren't environmentally-friendly.
How to Choose the Best Home Coffee Maker for You
All coffee makers have one thing in common- they whip up a superb cup of joe. However, when perusing the market, you'll find that they vary in form and functionality. Here are a few common features that you should pay particular attention to make the most out of your purchase.
Price
Generally speaking, investment in high-end models for the home means better quality, more durability, and extra features to make the process seamless. However, there are times when the high price tag is connected to a particular brand and you're just paying for the label.
Some economy products deliver the same level of performance as other top home coffee makers that cost a lot more and hold up pretty well too.
However, generally, when you're considering the best coffee maker models, we emphasize quality over price.
Drink Choice
What's your favorite drink? If you prefer a shot of espresso or specialty coffee drinks over black coffee then a home espresso coffee maker will be just fine. However, if you like your coffee black with a bit of cream, then the drip coffee maker or pour-over coffee maker is all you need.
Durability
A well-constructed product should be able to last years. That's, of course, considering you are following the manufacturers manual to the tea in as far as safety considerations go. As early as before making a purchase decision you need to ensure that the model you are considering going for is strong enough and is well built for the task.
Sizes
Some customers prefer a small compact sized model that they can toss in the bag when heading out for an adventure while others don't mind having a big unit to place atop the countertop space. Both no doubt are great options but they also have their fair share of advantages and disadvantages so it's important to take your time before making a final decision.
Materials
Pay attention to the construction materials of the product you're considering for purchase. Products made from good materials should mean that it last longer. Cheap units have to be replaced sooner rather than later, which generally offers a false economy.
Design
Some of our top contenders are ergonomically designed to ensure that you're getting the most out of your purchase. Make sure you take a close look at the model you're thinking of buying to make sure that it suits you.
Capacity
Think about how many cups of coffee you'll need to make. Are you making coffee for just you or the whole family? If you're the only person in the household, a smaller coffee maker for home with single-serving capabilities will do just fine. On the other hand, if you're in a family set up look for a model that can accommodate larger amounts of cups at a go.
Brew Strength Control
The strength of your brew depends on the coffee maker you're using. Some require little to no input from you whereas others let you fine-tune your coffee with the brew strength control. So when making a purchase, you need to consider whether you like to leave it all up to the coffee maker or like having a hand in the final product and opt for what works for you.
Built-in Grinder
Some coffee makers come with a built-in coffee grinder that grinds the coffee beans for you. This is a really useful function and means you don't have to waste your time grinding your own coffee. However, these models tend to a bit pricier so you have to be prepared to part with a little more.
Carafe Quality
You'll want a carafe that doesn't shatter easily. For that reason, it's best to avoid brittle carafes. On top of that, a thermal carafe can be very handy, since it keeps your drink warm for hours. We recommend looking for a stainless steel carafe, as it will hold the temperature of your drinks for longer.