As a juice enthusiast, I like to think of my daily juicing ritual as an act of self-care love, something I owe to myself with the hope that I will get some of that love back.
With increasing popularity and studies supporting its great benefits for health, juicing is one of those healthy trends that are not going to fade away any time soon.
As a healthy source of vitamins, antioxidants, mineral, and soluble fiber, fruit and vegetable juices are surely a fun and easy way to supplement your diet with all the necessary nutrients. But there is one more thing to consider.
Whether you are just starting off your juicing journey or you are a seasoned enthusiast, finding the best juicer out there is a must and will give you all the motivation you need to start consuming more fresh fruits and vegetables.
We understand you. Choosing among so many juicer brands, comparing various features and prices, and looking for easy comparison charts can be quite overwhelming.
Not to mention that if you are not informed enough, you might find yourself struggling to understand what an auger juicer is and whether a centrifugal will do the job better than a masticating one.
Don't worry, we have you covered. In this guide, you will learn all you need to know about different types of devices so you can be the informed buyer and savvy user you need to be.
Because let's face it. Buying a $200 machine that will only enhance your kitchen's décor or even worse gather dust at the back of your cabinet won't make you any healthier. It will just hurt your wallet and undermine the success of your healthy juice plans.
Our 10 Top Juicers Review
The following review of the 10 top juicer extractor has been created with the needs of an average juice user in mind and the idea that each of these models should lead to a successful experience.
Breville 800JEXL Juice Fountain Elite 1000-Watt Juice Extractor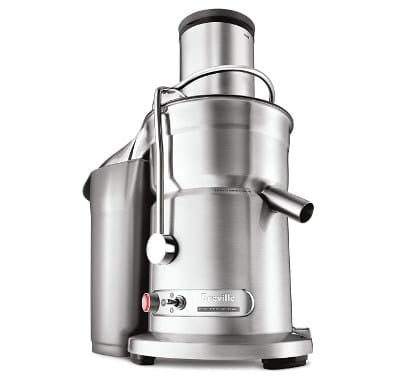 In the world of home appliances, Breville has been a leading brand for a surprising number of years, 87 years to be exact. Starting off with radios and mine detectors, they ultimately turned their attention to creating small appliances, such as sandwich makers, with great success.
With more than a hundred active patents in their name and more than forty design awards internationally, Breville is definitely a reputable juicer brand that can guarantee the best quality.
With a powerful 1000 watt motor and a sleek stainless steel design, Breville 800JEXL is not only a beauty sitting on your countertop but a diligent partner to your juicing journey.
Its dual-speed control gives you the flexibility to switch between processing soft vegetables and fruits, and harder ones. For a mix of ingredients with different textures, it is best to start with the low speed for processing soft materials and change to the high speed once you have added the hard texture ingredients.
We like the 3 inches extra wide feeding chute that enables you to use whole fruits or veggies,saving you prepping time. Especially if you are rushing to work in the morning and you have minimum time to get that first-class energy boost, this feature works like a charm.
Try not to overdo it, though, even beasts have their limits. Avoid using the high speed for more than one minute to allow the machine to rest. Also, trying to process too many ingredients at a high speed can lead to the leaking of some juice.
Generally, I like to do some minimal cutting before throwing everything into the feed chute so I end up with less pulp in the reservoir and therefore less mess to clean up afterward.
Talking about cleaning, you will need to clean off the mesh filter basket right after use to prevent food particles drying like cement.
For all the quality features and ease of use, this is definitely the best centrifugal juicer. It is fast, versatile, easy to use and clean as well as stylish.
Other Specs Include:
Patented central feed extraction system
Titanium cutting blades stay sharp for longer
1 L juice jug with foam separator
Large pulp container with handle
Cord storage
Dishwasher safe
Cleaning brush included
Omega NC900HDC Juicer Extractor-Slow Masticating Dual-Stage Extraction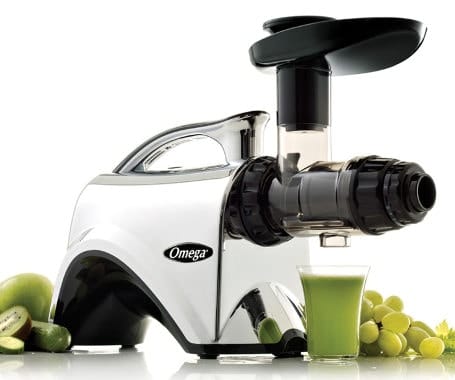 Launched in 1985, Omega is considered to be a leading brand in masticating juicers. If you have never heard of the term 'masticating' before, don´t feel intimidated.
It is just another word for cold press juicers, meaning that these machines run on a low rpm. Creating very little heat preserves the nutritional value of your juice and provides you with a thicker consistency that tastes delicious.
Mastication can be compared to slow eating and chewing. The slower we eat, the better those nutrients break down in the body to become more beneficial for our health.
Omega NC900HDC knows well about mastication and that is one of the reasons they provide a 15-year warranty that covers performance and parts.
This machine uses a single auger to press and squeeze the ingredients. It extracts the maximum amount of juice and nutrients out of your produce, which is a good long term investment.
Due to the low rpm extraction, you can refrigerate your juice for 2 days without any compromise in nutrient value or taste.
The size of the feed chute is bigger compared to some other Omega juicers, which saves you prepping time.
In addition, this is a great tool for juicing green leafy vegetables such as celery, kale, spinach, and wheatgrass.
Unlike centrifugal devices that give you very few drops of juice when using green leaves and a lot of wasted material, a masticating machine such as 'Omega' makes the best use of your greens.
It is also quieter so you don't need to worry about waking up everybody first thing in the morning and it's great value for your money since you can also use it as a grinder for your coffee or to extrude pasta, create baby food and nut butter among other uses.
On the downside, the price tag can be prohibitive and not suitable for those on a budget. Also, it takes more time to clean due to the many different parts, so if you are not a determined user or just a beginner, this might be a deterrent factor.
If we had to give it a title, we would say that this is the best masticating juicer. Efficient, functional and quality with a 15-year warranty, Omega slow juicer may be the one and only tool you will ever need to use.
Other Specs Include:
5 pressure settings for maximum extraction
Powerful motor
Easy to use
Chrome finish
Built-in handle
Quiet function
Hurom HP Slow Juicer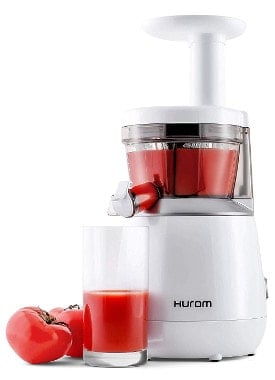 If you are fussy with huge home appliances sitting on your kitchen counter looking less than attractive, a compact model may be the right way to go. In this case, you don't need to sacrifice any of your high standards for quality and ease of use.
Hurom has you covered. Hurom HP is a vertical single auger juicer. In fact, this was the company that invented this type of device. It is not difficult to distinguish a horizontal single-auger from a vertical one.
In the vertical product, the augers face up and down whereas in the horizontal, they do so sideways. Apart from being aesthetically more attractive in our opinion and a lot less bulky, vertical slow juicers are also a bit faster and more efficient at processing carrots and leafy greens.
Hurom HP is the perfect example. As a 2nd generation machine, it is less prone to getting clogged because of the absence of a small hole in the screen which gets clogged with mash.
You will also get less pulp in the juice and more yield, which will save you money over time. On top of that, it takes very little time to clean.
On the downside, the chute is not one of the widest ones. This can keep your fingers safe but you will need to cut the produce in smaller pieces before feeding it to the device.
Overall, we rate this as the best compact juicer and it is perfect for juicing your greens, vegetables, fruits, and wheatgrass.
Efficient, quiet and stylish looking, your love for this cute little beast will go on for years to come.
Other Specs Include:
Heavy-duty auger and strainer
Easy to assemble
10-year motor guarantee
Quiet motor runs at 43 rpm
All parts are BPA free
Comes in three colors: white, green and pink
Cuisinart CJE-1000 Die-Cast Juice Extractor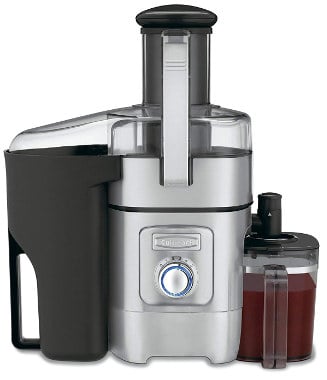 If you are looking for the best combination of quality and price but you are on a budget, Cuisinart CJE-1000 juicer is our top recommendation for the best affordable juicer.
This can also be a great tool for beginners who want to navigate in the juicing world easily and efficiently without hurting their wallets.
Cuisinart has a powerful 1000 watt motor and sharp blades that can cut both hard and soft materials. The large 3-inch feed chute can easily take whole fruits such as apples and pears, but if the items are extra-large, pre-cutting is recommended.
We would also recommend against forcing too many pieces at a time but rather add in few at a time.
The juice that comes out is healthy and nutritious with a nice consistency and minimum foam while the pulp that is left behind is reasonably dry, which shows that you get maximum output.
Enthusiastic users of this high-end model report no leaks or mess when they are using it and they also like the fact that it is super functional and well designed.
In fact, the parts are so nicely designed that if they are not correctly assembled, the machine won't start. In addition, the motor has a thermal fuse which prevents it from overheating.
The machine itself is quite sturdy with a heavy bottom and minimal vibrations.
Other specs include:
5-speed switch control with blue LED light
Easy to clean 2 L pulp container
1 L juice pitcher
Stainless steel and die-cast materials give an elegant finish to the product
Well-designed locking mechanism
Removable parts can be put in the dishwasher
3-year guarantee
Omega VSJ843QS Vertical Slow Masticating Juicer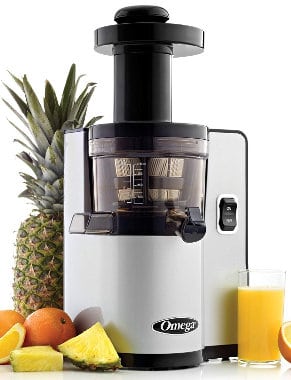 With a motor rotating at 43 rpm and some more advanced features compared to previous Omega VRTmodels, you can trust Omega VSJ843QS as the best slow juicer out there.
The double-edged auger that wasn't there in previous models feeds the produce into the device twice as fast relating to the single edge auger, and therefore you get maximum yield.
The cold press procedure preserves the nutritional value of your 'squeezies' and delays oxidation which increases the shelf life of your drink.
The only thing you will have to think about is how to become creative with your veggie and fruit combinations, and leave the rest to your trusted juicing pal. Remember that for leafy greens or wheatgrass, you need to pre-cut them.
And guess what! There is an auto-cleaning system that keeps the screen clear for increased efficiency and minimized cleanup time.
This is a 2nd generation slow juicer, which means that there is no hole in the bottom of the screen to get it clogged. But even if something gets clogged (usually it's the carrots) you can press the reverse button to auto cleanse the screen.
What we also like in this model is that the juicing screen looks more compact and the size of the screen holes are smaller than previous models, which leads to less pulp. This saves you time and, in the long run, you get more bang for your buck.
Extremely easy to assemble with all parts locking in place easily, this vertical cold press extractor is user-friendly, efficient and productive.
It may not be inexpensive, but if you need a durable and effective machine that will give you excellent value for many years to come, this is the way to go.
Other specs include:
Stainless steel screen
BPA bowl unit
Automatic pulp ejection
Compact design
15-year warranty for performance and parts
Breville 800CPXL Die-Cast Stainless-Steel Motorized Citrus Press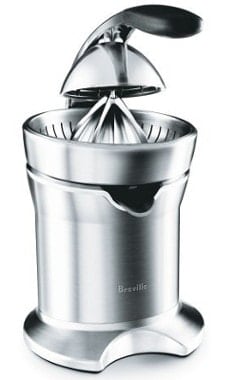 If you are sick of feeling like doing a gym workout whenever you are using an electric citrus juicer, maybe it's time to step up your game with an industrial strength heavy duty product.
What we like most about Breville 800CPXLis that it extracts the maximum juice out of citrus fruits effortlessly and with minimum noise.
Whether it's oranges, limes, lemons or grapefruits, you don´t need to apply a lot of pressure pressing down on the fruit because a power lever does it all for you. The cone won't start spinning unless you press sufficiently.
Try it out with pomegranate, too. It will give you the most delicious healthy drink.
Another feature that we highly appreciate is that due to the two fins it has, it keeps the juice flowing even if the pulp builds up in the strainer, so you don't have to stop every time to empty the strainer. What a relief!
Excess pulp and seeds are kept away from the pour spout and the peels of the fruit come totally clean, which means that all the juicy stuff goes into your glass and not your compost bin.
Apart from the maximum extraction the unique cone design offers, it is also dishwasher safe. Both the cone and the body are made of die-cast stainless steel that is durable and resistant to corrosion caused by the citric acid contained in your vitamin C loaded fruits.
In addition, there is a juice spout that keeps the liquid back and prevents spillage or splattering onto your kitchen counter, so that the area is kept clean. All the parts are easy to assemble and the machine itself is easy and comfortable to use.
Excellently designed and functional with exquisite looks, Breville motorized citrus press is definitely a top candidate for the best citrus juicer out there.
It is on the pricey side but, in our humble opinion, its advantages by far outweigh this con.
Other specs include:
Press arm is dual-switch
Ergonomic commercial-style design
Very quiet motor
Cord storage
Comes with dust cover
1-year warranty
Tribest GSE-5050 Greenstar Elite Cold Press Masticating Juicer With Jumbo Twin Gears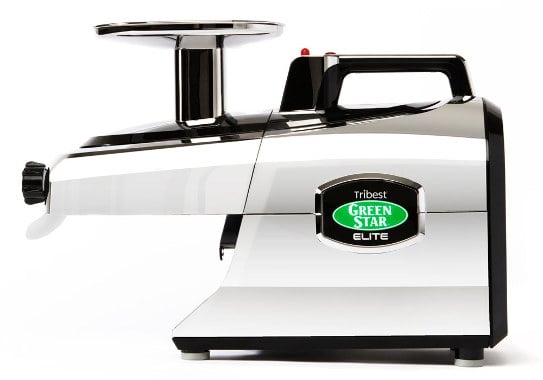 Double gear masticating juicers (such as Tribest GSE-5050) are considered to be the most superior juicers on the market. Their biggest advantage is that they give the highest amount of extraction without losing a single drop and providing you with the highest level of nutrients.
If you are using organic produce which is quite expensive, then you may want to make the best out of it. These heavy-duty machines produce excellent quality juice that is smooth with vibrant color and rich in vitamins, minerals, and antioxidants.
You can process everything imaginable from leafy greens and roots to nuts and fruits while you can also easily create your own nut butters, frozen sorbets, and salsas among other things.
Tribest Greenstar is definitely pricey, but if you want to step up your game with a durable tool that gives you excellent quality healthy juice, this is an option that is worthwhile putting some thought into.
Greenstar is well known as one of the leading companies in juice extractors and food processors. According to laboratory tests performed independently, the quantity of minerals squeezed out of their twin gear extractor is substantially higher than with other brand products.
Let's dive into the specifics of this model. The gears process hard or sinewy vegetables, such as celery, efficiently without creating tangles or getting clogged.
An exclusive technology called bioceramic makes sure that your drink has the richest nutrient value, delaying oxidation and allowing it to stay fresh up to 72 hours in the fridge.
The 3 stage mastication process is based on three different gear features, the pocket recesses, which are used as incisors, the cutting points, which cut vegetable fibers, and the gear teeth which is used for crushing.
Both efficient and versatile, this product comes with 4 different screens to control the amount of pulp you want your drink to have. You can also buy separately the pasta press and outlet knob that is ideal for juicing soft fruits such as tomatoes and oranges.
On the downside, it takes some extra time to clean all the parts. It is also bulky so you definitely need to have some space for it.
We would surely consider Greenstar Elite as the best juicer for celery and leafy greens, but if you are not ready to spend some extra time and money or you are a beginner, you might be better off buying the Omega VSJ843QS or the Omega NC900HDC reviewed above.
Other Specs include:
200-watt motor power
Runs at 110 rpm
Sleek modern design
Comes with a glass pitcher, a cleaning brush, a scraper tool, a plastic plunger, and a wooden plunger
12-year guarantee
Hurom Elite Slow Juicer Model HH-SBB11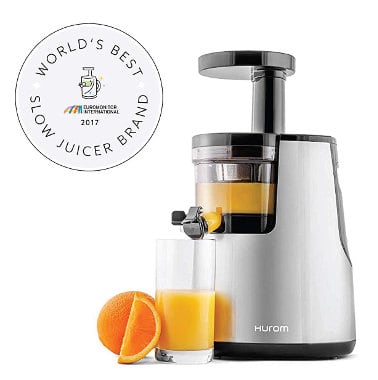 Hurom brand is an expert in making single auger vertical juicers and the Hurom Elite HH-SBB11 is one of their more advanced models.
It has a dual-winged auger which easily cuts the produce if you pre-cut it in smaller pieces and gives more juice and less waste to clean up. The pulp comes out so dry that you know that the machine has done its best in terms of extraction.
The feed chute is not one of the widest ones, so this may slow you down a bit and there are two different screens, one fine juicing screen and one coarse juicing screen which allows more pulp to go into the juice.
Some users might find that the fine screen does not give enough pulp in their drink whereas the coarse one gives too much, but the fact is that there is no in-between option.
This is a very quiet model that can nicely fit into any countertop and enhance its décor. Running at 43 rpm, it offers a very quiet function and makes sure that oxidation does not affect the quality of the nutrients.
The spout closes and opens when you are ready to pour, preventing any type of mess from happening.
On the downside, some users do not like the fact that it sometimes gets jammed with kale, spinach or carrots and you have to reverse it to get it unblocked. It may also take a bit more time to clean when compared to prior Hurom models.
Wondering whether this is the best cold press juicer to buy? The truth is that even though this is a good quality functional machine, it still has some issues. The biggest issue, in our opinion, is that Hurom does not list spare parts on their website, which is quite disappointing considering the price you have to pay for this tool.
So, if you are after a cold-pressed model, we recommend checking out one of the Omega products in this review.
Other specs include:
Auto-pulp feature
BPA-free parts
10-year motor guarantee and 2 years for all other parts
2 cleaning brushes and free recipe book included in the packaging
Comes with pulp and juice containers and a measuring scale bowl
Free of dust storage
Tribest Solostar 4 SS-4200-B Horizontal Single Auger Slow Masticating Juicer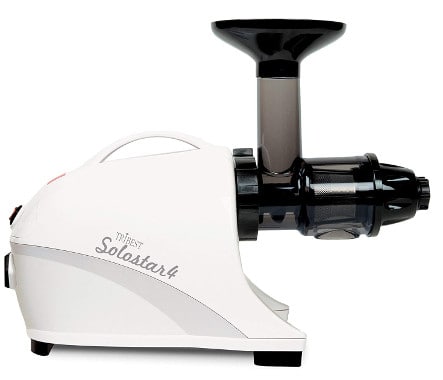 Tribest appears once again in our list, this time with a multi-purpose model that is great not only for wheatgrass but also carrots, apples, fibrous vegetables and a lot more.
As one of the hardest things to juice, wheatgrass needs a dedicated machine that is efficient and productive, and here are the specific features that will make this recipe successful.
With a motor that rotates at only 57 revolutions per minute and generates more torque, even the hardest vegetables get crushed, and jamming is prevented.
You also get more wield which is cold-pressed and highly nutritional. This is due to the large screen size which allows more liquid to come out.
Versatile and efficient, this is not only the best wheatgrass juicer for home use, but it can also help you create your own pasta, frozen sorbets, sauces and nut butters among other things.
It won't sweat, it won't get jammed and on top of that, it will save 10% electricity according to the evaluations of Tribest.
In addition, it is relatively quiet and you might never need to press the stop or reverse button because your machine got stuck. You will definitely not want to push all the produce at once but rather feed it gradually and leave it to work at its own pace. In that case, a wider feeding chute would have been better.
With only a few parts to clean which are easily accessible and a useful brush to use, the only thing you need to do is put it under the sink and it will rinse off easily. The juice container comes with a strainer that skims off the foam.
Other specs include:
Longest 15-year guarantee
BPA and BPS free food contact parts
Compact, sleek design
Zstar compatibility
It comes with two containers, a plunger, a hand strainer, tow screens, a fettuccini nozzle, and a spaghetti nozzle.
Ninja Professional Countertop Blender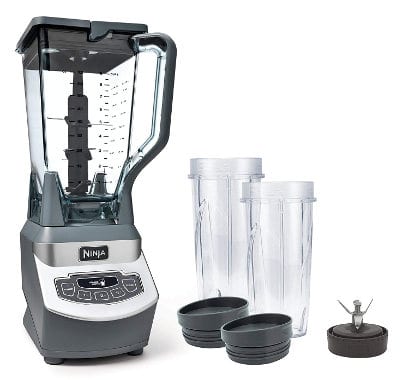 If you don't have the time or the money to commit to a top-quality juicer yet and you are a fan of smoothies and frozen drinks, Ninja Professional blender is one of the best options out there.
With an 1100 watt performance power and 3 speeds, you can process almost everything from frozen fruits and vegetables to ice and even nuts. The Ninja crushing blades blend and process ingredients very smoothly and fast so you get delicious beverages for the whole family in a matter of seconds.
It also comes with two 16 oz cups with removable lids so you can create your own drinks to take on the go. However, if you travel a lot or you need a blender for your camping needs, you might need to check out blenders that don't take up much space.
Processing leafy greens and other veggies into your blender will give you a fibrous gritty drink that won't have the same delicious taste you can get from a juice extractor and will not contain the same amount of healthy nutrients.
However, there are tricks that people apply to improve the texture such as processing the produce for more time or using frozen veggies. Cutting them into smaller pieces can help, too.
All in all, Ninja is the best juicer blender on the market and will do the job that a good quality blender will do in minimum time.
Other specs include:
72 oz pitcher
Dishwasher safe
BPA-free parts
Top Factors To Look For In A Juicer-Buying Guide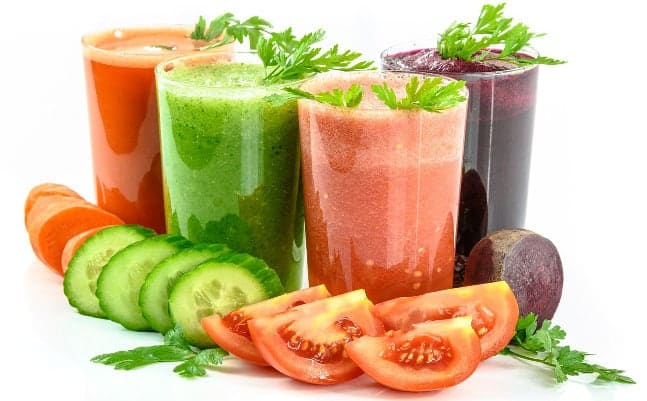 Buying a juicer is like making an investment especially since a lot of those models out there cost quite a lot. Weighing all different factors before making the final decision is good but with so many voices out there recommending you different things, your brain might feel like a high-pressure cooker!
Relax! The most important thing to consider is what your needs are so you can set up your own criteria. Take a minute to determine your priorities and move towards this direction.
Here are some important factors to consider:
Type of produce
Matching the style of your juicer with the produce you will want to use is a good first tip. For juicy fruits and vegetables such as cucumbers and oranges or rougher ones such as carrots, centrifugal devices are the ones that really shine.
For fibrous roots, wheatgrass and leafy greens such as spinach, kale or collard greens, masticating or slow juicers give high yield and the best nutritional value. They can also be used for making sauces, baby food, sorbets and more.
Nutrient value
Running at low revolutions per minute, cold press models prevent the ingredients from heating and oxidizing, therefore retaining the nutritional value of your veggies, fruits, and greens.
Juicing speed
If you are short on time and the speed factor is very important to you, the fast sharp-spinning blades of a centrifugal model is an excellent option. On the other hand, speed does not equal quality or nutrition value.
Juice quality
Generally speaking, the higher the speed of the machine is, the lower the quality.
Amount of yield
Due to their slow processing, masticating models produce more yield. You can see it yourself by checking how moist the pulp is. The drier it is, the better, which means that the maximum amount of liquid has been extracted into the glass and not ended up in the reservoir of your device.
Best value for money
Especially if you are using organic produce, you want to make sure that you get the maximum yield and the best bang for your buck. Masticating appliances are the ones that will squeeze every single drop out of your veggies, saving you money in the long run.
Beginner or veteran?
A beginner will prioritize different things as compared to a seasoned user. As a beginner, you may focus on factors such as an inexpensive price, speedy function or easy assembly whereas a more advanced user may dive more into the details and the long term effects of their purchase.
Amount of noise
Waking up your two feet or four feet family members first thing in the morning may not the best way to start the day in a calm manner. Running on a higher rpm (5,000-15,000), centrifugal models are the noisiest ones and so are blender juicers. As a general rule of thumb, the higher the rpm, the louder the machine is going to be.
Width of the feeding chute
In simple words, the feed chute is the mouth of your juicer. The smaller this part is, the more cutting you have to do to make sure that the ingredients move into the device properly and jamming is prevented.
Time of clean up
Spending less time to clean up can keep you motivated to keep using your device. The amount of cleaning time you will need depends on the type, size, and complexity of the product.
In terms of cleaning, twin gear juicers and horizontal cold press ones are the most time consuming because of the many parts they consist of, but it also depends on each model.
Centrifugal types have fewer parts to clean, but cleaning the cutting disk and the mesh screen can be a challenge. Vertical masticating models may be the easiest to clean since they don´t have many parts and a lot of them are dishwasher safe.
However, there may be exceptions to this rule because of the differences in the construction of each device.
Ease of use
The centrifugal and vertical masticating ones are the easiest to start using with ease but even the horizontal single auger or the dual auger may not take more than a few times to get the hang of them. Ease of use also includes ease of assembly.
Cost
The cost depends on the type of machine, the brand and the additional features the device might have. Generally, centrifugal types are the cheaper ones being followed by the single auger masticating and the double auger masticating models.
Length of warranty
Manufacturers who have great confidence in their product will back it up with a long warranty which can sometimes reach up to 15 years. In that case, you won't need to buy an extended guarantee.
Company reputation
With all those new juicer companies popping up all the time, buying from a company that has been on the market for at least ten years may be a wise decision. Some of the best juicer brands are Omega, Breville, GreenStar, Tribest, and Hurom.
Additional features
Some devices come with additional features such as grinding spices, crushing garlic, making pasta, frozen sorbets, and more.
Types OF Juicers And Their Features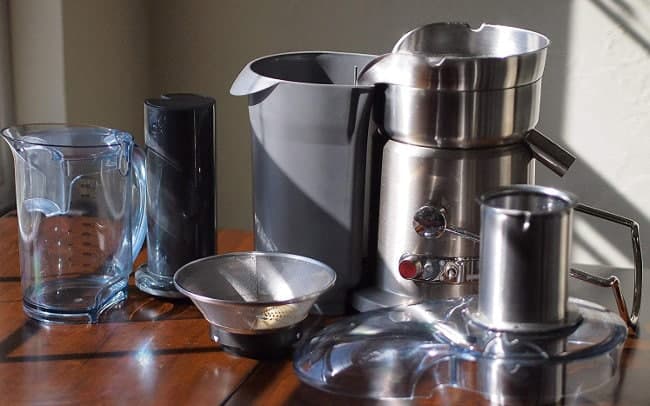 Centrifugal Juicers
This type uses a high-speed sharp spinning blade system that grinds fruits and vegetables of different textures, breaking down the produce into juice and pulp.
Pros
Injection style machines with powerful motors that produce healthy, nice texture and tasty juice in a matter of seconds.
Effective at processing different fruits and vegetables including pears, apples, oranges, carrots, and cucumbers.
With some high-end models, you can use whole fruits and veggies without the need to pre-cut them, which saves a lot of time.
Quite affordable. The cost might range from $50 to $200 or even less.
A good option for beginners.
Easy to clean, use and assemble.
Cons
Due to the high rpm of the motor, the juice loses some of its nutrient value and it oxidizes quickly so you need to consume it fast and can't keep it in the refrigerator.
Not efficient at dealing with leafy greens. The result is little yield and a lot of waste that gathers in the reservoir. This translates into wasted money and time to clean up.
Not suitable for wheatgrass.
Quite noisy very similar to the noise of a blender.
Masticating Juicers
They are also known as cold-pressed, slow juicers or auger juicers. They use an auger rather than blades in order to crush and squeeze produce. They run at low rpm and they are considered superior to the centrifugal ones.
Their price may start from $200 and move upwards.
Pros
Squeeze every single drop out of soft and hard materials, providing you with more yield.
Excellent at processing all kinds of fruits, veggies, roots such as ginger and beets, leafy greens, barley grass, wheatgrass and more.
The slow processing at low rpm does not damage any of the valuable nutrients so you get the best quality nutritional drink that is loaded with vitamins, antioxidants, enzymes, and minerals.
Very quiet function.
Due to the cold-press process, you can refrigerate up to 48 hours or in some cases even more.
Multifunctional machines since they can also be used as food processors and grinders.
Cons
It can take a little more time to run compared to the centrifugal. The fact that you sometimes need to push the materials into the machine with a plunger adds up to the time.
May not be the best choice for a beginner.
Higher cost.
Vertical Single Auger vs. Horizontal Single Auger Juicers
Auger juicers come in two different types, vertical and horizontal. In the vertical model, the augers face up and down whereas in the horizontal they face sideways.
People may have a different experience with each of these two types and it also depends on the specific model and brand. Generally, the vertical ones may be a bit more effective at processing carrots and leafy greens as well as a bit faster.
They also tend to be a bit easier to assemble and use. Also, horizontal ones seem to create more of a mess which might take more time to clean up.
Choosing between the two may depend on the price, style or even individual characteristics of the specific models.
Double Auger Masticating Juicers
As the name reveals, there are two augers in these machines instead of a single auger, which makes them more efficient and powerful at crushing, grinding and extracting liquid from the ingredients.
Also known as double gear or triturating, they can process anything from roots to vegetables, fruits, and nuts, providing you with a smooth drink that is rich in nutrients.
They rotate at an even slower speed than the masticating ones, therefore preventing oxidation and offering a healthier solution.
Most of these devices are bulky and heavy so they may be mainly purchased for commercial use. Their high cost might be another factor that makes them less attractive for home use.
However, there are many people who have chosen to buy these superior appliances for their homes with great success.
How To Use A Juicer
Using a juicer is not rocket science. Here are 7 easy steps to start juicing like a pro:
Gather your produce.
Wash it properly and pat it dry.
Assemble your machine, plug it in and turn it on (for safe use, make sure that you have carefully read the instructions).
Start feeding the ingredients into the machine, making sure that the juice is getting selected into a container.
Once ready, turn the appliance off.
Take it apart and remove the pulp.
Clean the parts that need to be cleaned, paying careful attention to the screen and other small parts.
Frequently Asked Questions
How does a juicer work?
The way it works depends on the type of machine. For example, a centrifugal device uses blades to cut up the produce and then spins it at a very fast speed to break it down into juice and pulp. A single auger masticating device uses 1 auger to compress and crush the ingredients into smaller parts before extracting the juice along a screen while the double gear uses twin augers. Other types of devices such as reamers, juicing press or steam juice extractors have their own way of functioning.
How do you clean a juicer?
First, unplug the machine. Disassemble it and rinse each part under the tap. You can also soak the pieces for a few minutes into some water mixed with dish soap and use a small brush to scrub any small areas. Clean the screen thoroughly since this tends to build up with juice and pulp particles. Set the pieces on a drying rack or a towel and let them dry completely. After that, your device is ready for reassembly.
How much does a juicer cost?
It depends on the type of juicer, brand and specific model. Generally, centrifugal devices cost between $50 to $200. Single auger masticating types range from $200 and can go up to $500 while double auger range from $550 to more than $600. Citrus juicers vary greatly in price. The hand ones start for as little as $5 and reach up to $20 while manual presses go up to $50, and electric citrus juicers range from $20 to $150.
How does a steam juicer work?
The fruit is placed in a perforated pot on top of a juice collector that is above the steaming pot. It is then burst with steam and as it breaks down, it releases juice which falls through the holes of the pot into the collecting container.
The Bottom Line
Now that you have all the details you need to know about the different types of devices and the top options in the market today, you can go on and choose what the best juicer according to your needs and budget is. The only thing that is left for us to wish you is 'Happy Healthy Juicing'.