So, you love lattes...
But do you enjoy the trip to the coffee shop? And, standing in line as you wait for your turn?
I bet not.
Perhaps you also want to show off your artistic barista skills and enjoy your latte any time you want. Getting a latte machine is probably the solution. A latte is made with an espresso base topped with frothed milk. Some machines have an in-built frother, while others come with a separate frother.
Also Read: Ranking the Best Drip Coffee Makers
Most latte machines feature several functionalities, including settings for regular coffee, espresso, and cappuccino, a frothing wand, or a milk steamer. There's everything you need to make a perfect latte.
There are various machines on the market, and your choice will depend on different factors such as features, budget, and needs.
Best Latte Machines
1.Best Overall – Breville BES870XL Barista Express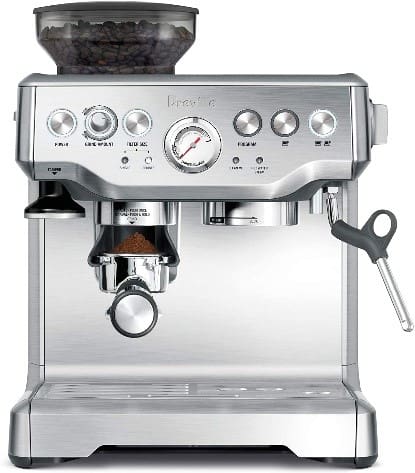 Our top pick is the semi-automatic Breville BES870XL Barista Express Espresso Machine. You can customize your drink and create latte art just the way you want it. You can make both single shots and double shots. The grinder grinds and delivers the right amount of ground coffee beans, depending on the amount of latte you need.
The size of the beans you are grinding doesn't matter. The grind size dial gives you control over the grind size. The dial is intuitive and simple to use. The Digital Temperature Control system ensures water is at the right temperature for espresso extraction.
For lattes, it comes with a steam wand for foaming and steaming milk. You can hand texture the micro-foam milk that gives the latte a superior flavor and allows you to make latte art. The machine is made from stainless steel, so you don't need to worry about rust and warping when exposed to moisture.
For home baristas and latte enthusiasts, this machine will help you make cafe-style lattes and customize them to your liking.
Pros:
Intuitive grind size dial
Digital temperature control system
Great quality
Cons:
Can be difficult to operate
2. Best With Grinder - De'Longhi La Specialista Espresso Machine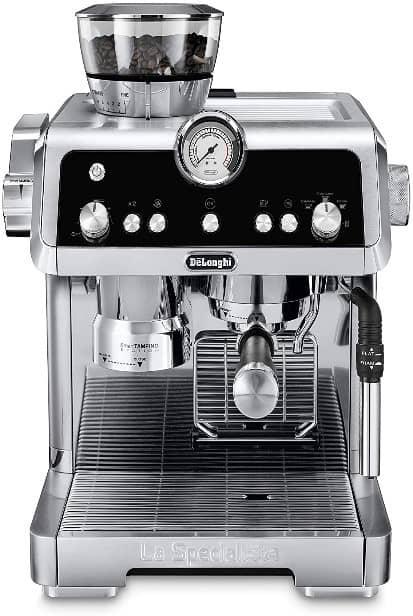 The De'Longhi La Specialista has a sensor grinding system that offers consistent and precise grinding every time. It measures the exact amount of beans to grind; thus, you can never run out of coffee beans when grinding. You don't have to wait to heat up. Just power it on, and you're ready to brew your coffee. The one-second heating system also ensures your milk steams without waiting.
The machine also features a tamping station. To achieve your desired results, you only need to pull the lever on the smart station, then apply the right pressure and tamp. Also, you can choose not to remove the portafilter if you want to avoid making a mess.
To provide you with the optimal temperature, it has a dual heating system, one for coffee extraction and the other one for steaming or frothing milk. Additionally, the advanced latte system gives you two options for frothing. You can choose flat froth for cappuccino or micro-foam frothing to get creative latte art.
Do you want to brew an Americano? The La Specialista has a separate hot water spout. You can also get hot water without any coffee residues from the spout for making tea. In addition to quick preheating, the machine tells you when it's time to descale and self-cleans.
It comes with a milk pitcher, a cleaning brush, and a descaling solution.
Pros:
Separate hot water spout for tea or brewing Americano
Self-cleans
Reminds you to descale
Dual heating system
Advanced latte system
Cons:
3. Best Super-Automatic - Jura S8 Automatic Coffee Machine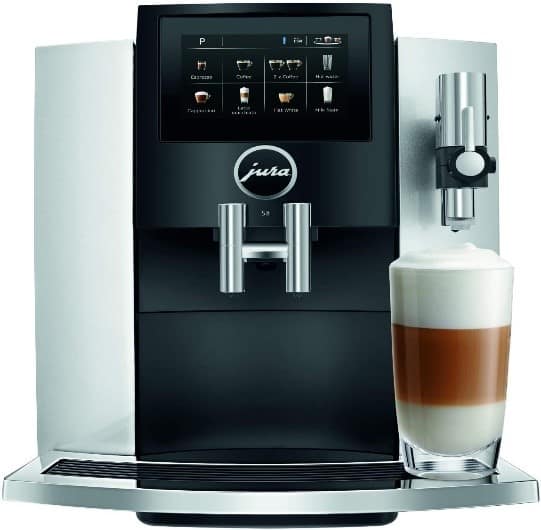 The Jura S8 Automatic Coffee Machine does virtually everything for you. It grinds the coffee beans, brews espresso, steams milk, and adds it to the espresso to make a latte just by touching a control. The controls are touchscreen.
You can select the type of drink you want, adjust the temperature, the amount of coffee you want to brew, and other functions. Its AromaG3 grinder grinds the beans to your preferred size fast, quietly, and precisely.
The S8 can prepare up to 15 barista-quality drinks and if you want double shots, just touch the button. However, Jura S8 is quite pricey. But, if you want a full experience and are willing to spend that much, by all means, go for it.
Pros:
Brews 15 drinks options
Faster than semi-automatic machines
Burr grinder
Cons:
Pricey
Cannot adjust grinder when off
Touch screen can be slow
4. Best for Beginners -  Mr. Coffee Espresso and Cappuccino Maker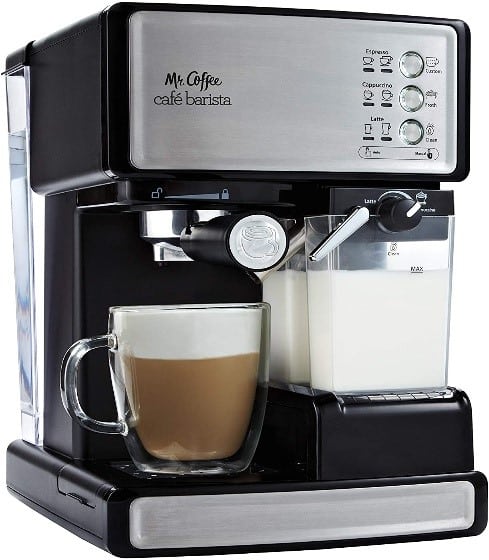 If you are a beginner in the world of coffee brewing, the Mr. Coffee Espresso and Cappuccino Maker is the best place to start. It's a 3-in-1 semi-automatic machine that makes espresso, cappuccino, and latte. The 15 bar pump system delivers a rich-tasting espresso.
It comes with an automatic milk frother and removable milk and water reservoirs. You should not put the water reservoir in a dishwasher. It is also recommended that you clean the frothing tube after every use to prevent warping and variance in frothing.
The control panel is a touchscreen to select the type of drink you want to make and the customizations. To make your drink, you just need to pick either a single or double shot filter, select the grounds, fill the milk reservoir, and select the brew type.
Pros:
No need for steam wand or frother
3-in-1 coffee maker
Made from plastic and stainless steel
Automatic milk frothing
Removable and easy-to-clean water reservoir
Easy to use
Cons:
Requires cleaning the frothing tube after use and milk reservoir at least weekly
5. Best for Small Kitchens - Breville BES500BSS Bambino Plus Espresso Machine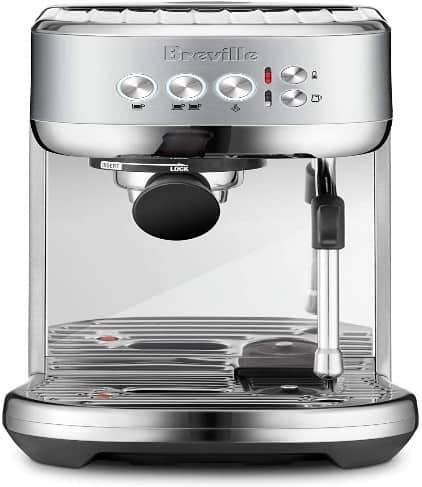 If you dream of being a home barista but your kitchen has limited space, you can get the Breville BES500BSS Bambino Plus Espresso Machine. Apart from saving space, it's also packed with incredible features that will deliver rich espresso. It has an automatic steam wand that adjusts the milk's temperature to deliver quality micro-foam for latte art and enhances the flavor for latte lovers.
Tired of waiting for the coffee to brew? The Bambino Plus heats up fast, achieving optimum temperature in 3 seconds. You can be sure your latte will be ready faster than you expect.
The digital temperature control ensures the water is at precisely the right temperature for extraction. And after steaming, it automatically purges the heating system so that it can extract the right coffee the next time you're using it.
For full flavor, the portafilter uses 19g of ground coffee for maximum flavor. There's a low-pressure pre-infusion, which increases gradually when extraction starts to ensure a rich and consistent flavor. To choose the drink type, use touchscreen control. There are five types to choose from.
Pros:
Small compact size
Automatic micro foaming
Heat system auto-purge
Burr grinder
Cons:
Requires attentive and regular maintenance
6. Best POD Latte Maker - Keurig K-Cafe Special Edition Single-Serve K-Cup Pod Coffee, Latte, and Cappuccino Maker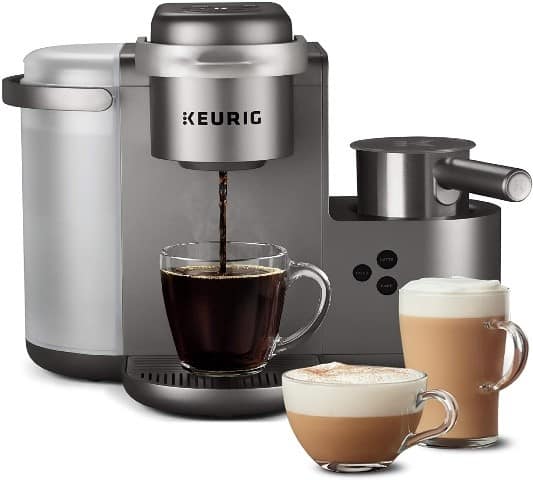 The Keurig K-Cafe brews coffee from the K-cup (Keurig reusable coffee filter). It has a removable water reservoir that can brew up to six cups.
This latte machine can make three types of drinks, including cold coffees like iced cappuccino or lattes, cappuccino, and latte. It comes with an automatic stainless steel milk frother that froths milk until it's foamy by just touching a button.
You only need to add water into the reservoir for lattes, place the K-pod in place, and place the mug. The machine will heat the water and brew the coffee. You can add steamed milk from the frother. It's also dishwasher safe.
Pros:
Heats water and brews in one step
Dishwasher safe
Makes iced drinks
Removable water reservoir
Automatic frother
Cons:
K-cup is bought separately
7. Best Semi-Automatic - Breville Barista Touch Espresso Maker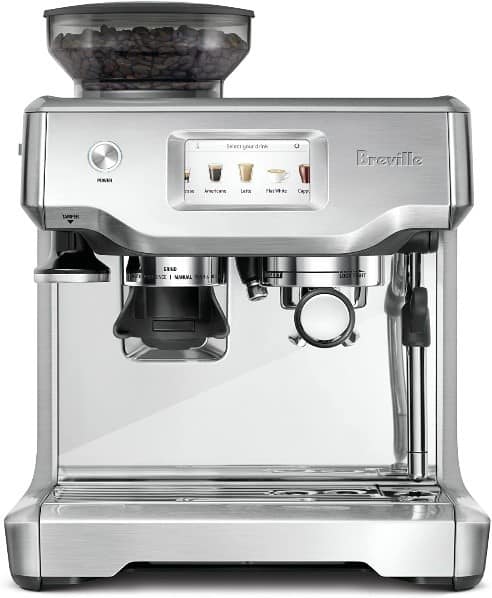 Breville latte machines repeatedly appear in this list, and that's because the brand is known for high-quality machines. The Breville Barista touch Espresso Maker is no different. The semi-automatic machine has an intuitive and straightforward touchscreen display where you select the type of drink you want. You can also customize the milk texture, coffee strength, and temperature to your preferences.
In three easy steps, you can make your desired coffee. That is, grind, brew, and milk. The conical burr grinder has dose control to deliver the right amount of coffee beans to be ground for optimal flavor.
The Thermojet heating system heats up in seconds to achieve the optimum temperature for extraction. You won't waste your valuable time waiting for the coffee to brew. Just a few seconds and your drink will be ready.
The machine also features automatic micro-foam milk texturing with an automatic steam wand that delivers water at the right temperature required for extraction. After the espresso is brewed, you can add steamed milk or micro-foam if you feel artistic enough to make latte art.
And the best part? You can create eight personalized coffee settings and save them in your name instead of adjusting them every time. There's also an innovative grinding cradle that allows you to grind directly into the portafilter.
Pros:
Personalized coffee settings
Automatic micro-foam milk texturing
Hands-free operation
Intuitive swipe and select touchscreen display
ThermoJet heating system
Cons:
Some people have reported problems with temperature
You should replace the water filter with the exact model from Breville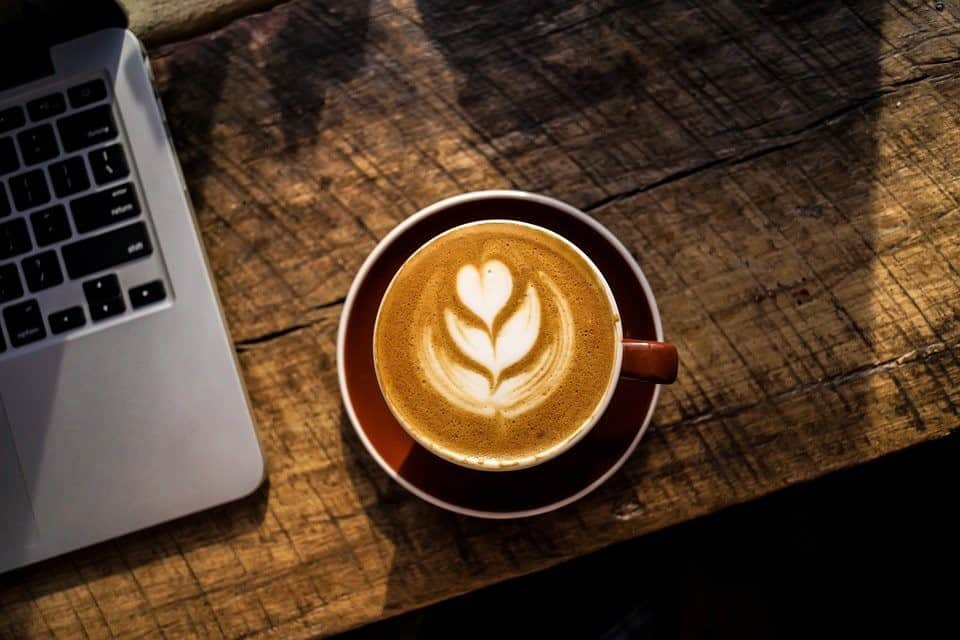 Things to Consider When Buying a Latte Machine
Size
Latte machines are of different sizes. Consider your kitchen countertop space when buying one. If you have a large space, you can go for a large machine. However, if the space is limited, a smaller machine like the Breville Bambino Plus may be ideal.
Grounds or Pods
One of the most important decisions to make when buying a latte machine is whether you'll be using coffee pods or coffee grounds. Coffee grounds are grounded coffee beans. Fresh coffee beans are known for their rich, authentic taste that will make you appreciate every cup of coffee.
On the other hand, coffee pods don't offer flavor and taste but are easy to use, clean, and quicker. However, they are non-biodegradable and will cost you more per serving compared to ground coffee.
It's up to you to decide whether you want an authentic barista-like coffee brewing feeling with flavor and variety or the convenience of coffee pods.
Type of Machine
Like we said earlier, latte machines are either automatic, semi-automatic, or super-automatic. The one you choose will depend on your needs and sometimes your experience level. Super-automatic machines do all the work with just a touch of a button, which is an advantage for beginners with no brewing skills.
They also come packed with advanced features. However, they are quite pricey. Semi-automatic is the cheapest, while automatic are middle-range. Ensure you know what type of machine you are considering before buying.
Milk Frothing
Machines can come with three types of milk frothers. A frothing wand gives you more control over the coffee. It's the most common type of frother in coffee houses. However, it can get messy and loud.
Some automated machines have frothing tanker. You froth the milk by pressing a button, and the machine will do the rest. However, it requires regular cleaning and can be bulky and time-consuming.
Other machines include a separate frother. This is an advantage for people with limited kitchen spaces as they can store the milk frother in the cupboard after use. They, therefore, save space but the effectiveness and strength of each frother vary.
Maintenance and Cleaning
Like any other home equipment, you have to maintain the machine to serve you for longer. You should make sure you remove and dump the used coffee grounds after each use, then scrub the portafilter.
Also, the bacteria can grow on the milk frother if left without cleaning. Rinse it with hot water and backflush the portafilter to remove any remaining coffee grounds.
Descaling is another essential maintenance task. Over time, minerals build up in the machine and should be removed. You can descale after 1-3 months. If you don't, your machine might develop problems, fail to reach optimum temperature, alter the taste of coffee, or even clog.
Accessories
Latte machines come with accessories such as grinders to help you make the perfect coffee. Most super-automatic machines have built-in grinders, but other types do not. There are two types of coffee grinders; blade grinders and burr grinders.
Burr is more expensive but also offers consistency.  A high-quality portafilter will give you rich espresso shots. Some machines come with a portafilter, but they are usually low quality.
You might also want to purchase a kitchen scale to measure the ratio of coffee to water. The scale is more dependable than a coffee scoop. If you're going to make a perfect cup of joe each time, consider getting a kitchen scale.
Material
Coffee makers come into contact with water every time they are in use. Sometimes, you can even pour water on them accidentally. You should buy a machine made from durable materials. Stainless steel is rust-resistant thus durable. Others are made from hard plastic, but that's an issue as plastic is affected by heat.
Go for a machine-made from superior quality materials. Otherwise, it will be costly to replace or repair it every year.
Controls
Depending on the type of machine you purchase, it will offer different levels of control. In some machines, you can control the amount of grounds, the type of drink you want, and even the amount of pressure you apply for the espresso shot.
Some have touchscreen display control panels, while others have buttons and knobs. Touch screens, however, can be a bit slow compared to manual controls.
Ease of Use
Is the machine you are considering easy to use? You don't want one with a complex control panel or frothing wand that's hard to use. While some machines require you to do some of the work, others are fully automatic and do all the work.
Types of Latte Machines
Latte machines come in three types: semi-automatic, automatic, and super-automatic machines.
Semi-Automatic
These are the most complicated and least expensive of the three. They are designed only to make espresso. You are then supposed to heat the milk, froth, and add it to the espresso. The good part about this is that you have the freedom to make latte art any way you want. They are best suited for people who already have brewing skills.
Automatic
Automatic machines are a slight upgrade from the semi-automatic ones. The upgrade is that they stop the flow of water when the espresso is perfect and ready. However, you still have to do most of the work yourself, like grinding and pulling the espresso shot. They are either priced the same as semi-automatic or a bit expensive.
Super Automatic
These are the most expensive. They are high-end premium machines that require minimal effort to operate. Usually, you only need to touch a button, and the machine will do the work.
From grinding the beans to heating and frothing the milk to create a latte, you will just sit back and watch. You can customize the settings so that the machine can deliver a personalized latte.
Some machines allow you to create different settings for drinks and save them. You can then have a drink with the same consistency and taste every time.
Also Read: BEST INSTANT COFFEE TO BUY: OUR TOP PICKS AND BUYING GUIDE
Owning a latte machine gives you the freedom to have your latte anytime you want and spend less. However, picking the right machine is not the easiest task.
The machines on this list are the best on the market and offer you the perfect coffee every time. Make sure you look at the machine's material, the type, milk frothing options, accessories, size, and other factors before buying one.