When it comes to arranging stuff for BBQ parties, you must have taken enough time to select the best ingredients or the best charcoal grill. But have you ever thought of getting the best lump charcoal?
The type of coal you use can make or break your barbecue as it is not just fuel but an ingredient. Different charcoals reflect different tastes, so getting one that flavors the food exactly the way you want, is important.
However, finding the best lump charcoal isn't always as easy as you may think. You need to understand which type of charcoal best suits your foods. Your choice and selection highly depend on your chosen grilling method, as well as your personal preferences.
To give you a clear idea and help you with the selection part, we have come up with our top charcoal picks that will prove ideal for different scenarios.
Are you planning to buy a charcoal grill this year? Decide only after checking out these reviews of some of the top charcoal grills.
Our Top 7 Choices for Best Lump Charcoal
1. Rockwood All-Natural Hardwood Lump Charcoal – Best Premium Choice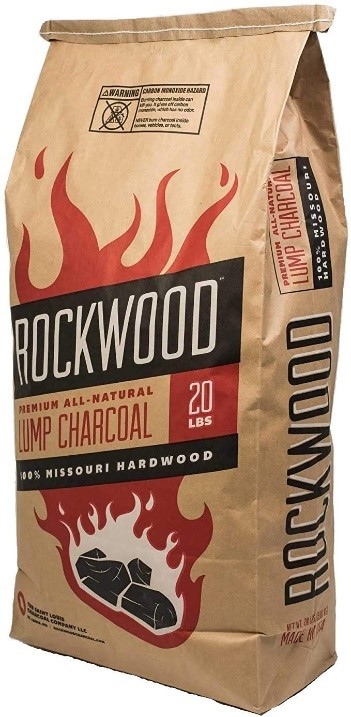 One of the more highly-rated brands for the best lump charcoal is from Rockwood. This lump charcoal is best for those who are involved in frequent grilling or barbecuing.
Consistently voted best by different websites and chefs, this charcoal boasts a rich, woodsy aroma known to deliver a more desirable and pleasant flavor to the food. It is made from hardwood harvested in Missouri and includes hickory and oak.
The wood is not specifically cut for charcoal but is the leftover part that was cut for another purpose, making it a great eco-friendly option for your grill.
Pros:
Burns long
Easy to light
Desirable and pleasant flavor
Eco-friendly
Cons:
Quality may not be consistent
2. Jealous Devil All-Natural Hardwood Lump Charcoal – Best Overall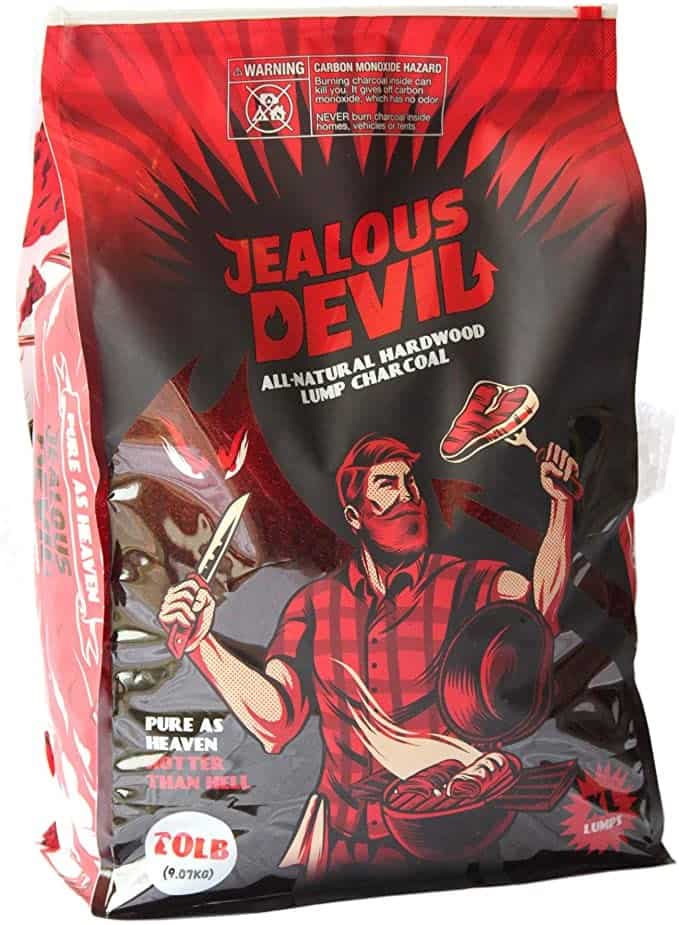 The Jealous Devil All-Natural Hardwood Lump Charcoal uses South American hardwood that is similar to oak. The flavor of this charcoal is mild, so even with long, slow cooking, it won't suppress your food's real flavor. This wood option is considered safer to use as it sparks less than some other types of coal.
Another great feature of this charcoal is that the bag has been redesigned to provide enhanced protection for the charcoal while it is being shipped.
This may look like a small thing, but it will make a big difference when the fire hits the coal - you'll have bigger charcoal pieces and less dust and residue.
Pros:
Mild and smooth flavor
Great packaging to keep the charcoal pieces intact
Lights up quickly
Provides consistent heat
Cons:
3. Royal Oak All-Natural Hardwood Lump Charcoal – Best Budget Choice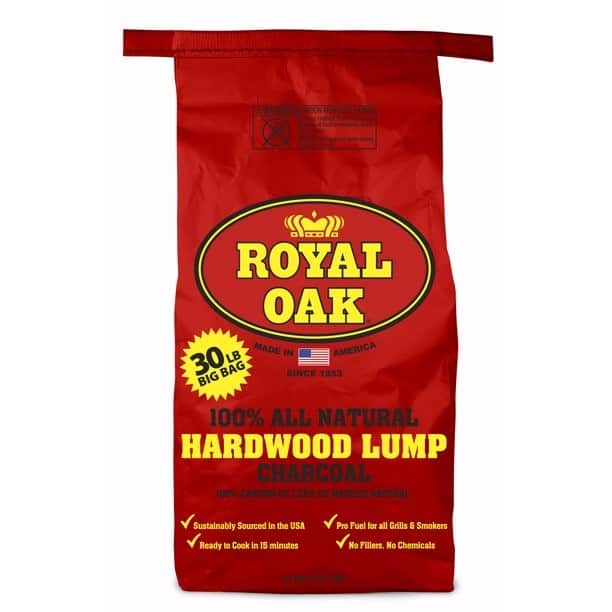 If you are a novice in the grilling world and are just getting used to this type of fuel, go with Royal Oak. Newcomers and experienced grillers alike prefer this charcoal because of its smoky flavor.
It is made from maple, hickory, oak, and walnut. It is easier to light and offers more smoke than some other brands; however, it also burns faster than the other brands. So, you need to be a little careful here.
Above all, it is an affordable option when compared to others on the list.
Pros:
Burns very hot
Easy to light
Inexpensive
Cons:
Quality may be inconsistent
4. Cowboy Natural Hardwood Lump Charcoal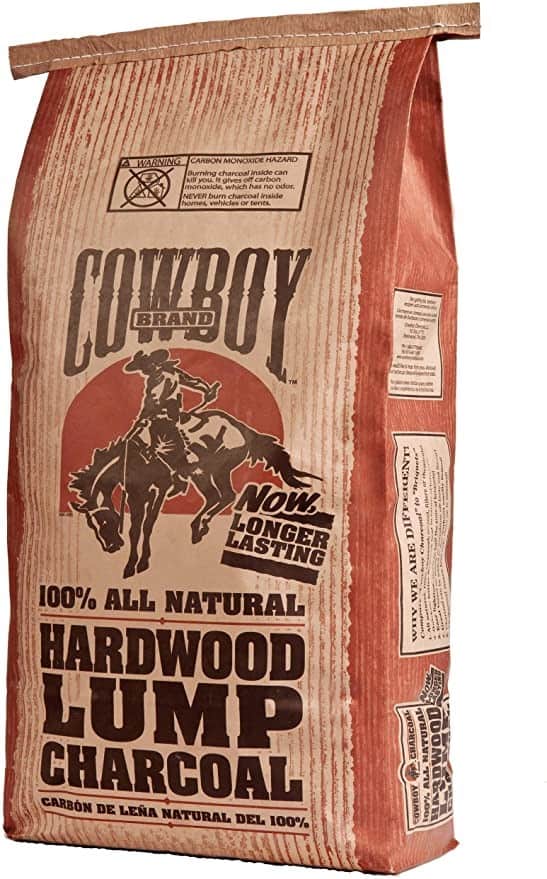 Want to find lump charcoal with purer ingredients, and that offers a more delectable taste? Go with this Cowboy brand's hardwood lump charcoal.
It's 100% all-natural lump charcoal is made from the perfect blend of maple, hickory, and oak. These hardwoods burn nicely and put out delicious smoke suitable for all types of cooking. It has no additives and has more of a pure hardwood smoke.
An added benefit of using this charcoal is that the brand Cowboy dries their charcoal artificially to reduce its moisture content. This, in turn, reduces the chance of mold without using any chemicals.
Pros:
Suitable for all cuisines as it is a classic blend of oak, hickory, and maple
Lights quickly and burns hotter
Great for all types of charcoal grills
Heat-treated to remove moisture content
Chemical-free
Cons:
It burns faster, so you may need more
May find many small chips in the bag
5. Fogo Super Premium All-Natural Hardwood Charcoal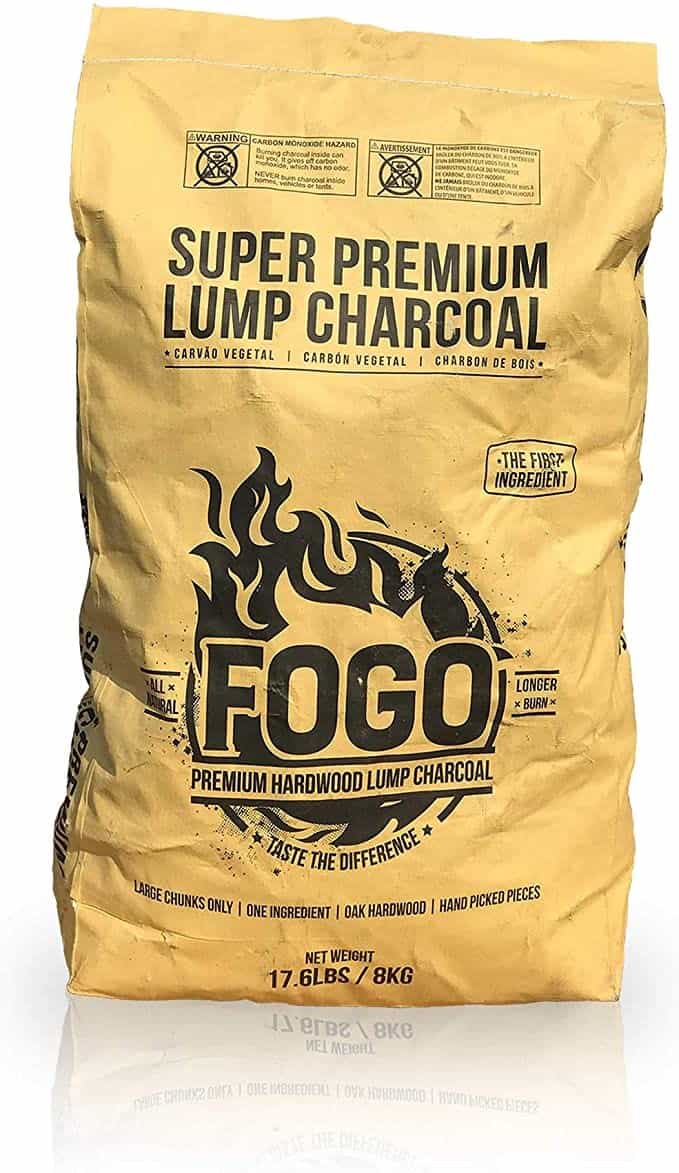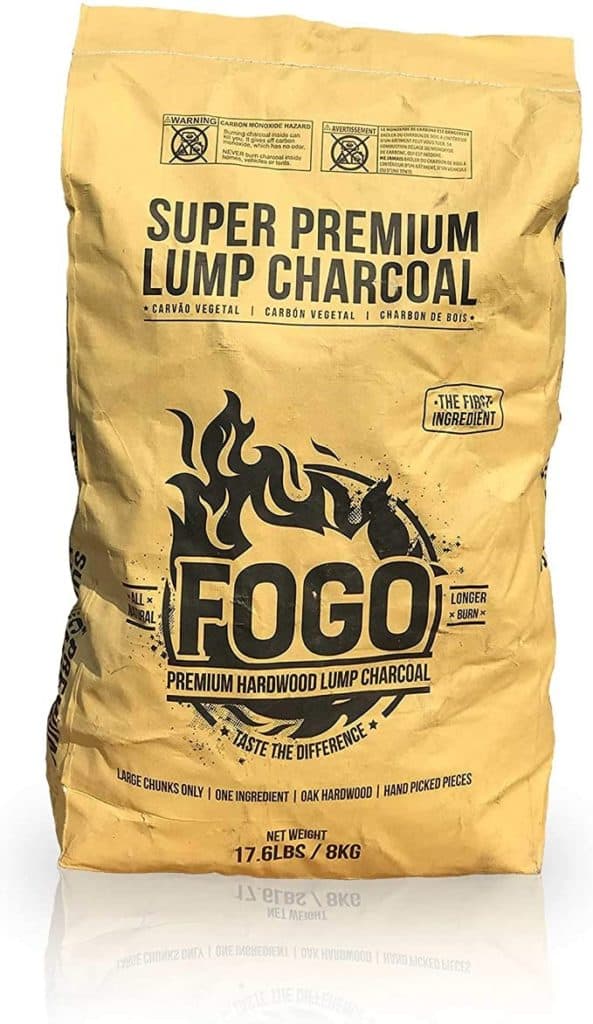 Sourced from Central American hardwood, Fogo uses oak as the principal wood for their charcoal. It is further blended with other wood types to create a charcoal that is quick to light and burns for a long time while producing enough heat to grill your favorite meat.
Fogo brand is known to provide large chunks of charcoal. In fact, it contains about 85% medium to large pieces, making it the ideal choice for longer cooking times. Moreover, it contains minimal dust and chips, another important factor that makes it a great charcoal option.
Overall, it is one of the standard options to consider for your grilling or barbecuing.
Pros:
Selected wood
Easy to light
Burn for a long time
Large pieces of lump charcoal
Little dust and chips
Cons:
The packaging is not great, which may lead to damage during shipping
6. Char-Broil Center Cut Lump Charcoal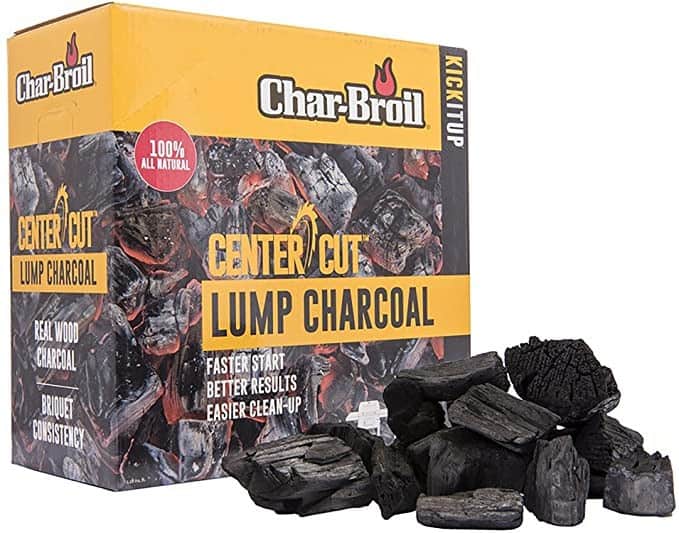 A unique feature of this brand is that it carefully selects the hardwood that is processed into charcoal. This ensures clean-burning on the grill.
Remember that the type of charcoal you select makes a difference in your final grilling result. It is best to go for charcoal like this one because it is made using center-cut hardwood. This filters away binders, limbs, barks, and dust.
Choosing Char-Broil Center Cut Lump Charcoal will not only give you 100% natural hardwood, but it will also prove great for effective burning and long-lasting heating. Additionally, it is made of great quality, is light in weight, and contains no added chemicals.
In short, going with this charcoal allows you to experience a product made of premium quality standards.
Pros:
100% natural and organic
Only manufactured from center-cut hardwood
Eco-friendly
Burns consistently while spreading the fire rapidly
Cons:
It may not be convenient for some stoves or grills
May need more quantity as it may go for lesser hours than expected
7. Kamado Joe All-Natural Hardwood Lump Charcoal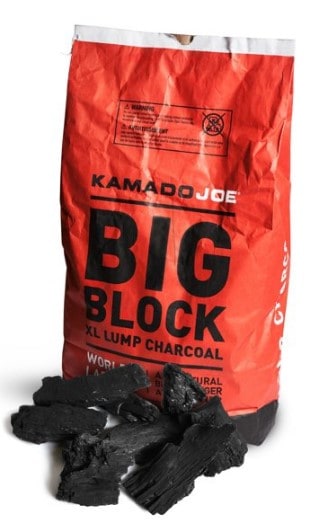 If you have a ceramic grill, go with this Kamado Joe All-Natural Hardwood Lump Charcoal. This charcoal is made from three dense Argentinian hardwood trees, and the wood is so hard that it is popularly referred to as 'ax breaker' by the locals.
The charcoal can burn for longer cooking sessions, even at high heat. This is because it produces little ash, which, in turn, contributes to excellent airflow. The larger sized chunks also contribute to its slow-burning while lasting longer than other standard lump charcoal.
Pros:
Large-sized chunks of charcoal
Consistent and even burn
Burns hot
Low ash
Cons:
Best Lump Charcoal Buying Guide
What is Lump Charcoal?
Lump charcoal is the outcome of a long burning process. Here, wood is burned in a low-oxygen environment that purifies it and burns away water or any type of fluid, while leaving something close to carbon. This is called lump charcoal and is in its most natural form.
What to Look for When Buying Lump Charcoal
The main purpose of buying charcoal is to provide a smoky flavor to your food. As mentioned earlier, the flavor can be different depending on your choice of wood. However, ensuring the below points will help you get the charcoal perfect for your smoky flavor needs.
Sources and Quality
The lump charcoal you plan to buy should be sustainably sourced. Check the packaging and go through the compliance regulations on rainforest destruction.
When it comes to quality, good lump charcoal is one that is made from 100% pure, all-natural hardwood. It should not have any additives, binders, or fillers. Moreover, there shouldn't be a lot of sparking either.
Flavor
You will generally find a mixture of hardwoods like oak, beech, and ash in a bag of lump charcoal. As you know, different hardwood types will have different flavor profiles.
For example, lighter woods like maple will impart a sweeter, lighter flavor. This is best for cooking white meat. On the other hand, darker wood will impart a stronger flavor, which is best for red meat.
Burning Temperature
Different lump charcoal will burn at different temperatures. For example, maple burns at 1200 degrees F, while apple burns at 1190 degrees. This means, depending on the type of charcoal you choose to use, you will have to vent your fire. So, taking this into account is crucial.
Make sure to look for these characteristics when buying the lump charcoal for your next BBQ party. If you're also looking for the best charcoal smoker for your backyard, you may narrow down your choices by going through our list of some of the best charcoal smokers.
Why Should You Use Lump Charcoal for Grilling?
The primary reason for using lump charcoal is that it is in its purest form. But that's not the only reason why lump charcoal is set apart from the rest of the charcoal varieties. It has many other qualities that make it ideal for grilling. Some of them include:
Burning at a much higher temperature
Easier to light
Leaves a very little ash
It is a lot cleaner than briquettes
Not only this, but lump charcoal is more responsive to oxygen. This, in turn, makes it easy to raise as well as temper the heat levels, i.e., control the fire's temperature if your grill has adjustable vents.
Flavors of Single Species Charcoal
Again, lighter woods like maple and fruit trees provide a sweeter flavor for white meat whereas, dark woods like hickory and oak have a strong flavor, which works best for red meats.
So, rather than just grilling your steak or burger, it is important to consider these characteristics when you want a good smoky flavor in your food.
If you're fascinated with smoked meat, it's best to hit on single species varieties. They are generally available as briquettes or compressed pellets. Try searching for wood + lump charcoal to see the options available.
Below-mentioned are some of the single species to try if you're lucky enough to find them:
Apple: Applewood is quite popular in the Midwest and northeast due to its availability. As the smoke is delicate, it is best when used for pork or fish.
Alder: If you're into the sweet, smoky flavor, this should be your choice. Those in the Northwest often use it to smoke their salmon or other types of seafood.
Birch: It's best for cold-smoking fish. This light wood has a lot of pitch, so make sure to carbonize it properly if you wish to use it. If not, it may have a more pungent taste.
Beech: It has a musky smoke and fragrance that is quite similar to hickory. If you like a smoky flavor and are lucky enough to find it, then go for it.
Cherry: Planning to smoke a chicken, salmon, or a duck? Try this single species flavor. It delivers a uniquely sweet smoke that perfectly complements grilled food.
Chestnut: Chestnut is known for its mild, nut-like flavor. It is more popular in the U.K.
Hickory: This is one of the most popular types of wood smoke of all time. It is a classic barbecue wood that gives a strong flavor to anything you smoke. However, it's best for beef brisket and pork.
Oak: The majority of lump charcoal has oak as the main ingredient. It imparts a smoky flavor that is even better than hickory.
The above list of single species flavors may not be easily available as they are seasonal or localized. However, never miss a chance if you can get them. They are worth trying if you love to explore the different smoke flavors.
Store Your Charcoal Properly
Storing your charcoal is very important as you want to keep your fuel as dry as possible. Never store your charcoal (sealed or unsealed) in a humid place. Find a dry place where there is no excess water or moisture.
Once you have opened the bag, be sure to transfer the unused charcoal into a sealed container. Leaving them open in places like a garage may give them room to absorb moisture.
In case your charcoal gets wet, dry it out in the sun for a couple of days. Do this by placing the wet charcoal on a tarp or paper. Charcoal does not come with an expiry.
You can use it for an indefinite period, so make sure you store them properly in a way that remains dry. If not, it won't burn properly and can also become moldy, hampering your food taste as a whole.
Conclusion + Our Top Pick
Summer is the season of barbecues. While you may choose to experiment with the types of charcoal, lump charcoal is the go-to option for all types of quality smoked meats.
Just make sure that the chosen type and brand use sustainable methods, provide medium to large pieces, and are consistent in size and quality. Choosing one from the above list can prove to be a game-changer for all your future barbecue parties.
Generally, all types of lump charcoal work with any type of grill. Also, they light quickly, so you can begin to smoke your food in just 10 minutes.
However, the type of wood chosen will impact the smoky flavor as every flavor is different. It's best to experiment with single species to explore and find out which type suits best to your palate.
Our top pick amongst the list is the Jealous Devil All-Natural Hardwood Lump Charcoal. It provides a smooth flavor, heats up quickly and consistently, and above all, does not spark as much as other charcoal.
However, if you are looking for a more budget-friendly option, go with the Royal Oak All-Natural Hardwood Lump Charcoal. It is easy to light, burns quickly, and most importantly, imparts a great smoky flavor.