If you're in the mood to have a relaxing drink after a long day at work but want to be in the comfort of your home, one thing you can do is find the best margarita mix so you can make delicious drinks at home.
Eager to know more about it? This blog talks about some of the best margarita mix you can get from the market. The best part is, they are super easy to make. Just grab a glass and your favorite alcohol, and you're ready to create the perfect margarita.
Need a margarita machine to blend your margarita perfectly? You might be interested in checking this out – Rating the Best Margarita Machines.
5 Best Margarita Mixes Worth Buying
Getting a good margarita mix is not a problem at all. There are tons of margarita mixes available today; the question is – which one is the best? Seeing them in different brands, flavors, and containers can make it challenging to choose one.
With our list of some of the best margarita mixes, choosing the best margarita mix is going to a breeze. So, are you ready to explore them? Let's begin!
1. Lt. Blender's Margarita in a Bag – Best Budget Choice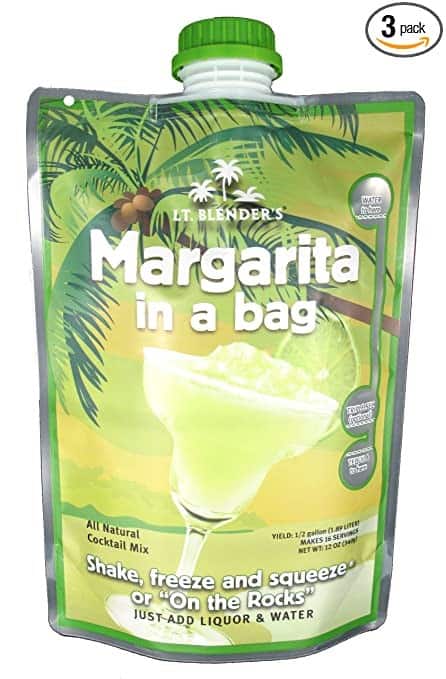 Check Latest Price
Want to impress your guests? You can never go wrong with this margarita mix by Lt. Blender's Margarita. This easy-to-make margarita mix is available in a convenient bag, making it easier to carry with you anywhere – be it a picnic, beach, or BBQ.
This mix is nut and vegan-free and includes some notable ingredients like lime orange, sugar, and citric acid. One of the interesting factors of this mix is its packaging.
The bag is designed to make it easier for you to measure the correct amount of ingredients. It takes all the guesswork out of making the perfect margarita.
How about pairing it up with a lip-smacking gluten-free green loaded cauliflower crust pizza? Check the detailed recipe here.
Pros:
Vegan, nut-free, and gluten-free
No artificial flavors
Lime, lemon, and orange mix
Easy to make
Cons:
2. Tres Agaves Organic Margarita Mix – Best Overall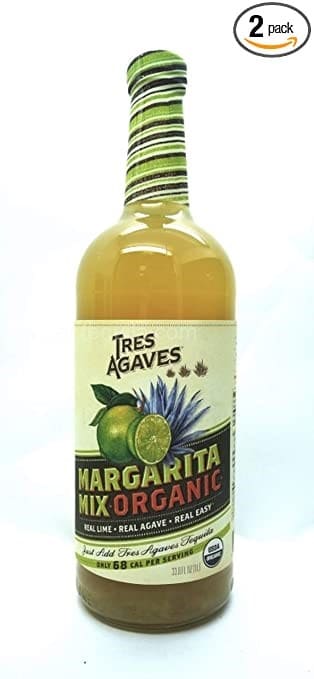 Tres Agaves checks all the boxes regarding what to expect to find in the perfect margarita. It is made from four natural ingredients, including lime juice, agave nectar, Vitamin C, and filter water.
Above all, this sweetened mix is free from high fructose corn syrup and contains only 68 calories per serving. As it is on the sweeter side, you may consider adding some extra lime if you wish to increase the sourness in your drink.
Pros:
Lime-based margarita mix
Organic, made with natural ingredients
Absence of high fructose corn syrup
Cons:
Comes in glass bottles that can break during shipping
It's a sweeter mix so, you may feel the need to add extra lime
3. Owl's Brew Watermelon Margarita Cocktail Mixer – Best Premium Choice
This margarita mix is made with unique ingredients like watermelon, pomegranate, and fresh-brewed organic white tea. It is best when paired with tequila.
However, you may even try blending it with other spirits like vodka, gin, bourbon, champagne, or even wheat beer. If you don't wish to imbibe, add sparkling water for a refreshing treat.
The best part of this cocktail mixer is that it has no artificial flavors. It is vegan, gluten-free, and even low in calories. With all these characteristics, isn't this margarita mix on the top of your list?
Pros:
Made with all-natural ingredients
Can be paired with a variety of spirits
Low in calories
Vegan and gluten-free
Includes vitamin C
Cons:
Does not have the conventional lime flavor
Need to refrigerate after opening and to be used within two weeks
4. Zing Zang Margarita Mix – Best Natural Ingredients Mix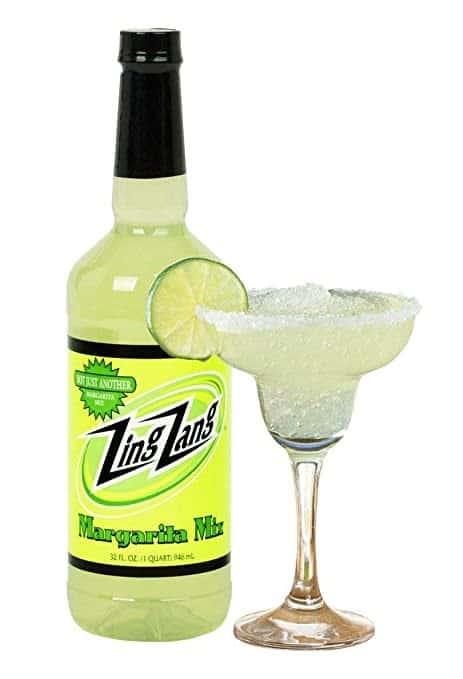 Looking for a color-free, preservative-free margarita mix? Look no further than this Zing Zang Margarita Mix. This mix works best to create a smooth and delicious margarita drink when paired with fresh lime juice.
It is made with many ingredients, including pure cane sugar, blue agave nectar, citric acid, salt, natural flavors and a juice blend of water and concentrated juices of lime, key lime, and grapefruit.
Enjoy a clean, tangy lime-flavored drink that comes with a hint of sweetness. It even makes a great alcohol-free mocktail by simply mixing it with sparkling water.
Pros:
Made with natural ingredients
The rich taste of limes
No preservatives
Cons:
It may not be sweet for some peculiar tastes
5. Thoughtfully Gifts Skinny Margarita Set – Best Gift Pack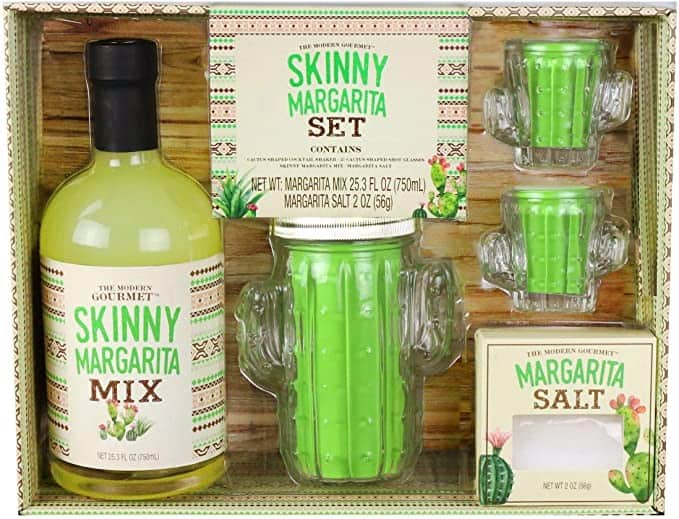 Consider this gift pack option if you're thinking about buying something unique and special for the margarita lovers in your life.
This interesting gift set consists of a delectable lime bottle of margarita mix, a perfectly sized cactus cocktail shaker, rimming salt, and two Cactus Shot Glasses. In short, it contains everything that a margarita lover needs to make a perfect margarita (except alcohol).
Pros:
Great gift
A perfect kit that includes everything you need to make margarita (except alcohol)
Cons:
Expensive than a margarita mixes itself
Why Buy Margarita Mix?
Margaritas hold a special place for all cocktail lovers. Preparing homemade margarita is always a great idea, but the hassle of making them is something else entirely.
Sometimes, squeezing an insane amount of fresh lime juice isn't always possible, which is why it is best to have the pre-made margarita mixes on hand.
Imagine you are throwing a party, and you're squeezing the juice from a dozen lemon and limes, rather than attending your guests and enjoying the party.
Having the best margarita mix on hand takes away the headache and hassle. All you need to do is pour the mix and whatever alcohol you choose into a pitcher and give it a good stir.
What to Consider When Buying the Best Margarita Mix
Take into consideration the following things to ensure that you get the margarita mix that best suits your needs:
Ingredients
The ingredients are one of the most important factors to consider when choosing your margarita mix. If you want a pure kind of mix, go with the one that has basic ingredients like sugar and juice from either real lime or other citrus fruits like lemon.
Similarly, if you're looking for low-sugar options, make sure to look for a mix that has only a small amount of sugar. Many mixes are sugar-free and calorie-free, but they use artificial sweeteners.
If you want an organic mix, you may even find options that only have organic ingredients. So, check the ingredients to ensure that the mix you're planning to purchase suits your needs.
Liquid Mix or Powdered Mix
It is purely a personal choice. However, storing a powdered mix will be easier than the liquid one. You won't have any portability issues if you decide to take it to a friend's party or on a picnic.
Taste
It's best to choose a mix that gives authentic taste and flavors to your margarita drink. Again, this taste is subjective, where some are sour, and others are sweeter.
Check the ingredients to know the level of sweetness or sourness. In general, the mixes that have authentic taste are made of 100% natural flavors. Getting a mix that suits your taste may take a few tries, but eventually, you will find that perfect one.
Price
There are a variety of margarita mixes available on the market. This means you can find margarita mixes in different price ranges, flavors, and quantities.
You can often choose from a single serving bottle to 32-ounce bottles. To determine whether a particular mix is within your price range, it is best to calculate the price per serving.
Conclusion + Our Top Pick
Which margarita mix would you choose from the ones listed above? Our top pick is Lt. Blender's Margarita in a Bag. It is affordable, one of the easiest to prepare, and it is vegan, nut-free, and gluten-free.
Moreover, the measurements displayed on the bag help to make the perfect margarita drink.