Measuring cups and spoons are must-have tools in your kitchen if you want to nail those recipes. They ensure you get accurate measurements of ingredients.
While in some cases a single measuring cup will do, in other recipes, you will need various sizes of measuring cups and spoons, in which case a set will do.
There is a wide range of measuring cups and spoons to choose from on the market that differ according to their material, sizes, number of measuring cups and spoons per set, handle design, and price.
This article provides you with the information you need to choose the most suitable measuring cups and spoons for you. It also reviews our top picks for best measuring cups on Amazon.
6 Best Measuring Cups Product Reviews
Below is a detailed review of our top picks for measuring cups and spoons. We have incorporated various sets, materials, and price ranges in our product selection. Each review provides the product name, product description, and the product's pros and cons.
1. Best Overall: U-taste 10 Piece Measuring Cups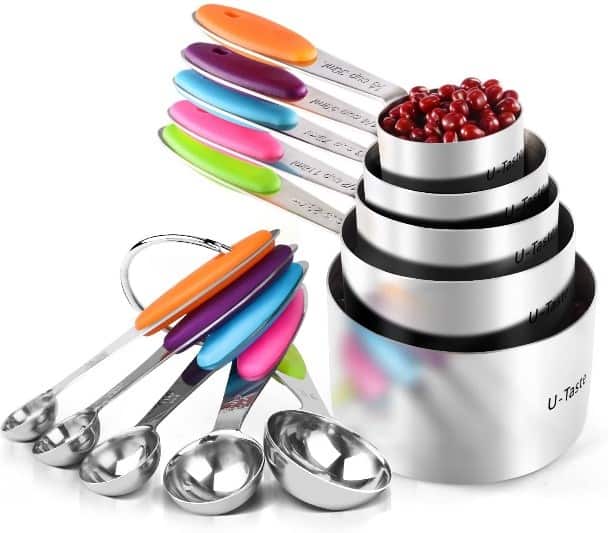 The U-Taste measuring cups are a set of 10 stainless steel cups. The food-grade stainless steel ensures that the cups do not fade or rust. The cups are ideal for use with both liquid and dry ingredients.
They have easy-to-hold handles that are coated with silicone for a non-slip grip. Their handle design makes scooping and leveling of your ingredients easy. These heavy-duty handles do not bend, ensuring that the ingredients do not spill.
Each cup's capacity is engraved on the handle in metric and US measurements. The cups have a smooth edge for easy scooping and pouring out of the ingredients. A 12-piece set of cups is also available. The manufacturer offers an attractive 100% money-back guarantee return policy.
Pros
Made of food-grade stainless steel
sturdy and durable
Fade and rust-resistant
Provides fairly accurate measurements
Colorful handles
Suitable for measuring both liquid and dry ingredients
Cons
Short handles
Silicone grips come off easily.
2. Runner Up: New Star Food Service Measuring Cups and Spoons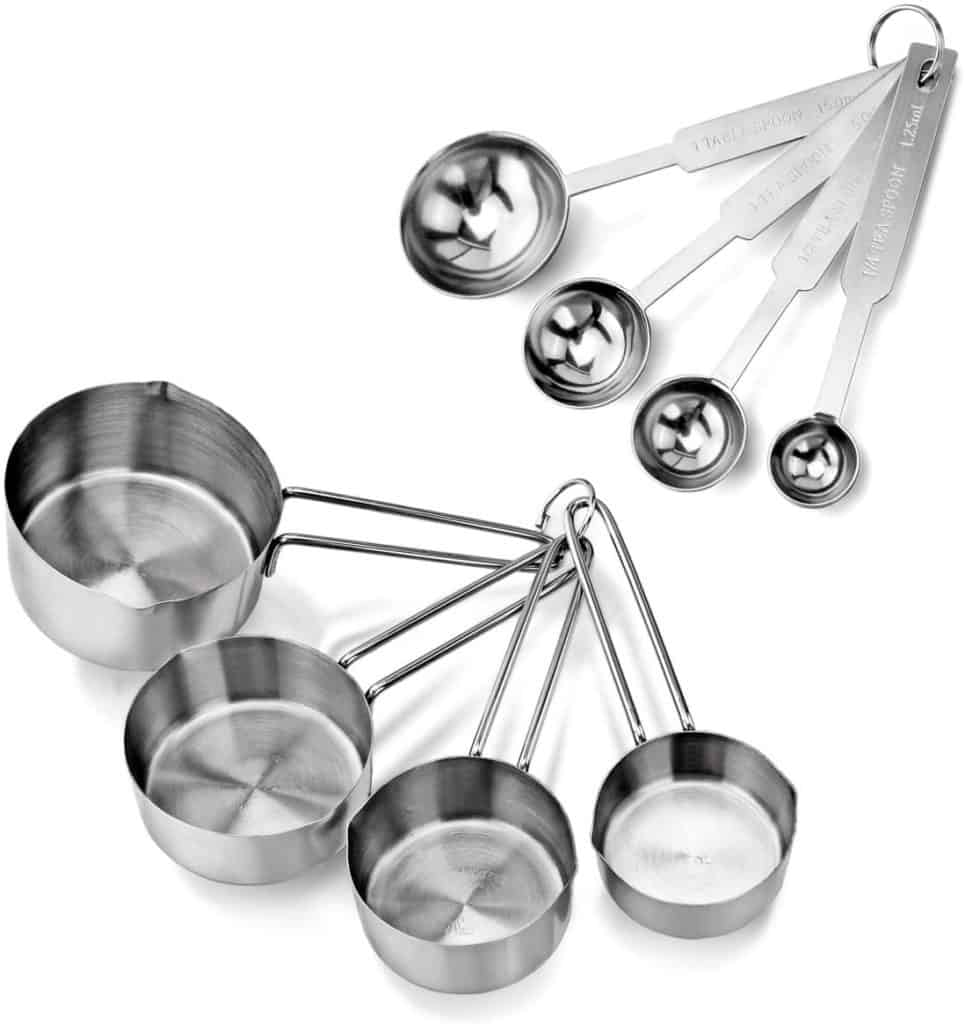 New Star foodservice stainless steel 8-set measuring spoons and cups are round. The set has 4 cups and 4 spoons. The cups have the following capacities 1 cup, ½ cup, ⅓ cup, ¼ cup, while the measuring spoons' capacities are 1tbsp, 1 tsp, ½ tsp, and ¼ tsp.
Each cup's and spoon's measurement is etched on the handles in numeric and words. The cups set and spoon set are held together by a small ring. The New Star foodservice is dishwasher-safe. There is a 6-piece set option available
Pros
Made of heavy-duty stainless steel
Measurements are etched on the handles
Dishwasher-safe
Can be used with both dry and liquid ingredients
Cons
Some cups and spoons are inaccurately labeled
The attachment ring may rust
3. Best Glass Measuring Cups: Pyrex Prepware Measuring Cup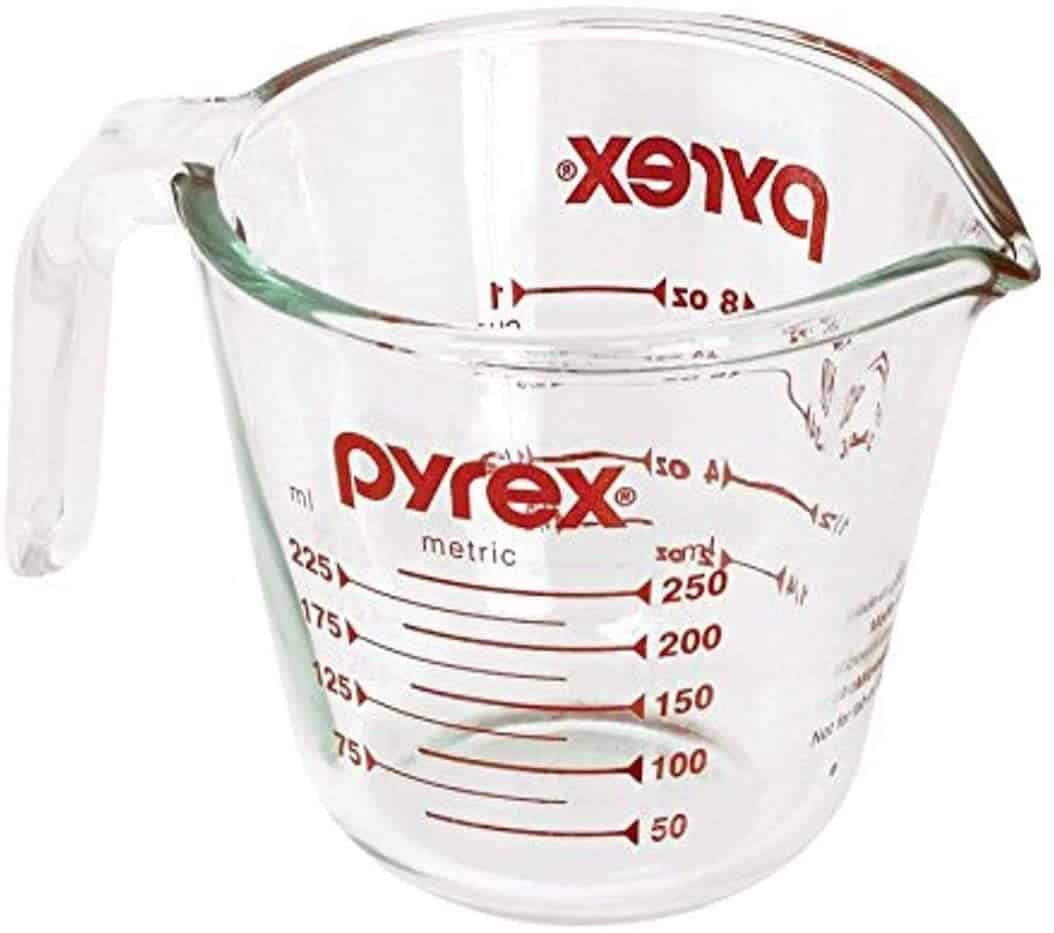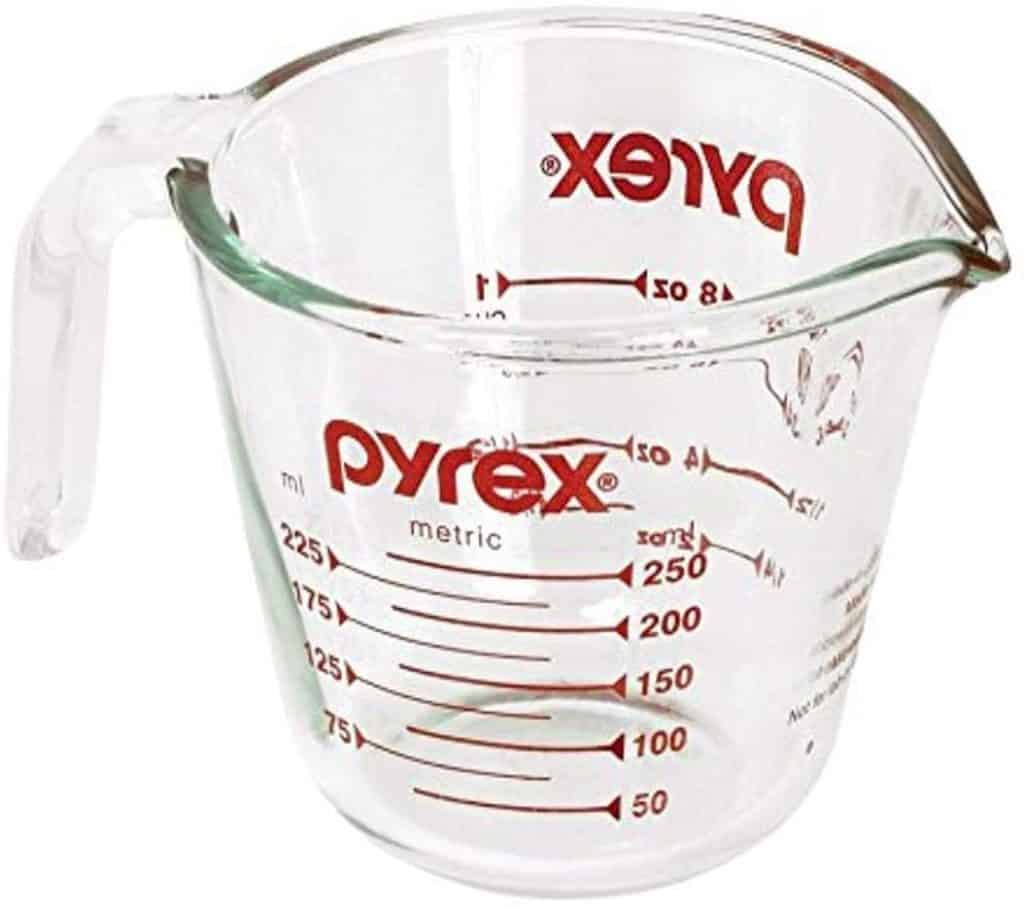 The Pyrex Prepware measuring cup is made of clear glass with red calibration graphics. The glass is nonporous to ensure it is stain-proof and does not absorb odors.
The measuring cup is suitable for use in a preheated oven, microwave, fridge, freezer, and dishwasher. It is made in the USA and comes with a 2-year warranty.
The clear see-through glass allows for easy measuring and leveling of the ingredients. The measuring cup's top is designed with a pour spout for easy pouring out of the ingredients. The Pyrex measuring cup is also available in 2-sets and 3-sets.
Pros
Microwave, dishwasher, and oven safe
Clear view of contents
Made of high-quality tempered glass
Conspicuous measurement markings for easy reading
Accurate measurements
Cons
Reported cases of counterfeit Pyrex measuring cups
Some Pyrex measuring cups spill
4. Hudson Essentials Stainless Steel Measuring Cups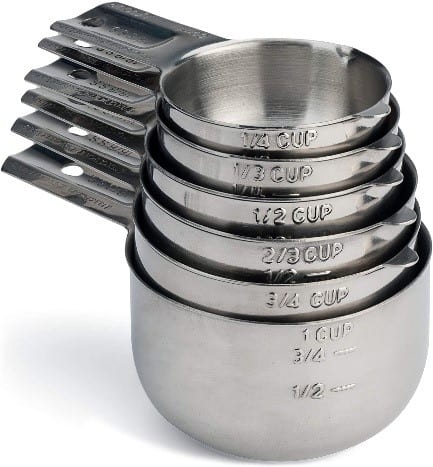 The Hudson Essentials 6-set stainless steel measuring cups are stackable with a spout. Since they are stackable, they can be easily stored in a drawer, cupboard, or cabinet.
The capacities of the measuring cups are 1Cup, ¾ cup, ⅔ cup, ½ cup, ⅓ cup, and ¼ cup. Their measurements are etched on the upper part of the measuring cups. The biggest cup has an additional ½ cup, and ¾ cup marks etched on it.
The heavy-duty stainless steel cups are rust-proof, corrosion-proof, and chemical resistant. They are also to clean. The spouts allow for the spill-proof pouring of the content.
The cups are also designed with a flat bottom that ensures they seat stably on the table. All measuring cups in this set have holes on the handle and a ring for easy hanging on a hook or peg.
Pros
Made of heavy-duty, food-grade stainless steel
Corrosion-free, rust-free, and chemical resistant
Has a spout for easy pouring
Stackable for easy storage
Cons
Small handles
Sharp-edged handles
5. OXO Good Grips Silicone Measuring Cup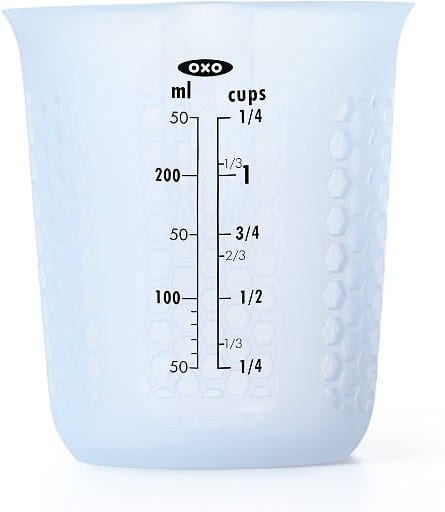 The OXO GG is a single measuring cup made of BPA-free silicone. It is clear with clear measurement calibrations in metrics and cups. The measuring cup is flexible and has a spout for easy pouring of contents.
It is microwavable and can be used for melting ingredients such as butter and chocolate. The round measuring cup has a flat bottom for stability. Available as single measuring cups and in sets of 1,2,3, and 4.
Pros
Made of BPA-free silicone
Flexible with a spout for easy pouring
Clear measurement calibrations
Microwavable
Cons
Risk for burning when exposed to high heat
6. Wildone Measuring cups and Spoons Set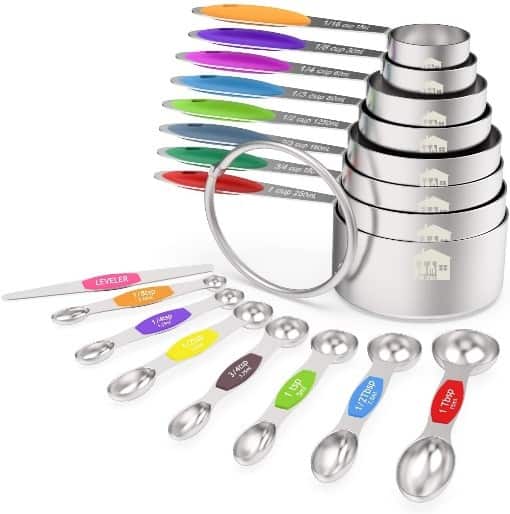 The Wildone 16-piece set constitutes 8 measuring cups, 7 double-sided stackable magnetic measuring spoons, and 1 leveler. The spoons and cups are made of food-grade stainless steel with multicore non-slip silicone handle tops. The stainless steel is rust and corrosion resistant, making the set ideal for both wet and dry ingredients.
The measuring cups and spoon sets offer a wide range of measurements (ranging from 1/16 cup to ⅛ tsp) to suit all your cooking and baking needs.
Each measuring spoon is double-sided with a narrow end that easily fits into most spice jars. The spoon design is rounded and flat-bottomed to enable easy scooping of liquids and stably sit on flat countertops.
Each cups' and spoons' measurement is marked in ml and cup sizes. The leveler helps to remove excess ingredients on the measuring cups and spoons.
The magnetic spoons stack together at the center while the cups are stackable in order of their sizes for easy storage in kitchen drawers or cupboards.
Pros
High quality build with heavy-duty stainless steel
Handles have BPA-free silicone cover
The set incorporates a leveler
The spoons and cups are stackable
Cons
The measurement markings fade off
Handles are not sturdy
Buying Guide for Measuring Cups and Spoons
In this section of the article, we cover some factors to consider when buying measuring cups and answer some of the most common measuring cup FAQs.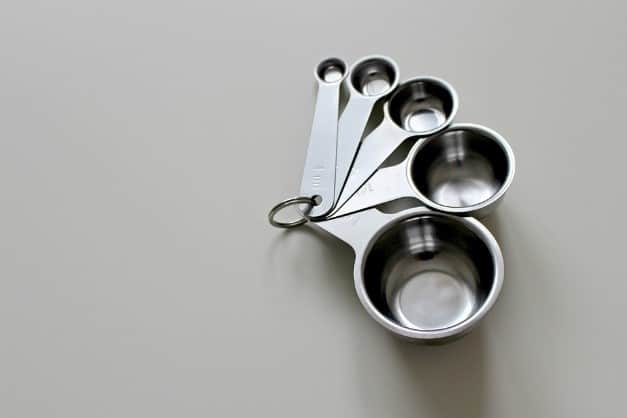 Things to consider when buying measuring cups
The following are the factors to consider when buying measuring cups:
Ease of Use
The most suitable measuring cup should be easy to use. It should be well marked, with a sturdy, non-slip handle, have a flat-bottom that enables it to stably sit on the countertop.
It should have a spout for spill-proof pouring out of the ingredients. Watch out for measuring cups with sharp-edged handles as they may cut you or making holding uncomfortable.
Preferred Capacities and Markings
Measuring cups and spoons are available as single units, or in sets of 2,3 4, up to 19 pieces. Determine whether you need a single unit or a set and your preferred measurements.
While some measuring cups have numerical metric measurements, others just indicate the cup size ranging from 1 cup to 1/16 cup and 1 tablespoon to ⅛ tablespoon.
Opt for measuring cups whose markings are engraved rather than stamped on. Stamped on measurement markings tend to fade and rub off with time.
Material
The most common measuring cup materials include stainless steel, plastic, silicone, and glass.
Stainless steel: Stainless steel cups are the most durable as the material is rust-proof and corrosion-resistant. They are most suitable for dry ingredients, but they can also be used with wet ingredients as steel is nonporous.
Plastic: Generally, plastic measuring cups are less expensive than steel ones. There are plastic measuring cups suitable for either dry or wet ingredients or both. Those designed for dry ingredients are lighter.
The top disadvantage of plastic measuring cups is that they tend to stain when measuring colored ingredients. They also retain the odor of scented ingredients.
If the plastic measuring cup is super light, it may topple over and spill ingredients. Plastic does not withstand extreme temperatures properly; therefore, it should not be used for hot or extremely cold ingredients.
Silicone: Silicone cups are preferred because the material is collapsible and offers a non-slip grip. It also withstands cold and warm ingredients better than plastic. Like plastic, it retains odor and color.
Some manufacturers leverage the non-slip grip characteristic of silicone to use when making steel cups by putting silicone at the bottom or handles for easy handling and sturdiness.
Glass: Glass measuring cups are most ideal for wet ingredients. When buying one, ensure it has easy-to-read measurement graphics printed on it. Also, choose an L-shaped handle over a C-shaped one as the L-shape offers a sturdier hold.
Glass is nonporous, stain-resistant, and does not retain odor. While most glass measuring cups are made from fortified or tempered glass, it can crack or shatter if it falls or is exposed to extreme temperatures.
Ease of Storage
Most measuring cups and spoons are designed to be stackable for easy storage in kitchen drawers and cupboards. Others come with holes at the handles and a ring to allow you to hang them on a hook either individually or as a set.
Price
Typically measuring cups are quite affordable, with the price of most ranging between $10 or $20-$30 for high-quality sets. If you use measuring cups often, it is best to spend the extra dollars to get high-quality ones that will serve you for a long time.
Accuracy
This is a critical factor of consideration because, in most cases, the reason you are buying the measuring cups is to be able to accurately measure your ingredients. As evidenced in numerous measuring cup reviews, most units and sets in the market have an error.
While a small margin of error won't affect your recipe much, a larger one can result in a different recipe outcome. Check reviews of the cups you are considering to determine their margin of error.
What's the Difference Between Dry and Liquid Measuring Cups?
Dry measuring cups are exclusively used to measure dry or solid ingredients, while the liquid measuring cups are used to measure wet ingredients. For dry ingredients, stainless steel measuring cups are more reliable than plastic and silicone ones.
Dry ingredients measuring cups should have a flat edge for easy scooping and leveling and a sizeable, long, sturdy, non-slip handle for a comfortable and steady hold. The engraved measurement on the measuring cups and spoons is that of the cup or spoon filled to the brim.
Liquid measuring cups are designed with extra space to allow you to fill it to a maximum calibrated measurement while leaving space to transport the liquid without spilling. A liquid measuring cup should be clear to enable you to see the ingredient level without obstruction.
Typically, liquid measuring cups are made of either plastic or glass. Go for the ones that are microwave and dishwasher friendly. Comparably, glass measuring cups are more durable than plastic ones.
How To Clean and Maintain Measuring Cups
Most measuring cups and sets are dishwasher-friendly. Otherwise, you can clean them with warm or room temperature water and soap. Avoid using strongly scented soap on plastic or silicone measuring cups due to odor retention.
Rinse, dry, and store them in a cool and dry place either in a cupboard, kitchen drawers, or hanging on a hook. Silicone and plastic cups should be kept away from direct heat or flame as they are likely to burn.
Guidelines for Using Measuring Cups Correctly and Accurately
Below are tips and guidelines for getting an accurate measurement with your measuring cup or spoons. Keep in mind that the procedure for measuring wet ingredients is different from that of dry ones.
Use the Right Type of Measuring Tool
Use a liquid measuring cup for wet ingredients and a dry measuring cup for dry ingredients. For smaller portions, use tablespoons and teaspoons instead of measuring cups.
Getting Accurate Measurements with Dry Measuring Cup
Fill the cup to the brim. Either push the ingredients down or gently tap the bottom of the cup on the table or countertop to allow the ingredients to fill any spaces. With a leveler or a plain knife, sweep out the excess ingredient. This process applies when measuring solid and dry ingredients with a measuring spoon.
Getting Accurate Measurements with a Liquid Measuring Cup
Use the adequately-sized liquid measuring. Place it on a flat surface. Do not hold it with your hands as a slight shake may cause spilling or compromise accuracy.
Pour the wet ingredient into the measuring cup until it is slightly below the intended measurement marking. Bend or squat so that your eye level is in line with the intended measurement marking. Slowly add the liquid ingredient until its bottom meniscus is perfectly on the same level as the measurement marking.
Some liquid measuring cups are angled and have rings on the side to enable you to accurately measure the wet ingredient without needing to squat or bend over.
What Is the Difference Between a Tablespoon and a Teaspoon?
When reading a cooking book or looking at a recipe, you are likely to come across the abbreviations "Tbsp." and "Tsp." "Tbsp" refers to a tablespoon, while "Tsp" is the abbreviation of a teaspoon. Two teaspoons make one tablespoon. One tablespoon is 15ml. Notably, one tablespoon is 1/16 cup.
Tablespoons and teaspoons are available in different shapes, materials, and colors. Often, they are used to measure both wet and dry ingredients in small portions.
Similar to measuring cups, when measuring with tablespoons and teaspoons, fill the ingredients to the brim and slice the excess ingredients with a flat knife.
Do not substitute measuring spoons with the tablespoon used for eating as it compromises accuracy. Tablespoons and teaspoons are commonly used to measure ingredients such as spices, salt, vanilla essence, and oil.
Conclusion
Our top pick for measuring cups is the U-Taste measuring cups. The set is ergonomically designed to offer accuracy, durability, and easy handling. It can be used with both dry and wet ingredients.
When deciding which measuring cup or measuring set is most suitable for you, consider its primary intended purpose, preferred capacity, and your budget. Since high-quality measuring sets are quite affordable, it is best to invest in those.