What's your favorite Spanish dish? If you go down the list, there is no doubt that you will land on paella somewhere along the way, if not right at the very top.
Paella has been a delectable Spanish sensation for centuries as it's passed down from Valencian families through many generations. Thankfully, this delicious dish didn't stay localized in Spain.
Today, people around the world have an opportunity to not only enjoy paella at Spanish restaurants across the globe but also to make it right at home. With the best paella pan, you can start creating your own eclectic paella recipes to match what they do in Spain.
Think about it, a hearty rice casserole that can be garnished with pretty much anything you like, from vegetables to herbs, a host of spices, meat, and even seafood. This mouthwatering world of flavor could be yours. The first step is getting the best paella pan for you and your family.
Also Read: BEST CARBON STEEL PAN FOR EVERY BUDGET (TOP 5 REVIEWS)
The Best Paella Pan for Your Kitchen
1. Best Overall - Matfer Bourgeat Black Steel Paella Pan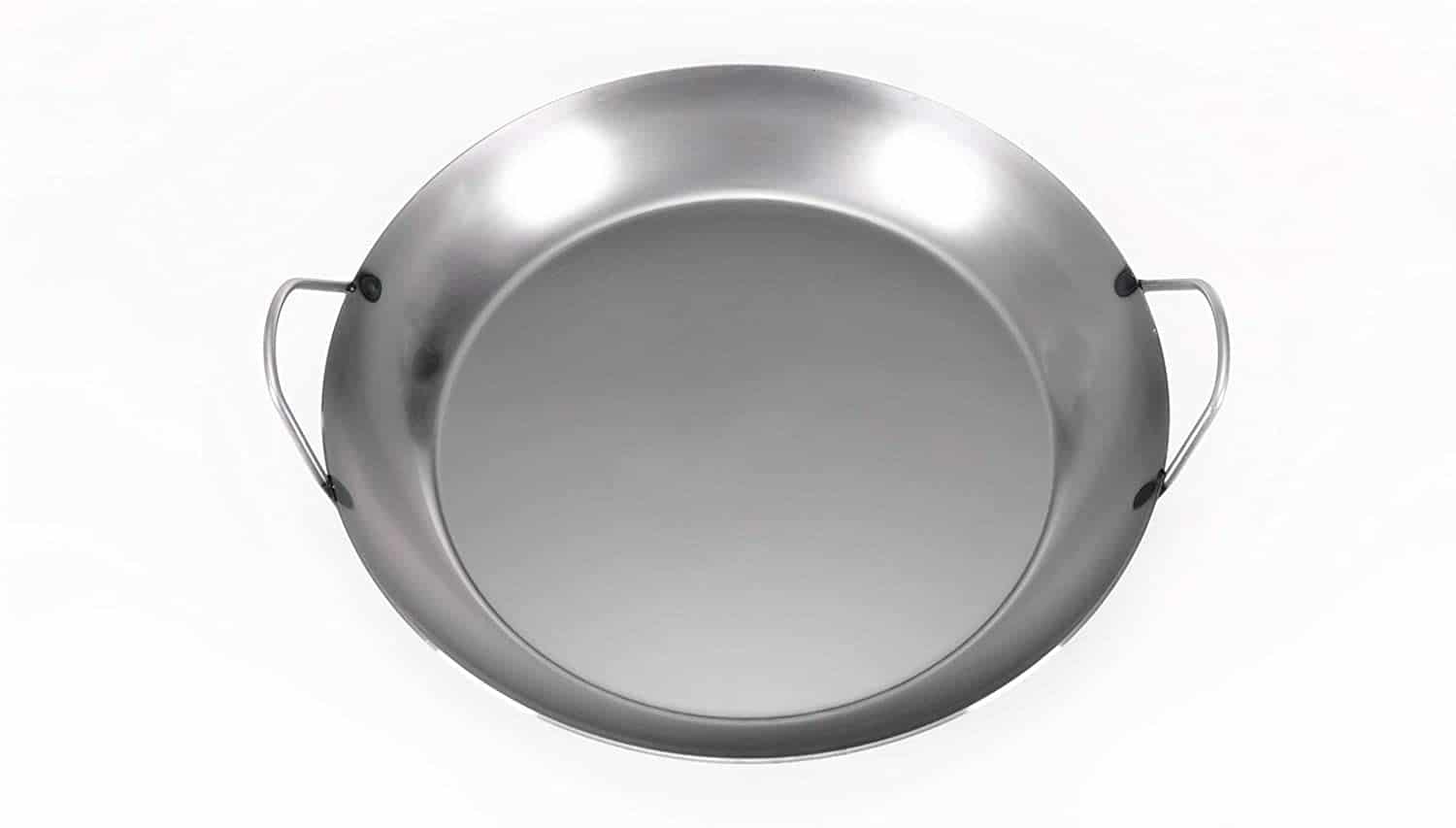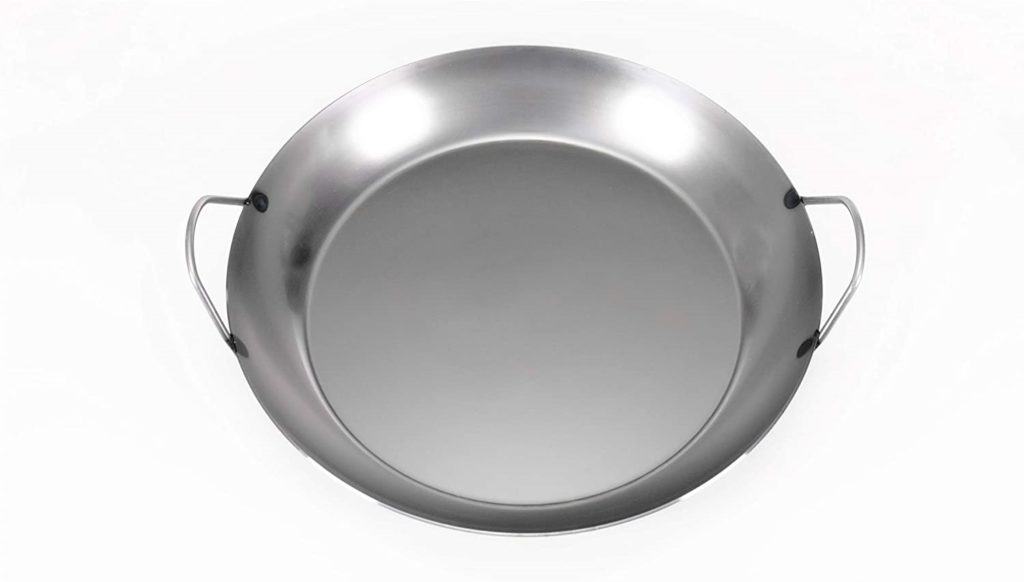 Capable of cooking for 6 to 8 people, this Matfer Bourgeat Black Steel Paella Pan is one of the best-constructed paella pans in the market today. Made out of black carbon steel, you get nothing but excellent heat distribution and temperature control when you use it for cooking.
Black carbon steel is a natural mineral that promotes healthy cooking, which means that you don't have to worry about this pan contaminating your food; it's free of harsh coatings or chemicals. It's non-stick making it easy to cook in and wash after you're done using it.
The design and construction are also quite commendable. It has two handles that are welded to either side, making them strong. Additionally, these handles are rivet free, which means that they won't harbor bacteria. The pan itself has curved sides enclosing a wide and shallow cooking surface that works well when cooking vegetables and sauté meats.
Made in France, this pan is extremely versatile and comfortable to use. It's durable enough to withstand and maintain extremely high temperatures, which means you can use it on any kind of stove, including induction.
Pros:
Durable
Made using natural non-stick material
Smooth welded handles for stability
Highly versatile
Can cook 6 to 8 servings
Resistant to chipping, peeling, and scratching
Cons
It needs to be seasoned to achieve and maintain it's non-stick properties
2. Best Innovative Design - Machika Enameled Steel Paella Pan 10 inch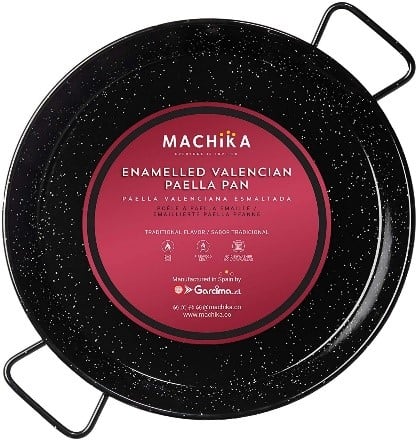 If you are the kind of person who is keen on maintaining a stylish kitchen - meaning that you only have beautiful and unique appliances or utensils in it, then you might want to give this Machika Enameled Steel Paella Pan a second look.
It features an innovative design, and it's made out of top-grade enameled steel, all of which makes it thin and lightweight, yet durable and extremely versatile.
The material used in making this pan also makes it very easy to clean. After using it, all you have to do is run some water over it, use a bit of detergent to clean, and then rinse it off. That's it! Simply make sure that the pan is dry and store it away for the next time you use it.
The pan is designed to evenly distribute heat throughout, allowing you to create the perfect paella for two.
In fact, that is the only drawback with this pan - the fact that it's only big enough to cook a serving for two. Everything else is near perfect, including the innovative hammered dimple technology, which makes the pan's bottom quite rigid and perfect for cooking paella.
It is the ultimate paella pan. The brand has gone to great lengths to ensure that you get the best possible quality.
Machika actually teamed up with the leading manufacturer of paella in Spain (Garcima) to bring you this wonderful design and build. So, when you buy this paella pan, you know you are buying into a long-standing tradition as well as high-quality standards.
Pros:
Beautiful design
Two-year warranty
Easy to maintain
Affordable
Cons:
Only cooks two servings at a time
3. Best Wide Option - Virtus Spanish Paella Pan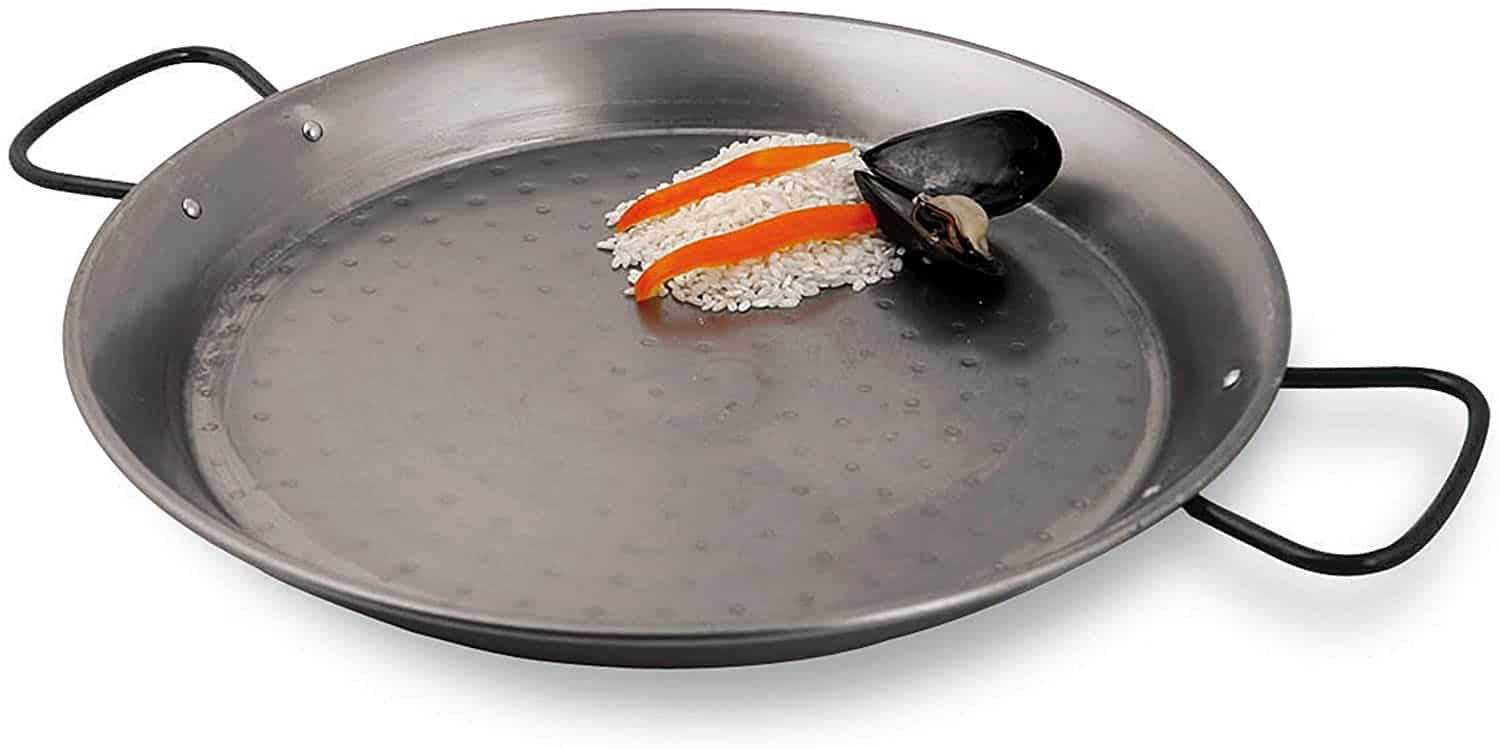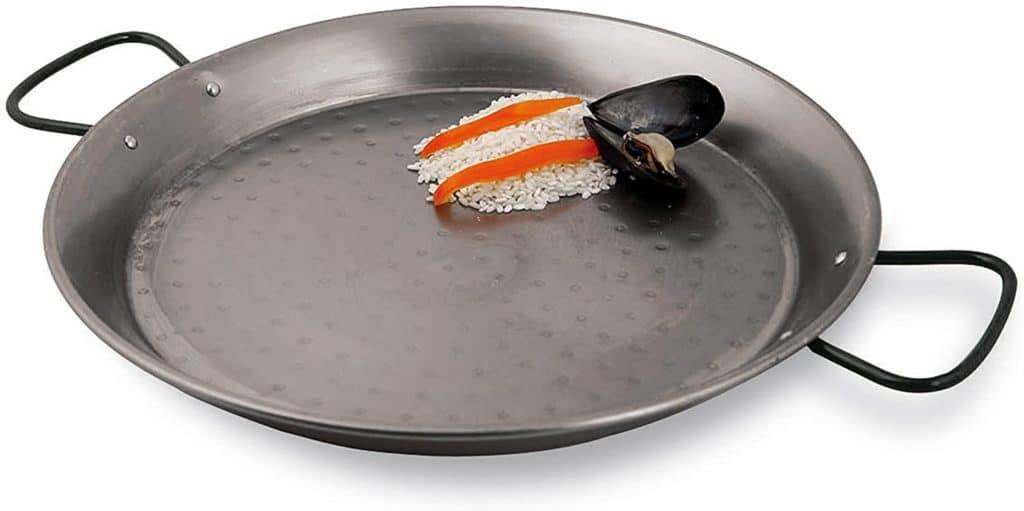 This Virtus Spanish Paella Pan is a massive 35½-inches which is big enough to cook enough paella for about 20 to 25 people! It's the kind of paella pan you want in your kitchen if you do quite a bit of hosting.
Made from heavy-gauge carbon steel, this is the perfect pan for cooking pretty much every type of paella dishes. The fact that it has a hammered base means that the pan evenly distributes heat and can easily expand during cooking, preventing buckling. It also heats up nicely really quickly.
Designed with a shallow dimpled surface, this pan is perfect for making authentic Spanish paella with a crisp socarrat rice crust right at the bottom. The shallow dimple allows water to evaporate quickly as the pan heats up.
Conversely, the low sides surrounding this shallow dimple allow for even distribution of heat, which means you can easily achieve slow cooking in this pan. The design is finished off with dual zinc handles that are not only ideal but also sturdy.
You can conveniently carry the pan from your kitchen to the dining table. Speaking of the kitchen, this pan is highly versatile and can be used on any kind of stove, grill, or oven.
Pros:
Excellent quality
Wonderful design
Massive size
Can cook for up to 20 people
One-year warranty
Made out of heavy-gauge carbon steel
Cons:
4. Best Copper Option - Sertodo Copper Alicante Paella Cooking Pan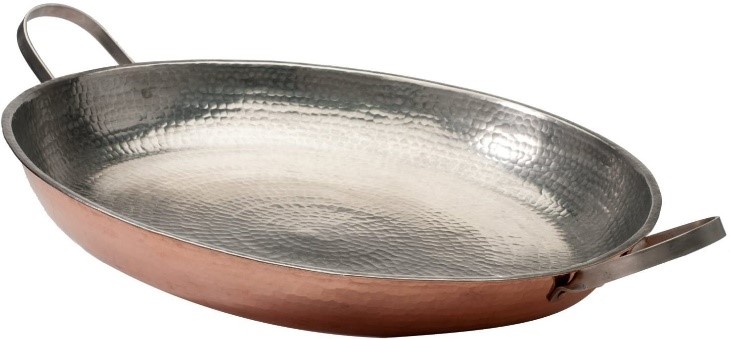 This Sertodo Copper Alicante Paella Cooking Pan has a keen eye for the rustic look that copper brings to the kitchen.
Designed and crafted by expert artisans, this gorgeously unique paella pan features the highest quality copper. It's made out of heavy 14-gauge hammered copper that is sourced from an assortment of recycled materials.
It has a hot-tin interior that offers superior cooking by allowing heat to be evenly distributed throughout the pan. Some people may be concerned that there might be lead in the tin or copper used in making this pan since it's sourced from a variety of recycled materials.
Rest assured that there is no trace of lead in this pan. This is simply a beautifully designed pan that has a slight shine thanks to its copper exterior.
The pan itself is 15-inches wide and 2-inches deep, featuring a clever design that can hold enough food for 6 to 8 people.
The copper and other materials used in making this pan have low conductivity, which means that you can easily handle this pan when cooking or transferring it from the stove to the table. Even so, the pan has ideal handles that make it more convenient to carry.
While there are a few things that this pan has over carbon steel, thanks to the fact that it's made out of copper, the one stand-out advantage is that it's largely maintenance-free.
Every other pan made out of carbon steel on this list needs to be seasoned first before use - not this one! All you have to do for this pan is clean it with soapy water and put it on the stove.
Pros:
High-quality build
Beautiful rustic look
Doesn't need any seasoning before use
Sturdy
Made out of copper and other recycled materials
Cons:
5. Best Enameled Option - Magefesa Enameled On Steel Paella Pan

Are you looking for a paella pan that is not only massive but also made in the birthplace of paella - Spain? This Magefesa Enameled On Steel Paella Pan checks all those boxes. Designed with a 5.5-inch depth, this pan can cook up to 30 or 40 servings of paella.
The best part is that it's designed and manufactured in Spain, the birthplace of paella, which means that it's made precisely the way the original paella cooks wanted their pans made.
Featuring carbon steel, this pan is sturdy and quite solid. The design is finished off with a beautiful, speckled enamel coat that gives it a gorgeous look that fits right into any kitchen type. Highly resistant to rust and scratches, this pan is very easy to maintain.
It can be used on a wide variety of stoves, including an outdoor firewood stove, as long as the temperatures produced by that stove don't go past the 400-degree mark. Finally, the pan is extremely durable and will not lose its shape over time.
Pros:
Made in Spain
Big enough to make up to 40 servings
Durable
Beautiful enamel finish
High quality
Affordable
Cons:
Needs seasoning to keep its non-stick properties
Factors to Consider Before Buying a Paella Pan
Since there are hundreds of different paella pans on the market today, choosing the best one for you might prove a little challenging.
However, if you have a set of rules or criteria to follow, the process might be simpler. With that being said, here are some important factors to consider when looking to buy a paella pan.
Size and Depth
This is probably the most important factor to consider. How many people are you going to be cooking for on a regular basis? If it's just you, then you can get away with picking a smaller pan.
However, if you are the kind of person who likes hosting and would show off your paella cooking skills from time to time, then you might want to consider getting a bigger pan that can cook servings of up to 20 or even 40 at one go.
Granted, a pan that big is best suited for restaurants. Paella pans have a wide diameter range and can go from 8 inches to 35 inches and above.
However, it's not just about the diameter of the pan but also the depth. The pan's depth is integral to just how much rice and other ingredients it can hold at one go. Most pans range from 2 inches deep to about 5.5 inches.
Here's a quick breakdown of sizing for you to make your decision easier:
10 inch pan serves 1-2 people
13 inch pan serves 2-3 people
14 inch pan serves 2-4 people
15 inch pan serves 3-5 people
16 inch pan serves 4-6 people
18 inch pan serves 6-8 people
20 inch pan serves 7-10 people
22 inch pan serves 9-12 people
24 inch pan serves 10-16 people
28 inch pan serves 15-20 people
32 inch pan serves ~20 people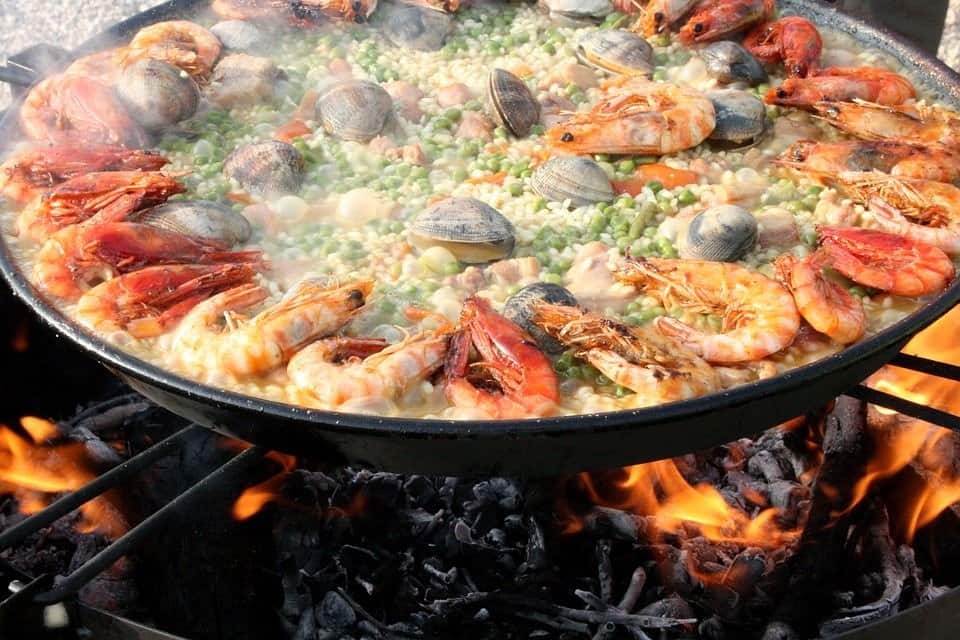 Construction
If you are looking to cook authentic Spanish paella, you need to get a pan with the same construction features as what they use.
This means something wide in diameter and shallow or deep, depending on the size you want. The sides need to be slightly slanted, and the pan can distribute heat evenly across its entire surface.
You also need to consider the type of material used in making the pan. For the most part, paella pans are made using carbon steel, enameled steel, copper, or even cast iron. Let's go over these quickly.
Carbon Steel
From chefs to home cooks, carbon steel is the traditional material used for paella pans. It's popularity comes from its high cooking temperature, ability to evenly distribute heat and non-stick surface.
Quality carbon steel pans will have a dimpled surface which allows the liquid to quickly evaporate during the cooking process. This creates the crispy socarrat crust on the bottom of the dish - a must-have if you're cooking authentic paella.
You can use carbon steel on almost any cook top, except induction. It still does work, but distributing heat effectively will be difficult.
The only downside to carbon steel is its ability to easily rust if not maintained properly. Make sure to keep your pan clean and read the manufacturers instructions clearly before using it.
Enameled Steel Paella Pans
A good second option is enameled steel, which is more durable and lasts longer than carbon steel, but not as effective for cooking authentic paella.
The enameled surface protects the pan from rusting and it's non-stick surface is great for cooking almost anything. Enameled pans are amazing at taking on high heat, but can turn black over time and potentially chip if not taken care of properly.
Copper Pans
Copper pans are another solid option when it comes to cooking paella - in addition to its stylish exterior, copper has great heating conductibility. This makes it great even heat distribution even when cooking large portions of paella.
The only downside of copper pans, like many others, is the maintenance to keep it looking and performing at its best - the bottom will most likely stain and the pan will get worn down. But you won't have to worry about any copper leaching into food as most interior surfaces are made from stainless steel or tinned, lead-free materials.
Cast Iron Pan
You can find some paella pans made out of cast iron, although this probably wouldn't be the best choice for people who like to serve and eat their paella the traditional way - in the pan.
Cast iron is a bit too heavy. Paella pans made out of enameled steel tend to be the most stylish to look at and even use. Considering that you might be carrying the pan to the table from time to time, style and weight are factors worth considering.
Also Read: HOW TO SEASON CARBON STEEL PAN SETS (5 EASY STEPS)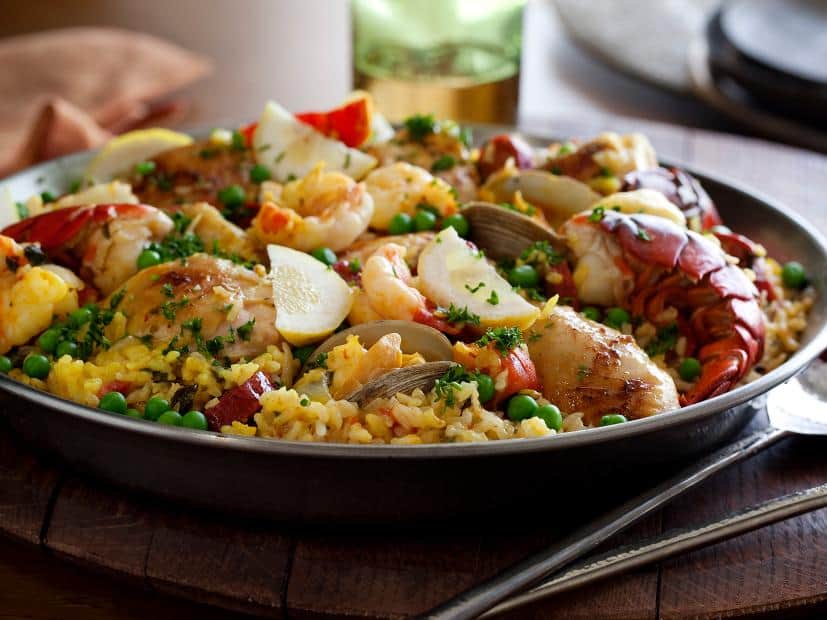 Type of Cook Top
Depending on what type of cook top you have or plan on using for the majority of your cooking, you may want to consider different types of pans.
Gas Cook Tops
Any paella pans will work well with gas cook tops, so nothing to worry about here.
Electric or Induction Cook Tops
If you have an electric or induction top, then you'll want to choose a paella pan with a flat and smooth bottom. Why? Because electric and induction tops flat surfaces, they won't distribute the heat as evenly unless the pan is also flat. Many traditional paella pans are made for cooking outdoors or over gas, so the bottoms are rounded.
For induction, your best options are flat bottom carbon steel pans, flat bottom enameled pans, or stainless steel pans with a magnetic plate built into it (which is specifically designed for induction).
Final Thoughts
The list provided above gives you a good starting point as far as trying to find the best paella pan is concerned. Every single one of them can get the job done well.
All you have to do now is find the one that suits your specific needs, buy it, and start enjoying paella right in your home.