If you want a simple to use and versatile smoker, you should consider the best pellet smoker.
You aren't going to win many points with an old-fashioned pitmaster, but easily producing great barbeque makes purchasing the best pellet smoker tempting.
In this article, we're going to break down what the best pellet smokers are. This article will also go through some pros and cons of smoking with pellets to help you figure out if a pellet smoker is right for you.
1. Best Overall – Traeger Pro 575 Wood Pellet Smoker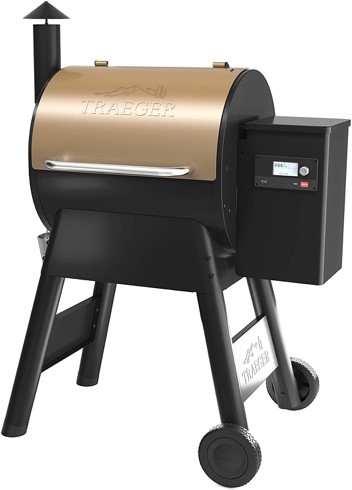 This is the best pellet smoker at a premium price point and is made by one of the smoker industry's biggest brands. It features all of the newest features, so if your budget allows for it, this is the best pellet smoker to go with.
The Pro comes with Wi-Fi so you can remotely control and monitor your smoker. It also addresses some issues with older Traeger models, namely the issues with maintaining temperature and the poor heating speed.
There is a new D2 direct drive that utilizes a brushless DC motor to attain a higher torque at lower RPM. In layman's terms, this means the motor can rotate the pellet auger more quickly, which allows you to push more fuel into the firepot faster and creates hotter cooking.
You can purchase the Pro in either 780 square inches of 575 square inches of cooking area. That extra space will run you another $200, so you might want to go with the 575 square inches. You also get to choose between bronze or black color schemes. It also has a built-in meat probe that allows you to monitor your food's internal temperature without lifting the lid.
Temperature Range: Up to 500 degrees Fahrenheit
Pros:
Extremely accurate D2 PID controller
Wi-Fi connectivity
Cons:
Essential accessories will cost you extra
2. Best Budget – Z Grills 700E Wood Pellet Smoker & Grill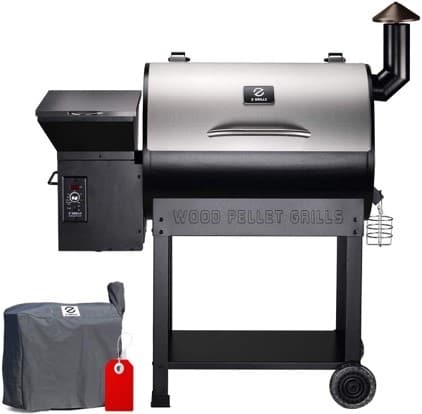 It's always hard recommending the best pellet smoker on a budget because there's always a ton of technology involved. So, you could end up purchasing a model that doesn't work or can break easily.
But that's where Z Grills comes in. They produce budget-friendly pellet smokers with Traeger quality. This company seems like it came onto the market overnight. With that being said, they do look like they've been producing smokers for certain companies (i.e., Traeger) for years.
With a total of 700 square inches of cooking space and a 20-pound hopper, you'll get a great pellet smoker without a bunch of high-tech, unnecessary features. This means that you won't get any Wi-Fi, but you get a larger cooking area, a similar build to Traeger, a storage cabinet, and precise internal temperature control features at an insanely low price.
Temperature Range: 180 - 450 degrees Fahrenheit
Pros:
Great value for the money
Comes with a three-year warranty
Large cooking space
Cons:
It can be hard to remove unused pellets from the hopper
You need to take care when you close the lid because you can easily touch part of the hot smoker
3. Best Premium - REC TEC Grills RT-700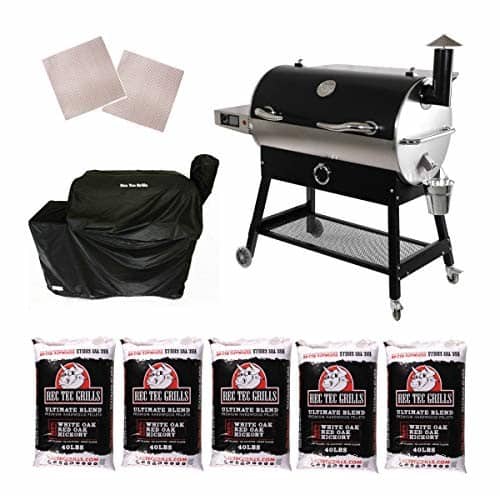 With this pellet smoker, the manufacturers have combined a quality build with precision craftsmanship with modern upgrades like an improved PID controller, dual meat probes, and Wi-Fi connectivity.
The controller allows you to adjust the heat in 5-degree Fahrenheit increments, which you don't normally have with cheaper pellet smokers. The name of the product gives away that the main grilling area is 702 square inches. If you decide to go with the optional warming shelf, the space gets to be over 1,000 square inches.
This isn't a budget smoker, but it is comparable to the more costly Timberland and Ironwood series made by Traeger. Almost the entire pellet smoker is made from stainless steel, and you get the signature REC TEC bull horn handles.
Temperature Range: 200 - 500 degrees Fahrenheit
Pros:
Large cooking space
Can control the temperature in 5-degree F increments
Can add a warming shelf to increase cooking area
Cons:
Not a budget pellet smoker
4. Camp Chef Woodwind Wi-Fi 24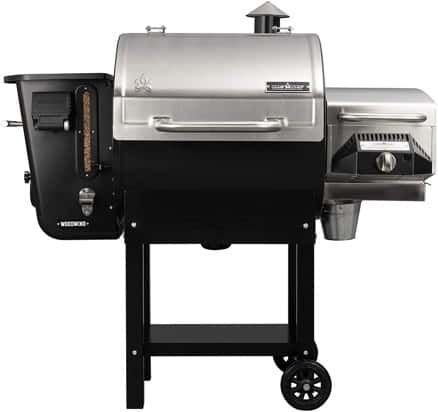 This is an amazing mid-sized pellet smoker that creates a balance between value for your money and quality.
There's so much tech on the Woodwind – it's powered by a new Gen 2 digital PID controller that allows you to dial into how much smoke you want within 5 degrees. You're also able to control the smoker using the app or on the touch screen.
This unit comes in two sizes; however, most people go with the mid-size 24" model. It provides you 811 square inches of space for cooking spread over two grilling racks. If you require more room, you can go with the 36" model that gives you 1236 square inches of cooking space.
The Woodwind checks all the boxes that you would want from a pellet smoker at its price point. You can also enjoy the set it and forget it kind of cooking, and it has four meat probes that are included with the smoker to assist you with keeping watch over your temperatures.
While most pellet smokers have difficulties in searing meat, this one doesn't. You have the slide and grill feature that allows you to pull down a handle and toggle to direct flame grilling.
Temperature Range: 160 - 500 degrees Fahrenheit
Pros:
Super easy to operate
Has the ability to sear food
Offers a SideKick attachment, which is a powerful propane burner that also works as a grill
You can easily set the smoke level to what you need it to be
Cons:
You don't get a cabinet door
The app has connectivity issues
5. Green Mountain Grills Davy Crockett Wi-Fi Smoker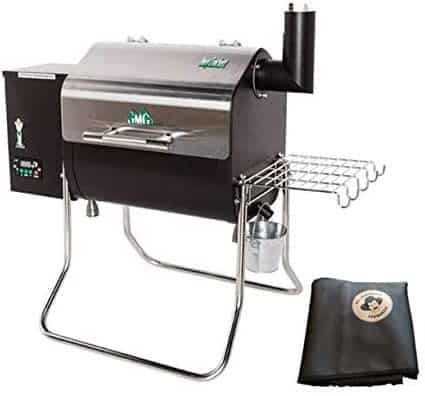 When you imagine a pellet smoker, you probably don't imagine them being very portable. For one thing, a pellet smoker requires power to operate – you can't open up some charcoal and lit your smoker anywhere.
With that being said, this best pellet smoker is designed to be taken with you. You'll find that the legs will fold into a carrying handle for convenient portability. You also receive a couple of adaptors with your purchase for you to power it via an outlet in your home, from your car battery, or your cars' cigarette lighter. You can also run a generator.
There's no other pellet smoker that beats the portability of this one, especially at its price. The Wi-Fi control can be done from any smartphone or tablet and allows you to regulate the temperature remotely within 5 degree increments.
You may not have been aware of the company Green Mountain before, but since 2008 they've been making smokers that are comparable to Traeger.
Temperature Range: 150 - 550 degrees Fahrenheit
Pros:
Portable
Precise temperature control
App and Wi-Fi
Smart alerts
Cons:
Difficult for a single person to move
The Wi-Fi connection tends to be unreliable
6. Camp Chef SmokePro LUX Pellet Smoker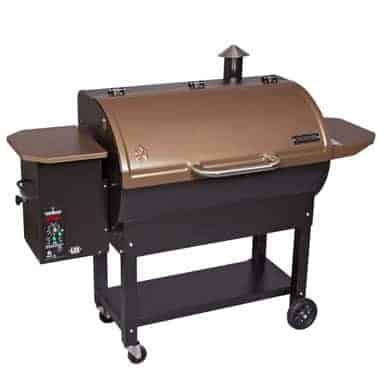 If you fell in love with the best pellet smoker overall, but the cooking area left you desiring more, then this is the pellet smoker for you. It has 875 square inches of cooking space and weighs 180 pounds. Its features include electronic auto-start ignition,
dual LED temperature readout, internal cooking temps and internal food temps for quick and easy temperature control.
It's very similar to the Camp Chef PG24DLX, but it offers more cooking space, as you can see. While the hopper's size is only 18", you can get 12-14 hours of cooking out of a single fuel in mild weather. If the weather is warmer, it can last even longer.
Temperature Range: 160 - 500 degrees Fahrenheit
Pros:
Large size
You can add a sear box
Easy to cleanup
Cons:
Terrible built-in temperature probe
Calibration issues
7. Pit Boss 700FB Pellet Smoker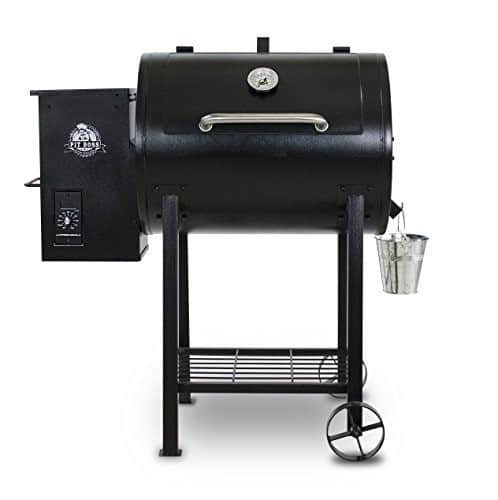 Pit Boss sells a wide range of pellet smokers, and they are marketed as cheaper alternatives to the Traeger line. You can typically get a pellet smoker that's very similar to a Traeger pellet smoker for a couple hundred dollars less than you would spend for the Traeger name.
The downside is that this pellet smoker lacks some of the more modern features, but if you don't need these, this is still the best pellet smoker. This unit has thermostatic controls with an LCD readout for optimal temperature range/control, as well as a sliding plate system that allows you to get a more direct sear, which gives you greater cooking versatility.
It's made using heavy gauge steel, and because of this, it is incredibly durable considering the price and size.
Temperature Range: 180 - 500 degrees Fahrenheit
Pros:
Very similar to a Traeger model
Made from durable materials
Cons:
Who Should Invest in the Best Pellet Smoker?
Even beginner pellet smokers will cost you more than a gas or charcoal smoker. But for that extra money you spend upfront, you'll be able to enjoy the versatility and simplicity of the best pellet smoker.
In 2008, only a couple of companies were making the best pellet smokers: MAK and Traeger. Nowadays, there are so many more brands to pick from, which is a testament to how popular pellet smokers have become.
The price for the best pellet smoker starts at a price close to $400 and can go over $1,000, depending on the brand, features, and size of the pellet smoker.
There are only two words required to summarize the best pellet smoker's perks: versatility and convenience. If the best pellet smoker's cost doesn't scare you away, the convenience of one of these smokers will attract you to a pellet smoker.
You'll find that with the best pellet smoker, you can throw your meat on, set the smoker to your desired temperature, and forget it and continue with your day without worrying about having to tend to the smoker.
Pellet smokers operate using electricity, which makes them a good option if you reside in an apartment or in an area that restricts the burning of wood and charcoal.
How Does the Best Pellet Smoker Work?
While pellet smokers share the "set it and forget it" cooking style of its electric and gas cousins, a pellet smoker uses an alternate system to create heat. As implied by the name, pellet smokers generate heat by burning wooden pellets.
The general setup of a pellet smoker includes a hopper to one side where the pellets are added. After plugging in the smoker and setting the controller's temperature, you'll find that the pellets begin to be pushed through the smoker and transformed into heat.
The digital controller is by far the most critical part of your pellet smoker because it's a computer that controls the pellet smoker's temperature throughout the cooking process.
There are few types of smoker controllers on the market:
Three Position Controllers. This type of controller is often found on cheaper pellet smokers. They have three settings – low, medium, and high (225 degrees F, 325 degrees F, and 425 degrees F, respectively). They can also be called LMH controllers. This controller will push the pellets into the burner using fixed cycles. You have little control over the temperature with this kind of controller.
Multi-Position Controller. This type of controller lets you alter the temperature of the smoker in small increments. The pellets are pushed into the smoker in fixed cycles, but that doesn't mean that this controller offers great accuracy. This type of controller is generally accurate +/-20 degrees F, and this is only in ideal cooking conditions. A great feature with these types of controllers is an LCD screen on the pellet smoker.
One-Touch Non-PID Controllers. This controller allows you to alter the temperature of the smoker in five to ten-degree F increments. They will still feed pellets with a fixed cycle, which means that they can provide accuracy of +/-15-20 degrees F. This controller type also tends to have LCD screens, several inputs for meat probes, and one-touch buttons.
PID Controllers. These are considered to be the standard in pellet smokers. They use complex algorithms, making it, so the smoker's temperature is accurate within a couple of degrees. Pellets are fed continuously and can be altered to keep a steady temperature. They often feature one-touch buttons and an LCD screen.
Construction Materials and Durability
Don't fall victim to going with a pellet smoker just by the exterior of it. Even if you find a pellet smoker that has a lot of stainless steel on the exterior, there's a chance that the manufacturer cut corners in the production and used cheaper materials inside the smoker.
The things that are the most important on your pellet smoker are the grates, drip pan, flame deflector, and firepot. If these things are from marine grade stainless steel, you'll have a smoker that can last a lifetime.
However, if the pellet smoker you're examining is made using powder-coated steel, you need to ensure that the coating is high-quality. When the paint chips and blisters, your smoker will begin to rust out, and these things will deteriorate.
It's also worth mentioning that the best pellet smoker made using the highest quality of materials performs the best. Higher quality materials can retain heat, keep steady temperatures in colder weather, and ensure an efficient consumption of pellets.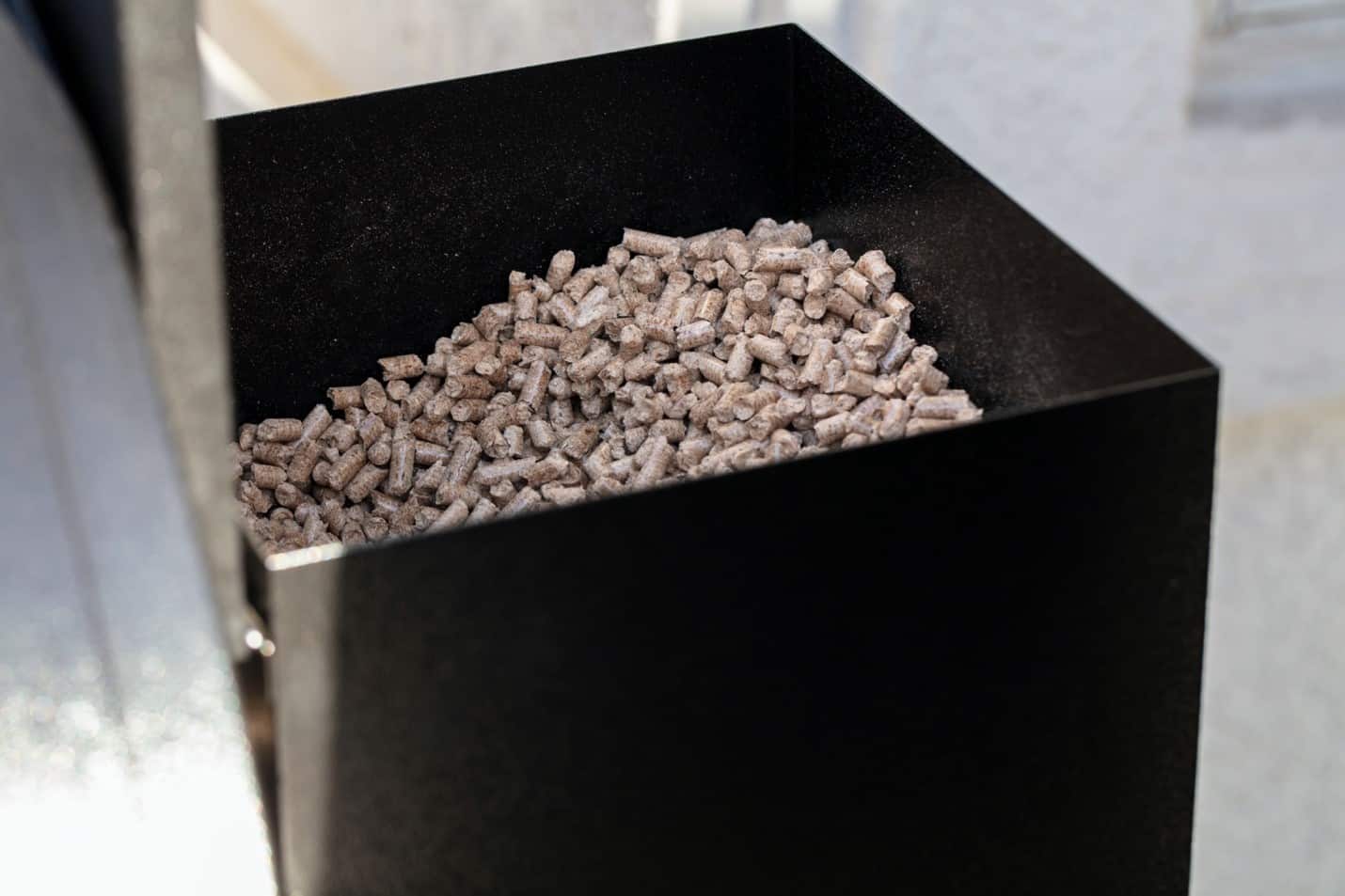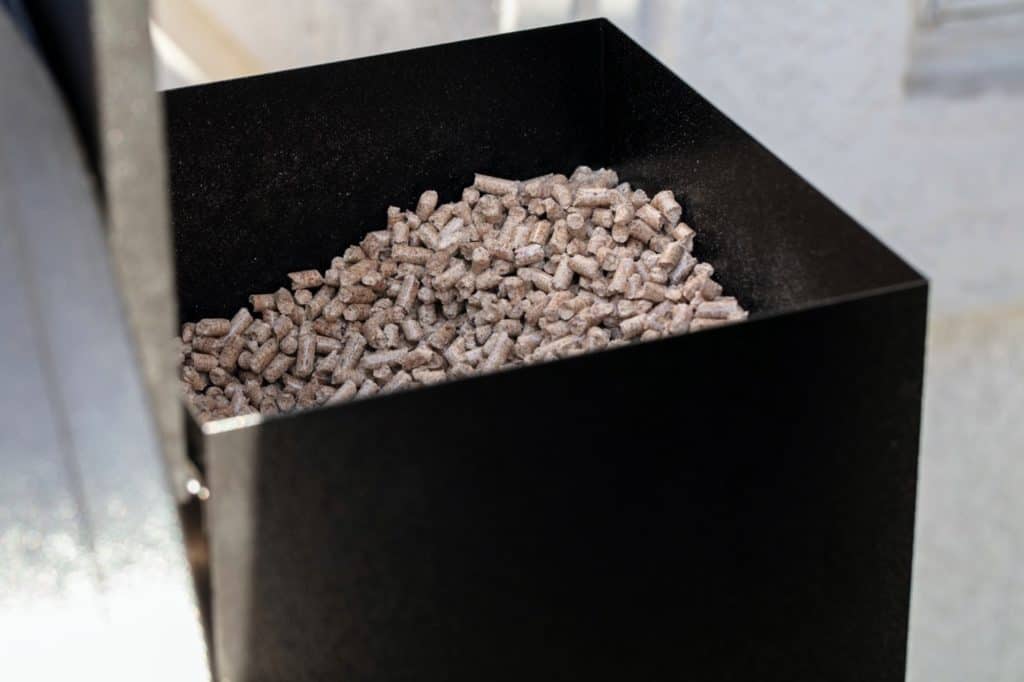 Hopper Size
The hopper on your pellet smoker is the vessel that holds the pellets that are ready for the auger to transport them into the firepot. Because this is how the hopper works, the capacity of the hopper will determine the length your smoker cooks for. So, going with a hopper that's not big enough will be difficult and annoying because your smokes will not be able to last for more than a few hours.
As a buyer's guide, a pellet grill that has a 40-pound hopper allows you to smoke for 40 hours at typical smoking temperatures. When you think about how most smokers need 20 hours, having an 18-pound hopper can be an issue.
You also need to think about the climate you live in. If you reside in a colder climate, your smoker will use more fuel to bring the temperature up and keep the temperature steady.
You can buy hopper extensions for your pellet smoker. However, you need to make sure that the hopper extension is compatible with your pellet smoker.
How Big of a Cooking Area Is Needed?
Before you finish deciding how large of a pellet smoker you need, you have to answer a few questions:
Are you planning on cooking large cuts of meat?
How many people are you going to be cooking for?
You have to keep in mind that bigger isn't always better because buying a large pellet smoker when you don't need it will only waste pellets.
You should look for a feature in the best pellet smoker for the temperature to remain constant across the cooking surface. Thus, there shouldn't be any temperature differences between the top and bottom rack during the cooking session.
With all of this information shared, let's talk about the main difference between the total cooking space and the primary cooking space. The primary cooking space is referring to the space you have on the main cooking rack. Total cooking space takes secondary racks into consideration.
Therefore, a big pellet smoker with a primary cooking space of 600 square inches might end up being less useful to you than a smaller smoker with a total cooking area of 500 square inches of primary cooking space and a secondary rack with 100 square inches.
The main point is that you need to consider what you actually need and not let the saying "bigger is better" get the best of you.
Common Capabilities and Features
Unlike the traditional charcoal or offset smokers, pellet smoker comes with a lot of amazing features. Some of the features that you should think about when purchasing the best pellet smoker are:
Wi-Fi Capability. Several companies have started to take advantage of the computer inside the pellet smoker. So, what they do is integrate Wi-Fi connectivity so you can keep an eye on the smoker's temperature from anywhere, as long as you have a good internet connection. Most of these companies offer free apps that you can download to control the pellet smoker.
Meat Probes. A few pellet smoker options have outputs in their controller where you can plug in meat probes. Readings of the temperature from the meat can then be displayed on the screen of your smoker.
Grilling Options. A huge drawback of pellet smokers in the past was that they lacked grilling capability. There are some pellet smokers nowadays that have made it possible to grill and smoke your meat.
Add-Ons. Some companies offer several other add-ons that you'll need to consider. When you're searching for the best pellet smoker, take a look at what features come standard and what features are add-ons. Some add-ons are even offered by companies that aren't the manufacturer, so that's something you need to be aware of. If a particular feature is important to you, but it's not a standard feature on the best pellet smoker for you, then make sure that it's an add-on before purchasing it.
Warranty Length
Some of the components in the best pellet smoker that are insanely high-tech. There are even some parts that move, like the auger. All of this points to the fact that there are components of your pellet smoker that can easily break and that you might not be able to fix yourself.
Therefore, you need to make sure that you understand how long the smoker's warranty is, what it covers, what voids it, and where you have to take the smoker for any repairs.
Warranties will vary by manufacturer, so don't back away from asking questions about the warranty before making your big purchase.
Consumption of Pellets
No one enjoys a pellet hog. What we mean by that is that nobody likes a pellet smoker that burns through a ton of pellets. If the material of your pellet smoker is too thin, heat will easily be lost through the body of the cooking chamber, and therefore use a ton of pellets to keep a steady temperature.
If the smoker's material is too thick, you will also find that your smoker will use a ton of pellets too. The thick material smoker walls will act as a heat sink; this is where heat is taken away from the cooking space and then stored in the smoker walls.
When this happens, the smoker will go through an excessive number of pellets to get the cooking space up to temperature. Thick walls might be good on some types of smokers, but they're not wanted for the best pellet smoker.
Make sure that you research how many pounds of pellets per hour a smoker will burn before purchasing it. Anything that will burn about a pound an hour, with smoking temperatures, is a good buy.
Stay Away from Gimmicks
In the pellet smoker world, there is a very fine line between tacky gimmicks and useful technology. With the ever-increasing competition between manufacturers, many companies want to stand out above the rest.
This isn't to say that every feature is a gimmick and should be ignored, but that some features just aren't necessary. In the end, you have to decide what features on a pellet smoker you would actually use and which ones you wouldn't touch.
Is there a certain feature that you need? Is it going to affect more important features, such as durability and pellet usage?
Customer Service
Purchasing a pellet smoker from a large, established company typically means that there is a dedicated customer service team on hand. It also indicates that the company will likely be around for several years when you might need their help.
On the other side, buying from a small company might offer you a more reliable and personal customer service experience. The people you get in contact with will have a better understanding of the pellet smoker you have.
Price
Pellet smokers vary in price. Some will only cost you a couple hundred dollars, while others will cost you thousands. There is one word of caution: don't confuse a cheap smoker with a smoker that has great value.
A cheaper smoker might save you some money upfront, but if it rusts, components break down after only a year of using it, and you don't have a good warranty or good customer service, you'll end up spending more money in the long haul.
On the other side of things, purchasing a smoker with all the new, modern features that you will never use is just a waste of your hard-earned money.
Before you spend your money on a pellet smoker, make sure that you review all of the things we've listed above. Find something available in your area and ask a ton of questions if you're not sure about something.
Because of the variation in the best pellet smoker's price, you must know what you need from your pellet smoker and what you could live without. This will save you time and money by narrowing down your top picks.
Pros and Cons
As we mentioned above, several pellet smoker users buy a pellet style smoker because of its versatility and convenience. As you would with an electric smoker, with a pellet smoker, you get:
Set it and forget it convenience – Simply make sure that the hopper is full of pellets and then set the temperature. There isn't much more for you to do after that!
Easy temperature control – Most pellet smokers allow you to dial the temperature is within five degrees, and they typically do a great job at maintaining temperature.
Some advantages are unique to pellet smokers:
Efficient fuel usage – Pellet smokers are like a home oven, but with an insanely efficient fan that makes it, so you use fewer pellets.
Effortless cleanup ­– Other types of smokers make big messes every single time that you use it. You may have to clean out the firepot with a pellet smoker once in a while – after about 60 uses.
There are some cons to purchasing and using a pellet smoker too. These cons include:
You end up spending more trying to get a reliable smoker than with other types of smokers – You can easily purchase a great electric, gas, or charcoal smoker that costs between $200 to $500. Still, a good pellet smoker will cost anywhere between $400 and $1,000+.
You aren't able to cook at hotter temperatures or create quite as much smoke – You aren't able to get as great of a sear as you would with a charcoal smoker, and you won't get that desirable smoky flavor you would get with an offset smoker.
You have to plug the pellet smoker into electricity – This limits you from using your pellet smoker.
You have to keep an emergency stockpile of pellets – If you run out of pellets, you might have to order online to get your favorite brand. This isn't as true with a gas or charcoal smoker.
Remember that pellet smokers might not be for everybody.
Final Thoughts
Pellet smokers have quickly shown that they're more than a fad. While some people will claim that they're simply an "expensive oven," there are some people who find that the convenience and quality of the food made on a pellet smoker can't be beaten.
There are several things that you need to consider when you go to purchase the best pellet smoker. For example, you need to think about the features you need and what features you can live without. You also need to keep the price in mind as well as how much cooking space you need. These are only a few of the many considerations, but they're probably the most important.
We hope that this guide helps you understand the best pellet smoker, how to find the best pellet smoker and some of the pros and cons of purchasing and using a pellet smoker.