It used to be that any utterance of the phrase "vegetarian food" would immediately trigger thoughts of raw vegetables, basic salads, boring tofu, and lots (and lots) of beans.
Not anymore! The scope of plant based eating is rapidly expanding thanks to new cooking technologies, wider ingredient availability, and an incredible amount of shared knowledge on vegetarian cooking.
Whether you are an established vegetarian, embarking on a vegetarian diet for the first time, or simply would like to incorporate more veggie-centric meals into your life, this list of our favorite vegetarian cookbooks will surely teach you a few new recipes and open up your world of plant based eating.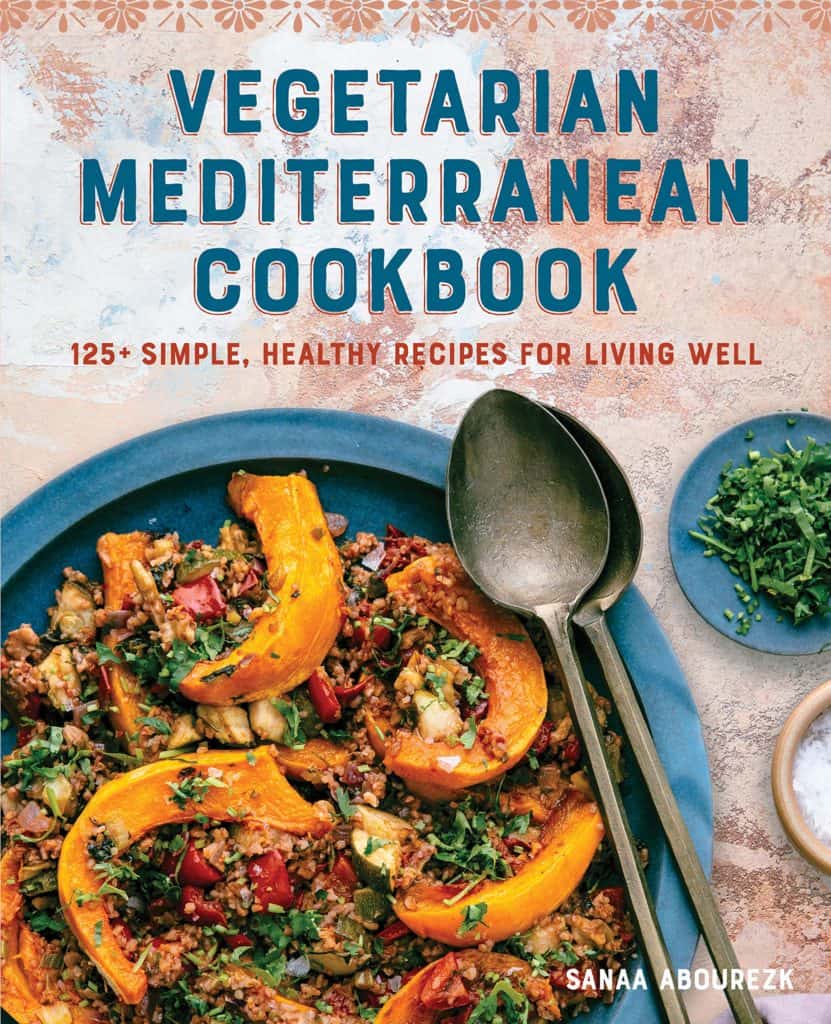 by Sanaa Abourezk
Originally from Syria, Abourezk came to the US to learn everything she could about food. She went on to open Sanaa's Gourmet, an award winning Mediterranean restaurant in Sioux Falls, and now she looks to bring her traditional cuisine homes and kitchens everywhere. The Vegetarian Mediterranean Cookbook coalesces all of Sanaa's wisdom and authenticity into one place, at the same time combining two health-centric eating plans into one.
A Peek Inside Vegetarian Mediterranean Cookbook:
It seems that the Mediterranean diet is everywhere these days--in headlines, medical journals, and of course in cookbooks. This collection of Mediterranean diet style recipes is 100% vegetarian and truly brings you the best the region has to offer. From eggplant moussaka to Moroccan style vegetable tagine, this book covers the wide range of cuisines and ingredients that make up the Mediterranean.
The Vegetarian Mediterranean Cookbook is helpfully divided into categories that will help you to locate any recipe quickly and easily. The recipes are also written so as to call for commonly accessible ingredients, without the need for specialty shops or orders. On the rare occasion that an ingredient might be difficult to source, Sanaa offers substitution options to help you have a successful recipe no matter what! In addition to plenty of vegetarian recipes, this cookbook also contains some additional helpful information, from a spotlight on olive oils to a handy guide on pesticides and more.
Despite the bounty and beauty of the Mediterranean region, there are unfortunately not a great deal of recipe photos in this cookbook, so be ready to put your imagination to work! Also, perhaps in a health-minded effort, some recipes seem to be a bit lacking in the seasoning department. So, bear in mind that you might need to spice things up a bit with your own flavor additions.
Pros:
Combines the powerful health benefits of vegetarianism + Mediterranean cooking into one book
Conveniently divided into easy-to-find recipe categories
Recipes are written so that ingredients are easy to source from your local market
Substitution options are offered any time an ingredient might be harder to locate
Includes additional helpful information and tips to help make your cooking easier and healthier
Cons:
Overall lack of recipe photos throughout the book
Recipes tend to be mildly seasoned and may need tweaking to suit your taste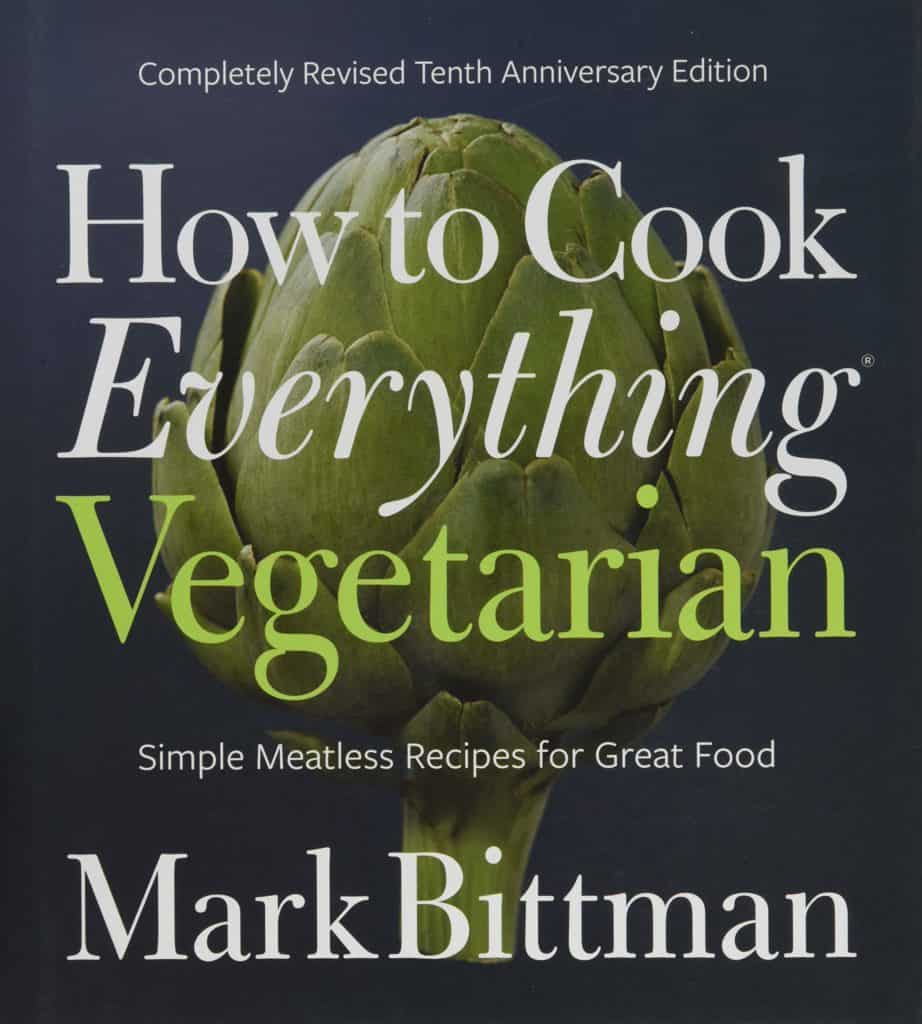 by Mark Bittman
The first edition of How to Cook Everything Vegetarian was published in 2007 and was instantly one of the best vegetarian cookbooks on the shelves. This tenth anniversary edition has been updated to reflect new developments in food culture, technology, and within vegetarianism itself. Author Mark Bittman is known for writing deeply informational books on cooking (as well as eating!) and this title is another in his "How to" series of books, providing useful guidance on the ins and outs of vegetarian cooking.
A Peek Inside How to Cook Everything Vegetarian:
In typical Mark Bittman style, this cookbook is encyclopedic in nature with plenty of well-organized advice, tips, recipes, and reference material for all things vegetarian. This makes it an excellent book for anyone who is new to the vegetarian diet or has merely dipped a toe to test the waters. It provides a broad spectrum of information and cooking techniques, allowing the reader to learn as they cook, and develop their own preferences as they do so.
This edition of How to Cook Everything Vegetarian includes some gorgeous new color photography, bringing Bittman's lessons to life as well as serving up a real feast for the eyes. It also includes some vegan recipes, making this a useful resource for followers of both vegan and vegetarian diets as well as those who are simply looking to incorporate more plant based foods into their diet. And, you'll be pleased to find plenty of tips and notes along the way, from crafting a great salad, to tricks you can use to jazz up a veggie burger, and even how to make your own tofu!
All of this information means that this book can't help but be rather large (nearly 4.5 pounds!) and unwieldy, meaning it's a bit difficult to use while actually cooking. In addition, this book doesn't seem to provide much guidance on the concept of putting a meal together, rather it contains lots of information that is ingredient and dish specific, leaving you to decide what goes with what.
Pros:
Encyclopedic volume of practical information in a well-organized, structured content
Covers a vast range of ingredients, dishes, cuisines, and techniques
Stunning photographs of recipes and ingredients
Plenty of recipe tips, tricks, notes, and variations
Inclusion of vegan recipes makes this a great cookbook for vegans as well!
Cons
Large size and heft make it difficult to use while cooking
Does not offer as much guidance on how to put entire meals together, rather it aims to teach how to cook individual ingredients, components, and dishes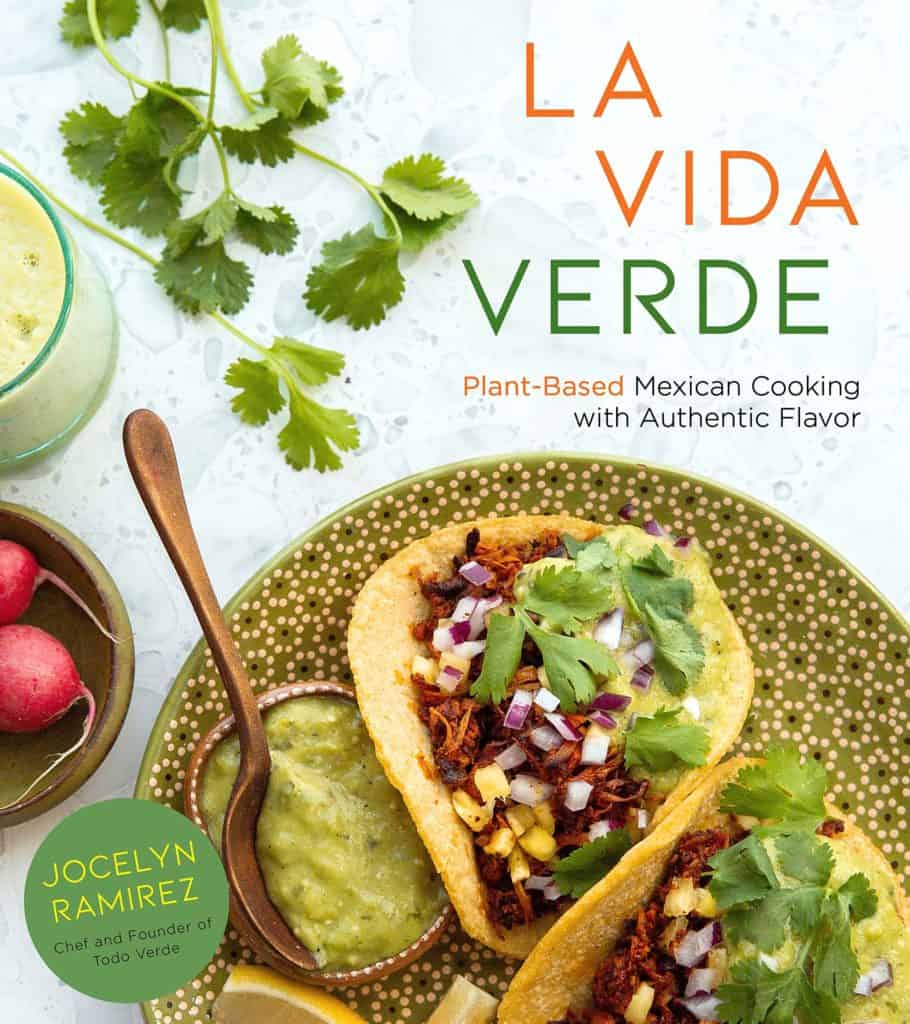 by Jocelyn Ramirez
Thanks to her Abuela (that means Grandmother!) Jocelyn Ramirez developed a deep love for crafting Mexican food. In La Vida Verde, she adapts those traditional dishes into meatless modern options, all while preserving their authenticity and of course, their deliciousness.
A Peek Inside La Vida Verde:
La Vida Verde is one cookbook that was designed to be actually used while cooking. The pages boast full color photos of each dish, and the book is crafted intentionally with a binding that allows it to lay flat while open. These might sound like small details, but when your hands are full of chile de arbol or fresh tortillas and you need to check a measurement or next step, it's these little things that make a BIG difference.
The recipes in this cookbook will surely satisfy your cravings for all of those amazing Mexican flavors with recipes such as Jackfruit "Carnitas" Tacos, Tortilla Soup with Cashew Cream, Hearts of Palm Ceviche, and Mushrooms with Green Mole. The recipes are easy to follow and are especially great for those who are new to cooking Mexican cuisine, or anyone who is in the market for some easy-to-pull-off dinners to add into the busy weeknight rotation.
Be aware that some ingredients might be a little difficult to source depending on where you live, so be ready to suss out your closest Latin grocery store or to make some substitutions. La Vida Verde is also heavy with meat substitution recipes, which, while handy to have and oh so important for satisfying hungry plant based eaters, may feel a bit redundant after a while.
Pros:
Full photos of each recipe
Is easy to use while cooking as it lays flat when open, no placeholder or paperweight needed
Provides vegetarian versions of classic Mexican food favorites
Learn how to make incredibly believable substitutions for commonly used meat and dairy products
Easy to follow, easy to prepare recipes
Cons
May be difficult to find some ingredients depending on where you live
Includes a lot of recipes that are focused on creating a believable meat or dairy substitution, rather than highlighting the plant-based ingredients themselves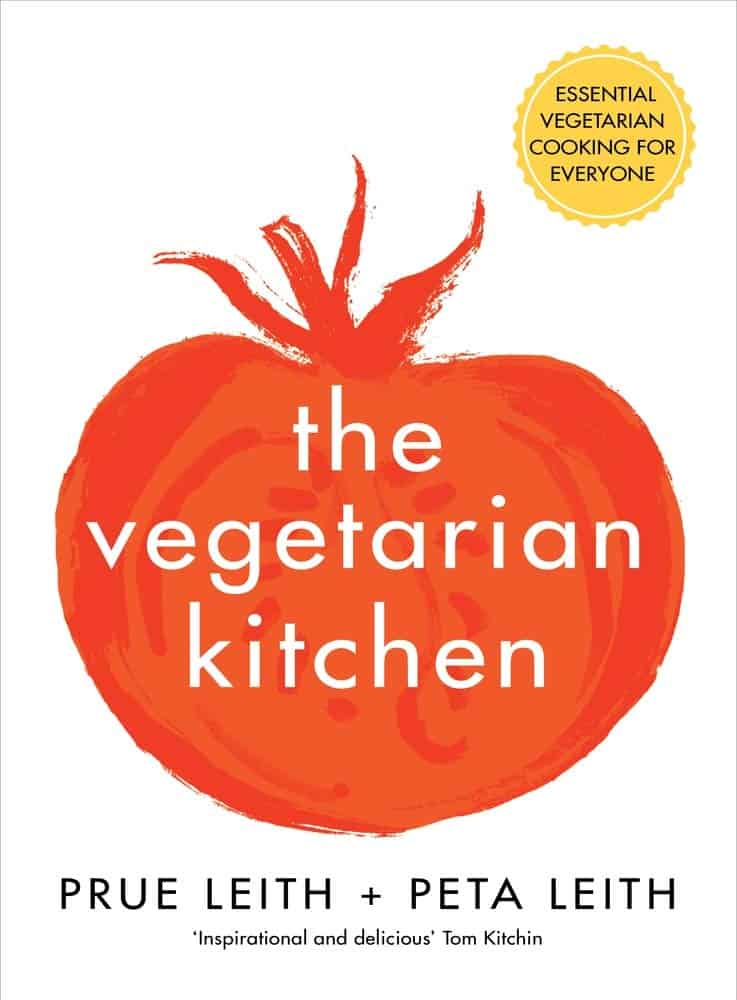 by Prue Leith & Peta Leith
You might recognize Prue Leith from her high-profile role as a judge on the hit show, The Great British Bake Off! As if that weren't impressive enough, Prue is a skilled chef who opened a Michelin starred restaurant, built a catering company, penned several novels, and has championed healthier foods in schools throughout her career. Her co-author on this cookbook just so happens to be her niece, Peta, who is an accomplished chef in her own right. After training at the French Culinary Institute, Peta went on to work as a pastry chef in restaurants and bakeries across London. In The Vegetarian Kitchen, this aunt and niece duo combine forces, providing a host of helpful information to vegetarian cooks and bakers alike.
A Peek Inside The Vegetarian Kitchen:
Prue and Peta took care to write their cookbook in a casual, conversational style that makes it easy to follow–not what you'd expect from chefs who have had as many years of technical experience as these two! The authors manage to keep things light throughout, and you, dear reader, will feel like you have 2 friends in the kitchen right by your side. The recipes are designed with easy shopping in mind, with the end goal being simple, straightforward vegetarian dishes you can pull off without too much time or fuss. A small sampling of the delicious recipes includes: Veggie Chili made with black beans, Banana Bread with Chocolate, Bread Pudding with Spinach and Goat Cheese, and Roasted Mediterranean Tart. There are even some recipes for you to try your hand at bread baking--not something typically seen in your standard vegetarian cookbooks!
As you might expect when one of two authors is an accomplished pastry chef, this book leans heavily towards baking and desserts. And while it's not that there's anything wrong with new recipes for sweets (nothing wrong at all!), if you're looking for more dinner or meal recipes, you might not be satisfied here. Vegans may also have some trouble making use of this particular cookbook as many of the recipes in The Vegetarian Kitchen do call for eggs and cheese, however vegan adaptations are offered.
Pros:
Fun and friendly writing style is engaging, as if you're cooking with friends!
Easy to source ingredients
Recipes are easy to follow, not too technical or time consuming
Includes recipes for some unusual items such as bread as well as a wide range of dessert options
Cons
A large portion of the cookbook consists of dessert/baking recipes, rather than dinners or meals
Not ideal for vegans and many recipes make use of eggs and/or dairy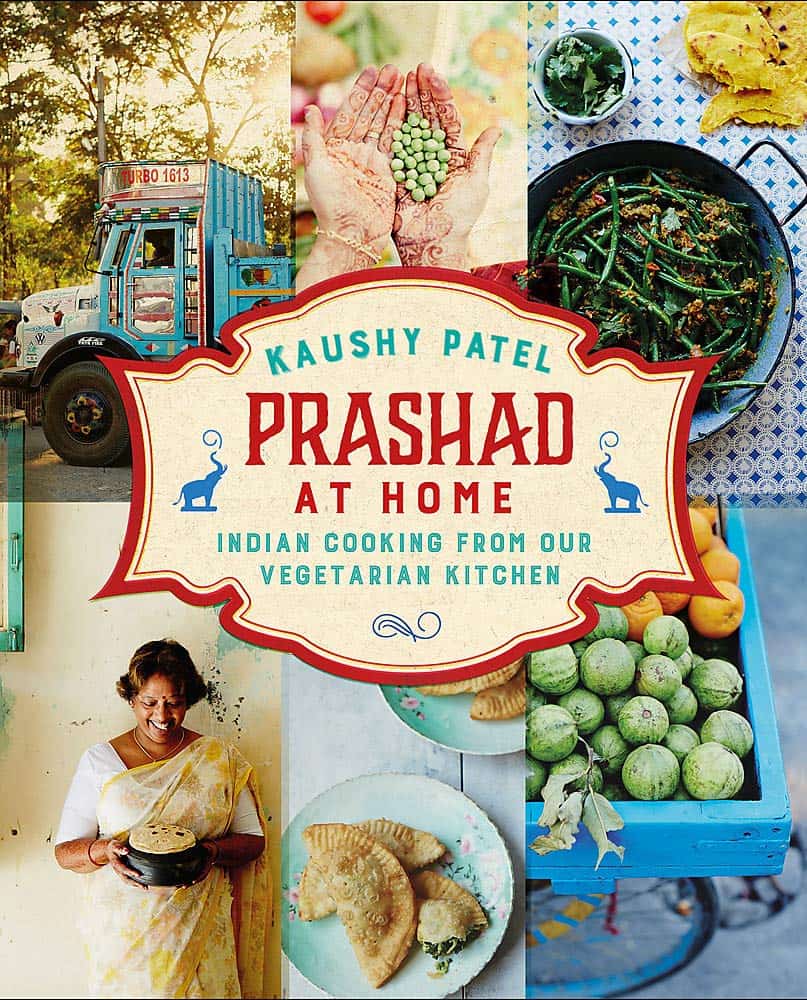 by Kaushy Patel
Prashad, an immensely popular and award winning Indian vegetarian restaurant in West Yorkshire UK is led by chef Kaushy Patel and her husband. Patel first developed her love for cooking while growing up on her grandmother's farm in India, later bringing all she had learned to the UK where she first opened a deli and then multiple restaurants. Known for vegetarian food with big flavors, Patel makes authentic Indian cooking accessible to all with Prashad at Home. 
A Peek Inside Prashad at Home:
Despite being named after a bustling restaurant, by no means is this cookbook full of "restaurant food". The simple recipes found here are homey and comforting, such as Spiced Savory Tapioca, Steamed Dumplings, and plenty of cozy curry recipes to try. To help keep things organized, each recipe is clearly labeled for different dietary categories: vegan, wheat free, onion & garlic free, nut free, or healthy options.
As with any recipes from a specific cuisine, you may encounter some never-before-seen ingredients, but Patel takes care to choose her ingredients with accessibility in mind and provides plenty of explanation and substitution when an ingredient might be tough to find. You'll be pleased to note that most of the dishes in this cookbook share the same base set of ingredients, with the hope that shopping for each recipe will just require just a small handful of items once you have your pantry established.
As you might expect, the recipes in Prashad at Home tend to have strong flavors and heavy seasoning, not always with spice, but always with flavor. If you have a sensitive palate or are unsure of your tolerance with heat, it would be wise to go lightly with the seasoning until you have a feel. And heads up, this cookbook was written and published in the UK, so some ingredients, terms, and measurements might require a bit of translation and conversion for any readers here across the pond.
Pros:
Inclusive cookbook offers a wide range of recipes: main dishes, standard accompaniments such as rice dishes and chutneys, as well as sweets and treats
Every recipe is clearly labeled for compliance with different dietary categories
Recipes are specifically written to use easily accessible ingredients while preserving traditional flavors
Most dishes share the same set of basic ingredients
Cons
Recipes have strong flavors and heavy seasoning, so if you are not adjusted to spice and heat, go lightly at first!
As a UK published cookbook, some terms and measurements might require translation and conversion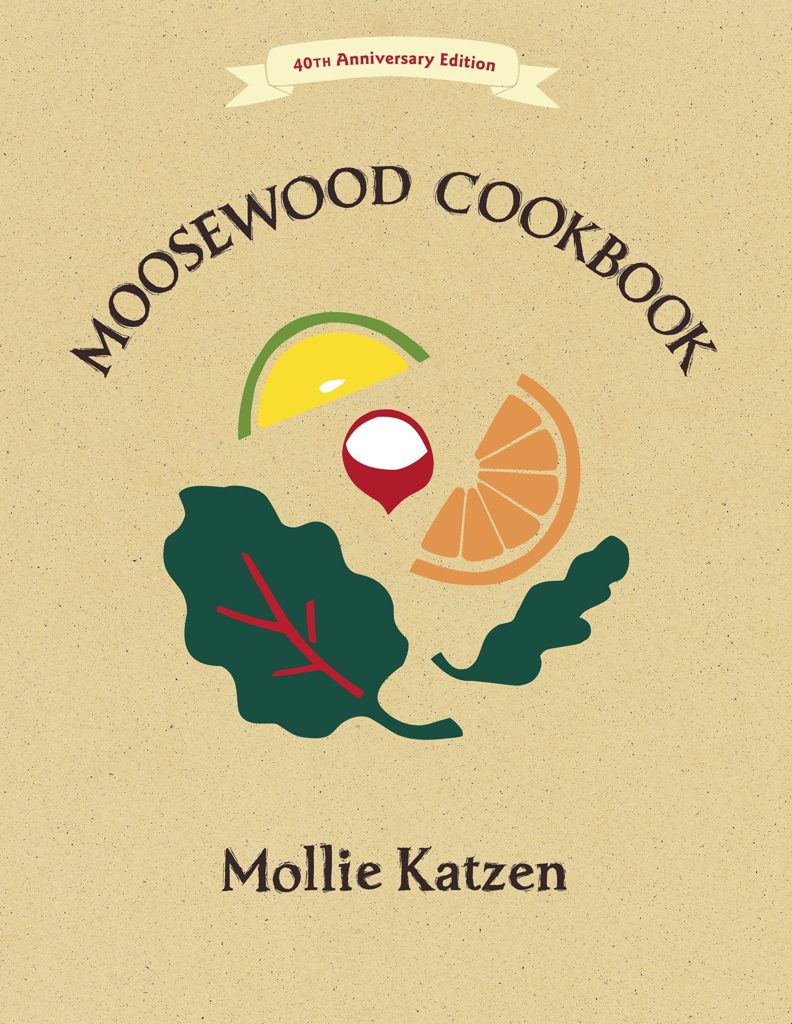 by Mollie Katzen
In 1974, the original Moosewood Cookbook was handwritten and self-published by chef Mollie Katzen, who never intended for it to become one of the most fundamental vegetarian cookbooks ever written. Now, approaching a half-century later, Moosewood is ranked as one of the best-selling cookbooks of all time! This new Moosewood Cookbook, in its 40th anniversary edition, is careful to maintain the charm of Katzen's original production, but with some thoughtful revisions, new recipes, and ingredient updates.
A Peek Inside The Moosewood Cookbook:
Katzen's handwritten style, adorable drawings, and the overall aesthetic of this cookbook are, without a doubt, charming. Thumbing through the recipes will leave you feeling as if you've discovered someone's most treasured recipe files, finally able to learn their closely guarded culinary secrets at last. As you flip through the pages, comforting dishes such as Spicy Tomato Soup mingle with interesting sounding titles like Polenta Pie or Marinated Sweet Potatoes and Broccoli.
The recipes are designed to produce family-size quantities and many of them are inherently gluten-free or can easily be adapted to meet the need. In addition, a lot of the recipes will provide a number of other variations you can opt for, depending on your personal preferences as well as what ingredients you have on hand. The whole idea of cookbooks is to make your cooking easier after all, not to leave you taking endless trips to the market!
As groundbreaking as Moosewood was upon its entrance, some readers these days might feel that the recipes and flavor combinations lack innovation or excitement. Remember! This book is nearly 50 years old, long before food tv and social media were a part of our daily lives. The recipes are tried and true classics, but if you're looking for new and trendy vegetarian recipes, you likely won't find them here. In addition, the only photos you'll find in this book are of the hand drawn variety. Very cute! But less than helpful if you're looking for an idea of what your finished dish should look like. It's also worth noting that this cookbook is vegetarian through and through. It is not suitable for vegan cooking as animal products such as dairy and eggs are frequently used.
Pros:
A truly classic cookbook and arguably fundamental resource for every vegetarian kitchen
Charming, handwritten recipes and notes give a unique flair to this cookbook
Recipes are designed to yield family size meals
Includes gluten free recipes as well as recipes that are easily adaptable to eliminate gluten
Many recipes include multiple variations to adjust for personal tastes or ingredients
Cons
Recipes are a bit basic, lacking in new food trends and flavors
No photos, only drawings!
Not a great option for vegan cooking as dairy and eggs are often used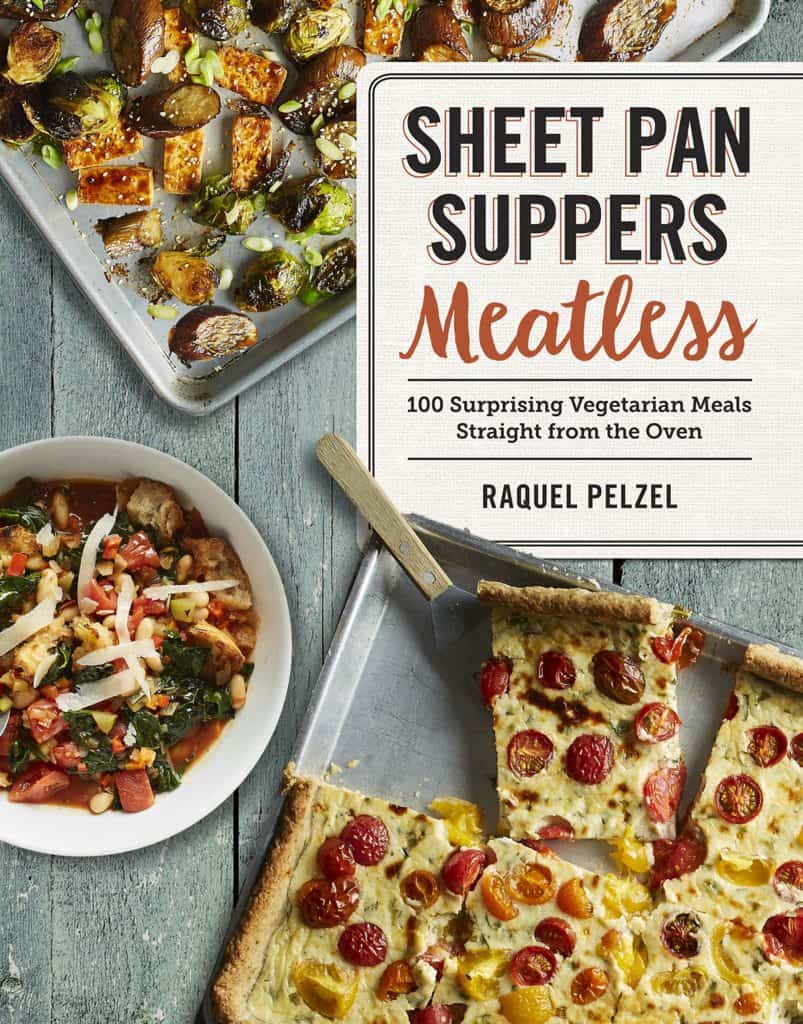 by Raquel Pelzel
As a classically trained pastry chef, Raquel Pelzel has authored and co-authored numerous cookbooks as well as worked for culinary institutions such as Cook's Illustrated, Saveur, and Fine Cooking to name just a few. Truly, those are just a few, as her list of impressive accolades is huuuuge! In her cookbook Sheet Pan Suppers Meatless, Pelzel aims to make mealtime easier and breezier for busy families and solo home chefs alike.
A Peek Inside Sheet Pan Suppers Meatless:
Giving vegetarian cooking a taste of the sheet pan dinners trend, Sheet Pan Suppers Meatless is all about maximizing the use of your oven while minimizing the effort required to produce a meal. Who can resist the comforting sounding dishes like No-Boil Mac & Cheese or Roasted Vegetable Lasagna? Despite its title, this book is not all suppers though. One breakfast option is Quiche with Spinach, Goat Cheese, & Caramelized Onions, and you'll also find some kid (and adult!) friendly snacks like Pizza Twists.
No matter the meal, this book is designed with busy people in mind, who want to be able to pop a healthy, satisfying recipe into the oven, with minimal cleanup required. Another noteworthy element is the way this cookbook stands to expand your kitchen creativity, getting you thinking about your cooking tools in whole new ways. Who says you have to boil pasta on the stovetop? There are many ways to accomplish the same goal when it comes to cooking, and that is a worthwhile lesson in and of itself.
While this cookbook certainly proves that it's possible to cook almost anything on a sheet pan in the oven, it isn't always convincing that this is the best method. Some dishes, such as the I Can't Believe It's Mushroom Risotto, require frequent stirring and the addition of liquid multiple times during cooking–not so easy to do when you're sliding a hot oven rack in and out every time. In some cases, the ingredient list for a recipe does seem a bit gratuitous, but perhaps this is part of the price for convenience cooking. And, unfortunately, not every recipe has a corresponding photo.
Pros:
Recipes are designed to make the task of cooking a meal fast and convenient, without a ton of cleanup
Includes plenty of recipes beyond suppers: snacks, breakfasts, lunches, and desserts
Cookbook is intentionally written to be family friendly as well as healthy
Encourages creativity, outside the box cooking, and will challenge what you think you know about cooking processes
Cons
Some recipes are more labor intensive than others, therefore not as practical for cooking on a sheet pan in the oven
Some recipes seem to have over-extensive ingredient lists
Not all recipes have corresponding photos
Best Vegetarian Cookbooks: The Takeaway
As you can see, these days it's easier than ever to turn plant based foods into inventive dishes and delicious meals. There is truly a cookbook full of vegetarian recipes out there to suit every set of needs, from convenience cooking to healthy recipes to Indian cuisine and beyond.
Many of these vegetarian cookbooks also offer delicious recipes with a vegan twist, which is helpful if you are not a strict follower of one diet or the other, but rather are interested in plant based cooking as a whole. No matter what your typical diet looks like, any of the choices from this list of the best vegetarian cookbooks will have you cooking vegetables with confidence in no time.