Hi my name is Carol and I am a non-blogging member from Newfoundland, Canada – in fact I live in the most easterly city in North America! I have been a member of the Daring Kitchen since January 2010. I love our Daring Kitchen challenges and each month I anxiously await the challenge post knowing that it will be another great stop on my culinary cooking journey. Needless to say, I am thrilled to be hosting this month's challenge which is titled Brave the Braise – A Study of Ruhlman's Twenty Braise Technique.
I had the opportunity to review Ruhlman's Twenty in December and gave it resounding thumbs up!
Download printable file HERE
This book is chock-a-block full of ideas and techniques for both the budding home cook and the seasoned professional chef. Ruhlman discusses techniques, ingredients and thought processes that should be employed in the kitchen. He writes that there are fundamental cooking techniques that should be part of the beginner's skill set and they are Sauté, Roast, Braise, Poach, Grill, and Fry. Of these Ruhlman believes that the "braise" is one of the most valuable techniques as it demonstrates what cooking is all about – "transformation, turning raw, tough, inexpensive ingredients into hot, , delectable dishes."
In recent years, with the downturn in our economies, braising has found its way back into cooking mainstream. Top chefs and restaurateurs along with home cooks have been looking for more economical meal ideas. Braising lends itself to the preparation of tough cuts of meat like shoulders and shanks or cuts with muscle and lots of connective tissues – think lamb shanks, beef short ribs or oxtails. For vegetable dishes like carrot, celery, and leeks that are tougher or more fibrous, a braise is an alternative to a stove top boiled preparation. The long, slow steady heat of the braising liquid helps break down the connective tissue of meats or fibers of vegetables and transforms them into , succulent morsels.
What is braising?
Traditional cooking methods may be classed as how heat is conducted through the food. First is moist heat (poaching, simmering, steaming or boiling) where heat is conducted through some sort of liquid; be it stock, sauces or steam. The second method is dry heat (roasting, baking, broiling, sautéing, pan frying) where heat is conducted by hot air, radiation or hot fat. Different methods are suited for different kinds of food. Braising, from the French "braiser", offers us a combination cooking method – dry heat followed by moist heat. Typically, meat is seared in hot fat which helps to add flavor and aromas, improves color (browning), and texture (crust). It is then submerged in liquid and cooked slowly and gently at low heat. In a nut-shell that's it! It should be noted that there are endless variations for braising including stove-top versus oven; partially submerged in liquid or completely submerged; or stews where there are many ingredients that are cut into smaller pieces.
Braising has several advantages over other cooking methods in that it provides for uniform cooking when done in an oven with heat coming from all sides instead of just the bottom of the pan as well it requires less attention as it's cooked at a slow and steady temperature for longer periods. Other advantages are that it clears the stove top for other preparations, the dish may be prepared in advance and the flavor improves over time!
While braising is a wonderfully simple technique, there are some nuances to the technique that all chefs need to develop in order to improve braises. Below is a list of tips:
•Choose the right vessel – Ruhlman recommends (and I wholeheartedly agree!) a cast iron enamel pot. Such a vessel is very heavy and is a good heat conductor. It may be used stove top and/or in the oven. You can sear in it and then pop it in the oven. The enamel cook pot has a low stick surface; it provides for good browning; and is relatively easy to clean.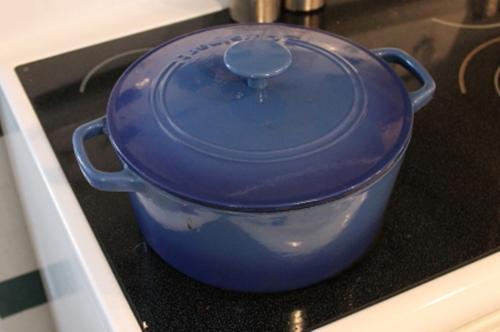 •Choose the right size pot – a successful braising pot allows the ingredients to fit snugly; not crowded or too large. When you sear your meat, you may have to work in batches as overcrowding the pan will lead to steaming rather than searing. Equally, if the pan is too large, you may use more liquid than necessary.
•The use of acids help break down connective tissue and fibers – the acid may be tomato paste, wine, lemon juice or even orange juice. Ruhlman suggests that if you don't have stock on hand, throw in a can of San Marzano whole, peeled tomatoes, juice and all as the braising medium.
•Braises may be covered or uncovered – but remember, you want the braise to gently simmer, not boil. Sometimes, it's better to have the lid slightly ajar or use a parchment/baking paper lid.
•Braises improve with age – flavors continue to develop long after the cooking process is over. Allow the meat or vegetable to sit in its braising liquid – do not strain off the braising liquid.
•Allowing a braised dish to sit or chill, makes it easy to remove the fat that comes from the meat. Simply spoon off hardened fat.
•Finally, it's very tempting to use the vegetables from the braise for the meal – and I know it's particularly hard for the spendthrifts out there – however, you will elevate the quality of your braise if you use new vegetables.
Recipe Source: Michael Ruhlman – Ruhlman's Twenty
Note: I will remind you that braises improve with age as the flavors continue to develop and deepen over time.
Preparation time: Braises may be done in as little as 30 minutes or as long as 5 days. It's great to have a braise dish when entertaining as it can be prepared in advance freeing up your time for other preparations for your guests.
Equipment required:
•Sauté or frying pan – if searing
•Deep pot – cast iron, enameled (Le Creuset is a favorite) or Baking Dish
•Parchment Paper for lid making
•Aluminum Foil
•Plastic Wrap
•Tongs for turning meat or vegetables
•Long handle spoon or spatula for cooking
Braised Fennel with Thyme:
Servings: 4 to 8
This is a wonderful way to serve fennel. More often than not, fennel is used in salad or as an ingredient in another dish. This is a very flavorful side dish that would compliment a fish or chicken main course. This preparation is an easy and quick way to get your "braise" on!
Ingredients
Plain/all –purpose flour, for dredging
2 fennel bulbs, each quartered lengthwise
3 tablespoons (45 ml) canola oil (or any mild to non-flavored oil)
4 or 5 sprigs thyme
2 tablespoons (30 ml) (30 gm/1 oz) butter
Kosher salt
Directions:
1.Preheat oven to moderate 350°F/180°C/gas mark 4.
2.In a shallow dish or plate, add enough flour to dredge the cut sides of the fennel quarters.
3.In a small pot or sauté pan with a cover, heat the oil over medium to high heat. Note: you want the oil hot but not enough to scorch the flour.
4.Add the fennel, flour side down, and cook until nicely browned.
5.Add enough water to come up about a ½ inch (1¼ cm) around the fennel.
6.Add thyme and butter and salt to taste – bring to a simmer.
7.Cover, and place in oven.
8.Cook for 20-30 minutes, until fennel is .
9.Serve immediately.
Pictorial Guide: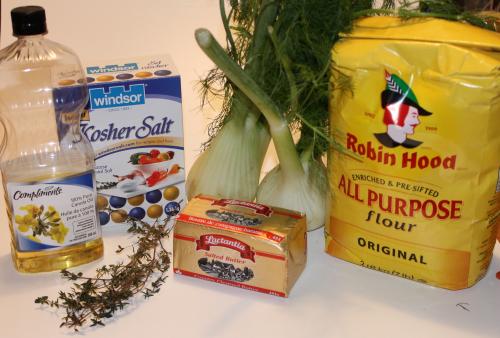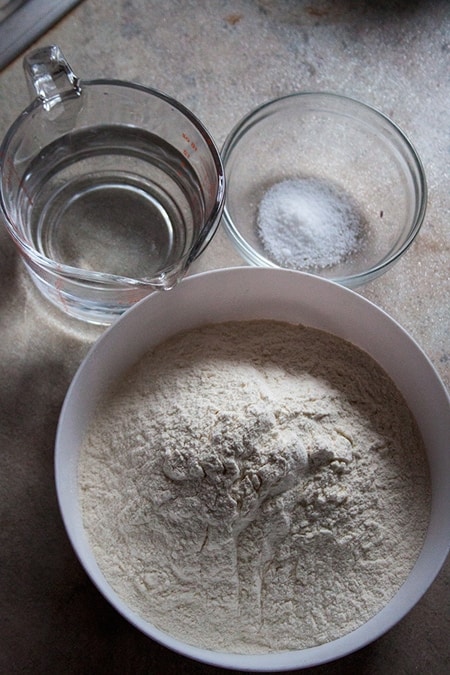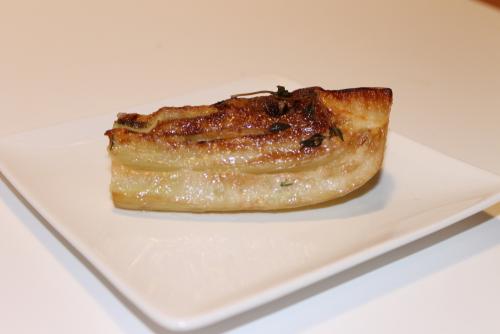 I also prepared Lemon Braised Artichokes over fresh fettuccini. It was adapted from these 2 recipes shown below!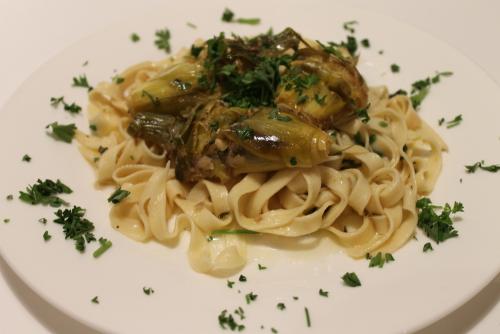 http://smittenkitchen.com/2009/03/artichokes-braised-in-lemon-and-olive-…
http://www.foodnetwork.com/recipes/michael-chiarello/lemon-braised-artic…
Red Wine-Braised Short Ribs:
Servings: 4
The quintessential braise ingredient is short ribs! This is a delicious version adapted from Ruhlman! He discusses short ribs and gremolata in this blog post – http://ruhlman.com/2010/03/gremolatawith-wine-braised-beef-short-rib/ I also used the same recipe to prepare oxtails and it was delicious! I think you could sub any tough cut of meat, including game, and I would stick to a 3 1bs (1-1/3 kg) limit.
Ingredients
Canola oil, for browning the ribs (can use any mild to non-flavored oil)
Plain/all-purpose flour, for dredging
8 beef short ribs* or 3 1bs (1-1/3 kg) of your choice of meat
2 large onion, cut into a large dice
Kosher Salt, to taste
4 carrots, cut into bite-sized pieces
2 celery stalks cut into 1 inch (2½ cm) pieces
2 tablespoons (30 ml) tomato paste
3 cups (720 ml) Zinfandel or other fruit-heavy red wine (you may use beef stock or a combo with water)
1 head of garlic, cut horizontally
2 bay leaves
1/3 cup (80 ml) honey (you may substitute 2 tablespoons (30ml) brown sugar)
1 teaspoon (5 ml) (2 gm) cracked peppercorns
1 tablespoon (15 ml) (½ oz/15 gm) butter, for sautéing
1 pound (450 gm) mushrooms, sliced thin
Gremolata
2 tablespoons (30 ml) (1/3 oz/10 gm) minced fresh parsley
1 tablespoon (15 ml) (1/3 oz/10 gm) minced garlic
1 tablespoon (15 ml) (3/8 oz/12 gm) grated lemon zest.
*The ribs I used in this braise were 1 ½" (4 cm) thick – my butcher typically cuts a "value-cut"' at ¾" (2 cm) for his meat case. I do not think ribs this small would be appropriate for this recipe. I recommend at least 1" (2½ cm).
Directions:
1.In a heavy ovenproof pot, add enough oil to cover the bottom about ¼" (5 mm).
2.Put some flour on a plate and dredge the short ribs (or your choice of meat) on all sides and shake off the excess.
3.When the oil is hot, add the ribs/meat and brown on all sides – you may have to do this in batches so as not to crowd the pan and steam instead of sear. You want to form a nice crust on the beef meat. There is lots of flavor in this.
4.Remove the ribs/meat and drain on paper towel.
5.Preheat the oven to very low 250°F/125°C/gas mark ½.
6.Drain off any remaining oil, and wipe pot clean.
7.Add a little canola oil to coat the bottom of the pot, add half the onions and cook over medium heat until the onions have softened.
8.Add a sprinkle of salt.
9.Add half the carrots and all the celery (refrigerate the onions and carrots for use later). Cook for 5 minutes – the longer you cook the vegetables and they caramelize you develop flavor – so you can brown them up.
10.Add tomato paste and stir around to heat through.
11.Place the ribs/meat in the pot – its ok if they go on top of each other now.
12.Add the wine (or stock/water if using) – 3 cups is just about the entire bottle and if it's too early to enjoy a glass  then you can add the entire bottle!
.Add the garlic – its ok for the cloves to be unpeeled but remove the outer layers.
14.Add the bay leaves.
15.Season with a sprinkle of salt.
16.Add the honey and peppercorns.
17.Bring to a simmer.
18.Cover pot with the lid ajar or make a parchment lid to fit.
19.Place in the oven and cook for 4 hours – go shopping, gardening, clean the house, surf the net – but you have 4 hours to enjoy!
20.Remove the pot from the oven and allow cooling. Remove ribs meat and place on a plate and cover with plastic wrap and refrigerate.
21.Strain the braising liquid and allow chilling – then removing the congealed fat.
22.Sear mushrooms by placing them in a hot dry sauté or frying pan and cook for a minute or two each side, while pressing down with the spatula.
23.Melt butter in your braising pot.
24.Add the remaining onions and carrots and sauté for 5 minutes.
25.Add ribs and mushrooms.
26.Add the reserved braising liquid.
27.Bring to a simmer. Cover and cook over medium-low heat until carrots a fork .
28.For the Gremolata, stir together the parsley, garlic and lemon zest. Don't skip this part – the Gremolata adds so much to this dish. You can also use orange zest too!
29.Serve ribs with mashed , buttered egg noodles or polenta – garnish with the Gremolata.
Storage & Freezing Instructions/Tips:

The ribs/meat may be prepared 1-2 days in advance. Ensure that the ribs/meat is are covered in plastic wrap so it doesn't dry out.
Pictorial Guide: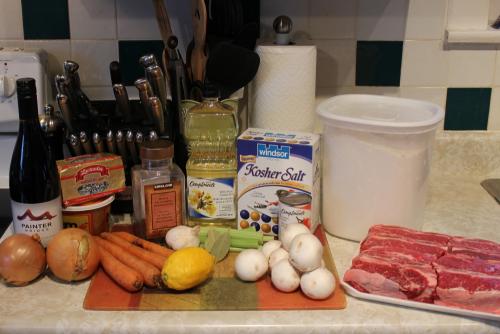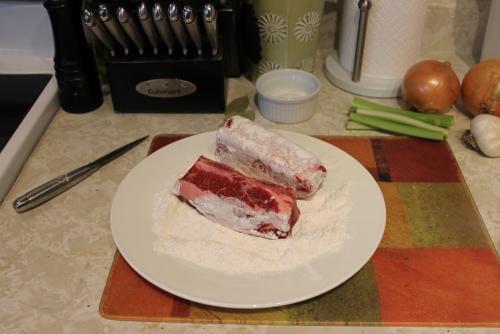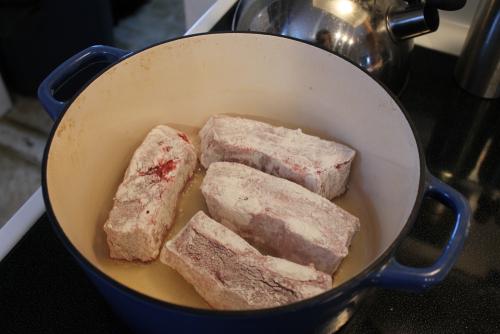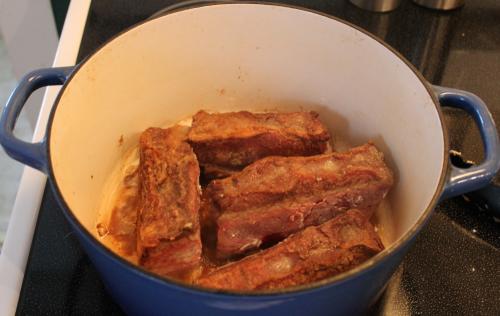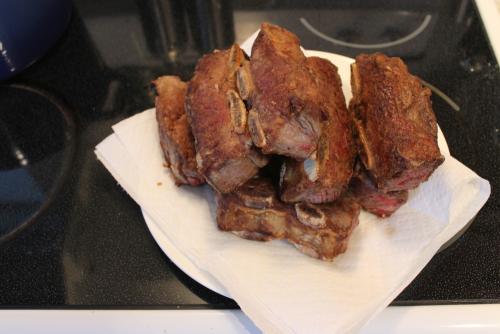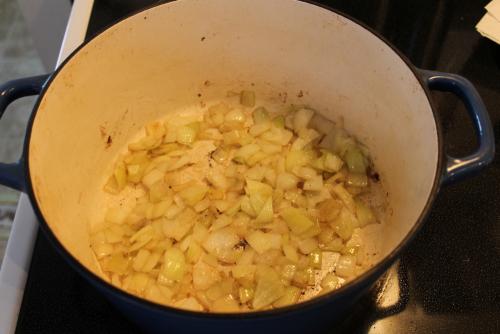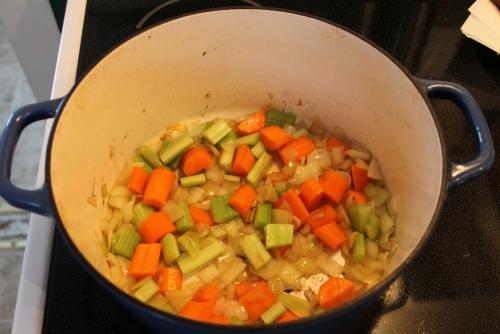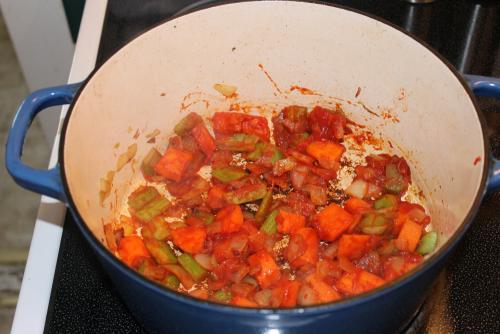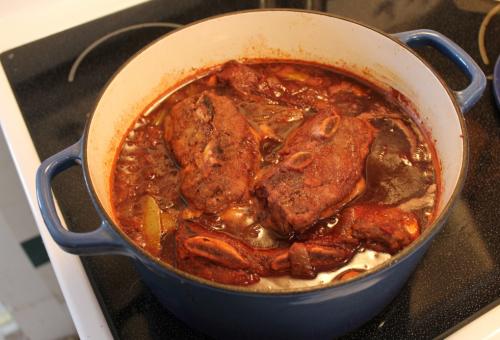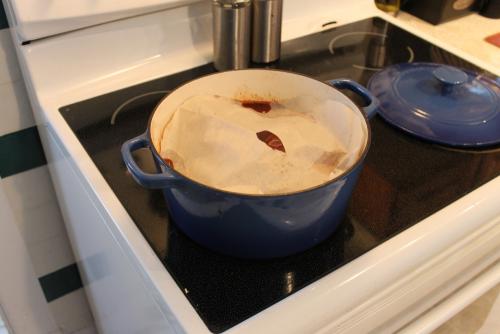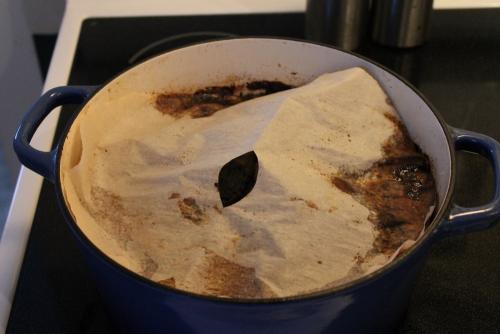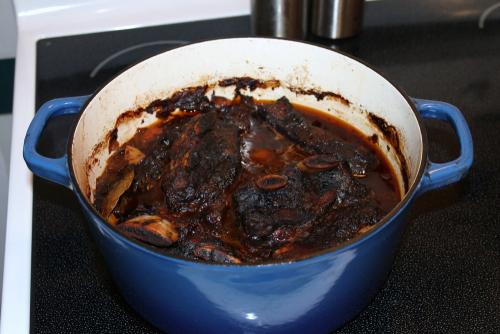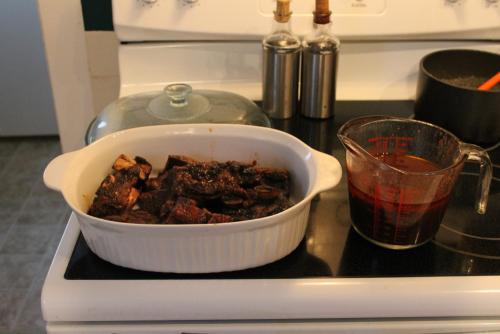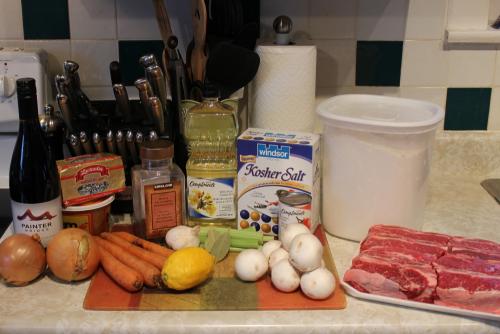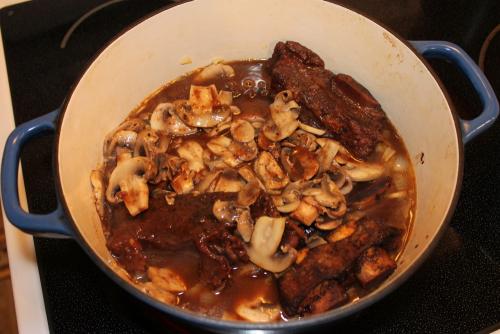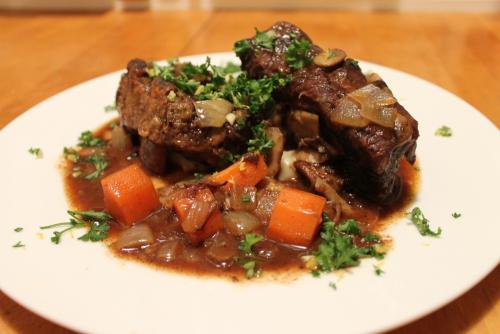 Additional Information:
A possible link for beef ribs an excellent photo guide lots of technical information about ribs
http://www.chefs-resources.com/types-of-meat/beef/cuts-of-beef/beef-shor…
http://ruhlman.com/
http://crazytastykosher.wordpress.com/2011/10/05/ad-hoc-at-home-braised-…
This is the oxtail braise – when the oxtail had cooled, I cleaned the meat from the bone (they are very fatty and there is cartilage as well) and proceeded with the recipe as described herein. I would call this more of an Oxtail Ragout – and I served atop Creamy Herbed Polenta!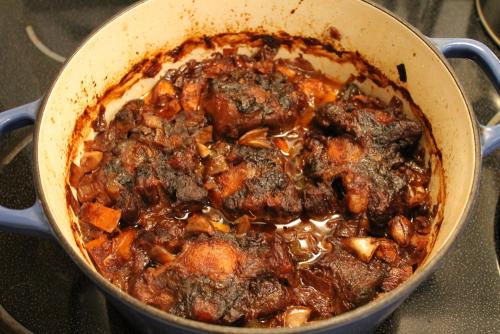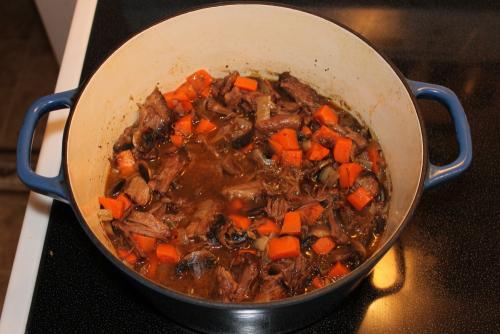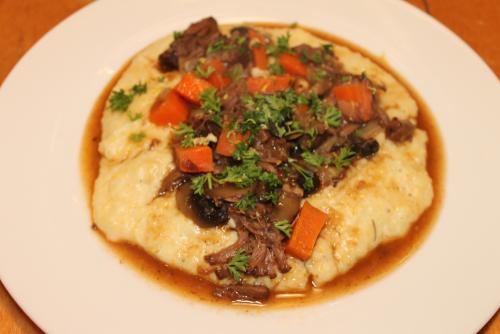 Braised Pork Belly with Caramel Miso Sauce:
Servings: 6
Pork belly is an ingredient you hear a lot about if you watch the Food Network and reality chef shows. Until recently, I had no idea how to prepare it! This is a relatively easy preparation and the flavors are incredible. The pork is amazingly and succulent. Pork belly – where have you been all my life?
Ruhlman did a post on his blog regarding pork belly and discusses this recipe in depth – you may check it out here
http://ruhlman.com/2011/09/crispy-pork-belly-recipe/
Ingredients:
Braised Pork
1 ½ teaspoons (7½ ml) (5 gm) coriander seeds
1 ½ teaspoons ( 7½ ml) (5 gm) black peppercorns
3 pounds (1-1/3 kg) pork belly (with rind)
Kosher salt
2 bay leaves
1 large onion, sliced
5 cloves of garlic, smashed with the flat side of the knife
1 cup (240 ml) freshly squeezed orange juice
Canola Oil
2 tablespoons (30 ml) (½ oz/15 gm) scallions (green/spring onions),, chopped
Red Pepper – Flaked
Carmel-Miso Glaze
Easy Carmel-Butter Sauce
½ cup (120 ml) (115 gm/4 oz) sugar
4 tablespoons (60 ml) (60 gm/2 oz) butter
Caramel-Miso Glaze
1 tablespoon (15 ml) (½ oz/15 gm) butter
1 tablespoon (15 ml) (¼ oz/7 gm) minced shallot (eschalot)
1 teaspoon (5 ml) (3 gm) minced garlic
Kosher salt
Freshly ground black pepper
½ cup (120 ml) pork braising liquid
¼ cup (60 ml) easy caramel sauce
2 tablespoons (30 ml) shiro miso
2 tablespoons (30 ml) red wine vinegar
1 tablespoon (15 ml) soy sauce
1 tablespoon (15 ml) fish sauce.
Directions – Braised Pork
1.Roast coriander and peppercorn in a dry (i.e. no oil needed) sauté pan over medium-high heat until fragrant – 2 minutes – and crush with mortar and pestle.
2.Preheat oven to very slow 250°F/125°C/gas mark ½.
3.Season pork well with salt, Place it fat side up in a baking dish.
4.Scatter the bay leaves, onion and garlic over the pork – add orange juice and cover the dish tightly with aluminium foil.
5.Place in oven for 6 hours or until pork is fork – you can do plenty of other things in these 6 hours! Enjoy!
6.Allow to cool in juices, then cover, refrigerate, at least over night and up to 5 days.,
7.Remove pork from dish, scrape off seasonings and cut into 12 equal cubes – at this point, it is a basic braised pork that you may use for a stir fry or sautéed until crispy and serve with a salad. I choose to finish it with Ruhlman's suggested Caramel-Miso Sauce – one word, DIVINE!
8.Coat the bottom of a non-stick pork with canola oil and place over medium high heat.
9.Sear pork pieces on all sides.
10.Add the glaze and coat the pork.
11.Plate – and garnish with scallions and red pepper flakes.
Directions – Easy Carmel Sauce
1.Put sugar in a small, heavy bottomed saucepan over medium high heat. Do not stir.
2.When edges turn brown – swirl to distribute – a small stir is ok – but make sure your spatula is heat proof. WARNING – sugar is very HOT!
3.When sugar is dark amber, add butter and ¼ cup (60 ml) of water.
4.Stir until bubbles subside – it bubbles quickly – simmer for a minute.
5.Remove from heat and our into a heat proof container.
Directions – Carmel- Miso Sauce
1.In a small sauté pan, melt butter over medium-high heat.
2.Add shallot and garlic and sauté till translucent.
3.Season with a sprinkle of salt and some freshly ground pepper.
4.Add pork braising liquid, caramel sauce, miso, red wine vinegar, soy sauce and fish sauce.
5.Bring to a simmer – cook for ½ a minute or so and remove from heat.
Storage & Freezing Instructions/Tips:
The braised pork may be made up to 5 days in advance. It may be frozen as well. The caramel sauce will keep for up to 2 days in the refrigerator
Pictorial Guide: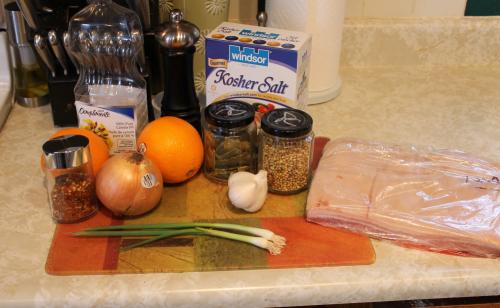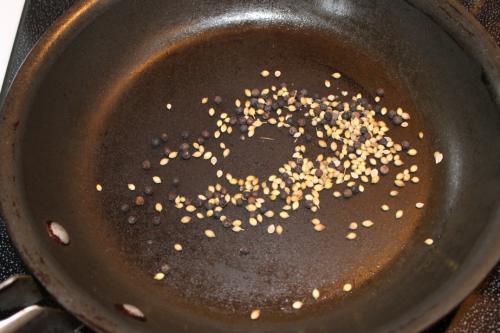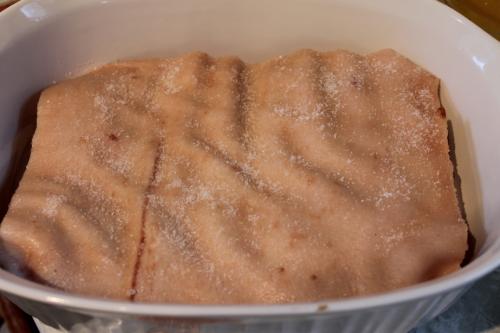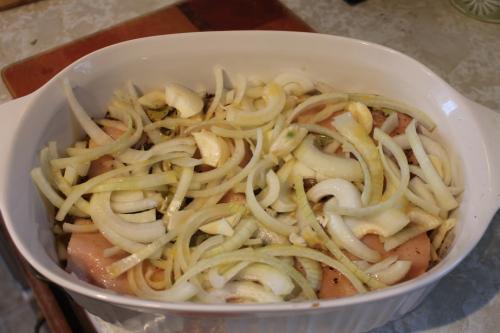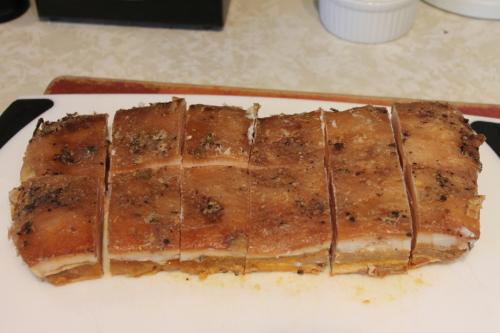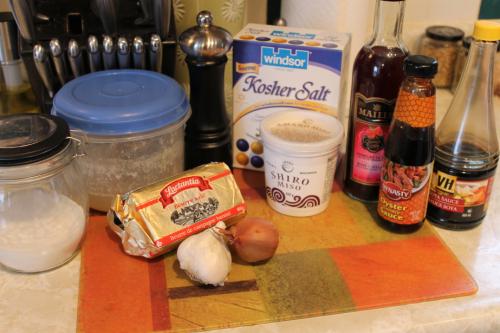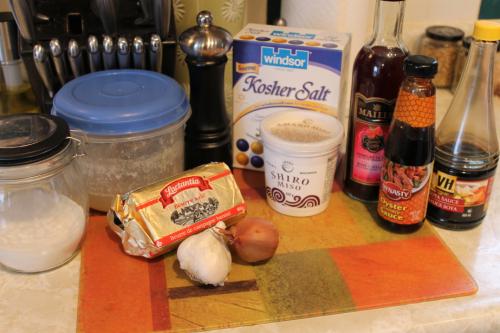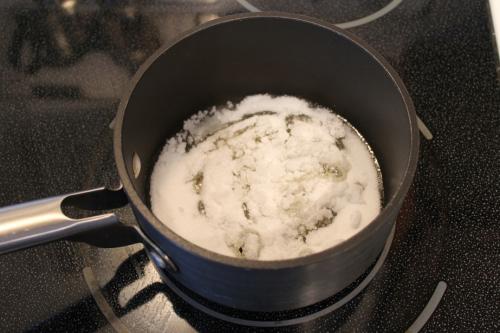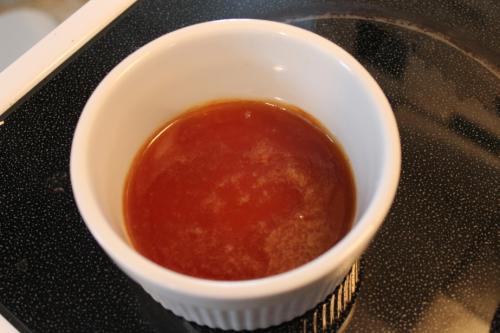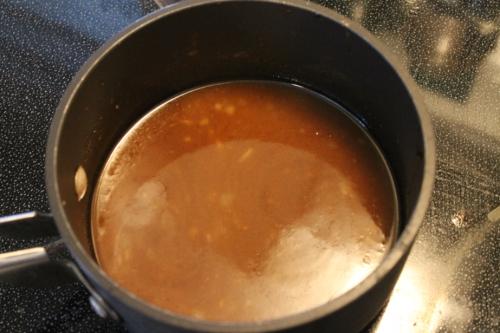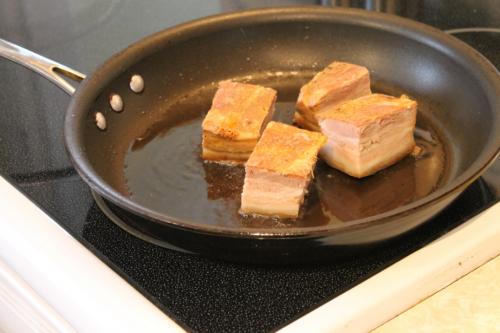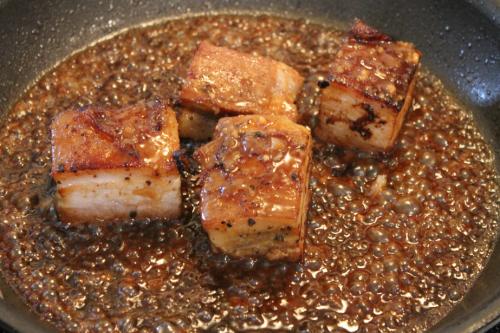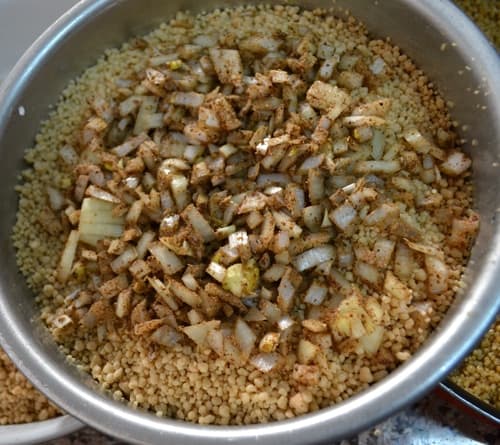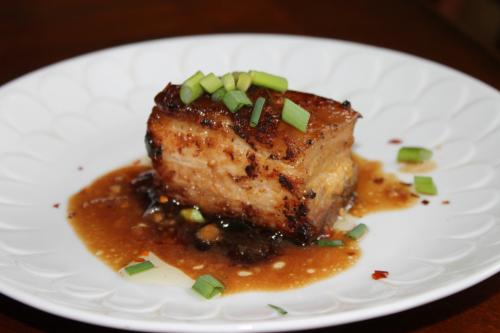 I also adapted a recipe from Ruhlman – Braised Lamb Shank with Ras El Hanout. You may read more on it here – http://ruhlman.com/2010/08/braised-lamb-with-ras-el-hanout. It was a lovely subtle curry flavor and the preserved lemons subbed well for a gremolata! Served here with a lemon, spinach couscous.
Braised Duck Legs:
Servings: 4
Beef and pork are not the only hero ingredients for a braise. Poultry does very nicely and the classic Coq au Vin is a testament to this. Braised duck legs, too, are a wonderful alternative to the more popular duck confit. You may also substitute chicken legs in this recipe as well. The sauce truly elevates this dish to restaurant quality and its divine when served over mashed potatoes. I served this dish as the main for a 5 course dinner and the duck was the star!
Ingredients:
4 duck legs
Kosher salt
1 tablespoon (15 ml) mild- or non-flavored oil, like canola
1 large onion, sliced
2 carrots, cute into 1 inch (2½ cm) pieces
4 garlic cloves, smash with the side of a knife
1 tablespoon (15ml) tomato paste
1 to 1 ½ cups (240 to 360 ml) white wine or chicken or vegetable stock – may need a little more
7 to 10 stems of thyme
1 to 1 ½ cups( 240 to 360 ml) of water
1 tablespoon (15 ml) oyster sauce or fish sauce
1 tablespoon (15 ml) sherry vinegar
Freshly ground black pepper
2 teaspoons (10 ml) (5 gm) cornstarch/corn flour dissolved in 1 tablespoon (15 ml) of water
Directions
1.Aggressively season duck legs with salt at least 1 hour before cooking or up to 2 days.
2.Preheat oven to 300°F/150°C/gas mark 2.
3.In a pot large enough to contain the legs (my pot wasn't large enough to contain the legs so I sautéed in my enameled pot and transferred everything to a baking casserole), heat oil over medium high heat, add onion and sauté until the onion is translucent – about 3 to 4 minutes.
4.Add carrots, garlic, and tomato paste – cook for another 2 minutes.
5.Nestle the duck legs in the pan, add wine or stock, thyme and water until the liquid just covers the duck.
6.Cover and place in the oven to braise for 3 hours. It may sit in the liquid until ready to serve.
7.Remove the duck from the liquid – reserve liquid.
8.Heat broiler/grill and place duck legs underneath until skin is nice and crispy.
9.Strain the cooking liquid – reduce by a quarter and add oyster sauce and sherry vinegar – season with pepper.
10.Add cornstarch to thicken the sauce and serve with the duck. I plated it with mashed potatoes and green beans almandine!
Storage & Freezing Instructions/Tips:
Duck will keep in the braising liquid for 2 days refrigerated. Duck meat may be removed from the bone and served with a salad or on an open-faced sandwich,
Pictorial Guide: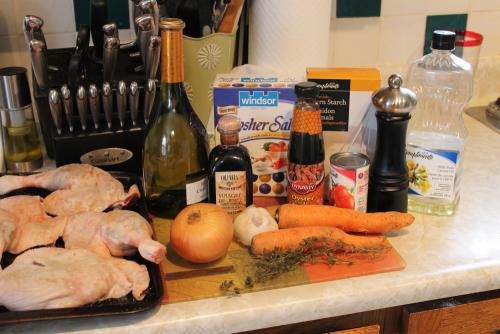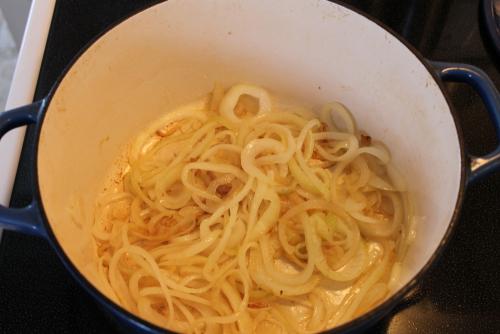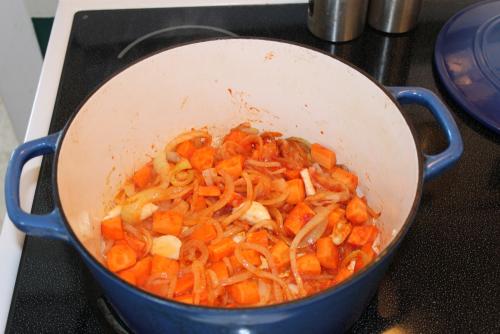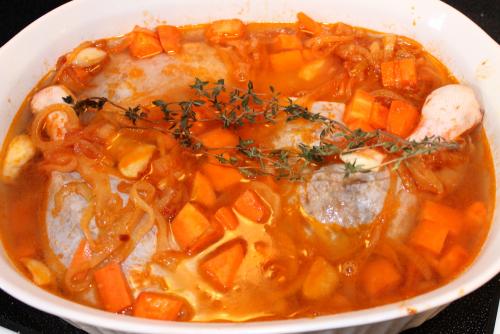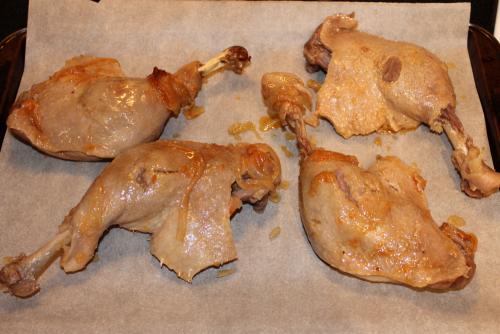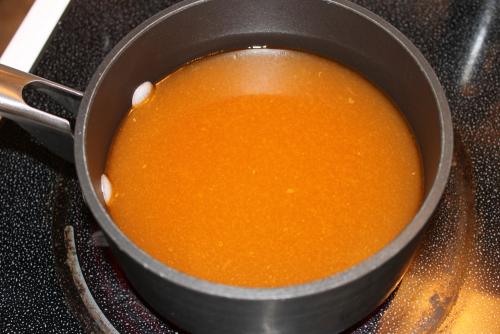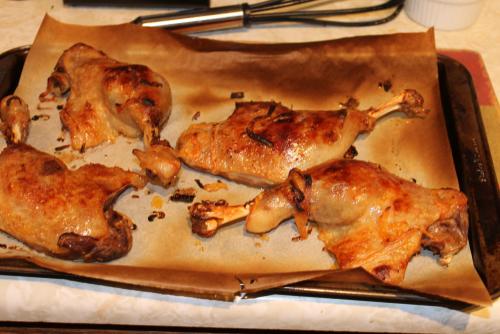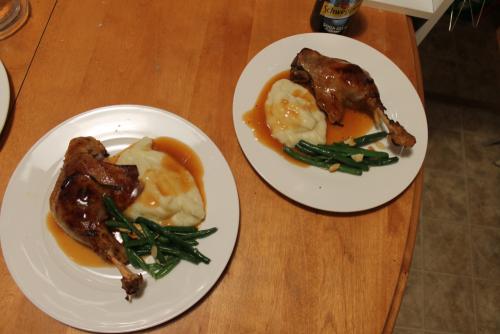 Additional Information:
Check out this post from the NY Times – it even has a video. http://dinersjournal.blogs.nytimes.com/2012/02//the-minimalist-crisp-b…