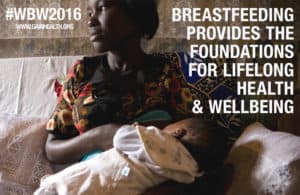 All mothers in the world probably know that exclusive breastfeeding is the best and most natural way to provide their child with the nutrients they need through the first 6 months of life. Breastfeeding significantly improves healthy growth and development of kids, whilst also contributing to the health and wellbeing of the mum. Not to mention it is the most cost effective solution: the food is free, already prepared, at the right temperature, and always with you. It is allows mother and child to develop a close physical and emotional bond. So why are many mothers not exclusively breastfeeding their babies, particularly in Indonesia?
Many mothers choose to give formula milk to their children, for a multitude of reasons: she has to go back to work, she feels the child is not saturated with breast milk alone, modern and more well-off mothers with healthier babies also give formula so it may be seen as aspirational to some. In Indonesia, similar to other countries around the world, exclusive breastfeeding rates vary year on year but have been hovering around 42% according to the WHO. While there are laws in place to protect and promote exclusive breastfeeding in-country, local health experts claim that they are poorly implemented as formula milk producers strongly market their products to mothers.
In Indonesia, through formative research with the London School of Hygiene and Tropical Medicine, the Global Alliance for Improved Nutrition (GAIN) found that while mothers know that breast is best, most mothers are not confident about their body's ability to produce enough, and feel that they make it perfect by topping up the breast milk with formula milk. They are unaware of the fact that the introduction of formula milk reduces her body's' ability to produce enough breastmilk.
How do we address this?
This week GAIN is celebrating World Breastfeeding Week (1 st -7 th August) coordinated by the World Alliance for Breastfeeding Action (WABA) in order to emphasise its importance as a pillar for healthy growth and development of children within the first 2 years, helping them reach their full potential later in life, and its role in improving the health and empowerment of mothers. Read more about WBW and how it links to the Sustainable Development agenda here.
To mark WBW, GAIN Indonesia is using the month of August promoting their tailored breastfeeding messages on social media channels, using the on-going Ministry of Health -endorsed campaign 'Rumpi Sehat' (meaning 'Healthy Gossip'). GAIN developed a unique multi-channel behaviour change approach using TV, social media, fun and games at community meetings, and interpersonal counselling to deliver core messages on maternal nutrition, exclusive breastfeeding, optimal complementary feeding and healthy snacking for young children. The messages and content of the campaign have been specifically designed not only to promote 'good' infant feeding behaviour but also to visualise the rejection of the 'bad' feeding behaviours. The TV advert 'Breast is enough' for instance includes key visuals that toss out the bottle with infant formula because that it inhibits mothers' ability to produce enough breastmilk (Watch the TV advert from the campaign here). Mothers have been responsive to this messaging in which the mother-in- law actively discourages the use formula milk.
The full campaign, launched in August last year, has been running on national TV channels and amplified through digital media including Facebook. The TV advert was aired 400 times and the campaign went viral on social media with over 90,000 clicks and views on the breastfeeding images and videos illustrating how well received the messages have been. This year a media push has been re-launched throughout the month of August, alongside World Breastfeeding Week, to grow the target base with an expected 130,000 video views amongst mothers. The Rumpi Sehat campaign has been running country-wide in Indonesia for over 12 months and is aiming to reach 50 million mothers and caregivers with breastfeeding and other nutrition messages by 2017.
Read more about the Global Alliance for Improved Nutrition here and follow our discussions and updates for World Breastfeeding Week on twitter at @GAINalliance #WBW2016