HAPPY NEW YEAR 2016 to the lovely members of the Daring Kitchen. Hope you have a year of complete Baking and Culinary bliss! Let 2016 unleash your unbound creativity and raise the bar of this platform.
I am Shillpa Bhaambri from Cakeline the Journey, a Baker and Cake designer living in Mumbai, India. This is the first challenge that I am hosting, ever since I became a Daring kitchen member in early 2015. Being part of the daring kitchen has, not only connected me with passionate bakers from the world over, but has also given me amazing insight and learning in the baking stream.
I run a cakery, aptly called Cakeline that specializes in customized cakes and desserts. My blog Cakeline the journey reflects my passion for the art of cake making and my love for food in general.
With great enthusiasm I would like to invite you all to join me in a "CAKE DESIGNING CHALLENGE"
Cake designing is an extension of baking. It is a surging craft, hobby or profession in today's times. Making plain cakes look visually stunning has become a unique artistry! A professional Baker who specializes in making and decorating cakes, using various edible mediums, for all occasions is called a cake artist.
Let's pretend to be or just lure ourselves to become a CAKE ARTIST for this month.
In this challenge I explain to you in detail three and a half edible mediums used in cake decoration. These are what I call the "EDIBLE CLAYS" in cake decoration. Fondant; Modeling paste, Gum paste and Modeling chocolate are used effectively and cleverly by cake designers. They use them to recreate mind blowing concepts and themes on cakes. I share my visualization of a few cake designs and show you a technique I adopted while working on them, with these Edible mediums.
Jump in with me to design a cake/dummy / cupcake or even a sugar plaque to a theme of your choice. Let your creative juices flow as you decorate…..believe you me it will be addictive fun. You can use the best God gifted tools we possess….our deft hands and fingers. Or make cutters out of craft equipment and kitchenware! For seasoned sugar crafters the canvas is unimaginable…Get inspired and please recreate your very best.
Recipe Source:
Fondant: Adapted from the Crafsty blog
Gum paste: Nicholas lodge gum paste recipe at Craftsy
Modeling chocolate: Recipe from my amazing tutor Lara Mason of Tasty treats
Download the pdf for the challenge here.
Preparation time:
FONDANT: 15 minutes
GUMPASTE: 15 minutes to prepare and 24 hours to rest
MODELLING CHOCOLATE: 45 minutes, which includes 30 minutes of chilling time
Equipment required:
Silicon mat/kitchen tabletop
Hand or stand mixer
Spatula
Sieve
Cling film
Microwave oven
Glass bowls
Zip lock plastic bag
Tools used for decorating:
Craft or sharp knife
Paint brushes
Scissors
Balling tool
Veining tool
Cutters
Molds
Palette
Silicone rolling pin
Toothpicks
Foam pad
Flower formers
20 gauge paper wrapped wire
Plastic mat
Ruler
Ribbon cutter
Cake board
Styrofoam cake dummy
Materials used for decorating
Edible glue
Alcohol or clear lemon extract
Gel colors
Luster dusts
Petal dust
Fondant
Gum paste
Modeling paste
Modeling chocolate
Recipe 1:EDIBLE CLAY 1: FONDANT
Fondant in cake designing context, refers to rolled fondant or sugar paste, which is primarily used to cover cakes and boards. This is soft sugar dough that cuts through instantly with a knife. It easily rolls out and is quite malleable. Fondant stays fairly soft, even after it has been shaped. Designing cakes with it gives them a smooth and polished finish. It can be colored or flavored to taste. Marshmallow fondant is easy to make and popular because of it's much liked taste. Chocolate fondant can also be used to give enhanced taste to a cake.
Admin's note: the fondant recipe contains gelatin, but there are plenty of non-gelatin recipes available online for vegetarians. Many of the brands of ready-made fondant are vegan-friendly. I have used Renshaw with success.
FONDANT/SUGARPASTE
Recipe yield : Approximately 1kg / 2 2/5 pounds
Ingredients
800g / 1 3/4 pounds / 6 2/5 cups (unsifted) icing sugar. Use the purest icing/confectioners' sugar available to get absolute white fondant
100g / 3 1/2 oz / 7 Tbsp white butter or shortening
1 Tbsp powdered Gelatin dissolved in 30ml / 2 Tbsp water
100g / 1/3 cup liquid glucose
15ml / 1Tbsp glycerin
Large pinch salt
5ml / 1 tsp clear vanilla extract
7g / 1/2 Tbsp white butter or shortening, additional
Directions:
Measure all the ingredients and set aside. Sieve the icing sugar and keep 300gms / 2 2/5 cups of it aside.
Note: The quantity of icing sugar required in this recipe may vary, depending on the quality of it. You may start out making the recipe with 800gms / 6 2/5 cups and go up to 900gms / 7 1/5 cups of icing sugar.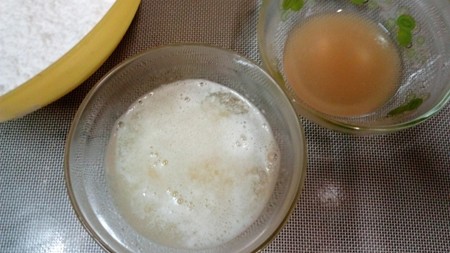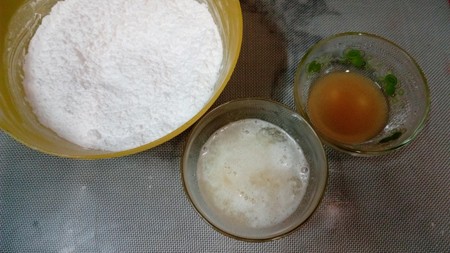 Soak the gelatin in the water and melt it in a microwave or double boiler.
Melt the butter/shortening.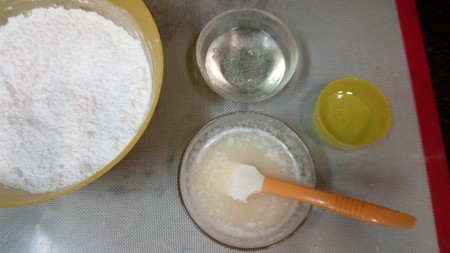 Mix the butter/shortening into the gelatin.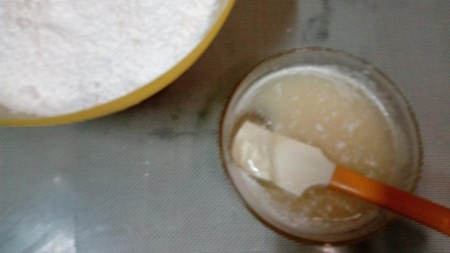 Add liquid glucose, glycerin and mix well. Warm this mixture in a microwave for 20 seconds.
Add clear vanilla extract and salt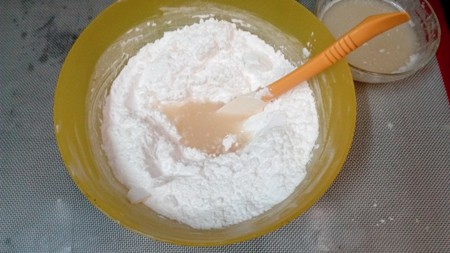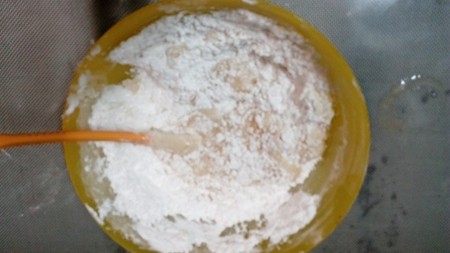 Take 500gms / 4 cups of icing sugar in a bowl, stir in the liquid mixture, a little at a time.
Keep blending and adding the liquid, slowly to the icing sugar.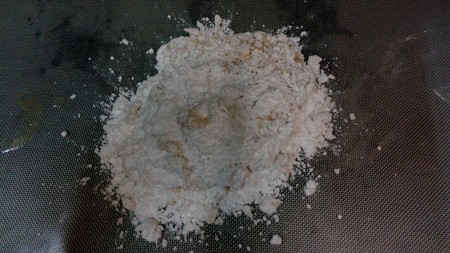 Move the icing sugar mixture onto a kitchen counter or a silicon mat.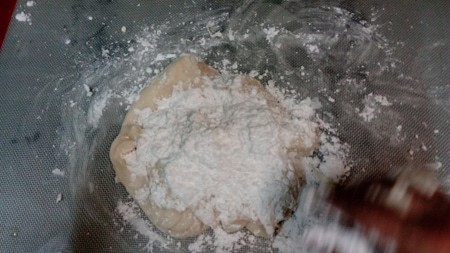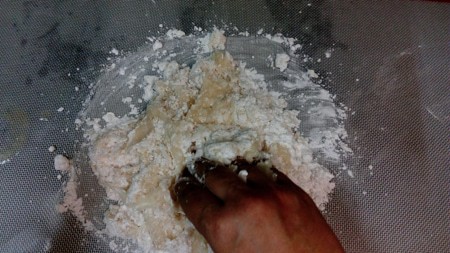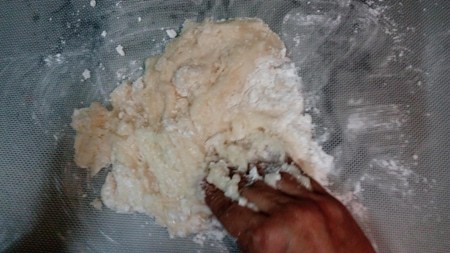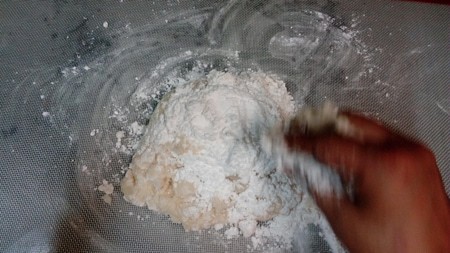 Keep kneading gently and start adding the reserved icing sugar that has been kept aside, by the spoonful.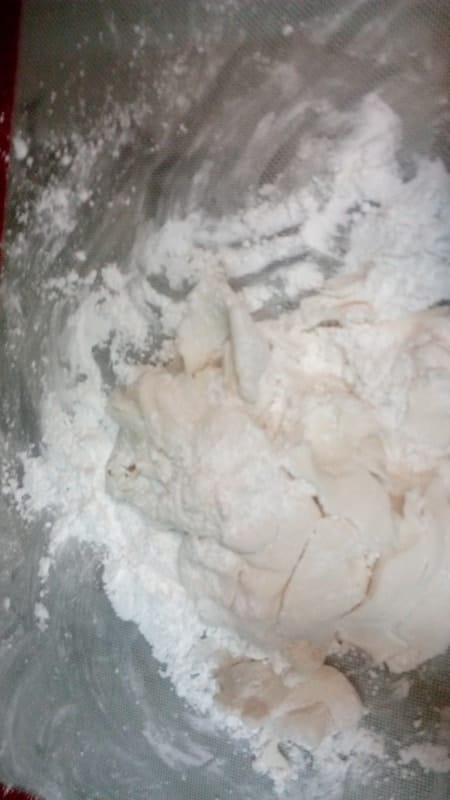 Add as much icing sugar the dough can take in to make a soft, pliable texture. The fondant should not stick to your hands.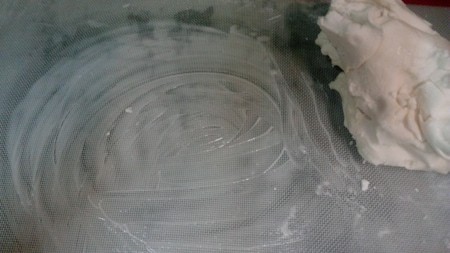 Lastly smear 7g / 1/2 Tbsp. of butter or shortening onto the kitchen counter.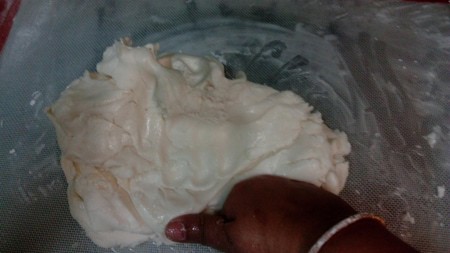 Knead the dough gently to absorb all the fat.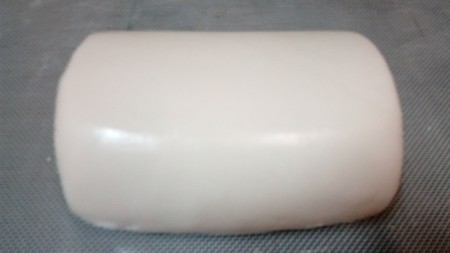 Roll and shape the fondant into an oblong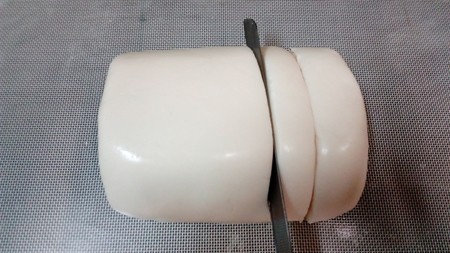 You will see that the fondant slices through easily with a knife.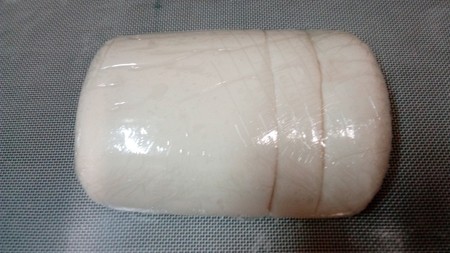 16 Wrap the fondant tightly with cling film. And set aside to mature.
If you would like to make coloured fondant then add the required amount of edible gel color to the warmed gelatin –glucose liquid. Make coloured fondant at least 24 hours prior to using it. This will help it mature and absorb the color well. The fondant will be drier and therefore will not tear while covering your cake.
Suggested Techniques that are workable with fondant
Covering a cake or cake board
Hand painting and Printing
Air brushing
Appliqué work
Stenciling
Drapes, swags and pleating
Ribbons and Bows
Textures and embossing
Marbling or wood effect
Templates on cookies
Enhancing with metallic luster or leaf
Sequins work
Quilting or Smocking
Basic flat/cut out figures
Brush embroidery
Chalkboard technique
Cake design 1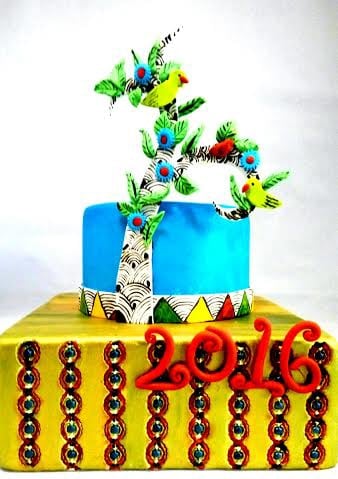 TREE OF LIFE 2016
I chose this theme to signify life at the start of the New Year. The tree of life is a common motif in various world theologies, mythologies, and philosophies. It alludes to the interconnection of all life on our planet and serves as a metaphor for common descent in the evolutionary sense. I have used it in my design to show growth, energy, zest and fervor in our life at the onset of a new year.
This is a two tiered cake, in vibrant colors that are dominant in Indian culture.
The bottom tier is brushed with a blend of gold luster dust and green gel color to give it a rich antique look. Embossing technique is used on the side of the cake. The little embossed imprints are hand painted in different colors to give a MEENAKARI effect. (MEENAKARI is the art of coloring and ornamenting the surface of metals by fusing over it brilliant colors that are decorated in an intricate design. It is a popular craft used in traditional Indian jewelry design.)
The focal point of the cake is the tree, which is hand cut out of Gum paste. The tree and the border of the top cake tier are painted with edible colors using the MADHUBANI style of painting. (Madhubani painting is a style of Hindu Painting, practiced in the Indian State of Bihar. Such painting is done using natural dyes and pigments, and is characterized by eye-catching geometrical patterns.)
My Tree of life gets its form by the addition of leaves, flowers, parrots and birds made out of modeling paste. To complete my cake design I rolled red Gum paste to create 2016 monogram and attached it with edible glue. For designing this cake barring a patchwork cutter, which was used to emboss the bottom cake tier, no cutters have been used. So you can see the potential of free hand cake designing.
TECHNIQUE WITH FONDANT:
EMBOSSING

Embossing has to be done on freshly rolled fondant, before it begins to crust.
Roll out fondant or a cover cake with it.
Take an embossing tool or cutter and gently press onto the fondant. Release and repeat at required places.
HAND PAINTING

Mix gel color or luster dust appropriately with clear alcohol, like vodka or gin, to make a liquid edible paint. You can also use clear lemon extract instead of the alcohol
Start by marking your design on the fondant or outlining it. Fill one color at a time, giving time to dry before you paint connecting colors.

MEENAKARI HAND PAINTED EFFECT: I used bright, vivid colors. First I filled the edges of the embossed print with red gel color. The hexagonal centre was painted in deep blue luster dust paint. Then I brushed the inside with gold luster dust paint. The small dots were filled with black gel color. Lastly the bare fondant was painted with a blend of gold luster dust and black/deep green gel color to give it an antique look.
If you are painting on Gum paste let it dry completely for 24 hours under a fan before you start. This prevents smudging of colors.
EDIBLE CLAY 2: MODELING PASTE
This is also called 50:50 paste by many sugar artists, as it is a comfortable blend of fondant and gum paste. Modeling paste is a bit firmer and more pliable than fondant It has an elastic and firmer texture. It holds shape and structure easily. Its quality to dry faster and harder than fondant makes it handy to use in various forms of cake design.
Ingredients
250g / 9oz Fondant
250g / 9oz gum paste
Directions
Soften gum paste and fondant separately, by kneading with the warmth of your hand.
Mix both the dough's together. Kneading well with the palm of your hand.
You will get a slightly stretchy paste. Roll into a Round ball.
Wrap tightly with cling film and store in a zip lock bag.
Suggested Techniques that are workable with modeling paste
Figurines
Molding of animals and fruits etc.
Onlays
Silhouettes
Punch design
Ruffles, Frills and Scrunching
Flowers fantasy or other
Bows and Loops
Use of sugar shaper or gun
Monograms
Quilting
EDIBLE CLAY 3: GUM PASTE
Servings: Yield Approximately 900gms / 2 pounds
This is also called florists paste, flower paste or petal paste. It is sugar dough that is strengthened and made pliable with the addition of gum tragacanth or Tylose.Original Gum paste recipes contain egg whites, however now quick Gum paste recipes with vegetarian options are also available.
This is a flexible and pliable edible medium. It dries very fast and hard. It easily holds shape and can be rolled tissue thin. It is primarily used to create realistic, life like flowers and intricate decorations. Cake experts love to use it to shape professional figures, sturdy embellishments and unimaginable 3D elements.
Ingredients
125g / 1/2 cup / approx. 4 egg whites
725g / 25 1/2 oz / 5 4/5 cups (unsifted) icing sugar
30g / 2 1/2 Tbsp Tylose or CMC powder
20g / 4 Tsp Vegetable shortening
Extra icing sugar, if needed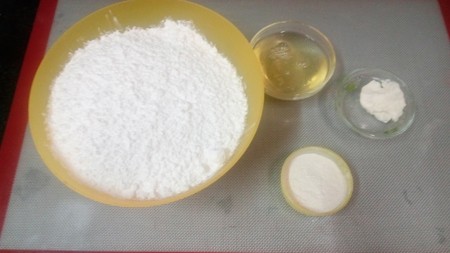 Directions:
Start by whipping egg whites in a spotlessly clean and dry mixer till foamy.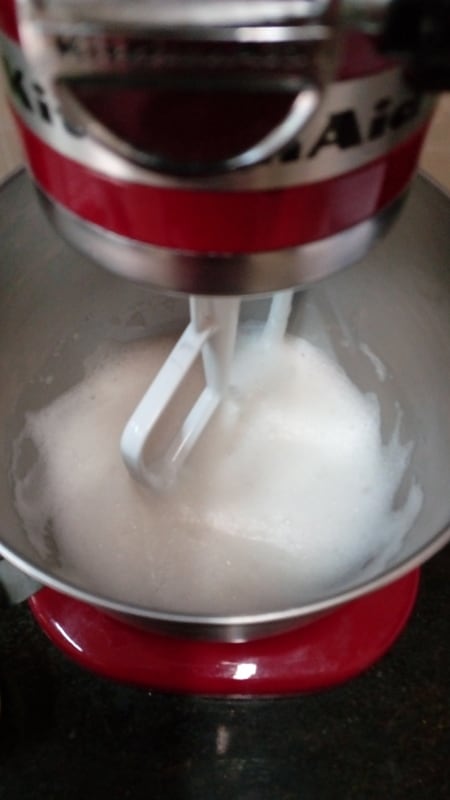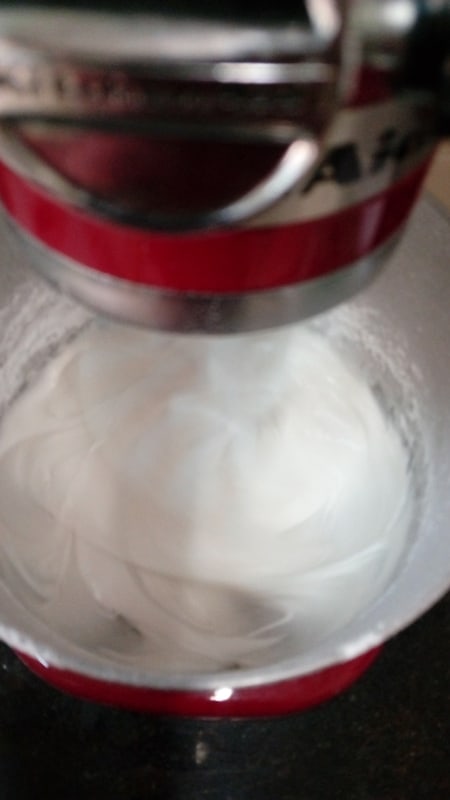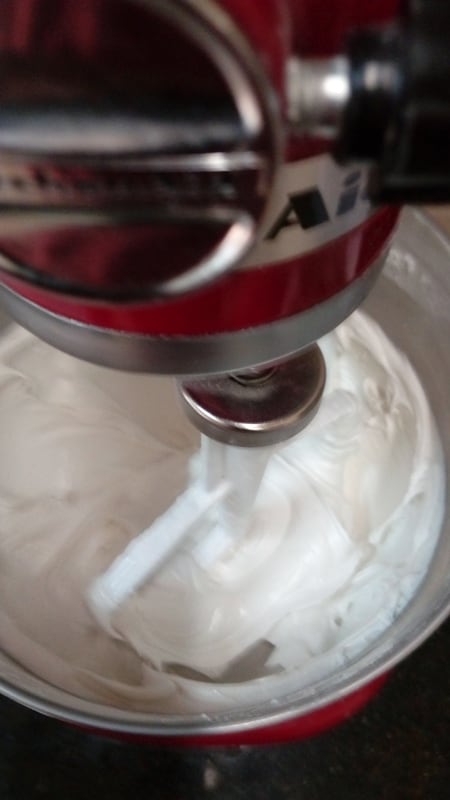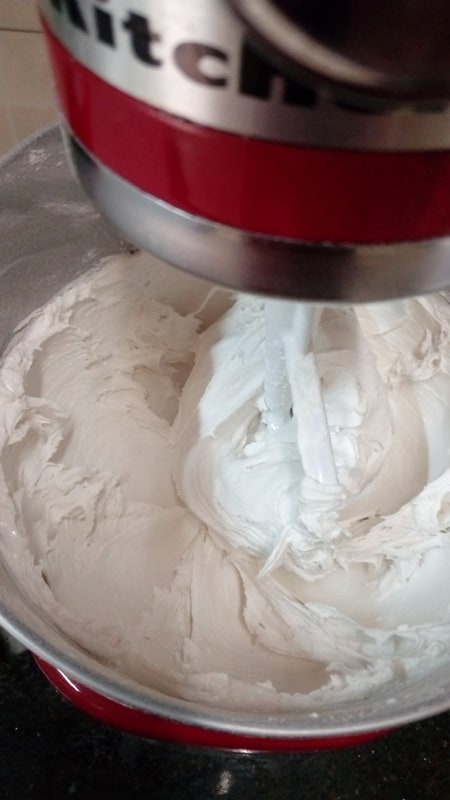 Add icing sugar slowly and continue beating.

Beat mixture till stiff peaks form; make sure you have incorporated all the icing sugar in the egg whites.

Now add the Tylose and quickly whip the egg mixture for 20 seconds.

The Tylose will get mixed in and thicken the mixture slightly.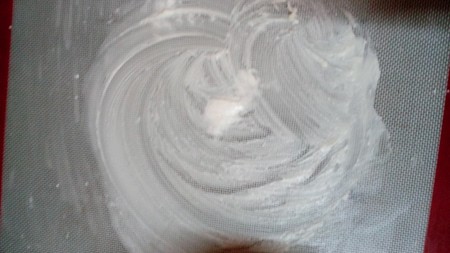 Smear the shortening on a clean kitchen counter top.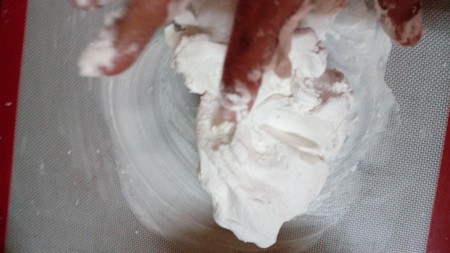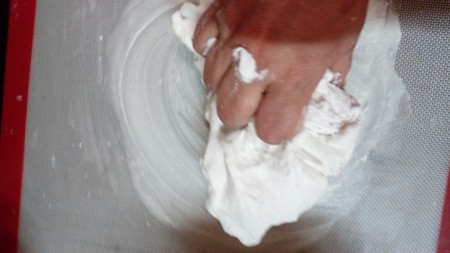 Pour the egg white mixture onto the shortening and start kneading it all together, until you get mildly soft dough.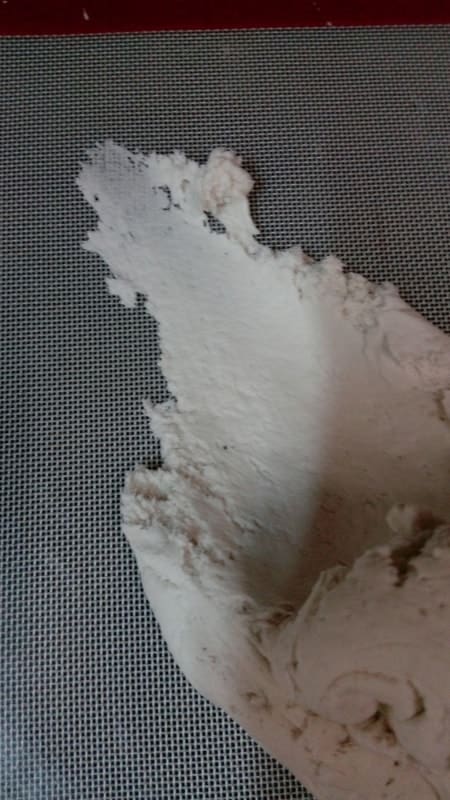 The gum paste will be slightly spongy and stretchy.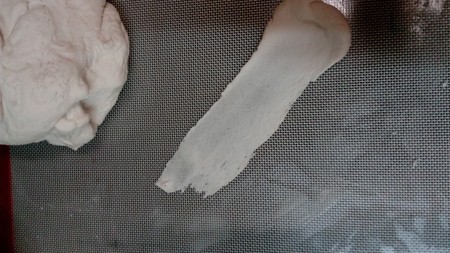 It will roll out very thin.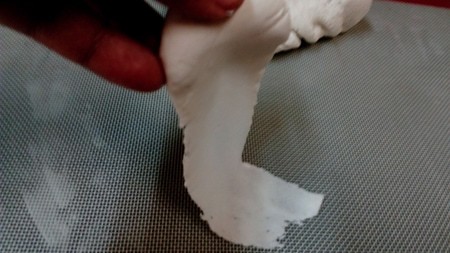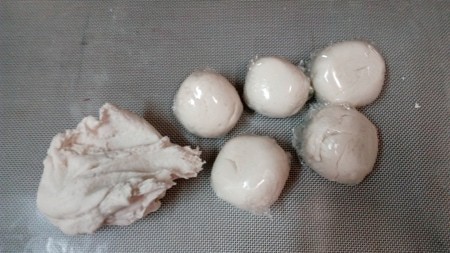 Make small balls of the dough and wrap each tightly with a triple wrap of cling film

Place the wrapped gum paste balls in a zip lock bag. This prevents drying and contact with any moisture and air.

Let the gum paste mature for 24 hours.
14.Once rested, It should be stretchy like chewing gum.
You can store the gum paste in the refrigerator for up to six months.

Bring to room temperature and use the paste as required.

Always knead the Gum paste well by stretching and pulling it, to soften and make it pliable before you start working with it.
Suggested Techniques that are workable with Gum paste
Life-like flowers and foliage
Standing figurines
Geometric designs
Standing elements like monograms, hearts, stars etc., on cakes
Shoes, handbag handles and embellishments
3D elements on structural cakes
Bows, loop bows ribbons
Hand painting
Photo frames
.
CAKE DESIGN 2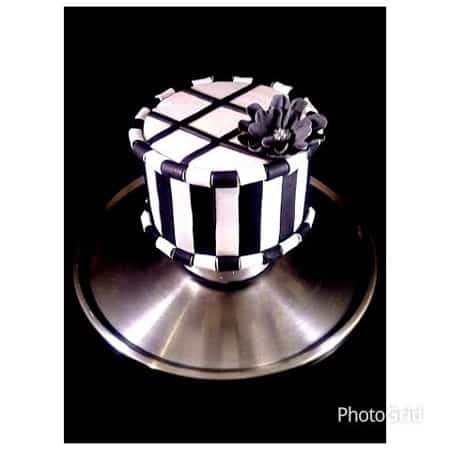 THE BLACK AND WHITE
The above cake is quite special to me as it uses a simple technique which I created while fiddling with gum paste strips. I call this the "FLIP FIX" technique. A strip each of black and white Gum paste is attached one atop the other to create a two sided effect. White fondant cake was the canvas for this technique. The two-sided strips were fixed to the side of the cake and their edges were rolled in. A paneling of alternating color strips was done.
You could attach the two-sided Gum paste strips by twisting, curling or folding them. The idea is to show the two toned sides of the Gum paste strips effectively in your cake design.
I enhanced the cake with a grey Gum paste fantasy flower and filled the blankness on the top with thin strips of black Gum paste. Finally this cake was set atop a small silver cake dummy to give it a striking visual appeal.
TECHNIQUE WITH GUM PASTE
FANTASY FLOWER

Roll Gum paste out thinly on a silicone or plastic mat. Using flower cutters cut two flowers, one small and the other big.

On a foam pad thin out and ruffle the edges of the flower, by pressing gently with a balling tool.

Next, place the flower on the work mat and vein each petal with a veining tool. Tuck the flower in a flower former or a foil cup and leave to dry in a cool place for a day.

Similarly ruffle and vein the smaller flower. Leave it to dry in a former. With black Gum paste make the flower centre. I used a silicone button mold, but you can craft a centre by flattening a pea sized ball of Gum paste and indenting little dots on it with a toothpick.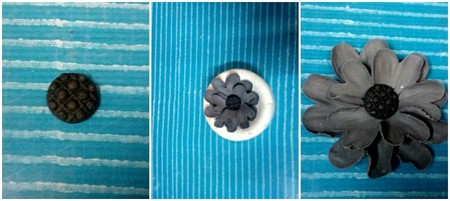 After the flowers dry out, they will hold shape. Place the smaller flower inside the larger flower, attaching it with a touch of edible glue. Fix the centre button inside the small flower.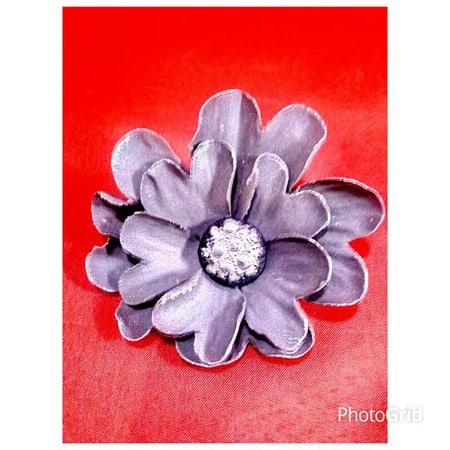 I highlighted the flower centre and petal edges with silver luster dust paint.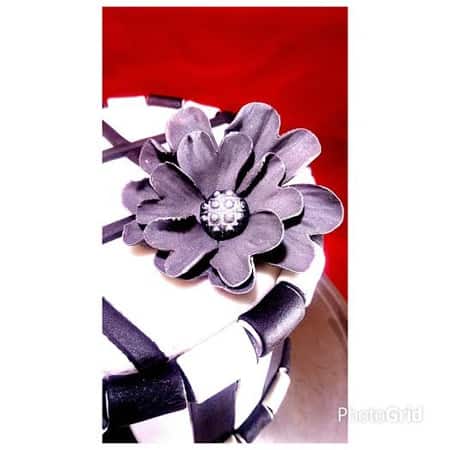 And finally attached the flower with edible glue on top of the cake
Recipe 3:EDIBLE CLAY 4: MODELING CHOCOLATE
Servings: Yield Approximately 550g / 1 1/5 pounds
This medium has many names like chocolate leather, chocolate plastic, candy clay or chocolate wrap.
It is a blend of melted chocolate and corn syrup or golden syrup. Delicious to taste, hence preferred to cover cakes instead of Fondant. It is used by many cake makers to mold desirable shapes and structures for their pastry design. Modeling chocolate does not suit tropical climates and can melt easily in warm surroundings.
Ingredients
450g / 1lb dark or white chocolate or coating chocolate roughly chopped
110ml / 1 cup minus 2 Tsp light corn syrup or golden syrup
Gel color as required, if using white chocolate
Directions: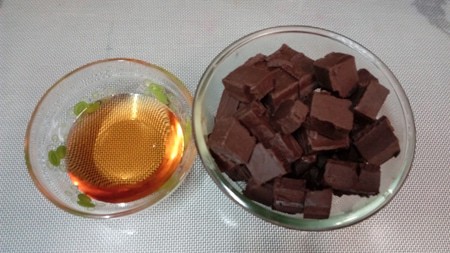 Prepare the ingredients required. Roughly chop the chocolate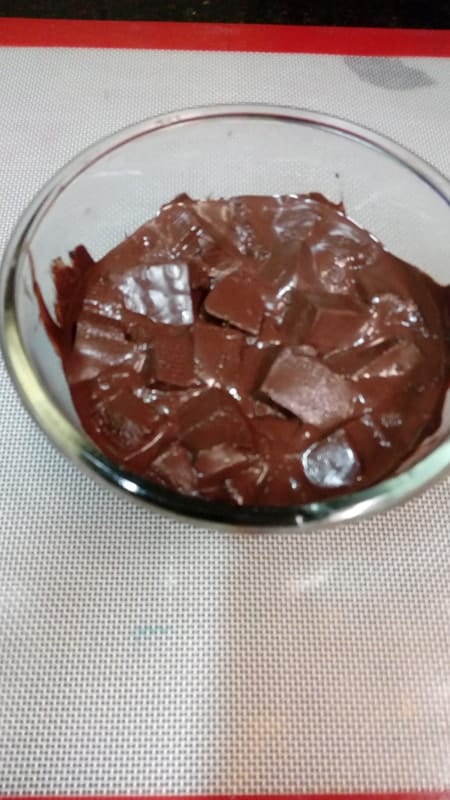 Melt the chocolate on medium power for 2 minutes in a microwave oven, stirring frequently.
(Alternatively you may melt the chocolate on a double boiler)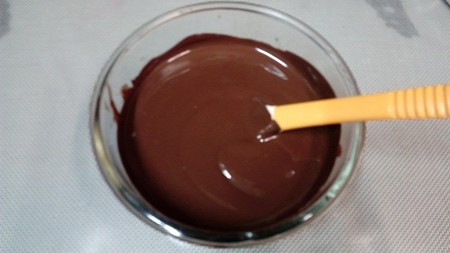 Stir the melted chocolate until smooth.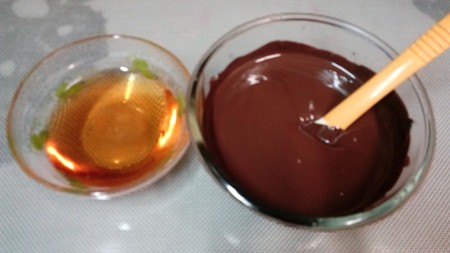 Warm the corn syrup or golden syrup in a microwave for 30 seconds.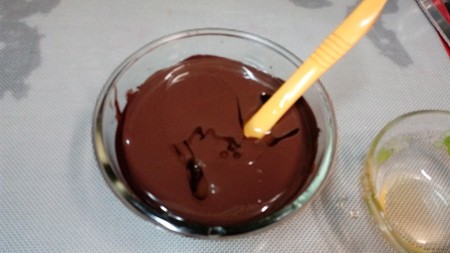 Gently start to fold the warm syrup into the chocolate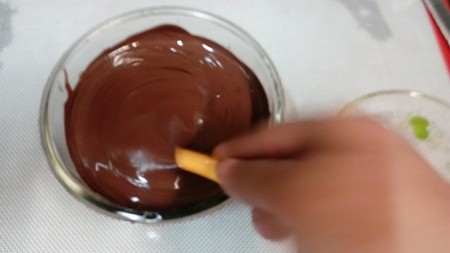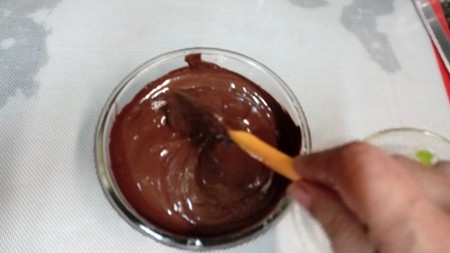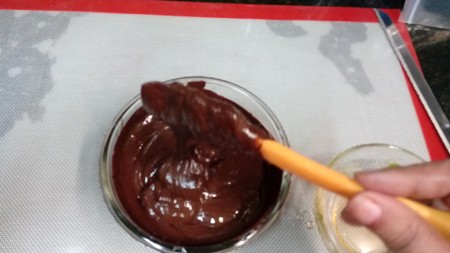 Cut and fold the mixture gently two or three times with a spatula or large spoon.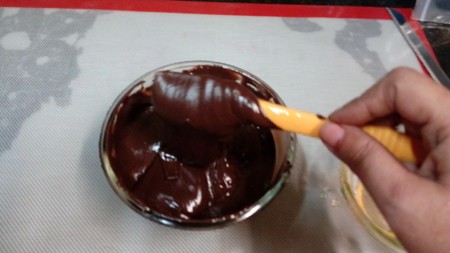 The chocolate mixture will get glossy at first.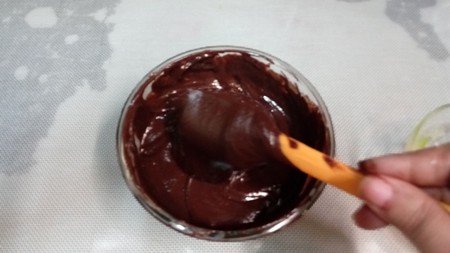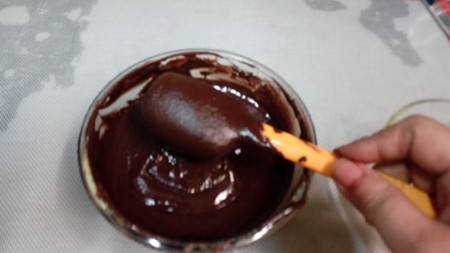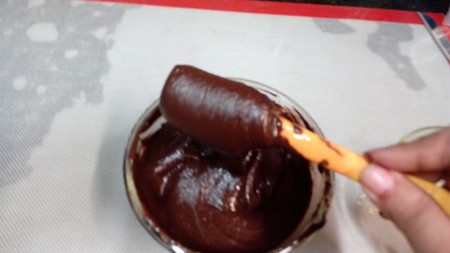 Continue with two or three more folds, go slow.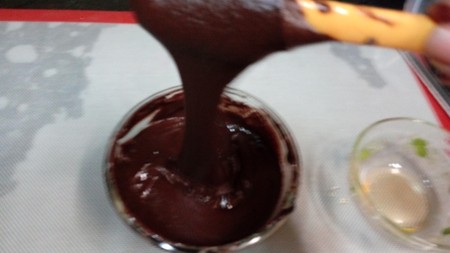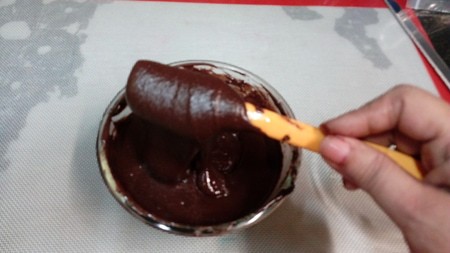 The chocolate mixture will thicken slightly and lose its shine, partly. It will look like a soft serve ice-cream.

Stop stirring it at this point or it will become grainy and get over mixed.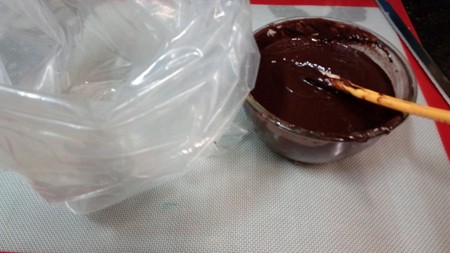 Take a large zip lock plastic bag and pour all the modeling chocolate into it.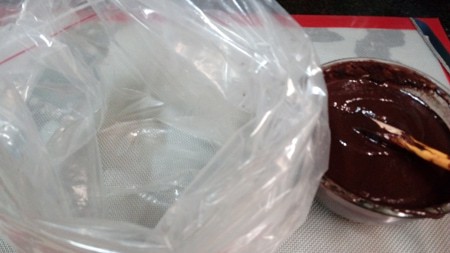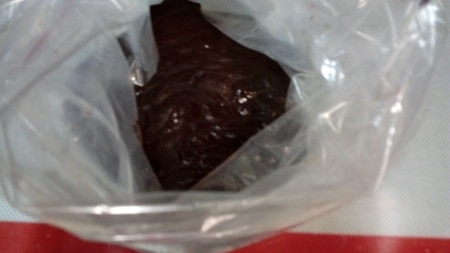 Seal the bag after all the chocolate is poured inside.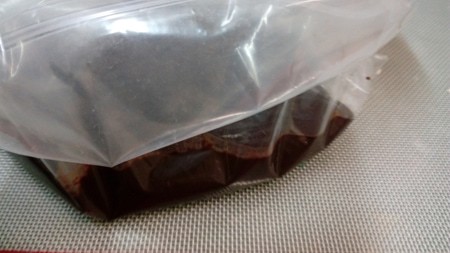 Flatten the bag and spread the chocolate as much as you can into a thin layer.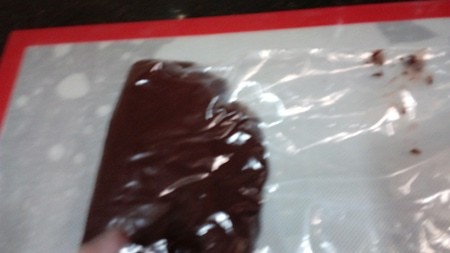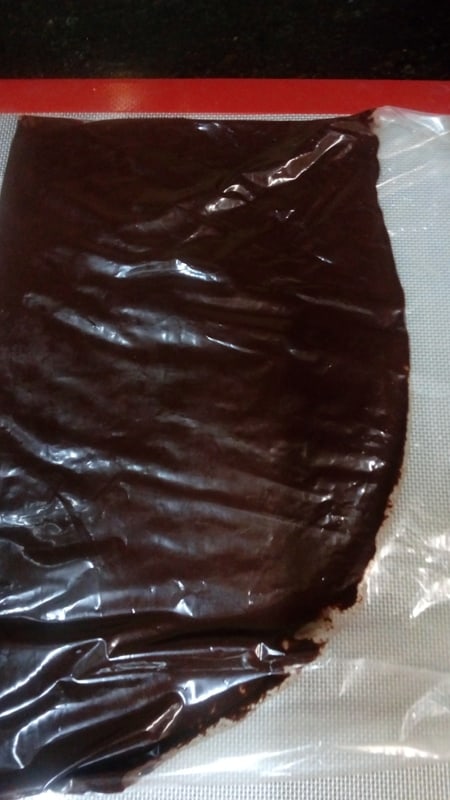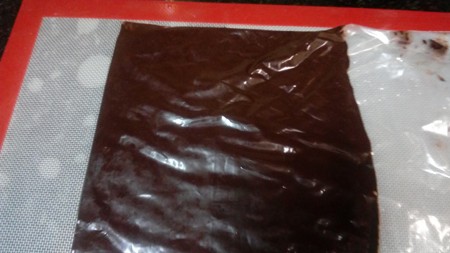 Put the modeling chocolate to set in the freezer for 30 minutes.

The modeling chocolate will harden. Remove it from the plastic bag.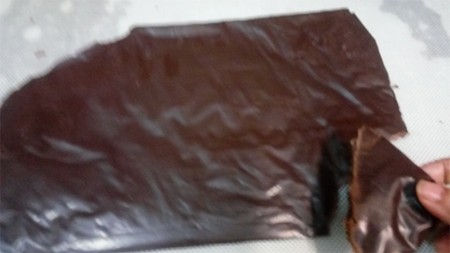 It will look like this.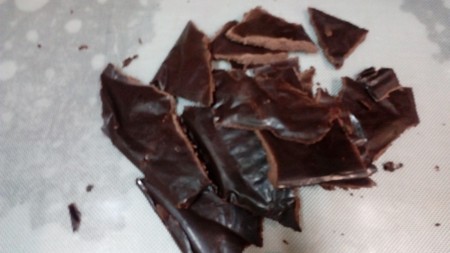 Break it into largish pieces. Leave to soften a bit at room temperature.

Once malleable, start kneading it all together.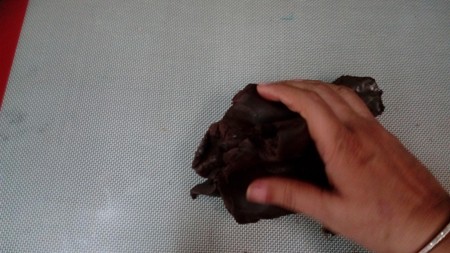 The modeling chocolate should be soft and pliable like play dough.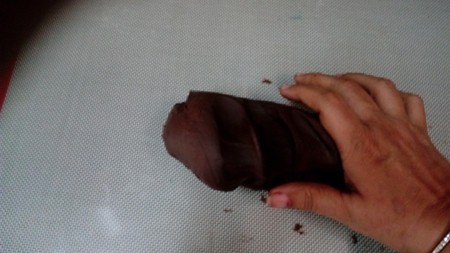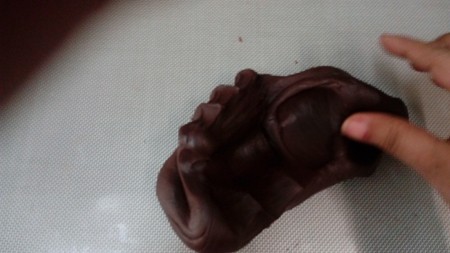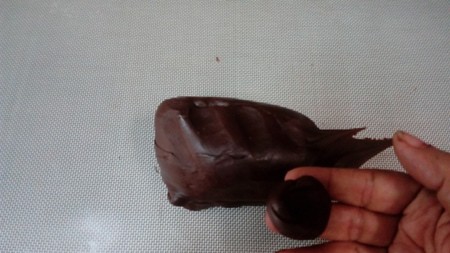 Roll it into a ball.Cover with cling wrap and store in refrigerator until required.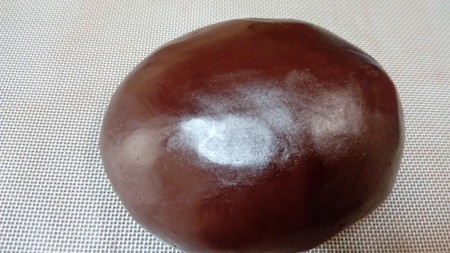 Suggested Techniques workable with modeling chocolate
Covering a cake or board
Figurines
3d Animals,vegetables and fruits
Chocolate rose
Cutout flowers and leaves
Chocolate wrap
Bows and loops
Polka dots and stripes
CAKE DESIGN 3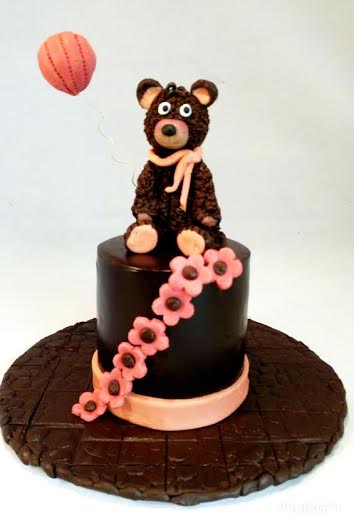 GRIZZLY TEDDY CAKE
I like to use modeling chocolate on chocolate fondant or ganache cakes, because of its chocolatey taste.This is a cute mini cake made for the 6 month birthday of a baby girl. The grizzly teddy crafted out of modeling chocolate is completely edible. I used dusty pink modeling chocolate to make a band and cutout flowers. The cake board was imprinted by a pebble texture sheet. To add a little thrill to my cake design, I made a floating balloon out of pink modeling chocolate and fixed it behind the teddy. I hope you like this cake as much as the excited baby did!
TECHNIQUE WITH MODELING CHOCOLATE
EASY CUT OUT FLOWERS

Roll out the modeling chocolate on a plastic or silicone mat..Make sure you are working in a cold environment or in airconditioning. Modeling chocolate can melt easily in a warm climate.
Using a flower cutter, cut few shapes. Make an indent in the centre of the flower with a balling tool or your finger..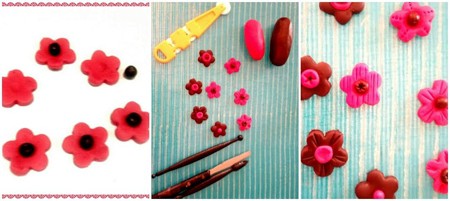 Place a small ball of modeling chocolate in contrasting color in the centre of the flowerUsing a craft knife or toothpick mark out little veins or strips on the flowers.Leave the finished flowers to dry and set a bit.
Use as required to embellish your cake or cupcake
Useful Links for cake decorating and various techniques
How to cover a cake with fondant
https://www.youtube.com/watch?v=Up6_zovReb4
http://sugarcoatedchronicle.blogspot.in/2010/09/perfect-fondant-tips-for…
Understanding different cake mediums and their use
https://cakeline.wordpress.com/2015/08/06/the-cake-effect/
How to plan your cake design
https://cakeline.wordpress.com/2015/11/10/designing-dilemma-fix-how-to-p…
Cake designs for beginners
http://www.craftsy.com/blog/2014/03/cake-designs-for-beginners/
Difference between Fondant, Gum paste and Modeling chocolate
https://cakeline.wordpress.com
Hand painting technique
http://thedecoratedcookie.com/2012/06/painting-watercolor-on-cookies/
Wood effect on fondant
http://www.thecakeclass.com/2011/06/fondant-wood-grain-quick-tutorial.ht…
Using fondant molds
http://www.craftsy.com/blog/2013/10/using-fondant-molds/
Chalkboard cake design
http://www.thecakinggirl.ca/2015/04/how-to-make-chalkboard-cake.html
How to make a monogram/number topper
http://www.howtocakethat.com/how-to-make-a-stand-up-number-topper.html
Quilling technique topper
https://cakeline.wordpress.com/2015/08/27/entirely-edible-quilling-rakhi…
Gum paste bow
http://cakejournal.com/tutorials/how-to-make-a-gum-paste-bow/
Gum paste balloons
http://nugglemama.ca/2012/05/how-to-make-gumpaste-balloons/
Gum paste vintage flowers
http://sockerrus.se/dekorationer/tutorial-vintage-sugar-flowers/
Gum paste animal figurine
http://mycakeblog.com/2012/06/14/how-to-make-a-gum-paste-tiger-figurine/
Modeling chocolate ruffle flower
http://jessicakesblog.blogspot.in/2011/01/feature-and-tutorial.html
Modeling chocolate stripes
http://www.wickedgoodies.net/2014/03/modeling-chocolate-cake-stripes/
Modeling chocolate grizzly bear topper
Pretty cupcakes with fondant
http://www.mycakedecorating.com.au/blog/2013/01/valentine's-day-cupcake/#.URvDvDovVkA.pinterest
http://www.wilton.com/fondant-doily-cupcake-toppers/WLPROJ-8303.html
Edible glue, how to make it
http://sweetopia.net/2009/09/how-to-make-edible-glue/
Storage & Freezing Instructions/Tips:
Each of the edible clay is shaped differently after preparation, so it's easier to identify it at any given point.
Shelf life:
Handmade fondant: One month at room temperature and four months in a refrigerator
Gum paste: six months in refrigerator
Modeling chocolate: six months and more in refrigerator
All dough's are wrapped tightly in cling film and stored in zip lock bags.
Keep them in a cool, dry place, away from any kind of light.