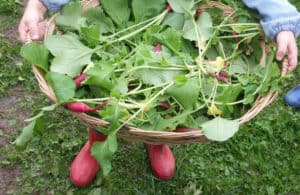 Founder of Slow Food and Food Revolution hero Carlo Petrini writes for the Food Revolution on the power of food education for a better future.
"When we talk about the food system's problems, it is difficult to identify a single priority to follow and to address. The food system is, indeed, a system, and therefore a complex net of people and actions. Nevertheless, if it's true that kids are our future, then I guess that our effort in promoting a better food education system should definitely be one of the most important field of actions for our work.
Here at Slow Food we have a department which daily works on education in different ways, but some of the most interesting projects actually take place in partnership with local schools and institutions, mainly on two main topics, school gardens and school canteens.
When people discuss the quality of the food served within canteens, the attention is often focused on the menu provided by the catering service, the food safety and hygienic conditions, and how many organic or non organic products are included. However, although these aspects are of course important, there are other factors to take into account and it's very important for school meals to play a role in healthy food education.
The acceptance of the meal by the students is in fact defined by many factors such as the surrounding environment, existing prejudices of school food, time available for the meal, family customs and eating habits, comparison with other meals, and so on and so forth. That's why it's so important to approach this topic systematically: only by working together with all the different people and systems involved, can you make real change and ensure success.
Luckily, we have some good stories about how through embracing such complexity, we can reach brilliant results. As an example, here is the case of the school canteen project we are currently running in Mogliano Veneto, in the North East of Italy.
Mogliano is a small community that has set up seven school gardens in the town. A school garden is a first important step for children to observe and understand where the vegetables they find on their plates come from and how they grow. It's easy to understand how a canteen project is more successful when linked to a garden project: when children are able to recognise what is on their plate and feel the emotional connection with their self-grown veggies, they are far more likely to eat the meal!
When the community of Mogliano decided to step forward and to empower the canteen service (because of the great success of the gardens!) we proposed a few actions involving the parents and teachers.
For the teachers, we prepared educational sheets (which differ depending on the age of the children) about the fruits and vegetables that the students would find at the canteen each month. The simple objective of this was to present the ingredients of the menu in a more fun and engaging way and incorporate this food education into the school curriculum.
When it comes to engaging parents, we used a different and more intense approach! On average, children eat at the school canteen for only five of the twenty-one meals they eat each week, and we know that bad food habits learnt at home can negate the efforts carried out by schools. Therefore we teach parents about everyday consumption, training them to consider how some of the most popular foods are produced (such as bread and olive oil), the importance of reading labels, how to shop wisely, and the joy of cooking your own food.
Today, other than in Mogliano, in Italy we have over 550 programmes of this kind in 220 municipalities, which involve up to 40,300 students, 1,600 teachers and 20,200 active parents!
Sometimes it might not be necessary to do something extraordinary to impact our food system and our community: I think that the example of Mogliano shows how small, local but well-coordinated intervention can influence a great amount of people and, in this case, directly our future."
Find out more about all the work that Slow Food do at  www.slowfood.com.