Hi! My name is Sarah from All Our Fingers in the Pie. I began blogging as a way to keep in touch with friends while I was on an extended vacation but I met a whole world of new friends.
My challenge to you is to cook 'en papillote (pah-pee-YOHT)'. This is French for 'in parchment'. In Italian it is called 'al cartoccio'. This is a method of cooking in which the food is put into a folded pouch or parcel and then baked. The parcel is typically made from folded parchment paper, but other materials such as a paper bag or aluminum foil may be used.
Download printable file HERE
This is a very healthy way of cooking because no fat is required. The package holds in all the juices and is more flavourful than traditional steaming. As the package is heated, the air inside the package expands and the flavours of the ingredients mingle with no escape. The food in a sense is cooked in flavoured air.
Opening these packets at the table can create some drama with the aromatic steam that will pour out.
Cooking successfully en papillote takes thoughtfulness and an understanding of ingredients. You must think of how they will react with heat, how long they will take to cook, how they will taste together. Some vegetables will release a lot of water and dilute the natural sauce that forms. Some ingredients may turn an unpleasant colour, like basil turns black.
Cooking en papillote works best with tender foods that cook quickly. Cut the ingredients into sizes that will all cook in the same length of time. Add moisture, if necessary. Some vegetables release enough moisture but if not, add liquid seasonings or a splash of water or stock to create the steam within the packet. The ingredients in the packet will add flavour but you can also add fresh or dried herbs, salt, pepper, spices or stocks. Also consider a pat of herbed butter or a drizzle of cream. Fat is not required but goes a long way to build flavour. Laying a lettuce leaf on the bottom of the paper or foil will help to prevent scorching.
How to fold the parchment:

In each recipe below I have shown different ways to fold the parchment paper.
The traditional method is using the heart shaped paper and pinching little folds all the way along the side and twisting off at the bottom. Just draw a heart freehand. Start at the bottom and work your way up. Cut this out and place your food inside the folded heart. Starting at the top of the heart, pinch and close the open edge. Work your way all around until you reach the bottom of the heart and twist it to seal. A tight seal is important.
However, other styles are also used such as the sandwich wrap and the sack tied with kitchen string. You can also use a stapler if you do not have the patience for folding and pinching.
Recipe Source:
•Becky Luigart-Stayner
•The Envelope Please: Cooking en Papillote by Amanda Hesser, Published May 19, 1999
•Laura Martin, Cooking Light APRIL 2007
•Martha Stewart Living, May 1995
•Jonathan Waxman, Colina
•As found in the New York Times by Melissa Clark, April 21, 2010
•"The Slow Mediterranean Kitchen: Recipes for the Passionate Cook"
•Paula Wolfert
•Gourmet Magazine
Blog-checking lines: Our July 2012 Daring Cooks' host was Sarah from All Our Fingers in the Pie! Sarah challenges us to learn a new cooking technique called "Cooking En Papillote" which is French and translates to "cooking in parchment".
Posting Date: July 14, 2012
Notes: Parchment baking paper has been treated with an acid and coated with silicone (similar to silicone baking sheet liners) to provide a sturdy, burn-resistant, nonstick paper impervious to liquids. Paper in a roll will provide larger sheets than paper sold by the sheet.
Do not use waxed paper. It tears easily and will burn. Parchment paper can be used in oven temperatures up to 450°F/230°C. The parchment will be puffy and slightly browned when the dish is nearly done.
Choose your foods carefully. Consider the time it will take to cook. Cooking en papillote works best with tender foods that cook quickly. Chicken, fish and vegetables are good candidates for cooking en papillote.
Mandatory Items: The recipe you choose and the food you choose is not mandatory. What is mandatory is that you cook the food in a pouch, preferably parchment or paper. Do not feel limited by the traditional chicken, fish or vegetables. I would like to see someone try beef, lamb or rabbit.
Variations allowed: Aluminum foil may be used but please try to use paper. The most typical form of cooking is in the oven but en papillote can also be done on the stove top or on the barbecue. This is encouraged in this challenge.
Preparation time: Varies depending upon the recipe used but is a quick and easy way to prepare food.
Equipment required:
•Parchment paper or aluminum foil.
•Utensils and pans necessary for the recipe you choose
•Cooking twine or a stapler (Asparagus recipe)
New Orleans Style Shrimp:
Laura Martin, Cooking Light, April 2007
Servings: 4
Prep Time: 30 minutes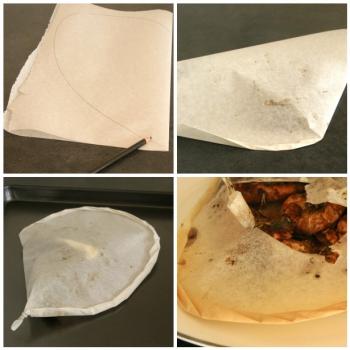 Ingredients
3 tablespoons (45 ml) Worcestershire sauce
2 tablespoons (30 ml) fresh lemon juice
1 tablespoon (½ oz/15 gm) butter, melted
2 teaspoons (4 gm) chopped fresh rosemary
2 teaspoons (5 gm) chopped garlic
½ teaspoon (¼ gm) dried thyme
½ teaspoon hot pepper sauce, such as Tabasco
¼ teaspoon (¼ gm) freshly ground black pepper
¼ teaspoon ground red pepper
2 pounds (1 kg) unshelled jumbo shrimp (prawns)
2 lemons, sliced into ¼ inch slices
4 teaspoons (20 gm) butter, divided
Directions:
Combine first 11 ingredients in a large bowl; toss well. Cover and marinate in refrigerator for 30 minutes.
Preheat oven to hot 425°F/220°C/gas mark. 7
Prepare the parchment paper as described above. Remove shrimp (prawn) mixture from bowl; reserve marinade. Place one quarter of the shrimp mixture on each parchment sheet. Drizzle remaining marinade evenly over shrimp. Top each serving with 1 teaspoon (5 gm) butter. Seal edges as described above.
Place packets on a baking sheet. Bake in hot oven 425°F/220°C/gas mark 7 for 20 minutes. Let stand 10 minutes. Place on plates. Carefully cut the packets open and serve immediately.
Tarragon Lime Bay Scallops over Angel Hair Pasta:
Gourmet / August 2002
Servings: 4
Prep Time: 20 min.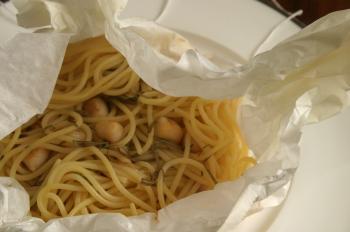 Ingredients
3/4 pound (350 gm) dried angel-hair pasta (capelli d'angelo)
1 ½ pound (700 gm) bay scallops or quartered sea scallops, tough muscle removed from side of each if necessary
3/4 stick (6 tablespoons) (90 gm/3 oz) unsalted butter
3 tablespoons (45 ml) fresh lime juice, or to taste
2 tablespoons (6 gm) finely chopped fresh tarragon, or to taste
Directions:
Cook pasta in a 6- to 8-quart (6 to 8 litre) pot of boiling salted water until al dente. Drain pasta in a colander.
While pasta is cooking, pat scallops dry and season with salt and pepper. Heat 3 tablespoons (45 gm) butter in a 12-inch (30 cm) nonstick skillet over moderately high heat until foam subsides, then sauté half of scallops, stirring, until golden, about 3 minutes. Transfer with a slotted spoon to a bowl. Cook remaining scallops in remaining 3 tablespoons butter in same manner. Return first batch of scallops to skillet and stir in lime juice and tarragon.
Toss pasta in a bowl with half of scallops. Place pasta on parchment paper. Top pasta with remaining scallops and sauce and season with salt and pepper.
Tie the parchment like a sack and roast in a moderately hot oven 375°F/190°C/gas mark 5 for 10 minutes. Serve immediately with grated parmesan.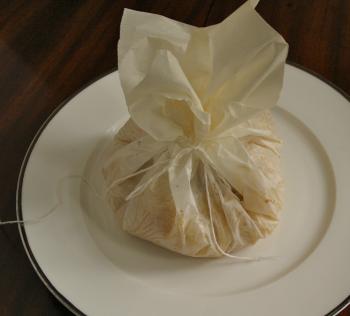 Slow Roasted Asparagus:
As found in the New York Times by Melissa Clark, April 21, 2010 "The Slow Mediterranean Kitchen: Recipes for the Passionate Cook"
Paula Wolfert
The recipe, from Paula Wolfert's "The Slow Mediterranean Kitchen: Recipes for the Passionate Cook," involved baking the asparagus in a parchment-paper packet on very low heat for around 90 minutes. During that time, the herb-scented steam gently softens and suffuses the stalks, unlike asparagus I've made in a steamer basket, which tends to cook unevenly.
Why was the parchment-steaming different? I called Ms. Wolfert to ask.
"I haven't used an asparagus steamer in years," she said. "Metal steamers get hotter, and that affects the way the asparagus cook." The parchment insulates the asparagus, she said. It keeps the temperature steady and allows for even cooking. Also, the long, slow cooking time lets the vegetable absorb the flavor of the seasonings.
Prep Time: 1 hour 10 min. (active time: 15 min.)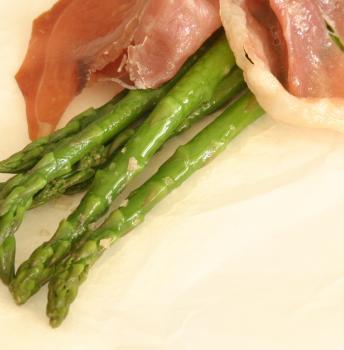 Ingredients
*Note: No specific quantities are given – as a guide, use 1 bunch asparagus, enough oil to drizzle, ½ tsp. dried tarragon or 1 tsp. fresh tarragon, 3-4 slices prosciutto and a handful of your favorite mushrooms.
•Asparagus
•Olive oil
•Tarragon
•Prosciutto
•Mushrooms
Directions:
Preheat oven to very slow 200°F/95°C/gas mark 1/8. Wash and trim the asparagus. Lay it on a square of parchment paper large enough to wrap and fold.
Drizzle with olive oil, lay on some dried or fresh tarragon. Drape with prosciutto and roughly chopped mushrooms.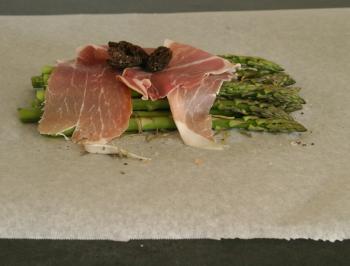 Tightly fold the parchment paper into a bundle so no steam can escape and tie with string. I like using the sandwich fold. Bring the two long edges together and fold over and then continue to fold over until the seam is tight to the package. Turn each short end under and tie with string. You could also just staple all the edges closed to create the seal.
Place on a baking sheet and bake for 45 minutes.