Knives are must-have tools in any kitchen. They cut more things than we can remember. Unfortunately, they don't stay sharp too long, especially if you use them frequently. And as you probably already know, dull knives are not just poor at cutting, but they are also more dangerous than sharp knives.
Thankfully, knife sharpeners can perform the tasks of keeping them in good condition. The most efficient sharpeners for knives are the electric versions. They sharpen the blades and reshape and polish them using multiple grinding wheels with different grit levels.
Deciding to buy an electric knife sharpener is commendable. However, that's the easiest part. A more challenging decision is choosing the best electric knife sharpener out of the multitude of options available. While that buying decision is fairly simple for someone who has had lots of experience with these practical tools, it can be an overwhelming process for a beginner.
For this reason, we have reviewed 10 of the very best electric knife sharpeners on the market to simplify the buying process for you. Let's kick things off with a few buying tips before we get on with the reviews.
Best Electric Knife Sharpener – Our Top 10 Picks
1. Chef'sChoice 15 Trizor XV Electric Knife Sharpener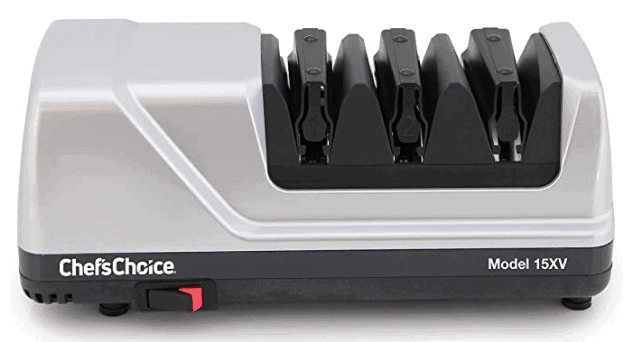 Here's one electric knife sharpener that changes the playing field for other models. There is no arguing that the 15 Trizor XV model from Chef's Choice is the best electric knife sharpener for delivering the much sought-after 15-degree bevel angle.
This knife sharpener can quickly transform any 20-degree blade into a 15-degree bevel angle. The rave about this bevel angle is understandable since it provides razor-sharp cutting edges, less friction during cutting, and offers more precision for most types of cooking purposes. These types of knives are mostly found in Asian countries, but thanks to the 15 Trizor XV, you can have one fashioned right from the comfort of your kitchen.
Although an extremely sharp edge is desirable, it has one major flaw. A 15-degree bevel angle means a very thin edge that can easily break or chip off. This model solves this problem by converting your blade into a triple bevel that helps maintain the edges' durability.
Because Chef's Choice is a world-renowned brand, it is not surprising to find all the right features in this model. It comes with 100% diamond abrasives suitable for sharpening both straight and serrated blades. It also includes flexible angle guides and three slots for a three-stage EdgeSelect sharpening system. The first two stages use diamond abrasives to sharpen and hone the blades, while the third stage polishes the edges to prolong the blade's life.
This sharpener is quite easy to use. You can use it effectively, even if you know only the basics of sharpening knives. Beginners won't have any difficulty converting their standard kitchen knives into high-performance options. And all of that happens very quickly. It takes approximately 60 seconds to get an ultra-sharp edge if you sharpen a knife for the first time. Re-sharpening takes only about 10 seconds.
Chef's Choice backs this model with a solid 3-year warranty, so you can invest in the sharpener with a lot more confidence.
Pros
Sharpening discs are 100% diamond abrasives
Highly versatile
Suitable for serrated blades
Three-stage sharpening process
Can convert knives to different degrees of bevel edges
Easy to use
Flexible angle guides
Cons
Diamond abrasives might remove too much metal from knives
Not suitable for thin or delicate knives
2. Presto Professional Electric Knife Sharpener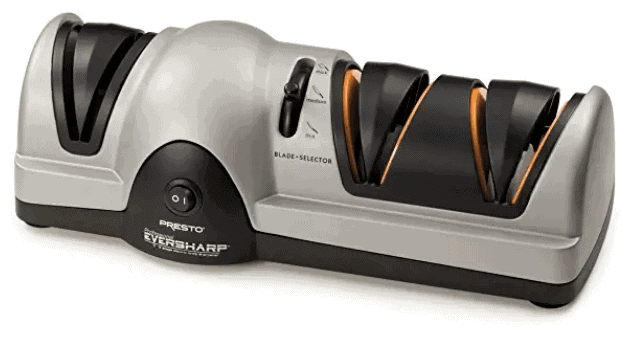 If you want an electric knife sharpener that is stylish enough to suit your modern kitchen décor, you may as well choose this Professional Electric Knife Sharpener from Presto. It is both compact and simple, but instead of two slots, as is available in many compact models, this one has the advantage of having three slots for better results. That means it provides a three-stage sharpening process that includes a coarse grinding stage, a precision grinding step, and a finer honing stage to complete the cycle.
With this model, you don't need to bother about knowing the exact angles of your knives. Each slot is angled, so all you have to do is run your knives through them a few times, and you will get a professionally sharpened blade in no time. The first slot features a wheel made with sapphirite to give blades coarse grinding. The sapphirite wheel in the second slot is specially built to provide medium grinding. And the third slot includes a ceramic wheel that makes offers flawless finishing.
This model can be used to sharpen knives of varying thickness, as it includes settings for thick, medium, and thin blades. So, you don't have to worry about getting different electric sharpeners for different blade thicknesses. The machine will work for all standard kitchen knives and other knives such as fillet, paring, sporting, and hunting knives.
Santoku knives are generally not suitable for electric knife sharpeners. Or are they? This model can sharpen this specially made in knives from Japan. So, if you have one of them in your kitchen, you will want to buy this versatile sharpener from Presto.
Pros
Easy to use
Highly versatile
Receptacles at the base of the sharpener for collecting metal fillings
Angled slots eliminate the need for guesses
Three-stage sharpening process for professional-level results
Three sharpening modes
Cons
Not suitable for serrated or curved blades
3. Presto EverSharp Electric Knife Sharpener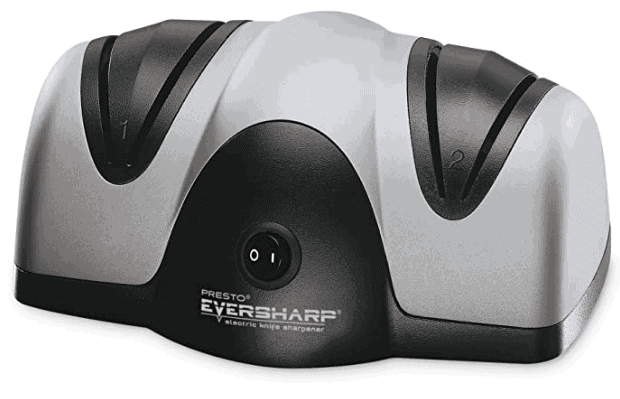 Weighing only 2.95 lbs, the EverSharp Electric Knife Sharpener from Presto is a lightweight knife sharpener with an appealing design. If there is an award for the best electric knife sharpener in the "simplicity" category, this model will definitely bag it.
Presto designed this knife sharpener to offer simplicity coupled with impressive functionality. It doesn't come with all the bells and whistles, but it gets the job done efficiently, making it ideal for anyone looking for something that will deliver results without any hassles.
It is quite easy to use this knife sharpener, even if you are completely new to sharpening knives. It comes with clear and easy-to-understand instructions for sharpening knives. Simply follow the instructions, and your knives will be as sharp as they come in no time.
This model features two slots for a two-stage sharpening process. The slots are angled to eliminate guesswork. Running the blades through the slots will give you consistent results every time. The grinding wheels are constructed from sapphirite for professional-grade sharpening. This means your knives will come out with razor-sharp edges and finely polished finished.
The machine is quite durable and is backed by a one-year warranty against any manufacturing defects. With nearly 7,000 reviews on Amazon and an impressive 4.5 out of 5 stars rating, you can be sure that you are not throwing away your money with this purchase.
Pros
Sleek, compact design
Sapphirite sharpening wheel for a smooth finish
Sharpens in a two-step process to ensure a perfect finish
Slot positioning helps with knife sharpening angle
Suitable for beginners because it is easy to use
Cons
Fixed angles limits blade types that can be sharpened
4. Work Sharp Knife & Tool Sharpener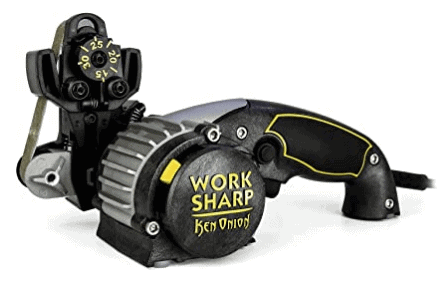 The Knife & Tool Sharpener from Work Sharp is built for those looking for the best electric knife sharpener that can also work effectively for other types of blades. It makes a lot of sense to have one sharpening tool for all your blades, instead of buying different machines for each blade type. This electric sharpener offers an impressive level of adaptability and versatility, as it can be used to sharpen straight, curved, and even irregular blades.
You can easily speed up or decrease the motor speed of this device. This gives you more control over how sharp you want your knife's edge to be. At high speeds, the machine grinds the blades. And at lower speeds, the device goes into a honing mode to deliver a smoother cutting edge.
You can also adjust the sharpening angle using a dial to suit different blades. This means you can sharpen any type of knife with this tool. It doesn't matter whether you have a standard kitchen knife or a hatchet; the angle can be adjusted to suit them all. Heck, even if you have a mower blade, a gut hook, an ax, or any outdoor knife, this highly versatile sharpening tool will chip through the steel efficiently.
The bands on this sharpener are flexible and can be set to deliver coarse, medium, and fine results. The sharpener features a handle of some sorts that allow users to grip the device firmly during operation. Work Sharp designed this tool to look rugged because, indeed, it is. It can be operated continuously for up to an hour, making it ideal for heavy-duty blade sharpening.
Pros
Works well for a wide range of knives
A highly versatile option
Has a dial for controlling the sharpening angle
Sturdy device with firm grip
Adjustable speed motor can be used for honing or grinding
Multi-purpose bands for coarse, medium, and fine sharpening
Cons
This is a rather bulky option
Beginners might find it difficult to use
5. Chef's Choice 220 Hybrid Hone Knife Sharpener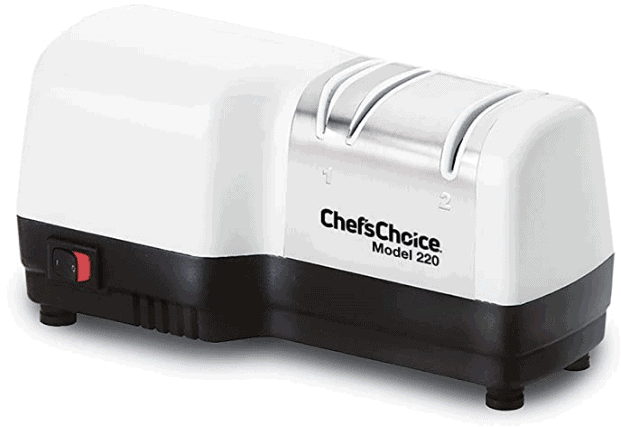 Our next entry is also coming from Chef's Choice, but that's not surprising since the brand is a leading name in the industry. However, this model is different than all the others on this list because it combines a manual and electric sharpening process, hence the "hybrid" in the name.
The overall white top and black base design, coupled with its compact build, makes it a classic addition to any modern kitchen. This model is designed to give you a good measure of control over the sharpening process.
It works by grinding the blade in the first step, and then you will have to finish up with a manual honing step. The idea is to first chip off steel or metal using an aggressive grinding in the first step so that the more refined honing step will be handled by humans. In other words, you are in charge of when to stop polishing the blades to prevent excessive chipping that is associated with many electric sharpeners.
The Hybrid Hone Knife Sharpener comes with a grinding wheel made from 100% diamond abrasive material that is designed in a crisscross pattern. This unique technology ensures that your knife's blade is extremely sharpened with sufficient "bites" from the wheels.
This semi-electric model can be used to sharpen most types of knives, including serrated knives. It comes with a one-year warranty, so you can rest assured that the device will not fall apart a few weeks after your purchase.
Pros
Crisscross sharpening wheels for better results
Grinding slots are at a fixed angle
Cons
Not a fully-electric option
6. Shenzhen Knives Electric Diamond Knife Sharpener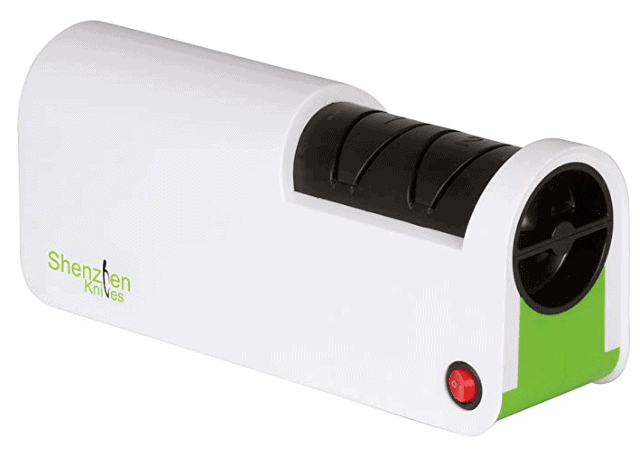 Looking for the best electric knife sharpener that is most suitable for ceramic knives? This electric sharpener from Shenzen Knives with diamond abrasives could be exactly what you've been searching for. It can remove up to 1mm chips from ceramic blades. But as most people don't just own one type of knife, this tool is perfect for sharpening stainless steel knives, too. So, if you own both ceramic and stainless steel knives, you'll find this tool suitable for keeping your different knives in tiptop shape.
This device features a cartridge that contains two sharpening wheels. The cartridge is detachable, making replacement and cleaning easy. Two sharpening stones are included in the cartridge, a 600 grit stone for coarser sharpening, and an 800 grit stone for honing or more refined sharpening. Both stones are diamond grinding stones, making them highly effective.
Many knife sharpeners are not effective for sharpening near knife handles. To solve that problem, this model's slots have been raised to accommodate the part of knives that are difficult to reach and sharpen. The result is that you get knife blades that are sharp from the handle to the tip.
The design of this electric knife sharpener is somewhat different from other traditional models. It is both modern and cute, making it a contemporary addition to your kitchen.
Pros
Removable and replaceable sharpening cartridges
Sharpening stones made of diamond abrasives
Include grits for fine and coarse sharpening
Effective at removing 1mm deep chips
Can sharpen difficult-to-reach on knives near the handle
Cons
Not suitable for serrated blades, scissors, and outdoor knives such as hunting knives, pocket knives, and folding knives.
7. Chef'sChoice 120 EdgeSelect Electric Knife Sharpener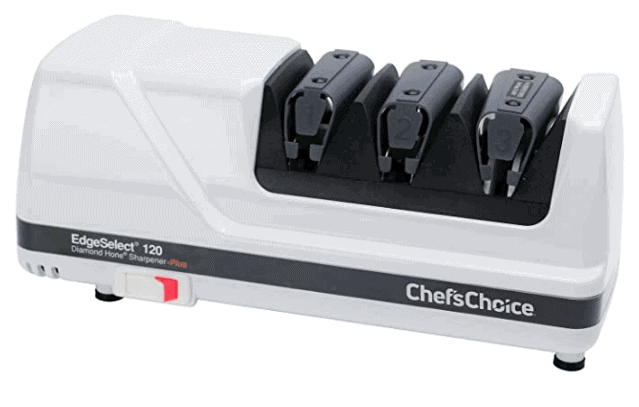 You don't have to be a professional or visit one to get professional-level sharpening from the comfort of your home. The EdgeSelect 120 Electric Knife Sharpener from Chef's Choice gives your knifes edge an expert finish every single time.
Sure, this model does not transform your knife into a 15-degree bevel angle, but that's not a flaw since it is not built for that purpose. Not every knife edge needs to be so thin, you know. So, if you want the best electric knife sharpener that will not chip away too much steel from your knife, but still keep it as sharp as they come, this could be your best purchase.
The good thing about this model is that you can expect to get all the 15 Trizor XV model features, including flexible angle guides, 100% diamond abrasives for the first and second stages, and a stropping disc for the final sharpening stage. Your knives are sure to get hairsplitting sharpness after passing through the unique stropping and polishing in the third stage.
This powerful unit is equipped with a resilient feet-hold that keeps it from moving around on your work surface during operation. And, unlike some models that require a steep learning process, this one is surprisingly easy to use, making it the ideal choice for those who are just learning to use electric knife sharpeners.
This model comes with a 3-year household warranty from Chef's Choice. That's an impressive warranty period to set your mind at ease. So, while you may not get a very thin blade edge as is applicable with the 15 Trizor XV model, you can be sure that this model will continue to serve you for a very long time.
Pros
Highly effective
Suitable for a wide range of knives, including serrated, sporting, and a butcher's knife
Delivers razor-sharp edges
Includes all the important features of the Chef's Choice 15 Trizor XV model
Cons
Not a portable option
It is heavier than many other models
8. Work Sharp Culinary Kitchen Knife Sharpener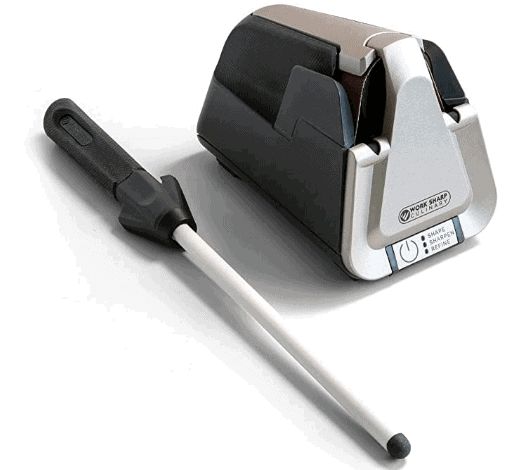 Some knife sharpeners are designed to not just to be sleek and modern, but to combine versatility and automatic functioning. The Culinary Kitchen Knife Sharpener from Work Sharp is the epitome of such sharpeners. This tool has a compact build and futuristic design, earning it the 2018 Innovation Award.
But this sharpening device is not just about portability and stylish design (although that's a huge plus for your kitchen aesthetics). This model fits the bill if you are looking for the best electric knife sharpener that can perform automatically. It is built to "know" when to stop sharpening your blades.
Here's the thing, many sharpeners can chip away at steel until they even damage your knife if you don't keep an eye on the sharpening process. But that's not the case with this auto-sharpener. It has been pre-programmed to automatically shape, sharpen, and polish your knife and turn itself off when the blade is sharp enough. And all of these processes can be completed within 90 seconds or less! All you have to do is touch a button and voila, your knife is as good as new!
Instead of using a traditional fixed abrasive, this electric sharpener utilizes a flexible belt for delivering razor-sharp edges. Using a belt gives the tool high versatility, as you can use it to sharpen many different types of blades, including serrated knives, poultry shears, kitchen scissors, and any high-end exotic steel or even the most basic cutlery.
But that's not all. This tool comes with a built-in vacuum to suck in all the metal fillings and keep your workspace and kitchen clean. There is simply no risk of getting debris into your food or other expensive kitchen appliances.
As an added bonus for getting this knife, you get a ceramic honing rod with angle guides and a MicroForge slot. The rod eliminates the need for frequent sharpening of knives, and in turn, prolonging their lifespan.
Pros
Sleek and compact design
Automatically turns off after sharpening
Highly versatile
Flexible abrasive belt for sharpening
Includes a ceramic honing rod
Built-in vacuum keeps workspace clean
Cons
Requires separate purchase and installation to sharpen knives that don't fit into a 17-degree angle guide
9. Wusthof PEtec Electric Sharpener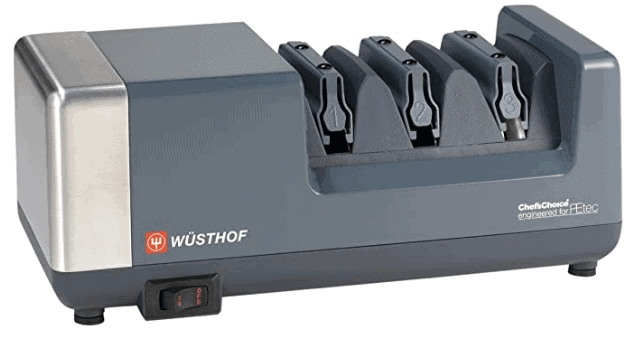 It is no surprise to find this electric sharpener topping the charts on virtually all online reviews because it is manufactured from a combined effort of two giants in the industry – Wusthof and Chef's Choice. As you would expect, the features of this sharpener are difficult to match by other models.
This model comes in a grey and steel accent with a modern design that will suit any modern kitchen décor. It comes with a Precision Edge Technology (PETech) that can re-profile blade edges into 14-degree bevel edges. It features three slots for a three-stage sharpening process. The first slot uses diamond abrasives for coarse grinding, while the second slot is for honing the blades. The final slot and last stage use a stropping disc to give the blades a fine polish.
Each slot has a flexible angle guide for guiding the knife at the right angle. This eliminates the need for painstaking measurements or guesswork. Gently push the knife into each slot and let the angle guide do the rest.
This is a great choice and the best electric knife sharpener when it comes to delivering high-precision sharpening. It is an excellent investment and is built to meet users' expectations.
Pros
Modern design
Three-stage sharpening process
Flexible angle guide
Cons
Not ideal for hunting knives, pocket knives, and other thick knifes
10. Chef'sChoice 320 Compact Electric Knife Sharpener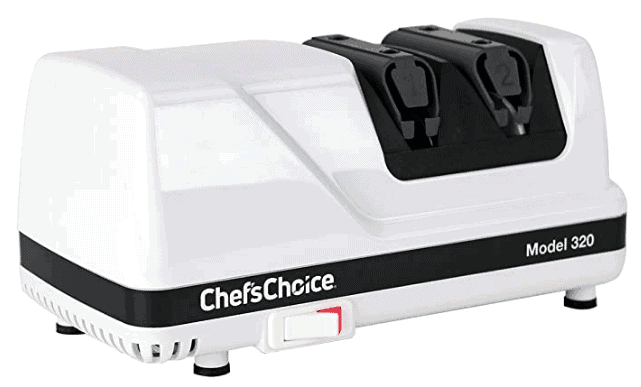 The truth is, not everyone wants a bulky appliance in their kitchen, especially one that is not used every day. If you are looking for the best electric knife sharpener that is as portable as they come, this could be your best option. Weighing a mere 1.25 pound, this sharpener is incredibly lightweight and can be carried around easily.
The Chef's Choice 320 model is designed to be highly durable and produces fast results. It requires 110 volts to perform efficiently. Instead of three slots, as is usually the case in most Chef's Choice sharpeners, this one comes with only two important slots as a trade-off for its compact build.
However, the included slots are the most vital. The first slot has 100% diamond abrasives, while the second slot for the second stage sharpening features stropping materials for honing the blades. The final result is a highly smoothed bladed sharpened to the finest degree.
This portable sharpener is surprisingly versatile. It can be used to sharpen a wide range of knives, including kitchen, sporting, pocket, and even knives with serrated blades. Special built-in elastomeric springs are included in the precision guides on each slot. This gives them enough flexibility to keep knife blades at precise angels during the sharpening process.
This is a great choice, especially if you want something portable from Chef's Choice that includes all the right features. With well over 4,000 reviews on Amazon and an impressive 4.6 out of 5-star rating, you can rest assured that this electric knife sharpener will deliver as expected.
Pros
Very compact build
Weigh significantly less than many models (1.25 pounds)
Two-stage sharpening process
Easy to use
Highly versatile
Built-in elastomeric springs in angle guides for flexibility
Sharpening disc is 100% diamond abrasive
Cons
Might not be suitable for delicate knives due to diamond abrasives
Buying Tips
Buying an electric knife sharpener goes beyond paying for the first fancy machine you lay eyes on. Of course, electric sharpeners are preferable than steel rods or sharpening stones, but not all types are built equal. Here are some important things you need to think through before choosing one of these tools.
Safety
Knives inherently carry safety risks, and so are electric knife sharpeners. Therefore, safety is your topmost consideration when buying an electric knife sharper. Just as you won't want a knife to cut your fingers, you also want to buy a knife sharpener that will protect your hand from getting scratched or hurt. The best electric knife sharpener is a model that includes a strategically positioned guard feature. Regardless of how stylish and modern a sharpener looks, it is best to avoid it if it doesn't come with some sort of guard feature.
Knife Compatibility
It can be frustrating to bring home a brand new modern knife sharpener only to discover that it can't sharpen your knife! The fact is, not all sharpeners are built to sharpen all types of knives. Of course, some models offer such flexibility, but it would be a mistake to assume that every electric knife sharpener works for all knives. Before making your purchase, confirm that the tool can sharpen your knife, especially if you plan on using the sharpener for knives with thin blades, serrated knife blades, curved blades, or outdoor knives.
Stages
Consider choosing electric knife sharpeners with at least two sharpening stages. Multiple-stage sharpeners provide better results because the blades are first shaped with coarser abrasives before being smoothened in subsequent stages. Besides resulting in a finer finish, a multiple-stage sharpening process can increase the blade's lifespan. Choosing two or more stages is fine. But whatever you do, it is best to avoid options that have only one sharpening stage.
Slots
Equally, designs with multiple slots offer more flexibility. One of the slots can be used for removing burrs, while the others for honing and sharpening the blade.
Wheel Material
The effectiveness of an electric sharpener depends on the material from which the sharpening wheel is made from. Some use steel, stones, diamonds, and even specially made abrasive belts. These materials have their benefits and downsides, but diamond abrasives are considered the best materials for sharpening knives. However, diamond is generally not the best choice if you have delicate knives.
Sharpening Tips
If this is your first time buying an electric knife sharpener, or attempting to sharpen your knives yourself, do not worry. Most sharpeners are designed with users' safety in mind, so you're not in any type of immediate danger. However, here are a few tips that can help you get the best out of your purchase.
First, it is important to stay focused on the entire process. These tools can grind off more steel than you want, and if that happens, your knife's lifespan can be reduced. So, keep your eyes on the procedure.
Before you switch on the machine, it is vital to ensure that the blade will fit into the slots. You won't get a perfect result if the blades don't fit through.
Always start with the coarsest stone. This will chip off burrs before moving to finer grits. Also, make sure to begin sharpening at the heel and pull gradually toward the tip.
Pass the blade through the machine twice for the best results.
Always rinse and dry the knife with a towel after sharpening, whether the sharpener comes with a magnet or not. Avoid putting your knife in a dishwasher. Quality dishwashers can clean most kitchen utensils but might shorten the lifespan of your knives.