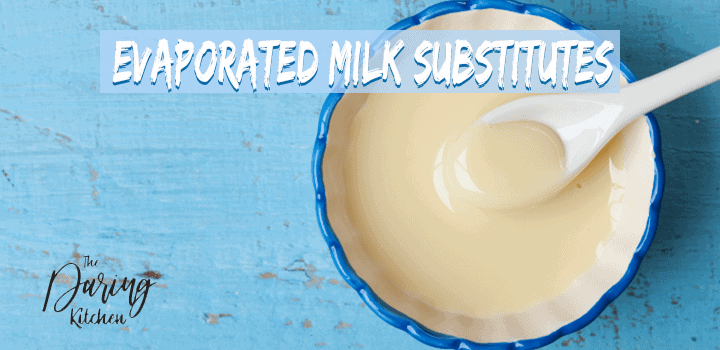 Old-school but super versatile, evaporated milk has been and will continue to be a pantry staple for years to come. Its creamy texture and slightly sweet, caramel-like taste add richness to many recipes including baked goods, desserts, macaroni and cheese, casseroles, sauces, and soups.
Some people also use it as a low-fat cream substitute in coffee and tea. Evaporated milk is regular fresh milk that has approximately 60% of its water removed. It is unsweetened, more affordable than milk, and has a long shelf life.
If you run out of it or you don't like the taste, you can use an evaporated milk substitute that is dairy. Luckily, there are also dairy-free alternatives for vegans or those who avoid dairy due to lactose-intolerance, milk allergies, or any other reason.
Evaporated milk should not be confused or used interchangeably with condensed milk, a sweetened version of canned concentrated milk if you don't want your dish to end up way too sweet.
Dairy Evaporated Milk Alternatives
Regular Milk
Regular milk can be used as a substitute for evaporated milk, but it contains more water, which will affect the richness of the recipe that calls for evaporated milk. In this case, you may want to create your own homemade evaporated milk version.
For 1 cup of evaporated milk, you will need 2 ¼ cups regular milk. Pour the milk into a saucepan and simmer it over medium-low heat for about 20 minutes or till its volume reduces by a little more than half. Remember to stir the milk occasionally.
The end result will be as creamy in texture and naturally sweet in flavor as the store-bought evaporated milk. Allow the milk to cool and then use it in your recipe.
In soups and sauces, you can alternatively add a thickener to the milk such as cornstarch or flour whereas in baking, you may also need to add a little sugar to mimic the sweet taste of evaporated milk.
Powdered Milk
Powdered milk is milk that has been dehydrated to extend its shelf life. To use it as a replacement for evaporated milk, you can reconstitute it by adding some water or add it as a dry ingredient to certain recipes including pancakes and cookies.
To get a thick consistency similar to that of evaporated milk, use less water than normal.
To use powdered milk in place of evaporated milk, you can simply reduce the amount of water you would normally add. This will result in a thicker product that you can use the same way you are using evaporated milk.
You can experiment with the right amount of water. Start by mixing 1 ½ cups warm water with 1 cup dry milk and stir till the powder has fully dissolved. Normally, this ratio gives you a thick enough texture to resemble the texture of evaporated milk.
Nutritionally speaking, evaporated milk is very similar to powdered milk.
Half-and-Half
Half-and-half is a dairy liquid blend of milk and cream at equal parts. It's higher in fat and has a slightly thicker texture than evaporated milk. Half and half is commonly known as a coffee creamer but can be used straight as a 1:1 substitution in any recipe that calls for evaporated milk or cream.
Although there may be some highly sensitive palettes that can tell the difference in a beverage, it's very difficult to discern half-and-half in yam casseroles, chowder soup, or baked sweet bread.
Besides, both evaporated milk and half-and-half are excellent when used in pumpkin pie.
Heavy Cream
The cream contains more calories and fat than evaporated milk, which makes it an unfavorable choice for people who want to lose weight or avoid high-fat foods due to health concerns.
However, it's very similar in consistency and in flavor making heavy cream a good 1:1 alternative for preparing savory dishes such as mashed potatoes, pumpkin pie, soups, casseroles, and sauces.
Plus, it's good for baking goods, custards, and sweet desserts but the flavor will be milder than the caramel-like taste of evaporated milk. Also, the recipe will be richer due to the higher fat content. To prevent this, you can mix half regular milk and half cream instead of using just cream as a substitute, and you're good to go.
Lactose-Free Evaporated Milk
If you are intolerant to lactose you can use lactose-free milk and turn it into lactose-free evaporated milk in the same way we created evaporated milk by heating regular milk above.
Or if you want a quicker solution, you can go for the store-bought version of lactose-free evaporated milk.
Non-Dairy Substitutes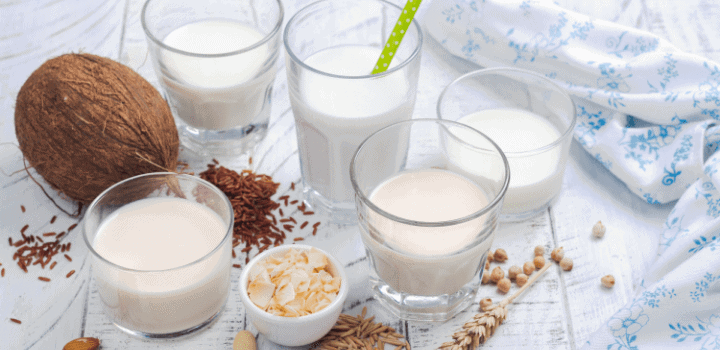 Soy Milk
Soy milk can be used as a dairy-free evaporated milk alternative after you cook it down to reduce 60% of its water content as explained before. Then, you can use it at a 1:1 ratio in place of evaporated milk.
The end result will be thinner though, so you may want to thicken it by using cornflour or any other thickener.
Soy milk is higher in protein than other non-dairy milks, so it's great for baking goods that need lots of structure like cakes and bread. Its mild neutral flavor makes it a good choice in savory recipes but not as good in sweet recipes where the sweet flavor of evaporated milk is required.
Rice Milk
Rice milk's flavor is closer to the natural sweetness of evaporated milk so it's a better choice in sweet dessert recipes. It also works well in light soups and sauces due to its thin consistency. Since rice milk is high in carbohydrates, making it an unsuitable option for diabetics.
Changes in flavor are to be expected when substituting it for dairy evaporated milk.
Oat Milk
Oat milk has a viscosity and flavor that are similar to cow dairy milk. it's easy to blend and is a good alternative in baking and cooking. It's also great in coffee because of its ability to froth.
Oat milk is often the number one choice of people who are allergic to nuts as it is nut-free, but it's also a popular choice for vegans and those who avoid dairy.
Coconut Milk
Coconut milk has a very similar consistency to evaporated milk. You can replace it in a 1:1 ratio as long as the coconut flavor is a good match for your recipe. When it comes to sweet cake fillings and Indian curries, coconut milk is indisputably a great choice.
Due to the high-fat content, it can also be whipped just like evaporated milk.
Other Dairy-Free Alternatives Include:
Almond milk, cashew, flaxseed, quinoa, hazelnut, hemp milk.