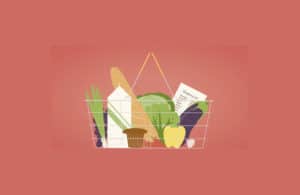 As I watched the action of the Euros 2016 at the Stade de France and other stadiums on the TV earlier this summer, I couldn't help but think about one of the statistics that the Love Food Hate Waste campaign employs to illustrate the problem of household food waste in the UK.
The figure is usually used to get across an understanding of just how much food we waste from our homes every year, because 1) it's incredibly difficult to get our heads around what millions of tonnes of food waste looks like and 2) quite frankly, it's pretty hard to believe.
It goes something like this …
We throw away seven million tonnes of food and drink every year from our homes. More than half of that (4.2 million tonnes) is good food that could have been eaten. That's the equivalent of FIVE Wembley stadiums full of food and drink waste.
So let's just stop for a minute and think about it: that magnificent venue with its broad green pitch, the majestic sweeping arch and 90,000 bright red seats. Five of those. Filled to the brim with our food waste.
There are two main reasons why we waste food: we don't use it in time and we prepare, cook or serve too much. Wasting this food costs the average family £470 a year, rising to £700 for a family with children . (And if you're up for another equivalent, that works out at about £60 a month.) If we all stopped wasting food that could have been eaten, the benefit in environmental terms would be like taking 1 in 4 cars off the road.
There's a danger in expressing the scale of our food waste problem like this, and that is we feel a bit like a non-league side getting drawn against one of the big boys in round three: slightly over-whelmed by the whole thing. But I'd also like to think that most of the team would be up for the challenge …
And that's why Love Food Hate Waste is proud to support Jamie's Food Revolution. Food waste is big issue and one that we need to get everyone behind if we are to influence the change that means our children and their children will have access to good, fresh, nutritious food.
Love Food Hate Waste was launched in 2007 following research by WRAP into how much household food and drink is wasted in the UK – and why. The campaign aims to raise awareness of the need to reduce food waste and helps people to take action. It demonstrates that by doing simple, practical things every day, we can all waste less food, which is good for our purses and the planet.
Recently we launched our latest activity in London. Little Wins is about the small things we can all do that make a big difference. From keeping your apples fresh in the fridge to using our online tool to get those portions perfect; from cooking once and eating twice to saving salad leaves with the help of a sheet of kitchen paper. Because if we all do it, it soon adds up. We're asking Londoners to spread the word by sharing their own #little wins on social media.
I've learned so much since coming to work for Love Food Hate Waste: simple, practical tips that have made life at The White House (not that one) a little easier, saved us a bit of cash and given us some silky skills (that might be pushing the football analogy a bit far) to reduce food waste, which, for the sake of the next generation, is going to be crucial.
Five little wins – for you
1. You can freeze right up to the Use By. Make date labels a friend, not a foe with our infographic.
2. Try and plan most of your meals. Use our two week meal planner to help you.
3. Store apples in the fridge, potatoes in a cool, dark, dry place and bread in the cupboard.
4. A mug of uncooked rice is enough for four adults. Honest! Try out our online portion tool.
5. Last night's leftovers/forgotten foods are tonight's feast! Check out our great rescue recipes.
Share your top tips for preventing food waste using #foodrevolution.
All the food waste facts and figures in this article come WRAP research and/or Love Food Hate Waste